I Suffered A Psychological Injury After A Healthcare Data Breach, What Are My Rights?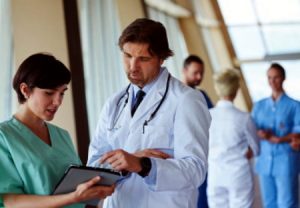 A private healthcare provider data breach could cause someone to suffer not only financial harm, but also psychological harm. After all, having your data breached could feel like you've has your privacy violated, and this could cause you to suffer anxiety and distress.
If you have been the victim of a private healthcare data breach, and have suffered any non-material (psychological) or material (financial) damage, you could be eligible to claim medical data breach compensation. Whether the breach was the result of hacking, negligence or a healthcare provider employee's error, data protection law could allow you the right to claim.
Within this guide, we offer a wealth of information on how to make a claim for breach of data compensation. We look at the consequences a medical records data breach could have, the reasons it could happen, and how data protection law protects you. In addition, we explain the reasons you could be eligible to claim for psychological harm, and how courts and lawyers could calculate compensation.
Here at Accident Claims, we offer free legal advice and eligibility checks for people who have been the victim of a data breach. We could also put you in touch with a data breach solicitor who could take your claim forward and help you get the compensation you deserve. If you'd like our help at any point, please call our team on 0800 073 8801.
Select A Section
A Guide On Private Healthcare Provider Data Breach Claims
Data breached in healthcare could be very damaging to a person. If you've become the victim of a private healthcare provider data breach, whether it is a breach of your medical records or your financial information, you may suffer financial or emotional harm. Under the Data Protection Act 2018, and GDPR, victims of a patient data breach, or an employer data breach could be eligible to claim compensation for the harm they've suffered.
But what is a data breach, how do you know if you could claim, and how would you go about it? We cover these questions and more in this guide.
In the sections that follow, we provide detailed guidance on what constitutes a private healthcare provider data breach. We explain the role of the Information Commissioner's Office (ICO) in upholding your data rights and explain what these rights are.
In addition to this, we provide examples of action the ICO has taken against those who have breached data protection legislation. Further on in this guide, we cover the types of damages you could be eligible to claim, and how we could help you.
Types Of Medical Data A Healthcare Provider Could Hold About You
When you obtain healthcare services from a private healthcare provider, or you are employed by one, they would need to obtain some of your personal information. This could include:
Your medical records – patient records could include details of any illnesses and treatment you've had or are currently having.
Financial records – if you pay for private healthcare, the provider may need your health insurance details or your credit card or bank details.
Other personal information – your e-mail address, contact details, name and address may also be collected by a healthcare provider.
Employee records – if you're employed by a private health and social care provider, they could hold data on your sickness or disciplinary details, as well as other personal and financial information.
When an organisation holds, processes and collects your personal data, GDPR and the Data Protection Act 2018 requires them to protect it from being breached. A failure to do so might mean the organisation is put on the ICO breach register, and they could face enforcement action. They could also face compensation claims from victims who have been harmed by such a breach.
What Is A Medical Data Breach Claim Against A Private Healthcare Provider?
Now you know what information they could have on you, let's look at the definition of a private healthcare provider data breach. In simple terms, according to the Information Commissioner's Office, such a breach is a security incident leading to data being:
Made unavailable
Disclosed, altered, destroyed, accessed, lost, transmitted or processed unlawfully or without authorisation
Stolen
How Could A Private Healthcare Provider Data Breach Happen?
There are many ways in which private healthcare data breaches could occur. These could include:
Malicious acts: Hackers are becoming ever more innovative with their attempts to access and damage computer systems and steal data. Some hackers could use a bot to look for some vulnerability in computer security systems. They could breach a firewall or other cyber security software. Once they get in, they could exploit vulnerabilities they find. This might mean they launch a cyber attack on a cloud database or through a VPN (Virtual Private Network). Once they have gained access, they could use a virus, malware, DDoS, ransomware or spyware to collect, damage or hold data to ransom. They could even use stolen information to commit theft or identity fraud.
Human errors: Unfortunately, humans do make mistakes. Data breaches in healthcare could happen if an employee sends an e-mail to the wrong recipient. They could also happen if a member of staff discloses information they shouldn't. Or, they could fail to secure a filing cabinet containing personal information. This could mean someone accesses it without authorisation.
Negligence: It is vital that healthcare providers take steps to protect the information they hold. They should put in place the necessary training for staff in data protection. If they fail to do so or they fail to secure information they have by installing cyber security software or encrypting sensitive information, this could also lead to a breach.
If you've suffered due to a private healthcare provider data breach, but aren't sure whether you could be eligible for compensation, please don't hesitate to get in touch. We could assess your case without charge. In addition, we could connect you with a No Win No Fee data breach lawyer. They could help you claim the compensation you deserve.
What Should A Private Healthcare Provider Do If They Have Had A Data Breach?
The ICO website clearly explains what organisations should do if they have a data breach. They should, according to the ICO, have processes in place to identify data breaches. In addition, they should have a plan of action to take if one occurs.
Reporting A Patient Data Breach
Organisations that have a breach that risks the rights and freedoms of data subjects are required to report such events to the ICO within 72 hours of their discovery. They should include within their report:
The nature of the data breach
Number of people and records affected, and what category they're in
The likely consequences of the data breach
How they've taken action or are going to take action to rectify the incident.
They should also inform the data subjects. If the breach presents no risks to rights or freedoms, an organisation doesn't have to report the breach to the ICO. They do, however, have to keep a record of such breaches.
Examples Of Action Taken By The ICO Against Private Healthcare Providers
The Information Commissioner's Office enforces data protection law in the UK. It could investigate data breaches, and could issue fines to those who breach data protection law in the UK.
Does The ICO enforce GDPR?
The ICO does enforce GDPR in the UK. The UK's application of GDPR has been enshrined in UK law under the Data Protection Act 2018.
What Breaches Has The ICO Acted On?
The ICO fined Bupa £175,000 in 2018 when an investigation found that they had failed to adequately protect personal data, leading to a breach. During the breach, an employee extracted personal data relating to 547,000 clients of Bupa. He advertised it for sale on the dark web. Due to the timing of the case, the breach was dealt with under the Data Protection Act 1998. This is because it happened before the UK GDPR was enshrined in law.
In addition to this incident, Babylon Health reportedly had a data breach in 2020, when its app allowed people to view other patient's consultations. Babylon admitted that a software error allowed some users in the UK to view others' sessions.
Source:  https://www.theguardian.com/uk-news/2020/jun/10/babylon-health-data-breach-gp-app-users-able-to-see-other-peoples-consultations
When Could You Claim For A Breach Of The GDPR?
Under GDPR and the Data Protection Act 2018, individuals have certain data rights, which organisations should be aware of. Organisations should process personal data with these rights in mind. The rights include:
The right to object – in certain circumstances, you could object to an organisation processing your data.
A right to rectification – if your personal data isn't correct, you could ask an organisation to correct it.
The right of access – if you want to access your personal data, organisations should allow you to.
A right to data portability – if you want your data in an accessible format to be transmitted to you or an authorised third party, organisations should ensure the portability of such data.
Some rights in relation to automated decision making and profiling.
The right to be informed – organisations should inform you why they have your data and how they use it.
A right to restrict processing of your data – if you would like to restrict how an organisation uses your data, you could request restrictions on processing.
The right to erasure – if you would like an organisation to erase your data you could have the right to do so.
If a private healthcare provider data breach infringes any of your data rights, and you suffer harm as a result, you could claim data breach compensation.
What Evidence Can Support Your Data Breach Case?
Evidence is vital in securing medical data breach compensation. The type of evidence required to claim for a medical data breach could include:
Your correspondence with the healthcare provider, informing them of a breach and asking them to investigate.
Any communication the healthcare provider has had with you on the matter (if this exists).
Financial evidence pertaining to any expenses, loss or theft caused by the data breach.
Medical evidence pertaining to any psychological or emotional harm you've suffered.
Any media reports about the breach.
Lawyers that deal with breach of medical records should be able to provide you with further insight into the evidence you'd need to secure compensation. If you'd like to talk to us or connect with a No Win No Fee data breach lawyer, get in touch.
Calculate Compensation Settlements For Private Healthcare Provider Data Breaches
Are you wondering how courts and data breach lawyers calculate compensation for data breach claims? You may be interested to learn that you could claim for the financial damage you suffer.
In addition, you could claim for any non-material damage. This could include psychological harm too. This is because a case set a legal precedent in 2015 that could allow this. The case we refer to is the Vidal-Hall and others v Google Inc [2015] – Court of Appeal, whereupon the judge said that awards for psychological and psychiatric injuries, similar to those in personal injury cases, should be considered.
This means that your compensation could include awards for distress, anxiety and depression if it were caused by a breach of data. It also means that you don't have to suffer financial harm in order to make a claim.
Calculating Damages For Psychological Injuries
If you intend to include psychiatric or psychological injuries within a medical data breach claim, you would need evidence. To obtain this, you would need to visit an independent professional assessor.
The professional would conduct an examination. They would write up a report, which solicitors could use to evidence your claim. It could also help courts and lawyers calculate the level of compensation appropriate for your psychological injuries.
Courts and lawyers could use a publication called the Judicial College Guidelines. They could combine this with the medical report to arrive at an appropriate value for your claim.
To give you a little insight into what the guidelines say about psychological injury compensation, we have produced the table below.

| Type of Condition/Injury | Compensation Approx Bracket | Level of Severity |
| --- | --- | --- |
| PTSD (Post-traumatic stress cases) | £56,180 to £94,470 | Cases that are severe |
| PTSD (Post-traumatic stress cases) | £21,730 to £56,180 | Cases that are moderately severe |
| PTSD (Post-traumatic stress cases) | £7,680 to £21,730 | Cases that are moderate |
| PTSD (Post-traumatic stress cases) | £3,710 to £7,680 | Cases that are less severe |
| General Psychological Injuries | £51,460 to £108,620 | Cases that are severe |
| General Psychological Injuries | £17,900 to £51,460 | Cases that are moderately severe |
| General Psychological Injuries | £5,500 to £17,900 | Cases that are moderate |
| General Psychological Injuries | £1,440 to £5,500 | Cases that are less severe |
Non-Material Damages That Could Be Claimed Under The GDPR
If you're making a claim for a private healthcare provider data breach, you could claim for both non-material and material damages or either. These could include:
Non-material – distress, stress, anxiety, loss of sleep, violations of privacy and reputational damage could all be involved within non-material damages.
Material – financial loss. For example, the expenses associated with financial theft and identity fraud could be included within a data breach claim.
Are you unsure as to whether you could include an expense or psychological injury within a claim? If so, why not give our team a call? We could provide you with healthcare data breach advice over the phone.
No Win No Fee Private Healthcare Provider Data Breach Claims
Did you know you could make a private healthcare provider data breach claim on No Win No Fee terms? This means you would not have to pay a data breach lawyer their fee upfront. No Win No Fee claims allow the victim of a data breach to obtain the services of such a legal professional without having to pay legal fees until their compensation settlement comes through.
How Does A No Win No Fee Patient Data Breach Work?
Your data breach solicitor would send a document known as a Conditional Fee Agreement out to you. Within this agreement are details of the legally capped success fee you'd pay if your case is successful.
When the solicitor receives your signed agreement, they'll be able to start your claim. They will put together all the evidence and negotiate with the healthcare provider or their lawyers for a settlement.
Should the provider refuse your claim, your data breach lawyer could help you fight for a compensation award through the court.
Once your compensation payout comes through, they would deduce the agreed fee and you'd benefit from the balance.
If a No Win No Fee claim didn't result in compensation, you wouldn't pay your lawyer's success fee. To learn more about No Win No Fee data breach claims, you can call our team, or read this useful guide.
Contacting A Claims Advisor
If you're ready to claim for a private healthcare provider data breach, we're ready to help you. Or, if you still have questions or would like a free eligibility check, we could help here too. You can reach our team in a number of different ways, including:
GDPR Data Breach FAQs
How Common Are Data Breaches In Healthcare?
According to the healthcare data breach statistics in the ICO's Q4 data breach report, between 01/01/2021 and 31/03/2021 there were 420 data breaches reported to the ICO. Some of these related to the theft or loss of data, while others related to cyber attacks such as phishing attacks.
Can I Sue The NHS For Data Breach?
If you can provide evidence that you've suffered harm due to an NHS data breach, you could take action. You could approach them to claim compensation. You would usually have to prove that you'd tried to resolve this issue without the courts. A data breach solicitor could help you understand claiming this way.
Can I Claim Compensation For A Data Breach?
To claim compensation for a private healthcare provider data breach you would need to evidence that:
The organisation breached your personal information in some way.
You have suffered harm in some way by the breach (this could be emotionally or financially, for example).
You're making your claim before it becomes time-barred (6 years for data breaches and 1 year for human rights breaches).
If you would like us to help assess your eligibility to claim, simply call our team. We could provide an assessment for free and with no obligation for you to go on and use our services.
Related Guides
Lawful Processing: To find out whether an organisation has the legal basis for processing your data, you could take a look at the ICO's guidance.
Raising Concerns: The ICO also provides guidance on how to raise concerns about the use of your personal data.
Actions The ICO Has Taken: You can read about the actions the ICO has taken towards those who've breached data protection regulation by visiting this page.
Breach Of Data By An Employer: If you're an employee of an organisation that breached your data, you may be interested in reading this guide. In it, we answer questions on common concerns people could have about suing their employer.
University Data Breach: We also have a guide on what to do if your university has caused you to suffer due to a data breach.
GP Surgery Data Breach: Our trust and reliance on GP surgeries are often well-founded. However, if you suffer a data breach, you could take action to recover compensation for the financial losses or emotional damage it causes.
Thank you for reading our guide to private healthcare provider data breach claims. 
Guide by JJ
Edited by RV