By Joanne Jeffries. Updated 12th April 2022. Welcome to our guide that answers the question "A car merged into my lane and hit me – can I claim?' In it, we look at the guidance from the Highway Code on merging lanes, and explain how who has a right of way on a merging lane in the UK. We also offer advice on how to claim for a merging traffic accident injury if you are eligible to do so. 
A car merged into my lane and hit me – could I claim?
Often, one of the most common manoeuvres on the roads, merging traffic seems at first glance to be a fairly simple part of driving. However, it does often lead to issues, where someone has merged into your lane without due care and the attention it requires to perform such a manoeuvre, or where another merging driver has been negligent when merging lanes occurs.
Car accidents due to merging are often seen on our roads, and abroad and the range of different types of merging traffic injury is vast, ranging from minor injuries that clear up in a relatively short space of time to those that can never fully be recovered from. If you've suffered with a merging traffic injury due to the fault of another driver or road user, did you know that you can claim for road traffic accident compensation to cover costs you've incurred as well as an award from the pain and the suffering you have borne as a result?
Claiming for a merging traffic accident injury
Here, we explain how a merging accident can lead to a personal injury claim, and what we can do to help you get one started. If you would prefer to call our legally trained advisors, then dialling 0800 073 8801 is the way to go. If you'd like to read all about these type of personal injury claims, including how a law firm can help in the fight for merging accident compensation, then scroll down and click on the most appropriate section to tell you what you need to know.
Choose a Section
Our Guide – Merging Traffic Injury Claims
There are many ways in which things can go wrong on the roads, and most of these are caused by errors of judgement or excessive speed or lack of use of a turn signal. One manoeuvre that can commonly go wrong on the roads is, however, when it comes to merging traffic. It sounds relatively simple to do, simply changing lanes of traffic, but sometimes, either due to a misjudgement of speed, another driver's poor temperament on the roads, or a moment of lapsed concentration, it can cause a car accident, and if this has happened to you, you'll know only too well that it is not just the state of your car that is impacted.
Accidents caused by merging traffic can cause a whole host of merging vehicle injuries, and whether you were rear ended while merging, or a car hit you while changing lanes, if it was not due to your fault, but that of another road user, then it may be the case that you should claim for merging traffic injury compensation.
Getting answers on car accident claims
In this guide, we set out the answers to the most commonly asked questions about a lane change accident. We look at traffic laws and how people should operate their vehicles when they merge, as well as discussing some facts you may wish to know, such as:
What is the personal injury claims time limit?
Who is at fault in a car accident changing lanes?
Acar hit me while changing lanes – can I lodge a claim?
Is there a personal injury claims calculator I can use to see how much I'd get?
How do I find the best merging traffic personal injury solicitor?
There is a lot of information regarding typical payment amounts for certain injuries also contained within this guide, but if there is information that we have not covered, simply call our team and we'll be glad to clarify anything you need to know.
What Are the Most Frequent Accidents Due to Merging Traffic?
'A car merged into my lane and hit me – can I hold them liable?' – This is one of the questions we are asked a lot and our answer is that it is a common occurrence, more common than a lot of people would believe. The other situation in which merging traffic injury can be caused is when a driver aggressively moves to keep their place in traffic, effectively trying to block a merge and causing danger to other road users.
Another way in which merging accidents can be caused is if the driver looking to change lanes fails to judge the speed or the distance they have in which to merge, or tries to merge when the traffic is moving too fast.
Assessing your case
Each and every case is taken on its own merit, and it is not always clear to the uninitiated if they are at fault or if the other driver is. This is why it is essential to have legal assistance when looking to make a claim, as people who have dealt with this kind of situation several times before will be in a better position to judge who is actually at fault, ensuring that the case is properly put forwards to those that can fight for compensation for the wronged party.
Merging Traffic and The UK Highway Code
If you're involved in a merging accident, who is at fault becomes a pressing question. When you look at the UK Highway Code, more specifically rule 134 says that 'in turn' merge manoeuvring is recommended as a driving technique, however the watchwords here are that it should only be done when it is safe and appropriate to perform this manoeuvre. This type of manoeuvre should only be done when the traffic is very slow moving. It is also accepted that the vehicle changing lanes should ensure they give right of way to road users that are in lane.
The rule before this one, 133, requires lane changing to only be done when a driver uses extreme care, attention and caution. The rule requires mirrors to be checked very carefully, and the driver should look sideways to make sure that other road users aren't forced to change their course or their speed.
Each case is different
Every merging opportunity or requirement should be taken on its own merits. A driver should ensure they rely on their common sense and experience, in order to ascertain if it is wise for them to merge, or whether they could be better off prioritising other vehicles in an established lane.
A solid example of this would be when the flow of traffic was very slow, and no other road user would have to change their speed in the merge. In this situation, taking a turn should be the appropriate thing to do.
However, sometimes, in some situations, this can become sort of a silent battle, as some road users do not want to effectively 'give up' their place in the traffic. This sometimes means that they speed up in order to 'keep their spot' The vehicle then trying to make the merge in to accelerate or decelerate, causing a merge in turn accident and making for perilous situations for not only the two vehicles involved, but also other users of the same road. This is how an accident caused by merging traffic can happen.
Road Accident When Changing Lanes On A Motorway?
Should you be asking about a merging lanes car accident, am I at fault, it makes a difference what road you're on as well as who moved how fast and when. Changing lanes on the motorway should in theory be pretty simple, but the speeds on the motorways mean that if it goes wrong, the consequences can be very dangerous indeed. Travelling at a slightly faster speed when you merge means that if the manoeuvre is unsafe, then the damage to cars and people can be more complex and far reaching. A road accident while changing lanes on a motorway can cause untold damage to cars and people involved.
A car merged into my lane and hit me on a smart motorway – is this common?
Smart motorways are one of commonest places for a merging manoeuvre to go wrong. If your lane has an X above it, then you should not be, according to the letter of the law, so if you are involved in an accident because of this, it is likely that you would be seen at fault. However, many drivers are not properly educated on how to use a smart motorway, which means that not everyone is using the smart motorway as intended.
A Car Hit Me While Changing Lanes, Can I Lodge a Claim for Merging Compensation?
If you're asking about a car accident caused by merging, then it's important to remember that standards are set by the UK Highway code, as mentioned previously. As per the previous paragraph, the answer to the question of 'a car merged into my lane and hit me – can I claim?' largely relates to who was at fault. For example, if you were trying to speed up quickly to avoid someone merging into your lane, then you may be seen as at fault, and therefore it is unlikely you would be able to launch your claim. However, should the other driver be driving dangerously or negligently while merging, and you could not avoid him hitting you, then it is more than likely to lead to you pursuing a successful merging traffic injury claim.
What Should You Do After A Merging Traffic Injury?
In the aftermath of merging traffic accidents, it can be difficult to think straight let alone ask about an accident while changing lanes who is at fault. UK-wide, whether you think you'd like to take a claim forward or not, or are unsure who is at fault after merging traffic accidents, there are certain steps you should follow to make sure you have all bases covered. Initially, you will want to seek medical attention. This is vital, even if you've what you feel are only minor injuries. With certain injuries, initially, you may not feel so bad but they may cause you more problems down the line if you don't get them checked out properly.
You should also consider taking photographs on your phone of the scene and any visible injuries you have received as a result. You should also, as with any road accident, try to get the details of those involved and those that witnessed the event. Finally, make sure to keep any proof you have of any financial costs you have had to bear, such as medical bills, or travel costs to medical appointments etc, or even prescription charges. These may serve as evidence of the financial outlay you've had to bear. Finally, you should call us. We can offer you some free advice on your situation as well as helping you should you be ready to claim for merging accident injury compensation.
How to Start A Merging Accident Compensation Claim
Daunting though it may be to the uninitiated, claiming is relatively simple, especially when you have Accident Claims to help you. An initial telephone conversation between you and a member of our team will allow us to weed out all the facts about what has happened to you. This is your chance to tell us what has happened to you and tell us how it has affected you, and we'll have the utmost sympathy for your situation. Here's where we could answer the question 'A car merged into my lane and hit me – do I have a case?' We'll explain what happens next and you'll be fully informed about how the process works before you decide whether making a claim is something you want to do.
Getting started with your claim
Should you be ready to get started, a member of our team will find the most appropriate solicitor to handle your merging accident injury claim, and the solicitor will more than likely arrange then for you to have an appointment with a medical expert who will compile a report for your case. This can usually be arranged at a place that is convenient for you to get to. Once the report is received, your allocated solicitor can start to progress your claim, and get you the compensation you deserve.
What Can You Claim For After A Merging Accident?
Quite a number of people we've helped previously with road traffic accident claims only thought that a compensation award was for the pain they'd experienced, when in fact there are other factors that make up their award – some of which they had had no idea they could even claim for. Most merging traffic injury effects require a person to be off work while they recover, which can lead to loss of income. This can be claimed for should you pursue a claim. Also, if you were not able to return to your job, perhaps because of reduced mobility, an award for future loss of your earnings may also be required. This would also apply if you should have to take further time off for operations, recovery and the like.
Add that to any medical costs you have borne because of your injuries, as well as travel costs, and you can see it begins to get more complex. Another cost you might have had to bear is having someone care for you. They can put in a claim to for costs of caring for you. Should you have incurred costs we have not mentioned, then we can advise you over the phone if you'd be able to recoup these. Please don't hesitate to ask us for more information regarding this issue – we are always happy to clarify any details of making a claim.
Compensation Claims Calculator For Accidents Involving Merging Traffic
One of the most likely questions asked by those who have suffered merging traffic injury, aside from 'I had a merging accident, who is at fault, is how much of a compensation award their case is likely to achieve. This is a tricky question for anyone to answer as there will be certain variations between injuries, the effect it has had on you as well as your future prognosis. See below for some guideline amounts for certain injuries, but please do remember that amounts will vary based on your own unique set of circumstances and injury.
One person may receive more should their future work prospects be restricted by their injuries, should they have had a physical job for example, whereas if you can carry on doing your job, even if you've received the same injury, you may receive slightly less.

| Injury Type | Explanation | Common Payment Bracket |
| --- | --- | --- |
| Finger Injuries | Everything from damage to nails (torn away) or soft tissue to the loss of multiple fingers | Up to £23,460 |
| Thumb Injuries | Everything from torn off nails and damage to tissues to the complete loss of a thumb | Up to £51,460 |
| Injuries to a person's hand | Abrasions, cuts and damage to soft tissues | Up to £4,461 |
| Injuries to a person's hand | Cuts that are deeper and may need you to have surgery (lacerations) | £5,260 to £12,460 |
| Injuries to a person's hand | Crush injures to the hand which leave you with less function until healing is complete | £13,570 to £27,220 |
| Injuries to a person's hand | These leave the hand with a 50% lower functionality | £27,220 to £58,100 |
| Fractures to the arm (simple) | Usually on the forearm's shorter bones | £6,190 to £18,020 |
| Fractures to the arm (Acute) | Several fractures that leave a person with lower functionality of the arm in the future | £36,770 to £56,180 |
| Injuries to a person's toe | From moderate to an injury that causes all toes to be amputated | Up to £52.620 |
| Injuries to the leg (minor) | Minor breaks/fractures, tissue damage, and/or sprains | Up to £11,110 |
| Injuries to the leg (Serious) | Long-term immobility is usually the result of several complex/serious fractures | £36,790 to £51,460 |
| Injuries to the Neck | From minor sprains to long term damage that will permanently affect the individual | Up to £139,210 |
As you can see, there are only so many injuries we can cover here and each will depend on the prognosis and effect it has had on your life as to the amount you'll be awarded. Should you wish to clarify any aspect of this, then we'll be happy to speak to you about it should you wish to call our team.
Merging Traffic Accident Injury Claims – No Win No Fee Claims Explained
Claiming compensation isn't always the first thing people think of when they have merging traffic injury, but at some point, after the dust settles, they should. After all, they have been put out of pocket financially because of their accident – and it was not even their fault. The good news is, that merging traffic injury claims can often be done for No win No Fee. This is often great news to those who otherwise would not be able to afford legal fees – nothing will be payable as legal fees until a compensation award is given, and then it will be deducted from the final amount you will receive, as a percentage that will be discussed before you decide to go ahead. Want to know more? Then we'll be happy to explain. Just call us with your questions – we're ready and able to answer them.
Contact Accident Claims UK Today About Merging Traffic Accident Injury Claims
Now that you are more aware of the ins and outs of making merging traffic injury claims, and we've answered the question of 'A car merged into my lane and hit me – can I claim?' giving guidance from The Highway Code on merging lanes you will more than likely want to start searching for a personal injury lawyer that can help you. However, you don't have to look far to find experienced, knowledgeable professionals in merging lanes case law. We can provide you with a solicitor who has handled merging traffic injury claims before and that can fight for the compensation required to ensure your needs are taken care of. The solicitors we can provide you with work hard to secure the most compensation possible for each and every claim they handle, and they can do this for you too.
A car merged into my lane and hit me – how do I get in touch?
Why not call 0800 073 8801 to discuss your options with our team, who will quickly and seamlessly arrange for your claim to be taken forward with the most appropriate solicitors for the job. If you don't have time to talk at the moment, then filling in the form online can ensure you don't forget to pursue your case, or you could always mail us at office@accidentclaims.co.uk instead. There's no time like the present to begin claiming what you deserve for your merging traffic injury.
Useful Links Relating To Merging Traffic Accident Injury Claims
Whiplash Compensation Claims Calculator – Find out if you can claim?
If you have neck pain or whiplash contact us and find out if you can claim compensation today.
Car Accident Compensation Amounts
Find out how much compensation you could claim for a car accident.
External Guidance From The Highway Code On Merging Lanes
The Guidance From The UK Highway Code On Merging Lanes
Road users should familiarise themselves with this information before taking to the roads in any vehicle. You can find the guidance from the Highway Code on merging lanes here.
The HSE has produced this webpage in order to inform people about legislation relating to road safety.
Merging Traffic Accident Injury Claims – A Car Merged Into My Lane And Hit Me – FAQs
A car merged into my lane and hit me then drove off – what should I do?
If this happens to you, it is vital that you call the police as soon as possible and your insurance company. Should you suffer injuries, you should also seek medical attention for them. If you can recall any of the driver's details, what they looked like et cetera, or details of the vehicle, you should pass these to the police so they can begin to look for the person who caused the accident.
A car merged into my lane and hit me and was uninsured – can I still claim?
If this happens to you, you might be worried about whether there's a route to compensation for you. Luckily, there is. You could launch a claim via the MIB or Motor Insurer's Bureau. A claim to the MIB could bring you compensation for such an incident. We would be happy to help you with such claims.
A car merged into my lane and hit me but drove off – could I claim?
As well as compensating victims of uninsured drivers who suffer personal injury due to an uninsured driver, the MIB could also compensate victims of untraceable drivers.
What is the Whiplash Reform Programme?
This is a programme that came into force at the end of May 2021. It requires those who suffer 'low value' soft tissue injuries in road traffic accidents to use a government portal to claim. Unfortunately, it also means that legal fees are no longer recoverable from the at fault party. If you'd like to know whether this could affect your claim, please call our team.
Someone ignored the guidance from the Highway Code on merging lanes, and my child was injured, could I claim?
If your child was injured in a road traffic accident due to someone ignoring the guidance from the Highway Code on merging lanes, you could claim for their injuries on their behalf. When making child accident claims, you would be acting as your child's litigation friend. This means that decisions about their case and their compensation could be made by you, but you would not receive the compensation. Instead, compensation would be paid into a trust for your child. They would be able to gain access to it once they came of age. To speak to us about making child accident claims because someone ignored the guidance from the Highway Code on merging lanes and hit them, please do not hesitate to get in touch.
What type of road users could claim if someone ignored the guidance from the Highway Code on merging lanes?
A large number of road users were injured on Britain's roads in 2020- 21, according to road traffic accident statistics from the Department for Transport. Any type of road user could claim for an accident that was not their fault, if they could prove someone was at fault for the accident they were injured in. We could help with car accident claims, accidents involving pedestrians, cyclists or other road users. Below, you will see the statistics relating to which road users were most commonly injured on UK roads during the period we have mentioned.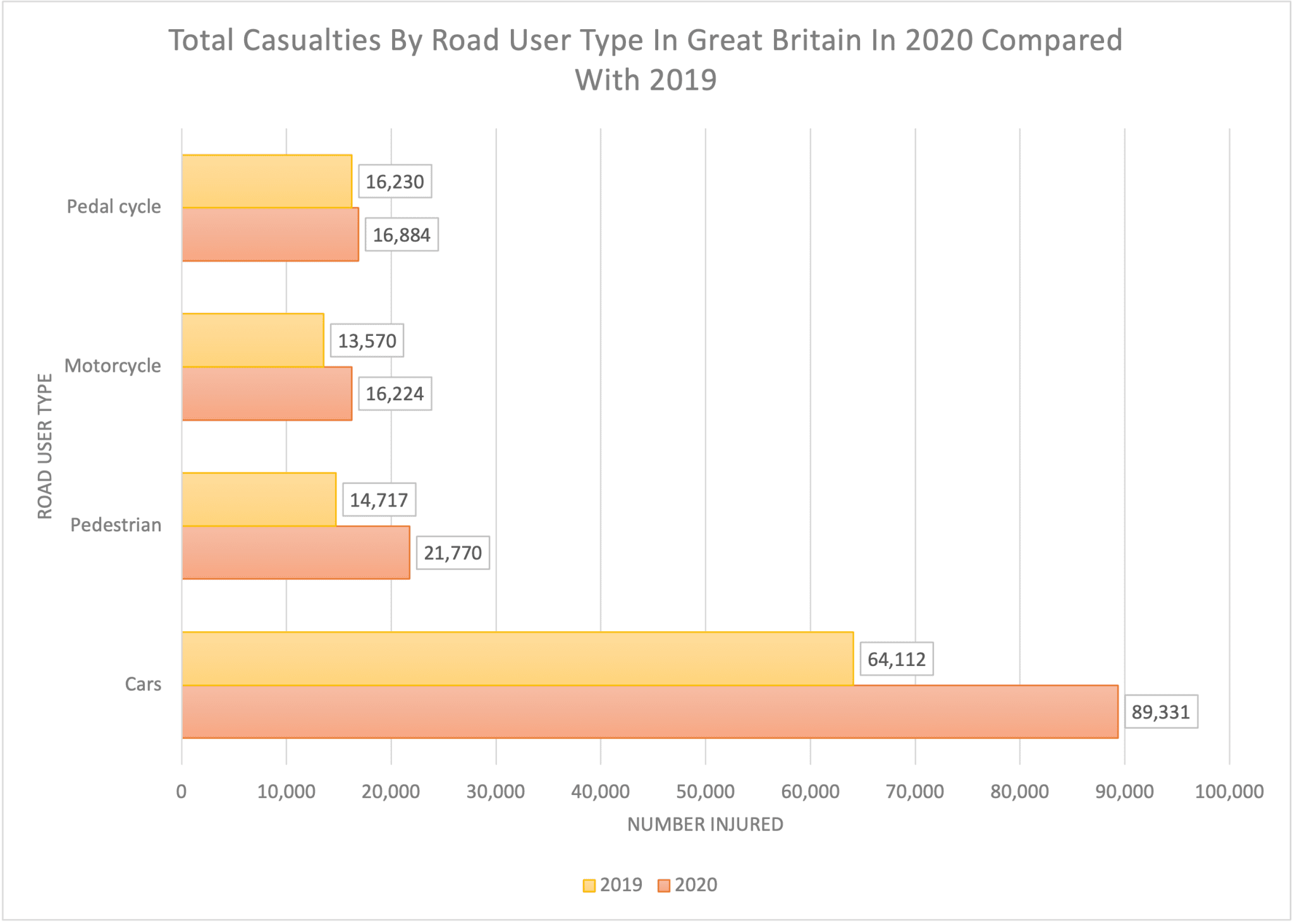 Who has right of way on a merging lane in the UK?
According to the Highway code on merging lanes, the person who has the right of way on a merging lane in the UK is the person not in the lane that is ending. If you are the driver in lane that is ending, you are supposed to yield to the other lane, only merging when it is safe to do so.
A car merged into my lane and hit me, injuring a passenger, could they claim?
If a car merged into your lane and hit you, injuring a passenger, they could be eligible for compensation. If you were at fault, by way of negligent driving they could claim against your insurance policy. Should another motorist be at fault, your passenger could claim against the other motorist.
I followed the Highway Code on merging lanes and a car hit me and drove off – what should I do?
If you followed the Highway Code on merging lanes and a car negligently hit you and drove off, this would be unlawful. A driver must stop if damage to property or people occurs in an accident that they were involved in.
You could call the police and report the accident, as well as getting medical attention for your injuries. The police may be able to trace the driver. If they do, and the at-fault motorist has insurance, you could be eligible to make a claim against them. If the driver cannot be traced, you could still be eligible to claim compensation from the Motor Insurers' Bureau.
A car merged into my lane and hit me – final words on merging lane traffic accidents
We hope you've found this guide helpful. If you have any questions about guidance from the Highway Code on merging lanes, whose fault a merging traffic accident injury it was or would like a free consultation for us to offer you legal advice, one phone call could bring you all the knowledge you're seeking. Now, hopefully, you'll know the answer to 'A car merged into my lane and hit me – could I claim'.