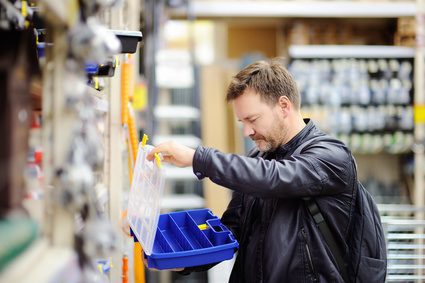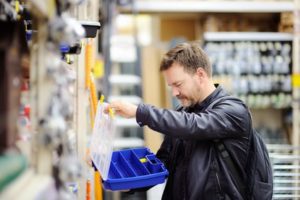 There is no denying that B&Q is probably the most well-known DIY and home improvement retailing business in the United Kingdom. It is a supplier to people both in the trade and those who prefer to tackle DIY projects at home, however big or small they may be. Prices are competitive and the stores it operates are visited by thousands of people every single day. While most people have a trouble-free experience when visiting B&Q, there are those who have the misfortune of being involved in an accident.
This does not only apply to customers but a number of workers have been injured over the years too. If this has happened to you, you could be entitled to compensation, and Accident Claims can help you get the money you deserve. You can reach us on 0800 073 8801. But before you call our legal helpline, read on to discover everything you should know about claiming in a guide to B&Q accident claims. We aim to cover everything you're likely to want to know about this type of injury claim, and even some information you didn't know was relevant but might help you make a decision on whether claiming is something you should go ahead and do.
Select a section
A Complete Guide To Making B&Q Accident Claims
There is no denying that B&Q is one of the most popular DIY stores in the United Kingdom. It hosts a range of products, from paints, wallpaper and furniture, to drills, power tools, doors, flooring and much more. If you've been injured on B&Q premises, be it in-store, in one of their warehouses or in the car park, you can make a claim. This is applicable no matter whether you are a customer, supplier, or employee. At Accident Claims, we can help you to get the compensation you deserve if you have been involved in such an accident. But before you get in touch, this guide to B&Q accident claims details everything you should know about making this type of claim.
This includes how you go about claiming, how much compensation you may receive, and information on the different types of claims you can make, for example, fork truck accidents claims, storage racking accident claims, slip, trip, and fall claims, and much more. If, after reading this guide you consider yourself to have a compensation claim, then you can get in touch with us and we'll be happy to help you take it further. If you're still not sure, then calling us would be the best option as we can give you free advice that is tailored specifically to your unique circumstances.
DIY And Furniture Accident Claims
As we will discuss in the next paragraph, you can make a compensation claim for any type of accident that has happened in a B&Q store or warehouse. However, you can also make a claim if you have suffered an injury due to any furniture or products you have purchased from B&Q. If the item in question is faulty and you have been injured as a consequence, we can help you to secure the compensation you deserve. All products, including furniture, need to go through rigorous testing before they are released onto the market for purchase. Nevertheless, this does not stop products from falling through the wire from time to time. If you have been injured because of this, you can make a claim, and we are here to help you get the payout you deserve.
What Constitutes B&Q Store Accidents?
A B&Q accident can occur in the store, warehouse, car park, or any other premises that are owned by B&Q. You do not need to be an employee of the company to make a claim, you could be a customer or a supplier. Some examples of common accidents that happen in B&Q are as follows…
Falling due to a platform that has not been put up properly
Forklift accidents
Slips, trips and falls
Accidents due to defective equipment and machinery
Injuries due to products that have been purchased from B&Q
Manual handling accidents
Injuries due to a lack of training
Slip, Trip Fall type Accidents At a B&Q
There is no denying that slip, trip fall accidents are some of the most commonplace in the Untied Kingdom. If you have experienced a slip, trip or fall in a B&Q store, or in the car park then it will be possible to claim if theB&Q store accident was not your fault. This is because B&Q are responsible for all of the premises, not just the store. We have helped a number of claimants to get compensation because of injuries caused due to uneven pavement or potholes. From spillages to obstructed pathways, you can put in a claim for any slip, trip or fall so long as you prove B&Q is to blame for what happened.
What Is the B&Q standard Duty Of Care for a DIY Store Accident?
In the UK, all employers have duty, which is placed on them by law, to provide a safe and healthy work environment. There are a number of regulations they need to follow. If you are to make a successful claim, you need to show that B&Q has been found to be negligent and breached this duty of care. They could, for example, have failed to provide their workers with the correct Personal Protective Equipment (PPE). Or, perhaps there was an obstruction in the store and this caused an injury. No matter what has happened, if you can prove that B&Q is to blame for what happened, you will have the basis for a claim.
Our Guide for Forklift Accident Claims
Forklift trucks can often be used in B&Q stores and storage facilities. There are a number of different injuries and accidents that can happen due to forklift truck accidents. These can happen to the driver, other people in the warehouse area (such as employees) as well as visitors and in-store areas if they are driven into these spaces. The amount of compensation that is awarded will depend on the severity of the injuries sustained. With a forklift truck accident, injuries can range from minor to severe, and sometimes they can even be fatal. If someone you love has been involved in a fatal accident, you will be able to claim on their behalf. Call us today for more information on forklift accident claims.
Accidents with Storage Racking At B&Q
If you work at B&Q in the storage and warehousing facilities, there are a number of different accidents and injuries that could happen. In general, these can be split into two categories, which are as follows:
Manual handling accidents
Accidents where an injury has been caused due to dangerous or collapsing racking and shelving or by items that have fallen because they have not been stacked on the shelves correctly.
In order to make a successful claim, you need to show that B&Q were at fault for what happened. There are a number of different ways the company could be to blame for one of these incidents. This includes the following:
Lack of sufficient training
Failing to carry out risk assessments
Ignoring the findings that were concluded from the risk assessment
Defective equipment
If you are unsure regarding whether or not B&Q are to blame for what happened, please do not hesitate to get in touch for further information. We would be more than happy to help. If you are partly to blame and B&Q is partly to blame, it could be that you could get compensation albeit the amount will be smaller to reflect your involvement.
How To Make Compensation Claims For Accidents At B&Q
Making a claim for an accident that has occurred at B&Q is easy when you pick up the phone and ring Accident Claims. When you call us, you will speak to one of our experienced advisors who will carry out a free consultation. They will ask you some questions, which is for the purpose of understanding what has happened so that they can advise you in the best possible manner. This is also a good opportunity for you to ask any queries you may have. We will then guide you through the accident at B&Q compensation claims process, so you don't have to worry about a thing. If needed, we can also arrange a free local medical for you. Leave it all up to us!
What Amount of Compensation For Accident In B&Q Can I Claim?
The vast majority of people who contact us would like to know how much compensation is likely to be on offer if they make claims for a DIY store accident. While we would love to tell you exactly how much compensation you will receive, this is quite clearly not possible. The reason for this is because all cases are handled on an individual basis to ensure that a fair amount of compensation is awarded at all times. What we've done here, though, is offer you an overview of the typical payout for the most common injuries and illnesses relating to such incidents. You will find this information on the table you see below this paragraph.
| Injury | Severity | Notes | Payout amount |
| --- | --- | --- | --- |
| Toe Injury/ies | Severe – mild | Several toes or big toe amputated. | Amounts up to £27,450 |
| Foot Injury/ies | Mild Injury/ies | Full recovery will be made. | Amounts up to £12,050 |
| Foot Injury/ies | Serious – moderate | Disability to one or both feet. Fractures or restriction to the feet. | £12,050 -£34,370 |
| Foot Injury/ies | Extremely serious | The amputation of both or one foot will usually award this amount. How the person's life has been impacted will be considered. | £36,800 -£176,660 |
| Knee Injury/ies | Mild Injury/ies | Injury/ies to the knee which are painful but will recover within time so the knee works normally going forward. | Up to £12,050 |
| Knee Injury/ies | Serious-Moderate | This level is usually given to disability that is caused by Injury/ies to one of the following: soft tissue, cartilage, muscle, or knee. Suffering and pain caused. | £12,050 - £43,900 |
| Knee Injury/ies | Extremely Serious | Disability because of a knee Injury/ies with muscle wastage, damage to soft tissue, and muscle damage. | £43,900 - £61,100 |
| Leg Injury/ies | Mild Injury/ies | Leg break, fracture, or damage to the tissue that has affected the muscle causing great pain and discomfort. | Up to £10,380 |
| Leg Injury/ies | Serious-Moderate | Injuries sustained to the leg as a result of Injury/ies that has caused disability and restriction in movement that may have a life-long prognosis. | £24,340 -£48,080 |
| Leg Injury/ies | Extremely Serious | Amputation of two or one of your legs will be in this level. Amounts will vary depending on whether it was taken below or above the knee | £48,080 -£247,280 |
| Finger Injury/ies | Severe - Mild | The amputation of one or more fingers / broken finger that has a prognosis of complete recovery. | Up to £21,910 |
| Wrist Injury/ies | Severe - Mild | No function in the wrist / damage from Injury/ies but will recover fully | £3,090 -£52,490 |
| Hand Injury/ies | Mild Injury/ies | Surgery, cuts, soft tissue damage, and fractures warrant this bracket of compensation. | £800 - £3,810 |
| Hand Injury/ies | Serious-Moderate | Disfigurement of fingers and/or are unable to use the hand properly. | £5,110 -£54,280 |
| Hand Injury/ies | Extremely Serious | This bracket of award will contain hand injuries that involve two or one hand amputations and also injuries where a hand is rendered useless. | £84,310 -£176,660 |
| Arm Injury/ies | Mild Injury/ies | Restriction in movement and/or disability on the arms but will recover. | £5,810 -£16,830 |
| Arm Injury/ies | Serious-Moderate | If there is major restriction and disability in one or both arms and causes great pain and suffering. | £34,340 - £52,490 |
| Arm Injury/ies | Extremely Serious | The Amputation of both of your full arms shall receive the highest. This range will also cover an amputation of one of your arms, whether in part or in full. The complex restrictions this will result in in the future shall also be considered. | £84,310 -£114,810 |
| Neck Injury/ies | Mild Injury/ies | This level awarded are roughly for whiplash but are dependent on how long the symptoms last, how much pain is suffered and the prognosis going forward | Up to £6,920 |
| Neck Injury/ies | Serious-Moderate | Fractures to the neck. The person won't move fully, and they will experience pain when trying to. | £6,920 -£49,090 |
| Neck Injury/ies | Extremely Serious | Pain for a lengthy time. | £57,620 -£114,810 |
| Back Injury/ies | Mild Injury/ies | Muscle pain, slipped disc, and soft tissue would gain this bracket of compensation. | Up to £10,970 |
| Back Injury/ies | Serious-Moderate | Discomfort and constant pain. Soft tissue or ligament damage. | £10,970 - £34,000 |
| Back Injury/ies | Extremely Serious | This is the most severe type of back Injury/ies, typically to the lower back or upper back. Sometimes it can cause issues with organs or it may lead to paralysis. | £34,000 -£141,150 |
| Head Injury/ies | Mild Injury/ies | Head injuries that have not caused brain damage but still there maybe lasting effects. | £1,940 - £11,200 |
| Head Injury/ies | Serious-Moderate | Change in personality, mental disability, and lost feelings in the limbs. | £13,430 -£247,280 |
| Head Injury/ies | Extremely Serious | The award bracket is given as an estimate for victims who have suffered severe brain damage and are unresponsive. In what is referred to as a vegetable state. | £247,280 - £354,260 |
If you cannot find the injury you have suffered in the table above, please do not panic – you can still claim. If you would like further information about the amount of compensation you could be looking at, please do not hesitate to give our team a call and we will happily advise further.
B&Q Accident Claims On A No Win No Fee Basis
When you launch a claim with Accident Claims, you can be certain that it will be handled No Win, No Fee. This means for you, that you are only going to need to pay solicitor/legal fees if the case is a success. If compensation is not secured, you will not have to pay a penny. This offers you a level of financial protection that is not given if you should choose to put forth a claim via any other type of legal service, for example, one whereby you are billed per hour. It also gives you the option to make a No Win, No Fee claim irrespective of how much money you have available to you, as no upfront payment is needed.
How Accident Claims Can Secure B&Q Accident Compensation For You
There are lots of legal firms in the UK, so you may be questioning why Accident Claims is the best option for you. There are a variety of reasons why we are the best choice for you. This includes the fact that we have many years of expertise in the personal claims industry and an excellent track record. We have helped many personal injury victims to get the compensation they deserve. We are not only concerned with securing compensation but the maximum level of compensation. Plus, we care about our clients. We want you to focus on getting better while we work on getting the payout you deserve for the pain and suffering you have experienced.
Why Choose Us For Your Claim
If you are ready to lodge a claim or you have any queries about accident claims made against B&Q, please call 0800 073 8801. This is our legal helpline number, which is open seven days every week, from 9 a.m. until 9 p.m. You will speak to a friendly and experienced advisor who will be more than happy to assist you in any manner they can. There are plenty of other ways you can get ahold of us as well, as you will discover via our contact page. You can find our email address on this page, as well as an online contact form. You can also contact us via the live chat box in the bottom hand right corner, or by requesting a free call back on our homepage. No matter what method you choose to get in touch, you can be certain of exceptional service at all times.
Useful Links
We hope that you have found this guide useful. However, we know that you may require a bit of added information or that you may be interested in some case studies, which is why we have put together a collection of links to assist you further.
Below, you will find links to a case study involving accidents at B&Q. The link involves a fatal accident whereby an individual was crushed to death in a forklift accident, which led to B&Q being fined £550,000.
Case Study – Forklift death at B&Q
We also have plenty of other guides on our website, which can provide you with further information about claiming. The below guide may be useful for anyone who works for B&Q and wishes to claim against another employee or work colleague because they have caused you harm.
Furthermore, you can find some useful links below to different NHS pages for injuries that are commonly suffered in B&Q accidents. You will find details such as symptoms, treatment, and so on.