By Joanne Jeffries. Last Updated 9th July 2021. Welcome to our accident at work claims guide. This will educate you about accident at work compensation claims and injury at work claims. We'll give you an idea of how much compensation for an accident at work you could receive.
If you happen to be involved in a workplace accident that wasn't your fault, naturally, you may question how much compensation you could get for your illness or injury as part of an accident at work claim. Throughout the duration of our guide on compensation for injury at work, we are going to take a look at work accident claims in detail offering free legal advice and support. This means you can find out how much compensation for an accident at work you could claim for.
Going to work isn't always our favourite activity, but it is a necessary part of most people's lives. We often take for granted our safe workspaces, protective equipment, and policy to protect us at work, but there are cases where this protection is not sufficient to protect us from injury. If your accident at work was due to the negligence of a third-party owing you a duty of care – either another employee or your employer themselves, you might be able to make an accident at work claim. Find out more in the guide below.
If you read this guide, and you would like to hear more information or have a conversation about starting a claim, you can put your details into our callback form, send an email to office@accidentclaims.co.uk or call 0800 073 8801.
Choose a Section
Our guide to Accident at work Claim
Welcome to our accident at work personal injury claims guide.
Did you know that according to the HSE (Health and Safety Executive) around 693,000 people suffered an injury at work in 2019-2020? In fact, The Health and Safety Executive's data show that many professions have experienced a tremendous rate of injuries that have affected all parts of the body, including bones, and muscles. Below is the Health and Safety Executive's (HSE) report on workplace injury between 2019 and 2020.
111 people died of injuries in workplace accidents
Nearly 40 million working days lost to workplace injuries.
1.6 million people currently suffering from a work-related illness
The graph below illustrates this further.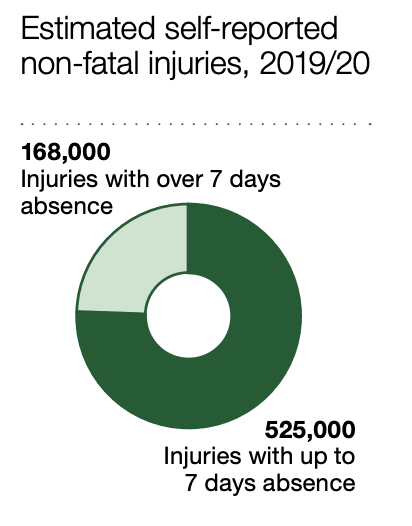 It is important to note that while some professions have a higher likelihood of workplace-related injury than others, every employee is entitled to compensation if they have been injured on the job due to their employer's negligence. In this article, we will be discussing workplace injuries, what you can expect in terms of a workplace injury compensation claim, and the steps needed to ensure the successful resolution of your claim.
Accident at Work Claim Explained
In basic terms, a "work accident claim", or an "employers liability claim", can be used to describe an incident where an injury in the workplace has occurred as a result of any type of negligence on your employer's part. This can include any action or non-action by your employer that has affected your workplace environment's overall safety. Legislation has been put in place to protect employees from injury in the workplace and ensure that the employee can obtain compensation should an injury as a result of employer negligence occurs.
To receive compensation for your workplace accident claim, your solicitor will need to establish that your employer did not take the necessary measures needed to avoid the accident that caused your injury. This is why it is so important to document as many of the circumstances surrounding your workplace injury as possible. The more ­­information your solicitor has, the better equipped they will be to ensure that your claim is successful.
Have you suffered a workplace injury as a result of your employer's negligence? Reach out to one of our experts today for your free no-obligation consultation regarding accident at work claims.
How Much Sick Pay Can I Expect from my Employer?
Although employers are not legally required to pay full salary as a result of a workplace injury (regardless of whether the injury was caused as a result of employer negligence), they are in most cases, obligated to pay Statutory Sick Pay, which can be paid for up to 28 weeks after the time of the injury. The SST entitlement amount at the time that this article was written works out to £95.85 weekly. Employees will need to be off work for a minimum of four consecutive days before SSP can be paid. If your conditions fall under the qualifications of a disability, you may be entitled to full pay from your employer. For further details on your SSP rights, visit the government website.
In most cases surrounding workplace injury, the victim will more than likely experience a financial shortfall as a result of lost wages. This is why lost or reduced wages will be included in your workplace injury claim.
Common Workplace Injury Claims
To make any successful accident at work claims, you and your solicitor will need to prove that your injury has limited or diminished your ability to work. This can include a wide range of injuries including but not limited to:
Back Injuries
Broken or Fractured Bones
Burns
Head Injuries
Exposure to environmental hazards
If a doctor determines that you will never be able to return to work as a result of your injury, your claim will reflect your past and future lost earnings.
What to Do If You Are in an Accident at Work
In order for your solicitor to build the best possible case for your accident at work claims, you will need to provide them with as much information as possible. This can include taking photos of the accident scene, as well as gathering as many witness statements as possible – be sure to get the full name and contact details from your witnesses as your solicitor may require them later. Additional steps that need to be taken following an accident should include:
Reporting the accident (as soon after the accident as possible)
Instruct your employer to record the accident in their accident log
Obtain driver and vehicle information
You may also wish to follow up with the Health and Safety Executive (HSE) to ensure that your employer has reported the accident to them.
Although you have up to 3 years after the time of the accident to make a workplace injury claim, it is always in your best interest to begin the claim process as soon as possible. If you have recently been injured at work and need to start an accident at work claim, you are encouraged to contact one of our experts for a consultation, free of charge.
Back Injury at Work, Can I Claim?
Yes. In fact, back injuries in the workplace are among the most common work accident claims that our experts deal with. This is because back pain and injuries are associated with such a wide range of work situations. Common work roles associated with back pain and/or back injury can include:
Heavy manual labour or lifting
Manual handling in small or awkward places (such as delivery work)
Heavy equipment operation
Prolonged periods in one position (either standing or sitting at a workstation)
Many of the physical demands associated with many workplace roles can trigger various severities of back pain, or in some cases exacerbate existing back issues. It is your employer's responsibility to take appropriate steps to either eliminate or greatly reduce the risk of work-related back injuries; this can include:
Keeping work areas clean and free of clutter
Ensuring that employers are equipped with proper safety gear (such as back braces and safety goggles)
Providing workplace safety training
Allowing for breaks when employees are engaged in manual handling or physical labour.
If you have suffered from a back injury due to your employer's negligence and need to start a back injury at work, you can call one of our team for more advice about accident at work compensation claims.
What Can Be Claimed for After an Accident at Work?
Experiencing an accident at work can include more than just simple pain and suffering; some injuries include real financial repercussions for the victim. Our team of experts are able to easily guide you through this process to ensure that you get the best compensation possible. Claims for workplace injury compensation can include:
General Damages – This can include physical pain and suffering, mental anguish, physical disfigurement or impairment, or decreased quality of life.
Loss of Earnings – This can include unpaid sick days (past and future) as a result of the injury, as well as any decrease in earnings while receiving sick pay.
Travel Expenses – This can include any travel costs associated with treatment for your workplace injury such as; flights or trains, petrol costs, etc.
Medical Expenses – This can include any out of pocket expense for your workplace injury-related treatment such as; physical therapy, physiotherapy, counselling, chiropractors, etc.
Care Claims – This refers to anyone who had to serve as your caretaker as a result of your workplace injury that prevented you from handling your basic day to day needs. This claim will be paid to the caretaker themselves.
If you have suffered from a workplace-related injury and are interested in learning more about what can be included in your claim, our expert advisors are here to help. Be sure to ask about our accident at work no win no fee guarantee.
Top 10 Most Common Types of Accidents at Work
Workplace injuries are not limited to just manual labour and construction jobs. In fact, the occurrence of workplace injury and accidents have become a common event across each and every occupational sector. At the same time, it is difficult to pinpoint any one workplace-related injury to a specific occupation. We do know that between 2019-2020 there were an estimated 693,000 non-fatal workplace-related injuries in the workforce that equated to nearly 38.8 million lost working days. Sadly, 111 of the injuries involved in this estimate resulted in death.
The list of injuries that can be suffered in the workplace is virtually uncountable. Still, to serve as a general guide, we have compiled 10 of the most common injuries sustained within the workplace that could give grounds for accident at work claims to be made, as well as the safety precautions that employers should be taking to ensure the safety of their workforce. And the circumstances may influence how much compensation for an accident at work you can claim for.
Slips, Trips, and Falls
Slips, trips, and falls, account for the majority of accident at work claims – and are often a result of employer negligence. In many cases, simple and straightforward measures can be taken to avoid a slip, trip, or fall, such as: cleaning up spills as they happen, and ensuring that work areas are kept neat, and free of obstructions.
Muscle Strains
People who work in industries that require regular heavy lifting have an increased risk for muscle strain-related injuries. Back and neck strains are often associated with not only repeated lifting, but improper lifting practices as well. Employers can reduce the risk of muscle strain injury related to lifting by providing basic safety training to employees on proper lifting techniques.
Being Hit by Falling Objects
Being hit by a falling or flying object in the workplace can result in a myriad of injuries ranging from minor cuts and abrasions to more serious injuries like concussion, blindness, or even death. Regular safety checks of work areas could greatly reduce the risk of being hit by a falling object.
Repetitive Strain Injury
Repetitive Strain Injury (RSI) has become a more common and recognized workplace injury. RSI can happen over the course of years before it is noticed, and is often caused by tasks that involve repetitive or force activity, or by prolonged poor posture. RSI most commonly affects the upper body, including the neck, shoulder, wrist, elbow, and hands. Employers can reduce the risk of employees suffering from RSI by ensuring that workspaces are as ergonomically correct as possible.
Crashes and Collisions
Accidents that result in a crash or impact injury are fairly common in a variety of workplace settings. This can involve cars and lorries and smaller vehicles such as forklift trucks – all of which have the potential for severe injury or even death. Your employer is obligated by law to ensure that all safety precautions, including seatbelts, and well-maintained vehicles, are in place to safeguard employees.
Cuts and Lacerations
Cuts and lacerations at work can be caused by a number of things in the workplace. Whether you receive a cut from a power saw or a paper trimmer, cuts and lacerations can be painful, and in some cases a debilitating occurrence. Injuries involving cuts and abrasions can often be avoided by ensuring that proper safety equipment is used when necessary and implementing appropriate workplace safety training.
Toxic Fume Inhalation
Exposure to hazardous substances in the form of gas, fumes, dust, or vapour can lead to various toxic fume-related injuries in the workplace. It is the responsibility of the employer to provide employees with all of the necessary safety equipment needed (such as goggles and fitted face masks) whilst working in environments where hazardous substance exposure is possible.
Loud Noise Exposure
Working in a noisy environment can cause permanent and irreparable hearing problems. This can affect not only your ability to work but your day to life as well. People working in loud environments may not even realize that their hearing is being affected until the damage is already done. Using protective ear equipment when working in loud places can greatly reduce your risk of hearing damage caused by loud noise exposure.
Walking into Objects
We have all had our fair share of clumsy moments. Even seemingly small distractions can cause an embarrassing, or worse, painful situation. What starts as a minor stumble, can lead to part of your body plunging into the corner of an open cabinet drawer. This is why both employers and employees need to be diligent in ensuring that work areas are clean and free of unnecessary hazards.
Fights in the Workplace
As much as we would like to think that fistfights are limited to children in the playground, they are sadly a part of the adult workforce as well. Although most physical altercations in the workplace result after months or even years of pent up tension, there have been many incidents of physical assaults occurring in the workplace over a seemingly minor disagreement.
Regardless of the root cause of these occurrences, physical altercations in the workplace can result in nasty and in some cases, life-threatening injuries. Employers can reduce the risk of workplace violence by implementing procedures that allow employees to effectively share any grievances that they may have before a situation becomes overly heated.
What is Involved in an Accident Claims Process
Because every accident at work claim is unique, the process involved will differ from claim to claim depending on the circumstances and factors involved. And these could impact the potential compensation for injury at work. This can include: if the accident occurred on or off company property, the severity of the injury, length of suffering or debilitation associated with the injury, cause of the accident, and the extent of the employer's negligence. That being said, the general outline of the process will usually go as follows:
You hire a solicitor to act on your behalf for your workplace accident claim.
Your solicitor will arrange an independent medical examination.
Your solicitor notifies your employer and your employer's insurer of your claim.
Your case is assessed, and liability is either accepted or denied as a result of the evidence presented.
In ideal cases, liability is accepted, and an agreement for compensation is agreed upon. When an employer denies liability, the claim may need to go to court to be resolved. It is important to note that out of court settlements still happen even when the employer does not accept liability – very few cases end up having to go to court.
Assessing the Severity of an Accident at Work Injury
Assessing the severity of your workplace injury is difficult to determine how this injury may affect you in the future. You will more than likely need to have a medical examination to determine your injury's full extent. This will help to determine not only the severity of your injury, but the best course of treatment needed, and how long these treatments will be needed for. All of this information will be relevant in how much compensation you will receive from your accident at work claim. This examination will be provided at no cost to you at a medical practice located in your area.
How much is an accident at work worth in compensation? – Updated July 2021
When it comes to calculating the amount of compensation you might be awarded for an accident at work, this can vary widely. Below, we have illustrated some typical payouts for accidents at work in our personal injury compensation calculator table. However, please note that these amounts are not set in stone. Your compensation amount will depend on the particulars of your specific case and injuries.
| Injury | Compensation |
| --- | --- |
| Serious Toe Injuries | £9,010 to £12,900 |
| Moderate Toe Injuries | Up to £9,010 |
| Serious Fractures of Jaws | £28,610 to £42,730 |
| Simple Fractures of Jaws | £6,060 to £8,200 |
| Very Severe Facial Disfigurement | £27,940 to £91,350 |
| Less Severe Facial Disfigurement | £16,860 to £45,440 |
| Serious Hand Injuries | £27,220 to £58,100 |
| Less Serious Hand Injuries | £13,570 to £27,220 |
| Severe Shoulder injury | £18,020 to £45,070 |
Top UK Employers
If you have suffered as a result of a workplace accident, you may feel strange or nervous about making an accident at work claim against your employer. This can be particularly daunting if you work for a large organization. If you have been seriously injured as a result of your employer's negligence (regardless of who your employer is) you are entitled to make a claim for injury. In fact, the law states that you cannot be penalized or punished in any way by your employer as a result of your claim. Larger companies generally handle accident at work compensation claims very professionally. Below are some of the top employers in the UK.
Expedia
Hays
Unilever
HomeServe UK
Salesforce
American Express
Google
First Derivatives
Explore Learning
Costa Coffee
Accenture
GlaxoSmithKline
Easy Jet
McDonald's
NHS
Centrica
Jaguar land rover
Page Group
If you suffered from a workplace accident whilst working for any of the aforementioned employers, you would need to speak to one of our experts to determine the best course of action to receive compensation for your claim.
No Win No Fee Accident at Work Claim
When you've suffered a work-related injury, the last thing that you need to worry about is coming up with the funds to start the accident at work claims process. This is why we offer our clients no win no fee accident at work claim guarantee, to make the injury at work claims process as stress-free as possible. We only get paid if you get paid!
Have you suffered from an injury in the workplace as a result of employer negligence? Our team of knowledgeable experts can counsel you on how to get the best possible compensation for your claim and refer you to a variety of experienced workplace injury law solicitors. Call us today for your free consultation.
Why Choose Us as Your Claims Service for Your Accident at Work Claim?
Our team of experts comprises highly experienced and dedicated individuals who are passionate about helping our clients receive the compensation they deserve for their injury claim. We deal with medical negligence claims and personal injury claims of all types. From the second you connect with one of our experts, you will feel confident that your claim is being handled by the best team possible. Our only goal is ensuring that your claim ends in the maximum compensation allowed for your injury.
Our dedicated team of experts are ready and able to help you get started on your workplace accident claim. Call us today at 0800 073 8801 for a free no-obligation consultation.
Helpful Links
Workplace Accident Claims GOV Compensation advice.
In most work accident claims, it is in the employer's best interest to settle with the employee who suffered the injury. This link provides information on employer tax reporting and other legal obligations surrounding accident at work compensation claims. 
Do you have additional questions regarding SSP (Statutory Sick Pay), or what steps should be taken after the occurrence of a workplace accident? Click the link above for some helpful insight.
Health and Safety Practices at work
The government has implemented health and safety at work practices to protect employees from workplace-related accidents. The article below provides general health and safety in the workplace guidelines.
Click here to read our guide to car accident claims.
Or click here to read our guide to accidents in a public place. 
Accident At Work Claim FAQs
How long does an accident at work claim take?
The amount of time that your claim will take depends on the nature of your injury and the circumstances around it. If the accident and your injury circumstances are straightforward, you could be looking at the claim being completed in a matter of a few months. If it is more complex, then the claim could go on for two years or more.
Can I be disciplined for having an accident at work?
Having an accident and being injured in the workplace is not lawful grounds for being dismissed. The law also says that employees are protected from being dismissed to raise health and safety complaints and make work accident claims against their employer.
How much can I claim for a work injury?
The amount that you could claim for a workplace injury could vary by a large amount. It depends on how badly injured you are and how much the injury costs you financially. To find out how much you could receive, view our compensation calculator and call us to speak to an advisor.
What do you do if you have an accident at work?
One of the best things you can do if you are involved in a workplace accident is to report your employer's incident. By reporting the incident to your employer, they are obligated to document the incident in a logbook, known as an accident book which you can get a copy of and use as evidence.
Is my employer required to pay me sick leave?
If you are rendered unwell or injured due to a workplace accident, you may have to take time away from work. While your employer isn't obligated to pay you sick leave, if an accident is caused by negligence, then any losses could be factored into your case.
Should I begin my case in a specified time limit?
In order to make a successful case, you must begin our claim within 3-years of the incident. However, if you fail to begin your case within this limitation period, then your claim's validity could become compromised.
Do I need a personal injury solicitor in order to claim?
Although there is no legal requirement to seek out a law firm, having a solicitor handle your case can increase your chances of securing the maximum compensation you deserve, including for any long-term medical treatment you require for your injuries.
How can I contact Accident Claims?
Please see the section below for information on how to get in touch with us about accident at work claims. Our panel of specialist solicitors could handle your claim for compensation on a No Win No Fee basis today. And they can explain how much compensation for an accident at work you could claim for.
How much compensation for an accident at work is the average payout?
As we have mentioned, each case is different, and courts and lawyers must assess all the facts of the case before arriving at a compensation settlement. Therefore, there is no average payout for such claims. Your injuries would be assessed by a medical expert and they would write a medical report that lawyers and the courts would look at to determine an appropriate amount.
What will impact how much compensation for an accident at work I could receive?
There are various factors that could affect your payout. The first would be the nature and severity of your injury, and how you've suffered. It could be useful to keep an injury diary to document your accident at work injury recovery. This way you could note down how you've felt, anything you haven't been able to do and how long you've been off work, for example.
Another thing that could impact your compensation for an accident at work could be whether you were partly at fault. If you contributed to the accident in some way, perhaps by not wearing PPE correctly, this could lead to your compensation claim being refused or disputed. A court may reduce your compensation award due to your contribution to your injury.
How long you've had away from work and whether you're able to return to your job could also affect your payout. Sometimes, solicitors could secure a compensation payout for future loss of earnings for serious injuries that mean you can't continue working. This could be appropriate for very serious injuries, or even facial disfigurements for those who model for a job, for example.
Thank you for taking time out of your day to read our accident at work claim guide. We hope you have learned a lot about compensation for injury at work claims, including how much compensation for an accident at work you could receive.