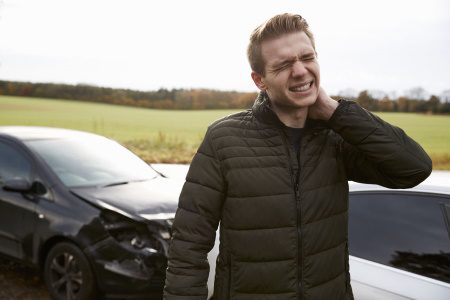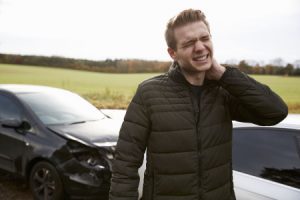 By Max Misoka. Last Updated 28th June 2022. In this online guide, we will look at the legal process of making whiplash injury claims against Churchill car insurance. To make a valid claim, you will need to be within the personal injury claims time limit which is generally three years. We will cover the legal aspects related to making a whiplash claim and also present financial information that pertains to the settlement you receive if your claim is successful.
No two claims are alike, each has its own idiosyncrasies. Therefore, it is impossible to answer every potential question that claimants may have in a single online guide. If you do need further help and advice, our claims team is available on 0800 073 8801, 24/7, 7 days a week to assist you. They will also explain how we can provide you with a personal injury solicitor to process your claim for you.
Select A Section:
A Guide To Whiplash Injury Claims Against Churchill Car Insurance
In the following sections of this guide, we will explain many aspects of making a Churchill insurance whiplash claim. This guide will begin by explaining what whiplash is. It will then look at how it is caused, diagnosed, and what the common symptoms of whiplash are.
This guide will then go over certain aspects of the claims process related to making the most appropriate choices to maximise the chances of your claim being successful. We will look at what the response to an early or pre-medical settlement offer could be, and also who a claim would be made against in a number of scenarios. This includes 'split liability' and 'knock-for-knock' claims.
The last part of this guide relates to financial factors attached to the claim. For example, we have provided a table based on the actual figures used by the judicial system in the UK, that shows possible ranges of compensation for a number of types of injuries. We have also presented a list of some of the more frequently seen kinds of damages that make up a compensation settlement. Finally, we explain how our No Win No Fee claims service can help you to make a claim.
If you have any questions about the claims process in general, the contents of this guide, or anything else related to making a whiplash claim, please speak to a member of our claims team on the number at the bottom of this page. They will provide you with the assistance that you need, and can also organise for a solicitor to begin working on your claim for you.

Whiplash Injuries Defined
In this section, we are going to answer the question, what is a whiplash injury? Whiplash is one of the most commonly claimed for injuries in the UK. In most cases, the cause of such an injury will be by some form of a road traffic accident in which the victim's neck was exposed to kinetic trauma.
Whiplash is termed as a "nonspecific medical condition". What this means is that no single symptom or underlying injury alone can be diagnosed as causing it. Instead, it is a combination of multiple injuries and symptoms into a single medical condition. The definition of a "whiplash injury" could be that whiplash is nonspecific damage to the muscles, tendons, ligaments, bones and soft tissue of the neck or shoulders. A combination of these underlying nonspecific injuries causes pain and stiffness in the neck, which is diagnosed and treated as a single medical condition. The symptoms of whiplash can include:
Stiffness of the neck and shoulders, making it hard or painful to move the head.
General pain in the neck or shoulders, that can range from minor to severe.
Nonspecific headaches that can range in severity from trivial to severe.
Spasms of the muscles in the arms and hands, that may combine with a general loss of feeling and numbness, or symptoms such as pins and needles.
Due to the nonspecific nature of whiplash and the fact that the underlying cause of the symptoms that are being manifested is generally very hard to diagnose, has lead to whiplash being used as a basis to make fraudulent claims in the past. Now, every whiplash claim is scrutinised, and the responsibility is on the solicitor to prove the extent of the injuries. This may require the claimant undergoing an impartial medical examination or presenting some form of medical evidence. If you would like more information about this, then please speak to one of our claim advisors. For more information, you can visit the NHS website that goes into more detail about the injury.

Car Insurance Industry Insights
Insurers may offer a pre medical settlement, this is a settlement usually within 2 weeks of the incident taking place so that their costs can be kept lower, however if it maybe beneficial to make a full compensation settlement as;
People who do not accept an offer of a pre-medical settlement generally get more compensation at the end of the day.
People who use the services of a specialist accident and injury lawyer may get a better chance of successfully concluding their claim.
People who take legal advice when they are offered a pre-medical settlement, are doing the right thing. Always check over any offer with your solicitor.
We know that for many people, the legal process of making a claim can be quite daunting. Insurers often play on this, tempting claimants to accept an early settlement rather than follow the whole end-to-end claims process. We can offer you some advice on how best to deal with your claim. Speak to a member of our claims team today and they can start helping you right away.

Should I Make A Claim On My Own Insurance?
To answer the question, will my car insurance cover whiplash? Insurers tend not to allow policyholders to claim against their own insurance for injuries that they caused themselves. You will of course, be free to claim against the insurance of a third party who caused an accident that you were injured in.
There is one exception to this rule. When liability is split, this can result in what is termed a knock for knock claim. Under a knock for knock claim each driver claims against their own insurance. We will look at this situation in more detail later in this guide.

Could I Claim If Both Parties Are At Fault?
You can make a whiplash claim even if you were partially to blame for the accident happening.  If a third party caused the accident, but you contributed to it in some way, you will still claim against the other party's insurance. What will happen, is that both legal teams will negotiate a reduced level of liability for the defendant (the person that caused the accident). This reduced level of liability is expressed as a percentage, and will drive the overall level of compensation you receive. For example, if the defendant agrees to 70% liability, you will only receive 70% of the maximum compensation available.
Now we need to talk about knock for knock claims. In some accidents, it is impossible to attribute the major portion of blame to either party. In this case, both parties share liability equally. This results in a knock for knock claim. A claimant will claim against their own insurance for the injuries they suffered. It should be noted though, that claiming against your own insurance will have a negative effect on your no claims bonus. This means your insurance premium may increase. You should think carefully whether it is worth making a claim and losing your no claims bonus.

What Are Pre Medical Offers And Should I Take It?
When you begin making a whiplash claim, it is likely that the defendant's car insurance will offer you a pre-medical settlement. This is an offer before you have undergone a independent medical assessment or even before you may have allocated a solicitor. You should think long and hard before accepting a pre-med settlement, as you will not know:
Just how bad your injuries are and the prognosis for recovery, as you will not have seen an dependent medical expert.
Whether you will incur prescription charges costs.
You cannot include travel costs.
Any loss of earning because you had to take time away from work.
Any loss of earning potential in the future due to long-term injuries or a disability.
Any private medical treatment you need during your recovery.
The cost of hiring a nurse to take care of you at home.
You should evaluate all aspects of your claim and decide whether it is worth holding out for more. We can help you with this decision, if you speak to one of our claim advisors.

What Happens If I Reject A Settlement Offer?
You don't have to accept the pre-medical settlement if you are making a personal injury claim against Churchill. You also do not need to accept your first settlement offer if you do not want to. Ask your legal team for advice when ever an offer is presented. The decision is yours and the insurer should not attempt to intimidate you into taking the settlement offer. Before you decide to accept it, consider the following:
There is no rule saying you must accept any settlement offer. You can turn the offer down and continue with the claims process using your own legal team.
You will have up to three years to complete your claim (although this time limit can differ in some cases). This means that you don't have to make any rushed decisions.
Accepting a settlement offer before you have had a medical examination may not be beneficial as you will not know the full implications of your injuries.
If you are confused about whether to accept a settlement offer or not, we can help you gain some clarity. One of our claim advisors will be happy to talk your claim over with you and offer you some free legal advice on how best to proceed.

How Much Compensation For a Whiplash Injury Claim Against Churchill?
You may be wondering what Churchill motor claims are? Before we discuss what you could receive from potential claims, it's important to note a change in how whiplash claims are now being processed. If you've suffered an injury as a driver or passenger in a vehicle in either England or Wales and your injury is deemed to be worth £5,000 or less, you would need to claim using the online portal as described in The Whiplash Injury Regulations 2021.
If your injury is deemed to be worth more than £5,000, you would claim using the standard method. The Judicial College Guidelines give you a better idea of what you could receive for a more serious injury.
These figures have been taken from previous successful court claims from England and Wales – they are not guaranteed as every claim is different. There are many types of injuries you can claim for. Please see a selected list of injuries taken from the guidelines below. These have been taken from the 2022 edition of the guidelines, the latest ones available.
Injury Type
Severity
Description
Compensation Bracket
Neck
Severe (i)
This injury is associated with incomplete paraplegia or causing spastic quadriparesis that is permanent.
In the region of
£148,330

Neck
Severe (ii)
Injuries like this often involve disc damage in the cervical spine or serious fractures that cause considerable disabilities.
£65,740 to
£130,930

Neck
Severe (iii)
Dislocations or fractures or severe soft tissue damage that cause conditions that are chronic in nature.
£45,470 to
£55,990
Neck
Moderate (i)
Immediate, severe symptoms are created due to fractures or dislocations. This injury could result in spinal fusion being required.
£24,990 to
£38,490

Neck
Moderate (ii)
Wrenching-type injuries or severe disc lesions causing serious limitation of movement and discomfort or stiffness.
£13,740 to
£24,990

Neck
Moderate (iii)
Injuries in this bracket will have accelerated or exasperated a pre-existing condition, normally for less than five years.
£7,890 to
£13,740

Back
Severe (iii)
Fractures or disc lesions that lead to conditions that are chronic in nature. Disabilities remain despite treatment, such as surgery.
£38,780 to £69,730
Back
Moderate (i)
Injuries in this bracket include a crush fracture of the lumbar vertebrae that causes a substantial osteoarthritis risk.
£27,760 to £38,780
Back
Moderate (ii)
Ligament and muscle disturbance can cause symptoms such as backache.
£12,510 to £27,760
Back
Minor (i)
Less serious sprains, strains or disc prolapses where a full recovery or a recovery to nuisance level is reached between 2 to 5 years.
£7,890 to £12,510
Call our advisors to see if you have valid personal injury claims against Churchill insurance.
What Other Whiplash Compensation Could I Claim?
If your personal injury lawyer is successful in processing your claim, you will be offered a settlement that is made up of potentially a number of different kinds of damages. Special damages will be used to calculate the financial loss you have suffered and general damages will compensate you for the pain and suffering caused. For example:
Special damages:

Loss of future prospects.
Loss of current earnings.
Medical fees.
Care costs.
Travel costs.

General damages:

Permanent disability.
Long-term recovery.
Physiological damage.
Pain and suffering.
Stress and trauma.
You can speak to one of our claim advisors if you would like to know what kinds of damages might be possible to claim for in your own case.

No Win No Fee Claims Against Churchill Insurance
We can provide you with a solicitor who will process your claim under a No Win No Fee agreement. This means that there won't be a charge to start your claim, or while the solicitor is processing it. If the claim is unsuccessful, you still don't pay anything to your legal team. If you do receive a compensation payment, the solicitor will collect it on your behalf. At this stage, they will deduct their pre-agreed fee and give you the remainder.
As you can see, this kind of fee agreement really does minimise the financial risks associated with making a claim. For more information about how this service works, please talk to our claims team today, who will help you to get your claim started.

Talk To Accident Claims UK Today
Have you suffered from whiplash that was caused by a road traffic accident, and you need to make a claim against Churchill? If you have read this guide, you already know that we can help with this. Please contact us and speak to a claim advisor on 0800 073 8801, who will evaluate your claim for you, and then help you to proceed with it.

Related Information
You may find these links to external sites have some useful information that is pertinent to your claim:
National Institute For Health And Care Excellence Information About Whiplash
NHS Inform Exercises For Neck Problems
UK Government Information On Whiplash Claims Reform
You can also check over these addition guides we have published on this site:
Whiplash Compensation Calculator
Article by M.W.
Edited by H.H.