By Joanne Jeffries. Last Updated 14th October 2021. Welcome to our guide on pharmacy negligence claims and prescription error claims. In this guide, we cover everything you should know about pharmacy compensation claims. Have you been given the wrong dose of medication by a pharmacist? Has this had a negative effect on your health, or did the pharmacist dispense the wrong medication entirely to you? Do you want to know the average settlement for medication error?
If so, you could be looking for assistance from someone that knows all about pharmacy negligence and could help not only make the whole process of claiming a little clearer for you but could also help provide you with a medical negligence solicitor with experience in this type of medical negligence claim. That is exactly what you could find by reading this page. At Accident Claims UK, we have a panel of experts who could answer all the questions you might have about pharmacy errors and negligence claims against a pharmacist.
Read the sections below, and you'll be in possession of all the information you could need to know about making a pharmacy negligence compensation claim. To begin pharmacy negligence claims or to ask us anything before you start your claim, call 0800 073 8801, and we will go about finding the answers you seek about No Win No Fee prescription error claims.
Select A Section
A Guide To Pharmacy Negligence And Prescription Errors
Welcome to our prescription error claims guide. If you have been in the position where you have been the victim of a prescription error, and it has caused you to suffer ill-health because of the clinical negligence of a pharmacist, then you might want to know more about wrong prescription compensation claims.
This guide to making prescription error claims has been broken down into easy to digest sections, allowing you to learn all about the claims process, the reasons you might want to make a claim, and the potential compensation amounts you could receive for doing so.
It includes:
A definition of what pharmacy negligence is and the effects it could have on a person, both in the short and long term.
An explanation on why pharmacy negligence could be classed in a basic form as medical negligence.
A guide on the kinds of errors that could be made when it comes to dispensing prescriptions.
Information on some of the common side effects that could be suffered by those who have been taking the wrong medication, and why these are not limited to the effects the medication itself could have on you, but also how the wrong treatment can mean an existing illness could worsen.
A description of what sorts of damages could be claimed as part of a pharmacy negligence claim, with elements including pain and suffering.
Steps you could take in order to ensure you reduce the risks of taking the wrong medication or the wrong dosage of medication.
What makes you eligible to file a pharmacy compensation claim.
Information on how to go about beginning to make a claim for compensation for pharmacy error.
What no win no fee means, and why it could be wise to make a claim with a no win no fee solicitor.
Contact Us
After reading through all the information provided in the prescription error claims guide, we also give you our contact details should you wish to benefit from expert advice or have any pertinent questions you need answering, such as can you sue a pharmacy for giving you the wrong prescription, or how much compensation for wrong medication could you be looking at receiving. We would be very happy to talk over your claim in more detail to see how we could help you make a claim for compensation, and we could also provide a quality personal injury solicitor or give actionable advice that could help you.
In addition, we've put together some other information from trusted sites, such as the CQC, should you wish to do some additional reading after this pharmacy negligence claims guide. We have also provided links to some of our other medical negligence pages that might be of some use. If you still have questions about pharmacy compensation claims by the end of this article, please don't hesitate to contact us.
What Is Pharmacy Negligence Or Prescription Error?
Before we begin our prescription error claims guide, let's look at how negligence. In essence, a pharmacy mistake could threaten the health and potentially the life of the patient. This is why if you have suffered due to a wrong prescription, you could look into making a claim for compensation.
A qualified pharmacist could be considered a medical professional. This means they do have a duty of care to you, and if they fail in that duty and you are harmed; as a result, then you could look into making a claim for pharmacy negligence compensation.
Put simply, a prescription error or incident of pharmacy negligence could consist of a pharmacist giving out the wrong medication or an incorrect dose of the right medication. If you're not sure whether your incident of negligence could be included within a claim, let's take a look at some circumstances.
Pharmacist negligence
Essentially, as pharmacist negligence is the same in a basic sense as a medical negligence claim, your physical and mental health will be assessed by an independent medical professional, and your condition will be noted down in a report. The report should detail the effects that the medication error has had on you and how long it might take you to recover if you have not already recovered.
If you are worried that you would have to travel quite a way to receive this medical assessment, then you could be surprised to learn that independent experts could be based quite close to where you live, so you might not have to go too far to see one. If you have any concerns or questions surrounding pharmacy compensation claims, please don't hesitate to get in touch. 
Causes And Types Of Pharmacy Medical Negligence
There are various types of pharmacy error causes that might result in pharmacy negligence claims or prescription error claims. These could be thought to include:
Prescription error –This could entail a pharmacist either dispensing the wrong medication which has not been prescribed for you or the incorrect dosage.
Transcription error – This could be caused by someone's handwriting being misunderstood, and an incorrect medication or dosage was given because of this. This may not entirely be the responsibility of the pharmacist.
Dispensing error – If a pharmacist's assistant or those that work as part of the pharmacist team gives the patient the wrong medication. A medication mix up. This may also not be a claim directed at the pharmacist.
To find out more about the effects of pharmacy error and why pharmacy compensation claims are necessary, read on. 
What Happens If The Pharmacy Gives You The Wrong Prescription?
Taking medication that is not prescribed for you can have varying consequences depending on what the medication is and if you are on other medication.
Short term symptoms could include nausea and/or headaches. However, there are more serious symptoms that could be suffered, including:
Disability
Seizure
Liver Damage
Anaphylaxic shock (if you've been given something you are allergic to)/
However, these are not the only issues that could occur if you take the wrong medication. You could also not be treating the condition you initially had, which could cause a disease to progress further and cause more severe symptoms or a poorer prognosis. If you've been given the wrong medicine because of a prescription error, get in touch with us today to chat about pharmacy compensation claims.
Can You Sue A Pharmacy For Giving The Wrong Prescription?
In answer to the question 'Can you sue a pharmacy for negligence', the answer very much depends on what has happened to you because this will determine whether or not you could file pharmacy negligence claims. It might be hard to see who could be at fault for a prescription mistake that has made you ill. To ascertain whether your unique experience means you could make a pharmacy negligence claim, you could call the team at Accident Claims UK, and we could help clarify this ahead of your prescription error claims.
Doctor Error
An error could be made by your doctor or treating medical professional if they have prescribed the wrong medication or are responsible for the dosage you receive.
If a doctor prescribes the wrong medication, then the pharmacy is unlikely to be at fault as they are following the prescription.
Dispensing Error
If the pharmacy is given a prescription that is correct but goes on to give the patient the wrong medication or the wrong dosage other than what is prescribed on the prescription by the doctor and the patient suffers due to this error, then the patient may be eligible for damages within their pharmacy compensation claims.
Making Sure You Are Not Affected By A Prescription Error
As we have explained above, there are plenty of negative effects on your health that could result from pharmacy negligence cases in the UK. There are ways you can ascertain whether the pharmacist has given you the correct medication for your ailment. These tips could help you to avoid falling ill because of pharmacy negligence.
You could check your medication before leaving the chemist.
If your prescription is not easy to read, you could ask your doctor to rewrite it more clearly so that there can be no misinterpretation of the medication or the dosage.
You could educate yourself on your dosage so to avoid getting the wrong dosage.
If you are unsure as to whether the medication dispensed is correct, then you could ask your pharmacist to double-check it.
If you are unsure whether there has been a pharmacy prescription mistake, you may wish to ask the pharmacy before taking the medication.
You could also consult with the instruction within the medication.
If you'd like to find out more about the process of making pharmacy negligence claims and prescription error claims, as well as what could be covered by your compensation, then read on.
How Do I Claim For Pharmacy Negligence Or Prescription Errors?
If you're unsure of the pharmacy compensation claims process, this section will tell you everything you need to know. Before attempting to make claims for pharmacy negligence or prescription errors, you may wish to go through the following checklist to see if you could have a claim.
Was your prescription incorrect?
Was this due to a mistake by the pharmacist?
Did this cause your health to suffer?
Could have this been avoided if the pharmacist had not been negligent?
Did it happen within the last 3 years, within the personal injury claims time limit (usually three years from the date of incident or date of discovery)? There could be exceptions to the rule, so please call our advisors for more information.
If you have answered yes to these questions, then you could seek pharmacy negligence compensation for the prescription error that has been made.
Get in touch for a free consultation
Are you are unsure whether you could make a personal injury claim? If so, do call our experts in pharmacy negligence cases, who would be happy to confirm whether you could. If you have confirmed that the pharmacy error did, in fact, cause you harm, then you might want to know how to go about making pharmacy mistakes for prescription claims. Initially, all you need to do is call us, and we will help you. You can tell us about what has happened to you, and we could work out whether we feel you could have a pharmacy negligence claim. Here's a quick guide to the questions we might ask you when you call us.
When did the pharmacy negligence occur?
Did you report the mistake? If so, to whom?
Have you sought medical attention for the prescription mistake?
What has your doctor told you about treatment and prognosis after the prescription error?
Have you had time off work to recover, meaning you have lost income?
Did you have to pay out any money for medical or travel costs because of the pharmacy negligence?
If you could consider these questions before you call our team, then we could quickly go through the basics of your pharmacy negligence case and see if you could have prescription error claims.
Pharmacy Negligence Or Prescription Error Compensation Claims Calculator – Updated October 2021
We're often asked how much can be paid out in pharmacy compensation claims. In the table you can see below, we have set out some examples of what your settlement could look like for certain injuries relating to negligence in pharmacy. This is an alternative to a  personal injury claims calculator. Not every injury or outcome is covered as there are too many to list, so do call us if you can't see yours here, and we could help clarify. It is vital to remember that settlements for wrong prescriptions in the UK vary massively depending on general damages and special damages. But this could estimate your amount of compensation nonetheless.
| Injury | Explanation | Bracket for compensation |
| --- | --- | --- |
| Minor Poisoning | Causing symptoms that are minor. These could include muscle pain, nausea, diarrhoea – Usually clears up within a few days | £860 to £3,710 |
| Poisoning (moderate) | Hospital treatment may be required. Worse pain, nausea than that of minor poisoning Fever and fatigue may be present. | £3,710 to £8,950 |
| Serious Poisoning | Symptoms similar to the above with vomiting and cramps. Remaining discomfort and disturbance of bowel function and impact on sex life and enjoyment of food over a few years. | £8,950 to £18,020 |
| Poisoning (severe) | Severe toxicosis. Long-term effects on quality of life and lengthy hospital treatment. | £36,060 to £49,270 |
If you'd like to speak further to someone about pharmacy negligence claims or prescription error claims and what you could be entitled to, then get in touch with our team today.
Pharmacy negligence and prescription error statistics
When we pick up a prescription from a pharmacy, it's safe to say that many of us won't even think to second guess that the medication we've received is the right one for our needs. But errors in prescriptions do happen, and the results can be devastating.
The Policy Research Unit in Economic Evaluation of Health and Care Interventions released a study in 2018 on the impact that medication errors in NHS England have. They found that:
Over 237 million medication errors occur in England every year. Dispensing errors accounted for 15.9%, or over 37 million, of these errors.
Of these dispensing errors, it's estimated that 34.1% have the potential to cause moderate harm.
1.1% of dispensing errors have the potential to cause serious harm.
Care homes have the highest prescription error per patient. Although many of these errors are related to medication administration, dispersion errors account for 3.6% of medication errors in care homes.
Medication errors of all kinds are estimated to cost the NHS £98.5 million every year.
Medication errors can lead to adverse drug reactions, which consume over 181,000 "bed days" in the NHS each year.
In addition, NHS Resolution has produced a report covering 2020/21 that reveals a staggering sum paid out to victims of negligence. This could include negligence in NHS pharmacies. You can see the figures below.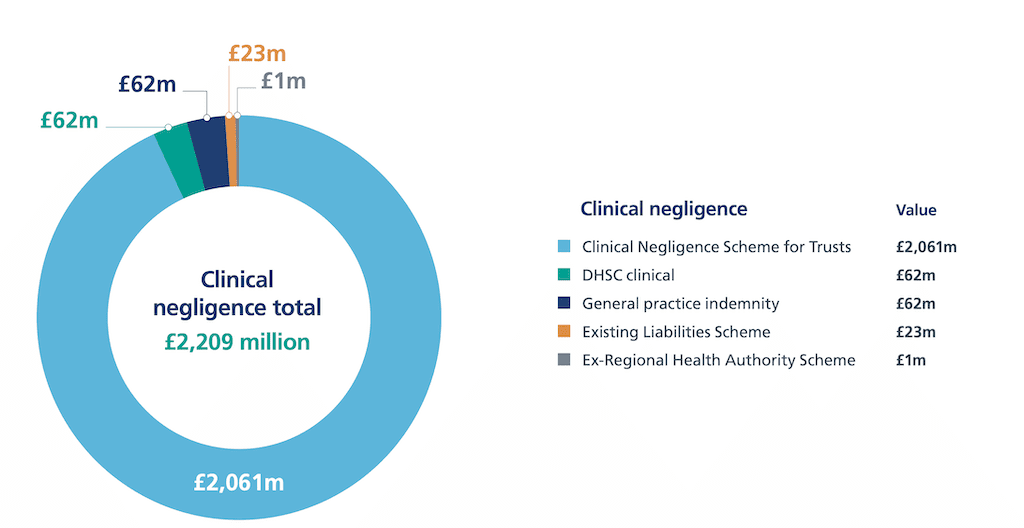 Damages Which Victims Of Pharmacy Negligence Could Claim
There are different types of damages that could be claimed in the case of pharmacy error compensation. And these could help to shape your pharmacy compensation claims.
The first type of compensation would be classed as general damages. This is the amount of money you could receive for the suffering, both physical and mental, that you have been through. The above table gave your approximate payout amounts for different types of injury that could occur because of prescription mistakes; this is known as general damages and does not consider monetary losses. It is important to realise, however, that each claim would be assessed on its own merits, so the exact figure would not be known until the pharmacy medication error claim was fully settled.
The next type of compensation would be classed as special damages. This covers monetary costs you might have had to face because of prescription negligence. This could be the costs of prescriptions themselves, loss of earnings if you've needed recovery time off work, and travel costs relating to your claim. If you have a cost and are not sure whether it could be covered under dispensing error compensation, feel free to get in touch and check with us before filing any pharmacy negligence claims.
No Win No Fee Pharmacy Negligence Or Prescription Error Claims
If you're considering making a pharmacy negligence compensation claim, whether you have experienced common pharmacy mistakes or something more out-of-the-ordinary, finding a personal injury lawyer that works on a no win no fee basis would be our advice.
The way that no win no fee claims work is relatively simple. You are not required to pay a retainer to secure the services of a personal injury lawyer to work on your claim. Instead, what you would do is sign an agreement, promising a certain percentage of your compensation to the lawyer in the event of a successful payout. If that payout did not happen, you would not be required to pay the legal fees for this case.
How can I benefit from a No Win No Fee agreement?
The benefits of claiming in this manner spread further than the reduction of financial risk. Because a lawyer working on this method would have their fees impacted by how much compensation was paid out, you could be sure they would aim for the maximum compensation payout for your pharmacy medical negligence claim.
If you would like to know more about this, then we would be happy to discuss this with you. It may be worth keeping in mind that the government has put a cap on how much of your compensation could be put aside for legal fees, at a mere 25%, so you could rest assured that you would not be paying most of your compensation to your lawyer after successful pharmacy compensation claims.
Why Choose Our Panel Of Solicitors To Handle A Prescription Error Or Pharmacy Negligence Claim?
Here at Accident Claims UK, we have helped claimants from all walks of life, providing support and guidance on making personal injury claims for many different types of negligence suffering. We are experienced in handling even the most complex of claims queries. We'll do all that we can to answer your questions without confusing legal terminology.
We offer a client-focused service, putting your needs first at every step. If it's answers that you need, we could provide them; if it is a medical negligence lawyer you require, then we could provide one from our panel. Whatever it is you need regarding a pharmacy negligence claim, we will work hard to ensure that we fulfil that need. Client satisfaction is important to us. Therefore, even if you don't use our services, you can still count on us to provide reliable advice.
Talk To An Accident Claims Expert About Pharmacy Negligence Claims
If you've been given the wrong medication, prescription error claims may be of interest to you. Whatever type of pharmacy or prescription error you've experienced, Accident Claims' experts could assist. Would you like us to clarify what happens if a pharmacy gives you the wrong medication in the UK? Maybe you want to know how much dispensing error compensation you could be entitled to? Either way, we would be happy to talk over your prescription negligence claim with you in more detail. With experts on hand at any time of day or night, you could reach a member of our team quickly on 0800 073 8801, and we could offer support and guidance and even provide a pharmacy negligence lawyer to take on your claim for pharmacy negligence compensation.
Alternatively, message office@accidentclaims.co.uk, complete the contact form on this page or use the live chat feature. We will be glad to help you and offer advice on prescription error claims in any way that we can.
References And Additional Guides Relating To Pharmacy Negligence Claims
Here are some additional guides and resources relating to prescription error claims:
The NHS Guide To Poisoning – This page from the NHS offers information on poisoning. You may find this useful.
Clinical Negligence Statistics – Here, you will find the Department of Health's details on clinical negligence statistics.
Details on safer prescribing– These indicators on the gov.uk website seek to inform safer prescribing practices.
Claiming For Misdiagnosis – This could be of interest should you have been misdiagnosed.
GP Medical Negligence – Looking to claim against your GP? This guide could help.
Negligence In A Medical Setting – See here for guidance on general medical negligence claims.
Pharmacy Compensation Claims FAQs
Here are some frequently asked questions regarding prescription error claims:
What is negligence in pharmacy?
This is where the pharmacy fails in providing its duty of care towards a patient and/or its staff.
Can you sue a pharmacy for negligence?
Yes, assuming that you have sufficient evidence to support the belief that they have acted negligently.
What is considered pharmacist misconduct?
This is where a pharmacy or pharmacist acts poorly and unprofessionally, thus causing harm to a patient.
What happens when a pharmacy makes a mistake?
At that point, the patient does have the opportunity to consider filing a compensation claim against the pharmacy.
Do pharmacists have a duty of care?
Yes, they do, and it's about them spotting errors, recognising risks and intervening to avoid further health complications.
How do I make a complaint about a pharmacy?
This happens by sending a written complaint to the pharmacy's designated complaints manager.
How common are pharmacy errors?
Though they occasionally occur within hospitals, the estimation is that only 1% significantly harm the patient.
What are the top medical errors?
These include general medication errors, anaesthesia errors, hospital infections, misdiagnosis and avoidable delays.
Would I need to use a solicitor to make pharmacy negligence claims?
While you might be surprised by this, it is not a legal requirement for you to have a personal injury lawyer on your side when making a claim for prescription error or pharmacy negligence. Making pharmacy negligence claims can be complex, however. Would you know how to argue your case if the pharmacy disputed your claim? Would you know how to negotiate for the maximum compensation possible? And would you have the time and experience to put together a strong case against the pharmacy? These are all questions that claimants could ask, that could lead them to using a personal injury solicitor so that the stressful work was taken off their shoulders. A solicitor, authorised and regulated by the Solicitors Regulation Authority, could take on the legal legwork of proving pharmacy negligence, and could fight for the maximum compensation possible for your case.
Would I have to have a solicitor local to me?
When it comes to choosing a solicitor for your claim, you aren't restricted to using one in your local area. You could choose a solicitor that is based anywhere in the UK as long as they are registered in England and Wales to practise law. There are some things that you might like to check before opting for a solicitor, however. It could be useful to make sure that they would work on a no win no fee basis for you. You might also wish to ascertain what their track record is like.
Thank you for reading our guide on pharmacy negligence claims and prescription error claims. We hope you have learned a lot about pharmacy compensation claims.