By Joanne Jeffries. Updated 19th January 2022. Welcome to our guide for those who've suffered harm when a doctor prescribed the wrong dosage of medicine. In it, we discover what could happen if the wrong medication dosage is prescribed. We also look at how wrong dose medication errors occur, and who could be held liable for you being harmed by being given the wrong dosage of medication.
When visiting a medical professional, whether it is your GP or someone else, we would trust them to be able to assess our injury or illness and provide us with the right medication. Not only would we expect to receive the right medication, but that we should be given the right instructions regarding when to take the medicine and the right dosage. If you have received the incorrect prescription, and your doctor prescribed the wrong dosage of medication, you may be entitled to compensation if this caused you avoidable harm.
Claiming Compensation For Wrong Dose Medication Errors
If your doctor has prescribed the wrong dosage, you could get in touch with Accident Claims and we will be happy to assist you with any questions you have about what you could do to redress the balance. We will answer all queries you may have, and we may be able to help you make a wrong dosage medical negligence compensation claim. You can reach us on 0800 073 8801 to discuss this. However, before you do so, we highly recommend that you continue reading this guide, as you may find some information that could be useful if you want to make a claim for an overprescription, an underprescription or any other dosage mistake.
Select A Section
A Guide On Claims If A Doctor Prescribed The Wrong Dosage
This guide aims to reveal a wealth of information that you may need to know about making a personal injury claim for compensation for any injuries or illnesses that have been caused because you have been prescribed the wrong dosage of medication by your doctor. The impact of receiving the incorrect dosage of medication could vary from case to case, as there are a number of different variables to consider. Factors that could affect your compensation claim could include the medication that was taken, how much of an underprescription or overprescription there was, how long the wrong dose was taken for, and, of course, the effects that the wrong dosage has had on you. In some cases, it is possible for severe injuries to happen in these types of medication malpractice cases. Below, we will discuss such clinical negligence cases in further depth. This includes details about wrong medication cases and how they occur, as well as advice on how to go about making this sort of personal injury claim. You will also find our contact information at the end of the guide should you have any questions or wish to proceed with making a claim because your GP has prescribed the wrong dose of medication.
What Do We Mean By The Wrong Dosage?
A medication error is described as a mistake that is made when it comes to providing medicinal advice, as well as prescribing, monitoring, administering, preparing, and dispensing medicine. A medication error should be recorded in these cases, regardless of whether or not there has been any harm to a patient. There are a number of different mistakes that can be made with regards to medication. These could include the following:
Administration of the drug past its expiry date
Administration of the drug to which the individual has a known allergy
Incorrect administration route, which means the administration of the medicine has been in a different form or a different route than prescribed
Wrong dose interval
Medicine has not been prescribed
Extra dose given
The wrong dose administered, whether too little or too much
Omissions – any prescribed dose that is not given
These are some of the different incidents that could result in someone being given the incorrect medication or the wrong dosage.
Wrong Dosage Caused By Ineffective Prescriptions
There are a number of different ways that someone may receive the wrong medication. We're going to begin by looking at ineffective prescriptions. These are prescriptions that could be seen as being inappropriate and not what would be clinically appropriate for the patient. These mistakes could be caused if, for example, a medical professional is inexperienced and may not prescribe what would be considered the correct prescription for the injuries or illness in question. Mistakes could also be made here when the medical professional does not consider the person's medical history, and therefore, ends up prescribing them with something that they should not take.
Wrong Dosage Caused By Underprescription
Another way that wrong dosages could affect a patient is if there is an underprescription. Under prescription by definition, is not prescribing a drug that is deemed clinically appropriate as the dose is too low. It is difficult to know the extent of underprescribing. The reasons why a medical professional may underprescribe is because they underestimated the illness. Fear of the adverse interactions or effects that may come from the prescription in question could also lead to underprescription. Underprescribing could be dangerous because it may mean that the person in question does not get the treatment they need for the illness or injury they are experiencing, and this could cause it to get worse. In the case of antibiotics, it may not clear an infection, and the remaining bacteria could become resistant to further treatment, which could cause the patient more harm.
Wrong Dosage Caused By Overprescription
Next, we have an overprescription of medication. This is when a drug is prescribed in a dosage that could be too high – this could be for a prescription for a drug to be taken too often, or a prescription for too much of a drug, or a prescription for a drug to be taken for too long. In some cases, treatment may not have been needed at all. There has been a lot of discussion about antibiotics being overused. As you are probably already aware, most medications have side effects, and so taking too many drugs, despite being prescribed them, can have worrying side effects. The risks of overprescription of antibiotics could include an increase in the person's resistance to antibiotics. In terms of overprescriptions of painkillers, particularly opioids, too high a dose could cause severe problems with the liver or kidneys, and in some cases, could slow a person's breathing, leading to unconsciousness, and in extreme circumstances, death.
How Often Do Doctors Make Medication Or Prescription Errors?
There are a number of different studies that have been conducted with regards to prescription errors and mistakes, and here, we look at these in further detail. In a report published by the NHS, it was revealed that every one in 20 prescriptions have an error. The report also concluded that errors in areas such as timing and dosage were common, yet it did find that serious mistakes were not common. A more recent study that was published by Universities of York, Manchester and Sheffield indicated that there are over 200 million medication mistakes that happen every year in the NHS. The study concluded that there were approximately 237 million medication mistakes that happen on an annual basis in England via the NHS, meaning that there could be hundreds of deaths caused by adverse drug reactions (ADRs) that could have been avoided. However, mirroring the earlier report mentioned, it was indicated that the majority of the cases of mistakes were unlikely to cause patient harm. Nevertheless, it is worth acknowledging that there are very few details regarding the harm that typically happens because of medication mistakes, such as an overprescription of drugs or an under prescription. If you could prove that medical negligence in prescribing you the wrong dosage of medication has caused you harm, you could be eligible for compensation.
Proving Your Doctor Prescribed The Wrong Dosage
In order to launch a personal injury claim, it would be important to show that your doctor prescribed the wrong dose and was negligent. There are a number of different steps that you can take in order to prove that your GP prescribed the wrong dosage. This includes keeping the prescription note that your doctor provided you with, as well as obtaining a copy of your records from the pharmacy. Proving that the wrong dosage caused you harm would involve you seeing a medical expert, who would assess your condition, speak to you about what has happened to you, and write a report that could serve as medical evidence.
Your Rights When Being Treated By A GP
There are a number of different rights that you have when it comes to treatment from your GP in the United Kingdom. Firstly, you are entitled to treatment from a GP at the surgery where you have registered. You do not have an automatic right, though, to see your own GP. A GP will need to provide treatment that is required in an emergency, even if you are not registered with the GP in question.
In terms of your rights regarding medication, if your GP decides that you require medication, they will typically provide you with a prescription. In some cases, for instance, if the surgery is based within an isolated location, the GP may opt to provide medication themselves. A GP is required to provide any treatment which is immediately necessary for an emergency. There should not be any prescription charge for these.
Doctor Prescribed The Wrong Dosage Compensation Calculator
One thing some claimants may wish to know is how much compensation they could receive if they make a claim for the harm they suffered because a doctor prescribed the wrong dosage of medication. You may have read about different settlements for the wrong prescription in the UK. However, it could be vital to recognise that all cases are different. There are a lot of different factors that come into play when calculating compensation. These could include the symptoms you have experienced, the severity of the original injury, how long the injury will impact you, and your recovery path. This is why it would not be possible to give you an accurate figure of the compensation you would get without you having seen an independent medical expert and having your claim valued based on the results of their assessment of your condition.
How much could I receive for wrong dose medication errors?
However, we could help to give you a better understanding of the levels of compensation that could be achievable for your case. Below, we have put together figures from the Judicial College Guidelines for specific injuries that could relate to these types of claims rather than incorporating a personal injury claims calculator.

| The injury sustained | Details about the injury | The average payout amount |
| --- | --- | --- |
| Very severe brain damage | In cases of this bracket, the individual may have very little - if any at all - evidence of a meaningful response to the environment. The person may also be in need of full-time nursing care, as well as having double incontinence, little or no language function, and their life expectancy may have reduced considerably as well. | £264,650 - £379,100 |
| Moderate psychiatric damage | When it comes to psychiatric damage, the amount of compensation that is awarded will depend on a number of different circumstances. This includes whether medical help has been sought, the person's prognosis, future vulnerability, the extent to which treatment would be a success, how the injuries have impacted the person's relationships with others, and their ability to cope with work, education, and life. | £5,500 - £17,900 |
| Loss of smell and taste | While it may be rare to find an injury that causes this, there are symptoms that are associated with infections and brain injuries that could result in someone losing their sense of smell and taste. | In the region of £36,770 |
| Lung problems with breathing difficulties | This payout bracket refers to breathing difficulties, which are short of disabling breathlessness. The person may end up needing to use an inhaler on a frequent basis. They may have an uncreation prognosis and they may not be able to tolerate an environment that is smoky. | £29,380 - £51,460 |
| Kidney damage | This payout for kidney damage results in cases whereby there is a considerable risk of a future infection of the urinary tract or complete loss of the kidney's natural function. These sort of cases will carry future medical expenses with them, and this is why there is usually a substantial payout. | Up to £60,050 |
| Bowel injuries | For this payout bracket, we are referring to cases involving serious abdominal injuries, which have caused impairment of function and tend to require the person going on a specific diet, experiencing employment restrictions, and requiring a temporary colostomy. | £41,850 - £65,440 |
| Moderate pain disorders | This relates to moderate cases of pain whereby the person in question will receive symptoms that are on-going, yet they will not be of a huge degree of pain. There will be some impact on daily function and work life, yet it will not be substantial. At the lower end of this payment bracket, we would expect the individual in question to make a complete recovery after a number of years. There are also cases whereby the person in question was vulnerable to a pain disorder developing. | £19,770 - £36,120 |
| Mental trauma | When a person fears they're about to lose their life | £4,380 |
| Less severe brain damage | In these cases, generally, people would have largely recovered. Only minimal problems with concentration and memory could continue. | £14,380 to £40,410 |
Special Damages In Doctor Negligence Claims For Wrong Dose Medication Errors
In the former section, we spoke about the general damages payout amounts for cases. However, it could be important to recognise that you would not only be able to claim for the injuries that have been caused you may also be able to include any sort of costs that you have experienced because you suffered harm. For example, if you have missed work because of your injuries, you may be able to claim for a loss of income. Other costs that people could sometimes experience when they are injured could include prescription expenses, the cost of childcare because you may need someone to look after your children while you recover, the cost of adapting your property to help you live with your injuries, and such like. In order to make a claim for these sorts of expenses, we would recommend that you keep proof of these costs. This would mean holding onto receipts and anything else that would show that you encountered the costs you want to claim for when making a case because your doctor prescribed the wrong dosage in the UK.
How Accident Claims UK Helps Victims Of Medical Errors
You may be wondering why you should use our service when there are a lot of different personal injury claim firms out there today that could assist with wrong medication cases. There are a number of benefits that could be associated with using our service for claims. We have a team of specialist advisors that have experience in the industry, and our friendly team would be happy to provide free legal advice and an assessment of your claim so that you could find out quickly whether you could be eligible to make a claim. If you could be eligible, we could provide you with a personal injury solicitor from our panel who works on a no win no fee basis, which is something we will explain in more detail below.
Putting you first after wrong dose medication errors
One thing you may quickly learn about Accident Claims is that we always put our clients first. We care about making sure that you get the compensation that you could be entitled to. We know that you may be going through a very difficult period in your life. We want to make sure that you get the care and assistance that you require. We would be there to navigate the claims process so that you could focus on your recovery.
No Win No Fee Claims For Doctors Prescribing The Wrong Dosage
One of the benefits associated with using our service is the fact that our panel of solicitors work on a No Win No Fee basis. You may have heard of this before, yet you may not be sure regarding what it actually means for you if you work with a No Win No Fee medical negligence lawyer. No Win No Fee means that you will typically not have to pay money in order to start the personal injury claims process. Instead, the payout that your personal injury solicitor would receive – the success fee – would be a percentage of the compensation that you would be awarded. This would be a percentage – no more than 25% – that you will have both agreed on beforehand. If compensation is not awarded, you wouldn't have to pay the personal injury lawyer for the success fee we mentioned earlier.
Contact Us To Claim If A Doctor Prescribed The Wrong Dosage
If you are ready to make a claim with a solicitor because you have been prescribed the incorrect medication by your GP, or you have any further questions about these sort of wrong dosage cases, please do not hesitate to get in touch with us for more information. You can reach our 24-hour claims line on 0800 073 8801. This is open seven days a week, so you can call at a time that is convenient for you. There are other ways to get in touch as well. You could use the live support feature on our website to chat with someone instantly, or email us on office@accidentclaims.co.uk. Alternatively, you can request a call back, and we will get back to you as soon as possible.
Further Supporting Resources If A Doctor Prescribed The Wrong Dosage
Medical Negligence Death Compensation Claim Amounts – If someone you know has passed away because they have been prescribed the wrong medication or they have experienced any other type of medical negligence, this guide could shed useful information on the payout amount.
Clinical And Medical Negligence – In this guide, we take a look at further types of clinical and medical negligence, from late diagnosis to poor hospital standards.
Pharmacy Negligence – If the pharmacy you visited is responsible for giving you the incorrect prescription, you will find a lot of useful information in this guide to assist with your claim.
NHS Medication Error – This is the NHS policy for all staff involved in monitoring, administering, dispensing, and prescribing medication.
Numbers of Medication Errors – You can find out more about all of the deaths caused by medication errors for the financial year of 2016/17 via this link.
CQC Reporting Information For Wrong Dosage – Here, you can find the link to report wrong dosage incidents to the CQC.
FAQ Related to Doctor Prescribed Wrong Dosage Claims
What other types of negligence are there besides where a doctor prescribed a wrong dosage?
Here at Accident Claims UK, we have dealt with a number of different medical negligence claims involving a doctor. We could assist with claims that involve:
Late diagnosis – if a doctor fails to diagnose you with an illness when they should have done and your illness develops further than it should as a result, this could lead to a claim.
Misdiagnosis – if you're diagnosed with something you don't have, or the doctor fails to diagnose you with something they should have done, writing it off as something else, you could suffer harm. If you do, you could make a claim.
Failure to refer – If your doctor cannot diagnose you, they should refer you to someone who could. If they fail to do so and you suffer harm, you could make a compensation claim against them.
Wrong medication – As well as the wrong medication dose, a doctor could prescribe the wrong medication entirely.
If you've experienced harm because a doctor prescribed the wrong dosage and breached their duty of care or you've suffered any other incident of medical negligence, please don't hesitate to call us. We could help you get the maximum compensation possible for your claim.
Can you make a claim for wrong dosage medication errors if a private doctor prescribed a wrong dosage?
As well as making claims against the NHS for clinical negligence surrounding medication errors, you could also make a claim against a private doctor for the harm you suffer if they prescribe the wrong dosage of medication.
How much has the NHS paid out for wrong dose medication errors?
Unfortunately, there are no specific statistics relating to how much compensation has been paid out for wrong dose medication errors. However, when it comes to clinical negligence claims, we can give you some insight into how much they cost the NHS. When we look at NHS Resolution's website, we can see how much has been paid out in compensation for clinical negligence claims in 2020- 21. We're sure you will agree that this is quite a significant sum of money.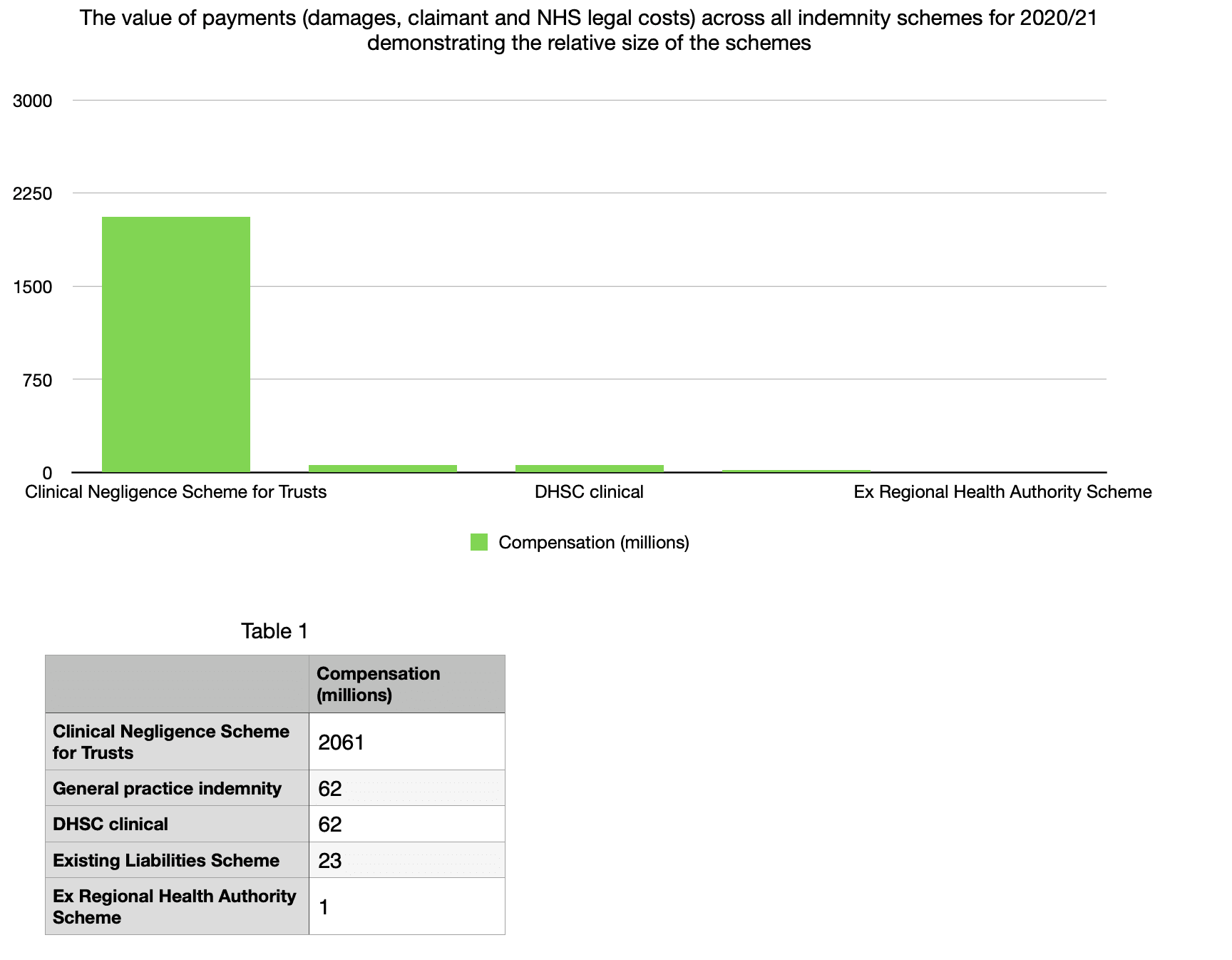 Could I claim compensation for wrong dose medication errors that have affected a child?
If you are a parent of a child who has experienced harm due to wrong dose medication errors, whether these have been made by the hospital or a GP, you could help them to claim compensation. You would need to register to become a litigation friend. This would allow you to make decisions with the best interests of your child in mind. You could decide on whether to accept a settlement, for example. However, you would not receive the compensation yourself. It would be held in a trust until your child becomes an adult. If you have not claimed on behalf of your child, they could claim once they turn 18 years old. If you would like to speak to us about any aspect of claiming on behalf of a child, we will be delighted to help you.
Thank you for reading our guide on what to do if you've had the wrong medication dosage prescribed. If a doctor has prescribed the wrong dosage of medication to you, we could help you claim compensation for the harm you've suffered from wrong dose medication errors.