By Joanne Jeffries. Last Updated 25th March 2022. Welcome to our guide on concussion injury claims for potential concussion injury compensation. In this guide, we include an alternative to a concussion compensation calculator to answer the question of 'How much money can you get for a concussion, if someone else caused it by breaching their duty of care towards you?'
A concussion is something that no one wants to experience. A blow to the head can result in symptoms ranging from memory loss and dizziness to headaches and mood swings. For most people, these symptoms will not be permanent, but there are cases whereby, as the result of an accident, the impact is long-term.
Getting Help With Concussion Injury Claims
No matter what applies to you or your loved one, if you have been injured and it was not your fault, seeking compensation is vital so you can get on with your life. This is something Accident Claims UK have years of experience in. Our personal injury solicitors have helped people claim compensation for mild concussion, as well as severe cases. You can reach us on
0800 073 8801
for more information. But first, read on to discover everything you need to know about concussion injury claims.
Select a section
A Guide to Concussion injury claims
There are many different situations whereby concussion can happen. A blow to the head may be sustained at work, or it could happen because of a car accident. From public place accidents to criminal incidents, no matter what type of scenario has unfolded, it is important that you get the compensation you deserve. In this guide, you will discover everything you need to know about making a concussion injury compensation claim. This includes legal advice on the different types of concussion cases you can launch, as well as how you go about making a claim, the amount of compensation you may receive, how injury lawyers could help you and much more.
What is a concussion?
So, what exactly is a concussion? Concussion is a term that is used to describe a temporary injury to the brain that has been caused by a jolt, blow or bump to the head. In most cases, this will only last for a few days or a few weeks. However, this does not stop concussion from being a serious head injury, and in a lot of cases, medical assistance and emergency treatment are required. If you think you have a concussion and the symptoms are going behind what you would class as mild, you should go to the hospital. Some of the common symptoms of concussion that could lead to concussion injury compensation are as follows:
<ul2
Struggling to stay awake
Changes in your vision, for example, double vision or blurred vision
Unusual behaviour, for example, sudden mood swings or being irritated easily
Trouble with balance or clumsiness
Memory loss
Feeling confused, dazed or stunned
Vomiting or feeling sick
Dizziness
A headache that will not go away and painkillers are not helping
Post-concussion syndrome explained
Post-concussion syndrome is a term that is used to describe a number of different symptoms that some individuals develop once they have had a concussion. It is essentially a complication of the original injury. Symptoms of post-concussion syndrome include concentration and memory issues, as well as dizziness and headaches. In most cases, these symptoms will not last longer than three months after the initial head injury was suffered. You can find out more about concussion injury claims and settlement amounts for post-concussion syndrome later on in the guide, or call us to find out more about your likely post-concussion syndrome compensation amount.
Top causes of concussion
There is no telling when or where a blow to the head can occur. Because of this, concussion injuries are not rare. They can happen in public places as well as in the workplace, or anywhere else for that matter! Despite this, there is no denying that playing sports is the main cause of injuries relating to concussion. This is especially the case for American football, rugby and other sports that involve heavy contact. This is because the chances of being hit in the head are heightened when partaking in such activities and people could suffer anything from concussion to loss of consciousness to brain damage.
Nevertheless, this is not the only type of environment or scenario whereby concussion could occur. Casual transport accidents are also very common, for example, concussion injuries to cyclists. This is because a lot of people do not adhere to the rules and regulations regarding health and safety that are in place. In addition to this, it is not uncommon for a concussion to be one of the symptoms that occur after a fall, slip, or trip, and it can as a consequence of a car accident too.
Concussion injury statistics
If you would like to know about the number of concussion cases in the UK, please refer to the statistics below. You can see the total number of admissions since 2005 in the UK for all types of ABI. And any of these may result in the victim claiming for concussion injury compensation.
| Year | Male | Rate | Female | Rate | Unknown | Total | Rate |
| --- | --- | --- | --- | --- | --- | --- | --- |
| 2005-06 | 184,776 | 625 | 132,370 | 429 | 37 | 317,183 | 525 |
| 2006-07 | 188,755 | 634 | 133,293 | 429 | 37 | 322,085 | 530 |
| 2007-08 | 188,285 | 627 | 134,416 | 430 | 32 | 322,733 | 526 |
| 2008-09 | 191,368 | 632 | 138,646 | 440 | 31 | 330,044 | 534 |
| 2009-10 | 198,483 | 653 | 147,257 | 468 | 45 | 345,785 | 559 |
| 2010-11 | 199,652 | 651 | 148,726 | 470 | 30 | 348,408 | 559 |
| 2011-12 | 200,650 | 645 | 151,289 | 470 | 15 | 351,954 | 556 |
| 2012-13 | 192,009 | 613 | 150,649 | 465 | 15 | 342,673 | 538 |
| 2013-14 | 194,734 | 618 | 154,169 | 473 | 31 | 348,934 | 544 |
| 2015-16 | 194,993 | 607 | 156,804 | 475 | 46 | 351,843 | 540 |
| 2016-17 | 192,807 | 595 | 155,593 | 468 | 53 | 348,453 | 531 |
| Change since 2005 % | 4 | -5 | 18 | 9 | 43 | 10 | 1 |
| Source - https://www.headway.org.uk/about-brain-injury/further-information/statistics/ | | | | | | | |
Who is liable for your concussion injury?
You may be wondering who is liable for your concussion injury if you intend to make any concussion injury claims. This all depends on the nature of the accident, i.e. how it happened, where it happened, and when it happened. If you have sustained a concussion because of an accident in the gym, then the owner of the gym will be responsible. If you have been injured while walking along a public pathway, it is likely that your local council will need to foot the compensation bill. If you are unsure regarding how it is actually responsible for the area where you were injured, please do not hesitate to get in touch.
Assessing the severity of your injury – what's involved
It goes without saying that the severity of your injury will play a huge role in determining your concussion settlement amounts. If you are going to experience lifelong side effects, you will receive much more than someone who will recover in a matter of weeks. To determine the severity of your injury, and consequently how much you will receive, your medical report is the main source of evidence that is used.
What types of concussion compensation are there?
When making a claim for concussion injury compensation, it is important to recognise that it is going to be split into two parts. The first part is what is known as general damages. This is the amount of money you will receive to compensate you for the pain and suffering you have been subject to. This does not merely relate to the physical pain and suffering and loss of amenity suffered, but the psychological injuries you suffer as well. To determine the exact amount you will receive, the medical report that has been put together by your doctor will be used. This will state your injuries, as well as your prognosis, treatment plan, and so on.
How Much Money Can You Get For A Concussion? Special Damages Explained
The second part of the compensation you will receive is what is known as special damages. This is essentially money you will get for any out of pocket costs you have had to fund during this timeframe because of the accident. For example, you may have experienced a loss of income or loss of earnings because you have not been able to work while you recover from your injuries. You may have also needed to pay for a child-minder for your children while you recover, and so you can claim for things like this. You will need to keep a recording of all costs, though, so hold onto your receipts and other important documents too.
Concussion Injury Claims We Can Assist With
Here at Accident Claims UK, we have the experience and know-how to assist with all types of concussion injury claims. This includes everything from workplace accident claims to car crashes and criminal accident claims. You can find out more information about the most common concussion injury claims below.
I suffered a concussion at work – can I claim compensation?
In the UK, all employers have a legal responsibility to provide a safe and healthy working environment. They need to take responsible steps to ensure that all risks are mitigated and that accidents and injuries are minimised. If your employer has failed to do this, and you have been injured as a consequence, you can make a claim. In the data below, you can see the number of non-fatal injuries that occurred in the 2020-21 period based on both the time that the individual was absent from work, as well as the type of injury that was experienced.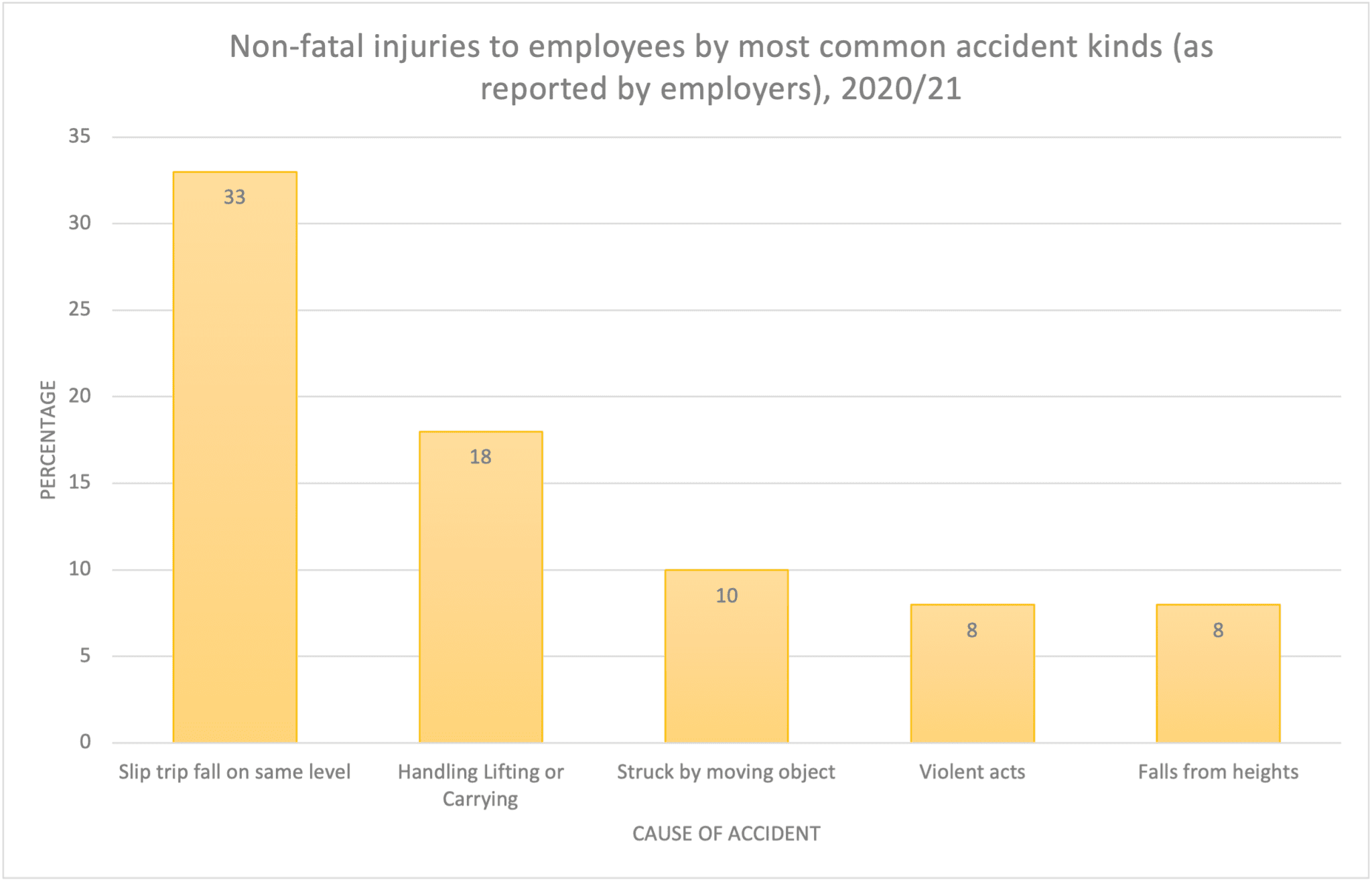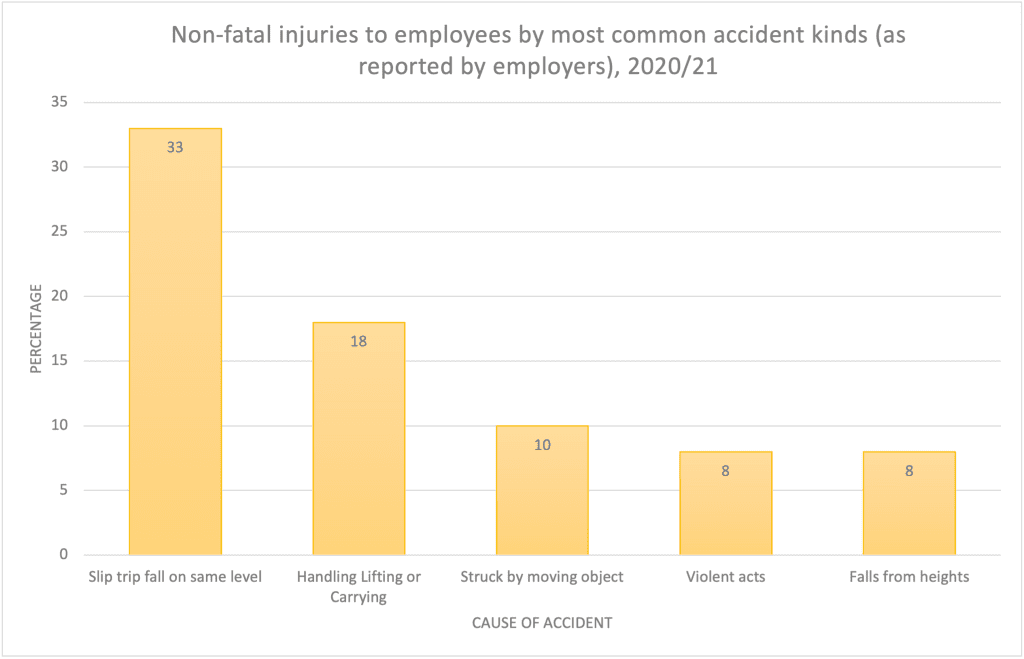 No matter what type of injury you sustained or how it happened, you need to show that your employer is at fault for the incident in order to claim concussion at work compensation. There are many ways that this could be the case. Here are some examples…
Your employer failed to carry out risks assessments
Your employer allowed you to do a task without sufficient training
Your employer failed to provide you with the correct Personal Protective Equipment
Your employer failed to follow through with the findings from a risk assessment
Your employer failed to maintain the working area
… the list goes on!
Concussion in a car crash – could I make an injury claim
Unfortunately, road traffic accidents happen every day in the United Kingdom. There are many different injuries that could arise as a consequence of a car crash, and a concussion is one of these injuries. If you have been diagnosed with a concussion following a car accident, we can help you to claim. We have helped many people to claim compensation for concussion and whiplash. This is the case irrespective of whether you were a driver, passenger, or pedestrian at the time. You simply need to prove that someone else is at fault for what happened to you. This could be because another person was driving carelessly and not paying proper attention to the road, or it could be because they were speeding. Either way, so long as you can prove the fault lies on someone else's doorstep, you will be able to make a claim for concussion injury compensation.
Concussion in a public place – am I able to claim?
When it comes to concussion injury claims for accidents that have happened in a public place, determining who is responsible depends on where the accident has occurred. For example, if you have experienced a concussion because you slipped on a wet floor in a supermarket that was not marked properly, you will make a claim against the owner of the supermarket. On the other hand, if you experienced a concussion because of a poorly maintained road or pavement, it is likely that the local council will be responsible. Here are some examples of public place claims:
Supermarket accident claims
Train station accident claims
Pavement accident claims
Bar or pub accident claims
Packaged holiday accident claims
Horse or riding accident claims
Hairdresser accident claims
Gym accident claims
Cruise ship accident claims
Council / local authority accident claims
Airport accident claims
… and much more!
Concussion in an attack – What you need to know
Concussion can also happen as part of a violent attack. If you have been injured due to a crime, no matter whether you were the intended victim or not, we can help you to get the compensation that you deserve. These types of concussion injury claims are handled differently because your compensation will come from the Criminal Injuries Compensation Authority, otherwise known as the CICA. This is a scheme that was launched by the government in 2012. There are a number of conditions you need to fill to be eligible for compensation under this scheme. This includes the following.
The criminal act that resulted in concussion must have happened in England, Wales or Scotland
The police must have been told about the crime as soon as possible once it happened.
The injuries that you have experienced must meet £1,000, which is the minimum award.
The crime must have taken place within the last two years.
If you are not sure whether or not your claim is eligible for CICA compensation, all you need to do is give us a call, and we'll be happy to explain further.
Concussion Injury Claims FAQs
How can I tell if a head injury is mild or severe?
Most of us have probably suffered from a minor bump to the head at some time or another. But it's important to know when to seek medical attention after a head injury. If you've hit your head and have a headache that goes away on its own, or you feel only slightly sick or dizzy, you can probably treat this yourself. But if you're suffering from a headache that doesn't go away, or you're being repeatedly sick after hitting your head, then you should go to your nearest A&E department. You should also seek medical attention if your head injury caused you to lose consciousness. If you're on medication that thins your blood or if you have had surgery on your brain then you should seek medical attention after a head injury whatever your symptoms are.
How do you treat a concussion at home?
If you think that you have a concussion, then you should always seek medical attention to make sure that you haven't sustained a serious brain injury. But if you're not suffering from any of the symptoms of concussion mentioned above, then you can treat a head injury yourself at home. You can relieve any swelling by holding something frozen to the injury for short periods of time to reduce swelling. Paracetamol and ibuprofen can be used to relieve pain, but you shouldn't take aspirin as it might cause your injury to bleed. The effects of a minor head injury can last for up to two weeks, and you should avoid driving until you're feeling better.
What is a good settlement offer?
A good settlement offer is one that lies between the claimant's expectations and the defendant's financial capabilities.
Can you prove a concussion?
By undergoing an MRI or a CT scan, your doctor can prove that you have suffered a concussion.
Should I accept the first offer of compensation?
It is wise not to accept the opening offer as it is the minimum that the defendant will provide.
How is a settlement paid out?
This can be made as both a single lump sum or in the form of several equal payments over a period of time.
How do your eyes appear if you have a concussion?
The eyes need to respond positively to shining lights in order to diagnose the severity of a concussion.
What happens if I reject a settlement offer?
If you reject a settlement offer, you will either receive a new offer or the case may go to court for a potential settlement.
No win no fee concussion injury claims with Accident Claims
There are many reasons why you should choose Accident Claims as your legal firm, as you will discover in further depth below. However, one of the main features of our service is our No Win, No Fee approach. All of our concussion injury claims are handled under a No WIn No Fee Agreement. What does this mean? With this payment approach, you and your solicitor will agree on a percentage of the compensation that will be given to the solicitor as legal fees at the end of the service. This means that if concussion compensation is not awarded, you will not need to pay a penny to your solicitor. You only pay if and when you have received your payout.
This ensures that you are financially protected and that you do not end up in a position whereby you owe money for your legal service, but you have no compensation to cover the cost. This eliminates all financial barriers that are typically associated with making a claim, as it means anyone can claim, no matter their current financial situation and there are no risks involved either. It also gives you peace of mind that your solicitor is going to be working hard for you to receive concussion injury compensation.
What compensation would I get for concussion claims?
Concussion compensation, how much will I get? A lot of people contact us to ask whether we have a concussion compensation calculator. There are then those that inform us they have been promised 'x' amount via another website when they used the head injury compensation calculator on a personal injury lawyers or law firm website, and so would we be able to promise the same sort of payout for an injury lawsuit? The truth is that no solicitor can promise 'x' amount of compensation for your injuries. No matter what workplace injury compensation calculator you use, it will only ever provide you with a very rough estimate on your personal injury case. This is because all cases are rightly handled on an individual basis to make sure that fair amounts are rewarded. In the table below, you can get an understanding of the average payout awarded for the different types of head, brain and concussion injuries people suffer from.
| Type of injury | Average compensation for head injury |
| --- | --- |
| Severe brain injury | £205,580 - £379,100 |
| Moderate brain injury | £40,410 - £205,580 |
| Minor brain injury | £2,070 to £11,980 |
| Mental Traume | £4,380 |
| CRPS - Severe | £49,270 to £78,840 |
| CRPS - Moderate | £26,300 to £49,270 |
| Pain Disorders (Other) - Severe | £39,530 to £59,110 |
| Pain Disorders (Other) - Moderate | £19,770 to £36,120 |
| Moderate Psychiatric Damage | £5,500 to £17,900 |
If you have suffered any other injuries alongside the concussion, you will be able to claim for these as well. Please do not panic if the table above does not contain information you deem relevant to the sort of injuries you have experienced. Use our contact information at the end of the guide to get in touch, and we will shed further light on the sort of compensation payout you could be looking at. You could also get compensation for medical expenses in an auto accident claim, as well as claiming loss of earnings. Insurance companies may also have to pay you for travel costs and care costs too. Your personal injury attorney, or lawyer as we call them here in the UK, could shed more light on this.
How we can help you with concussion injury claims
We set up our service so that we could make sure people in the UK got access to easy and effective legal assistance when making a personal injury claim. We can help you to get the compensation you deserve. We can also help you in any other manner that may be required, whether this is in terms of providing advice on gathering evidence or organising a free local medical for you. All you need to do is give us a call, and we will be there for you every step of the way. It is our dedication to our service that has meant we have achieved such an impeccable reputation in the industry.
We have received exceptional feedback from our previous clients, and we are sure that our level of experience in the industry will put your mind at ease too. When you contact us, you will be provided with a solicitor that has up to 30 years of specialist experience. You can rest assured knowing that they have worked on many cases similar to yours time and time before.
Ready to begin concussion injury claims?
We hope that you now have all of the information you need regarding concussion injury claims. If you are ready to make your claim for concussion injury compensation, please do not hesitate to contact our team today. There are many different ways you can get in touch, yet most people prefer to call our personal injury line on 0800 073 8801. This number is available seven days a week, 24 hours a day, meaning you can call at any time that is convenient for you.
We also have a free call-back feature on our website, as well as a live chat facility. If you would prefer to send an email, please direct it to office@accidentclaims.co.uk, and we will try to get back to you within three hours if this email was sent on a weekday. Don't hesitate to get in touch if you have any further questions about concussion injury claims.
Helpful links Relating To Concussion Injury Claims
How much compensation can I claim for a head injury? 
NHS guide on when to go to A&E 
Claiming compensation following a car crash 
Making a claim for an accident at work 
Your safety in work- the Health and Safety at Work Act explained 
Guidance On Making A Virgin Train Claim
Who pays my compensation?
It depends on the type of claim you make as to who could pay your compensation payout. Most payouts come from insurers and not necessarily directly from the person who caused your injuries. For example:
Your employer could have employer's liability insurance that could pay out compensation for concussion at work caused by their negligence as to your health and safety at work.
A NHS trust or their insurer's could pay out for concussion as a result of medical negligence.
If you are injured in a public place accident, the local authority could have public liability insurance that could pay your settlement.
Likewise, a business such as a supermarket, shop, hotel or gym could have a public liability insurance policy that could pay your compensation.
If you're injured in a car accident, the liable party's insurer would usually pay for your claim. However, if the driver that caused the accident was registered abroad, fled the scene or was uninsured, your claim might be paid by the Motor Insurer's Bureau.
Should you suffer concussion due to the actions of a criminal, the CICA could pay for your compensation claim.
If you are unsure as to who could be held liable for your injury, or who would pay your compensation, please do not hesitate to call us and ask for clarification. We can help with many different types of accident claim, including those that relate to medical negligence, untraced or uninsured drivers, or criminal injury. We'd be happy to give you advice on your claim.
Could I make concussion injury claims on behalf of a child?
You may be wondering if you could make injury claims if your child suffers a concussion in an accident that was not their fault. We could help you with this. We could help you apply to be a litigation friend on behalf of your child so that you could handle the claim on their behalf with the assistance of a personal injury solicitor. You could have up until your child's 18 birthday to claim for them. Alternatively, you could wait until they reach the age of 18 and they could claim for themselves. Whatever you decide, our team could offer free legal advice and we could connect you with a solicitor to help you start a claim on behalf of a child, or for someone who has turned 18 and wants to claim for themselves.
Do I need a lawyer to make concussion injury claims?
It might surprise you to learn that you could make concussion injury claims without using a solicitor. However, many people prefer to use a solicitor for various reasons. They might prefer to leave the legal legwork of making a claim to a professional who is authorised and regulated by the Solicitors Regulation Authority. They may prefer to leave the negotiations for a compensation settlement to someone who has experience in fighting for the maximum compensation settlement possible for their clients. And they may prefer to have a legal representative to assist them if their case goes to court. If you would like to use a lawyer to make your claim, we would be happy to provide you with one.
Could I make concussion injury claims if I was hit by an uninsured driver?
If an uninsured driver hit you and caused you a concussion due to negligent driving, you could make concussion injury claims. However, with no insurance company covering the at fault driver, where could compensation come from?
In cases such as this, a claim could be made to the Motor Insurers' Bureau. This is an organisation that could pay compensation to victims of injury from uninsured driving. We could explain more about making such claims over the phone, so why not contact our team?
Would a concussion compensation calculator give me an accurate picture of my potential payout?
A concussion compensation calculator could not give you an accurate picture of your potential payout. This is because every case is assessed in accordance with its specific facts and circumstances. However, a concussion compensation calculator could give you a very rough idea of the level of compensation you could receive.
How much money can you get for a concussion?
How much money you could get for a concussion would vary, depending on the facts and circumstances of your case. Your medical condition would need to be assessed, along with any psychological injuries. The effect of the injury on your life would also be taken into account. Further to this, losses and costs incurred due to the accident and your injury would be analysed. All these factors would affect your compensation.
If you would like to learn more about how compensation claims are calculated, please call our team.
Thank you for reading our guide about concussion injury claims. We hope you have a greater understanding of how to claim concussion injury compensation.