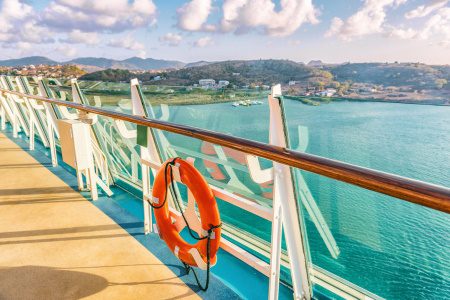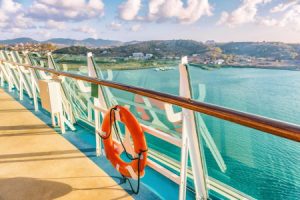 Irish Ferries provides passenger ferries between Ireland and Britain (as well as Ireland and France), up to 4 times a day. The trip takes as little as three and a half hours if travelling the Dublin route. In this guide, we're going to take a look at making a personal injury claim against Irish Ferries if you're injured in an accident which was caused by negligence. We'll provide information on the types of injuries that could lead to a claim, and the amount of compensation possible. We'll also look at ferry passenger rights and legislation such as the Athens convention.
Accident Claims UK specialises in helping claimants make personal injury claims. Our advisers begin by offering a no obligation assessment of your claim. Then, they'll offer free legal advice regarding your options. Finally, if your case appears strong enough, they could introduce you to one of our No Win No Fee solicitors. If you'd like to begin your claim right away, why not call 0800 073 8801 today?
Alternatively, if you'd like more information about claiming for a injury on board a ferry, please continue reading.
Select A Section
A Guide To Make A Personal Injury Claim Against Irish Ferries
In this guide, we explain when you could make a personal injury claim against Irish Ferries. In general terms, you'll need to be able to prove that you were injured in an accident that was caused by the negligence of the ferry operator, or their staff. To do this, you'll need evidence that supports your version of events. Therefore, before we look at what accidents can occur, let's consider the sort of evidence you need to support your claim:
Photographs are a great way of recording what caused the accident to happen. CCTV could also be used if available
Witness statements are also helpful. Independent witnesses, i.e. those not travelling with you, could be seen to be less biased
Accident reports show what happened, who was involved, dates, times and any treatment given. Therefore, remember to report any accident to the relevant person/people/member of staff
Medical records from a doctor or hospital show the initial extent of your injuries and what treatment was administered and the report is a crucial part of the evidence required when filing a personal injury claim against a negligent third party
As well as evidence, you'll need to ensure you have enough time to claim. Generally, the personal injury claims time limit is 3-years from the date of the accident. However, some claims for injuries involved in a ferry incident will have a 2-year time limit. Please call and speak to a member of our team to clarify the time limit associated with your own personal injury claim.
As we progress through this guide, we'll look at some example scenarios of Irish Sea ferry accidents that could lead to a claim. We'll also look at the difference between a passenger ferry accident and a crew member accident.
When you've read this guide, if you require any more information about claiming for an Irish ferry accident, please call our advisers for free legal advice.

What Is An Accident Or Injury On Irish Ferries?
As mentioned earlier, to make a personal injury claim against Irish Ferries, your injuries need to have been caused by the negligence of a third party. You might think that the ferry operator would therefore take steps to prevent accidents from happening. In fact, they do. They carry out risk assessments, write health and safety procedures, provide safety equipment, and train staff to try and prevent accidents from happening.
However, even with all of these steps in place, accidents still happen. If the accident can be shown to have been foreseeable, then it could mean you could be entitled to make a claim. Some reasons that an accident could've been caused by negligence include the following:
Faulty equipment. This could include a broken oven causing food not to be cooked properly and leading to food poisoning
Failure to follow procedures. For instance, if you slip on a floor that has just been cleaned, but no warning signs were present, you could be eligible to claim because the cleaner could be held liable
Lack of training. If an accident was caused because a member of staff/crew hadn't been trained adequately in the task which led to the accident, you could be able to claim
Inadequate safety equipment. An example here would be falling because a handrail was damaged or defective
Accidents Which Could Happen At Sea Or In Port
Over the coming sections of this guide, we're going to look at some scenarios of ferry accidents which could lead to a claim. Some of the accidents we'll cover include:
Collisions (with ships, docks and other equipment)
Slips, trips and falls
Allergic reactions
Passengers or staff falling overboard
Remember that this just covers some of the more common accidents that could happen. You could still claim if you're injury or accident isn't listed here.

Collisions With Docks, Ships And Equipment
It's very rare for a ferry to be involved in any sort of collision. Even if it does happen, it doesn't automatically follow that you'd be entitled to compensation. To be eligible, the collision would need to have caused you an injury. The types of injuries you could sustain following a collision include head injuries, bruises, cuts, lacerations and broken/fractured bones.
Any sort of collision could lead to a claim including those with:
Other ships
Harbour walls when manoeuvring in or out of dock
Other seagoing vessels
Whiplash Suffered Onboard A Ferry
You might think that whiplash wouldn't be an injury you could claim for following ferry collision because it's caused by seat belts. However, according to the NHS, it can occur due a slip or fall too. Symptoms of whiplash include headaches, neck pain, stiffness and difficulty moving the head. If you've been diagnosed as suffering whiplash following a ferry collision, you could be entitled to compensation for your injuries.

Tripping And Falling Accidents On Ferries And Ships
As in many scenarios in everyday life, slips, trips and falls can occur in almost any situation. However, on a ferry, you won't automatically be entitled to make a claim for them. For instance, if the fall is caused by the movement of the ship due to sea conditions, you wouldn't be able to claim. However, there are circumstances in which you could. These include:
Tripping on flooring which is damaged
Slipping on a wet floor caused by cleaning, a spillage or leak where warning signs weren't used
Tripping because cables had been trailed across walkways
Or falls caused because a trip hazard wasn't visible due to inadequate or faulty lighting
Accidents On Stairs Or Other Fixtures On The Ferry
Another reason that an injury could lead to a compensation claim is if a fixture or fitting that was damaged caused the injury to occur. This could include:
Damaged tables or chairs with sharp edges which led to a cut or laceration
Faulty or missing handrails causing you to fall down the stairs
Damaged doors which closed too quickly causing part of your body to become trapped or injured
These types of accidents could also be claimed for if you're a UK crew member, and the damaged fixture was in a 'staff only' area.

Allergic Reactions On An Irish Sea Ferry
The seriousness of allergic reactions has become quite prevalent in the press over the past couple of years. If a sufferer is exposed to an allergen, they can suffer a mild reaction or, in more serious cases, could suffer an anaphylactic shock which could prove fatal. Therefore, there are regulations in place which state allergens must be indicated on menus and food packaging.
If you've suffered an allergic reaction because the labelling didn't identify the risk, then you could be entitled to make a claim. Please try and keep hold of any packaging or photograph the menu as evidence.

Accidents Where Passengers Or Crew Fall Overboard
In rare circumstances where a passenger or crew member goes overboard, the ferry should have safety procedures planned to necessitate their rescue. This should involve calling the coastguard and launching their own safety vessel.
It's not always the case that you can claim compensation for going overboard, especially if you were messing around, intoxicated or breaking safety rules. However, if the fall was caused by inadequate safety measures, then a claim might be possible.

UK Crew Member Accidents
If you are a UK crew member working on an Irish Ferries ship, your employer owes you a duty of care to try and keep you as safe as possible. This is according to the Health and Safety at Work Act 1974.
Therefore, you could sue for compensation if your injury was caused by:
Inadequate training
Faulty equipment
A lack of protective equipment
Not enough rest breaks
Your employer can't stop you from making a claim. Doing so may breach other employment laws. Therefore, don't be afraid to claim the compensation you could be entitled to.

UK Ferry Passenger Rights
As a passenger on a ferry departing the UK (and any other part of Europe), you have a number of rights under EU regulation 1177/2010. These include:
Being informed of delays as soon as possible
Being provided with meals, snacks or refreshments if the ferry is cancelled or delayed by more than 90 minutes. This is the case even if the cause of the delay is bad weather
An alternative travel arrangement (at no extra cost) or a refund where the trip is cancelled
Overnight accommodation if the delay makes an overnight stay necessary
Up to 50% of the ticket price as compensation for specific delays
There are also a number of additional rights regarding enabling passengers with disabilities to travel on a ferry. These include:
Not being charged extra for your ticket
Assistance should be provided free of charge if you need it. You should provide the operator with 48-hours' notice of this requirement
Safety dogs should be allowed on board if required and if they don't breach safety conditions
International Protections And Safety Regulations
There are a number of regulations, bodies and pieces of legislation that are used to govern the rights and safety of passengers while at sea. These include:
The Athens Convention 1974
This convention is about compensation for passengers, and their luggage, for injuries or damage caused by accidents at sea. An additional protocol was added in 2002 to increase the amount of compensation payable. Countries can choose to opt-out of the convention but only if their law's allow higher rates of compensation
Merchant Shipping Act 1955
This act specifically governs the sea travel of ships owned by UK and British operators
The International Maritime Organisation
An international body that was set up in 1948 which aims to help countries work together to prevent accidents, ensure passenger safety and reduce pollution from ships
These details have been provided for your information only, you don't need to be an expert in legislation to make a personal injury claim against Irish Ferries. Our specialist solicitors will handle everything about the claim on your behalf.

How Much Compensation Could I Claim For An Accident On A Ferry?
When you make a personal injury claim against Irish Ferries, your solicitor can claim for general damages and special damages. General damages are paid to compensate you for pain, suffering and loss of amenity caused by your injuries. Special damages however are paid to compensate for financial losses incurred as a result of your injuries. These include:
Medical Costs
Even when you're treated by the NHS for your injuries, you could end up with a large bill for prescriptions and other medicines. If so, you could include the cost within your claim
Travel Expenses
If you need to re-arrange your travel plans because of the accident, and that costs extra money, you could claim back those costs. Also, should your injuries leave you unable to drive while you're recovering, you could claim for any alternative travel arrangements
Cost of Care
In some cases, a professional carer might be required to aid your recovery. If that's the case, their fees could be claimed back. Furthermore, if you are cared for by a member of your family, you could make a claim for their time
Lost Income
If you need to take time off from work following your Irish sea ferry accident for medical appointments or to recover, you could claim back any lost income. In longer-term cases, you might be able to include future lost income in the claim as well
Property Replacement
When the accident occurred, if an item of personal property was damaged, you could ask for the cost of replacing (or repairing) it
To help your solicitor, try to keep hold of receipts, wage slips and bank statements that prove your spending. If you're unsure whether something can be claimed back or not, check with your solicitor before committing to it.

Calculating Personal Injury Claims Against Irish Ferries
In the personal injury claims compensation table below, we've included some figures paid as general damages for certain injuries. This isn't a full list of injuries, so don't worry if yours isn't listed, you could still claim. The figures are taken from the Judicial College Guidelines (JCG). This is legal document used by solicitors, insurers and courts to work out compensation payments.
| Injury | Severity | Range | Comments |
| --- | --- | --- | --- |
| Neck | Moderate | £12,900 to £23,460 | Wrenching-type injuries, soft tissue injuries or disc lesion that lead to cervical spondylosis. |
| Neck | Minor | £2,300 to £4,080 | Inludes soft tissue damage where full recovery occurs between 3-months and 1 year. |
| Back | Moderate | £11,730 to £26,050 | A number of injuries fall into this bracket including prolapsed discs which require laminectomy. |
| Back | Minor | £2,300 to £7,410 | This type of injury is overcome, without surgery, between 3-months and 2 years. |
| Shoulder | Severe | £18,020 to £45,070 | The most severe injuries are usually linked to neck injuries and include damage to the brachial plexus. |
| Arms | Simple Fracture | £6,190 to £18,020 | Simple fractures of the forearm fit into this category. |
| Wrist | Fracture | In the region of £6,970 | Injuries such as an uncomplicated Colles' fracture of the wrist. |
| Legs | Moderate | £26,050 to £36,790 | Single limb injuries including complicated fractures, multiple fractures and severe crushing injuries. |
| Knee | Moderate | up to £12,900 | Dislocation of the knee, torn meniscus or torn cartilage injuries where recovery occurs relatively quickly. |
| Foot | Modest | up to £12,900 | Includes puncture wounds, ruptured ligaments and also some simple metarsal fractures. |
As you can see, each injury is compensated based on how severe it is. Therefore, our solicitors use evidence from independent doctors to try and ensure you'll receive the right level of compensation. The doctors assess you, usually locally, and provide a report which shows how you were injured, how you were affected and if there will be any long-term affects.

No Win No Fee Personal Injury Claims Against Irish Ferries
If you're worried the costs involved with claiming for an injury on an Irish Ferries vessel, then this section should help. Our solicitors work on a No Win No Fee basis for any claim they agree to take on. They do so because we believe people should be able to claim without worrying about the financial cost of doing so. No Win No Fee terms means your financial risk is reduced when claiming which, in turn, makes the whole process less stressful.
When your claim has been assessed, and both you and the solicitor are happy to proceed, you'll be given a Conditional Fee Agreement (CFA) to sign. This contract clearly states that you won't pay solicitor's fees unless your case is won. Also, it explains what success fee you'll pay when a settlement is paid (the success fee).
The success fee is expressed as a percentage of your compensation. To save you having to pay the success fee from your own bank, the solicitor deducts it from the compensation before the rest is paid to you.
If you would like to find out if you could claim on a no win no fee basis, please call the number at the top of the screen.

How Could Accident Claims UK Help Me?
The process for making a personal injury claim against Irish Ferries begins when you get in touch. Our friendly advisers will assess your claim and offer free legal advice about your options. Then, if the case has a chance of being successful, you could be passed to one of our solicitors. Here are some reasons why we think you should use Accident Claims UK to make your claim:
Our claims line is open 24-hours a day, 7-days a week
The advisers offer free legal advice, even if you don't go on to claim
Our team of solicitors have up to 30 years personal injury claims experience
They always try to ensure any settlement is fair and reflects the level of your injury
You'll be kept updated regularly
Our solicitors always try to work as efficiently as possible to ensure the case doesn't take longer than necessary
If you have any queries about how we could help you claim, please call and speak to an adviser today.

Begin Your Ferry Accident Claim
Thanks for reading this guide about making a personal injury claim against Irish Ferries. Hopefully you've found the information helpful and you're now ready to begin your claim. To get in touch, you can:
When you call, we'll assess your personal injury claim for free. You're under no obligation, but if your case is strong enough, we could pass it on to a personal injury solicitor. If they agree to handle your case, it will be on a No Win No Fee basis.

Supporting Information
You've now reached the end of this guide about claiming for an Irish ferry accident. Here are some more guides that prove to be useful:
Cruise Ship Claims – This guide looks at when personal injury claims are possible following an accident on a cruise ship.
Food Allergy Claims – A guide that explains when a claim can be made because of suffering caused by an allergic reaction.
Slip, Trip And Fall Claims – Information on how a personal injury lawyer could help you claim for a fall.
Ferry Passenger Rights – Information from ABTA regarding your rights when using ferry services.
The Merchant Shipping Act 1995 – Legislation that regulates navigation of ships in the UK.
The International Maritime Orgainization (IMO) – The UN's agency responsible for shipping safety, security and pollution.
Article by BH (Brett)
Editor Honey