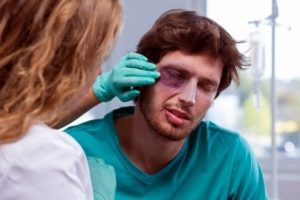 On this web page, you will read a guide to making NHS accident at work claims if you have suffered a NHS workplace accident. You will learn all about the concept of eligibility, and why you may be able to make a claim. We have also provided examples of work place accidents that could possible happen and why the NHS could be liable to pay compensation.
If you are unsure of any of the facts presented in this guide, or need answers to questions that it does not directly address, then please speak to one of our claims team on 0800 073 8801. They will be able to provide you with any additional information you need.
Select A Section:
A Guide To Claiming Compensation For An NHS Workplace Accident
Before we move on to present the key facts of this guide, you need to understand that you must be ready to begin your personal injury claim, within the personal injury claims time limit. This time limit is generally three years, either from the date of the incident or the date of diagnosis, but we recommend you check with one of our claim advisors to be sure this is the case in your own situation. Below you will find information that includes:
A basic overview and definition of what an NHS work-related accident is, and how the NHS could be liable to pay compensation to an NHS employee in some cases.
A list of examples of accidents leading to injuries that people working for the NHS could be be involved in, followed by a number of sections that cover these in more detail, and this includes:

Slips, trips and falls.
Manual handling and lifting injuries.
Bullying and harassment
Physical assault
Accidents involving damage equipment and hazardous substances.
Accidents resulting in needlestick injuries.

A list of all of the most commonly awarded types of damages, that a compensation settlement for a workplace accident could comprise of.
An introduction to the claims service that we offer at a national level. This is a way for you to have your claim assessed, at no financial risk to yourself. It is an effective service, that is available to all residents of the UK.
If you find that you have questions related to the contents of this guide, or this guide prompts other questions that you need answers to, please do speak to one of our claims team. They will be able to help you, an answer any questions that you want answering.

What Is An Accident At Work In The NHS?
An Accident at work regardless of whether it involves an employee of the NHS or any other company is an unpredictable unplanned event that takes place and causes damage or injury. Accidents that could happen in the NHS could affect anyone working for the health service, such as doctors, nurses, cleaners, cafeteria workers, drivers, etc. Although many of the examples of accidents we cover in this guide will be specific to health workers, many of them may also apply to ancillary staff that are employed by the local health service as well. In order to be able to pursue any type of work place accident or illness it must be proven that your employer was negligent in some way or that another member of staff who caused your accident was at fault for the injury or illness suffered. Liability must be proven in order for a claimant to be eligible to make a compensation claim.

Am I Eligible To Claim An NHS Injury Allowance?
A partial answer to the question, I had an accident at work what are my rights? Is that if you are employed by the health service, you could be able to claim the NHS injury allowance. This is intended to be paid on top of things such as Statutory Sick Pay (SSP). It lasts for 12 months, and can be paid to people who:
Were employed by the health service.
Have come to physical harm in some way, that is wholly or mainly attributed to your job as a  health service employee.
Has been granted an absence from work due to authorised sickness leave or are being phased back into work.
Has been receiving less than 85% of their normal level of pay due to their illness
How Could Staff In The NHS Be Injured?
There are different ways that a person who works for the health service could potentially be injured. Examples include;
A syringe or needlestick injury.
Some kind of exposure to a blood-borne virus.
Any kind of violence against NHS staff.
Slips, trips and falls.
Manual handling and lifting injuries.
Bullying and harassment
Accidents involving damage equipment and hazardous substances.
If you have become injured or sick as a direct result of working for the NHS speak to one of our claims team and explain your situation; they will let you know how we could be of assistance.

I Have Slipped While Working For The NHS Can I Claim?
A slip, trip or fall could happen anywhere due to the fact that so many different hazards which could cause theses accidents. An NHS environment is no different. Here are examples of hazards that may cause slip, trip and falls accidents within an NHS environment;
Water spilt on a hospital floor and not cleaned up or no warning signs present.
Food dropped on the floor of a hospital cafeteria and not cleaned up promptly.
Cleaning supplies left in an inappropriate place causing a trip hazard.
Damaged floor coverings such as cracked floor tiles.
Trolleys and gurneys left in hazardous places.
These are just a few examples of hazards that may be present which could cause, an employee or even a patient or visitor to suffer a slip, trip or fall.

Moving And Handling Injuries In Health And Social Care
The NHS (and every other employer in the UK), is expected to conform with all Health & Safety regulations related to manual lifting, at all times. Health care staff including nurses, carers, ambulance workers alike often have the task of moving patients, whether they are in hospital, care homes, patients houses. There are strict rules when it comes to the NHS and manual handling of patients, and there are procedures and processes in place including equipment to assist with the moving of patients.
If you have suffered a manual handling injury while working for the NHS and you are unsure if they are liable for the injury you have suffered call our advisors who can tell you straight away whether you are eligible for a claim or not.

Stress At Work Compensation Claims
NHS staff often have a lot of responsibilities after all they are looking after peoples health and well being.  If a health care worker is feeling stressed or over worked they are encouraged to speak with their managers or persons who are responsible for them. Work related stress, whether you are a health care worker suffering stress at work or another employee from a different industry is defined as the adverse effects that employees experience to work pressure or work related tasks and the overall demands of the work place. Work related stress can often be present when an employee cannot cope with the demands of their employment. If you are unsure whether the work related stress you are feeling is due to the fault of your employer please call us to day and take advantage of our free legal consultation.

If I Am Being Bullied At Work, Can I Make A Claim?
Bullying at work may take on different forms, it could be a person in authority harassing or bullying an individual or a group verbally attacking an individual. Bullying in the workplace could include verbal unpleasant comments, rudeness, arguments violent behaviour but it could also be much more subtly, off hand comments, ignoring a person, criticism, overloading people with work. It may cause the following issues;
Not being able to relax and problems sleeping.
A lack of personal confidence.
A lowering of appetite.
Contestant self-doubt and rechecking of actions.
Not being able to separate work from home life.
If you are unsure whether the treatment you are experiencing at work is bullying or harassment speak with our expert advisors today and they can inform you whether or not you are suffering workplace bullying or harassment.

I Was Assaulted At Work In The NHS, Could I Claim Compensation?
An unfortunate fact of life for many healthcare staff, is that they could be at risk of an assault. For example, emergency room and Accident & Emergency department staff could come into contact with members of the public who are either aggressive in nature, or under the influence of drugs or alcohol. Both of these situations carry a risk of assault. Health care staff could also be attacked by patients who suffer mental health issues, especially care workers who's job it is to look after those who suffer with such issues. If you feel that the attack you suffered could have been prevented if safety procedures were put in place then call Accident Claims UK to see if you are eligible to pursue a work place accident claim for the preventable and avoidable attack leading to injuries in which you suffered.

Accidents Involving Hazardous Substances
When working in the health care industry there are hazardous substances that you may come into contact with, these could include;
Infected blood.
Radioactive compounds.
Harmful medications.
Sharp instruments.
Used and infected bandages, and other waste.
If such substances, sharp instruments or used waste are not handled correctly or the right safety procures are not carried out when dealing with these a person could become injured or made ill.

Syringe Needle Stick Claims
A needle-stick injury happens whenever a person is accidentally struck with a needle that punctures the skin. Blood born diseases could be transmitted this way so it can be a very distressing time if a person suffers such an injury. Needle-stick injuries could happen for different reasons including;  a needle not being disposed off correctly, being put in an ordinary bin, when dissembling the needle, while carrying out blood tests, when inserting a drip etc. Not all needle-stick injuries will lead to a claim as not all accidents including a needle will have been caused by negligence. Only when someone is liable for your needle-stick injury due to negligence may you be considered to make a needle-stick injury claim. 
I Was Injured At Work In The NHS, What Can I Claim Compensation For?
Regardless of whether you are making a NHS accident at work employment related work claim or an employee from a different sector there are two main damages that will be included in your compensation payout if you are successful. Listed below are the 2 types of damages a settlement could comprise of.
Special damages – these all relate to providing compensation for ad-hoc and financial losses:

Travel costs – if you have to travel to deal with the claim, or to have your injuries treated.
Medical fees – if you had to pay for some form of private treatment.
Care costs – if you had to hire a home help, or a nurse.
Loss of earnings – if you lost out on wages/salary due to missing work.
Loss of future prospects – if you will no longer be able to work at the same level in the future.

General damages – these all relate to providing compensation for physical harm:

General pain and suffering – at the time of the accident, and also when receiving emergency treatment.
Mental trauma and shock – due to being involved in an accident, and possibly needing harsh emergency treatment to stabilise you.
Psychological damage – caused by the accident or injuries, such as depression or P.T.S.D.
Painful and extended recovery – if recuperation will require painful treatment, and take some time to complete.
Permanent disability – if you will never recover fully, and suffer a reduction in life quality as a result of this.
Personal Injury Claims Calculator
You could try to find a good online personal injury claims calculator to get a general idea of the value of your claim. However, the table below will give you a good indication of the range of compensation that your claim could be worth. It is based on real-world figures, that the UK legal system uses to judge how much a claimant should be awarded.
| Injury/Illness | Damage Amounts | Injury/Illness Information |
| --- | --- | --- |
| Moderate Severe Psychological Injury | £16,720 to £48,080 | Significant problems with a person's ability to cope with life, education and work, possible future vulnerability. Cases of work-related stress resulting in a permanent or long-standing disability unable to return to employment. |
| Less Severe Psychological Injuries | £1,350 to £5,130 | The length of the disability is key within these brackets. Also to what extent can daily life be continued as normal. |
| Moderate Severe PTSD | £20,290 to £52,490 | The symptoms for post traumatic stress disorder may include nightmares, flashbacks, sleep disturbance, avoidance, mood disorders, suicidal ideation and hyper-arousal. The brackets include significant disability for the foreseeable future but the prospect of making a full recovery. |
| Moderate PTSD | £7,170 to £20,290 | An almost full recovery expected with no grossly disabling affects. |
| Minor Injures | £1,200 to £2,150 | A full recovery expected in 3 months. |
| Minor Head and Brain Injury | £1,940 to £11,200 | Brain damage if any is limited. The brackets are concerned with the severity of the injury, recovery time, any continuing symptoms, any headaches. |
| Moderate Back Injury | £6,920 to £33,750 | Soft tissue damage, disc lesions resulting in cervical spondylosis, serious restriction of movement, permanent recurring pain, possible further surgery, fractures, dislocation, immediate pain and serious soft tissue damage to the back and neck. |
| Minor Neck Injuries (full recovery without surgery) | £2,150 to £6,920 | Possible soft tissue injuries that will make a full recovery between 3 and 24 months. Possible exacerbation of an old injury. |
| Serious Shoulder Injury | £11,200 to £16,830 | Dislocation of shoulder and damage to the brachial plexus which results in pain in shoulder and neck, aching in elbow, sensory symptoms in the forearm and hand. |
| Work Related Upper Limb Disorders | £7,580 to £9,430 | Symptoms resolving in the course of up to three years. |
| Less Serious Leg Injury | £7,990 to £12,350 | Simple fracture of a femur with no damage to articular surfaces. |
| Modest Foot Injury | Up to £12,050 | Simple metatarsal fractures, ruptured ligaments, puncture wounds. |
For a more accurate estimate of how much compensation you could be able to clam in your own case, then please speak to one of our claim advisors.

No Win No Fee Workplace Injury Claims Against The NHS
By using our No Win No Fee national claims service, you won't be exposing yourself to financial ruin should you fail in your claim. We won't charge a fee to start your claim, and we don't charge a fee to process your claim. If you don't win your claim, you do not pay us a fee. There is a fee charged when you do receive a compensation settlement, and we will take it directly from the money we receive for you, and then give you the rest.

Submitting An NHS Workplace Injury Claim
Starting your claim is simple. Just use the phone number below to speak to one of our claims team. They will take the details of your claim, asking you questions about your injury and how it happened. Once they know enough about your case, they will offer you a simple and effective way for you to have your claim processed, if they feel you have a valid claim.

How To Contact Our Experts
Are you a healthcare worker who has been injured or developed an illness due to the negligence of your employer? If you are, you might be able to claim. Please call us on 0800 073 8801 and speak to a claims advisor to find out.
These additional guides could be of use to you:
A guide to NHS negligence claims
How to claim for a workplace accident
You may also find these additional off-site resources useful:
Information on violence within the NHS
H&S information for manual handling and lifting
Edited By Mel.