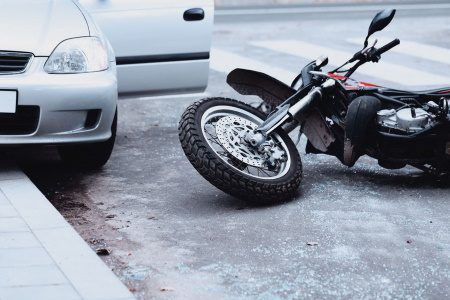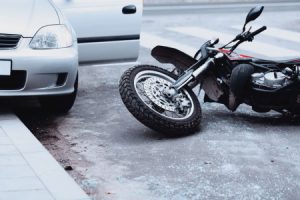 Have you sustained injuries in a motorbike accident where the at-fault party was insured by Zenith motorbike insurance? If so, you may be looking to claim compensation for your injuries, any damage to your vehicle and the financial costs you may have sustained as a result of being injured. This guide offers insight into making a claim against Zenith Marque Insurance Services Limited, also known as Makerstudy Insurance Services Limited following a company name change in 2018. As well as explaining eligibility criteria and restrictions for making a claim, we also look in detail at how compensation is calculated and how you could go about making a claim. If you require further advice after reading this guide, we'd be glad to help. We could also help you begin a claim by providing a No Win No Fee solicitor to help you. You can get in touch with us at any time, by calling 0800 073 8801.
Select A Section
A Guide To Motorcycle Accident Insurance Claims Against Zenith Marque Insurance
Whether you have sustained a minor whiplash injury or a serious head injury, claiming compensation for an accident that was not your fault could help to recover financial costs caused by your injuries and go some way towards compensating you for the pain and suffering you've experienced.
A Zenith Marque insurance claim could be made in a variety of circumstances, and this detailed guide offers insight about who could claim compensation, how to go about starting a claim and how much compensation could be achievable. We also introduce our services to you, giving you all the information you may need to begin your claim.
What Is A Motorbike Accident Insurance Claim?
According to government statistics, motorcyclists, along with pedestrians and cyclists are amongst the most at-risk group on UK roads. In 2013, there was an average of 6 deaths and 9 serious injuries to motorcyclists in the UK each week.
An accident caused by a motorcyclist that causes you to suffer injury, whether you are a motorcyclist yourself or any other type of road user, could lead to a Zenith Marque insurance claim if the person at fault for the accident was insured by Zenith Marque Insurance Services Limited.
A motorbike accident insurance claim could be made for:
Physical injury

Mental injury

Property damage

Financial expenses caused by the injuries you've suffered
While it is possible for an accident claim of this type to be made by the injured party, it could be beneficial to use the services of an injury lawyer to make the process easier on you and ensure you get the maximum compensation achievable for your case.
Does Zenith Act As An Underwriter?
Zenith Marque Insurance Services Limited does act as an underwriter for motorbike insurance policies. You can find their policies through brokers, and on motorbike insurance comparison sites such as Compare the Market, Go Compare, Money Supermarket and Confused. You can also request a quotation through their website or over the telephone. As an underwriter, a Zenith Marque insurance claim would be administered by the company itself.
Are You Always Able To Claim Compensation?
To claim compensation for injuries sustained in a motorbike crash, you would have to prove that:
You were not at fault for the accident

You sustained injuries in the accident

You are claiming within the relevant limitation period – usually three years from the accident date, but exceptions could apply in some cases.
I Was Partly To Blame But So Was The Other Road User
In cases where it is unclear as to who was to blame for an accident, or where both parties are partially to blame, you may still be able to make a Zenith Marque insurance claim on a split-liability basis. This means you would still be able to claim compensation, but it could be reduced to reflect your partial responsibility.
Motorbike Accidents And Injuries Which You Could Claim For
Claims could be made against Zenith Marque Insurance Services Limited if the at-fault party was insured by the company for:
Damage to property, such as a motorbike, scooter, car or moped, for example

Your injuries, if the person at fault was insured by Zenith

Passenger injuries – the passenger would have to launch their own claim for compensation
If you were completely at fault for the accident and insured by Zenith, then you could claim for damage to your own vehicle but not for your own injuries. This would involve you paying the excess on your policy and could affect any no-claims bonus you have.
The Other Party Wasn't Insured
If you have fully comprehensive insurance and the at-fault party doesn't have insurance at all, you may be able to claim for your injuries against your own policy. If this is the case, your insurer may take the excess from you and temporarily reduce your no-claims bonus while they investigate. In some cases, if an investigation proves you were a blameless victim, the excess may be refunded and they may reinstate your no claims bonus.
If the at-fault party wasn't insured and you only had third-party insurance for your own vehicle, you could claim through the Motor Insurer's Bureau for your injuries. We could help you to do this.
Examples Of Motorbike Accidents
According to information from ROSPA (The Royal Society for the Prevention of Accidents), there could be a variety of causes for motorcycle accidents, but some of the most common could include:
A loss of control

Excessive speeds

Collisions at a junction

A failure to negotiate a bend

An overtaking collision

Riding under the influence of alcohol
Examples Of Motorbike Injuries
Injuries relating to motorcycle accidents could include:
Road rash – This could be caused by scraping across the road's surface, leading to cuts, bruises, nerve and muscle damage

Broken bones – Motorcyclists are not afforded as much protection than those in enclosed vehicles, which could make blunt force trauma leading to broken bones more likely

Head injuries – A head injury could be sustained even if the motorcyclist is wearing a helmet.

Neck injuries – A neck injury could range from minor whiplash to severe, life-changing injuries including paralysis.
Information To Help A Solicitor Make Your Claim
Your solicitor would advise you on what evidence and information could help with your Zenith Marque insurance claim but there are some forms of evidence that could be appropriate for the majority of claims. The required evidence may include;
Your medical notes – If you have not requested them, a solicitor could do so on your behalf

An accident report – If there is a police report, this could be useful

Your statement – A statement from you, describing the accident, your injuries and their effects on you could be used as evidence

Photographs – Pictures of the scene of the accident (or drawings), and photos of your injuries may be useful

Witnesses – if you took witness details at the scene of the accident, these should be provided to your lawyer

Expenses – Providing proof of expenses relating to your injuries would be useful, as these could be included as special damages within your Zenith motorbike insurance
Should I Get In Contact With Insurance Companies Directly?
When you are injured in a motorcycle rider accident, and damage has been caused to property or people, you should let your own insurer know about the accident, regardless of who was at fault. Otherwise, you may invalidate your own policy.
If the at-fault party for your motorcycle accident was insured by Zenith Marque Insurance Services Limited, they may get in contact with you directly after the accident. Some motorbike insurance companies may make victims pre-medical offers of compensation. They may do this in order to save costs on claims. However, it would be wise to think carefully before accepting a pre-med offer for a motorcycle crash.
Accepting a pre-med offer means you would not be able to reopen the case if further injuries presented themselves later down the line. For example, if your whiplash injury was quite minor, and you accepted a pre-med offer, then developed chronic pain, you may not be able to claim further compensation for such complications.
How Insurance Companies Assess Compensation Claims
Insurance companies assess cases carefully to make sure that they are fulfilling their obligations to claimants. They would check the exclusions to the policy you are claiming against and could reject or dispute your claim if:
The policy only covered accidents on public roads, and you were injured in an accident on a private road/driveway

Your claim fell outside of the relevant personal injury claims time limit

The accident report revealed that you may have been partially at fault

You did not have the required medical evidence to back up your claim
These are just a few examples. If you feel that your Zenith Marque Insurance claim has been disputed or rejected unfairly, a personal injury lawyer could build a counter-argument that could mean you receive the compensation you deserve.
Could I Claim More By Using A Solicitor?
Whether you have received a pre-medical offer or not, using the services of a personal injury lawyer for your Zenith Marque insurance Claim could be beneficial. A lawyer could help to build a strong case for compensation that could be difficult for the insurer to argue against, and they could fight for the maximum compensation possible for your injuries.
Does Claiming With A Lawyer Mean My Case Would End Up In Court?
Making a motorcycle accident claim with the help of a lawyer does not automatically mean you'd be required to attend court. In fact, most personal injury claims never make it to court. If the case is getting close to the end of the limitation period, however, your lawyer may issue protective proceedings to ensure your claim is not time-barred. This still does not mean your case against Zenith Marque Insurance Services Limited would end up in court, however, it could just give more time for negotiations or your solicitor to gather further evidence for your case.
In the event that your case did reach the courtroom, you'd be supported by your lawyer and everything would be explained to you before you had to attend.
Calculating Claims Against Motorcycle Insurance Companies
If you are considering making a claim for compensation, then you might wish to know how much of a payout you could get. While you might have found a personal injury claims calculator to give you some idea of how much your Zenith Marque insurance claim could be worth, it would be appropriate for us to mention that this could only ever give you an approximation, as all claims would be assessed on a case-by-case basis, and every personal injury claim is different. You would also need to attend a medical appointment with an independent medical expert as part of the claim process so your injuries could be documented, and a report could be issued detailing your injuries and prognosis. This report could be used by your lawyer to give a more accurate representation of how much your claim could be worth.
We know this may be a little frustrating for some potential claimants, so we have provided a table below that could give you further insight into how much compensation could be achievable for some injuries that we believe could relate to a motorbike accident claim. We have included figures from the JCG (Judicial College Guidelines), which is a publication that could be used by solicitors and the courts to arrive at a value for your claim.
| Type Of Injury Sustained | Remarks | JCG Guideline Compensation Amount |
| --- | --- | --- |
| Very Serious Leg Injury | Causing permanent mobility problems, requiring the injured party to use crutches or other mobility aids for the rest of their life. | £51,460 to £85,600 |
| Moderate Leg Injury | Multiple or complex fractures or crush injuries. Usually to just one leg. Injuries could have an impact on the employment of the injured party and compensation would be calculated based on factors such as whether surgery was required, how imperfect the join was, whether muscle wasting occurred, for example. | £26,050 to £36,790 |
| Moderate Brain Injury | Severe to moderate deficit of intellect. The injured party may have their ability to work completely removed or at the very least highly restricted. There would also be a risk of epilepsy (significant) | £140,870 to £205,580 |
| Moderate Brain Injury | Moderate to modest deficit of intellect. The injured party may have their ability to work reduced. There would also be some risk of epilepsy | £85,150 to £140,870 |
| Severe Neck Injury | Disc damage or serious fractures to cervical spine, causing disabilities that are considerably severe. Brachial plexus injuries leading to function loss in a limb could be included here. | £61,710 to £122,860 |
| Moderate Neck Injury | Fracture/dislocation injuries that are initially severe, causing immediate symptoms. May require a spinal fusion operation. There would be a vulnerability to trauma in the future. | £23,460 to £36,120 |
| Minor Neck Injury | Injuries to soft tissue which resolve within 3 months. | Up to £2,300 |
If you don't see the injury you've suffered in the table above, we could provide further insight over the phone, so please do not hesitate to call us.
Check If You Are Owed Special Damages
In addition to the general damages settlement you could receive from Zenith Marque Insurance Services Limited for the injuries you've suffered, you could also potentially claim back any financial expenses you've suffered because of your accident and injuries. These could include:
Travel costs – Cost for travel to any medical appointments or other travel that is required specifically because of your accident/injuries could be included as part of a claim.

Medical costs – Prescription or treatment costs that are required because of your injuries could also be included.

Care costs – Some motorbike, scooter or moped injuries may leave you unable to do the simplest of things by yourself, such as washing or dressing. If you have required care at home to help with these, then care costs might be claimed for too.

Income loss – If you haven't been able to work because of your road accident injuries you might have suffered wage losses. If you have, these could also be included within your claim as special damages. In some cases, if your injuries leave you unable to return to work, future loss of earnings could also be claimed for.
Providing evidence of expenses like those above is vital if you intend on claiming for them. It could, therefore, be a wise idea to keep hold of bank statements, payslips and bills so you could provide these to your solicitor to include within your Zenith Marque motorcycle insurance claim.
How We Could Help Victims Of Motorcycle Accidents
If you're looking to make a claim against Zenith Marque Insurance Services Limited because you've been in a road traffic accident where the at-fault party was insured by Zenith, we could help. Our advisors are available now to offer free advice on any aspect of making a claim for your injuries. We don't charge for advice and we could even assess your eligibility to make a claim for compensation. There is no obligation to use our services either, but if we feel your claim could result in compensation, and you'd like assistance from a personal injury solicitor who could help you, we'd be delighted to provide you with such a lawyer.
We have many years of experience in helping claimants in a wide variety of circumstances claim the compensation they deserve for the injuries they've suffered due to someone else's actions. Why not allow us to help you too?
No Win No Fee Motorcycle And Bike Accident Claims
Here at Accident Claims UK, we would recommend that you use the services of an experienced personal injury lawyer when making a compensation claim against Zenith Marque Insurance Services Limited. If you are concerned that this may mean you'd have to pay out large sums of money upfront for such services, you may be glad to know that if you worked with a No Win No Fee lawyer, you wouldn't have to pay them anything until your claim had concluded and compensation had been paid out.
To begin a claim under these terms, you would need to sign a document known as a Conditional Fee Agreement (CFA). This agreement would promise your chosen personal injury solicitor a small success fee once they had successfully helped you to claim the compensation your Zenith Marque Insurance claim deserves. The fee is usually a small percentage of your compensation payout and is legally capped. You would only pay this fee if your claim resulted in compensation. If it didn't, you wouldn't have to cover your solicitor's costs incurred as a result of pursuing your claim.
Making claims under these payment terms may give claimants the financial confidence to begin a claim for compensation. If you have any questions about how No Win No Fee claims work, please do contact our team or read this guide. We could answer any queries you might have, and we could also provide you with a lawyer that could take on your case on this basis.
Start Your Motorbike Accident Claim
Are you now ready to begin a claim for compensation against Zenith Marque Insurance Services Limited (also known as Makerstudy Insurance Services), or do you have further questions that you'd like answered before you decide on whether or not to go ahead with a claim? Either way, you can get in touch with the team here at Accident Claims UK in a variety of ways:
However you'd prefer to get in touch, we're ready to help.
Helpful Accident Victim Resources
General Information On Motorcycle Accident Claims – Our general guide offers further insight into making such claims.
Fatal Motorbike Accident Claims – If you have lost a loved one in a motorcycle crash that was caused by another road user, this guide may be of use to you.
Claiming For Whiplash Injuries – Here, you can find out about whiplash injuries and making a claim for whiplash compensation.
Insurance Rules – On this page, you can find insurance rules for road users.
The Highway Code – Information for motorcyclists can be found here.
What Causes Motorbike Accidents? – ROSPA has produced an insightful guide.
Guide by JJ
Edited by REB