By Joanne Jeffries. Last Updated 28th September 2021. Within this whiplash claims guide, we are going to take the time to fully explain how a whiplash claim could be a suitable course of action after an accident.
In this guide, we are going to provide free legal advice. We are also going to address how a personal injury lawyer could offer to handle your case could offer to handle your claim under a No Win No Fee agreement.
Whether you've heard that whiplash claims are being stopped, or are unsure about whether you may have a claim, our whiplash guide can help make sense of what can be a painful injury. Throughout this online guide, we are going to discuss how you could have grounds to make a whiplash claim for a road traffic accident. In doing so, we will cover a wide range of information and offer free impartial advice. However, if at any point while reading this guide you have a question or concern, please reach out and contact our team by giving us a call on 0800 073 8801.
Select a Section
A Guide to Whiplash Claims
In short, a whiplash injury is a neck strain. It is associated with car accidents, but it can result from other kinds of accidents in which the victim suffers a significant impact. Whiplash results when the head jerks forward or backwards quickly and without warning, causing the neck to strain.
It affects the muscles and tendons, sometimes causing them to tear as they stretch. People who have suffered a 'light' whiplash injury say the pain is immense. For people who have suffered a severe neck strain and pain, they can suffer from pins and needles, or numbness in the neck and shoulders. Either way, a whiplash injury can be extremely unpleasant, especially when a negligent third party is at fault.
If you have suffered due to a negligent third party, then our comprehensive guide to whiplash claims could be of use. It tells you everything you need to know to make a claim whiplash claim. It also tells you how Accident Claims can help to manage your claim, supporting you on the journey to claiming the compensation to which you are entitled.
What is Whiplash?
Whiplash refers to a strain or sprain that causes pain and suffering. In both cases, the level of pain will be determined by the injury severity. There is a subtle difference between a strain and sprain, and worth looking at in more detail;
A neck strain is where there has been damage caused to the muscles or tendons in the neck. Tendons are bands of tissue that connect the muscles to the bones.
A neck sprain is a torn ligament. A ligament is a tissue that connects the bones.
Both injury types are extremely painful, and the treatment share similarities. Regardless of which injury type you've endured, if a negligent third party is at fault, then you could have grounds to make a compensation claim.
Some people endure whiplash symptoms immediately after the accident, but there are cases where symptoms take several hours or even days to develop. Whiplash can be the sole injury resulting from an impact on the head and neck, but it can also be one of many. Car accident victims can also suffer a concussion, which should always be taken seriously. Diagnosing whiplash, its severity and impact on the victim are done through with a thorough medical examination. Your doctor may also refer you for an x-ray and/or CT scan to check for injury in the head, neck and shoulders. All of these situations could result in whiplash claims.
What to Do If You Are Involved in an Accident That Causes Whiplash
Don't forget, road traffic collisions do not just cause whiplash, as various injuries could be inflicted. However, if you are involved in an accident and are hurt, collecting necessary information and evidence from the scene can help you decide to go ahead with a personal injury compensation claim.
Take photos – if you can, take pictures of the scene as they may prove useful later.
Write down what happened – we think that we will remember everything about what happened and yet when we are asked about a particular detail, we find that we cannot accurately recall the answer. As soon as you can, after the accident, write down what happened. Drawing a 'map' of what happened can help too. This is important for all accidents and incidents.
Collect witness contact details – if people witnessed your accident, ask them for their contact details. It is also worth noting that it is essential to inform the police of the incident in the event of a road traffic collision.
Have Whiplash Claims Been Stopped?
As we previously mentioned, whiplash injuries are often caused by road traffic accidents. Therefore, we wanted to provide you with some recent statistics that shed light on whiplash injuries and road traffic accidents.
When looking at road traffic accidents, we must include the Reported road casualties in Great Britain annual report: 2019. The report highlights how there has been a rise in whiplash-related claims being made over the coming years.
The report offers extensive insight into the statistics and causes of road traffic accidents in the UK. It outlines 153,158 casualties of all severities; 25,945  of which were severe road traffic accidents.
Naturally, you may question what causes accidents of this nature, and are third parties often to blame? It is outlined in the report that in 2019, car occupants account for a large majority of road-related deaths at 42%. However, pedestrians account for 27%, motorcycles 19%, and pedal cyclist accounted for 6%.
The Whiplash Fact Sheet, produced by gov.uk, outlines that there had been 850,000 personal injury cases made in 2017/18. Of that particular statistic, it was also reported that there were 650,000 claims had been made in connection to road traffic accidents; 90% of which were made related to whiplash injuries.
How to Begin a whiplash Claim
A whiplash claims procedure is a process similar to all other compensation claims. But with Accident Claims, you can be assured of the best service, with you, the client, firmly at the centre of the process.
Assessment – We look at what happened and the injury or injuries you received, and apply the law as it stands to your claim. This is a free consultancy session, with no obligation to continue.
Whiplash compensation calculator – We talk you through the claims procedure, as well as using the whiplash claims calculator to determine how much compensation you could be entitled to. At this early stage, this would be an estimate with your legal team providing the definitive figure at the closing stages of your case.
Liability – as part of our service, we determine who is responsible for your accident. For example, you may have suffered whiplash after a severe fall at work, and a claim would be made against your employer. If there has been a breach of duty of care, this means that you are entitled to compensation for your injuries.
The full picture – before you decide to go ahead with a whiplash claim, we make sure that you all the information you need, including the detail behind our no win, no fee service.
The Whiplash Reform Programme
On 31st March 2021, the government introduce the Whiplash Reform Programme. The idea is that low-value claims can be dealt with online without legal support. The new scheme means that for claims lower than £5,000, claimants can process the claims themselves. It is worth noting, though, that the scheme only covers those within a vehicle. It does not cover pedestrians, cyclists or other road users.
The big question, of course, is how do you know if your claim is worth less than £5,000. The answer is – you don't and therein lies a problem with the new scheme. Although the reform programme promises to guide claimants in what their claim might be worth, it might not be an accurate process for untrained individuals to follow.
Our advice here is to speak with our team directly before starting any claim yourself. We have been dealing with personal injury claims for decades and our advisors understand the claims process well. We don't charge for our telephone consultations and we'll provide free legal advice on your options.  As you're under no obligation to make a claim with us, it will always be worth calling to see if we believe your claim is worth more or less than £5,000.
Whiplash Accident at Work Claims
Whiplash results where the head moves forwards and/or backwards very quickly. This jerking motion can result from a fall or a similar accident in which there has been an impact on the body.
Slips and trips at work are the largest categories of accidents that result in injuries to employees, with whiplash being one of them. It is often an injury that goes hand in hand with other injuries, such as concussion, especially when an employee falls, banging their head in the process.
If you feel that your workplace accident that resulted in whiplash could have been prevented, you may have a compensation claim. Whiplash claims amount vary depending on the severity of your injury, but your accident at work legal team will be able to help.
Whiplash Bus Accident Claims
Bus accidents are a rarity in the UK, brought about by safer roads, bus lanes, improved bus safety, and measures that combat driver fatigue.
But accidents do happen, such as the crashing of a London double-decker bus into a shop on a busy London street in the summer of 2017. 10 people were injured in the crash in Clapham, which may have been due to the driver suffering a 'medical episode'.
The passengers may have received all kinds of injuries, including whiplash and thus, their case may have one of the 1,500 daily whiplash claims in 2017.
If you were a passenger on a bus that was involved in an accident, and you suffered whiplash, you may be able to claim.
Can I Claim Whiplash Compensation as a Passenger in a Car Accident?
If you were a passenger in a car that was involved in an accident, you might be able to claim compensation for whiplash, along with other injuries. The team at Accident Claims will be able to help you as part of our free fact-finding consultancy session – why not give us a call?
Should I claim for whiplash?
With all this discussion and debate about fraudulent and exaggerated whiplash claims payouts, it can be off-putting to some people who want to make a claim.
Whether you make a claim is dependent on two things, the first being whether you have an entitlement to claim. And that means looking at who was liable for the accident.
Secondly, it is your choice whether to claim or not. But the law, as it stands, is quite clear: if you have been hurt, and it was not your fault you are entitled to make a claim.
It may be that your whiplash injury is a short-term one, but it is still painful and uncomfortable. Or, it may be an injury that hangs around for weeks, even months. And if you are unable to work, or there are other issues that you have to deal with; as a result, it may be that a whiplash claim payout is the only way forward for you.
What is Included in Whiplash Injury Claims Payout?
Generally speaking, there are five parts to a compensation payment;
General damages – is the 'non-economic' part of the compensation payment and effectively covers your injury or injuries, along with other considerations such as severity, the longevity of the damage and how well you are expected to recover. It also covers the emotional impact or distress caused by accident and resulting injuries.
Care claim – whiplash can be incredibly debilitating, especially in severe cases. Managing around the house, including personal care, can be difficult, and this part of the whiplash claims payout covers care at home you may have had to pay for.
Loss of earnings – it may be that you have sustained a loss of income due to being unable to work and this too can be recouped as part of your whiplash claim.
Travel Expenses – driving can be nigh on impossible when you can't turn your head as a result of whiplash injury! Thus, travel expenses can be significant when it comes to attending appointments. It may be possible to claim these travel expenses as part of your claim.
Medical Expenses – although most medical treatment is free at the point of access with the NHS, it may be that you didn't want to wait months for an appointment. If you paid for some of your treatment, you might be able to claim these back.
What Type of Accidents Cause Whiplash Claims
Whiplash is caused when the body faces an impact, especially the upper body. Whiplash affects the neck and is a direct result of the head, the heaviest part of the body, snapping backwards and/or forwards in quick succession. The spine in the neck is naturally curved, but the range is forced straight leading to damage to tendons, ligaments or muscles during an impact.
The result is pain, discomfort, pins and needles in the neck, which sometimes stretch down the arms to the fingertips and headaches. Some people also suffer from nausea and generally feeling very unwell and uncomfortable.
This sudden jerking of the head backwards and forwards is commonly associated with road traffic collisions, especially rear-shunt accidents. When vehicles collide, the impact can cause the driver and passengers to be 'shunted' forward in their seats, resulting in the head jerking forward in a quick, 'snapping' movement.
But whiplash is not just a result of road traffic accidents. People who have suffered a fall can also suffer whiplash, alongside concussions and other injuries. And any of these could lead to the victim making a whiplash claim.
What Are the Symptoms of Whiplash?
As outlined by the NHS, whiplash can result in;
Pain or severe discomfort in the neck
A temporary inability to move the neck up and down, or from side to side
Neck muscles that are tender but hard and 'knotted.'
Dizziness and blurred vision can result in severe cases.
Pins and needles, or even numbness, in the neck, shoulders, upper back, and arms.
Headaches are common, starting at the base of the skull and spreading across the entire head.
Symptoms of whiplash can start immediately, but there are many cases in which the victim will only begin to notice symptoms after a few hours, once the shock of being involved in an accident has worn off. Many people find that the symptoms, especially the pain and tenderness dissipate after a few days, but other people suffer the effects of whiplash for a lot longer.
Assessing the Severity of Your Whiplash Injury
On the one hand, we read a lot about fraudulent and exaggerated whiplash compensation claims. We don't read about the pain and discomfort that people with a genuine whiplash injury can suffer.
The underlying issue with whiplash is the difficulty in assessing the severity of the injury and how long the injury will impact you.
A claimant will be required to undergo a medical examination in most cases. This is to assess the injury and determine what further treatment may be needed and what future impact the damage could have on you.
There is provision within compensation for a 'nuisance injury'. This covers instances such as niggling pain or taking time off work to attend physio to aid the healing process further.
But, the good news is that this medical examination will be carried out at a venue close to your home and there is no cost to you. It is an integral part of whiplash claims and how much compensation is due to you.
How is A whiplash Claim Calculated?
Generally speaking, you will be awarded more compensation for your whiplash injury if it is a longer-term injury. Clearly, the more severe it is, the more compensation you will receive. Don't forget that you will also receive compensation should you incur financial losses, such as loss of income and so on.
How Much Can I Claim for a Whiplash Injury? – Updated September 2021
The range and severity of neck injuries are many and varied. Still, as this compensation table shows, there is a range of compensation amounts to cover all kinds of neck injuries, including whiplash.
Whiplash claims amount will vary depending on;

| Neck Injury Severity | Payment Level | Notes |
| --- | --- | --- |
| Severe | In the region of £139,210 | The upper end of the scale will mean that the neck injury also affects the upper spine, resulting in paralysis for the higher payment. Severe neck injury may also mean headaches, severe soft tissue damage leading to a chronic, long-term condition. |
| Moderate | £23,460 to £36,120 | At the top end of this scale, the neck injury may have resulted in impaired neck function, as well as significant discomfort. It may also mean that the claimant is vulnerable to 'further trauma', that is injury, to the affected area in the future. |
| Minor | £4,080 to £7,410 | This is the bracket in which most whiplash compensation claims fall. It acknowledges the pain and discomfort, the temporary, short-term inability to move the head or neck but that full recovery is expected within 3 months. |
| Back Injury Severity | | |
| Severe | £85,470 to £151,070 | The most severe injuries resulting in damage to the spinal cord and nerves |
| Moderate | £11,730 to £26,050 | More common injuries like muscle or ligament damage causing back pain |
| Minor | £7,410 to £11,730 | Soft tissue injuries that are nearly fully resolved within 5 years. |
The whiplash claims calculator is a handy online tool provided by Accident Claims that helps a claimant to initially assess what compensation amount could be owed to them. However, don't forget that you may receive more if you also claim for other injuries as a result of your accident. This way, it is difficult to put a figure on whiplash claims average payout as each case is different.
No Win No Fee Whiplash Claim
Whiplash injury claims may be under the spotlight, but that shouldn't hinder your potential case.  Many people are put off from making whiplash claims due to the perceived financial risk – lose your case, and you are faced with high legal costs. But not with Accident Claims!
We provide a genuine 100% no win, no fee whiplash claims service. Unlike some other companies, we ensure that our expert panel of personal injury solicitors offer a Conditional Fee Agreement that really means you are not liable for any legal costs should you lose your claim for whiplash compensation.
In other words, there is no financial gamble when you come to us at Accident Claims.
Why Choose Accident Claims as Your Claims Service for Your Whiplash Claim?
There are many reasons why;
Recommended – previous claimants rate our services highly. As well as a super service when it comes to managing your whiplash claim, people also talk about our 24-hour, 7 days a week helpline and online chat facility for staying in touch with us about everything to do with their whiplash claim.
Trusted – with over 40 years of experience, we can be trusted to understand your whiplash claim and do our best to resolve it so that you can use the compensation you need to fuel your recovery.
Experienced – with a deep insight into compensation for all injuries, we understand how difficult some cases can be. We have the experience to move your claim forwards, in the right direction.
Genuine – as a company, we are known for offering high-quality support with integrity that means you have all the information you need to make the right decision for you.
Our ethos – it is plain and simple: YOU are at the core of everything we do.
Call for Free Advice and To Start Whiplash claims
Ready to start your claim on a No Win No Fee basis? Need more information? Have a question you need answering?
There is no one better to call to discuss your claim, and because we have the facilities to be here for you, you can contact us at your convenience every hour of the day. But don't hesitate. There is no obligation to continue with a claim, and our advice won't cost you anything. Please pick up the phone and call our expert team now on 0800 073 8801. Or why not log on and use our online chat facility?
Helpful Links On Whiplash Claims
A useful guide to whiplash is what you can do to help with the pain and discomfort.
Addressing in detail the changes to whiplash and other soft tissue injuries, this is the guide released by the Government about how it could affect your claim.
Take a look at our guide where we discuss car accident claims in greater detail.
Cyclists that are involved in an accident that wasn't their fault may have grounds to make a compensation claim. Take a look at our comprehensive guide to learn how we could be of assistance.
Whiplash Compensation Claims Calculator
If you are someone that has endured whiplash due to the fault of a third party, naturally, you may consider taking legal action against the third party. Why not take a look at our guide and use our calculator.
You may also have grounds to make a claim if you were a passenger in a taxi that had an accident. If the taxi driver or another negligent road user was at fault, then you could have grounds to make a claim. Take a look at our guide to learn more.
Whiplash Claims FAQs
How do you know you have whiplash?
If you are someone that was involved in a car accident, you may question whether you have whiplash. More importantly, you may question how do you know if you have whiplash? Various signs and symptoms are often associated with whiplash, such as:
Headaches
Limited neck movement
Neck pain and stiffness
Tenderness in the shoulder, upper back or arms.
Heads at the base of the skulls.
How do you cure whiplash?
Applying heat or cold to the neck for 15 minutes every three hours can often help the symptoms of whiplash lessen. Also, using over-the-counter medications, such as pain relievers can help combat mild to moderate whiplash pain.
How long does whiplash take to heal?
If a whiplash injury is of a moderate or minor nature,  they may heal on their own over 6-10 weeks. However, in severe cases, the stress on your tissues may create other issues in relation to your spine. As a result, the healing time will differ.
At what speed does whiplash occur?
Whiplash injuries can occur when a vehicle, such as a car, collides with another road user or object. There are many misconceptions regarding whiplash, such as the vehicle must be travelling a fast speed, which isn't always the case. Whiplash-injuries can happen when a car is travelling at a low speed of 5 mph.
When could I make a whiplash claim?
You can do so as soon as you wish after suffering whiplash, so long as you have sufficient supportive evidence.
But is there a limit on how much time I have in which to claim?
Yes, you have no more than 3 years after the accident or knowledge of suffering whiplash in which to begin the personal injury claims process.
What proof do I need to present?
Medical reports and a clear connection between the accident and your condition are vital for the case to succeed.
How long could the case take?
If you have strong medical evidence, then a settlement could be received within 12-18 months of the intention to make any whiplash claims.
How common were car accidents in 2020?
In 2020, there were estimated to be 1,472 fatalities on the roads of the UK, 23,486 serious or fatal injuries and 115,333 casualties of each severity. It may be prudent to remember that during this period, there were 4 months of lockdowns, which should have significantly reduced traffic on the roads. You can see the road user types affected below.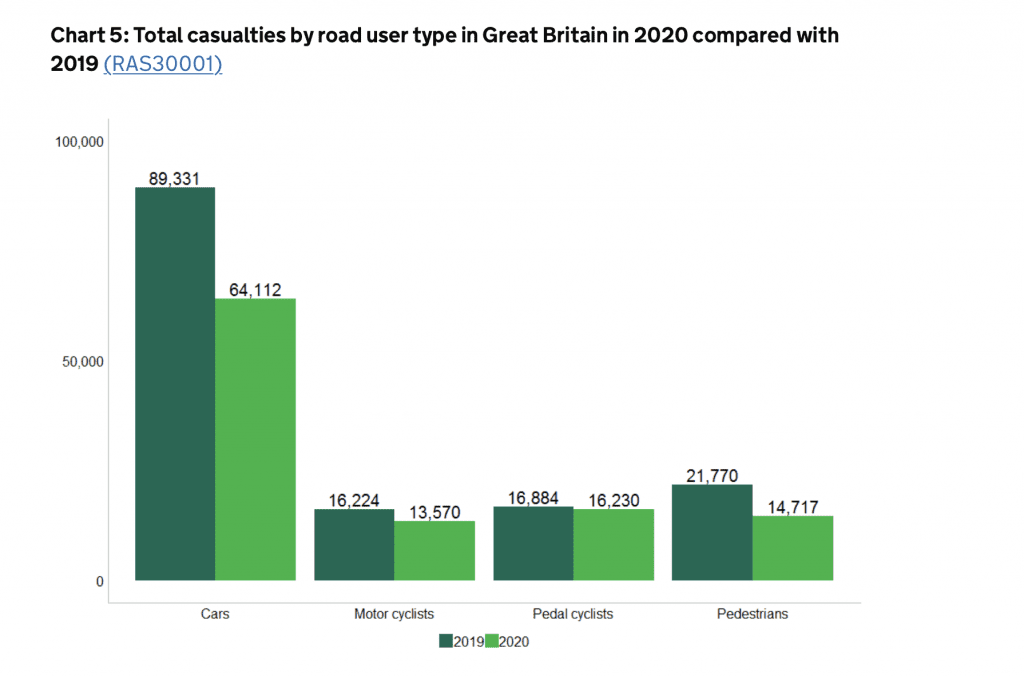 Claiming on behalf of a child – what do I need to know?
If you have been involved in a car accident in which a child has suffered whiplash, you may be wondering whether you could make a claim for compensation. In the eyes of the law, a child does not have the capacity to claim for themselves from stop instead you would have to make a claim on their behalf. You would act as their litigation friend to make important decisions about the case on their behalf. We could assist with such claims. Our specialist solicitors, all authorised and regulated by the Solicitors Regulation Authority, could fight for the maximum compensation for your child's claim. Of course, you could always wait until your child became an adult, and then they could make their own claim. However, it may be a little bit more difficult to gather evidence as time passes on. Therefore. you may prefer to make a claim while the details are still fresh in people's minds, and the evidence may be easier to gather. If you're seeking guidance and support with this, we would be happy to help.
Thank you for taking the time to read our whiplash claim guide.