By Joanne Jeffries. Last Updated 14th September 2021. Welcome to our guide covering accident claims solicitors for Bootle cases. Hopefully, this guide will help you understand what claims personal injury solicitors covering Bootle could help with.
Accident Claims UK offers a nationwide service so that claimants from anywhere in the country can pursue a claim through a No Win No Fee Agreement. We have a team of accident claims solicitors, including accident claims solicitors covering Bootle, who could help you if you have been harmed in an accident which was the fault of someone who owed you what is called 'duty of care'. As well as our panel of solicitors, we also have a team of trained advisors and we work with a panel of doctors who can examine your injury. We have accident claims solicitors based in the Merseyside area for your convenience. Working together, we could support you through your accident claim journey. Our panel of solicitors have as much as thirty years of experience in fighting to secure accident victims the compensation they are owed. They will always strive to make sure you get the best settlement they can for your particular case.
Call Accident Claims UK on 0800 073 8801 or use our accident claims form to contact us to begin your accident claim in Bootle, or for free information from an accident claims advisor. If after speaking to you, we can judge that your case could qualify for compensation, we could help you. We may use a personal injury claims calculator to work out an estimate of how much you could be owed and we could connect you to one of our panel of solicitors.
Select A Section
What Is An Accident Claims Solicitor Covering Bootle?
If you are considering making a personal injury claim, you may also have thought about doing so through accident claims solicitors or personal injury solicitors, such as those offered by our team. If you are unfamiliar with these terms, they are solicitors and legal professionals who focus on helping people to claim damages in the event that they are injured by third party negligence. They could assist with road traffic accident claims, accidents in a car park, negligence claims and other incidents where someone else is at fault for an injury or illness suffered by a victim.
Whilst it may be possible for you to claim compensation without legal representation, this may not be advisable. Having a solicitor on hand means that they could deal with all of the legal sides of things so that you could focus on getting better. You may leverage their legal know-how and experience. Having an accident claims solicitor covering Bootle work on your claim could ensure you have a better chance of being successful in your claim. It could also be the difference between getting a good settlement from the defendant or not.
We will now look at some common reasons why people make accident claims. If you cannot see the type of accident you had below, don't worry. As long as you were injured because of negligence on the part of someone else, who breached their duty of care towards you and it happened within the accident claim time limit please call our team of advisors who can direct you on your next move.
Bootle Traffic And Road Accidents
An accident claims solicitor could help you to claim compensation if you have been involved in any form of road accident or traffic accident as long as the accident was either partially or completely the fault of someone else and you have suffered avoidable injuries.
For example, you could have been involved in a car accident in which you have suffered a whiplash injury. The other vehicle may have shunted into your vehicle's rear end causing this type of injury. Alternatively, you may have experienced a cyclist accident in Bootle, if a car knocked you off your bike. You may also have experienced glass lacerations if you were involved in a car accident that was not your fault and your windscreen smashed.
If you have been involved in a road traffic accident in Bootle that was not your fault and you were injured as a result, call Accident Claims UK today. If you have the right to claim, we could provide you with an excellent personal injury lawyer to handle your case.
Slip And Fall Compensation
All sorts of hazards can cause a slip or fall injury. For example, a nail sticking out of a floorboard could cause people to trip over, or spillage on the floor in an office could cause an employee to slip up. Some of the most common injuries from falls could include wrist injuries, head injuries, knee or back injuries. If you have been injured because of a slip, trip or fall accident caused by negligence on the part of someone else, you could be entitled to claim slip and fall compensation. Call Accident Claims UK, and if you are entitled to claim, we may provide you with an excellent personal injury solicitor to handle your case.
Accident Claims For Workplace Injuries
Employers are responsible for providing employees with a safe working environment. This responsibility includes conducting regular risk assessments to identify health and safety hazards and applying control measures to get rid of said hazards. You could see examples of risk assessments in the risk management section of the Health and Safety Executive website.
If you have experienced an accident at work because of negligence which was caused by your employer (or even another employee) having acted in a negligent way, a solicitor could check and see if you are owed damages.
By contacting our panel of expert advisors today you could find out if you have the right to make an accident claim for a work injury. One of our accident claims solicitors covering Bootle could be able to handle your case.
Reported Injuries At Work In Sefton
Above we have provided some information on accident at work claims. In this table, we more specifically look at how many people may have sustained an injury at work in the Sefton area. This information does not relate to how many people have made a claim, but only those injuries which were reported. Here you may read more of this information and see other data.
| Location | Total - non fatal injuries | Total - non fatal injuries per 100,000 workers | Fatal injuries |
| --- | --- | --- | --- |
| Borough of Sefton (including Bootle) | 249 | 378 | 0 |
Sadly, some work injury cases could be fatal. Below, we give some statistics on which industries were affected by such incidents in 2020/21.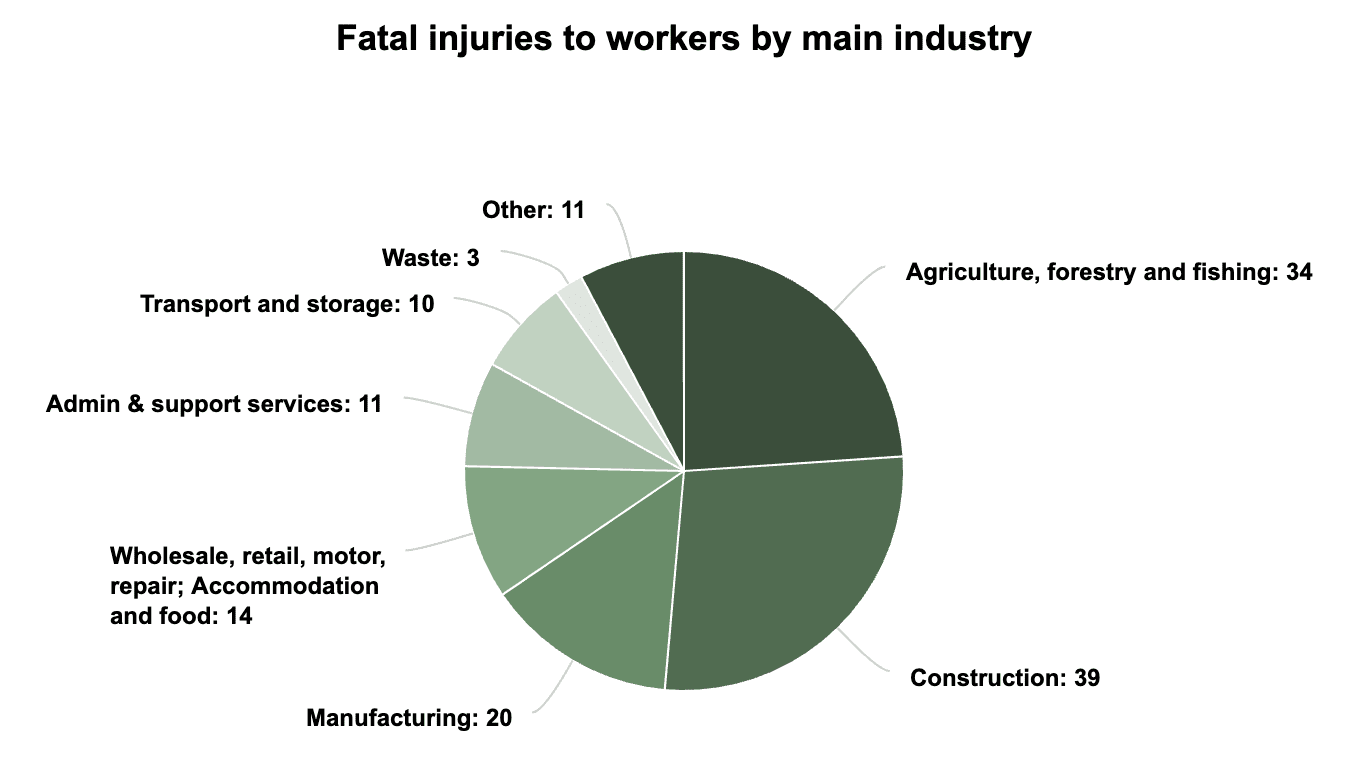 Criminal Injury Compensation Claims
In some instances, you could claim compensation if you have been injured because of a criminal act committed against you.The Criminal Injury Compensation Authority also known as the CICA is a government run scheme to compensate those who have been affected by a criminal act. Even if the perpetrator isn't caught or prosecuted a claim could still be made. There is a certain criteria that needs to be met more information can be found here.
Injuries And Accidents In Public Places
Councils often manage parks or other public places in Bootle, so they are responsible for making sure that these are safe places for the public. If you have been injured because you fell over a cracked paving slab, sat on a broken bench, or experienced any other type of injury, call Accident Claims UK today. A personal injury solicitor could handle your public liability claim, and win you the compensation that you deserve.
Medical Malpractice Claims
Medical negligence, also known as medical malpractice or clinical negligence is when a doctor, nurse or other medical practitioner provides a patient with medical treatment that is not up to standard. As a result, the patient is injured, made ill, or a pre-existing medical condition is made worse. An example of this could be a doctor misdiagnosing a patient's condition when they would have been expected to be able to spot the signs, meaning that they do not get the treatment that they need and their condition worsens over time. If you have been harmed because of medical negligence in Bootle, contact us to see if you have an eligible case for damages.
No Win No Fee Accident Claims Solicitors Covering Bootle, Merseyside
We may give you the option to use a no win no fee solicitor. This means that you will only have to pay your solicitors' fee if you win your accident claim in Bootle. In the unlikely scenario that you don't win, you won't have to pay your fee to your solicitor. This could significantly reduce your financial risk when making a claim. Talk to Accident Claims UK, to enquire about using a no win no fee solicitor to handle your claim and about how this type of claim works.
Talk To An Expert
If you have been injured or have become ill because of an accident that was not your fault, you could be entitled to claim compensation for your injuries. Contact or call Accident Claims UK to find the right accident claims solicitor covering Bootle to handle your case.
Frequently Asked Accident Claim Questions
The legal process may often seem opaque and claimants (as well as potential claimants) may feel like they need to know more before starting a compensation claim. We have included some quick questions and answers to address points which could commonly arise in the early stages of the claims process.
Q: Could Your Team Assist Me?
A: If you have been injured or have contracted an illness because of an accident in Bootle that was not your fault, our panel of excellent accident claims solicitors could potentially handle your case. They will just need to check that you do meet the necessary criteria in order to start the claims process.
Q: Do I Need A Local Area Solicitor?
A: You may be looking for "solicitors near me". However we always advise prioritising expertise and experience over location, so your solicitor may be based further afield. This won't affect your case.
Q: Do I Need A Checkup Of My Injury?
A: In the early stages of your claim, you may be asked to visit a doctor who works with us to have a medical check-up and to establish medical evidence. If you are offered and accept a 'pre-medical offer' this appointment may not be necessary.
Q: Could Your Doctor Assess My Injury?
A: We work with a nationwide panel of doctors and try to make sure that you do see a doctor from your local area or who is as close to you as possible. The closest doctors to Bootle are based close by in Liverpool.
Ayaz Abbasi
Norton Street,
Liverpool,
L3 8LR
Mohammed Safdar
Norton Street,
Liverpool,
L3 8LR
Andrew Hubbert
41 Woolfall Heath Avenue,
Huyton,
Liverpool,
L36 3TH
Could accident claim solicitors covering Bootle assist me if my personal data has been breached?
Personal injury solicitors covering Bootle could assist with a wide range of personal injury cases, and one of these could be for psychological injuries you may have sustained as a result of a data breach. Not only could a data breach cause you financial harm, by way of identity fraud or theft, but it could also cause you to suffer anxiety, distress or loss of sleep. If you have been impacted in this way due to the wrongdoing of an organisation that collects, processes or stores your personal data, and this has breached the Data Protection Act 2018, we could assist you with your claim. We would be happy to provide a free, no obligation assessment of your case. If we believe that your claim could be valid, we could provide you with specialist solicitors with years of experience, to help you get the compensation you deserve.
I lost a loved one in a fatal accident, could accident claim solicitors covering Bootle assist me?
Unfortunately, due to the nature and severity of certain accidents, they could cause a person to lose their life. If you are dependent on somebody who has lost their life due to negligence or dangerous behaviour, there could be a chance that you would be able to claim compensation. The compensation you receive could be used towards financial expenses relating to their death, such as funeral expenses. You could also receive a bereavement award, and in some cases, compensation for the loss of financial income to the home. We understand that making such claims could be difficult and traumatic for you. This could be particularly true if you are only just coming to terms with your loved one's passing away. Our team are experienced in handling cases such as this with the utmost sensitivity, and would fight to get you the maximum compensation possible for the loss of someone close to you. However, it would be wise for you to choose a solicitor with care; one who has years of experience and is authorised and regulated by the Solicitors Regulation Authority. It could also be useful to check if there are any reviews left for the law firm or solicitor you're considering. That way, you could get some idea of what other people have experienced when they've used such legal services. Finally, you could opt to check whether they're able to work on a no win no fee basis on your claim.
Bootle Accident Claims Resources
Reporting Injuries, Incidents And Diseases – See the correct procedures for the reporting of injuries or incidents at work.
Merseyside Police – Certain types of personal injury claims may require police reports or a crime number as evidence. Merseyside Police can be contacted at this link.
Liverpool Civil And Family Court – Claims for damages which progress to court action may take place at the local civil courts.
I Was Assaulted At Work – Can I Claim Compensation? – Employees should not have to put up with physical or verbal assaults in the workplace. If this has happened to you this guide contains information for potential claimants.
Restaurant Accident Compensation Claims Guide – Restaurants could be hazardous to employees and customers if safety steps are not taken. Learn more about such claims here.
We hope our accident claims solicitors covering Bootle guide has been useful. Now you'll know what kinds of claims personal injury solicitors covering Bootle could help with.