Welcome to this guide on slip at work and other accident at work claims. Below, we explain what situations could lead to accident at work compensation. We also answer questions such as 'How do you react to an accident at work?' and 'What is the first thing that should be done when accidents happen in workplace?'
Accident At Work Claims Explained
Were you injured at work due to someone else's negligence? You may not have realised the full impact the accident has had on your life. Injuries at work can leave you suffering not only physically, but emotionally and financially too. Because believe we there are things to know about accident at work claims that not everyone is aware of, we have created this guide. 
A workplace accident claim could be valid if you are not responsible for the injuries you suffered. That said, if you think you could be partially responsible, you could still claim some level of accident at work compensation.
What Do You Need To Know In The Event Of An Accident At Work?
Your employer could be negligent with health and safety in the workplace and therefore liable for your injuries. Even if a work colleague caused the accident which led to your injuries, your employer could still be deemed liable. For example, if your employer didn't train your colleague but asked them to use a hazardous machine and their actions consequently caused your injury, it may be your employer's responsibility for not training them properly.
Our guide provides information on an employer's responsibilities and when they are liable for workplace accidents. We cover the things you should know relating to an accident at work.
We include a table that provides advice on the sort of compensation specific injuries could receive. Additionally, special damages (compensation for financial losses) are covered and we offer advice on what you could claim.
Lastly, we provide information regarding legal representation through a No Win No Fee lawyer.
To discuss your case with an adviser, please get in touch today on 0800 073 8801. They will explain all the things you should know about accident at work claims.
Select A Section
A Guide To Things To Know About Accident At Work Claims
After suffering an injury in a workplace accident, you could be absent for a number of days. The time you have off work could stretch to weeks, months or you may not be able to work again. If the workplace accident is caused by someone else or due to employer negligence, you could make a personal injury claim for compensation.
In this guide, we offer an idea of how much a claim could be worth. General damages (compensation for injuries) and special damages (compensation for financial losses) are covered and we explain how you could claim them too.
We have included lots of information on what you need to know about specific things when you are injured in the workplace. As such, advice on your rights as an employee and the laws that protect you are included in the guide.
Do you need to know more about how a No Win No Fee agreement works? If so, we cover Conditional Fee Agreements (CFAs) and explore why No Win No Fee terms could be beneficial.
For free legal advice on how to claim accident at work compensation, get in touch with a member of our team today.
What Is An Accident In The Workplace?
An accident at work could happen for a number of reasons. A colleague could make a mistake, or your employer could act negligently. No matter how the workplace accident happens, you could seek compensation for the injuries you suffered if you didn't cause them.
The most common workplace accidents that caused non-fatal injuries in 2020/21 (as reported by employers) were:
Slip, trip, and falls on the same level 33% of injuries)
Handling, lifting or carrying (18%)
Being struck by a moving object (10%)
Violent acts (8%)
Falls from height (8%)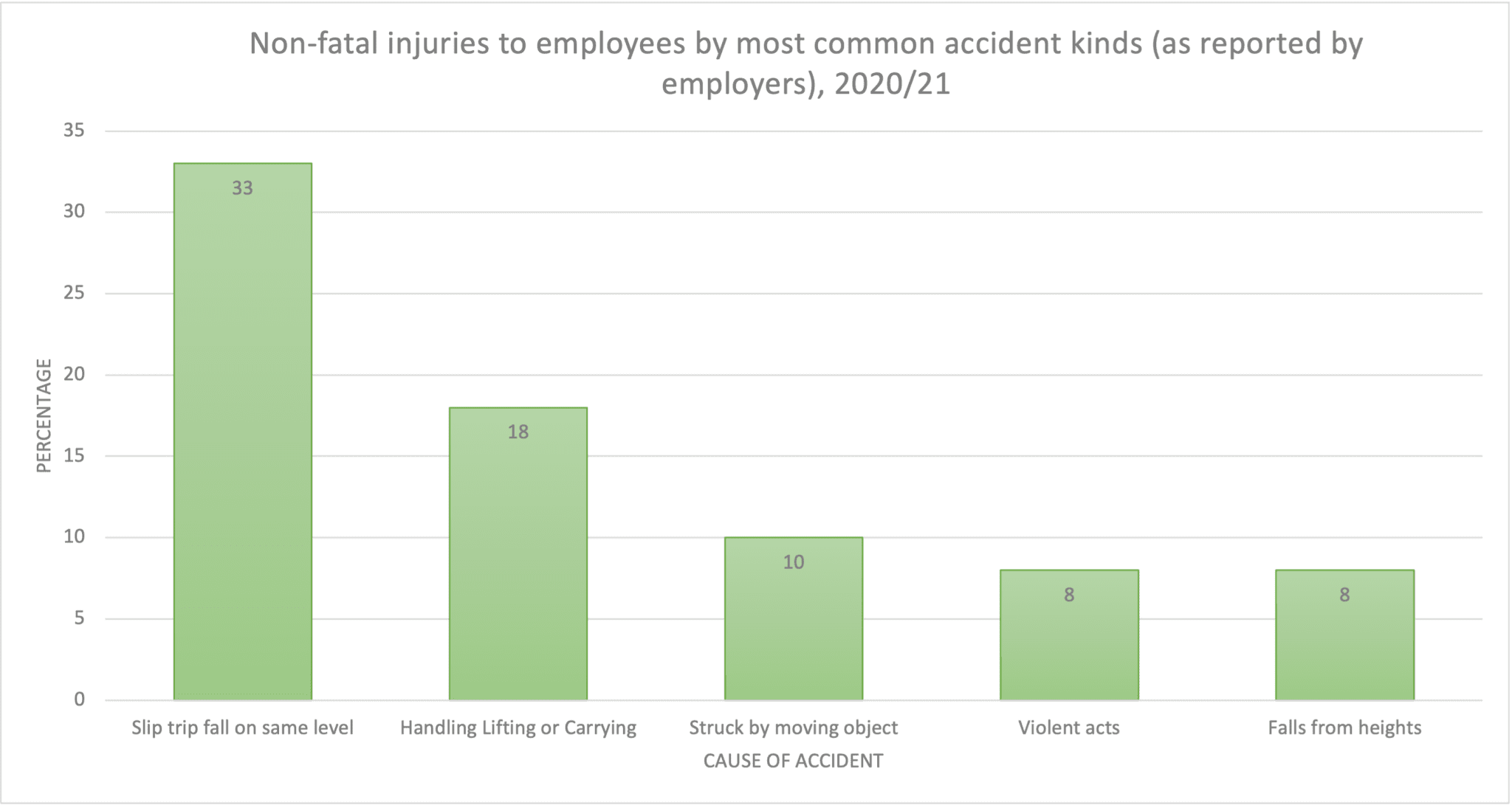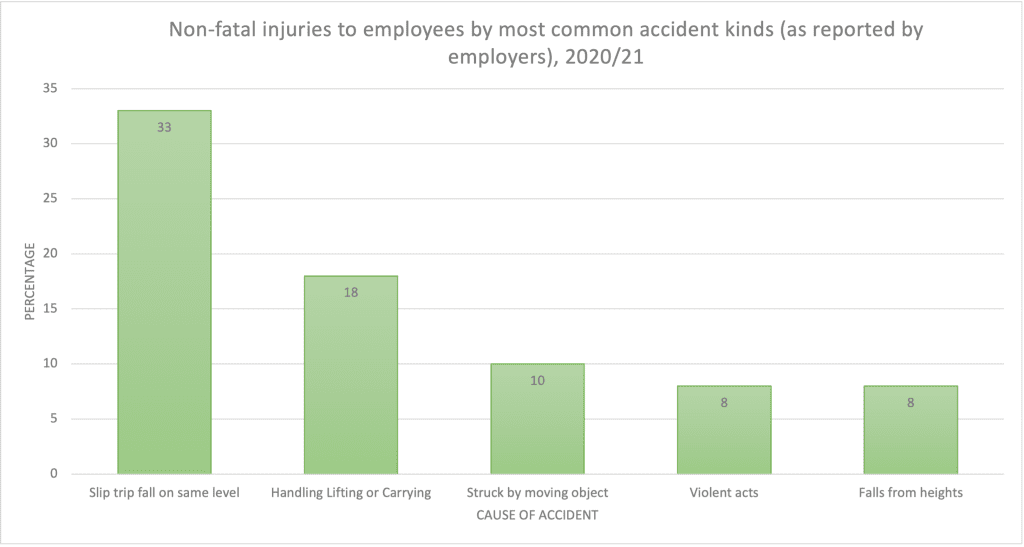 If the workplace accident that left you injured is not listed above, please contact one of our friendly advisers to find out if your personal injury claim is valid.
Could A Slip At Work Be Fatal?
If you're wondering how common slip at work or other accident at work fatalities are, we can look at the HSE statistics. According to their figures for 2021, 142 workers suffered fatal injuries in the workplace. The top cause of this was a fall from a height, which could be caused by a slip. You can see the other causes of a fatal accident at work below.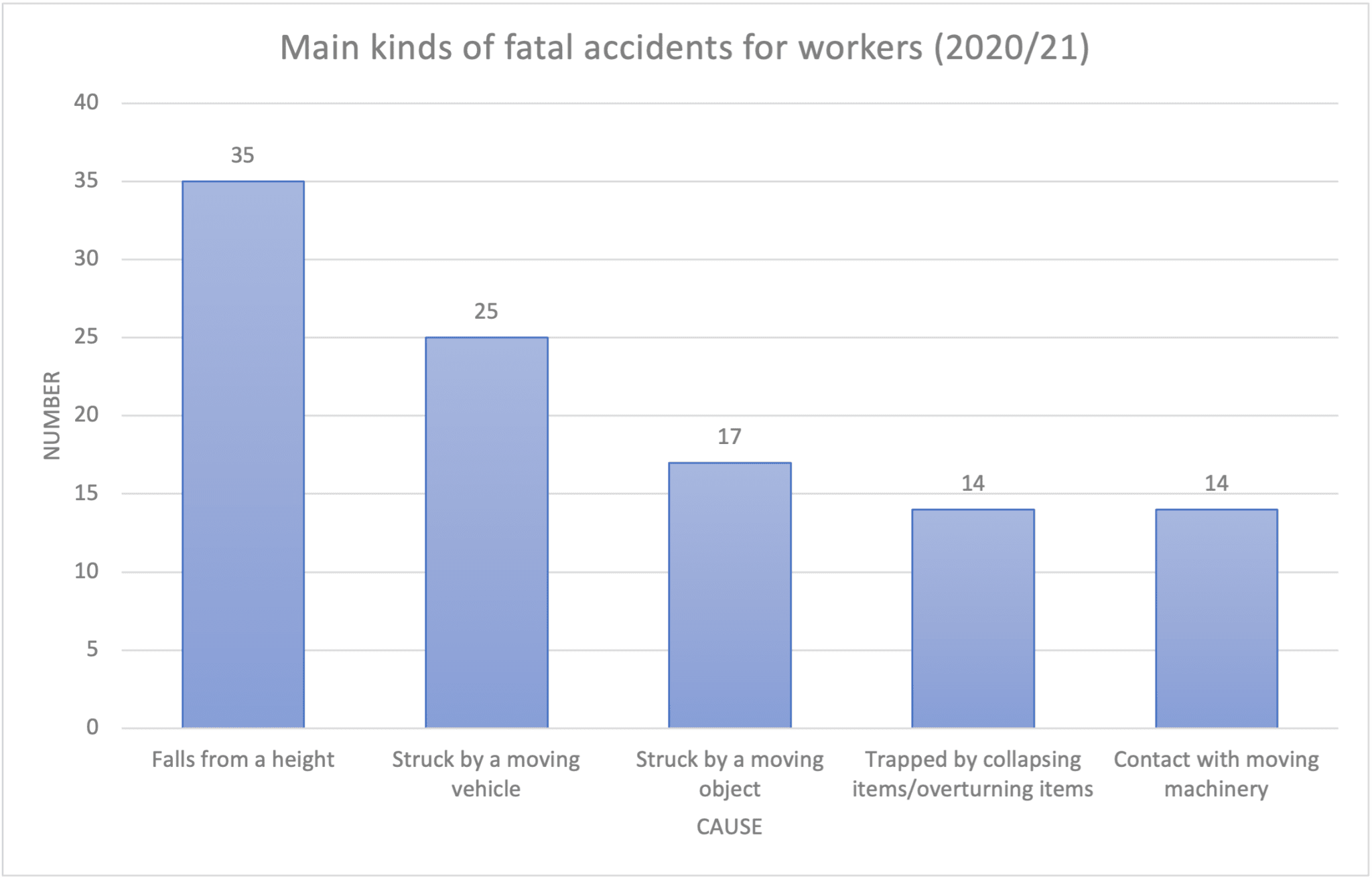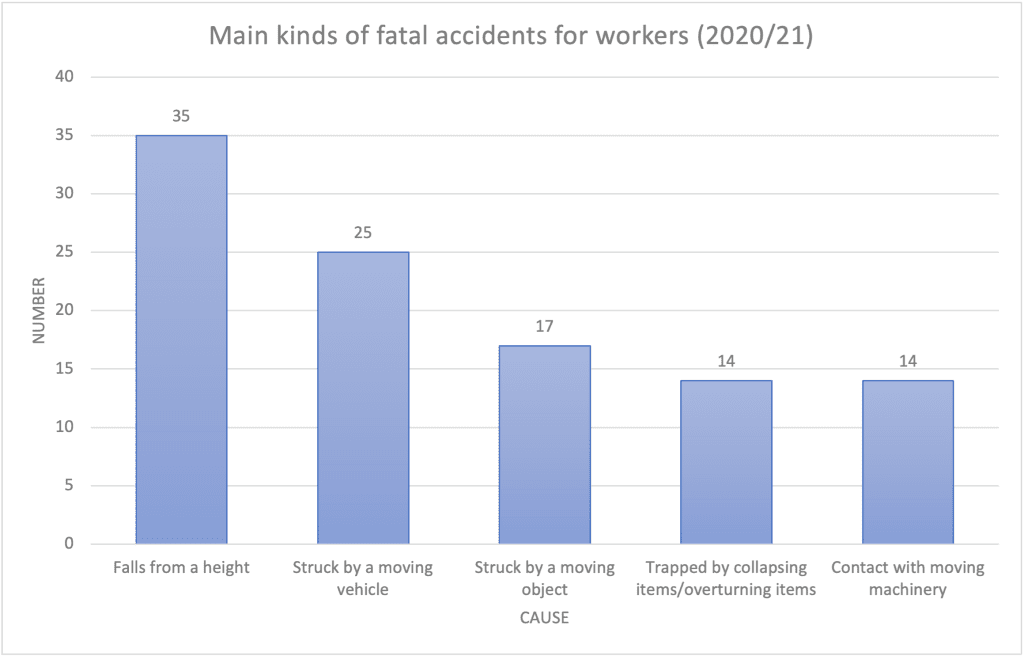 If a loved one has been fatally injured in an accident at work that was not their fault, you could potentially make a claim as a family member of the deceased person. You could not only receive compensation that could help towards their funeral, but you could also receive a bereavement award in some cases. We understand that no amount of compensation could ever replace your lost loved one. However, it could somewhat ease the financial burden caused by their death.
What Should You Do After A Slip At Work Or Another Accident At Work?
When injured in a workplace accident, you should do the following as soon as you can:
Seek medical attention.
Make sure a record of the accident and your injury is noted in the accident log book.
If the incident or your injury is reportable, you should ensure your employer has notified RIDDOR.
If possible, take photos of both your injuries and what caused the workplace accident.
Get witness contact details because they could supply a statement if you make a claim.
If you cannot do any of the above because you suffered severe injuries, you can ask a trusted colleague to do this for you. It is important that evidence is gathered so that you have enough proof to support a potential accident at work claim.
These are just some of the things to know about accident at work claims.
Things To Know About Health And Safety After An Accident At Work
Your employer should abide by the Health and Safety at Work etc. Act 1974 as well as other laws that protect you and your fellow workers. Employers have a duty to ensure that a workplace is safe, and if they do not, they could be in breach of their duty of care.
To protect your health and safety at work, employers could:
Ensure your workplace is safe by carrying out risk assessments.
Make sure that machinery, tools, and equipment are safe to use and maintained.
Set up safe working practices and policies.
Take care that materials are stored, handled, and used safely.
Provide suitable first aid equipment.
Inform you of potential hazards.
Ensure supervision is provided when required.
Provide adequate ventilation, lighting, temperature, washing/toilet facilities and rest areas that meet health and safety requirements.
Control or prevent exposure to dangerous substances.
Erect suitable warning signs where required.
Report specific workplace accidents and injuries through RIDDOR.
Should you believe your employer failed in their duty of care, and as a result you were injured, please contact a member of our team today for free legal advice.
Things To Know About Your Rights As An Employee
There are different kinds of employment statuses. They include being:
A worker
An employee
Self-employed or a contractor
The above three employment statuses don't all share the same working rights, but there is one that applies to anyone in a workplace. That is the right to have your health and safety protected by the employer. You are also responsible for your own safety, however, so if you risk it and cause your own injuries, an employer may not be liable.
Employees are those who have an employment contract. They have the same rights as workers, which include:
Receiving at least the National Minimum Wage
Protection against unlawful income deductions
The statutory minimum level of paid holidays
The statutory minimum length of rest breaks
Not having to work over 48 hours on average per week and to opt-out of this
Protection against unlawful discrimination
Statutory adoption pay
Statutory shared pay
Protection for 'whistleblowing'
To be treated fairly if they work part-time
Statutory maternity pay
Statutory paternity pay
But they could also receive:
Statutory Sick Pay (SSP)
Protection against unfair dismissal
Statutory maternity leave
Statutory paternity leave
Minimum notice periods
Statutory adoption leave
Statutory shared parent leave
Rights to request flexible working hours
Have time off to deal with emergencies
Statutory Redundancy Pay
No matter your employment status, if an employer caused your injuries, you could claim compensation. Get in touch with our advisers to find out if you could claim.
Things To Know About Reporting An Accident At Work
If the company or organisation you work for employs more than 10 people in one workplace, they should have an accident log book. Make sure a record of your workplace accident is recorded. We recommend that you do this yourself but, if your injuries prevent it, ask a trusted colleague to do this for you.
Some smaller businesses have accident books but, if they do not, you can send a letter or personal email to your employer. You can detail your injuries as well as the date, time and location of the accident. Remember to keep a copy of the information for your own records.
Specific workplace accidents and injuries must be reported through RIDDOR and it is your employer's responsibility to do so. You can make sure this has been done by asking your employer or the person responsible for doing this. you can also find out whether your injury is reportable through the Health and Safety Executive website.
Things To Know About Pay After An Accident At Work
One of the things to know about accident at work claims involves sick pay entitlement. You could be entitled to Statutory Sick Pay if injured in an accident at work, so long as the following applies:
Your employment status is 'employee' and you've already done work for your employer.
You earn a minimum average wage of £120 per week.
You are recovering for at least 4 days consecutively, which includes non-working days.
You're not ineligible due to exceptions.
The amount you could receive in SSP may vary but it can be £96.35 a week for a maximum of 28 weeks.
It is worth noting that agency workers can also be entitled to SSP and employers should be told if you cannot work.
You should check whether you're entitled to Company Sick Pay with your employer or by reading your contract. Company Sick Pay can mean that you're fully paid while you recover. However, employers' policies differ, so you may find that you are not paid a full salary if you're off work due to injury.
Whatever you lose in salary or wages, you could recover through a personal injury claim. If you can prove you lost wages, bonuses or overtime pay due to an injury your employer caused, you could be compensated accordingly.
Things To Know About Getting Medical Care
When you are injured in a workplace accident, no matter how minor you think the injury is, you should seek medical attention as soon as possible. This way, you could receive the necessary treatment without delay and have an official medical record of your injuries. This record could later be used to prove your injuries.
You have the right to seek medical attention when you are injured in an accident at work. You can find the nearest urgent treatment centre on the NHS website, or you may need to visit A&E or prefer to see your GP. However it is done, seeking medical attention can be important.
However, if you weren't able to see a medical professional, you could still claim. As part of any personal injury case, you should have an independent medical assessment. A medical professional would assess your injuries and create a report, which could then be used as evidence.
To find out more about what medical care means in a personal injury claim, get in touch.
Accident At Work Compensation Calculator
We have not placed a claims calculator on this page to give you specific guidance on compensation amounts. Instead, we have taken some values from the Judicial College Guidelines. Both solicitors and courts may use this to help them calculate compensation for injuries.
If you have suffered a slip at work or another type of accident that has led you to suffer injuries, you will need to see an independent medical specialist to obtain a medical report. It is simply not enough to go and see your own GP or hospital. If you intend to claim compensation for your injuries you will need independent verification of them. During your appointment with the specialist, they will assess your injuries and write a medical report afterwards that would detail your suffering and pain and the likely cause of your injuries. Courts and lawyers could use this alongside the Judicial CollegeGuidelines to come to an appropriate compensation payout for your injuries.
| Type of Injury | Details of Injury | General Damages Awarded (Judicial College Guidelines) |
| --- | --- | --- |
| Neck | Deemed Severe | In the region of £139,210 |
| Neck | Deemed Moderate | £23,460 to £36,120 |
| Back | Deemed Severe | £85,470 to £151,070 |
| Back | Deemed Moderate | £26,050 to £36,390 |
| Hand | Total or effective loss of both hands | £132,040 to £189,110 |
| Hand | Loss of one hand totally or effectively | £90,250 to £102,890 |
| Knee | Deemed Severe | £65,440 to £90,290 |
| Knee | Deemed Moderate | £13,920 to £24,580 |
| Toe | All toes are amputated | £34,270 to £52,620 |
| Toe | Deemed Moderate | Up to £9,010 |
Special Damages In Slip At Work Or Accident At Work Claims
Special damages are paid out to compensate claimants for the financial expenses and losses they suffer due to a workplace injury they weren't fully responsible for. You should provide proof of any financial losses. Without the necessary receipts, invoices or other relevant documentation, you may find it difficult to claim them back in special damages.
With evidence, you could claim the following in special damages if they're due to your injuries:
Medical costs, such as the cost of prescriptions.
Care costs, whether you paid for a carer during your recovery or your family and friends helped.
Travel expenses, which includes things like the cost of going to appointments both to a medical facility for treatment, or to a solicitor.
Loss of earnings if your wages are reduced or unpaid because you are off work recovering.
Lost future income if you cannot go on working due to the injury you suffered.
Do have more questions regarding special damages? Then please give one of our expert advisers a call today.
No Win No Fee Accident At Work Claims
By contacting a member of our team today, you could find out more things to know about accident at work claims. Your case would be professionally assessed before an adviser offers free legal advice on how best to proceed with a personal injury claim.
You could be offered the chance to work with a lawyer on a No Win No Fee basis if your case is deemed valid. The benefits this offers you include:
You do not have to pay a No Win No Fee lawyer an upfront fee for their work. In addition, you do not have to pay ongoing solicitor fees either.
The Conditional Fee Agreement sets out the amount you pay a No Win No Fee lawyer for their work, which is known as a success fee.
The success fee is lawfully limited.
You pay the success fee out of the accident at work compensation you are awarded.
You do not have to pay a No Win No Fee lawyer if your accident at work claim isn't successful.
Would you like to know if you qualify for No Win No Fee terms? You could discuss your case with a member of our team today.
Start Your Claim For A Slip At Work Or Other Accident At Work Claims
To receive free legal advice on making an accident at work claim, please call a member of our team today. You have the option to contact an adviser in the following ways:
An adviser is here to inform you of the things to know about accident at work claims.
FAQ On Accident At Work Compensation Claims
How do you react to an accident at work?
How to react to an accident at work could depend on the situation. For example, suppose you are injured and want to consider making accident at work claims. In that case, you could first seek medical attention, make sure the accident is reported, and you have taken photographs of the scene and witness details if possible. Remember, you would need to prove that your employer's negligent breach of their duty of care towards you caused your injuries. 
If you come across an accident in which someone else is injured, you should report it and get first aid for the injured party.
What is the first thing that should be done when accidents happen in the workplace?
The first thing that should be done when accidents happen in the workplace is for the injured party to get medical advice and treatment if required. The accident should be reported to the relevant parties. Further to this, anyone injured due to the negligent breach of an employer's duty of care towards them could seek legal advice on whether they could be eligible to claim. 
Does everyone that makes accident at work claims need a lawyer?
When people look to make accident at work claims, they could consider reaping certain benefits from getting professional legal assistance. While legally, you don't need a solicitor, accident at work compensation claims could be complex. A solicitor could take on all the legal legwork of the claim, while the injured party concentrates on their recovery. They could put together as strong a case as possible to fight for compensation on your behalf. 
Essential References Relating To A Slip At Work
Did you suffer a head injury in an accident at work? If so, our guide might be helpful: Guide to claiming compensation for head injuries
For more information on the services we offer, read our guide: Accident claims services
Do you have more questions regarding workplace accidents? Then call us or read our guide: More information on workplace accident claims
The link provided takes you to the Health & Safety website: An employers' responsibilities in the workplace
Information about your working status can be found on the link below: Contracts of employment and working hours
The HSE provides information on what to do if you slipped or tripped at work: Slip or trip accident at work
Information on How Many Personal Injury Claims Go To Court
Other Guides You May Find Useful
We hope you enjoyed this guide on slip at work and other accident at work claims.