By Joanne Jeffries. Last Updated August 26th 2021. Welcome to this guide on choosing accident claims solicitors covering Brentwood. Here, we explore why you don't need to use local personal injury solicitors for Brentwood claims.
Besides the fact that an accident caused by somebody else can be really annoying, they can also cause you to suffer serious injuries. Some take months or even years to heal and some result in life-changing injuries which impact upon the victim every day. Personal injury claims are there to try and put those affected by injuries caused this way back to the position they were in before the incident took place. If you're looking for accident claims solicitors covering Brentwood, then we could help you today.
Although we're not based in Brentwood, we do have a panel of accident claims solicitors who can cover the Brentwwod area to help you make accident claims in Brentwood on a no win no fee basis. To receive a free assessment of your claim, call us on 0800 073 8801 right away.
You might want to find out more information about accident claim solicitors before calling. If so, please carry on reading.
Choose A Section
What Is An Accident Claims Solicitor Covering Brentwood?
You could look to hire a solicitor for any accident in Brentwood, but the solicitor will usually want you to show the following statements are true before accepting to help you:
That the defendant in your claim owed you a duty of care; which
They breached in some way, leading to an accident occurring; that
Caused you to suffer an injury or become ill.
If the above statements all sound true in your case, you could seek compensation for your injury. Claims could be for a vehicle accident such as a motorcycle accident in Brentwood, an accident at work or even a fatal accident in Brentwood.
You'll need to ensure you contact us as soon as possible though as there is an accident claims time limit of 3 years. This begins from the date of your accident. Alternatively, it can begin from the date your injuries were diagnosed. There are exceptions for more information on time restraints please cal our team who will gladly advise on your particular limits.
When you contact us, if our accident claims solicitors take on your case, then you'll receive the following services:
Help and guidance with gathering evidence. You might need to obtain medical records, witness statements, photographic evidence or CCTV footage.
The compiling and submission of your claim.
All communication with the defendant, their insurer or their lawyer.
Expert legal advice about when you should accept or reject an offer of compensation.
And, in the really small percentage of cases that can't be settled, your solicitor will represent you in court.
All of this is provided on a no win no fee basis by our panel of accident claims solicitors if they take your case on.

Accidents On The Road In Brentwood
It's fairly common for accident claims solicitors covering Brentwood to be asked to help with road traffic accidents. Claims could be possible if you're injured in an RTA because of another road user's negligence. It doesn't need to be a deliberate act though. Claims could be possible for a road traffic accident caused simply because the other road user wasn't paying attention, or they were distracted.
Because of the UK's busy roads, accidents scenes often need to be cleared fairly quickly. This means you need to act quickly following an accident to try and secure evidence to back up any claim you go on to make. Therefore, you should try to:
Take photos of the accident scene before anything is removed, if it is safe to do so.
Ask the other road user for their details (including insurance documents and vehicle registration).
Ask witnesses for their details.
Seek medical attention.
Report the accident to police by using the emergency number where there are injuries. For minor accidents you might be able to report online or dial 101.
When you've been treated for any injuries, and you're ready to discuss your claim, call Accident Claims UK.

Compensation For Slips And Falls
A slip or fall can often look minor to onlookers, right up until the point they realise the victim has been injured. Some injuries caused by a fall can be serious, life-changing and require many months or years of treatment.
If a slip is caused by another person's negligence, a third party who has breached their duty of care towards you, which has directly lead to an avoidable injury from a negligent accident you could seek compensation from the liable party.
Try to photograph the reason for the fall, report the accident if in a public place and ask witnesses for their details. Then call one of advisors to discuss whether you can seek compensation or not.

Accidents In The Workplace In Brentwood
There's no way in the world that an employer can make their workplace completely risk free. However, they are bound, by the Health and Safety at Work Act 1974, to reduce risks to their staff wherever possible.
This means that they need to:
Assess work processes for risks.
Remove the risks by making changes where possible.
Ensuring all staff are trained properly.
Making sure that personal protective equipment is worn where needed.
Maintaining all equipment or machinery regularly and fixing any faults quickly.
If you're injured at work and you believe it was caused because one of the above didn't happen, let us take a look at your case to see if you could claim compensation or not.

Brentwood Area Workplace Injury Statistics
The table below shows how many accidents at work were reported to the HSE in Brentwood.
| Location | Total - Non Fatal Injuries | Total - Non Fatal Injuries per 100,000 workers | Fatal Injuries |
| --- | --- | --- | --- |
| Brentwood | 46 | 203 | 0 |
The full set of data, for all regions of the UK, can be viewed in this HSE report.

We have illustrated with the graph below the most common causes of injuries in the workplace. These statistics are from the HSE's 2019/20 report.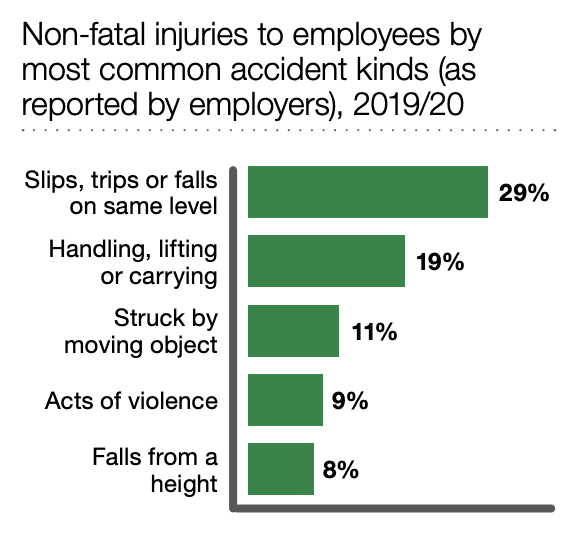 Medical Negligence In The Brentwood Area
If you elect to have any form of cosmetic treatment or need to undergo a medical procedure, then the professional who treats you will owe you a duty of care to ensure you're as safe as possible at all times.
This means that:
The procedure should be explained to you. Any potential side effects or risks should be highlighted to you.
Professionals treating you should use the correct and recommended procedures.
Hygiene standards should be maintained.
The correct equipment should be used throughout the procedure.
If you suffer a new illness, injury or your existing condition worsens because of medical negligence then you may be eligible to claim for compensation Please get in touch to discuss your options today.

Injuries As A Victim Of Crime
It's not that well known but there is a government scheme which allows you to seek compensation if you suffer an injury during a criminal act against you.
The scheme operated by the Criminal Injuries Compensation Authority (CICA), is a little different to normal accident claims with its own rules and criteria. This includes time limits and the amount of compensation that is paid.
Therefore, if you've been injured during a crime, contact our team for advice and help with filing a CICA claim correctly.

Public Place Accidents
Public places can be described as places you're allowed to visit, pass through or use without any prior permission being granted. They can include footpaths, shopping centres, parks, car parks, green spaces or riverbanks amongst other places.
If you're involved in an accident in a public place that was caused due to a breach in health and safety, you might want to seek compensation in the same way as other accident claims. The difficulty can be when it's not obvious who's responsible for the public place or who caused the accident.
You can also run into difficulties if the land or building owner denies responsibility and points the finger at their tenant (the occupier).
Our experts can provide free accident claims advice about who you need to claim against and our accident claims solicitors understand the supporting legislation, such as The Occupiers Liability Act 1984, which can be used when claiming compensation for accidents in public places.
Please allow us to assess your claim, for free, and help you decide whether you could claim or not.

No Win No Fee Accident Claims Solicitors Covering Brentwood
If you're considering using us to make your claim but are worried about how expensive a personal injury lawyer might be, then don't worry. Our accident claims solicitors all work on a no win no fee basis.
If they agree to take on your case, then you'll be offered a conditional fee agreement (CFA). This document explains up front what success fee you'll pay if they win your case. Success fees are limited to 25% and they're deducted automatically from your compensation.
The CFA will also explain that, if the solicitor fails to win your case, you don't pay a single penny for the work they've completed. Using a no win no fee solicitor reduces the financial risk from making a claim and allows many more people to start a claim for the compensation they might be entitled to.

Talking To Our Team
If you're happy to discuss how we could help you make accident claims in Brentwood, you can contact us via our live chat facility 7 days a week. To speak with an advisor directly, you can call us on 0800 073 8801 today.

FAQs
When you contact us, you'll probably have loads of questions. To save you time when you call, we've answered some common questions below.
Could Your Claims Team Assist Me?
Here at Accident Claims UK we have a team of specialist claims advisors who are happy to provide you with free accident claims advice. They'll also assess your claim for free to help you work out whether a claim is the right thing to do or not.
If they believe you've got a good case, they could introduce you to one of our panel of accident claims solicitors. They have up to 30 years of accident claims experience and will always work on a no win no fee basis for claims they accept.
Could I Claim With A Solicitor From Outside Brentwood?
There's really no reason why you can't use accident claims solicitors covering Brentwood rather than those based there.  Many solicitor's firms are happy nowadays to use email and phone calls to manage claims. This means that the location of their office isn't really an important factor in how you choose the solicitor and allows you to look at any other accident claim solicitors based on their specialisms, their recent cases and customer feedback.
Are Medical Checkups Important?
It is really important that your personal injury solicitor demonstrates the extent of your injuries. They can do this, in part, by using medical records from any GP or hospital you visited following your accident. However, to be able to complete your accident compensation claim, you'll need to be medically assessed by an independent specialist.
They will ask questions about your injuries, what impact they had and assess if they'll cause you any problems in the future. When they've compiled their report they'll send it to your solicitor who'll use it, in conjunction with other evidence, to make your claim.
Where May I Have This Medical Checkup?
To reduce the amount of travelling you'll need to make during your accident claim, we'll try to ensure your medical assessment is completed locally. Here are some specialists in the Brentwood area that we could use:
Shehzad Hanif
3 The Drive,
Jubilee House,
Brentwood, CM13 3FR.
Zvi Morris
Tile House Surgery,
33 Shenfield Road,
Brentwood, CM15 8AQ.

Could accident claims solicitors covering Brentwood help with beauty salon or hairdressing injuries?
Our personal injury solicitors covering Brentwood could assist with many different types of beauty salon or hairdressing injury claims. While you may not be able to claim compensation if you're simply not happy with the end results of your treatment, if it causes you to suffer injury due to a beauty salon's worker's negligence, or unsafe behaviour, you could be eligible. You could make claims for situations such as:
Being burned by wax that was heated up too much
Suffering chemical burns from treatments not mixed correctly
Being cut by your hairdresser
Suffering infection due to unhygienic settings or practices
Having an allergic reaction because the therapist didn't give you a patch test
We could assist with many different types of beauty salon and hairdresser injury claims. Why not call our team to see if you could claim.
Could your accident claims solicitors covering Brentwood assist if I've suffered psychological injuries?
No matter what type of accident and injury you've experienced, if it was due to someone else's negligence and they could be held liable for your injuries, we could help you claim.
Personal injury solicitors covering Brentwood know only too well the far reaching effects of a psychological injury. As part of your claim, your psychological injuries would be assessed by an independent professional. They would be documented within a medical report which courts and lawyers could then use to determine an appropriate compensation amount. You could claim psychological injury compensation if you have been the victim of crime and suffered mental trauma as a result. In addition, you could also claim if you have suffered psychological injuries as a result of a car accident for example, such as PTSD, anxiety or depression. You could even claim data breach compensation which includes an award for psychological or psychiatric injuries.
Could accident claims solicitors help with data breach claims?
Lots of organisations use our personal data in a number of different ways. For example, you might have given your employer your bank details so that they could pay you. Your healthcare provider would have details of any medical conditions you suffered. Even your credit card provider may have personal information about how much you earn and where you live. All these organisations could be considered data controllers, and as such must abide by data protection law. If you could prove they've breached your data privacy by doing something wrong, you could have a claim for compensation. We could help you with such claims.
Brentwood Area Resources
We've come to the end of this guide about accident claims solicitors covering Brentwood. To assist you further, we've linked to some extra resources below.
Report an RTA – Information from Essex Police about reporting a bike accident, bus accident, pedestrian accident or any other traffic accident online.
Basildon Court – Details for the local court covering Brentwood.
Reporting Accidents at Work  – Information from the HSE about the types of accidents which must be reported to them.
Medical Negligence – Guidance about when you can make an accident claim for medical and clinical negligence in the UK.
Claiming for an Accident at Work – Information about when you could make a personal injury claim following an accident at work.
Slips, Trips and Falls – This guide explains when you can claim compensation for slip and fall injuries.
We hope you enjoyed this guide on choosing accident claims solicitors covering Brentwood. Now, hopefully, you know why you don't need to use local personal injury solicitors for Brentwood claims.