By Joanne Jeffries. Last Updated 16th September 2021. Welcome to this guide to accident claims solicitors for Dundee claims. Here, we explain what to consider when choosing personal injury solicitors for Dundee claims.
It is not uncommon for people to miss out on accident compensation when they could have been entitled to a payout. This may not be because their case was unsuccessful, in fact, it could be because they failed to make a personal injury claim in the first place.
Here are some of the reasons people may not make accident claims in Dundee when there could have been a chance they would have been entitled to compensation.
If you are looking for quality advice on selecting an accident claim solicitor, you could simply turn to Accident Claims UK, as we cover the whole of the United Kingdom. Read on for more information about working with our panel as an alternative to accident claims solicitors Dundee. If you have any queries, please do not hesitate to give us a call and we would be more than happy to assist.
Choose A Section
What Is an Accident Claims Solicitor Covering Dundee?
If you want to make an accident claim, you need to make sure you choose the right personal injury solicitor to have a good chance of getting the full amount of compensation you could be entitled to, especially as there are many solicitors covering Dundee.
Working with a personal injury solicitor would ensure that you gather all of the evidence needed, they would assist when it comes to ensuring that you take the right legal steps when making a personal injury claim which in turn helps ensure you get the amount of compensation to suit the injuries you sustained.
Personal injury law can be complex and choosing an experienced personal injury solicitor with care is crucial. It is also advisable to look for an accident claims solicitor who offers a No Win No Fee service, as this would minimise monetary risk. The reason being you would only pay legal fees if your case is a success.
Finally, it might be wise to read reviews left by previous clients to see what they had to say about the accident claim solicitors you may want to represent you in a personal injury claim.
Injuries Or Accidents In Public Places
There are many different accidents and injuries that could result in someone needing an accident claim solicitor. We are going to take a look at some in further detail, starting with accidents in public places. These incidents can happen in any sort of public area, whether it is on a public path, or in a local park. These claims are typically made against the local council because they are responsible for all public areas under their control. However, there are exceptions. If you are unclear on who would be liable in an accident in a public place, please contact one of our team of advisers.
Work Accident Claims
Firstly, when it comes to making an accident claim for an incident that occurred in the workplace, you must inform your employer and/or safety representative if you were injured. The person in charge or an employer has a duty to record the incident in the company's Accident Book, which certain businesses must, by law, have in a workplace. Moreover, your employer also has to inform the Health and Safety Executive at their local authority of the accident if the accident at work is deemed 'reportable' to the RIDDOR.
Are you worried you would be sacked if you make a work accident claim against your employer? Your employer would know that they have a duty to provide you with a safe working environment, and if they have failed to do so which results in you suffering some kind of injury or illness, they could be held responsible. Moreover, if your employer were to fire you, you could have grounds to file an unfair dismissal claim against them which could lead to even more trouble for your employer.
How Common Are Workplace Accidents In Dundee?
Below, we take a look at statistics regarding workplace accidents in Dundee.
| Location | Total - non-fatal injuries | Total - non-fatal injuries per 100,000 workers | Fatal injuries |
| --- | --- | --- | --- |
| Dundee City | 169 | 231 | 0 |
Source: www.hse.gov.uk/statistics/tables/ridreg.xlsx
You can see some key statistics relating to workplace injuries below. These come from the HSE's 2019/20 report.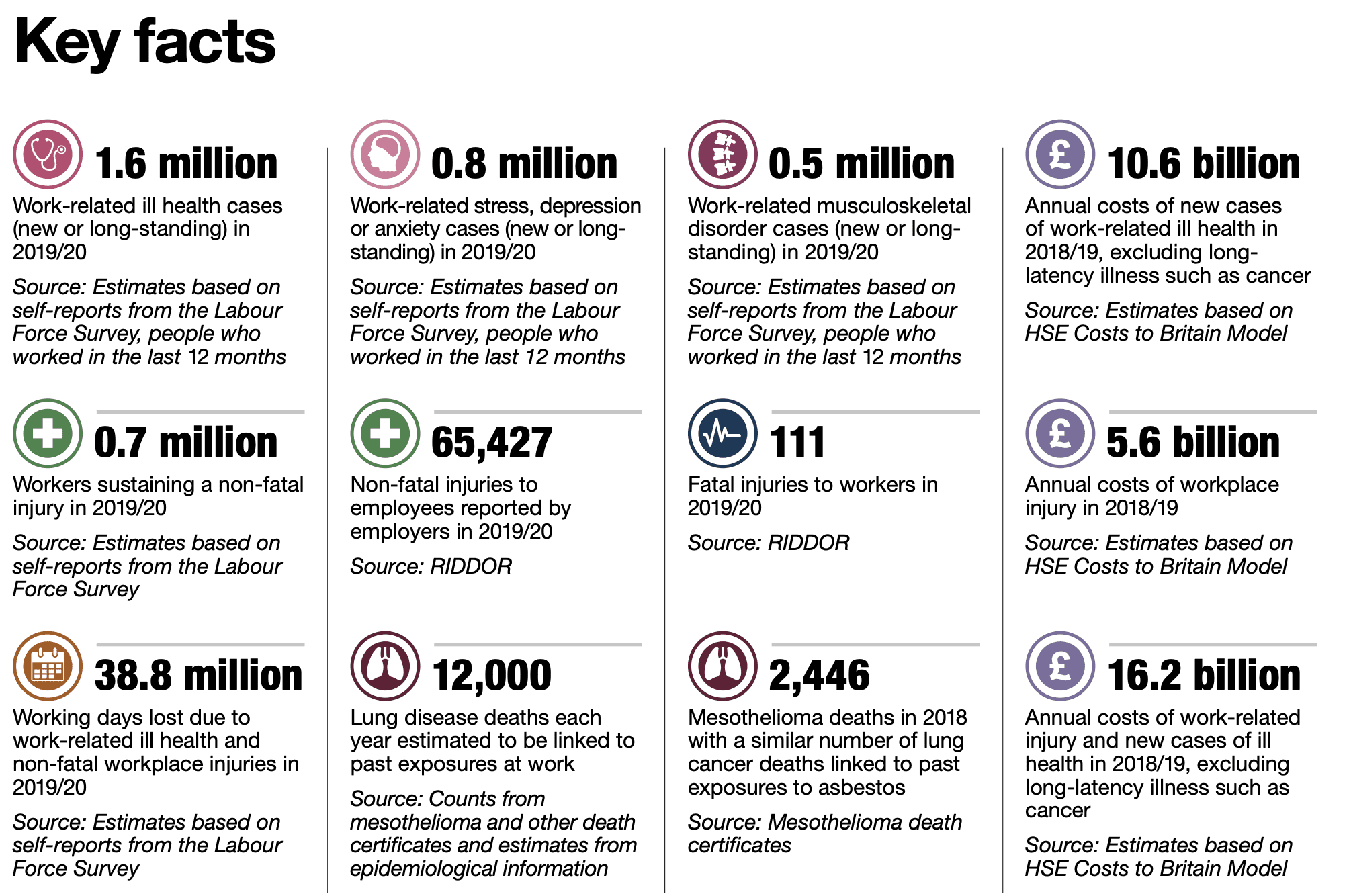 Trip And Slip Claims
Have you been the victim of a slip or trip? There are many different ways that a slip in a public place could occur. Maybe you were walking when you tripped on a broken pavement? Maybe you were doing your weekly shop when you slipped on a wet floor that was not correctly marked? Irrespective of what occurred, if the incident was not your fault, there could well be a chance that you would be eligible for compensation.
Despite this, there are a lot of people who may have been in this position, yet they never claimed for the money they deserve. Call us today for more information on slip and fall case settlement amounts. Depending on the nature and seriousness of your injury, from a sprain or strain to broken bones and head injuries, you could be entitled to claim compensation from a negligent third party.
Accidents On Dundee Roads
There are many different types of injuries that could happen in a road traffic accident. Whiplash is among the most common. This is often a painful injury which impacts the soft tissue, muscles and nerves in the neck. It usually occurs as the result of road accidents, as this causes the head to jolt forwards and backwards in a violent manner. However, it can occur in other ways too.
If you have sustained whiplash, or any other type of car accident injury, and it was the fault of another person, you could be entitled to compensation, so long as the following facts apply to your case:
Someone else caused the car crash
The accident happened within the past three years
You received medical attention for your injuries
If this is true, you could have a chance of filing a successful personal injury claim, and there are specific steps you should take to increase the chances of securing the maximum amount you may be entitled to. These are as follows:
Make a note of what happened – this would ensure you don't forget anything later down the line
Get the contact details of the person that caused the crash – this would include their name, telephone number, vehicle registration number, address, and the details of their insurer
Try to get the contact information for any people who witnessed what happened – witness statements help to strengthen your case
Take photographs of any damage to your car or the street
Take photographs of your injuries
Keep proof of any costs encountered – from travel expenses and loss of income, you could claim for these as special damages
When it comes to a lot of road traffic accidents and  injuries that occurred due to driver behaviour that could be deemed unlawful, it is vital that you inform the police. When it comes to road traffic accidents, this is particularly the case for serious crashes, and those involving uninsured drivers as well as untraceable drivers, i.e. hit and runs.
Victim Of Crime Compensation
You may also be thinking about making a personal injury claim if you have been the victim of a crime. When it comes to seeking victim of crime compensation, the process is different, especially if a criminal has not been caught. You may be worried that you cannot make a claim if this is the case but in many instances you may be able to which is why the CICA (Criminal Injuries Compensation Authority) was set up. However, you to act quickly, as the time limit for claims through the CICA is only 2 years, although in exceptional circumstances, this may be extended.
Medical Or Clinical Malpractice
Are you thinking of making an accident claim for medical negligence? If so, it is advisable to make a formal complaint to the NHS, or the private organisation responsible for your injury. This would help make your case against the negligent third party. There are many different ways this type of accident claim could happen, from a late diagnosis of cancer, causing a poorer prognosis to your dentist exacting the incorrect tooth.
No Win No Fee Accident Claims Solicitors Covering Dundee
This essentially means that you would only pay legal fees if your case is a success. This could be a great way of protecting yourself against the huge financial implications that may occur if your personal injury claim was not a success. With a No Win No Fee solicitor, you don't need to worry about the cost of making a personal injury claim, paying legal fees, and not receiving any sort of compensation in return. If your claim is unsuccessful, you wouldn't pay your lawyer a success fee if your claim was under a no win no fee arrangement.
How To Talk To Our Team
No matter whether you are looking for someone to simply provide free accidents claims advice, or you are ready to make an accident claim and you want someone to assist, we are here at 0800 073 8801 to assist you.
FAQs About Accident Claims
How Do I Make An Accident Claim?
Making an accident claim, whether its a fatal accident claims, negligence claims or another type of compensation is made much easier with the assistance of one of our personal injury solicitors. All you may need to do is give our panel of accident claims solicitors a call. We will be there for you every step of the way.
Do I Need A Solicitor Near To Me?
A lot of people assume that if they were injured in the Dundee area, their only option is to work with accident claims solicitors Dundee. As such, they simply search for accident claims solicitors nearby on Google. However, you don't need work with solicitors in Dundee. You could work with accident claims solicitors covering Dundee. In short, the solicitor can be based anywhere in the country and many of our solicitors cover the Dundee area.
What Are Medical Assessments?
One of the biggest mistakes made is failing to see a medical professional when injured through the negligence of a third party. You must see a doctor if you are injured because they would put together a medical report, and this would be a vital piece of evidence in a personal injury claim. Don't worry if you have not seen a doctor yet, though, as this is something one of our personal injury solicitors would arrange.
Where Could I See A Doctor?
If you require the assistance of a medical professional, we can arrange this for you. Our panel of doctors spans the UK, and you could see a professional in your area, such as:
Mark Innes Burgin
The Alba Clinic,
148 Princes Street,
Dundee
DD4 6DG
Could a child make a claim with accident claims solicitors covering Dundee?
If a child is involved in an accident that is not their fault, they are not deemed to have the capacity to make a claim for compensation for themselves. However, there is a way that they could get the compensation they deserve for their injuries. Whether they've been injured at school, or have suffered injuries in a road traffic accident, an accident in a public place or because of medical negligence, someone could claim or on their behalf as their litigation friend. This could be a parent, guardian or another responsible adult. This person could make decisions about their claim on their behalf. However, the child could also, if no claim has been made for them, wait until they are 18 years old and claim on their own. There could be certain complexities with doing so, however. For example, it may be more difficult for them to gather evidence as the years pass. It could also be more difficult to get hold of witnesses that may have moved house, or even left the country. We understand that making a decision or whether to claim for a child you're responsible for could be tricky. Our specialist solicitors, authorised and regulated by the Solicitors Regulation Authority, would be able to help you by giving you the information you need to make an informed decision on whether to claim.
Could I make a claim with accident claims solicitors covering Dundee if I caused my own accident?
Personal injury solicitors covering Dundee would not normally be able to help you if you have been the sole cause of your own accident. However, there are instances where it may not be very clear who is fully to blame for an incident. If, for example, you are injured in a car accident that is partly your fault and partly the fault of another driver, you could still be able to claim compensation for your injuries. The likelihood is, however, that the amount of compensation you would look to receive would be lower than it would had you not been at fault at all. Having a good lawyer on your side when making such a claim could significantly benefit your chances of getting compensation. An experienced lawyer would negotiate for the maximum compensation possible for any split liability claims. If you would like us to help with such a claim, please get in touch. We could explain to you how legal services of this nature work, and how we could help you on a no win no fee basis.
Further Detailed Information
Reporting workplace accidents – www.hse.gov.uk/toolbox/managing/reporting.htm
Reporting a car accident in Dundee – www.scotland.police.uk/contact-us
Court in Dundee –
www.scotcourts.gov.uk/the-courts/court-locations/dundee-sheriff-court-and-justice-of-the-peace-court
Criminal injury claims in Scotland – www.mygov.scot/compensation-criminal-injury
Thank you for reading this guide to accident claims solicitors for Dundee claims. Now we've explained what to consider when choosing personal injury solicitors for Dundee claims.