By Joanne Jeffries. Last Updated August 26th 2021. Welcome to our accident claims solicitors covering Ewell guide. In it, we explain why personal injury solicitors for Ewell claims don't have to be based there.
It's never nice to be injured following any type of accident. It's even worse when you realise that the accident was caused by somebody else's negligence. In these cases, though, it might be possible to claim compensation for the pain and suffering caused by the accident. The process of claiming can be made easier if you use accident claims solicitors covering Ewell to assist you in making the claim.
Accident Claims UK aren't based in Ewell, but our panel of accident claims solicitors can help with accident claims in Ewell and will do so on a no win no fee basis. If you'd like to discuss beginning a claim today, please call 0800 073 8801 today. Our specialists will assess your claim for free and let you know if you've got a chance of claiming compensation.
If you want more information about how accident claims solicitors could help you, please continue reading this helpful guide.
Choose A Section
What Is An Accident Claims Solicitor Covering Ewell?
There are many scenarios where accident claims solicitors covering Ewell might be able to help you sue somebody for compensation. Before looking at those scenarios though, let's take a look at whether you could be eligible to begin a claim or not.  If you answer yes to the following 3 questions, then you could possibly seek compensation for your injuries:
Were you owed a duty of care by the person who caused your accident?
Did they fail to meet their duty of care, leading to an accident happening?
And were you injured in that accident (or made ill)?
The other important of the criteria is that you must be within the accident claims time limit of 3 years to be able to claim. This begins when the accident occurs or when you find out about your injuries. There are exceptions please call to find out more.
Claims could be possible for a health and safety breach leading to an injury, slip compensation, a workplace accident or a claim for medical negligence as well as many other types of claim.
If we believe you're able to make a claim and our accident claims solicitors agree, then you'll receive the following:
Support with evidence gathering.
The creation and submission of your claim to the defendant.
Handling of all discussions and negotiations with the defendant or their legal advisors.
Specialist advice on what you should do if you receive a compensation offer.
All of this will be offered on a no win no fee basis. If you'd like to discuss how we could help you make a claim, please contact a specialist today.

Medical Malpractice And Clinical Negligence
A definition of medical negligence that could help you decide whether you could claim compensation is:
Where you receive substandard care from a medical professional;
That makes you ill, causes an injury or means that your existing condition gets worse.
If you think that you've suffered medical negligence, then you could claim for:
Any injury or illness caused by any form of negligent treatment, including surgery.
Suffering caused by a negligent misdiagnosis.
Any form of medical abuse, including care home abuse.
Suffering caused by the incorrect medication being prescribed or administered.
Injuries caused because the incorrect procedure was used.
And injuries caused because defective equipment was used.
Medical professionals include; include midwives, surgeons, nurses, dentists, beauty technicians, anaesthetists, care home staff and hospital workers.
In order to be able to make a valid claim the health professional must have been negligent and this must have caused avoidable harm.

Trip And Slip Compensation Claims
It's possible to sustain an injury during a trip or fall in just about any location. If the fall is caused by a negligent act, then you could seek compensation for your injuries.
Common injuries sustained during a slip or fall include:
Broken or fractured bones.
Head injuries and concussion.
Damaged ligaments and tendons.
Bruising and soft tissue damage.
When you're involved in a slip or fall, try to get witnesses to write a statement of what they saw, report the accident if possible so that it's recorded in an accident book and try to photograph the cause of the accident. All of these things can be used as evidence to support your claim.
If you believe you've suffered an injury during a slip or fall, caused by somebody else, then you could seek compensation for any type of injury. Call one of our advisors to discuss beginning a claim today.

Traffic And Car Accident Claims In Ewell
If you're involved in a road traffic accident in Ewell, caused by another road user, try to do the following:
Photograph the scene of the accident before vehicles are removed.
Get the other road user's details.
Ask witnesses for their details and a statement of what happened.
Seek medical attention.
Get copies of any dashcam footage if possible.
If the other road user was negligent and caused your injuries, you could seek compensation for the pain and suffering caused.

Compensation As A Victim Of A Crime
Did you know that if you're assaulted or injured during a criminal act against you, then you could seek compensation through a government scheme? Well, in some cases, you could make a claim to the Criminal Injuries Compensation Authority (or CICA).
The CICA claim differs in a number of ways to a normal personal injury claim such as a different time limit, different compensation amounts and different eligibility requirements. However, it does mean that you could potentially claim compensation even if the criminal has never been identified.
Call today to discuss how we could help you make a CICA claim for your injuries.

Workplace Accident And Injury Claims
You've probably seen the Health and Safety at Work Act 1974 posters in your staff room or on notice boards elsewhere at work. That's the act which means employers need to ensure you are safe while at work by making changes to reduce potential risks.
If you're injured in an accident at work because one of the following didn't happen, then you could possibly seek compensation for your injuries:
You (or another member of staff) weren't trained properly in the task which led to your injury.
Personal protective equipment wasn't provided.
Equipment was known to be faulty or wasn't maintained properly.
Your employer isn't allowed, legally, to discriminate against you in any way for making a compensation claim. Therefore, if you believe you're owed compensation, don't be afraid to call and ask us to look at the details of your case.

Epsom And Ewell Reported Work Injury Statistics
We've provided the table below to show how many Ewell workplace accidents were reported to the Health and Safety Executive (HSE). It shows the number of accidents, the number per 100,000 workers and the number of fatal accidents.
| Location | Total - Non Fatal Injuries | Total - Non Fatal Injuries per 100,000 workers | Fatal Injuries |
| --- | --- | --- | --- |
| Epsom and Ewell | 54 | 213 | 0 |
To compare these figures with other areas of the UK, you can see the full HSE report here.

The HSE statistics for 2021 fatal workplace accidents can be seen in the graph below.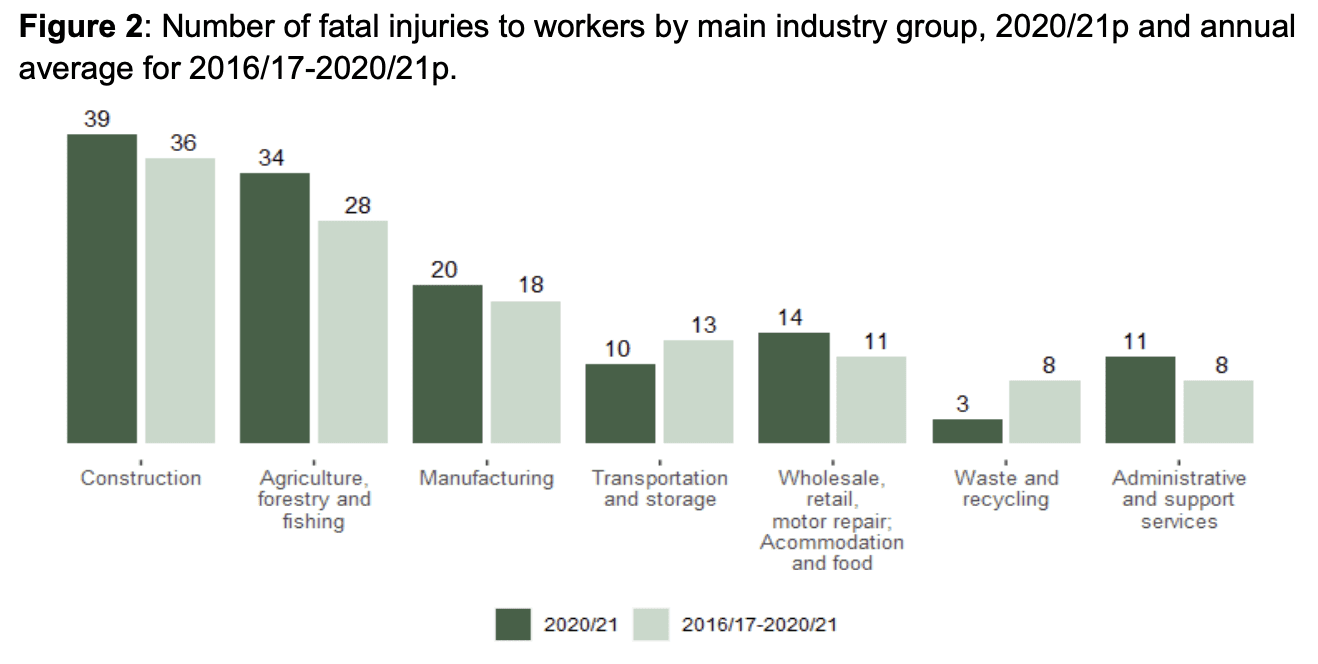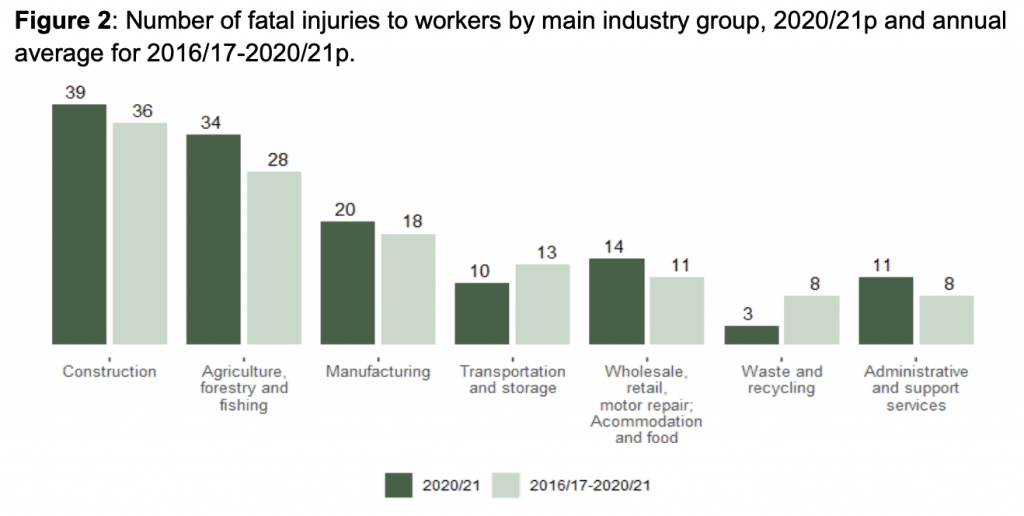 Compensation If Injured In A Public Place
Accidents that happen in a public place could lead to a compensation claim in the same way as other personal injury claims but making them can sometimes be problematic.
That's because, you might not always be able to identify who's responsible, the land or building owner or their tenant. In some cases, it's can be difficult to even identify who the owner is.
Call our advisors who can provide advice on how to find out who might be liable for your accident. They'll also be able to assess your claim to see if you would be eligible for compensation. 
No Win No Fee Accident Claims Solicitors Covering Ewell
You might be wondering how much it'll cost to hire an accident claim solicitor and it might even put you off contacting us. Don't worry though, as our accident claims solicitors only work on a no win no fee basis.
Using a no win no fee agreement (or conditional fee agreement as they're now known, or CFA), means that:
You won't pay an upfront fee.
There's nothing to pay your solicitor if they fail to win you some compensation.
The success fee, used to cover the solicitor's fees and costs, is deducted automatically from your compensation if the case is a success.
Using a no win no fee solicitor means that you don't need to worry about the cost of claiming and should make the whole process a lot less stressful.

Contacting Accident Claims UK
We hope that this guide about accident claims solicitors covering Ewell has been helpful. If you're ready to discuss your accident with one of our specialists, you can call us on 0800 073 8801 today. Alternatively, our live chat facility is available 7 days a week.

FAQs
We know that you probably have loads of questions to ask us before we talk about your accident. Therefore, to help you and to save time, we've answered some of the most common questions we're asked by new clients.
What Ways Could Your Accident Claims Team Assist Me?
Your experience with Accident Claims UK will begin with one of our specialist claims advisors. They'll offer accident claims advice and they'll also assess your claim with you, for free. Our advisors are friendly and professional. If they believe you have a chance of winning compensation, they could introduce you to one of our panel of accident claims solicitors.
They have been dealing with personal injury claims for up to 30 years and work on a no win no fee basis whenever they take on a claim.
Why Don't I Need A Solicitor From This Area?
We live in a world today where communication is much easier than it's been in the past. That's why some accident claims solicitors covering Ewell are happy to manage a compensation claim over email or the telephone.
This means you don't have to choose a solicitor located in the Ewell area and you could use another criteria to choose the best personal injury solicitor to help with your case.
Why Do I Have To Visit A Doctor?
A medical assessment is required to show how your injuries have affected you and if they could affect you in the future. They're performed by an independent medical professional who'll ask questions and assess you before writing a report for your personal injury lawyer.
The report can be used along with medical records if you attended a GP or hospital following your accident. It will be provided to the defendant's lawyer as part of the claim and is used, in conjunction with other evidence, to determine how much compensation you are entitled to.
Where Could I Visit A Doctor?
We always try to reduce the amount of travelling required for accident claims in Ewell. That's why we have a panel of doctors and medical specialists across the UK. Here are some of the specialists local to Ewell that we could use:
Soran Saeed
Sutton Sports Physio,
Rose Hill Park,
Sutton, SM1 3EU.
Amer Hafeez
181 Carshalton Road,
Sutton, SM1 4MG.

Could accident claims solicitors covering Ewell assist if I've suffered psychological injuries?
Personal injury solicitors covering Ewell know only too well that psychological injuries, in some cases, can have more complex and far reaching consequences than some physical injuries. As part of your claim, if you've suffered mentally, you could have your psychological injuries assessed by an independent medical professional. They could ask you questions about how you've suffered mentally. They could then include details of your psychological injuries in the medical report. This could be used to more accurately value your injuries so that you could get the compensation you deserve. You could claim if you have suffered psychological injuries due to:
An accident that was not your fault
Medical negligence
Becoming the victim of violent crime
Witnessing violent crime
Stress at work
These are just a few examples. If you would like to talk to us about how you've suffered mentally or physically due to someone else's negligence or dangerous behaviour, please don't hesitate to get in touch. We would handle your case with all the sensitivity it deserves.
Would accident claims solicitors covering Ewell assist with data breach claims?
Have you suffered financial harm because someone breached your data protection? Or have you suffered mentally because of a data breach? If so, did you know you could make a claim for compensation if you could prove someone who was responsible for your data privacy breached your data?
A breach could happen in a number of ways. Perhaps your healthcare provider sent your medical notes to an old address when you'd informed them that you had a new address? Or, maybe your credit card company had failed to secure their data by using cyber security software, and it was breached. Maybe your local council breached your data protection by sending details of your rent and rental statement to an unauthorised third party such as a landowner without redacting your personal data.
Here at Accident Claims UK, we are receiving more enquiries from data breach victims. Despite there being laws in place to protect your data security and privacy such as GDPR and the data protection act, sometimes things go wrong. We would be happy to assist you if you've suffered harm from a data breach and wish to claim compensation. Please don't hesitate to get in touch to see if you could be eligible to claim GDPR breach compensation.
Ewell Area Claimant Resources
You've now come to the end of this guide about making a personal injury claim using accident claims solicitors covering Ewell. If you need any further information, you might find the links below useful.
The Health and Safety at Work Act 1974 – Legislation which compels employers to keep the workplace safe and is enforced mainly by the HSE.
Whiplash Injuries – A guide from the NHS regarding whiplash injuries which could be sustained in a car accident in Ewell.
Epson and Ewell Court – Details from the local court that covers Ewell.
Pavement Accident Claims – A guide which explains when an accident in Ewell caused by a pavement defect could lead to an accident claim.
Making a Work Accident Claim – This guide explains different scenarios where you could seek accident compensation following a workplace accident.
Personal Injury Claims Calculator – A useful guide which shows the amount of compensation that could be paid for different injuries.
Thank you for taking a look at our accident claims solicitors covering Ewell guide. We've now explained why personal injury solicitors for Ewell claims don't have to be based there.