By Joanne Jeffries. Last Updated 6th October 2021. Welcome to our guide where we shall be discussing the claims process in greater detail. Throughout the course of this guide, you will find valuable information about using a personal injury compensation calculator. You will also come to understand the personal injury claims calculator, how to kickstart your claim, and how our team could assist you.
One of the first and perhaps most important questions people ask when they are in the initial stages of taking legal action to seek personal injury compensation is how much their claim could be worth. Calculating a personal injury claim can seem complex, so it can help to find out more information about how compensation guidelines for personal injury claims are put together as well as further information about personal injury compensation levels for the type of injury that you have suffered. Calculating settlements and getting an accurate estimate is not always an easy or straightforward process in personal injury cases, so it helps to read a guide such as this.
Whilst we will take you through the different types of claims, as well as award settlements below, the amount of compensation that you could be awarded will depend upon your individual circumstances. There are different factors that affect the amount of compensation you get, such as the cause of your accident, the severity of your injuries and the overall impact on your life.
As personal injury claims can be complicated, we always recommend talking to an experienced injury solicitor, such as those provided by Accident Claims, who can provide you with an assessment of your No Win No Fee claim, give you legal advice and advise how much compensation you could be entitled to. You can reach one by calling 0800 073 8801, sending an email to office@accidentclaims.co.uk or by putting your contact details into our callback form.
Select a section
A guide to calculating a personal injury claim
Compensation claim amounts can vary as personal injury is an umbrella term which covers a wide range of different circumstances in which someone can suffer an injury. These could include car accident claims, accidents in the workplace or medical negligence. The typical payouts for personal injury claims also vary a lot between these as the nature and types of injury can be quite different.
Suffering an injury is never nice, but suffering it due to someone else's actions can be all the more difficult. Getting some form of compensation can make your recovery as well as dealing with the injury and its effects easier to bear. You can use our claims calculator to determine what you may receive.
What Is A Personal Injury Claim?
A 'personal injury claim' is a broad term that describes compensation claims made when someone has been injured in an accident that was not their fault, suffered a disease or illness or adverse mental health effects, due to the actions of a third party. As there are many different circumstances that can lead to personal injury, personal injury compensation levels can also vary significantly. Some of the most common forms of personal injury claims include:
Road traffic accidents: these can involve single or multiple vehicles, pedestrians and other motor vehicles, such as bikes.
Compensation calculator for an injury at work: a workplace accident can have serious consequences and may be complex to make.
Slips, trips, and falls: these can happen in a variety of different places and ways and are one of the most common forms of injuries in the UK. We've even created a guide to slips, trips, and falls.
Claims for accidents on holiday: these can be made for accidents which happened on your holidays such as food poisoning or other circumstances.
How A Personal Injury Claim Is Calculated
When calculating a personal injury claims' value, solicitors and the courts will seek and award a settlement that is proportional to the severity of the injuries suffered. In practice, this means that compensation claim amounts are higher for more severe injuries than for more mild ones.
Your solicitor will base the amount of compensation they think you entitled to on two main factors. These are how severe your injury was and the overall impact it has had on your mental health, as well as your life in general.
Different Kinds Of Personal Injury Compensation
Below we look at some of the different circumstances in which a claimant may seek compensation, as well as the types of damages which are included in compensation guidelines for personal injury settlements your solicitor will refer to. Each of these comes under the personal injury claims calculator that we use.
Personal Injury Claims Calculator General Damages
General damages are the most typical payout for a personal injury. They are awarded for the pain and suffering caused by injuries that are a direct result of an accident, illness or medical negligence. They are known as general damages in England & Wales and Solatium in Scotland. Compensation claim amounts for general damages are awarded according to a set schedule with banding for different types of injuries as well as their severity. These amounts are set by the Judicial College in England and Wales and help all parties in a compensation claim to come to a reasonable agreement when calculating compensation claim payouts for injury or illness.
Below we have included information on some of the most common forms of personal injury claim in the UK, as well as the average amount of compensation that may be paid out for them.
If you have suffered any of these injuries, contact us today and we can advise you on seeking personal injury compensation, and how much your claim could be worth.
Compensation Amounts for Head Injuries
Head injuries should always be treated very seriously and if you have suffered one, you should seek medical attention as quickly as possible. Head injuries can place the brain at a high risk of injury or damage. The personal injury claims calculator takes into account the severity of the head injury. For instance, a minor head injury could be awarded between £2,070 and £11,980. More serious head injuries which include some degree of brain damage could result in settlements ranging upwards from £14,380. An upper limit for these claims is not set with settlements being based on how serious the effects of the brain damage are.
Compensation Amounts For Mental or Psychological Injury
The effect of a mental or psychological injury can be difficult to quantify. And using a compensation calculator for psychological injuries can be complicated. The settlement will be based on the degree of harm to the claimant, as well as whether the psychological injury is likely to be temporary or permanent. For temporary psychological harm, claimants could expect to receive between £1,440 and £5,500. For more serious psychological harm or that which is expected to be permanent, settlements could reach as much as £51,460.
Compensation Amounts for Injury to the shoulders
For the purposes of a personal injury claims calculator, Minor injuries and wounds could be awarded between £4,080 and £7,410 in compensation. A more serious injury to the shoulders could be awarded in excess of £42,680
Personal injury claims calculator – Compensation Amounts for Back Injury
Back injuries can include soft tissue injuries as well as spinal damage and can range from the mild to the severe. They can be very painful and even debilitating and in serious cases could lead to reduced mobility or even paralysis in the most severe instances. A back injury or soft tissue injury compensation calculator will take into account the long-term prognosis for the claimants' recovery. Compensation could start at £2,300 then raising from there.
Compensation Amounts for Injuries to the Arms, Hands or Wrists
Injuries and harm to the arms, wrists or hands can be complicated and difficult to assess the long-term likelihood of recovery as well as a degree of damage. Compensation claims payouts may range from £6,190 to £18,020 for less severe injuries, with awards for a disability paying between £36,770 to £56,180.
Compensation Amounts for leg injuries
Leg injuries can range from fairly simple and minor injuries from which there is likely to be a full recovery in a matter of weeks or months, minor injuries could see amounts of around £11,110 awarded. In cases where the injury has seriously permanently disabling effects, such as amputation, you could be awarded up to £264,650. Use our personal injury compensation calculator for further information.
Personal Injury Claims Calculator For Loss of Earning
If the accident or injury you suffered caused you to have to suffer a loss of earnings either due to time off work, reduced duties or ability to work or in another impacted your earnings and earning ability, you could claim compensation for this. Your solicitor will consult with a medical assessment to get an independent estimate of how long you could be in recovery and unable to work or work fully. The solicitor or law firm you are working with will then estimate from this what you should receive in compensation.
Expenses that are 'Out of Pocket'
The personal injury compensation calculator used by the solicitors we can provide will also take into account any other 'out of pocket' expenses that you have experienced as a direct result of your injuries. This could include the cost of travel to medical treatment or solicitors meetings or additional living costs and adaptations to your home or lifestyle.
Services Compensation
Services compensation is awarded to meet or help with paying for current and future care costs. This could be to provide a carer to come in and provide care on a regular basis, supporting the claimant as well as their family. This type of compensation could be awarded to a family member who has become a primary caregiver.
Loss of Society
This category of compensation is paid to people who have suffered the loss of a close family member, i.e. where a spouse, parent or child has died due to an accident that was not their fault. The surviving relative may be able to seek compensation. The solicitor will use a personal injury compensation claims calculator to determine the amount which should be awarded.
Loss of Support
This type of compensation is paid out to surviving family members in similar circumstances to compensation for loss of society. Calculating a personal injury claim for loss of support involves calculating the value of the financial support the deceased provided to the remaining family members. If a parent passes away, their spouse or child could claim this type of compensation.
How Much Personal Injury Compensation Can I Claim? – Updated October 2021
As we have illustrated in the sections above, it is possible to estimate how much compensation you could be awarded for a range of different personal injury types, causes, and consequences. These claims could be for a variety of different accident claims such as workplace injury compensation, claims for a car accident or whiplash and other claims. In the compensation table below, we have set out compensation figures for a variety of different accident and injury types that you could be awarded in a claim.
| Injury | Compensation |
| --- | --- |
| Severe leg injury | £90,320 to £127,530 |
| Less serious leg injury | £16,860 to £26,050 |
| Severe knee njury | £65,440 to £90,290 |
| Moderate knee injury | £13,920 to £24,580 |
| Very severe knee injury | £46,980 to £65,420 |
| Moderate ankle injury | £12,900 to £24,950 |
| Serious achilles injury | £23,460 to £28,240 |
| Minor achilles injury | £6,820 to £11,820 |
| Amputation of one foot | £78,800 to £102,890 |
| Amputation of both feet | £158,970 to £189,110 |
The figures in the above table are provided for illustrative purposes and are estimates. They should only be used as a guide and each individual type of personal injury claim will be different. How much compensation you are awarded may differ from these figures. To get an individual estimate, contact Accident Claim UK today.
How to Start a Personal Injury Claim
This is another of the common questions we are often asked around making a compensation claim. However, whilst many people worry about the process of making a personal injury claim, making a personal injury claim is easier than thought. No matter whether you are making what could be seen as a relatively uncomplicated injury which is minor, or for a much more serious injury, you should always ensure that you work with an experienced solicitor or legal firm, such as the solicitors that we can provide.
Our personal injury claims calculator and personal injury claims service are designed to cater to all your needs. We work hard to ensure that you are happy with both your final settlement and the way in which your case is conducted. We also work hard to ensure that you always get the maximum level of compensation that can be shown. We can give you insight into what claimants have thought of our service and refer you to reviews left by those who've used us for a previous case.
After you choose a solicitor, they will need to ask you a variety of different questions to be able to establish what happened to cause your accident and injuries or illness. They will also ask you questions about who you know or think is responsible for the accident, injury or illness. At this stage, you will also be asked about the medical treatment you have sought. Any medical reports can be used as evidence in your claim. You may also be asked to participate in a new and independent medical exam.
These are the first steps in making your claim and are also some of the most important questions that your solicitor will ask you during the claims process. You can use our personal injury compensation calculator to see what you may receive.
Time Limitation Period for Personal Injury Claims
For most personal injury claims and claimants there are time-limits within which the case needs to be brought. In most compensation claims, there is a three-year time-limit to bring the claim. The three year period may start at the date of the accident or injury, or it could start from the date that you discovered that the injury or illness had happened. This is because some injuries or illnesses are cumulative, being built up over time, or may not immediately present noticeable symptoms.
If the claim is not stated within this three year period, it will become what is termed 'time-barred' or statute-barred. It should be noted that there are some exceptions to this. A person who has suffered brain damage and who is no longer able to make decisions for themselves may bring a claim at any time should they recover enough. Similarly, for those with a mental illness, the three year period will begin when they are clinically able to make their claim.
If a child has suffered an accident or illness, their parents are able to bring the claim on their behalf or leave the claim till the child turns 18. The child will then have three years running between their eighteenth and twenty-first birthdays in which to make their claim.
No Win No Fee Compensation Claims
If you have suffered any form of personal injury, disease or illness due to an accident or circumstances which were your fault, one of the biggest concerns you could have is the potential cost of taking legal action. In the past, taking legal action and getting the compensation that you are entitled to could be a costly process. However, thanks to the introduction of no win, no fee claims, this is no longer the case.
We are proud to offer our clients what is called a Conditional Fee Agreement (CFA), or no win, no fee agreement. This is a special type of contract between a claimant and solicitor. In the simplest terms, this means that when you start your claim you will not have to make any upfront payments. Similarly, you also won't have any costs to pay during your case. If your solicitor does secure a compensation settlement for you, their success fee will be set out in the CFA contract. This will set out when and how they are paid. It will also state that in the event of the claim being unsuccessful, there will not be any costs to pay to your personal injury lawyers.
Please note, before you agree to use the solicitor and sign a CFA contract with them, they will take you through the agreement and ensure that you fully understand everything about claiming on a No Win No Fee basis.
Why You Should Select Us for Personal Injury Compensation Calculator Advice
If you are ready to make a personal injury claim for compensation, or if you need further information on our personal injury claims calculator to find out how much your claim is worth, contact Accident Claims today. Our dedicated team is on hand to listen to the circumstances of your individual case before working with you to find the right no win, no fee solicitors or lawyers, authorised and regulated by the Solicitors Regulation Authority around the country to help process your claim.
Contact Us To Ask About A Personal Injury Compensation Calculator
Get in contact with our team today by calling us on 0800 073 8801. You can also fill out our online contact form here, or send us an email with the details of your claim to office@accidentclaims.co.uk. Don't delay, start your compensation claim today. We could help you if you are looking for a claims management company or law firm with years of experience in assisting claimants in getting the compensation they deserve.
Useful Links Relating To A Personal Injury Compensation Calculator
Start a claim
Start your claim today with Accident Claims UK.
Making a personal injury claim
Information on making a personal injury claim from the UK Government.
Those affected by negligence may experience various degrees of stress, anxiety and depression. Please take a look at the resources provided by the NHS and seek support.
FAQs About Using A Personal Injury Compensation Calculator
How is personal injury compensation calculated?
A personal injury claim is calculated to find an amount that is proportional and representative of the amount of harm that you have suffered as a result of an accident. This is done by taking into account all of the different factors in the injury and the victim's circumstances that influence how severely harmed they have been by the accident.
What is the average settlement for a personal injury?
It is hard to give a figure for how much compensation you could be entitled to, this will have to be done by considering the different circumstances and effects of the injury including the parts of the body injured. You can see how this is done by looking at our personal injury claims calculator and speaking to our team of advisors.
What is the average payout for a head injury?
The amount you could receive depends on how severely you have been injured and how much it has affected your life. It could range from between £2,070 to £11,980.
How is personal injury compensation calculated?
This comes from multiplying special damages to truly determine the value of medical costs on your life.
How is pain and suffering calculated in personal injury?
One method sees you multiplying the specific value of damages depending on severity.
What is a good settlement offer?
A good settlement offer is one that meets the claimant's needs, covers their financial losses and sits within the defendant's financial capabilities.
What are the 3 types of damages?
These are punitive damages along with economic damages and non-economic damages. Personal injury solicitors could help you claim all of these.
What qualifies as pain and suffering for a personal injury claims calculator?
This covers the victim receiving any physical or psychological injuries following an accident.
Why can't a personal injury claims calculator give me an accurate sum?
It would be impossible for a piece of software to assess all the facts and circumstances of your case. Every case is completely different. One person might suffer a back injury, for example, and have to take months off work because their job requires heavy lifting, while another person might suffer a similar back injury and they're able to work from home while they recover. This is just one example. There are many variables in a personal injury claim, and all these need to be examined for an appropriate settlement amount to be calculated.
Why is a personal injury claims calculator not able to assess my injury?
What may be a serious injury to one person might be a moderate one to another. The Judicial College Guidelines, whose figures we use in the table earlier on in this guide, give guidance on what compensation could be appropriate for different levels of injury, but it is the medical report that evidences how serious or moderate an injury is. During your claim, you'll need to go and see an independent medical expert to obtain this report. They would give you an examination and ask you various questions about your injury and its effects. Once they had all the information they needed, they'd produce a report for your claim. Courts and lawyers would carefully assess the report to come to an appropriate level of compensation for your personal injury claim settlement.
My friend was in the same accident, would a personal injury compensation calculator give me the same figure as her?
When you're injured in an accident, even if it is the same accident as someone else, you would not usually get the same level of compensation. As we have previously mentioned, you would receive compensation for your suffering and pain, and expenses incurred due to the accident. Therefore the compensation settlement amounts for two people in the same accident could vary widely.
Your friend may escape an accident with little more than a few cuts and bruises or perhaps minor whiplash, for example, while you may have broken a bone. You may have to take time off work resulting in loss of income, while she may still be able to earn her usual wage. You may have to pay for prescription medicines or mobility aids, while she may not. All these could affect your compensation payout.
What common accidents do people use a personal injury compensation calculator for?
One of the common reasons claimants contact us is because they had an accident at work. Workplace accidents, may happen more than you'd think and they could result in injuries ranging from minor to severe and even fatal in severe cases. In fact, in 2020/21, there were 142 fatalities from workplace accidents, according to the HSE.  You can see the affected industries below.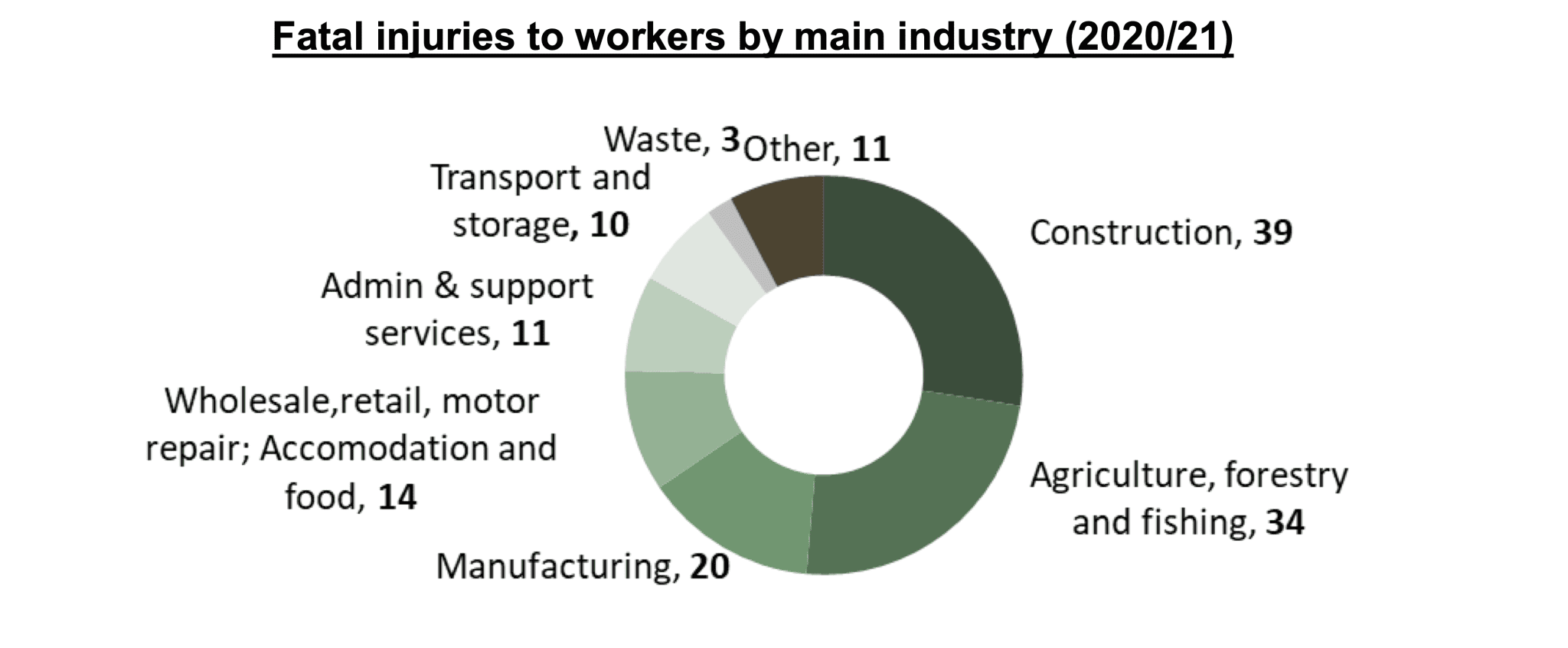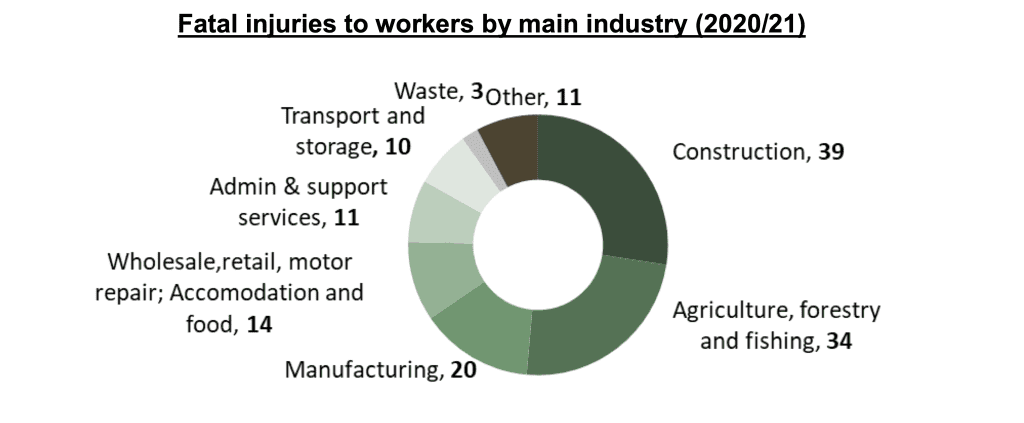 We could help you make a claim for injuries sustained in a work accident, whether you're claiming for yourself or because you've lost a loved one. Please don't hesitate to get in touch.
Is there a personal injury claims calculator for medical negligence claims?
Again, we should mention that no two claims are exactly alike and what you could receive for a compensation claim for medical negligence would be based on the nature and severity of your injuries. It's important to understand that when claiming for medical negligence for an injury you'd already sustained prior to seeking medical advice, your claim would not be for the injury you sought help with. Instead, it would be for the undue harm (for example exacerbation or acceleration of an illness or injury) caused by the negligence.
To give you an example of this, we look at the case for a missed fracture. If you visited the A&E at your local hospital with this kind of injury, and they missed the fracture, causing improper healing of the break, you would not claim for the fracture itself. Rather, you would claim for the problems caused by the improper healing that you would not have had if the injury had been treated appropriately.
How common are medical negligence claims?
You can see below that, according to NHS Resolution's report, there was a staggering sum paid out in compensation for medical negligence in 2020/21.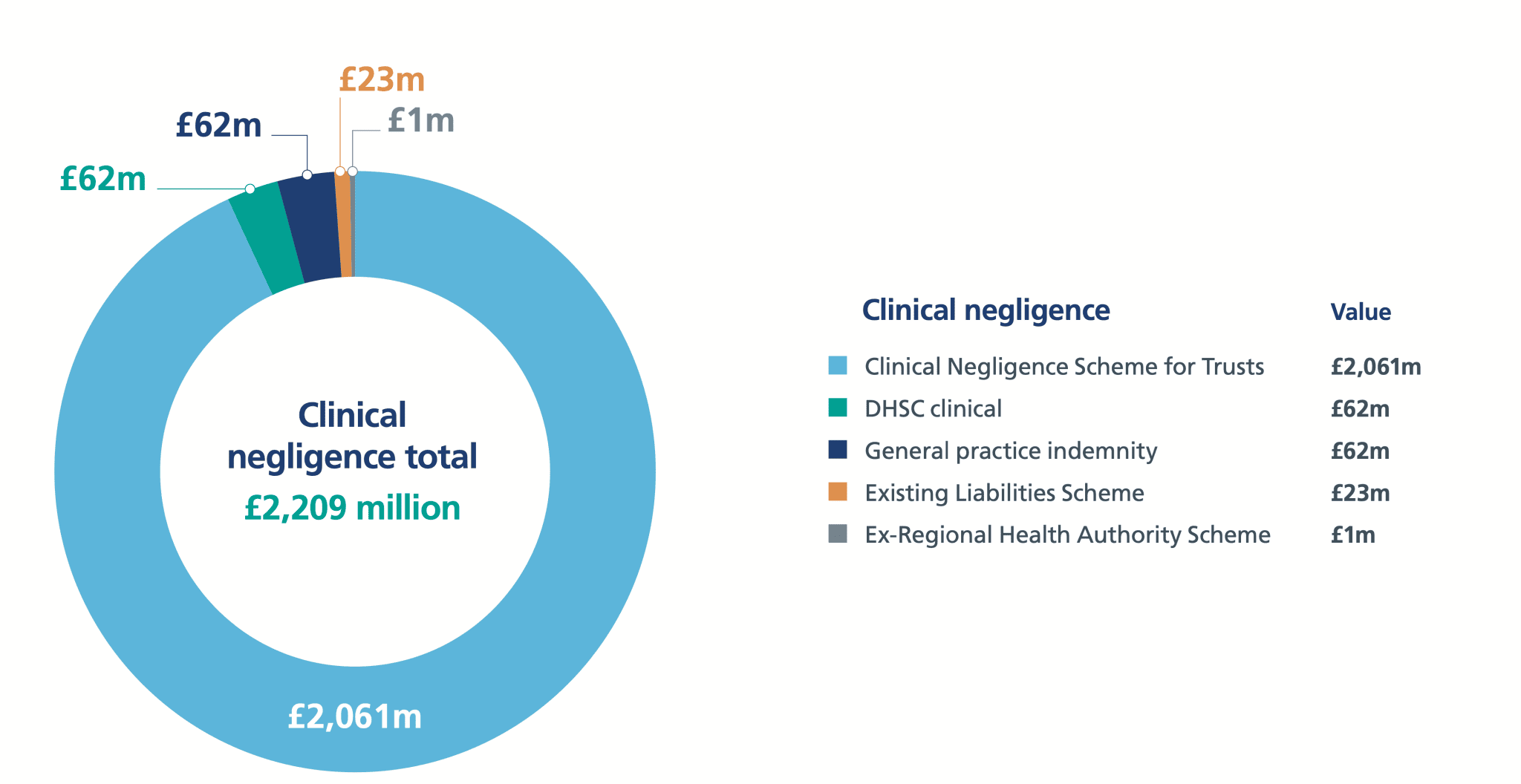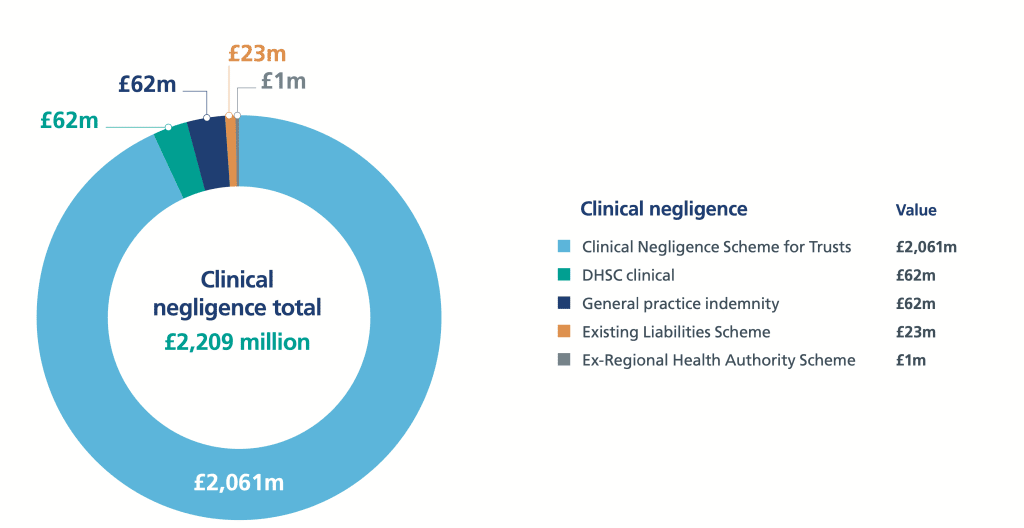 Thank you for reading our guide on using our personal injury claims calculator and the claims process. We hope you have learned a lot about using a personal injury compensation calculator.