By Joanne Jeffries. Last Updated August 26th 2021. Below, you will find our guide to finding accident claims solicitors for Stourbridge claims. We explain why personal injury solicitors for Stourbridge claims don't have to be based in the area.
If you're considering making an accident claim in Stourbridge following an injury which was caused by somebody else, then hopefully you'll find this guide helpful. Accident claims solicitors covering Stourbridge can help with many different types of claims including a car accident involving whiplash, compensation for an accident at work or even claiming compensation for an assault.
Our panel of accident claims solicitors aren't based in Stourbridge but are happy to help with claims for injuries sustained there. If you already know that you'd like to begin a claim, you can contact us on 0800 073 8801.
If you'd like to find out more about accident claims in Stourbridge first, then carry on reading this helpful guide.
Choose A Section
What Is An Accident Claims Solicitor Covering Stourbridge?
The number of different claims that accident claims solicitors covering Stourbridge could help with is too high to list them all here. However, you can work out if they're likely to consider your case by using the checklist below.
Firstly, were you owed a duty of care by the defendant in your claim?
Then, did they breach their duty of care which caused an accident to happen?
Finally, did that accident cause you to become injured?
If you've answered yes to all of the above, you might find an accident claims solicitor could be willing to file a personal injury claim for you.
When our accident claims solicitors take on a case, they usually carry out the following:
A free assessment of your claim.
Help you to gather evidence to support your claim. This might mean finding witnesses, contacting hospitals for medical records or helping to obtain CCTV footage.
Handle all aspects of communication with the defendant. This includes speaking with their solicitor or insurer too.
Providing expert legal advice about what you should do if you receive a compensation offer.
It is extremely rare, but where cases can't be settled between both parties, your solicitor will also represent you in court.
You should be aware that claims need to be made within the accident claims time limit of 3 years. This starts on the date of your accident or the date your injuries were diagnosed. There are exception for children who have sustained a personal injury and those who are mentally impaired due to the incident.
Over the coming sections of this guide, we'll explain some of the different types of accidents which could lead to a claim. These could include a road traffic accident, an accident in your workplace, a medical negligence claim or Stourbridge motorcycle accidents.

Compensation For An Accident At Work
Under government legislation, namely the Health and Safety at Work Act 1974, all employees in the UK should have a safe working environment wherever possible. While it's impossible for a workplace to be completely risk free, employers should take steps to reduce risks as much as possible. Steps can include:
Undertaking risk assessments and making changes where risks are identified.
Providing full and proper training to all staff.
Ensuring safety equipment is used where required.
Making sure all equipment or machinery is maintained regularly and faults fixed quickly.
If an accident at work happens caused by any of the above not happening, then a personal injury lawyer could be used to help you make a claim for any harm that was suffered. You're well within your rights to make a claim against your employer if they've been negligent and this has cause avoidable injuries. They're unable to discipline you or sack you for claiming (or treat you any differently at all) as long as your claim is valid.
Employers by law need you have insurance in case accidents do happen, so it will not be your employer you directly claim against but the insurance company who will pay the damages. Speak to an advisor today to find out if we could help you begin a claim.

Reported Rates Of Injuries At Work In Dudley
In the table below, we've provided the number of accidents, reported under RIDDOR regulations, in the Dudley region (which includes Stourbridge).  The data comes from a fuller report which shows statistics for all regions of the UK and can be viewed here.
| Location | Total - Non Fatal Injuries | Total - Non Fatal Injuries per 100,000 workers | Fatal Injuries |
| --- | --- | --- | --- |
| Dudley | 267 | 256 | 1 |
Below, we include a graph showing causes of work-related injury in 2019/20 according to the HSE.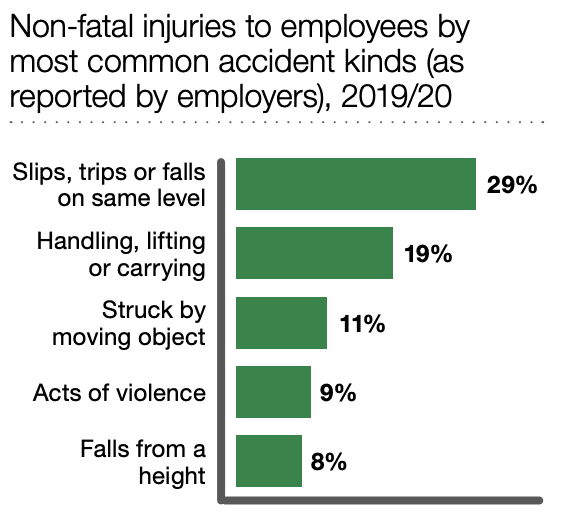 Road Accident And Traffic Accident Stourbridge
If you're injured in a road traffic accident (or RTA) which was caused by another road users' negligence, then you could make a claim against them. The claim could be against car drivers, bus or lorry drivers, pedestrians, cyclists or motorcyclists.
Some common injuries caused by RTAs include:
Hand and wrist injuries.
Head injuries with concussion.
Broken bones.
Cuts and lacerations.
Neck injuries including whiplash.
Soft tissue damage.
It's important to gather evidence to support your claim quickly before the scene is cleared. That means you should:
Quickly photograph the layout of all vehicles involved.
Get any other drivers details including their insurance provider.
See if any other vehicles had dashcam footage.
Ask witnesses for their details.
Write down what you recall happening, as it's easy to forget.
Get medical treatment.
Obviously, that's a lot to do but it can mean making a claim is a lot easier and the chances of successfully claiming compensation could be increased.

Slip Trip Fall Compensation Claim
A slip, trip or fall accident can lead to some really nasty injuries that can take years to completely heal. They can happen just about anywhere in everyday life and, if they were caused by somebody else's negligence, could mean you maybe able to seek compensation. It doesn't need to have been a deliberate act, you could claim if the accident was caused by a mistake or somebody forgot to do something which would've prevented the accident happening. If you have been injured in a fall that could have been prevented had the right health and safety procedures been followed then you maybe eligible to claim for any suffering caused. The responsible party will have needed to owe you a duty of care.
For instance, you might be able to claim if:
You slipped over because a cleaner forgot to put warning signs over a wet floor.
Your accident was caused by a faulty handrail.
A doormat had moved from its correct position at the entrance to a building but wasn't replaced, causing you to trip.
You tripped over because a trip hazard wasn't visible because there was insufficient lighting.
Whatever the reason for your fall, if you were injured and it was caused by third party negligence, we maybe able to help you make a claim. Please get in touch today to discuss your options.

Claiming Compensation For An Assault Or Criminal Injury
You might not realise but there is a government scheme which can help compensate you for injuries sustained during a criminal act against you.
Claims through the Criminal Injuries Compensation Authority (CICA) have their own criteria and eligibility requirements so please call to discuss your claim with one of our specialist advisors.

Public Place Accident Claims
We could also help with claims for injuries caused in negligent accidents in public places. These are places that the general public can use, pass through or visit without asking permission. They could include shops, footpaths, public highways, parks, car parks, riverbanks or village greens.
The main issue surrounding these claims can be identifying who's responsible for the land or property. Our advisors can provide solutions that you might not think of here, but one good tip is to ask neighbouring businesses if they know who owns the property.

Compensation For Medical Malpractice
Every medical professional owes their patient a duty of care to ensure their safety while treating them. This is true for any procedure from brain surgery through to cosmetic procedures like face lifts. Essentially, the professional should:
Explain the procedure to you along with any risks.
Ensure they follow the correct procedures wherever possible. This might not be possible in emergency situations.
Make sure they are using the correct equipment for the procedure.
Maintain hygiene standards at all times to prevent infections.
If you're injured or made ill by a medical professional's negligence, you may be able to seek compensation either from, the NHS or a private healthcare provider.
Professionals includes; midwives, anaesthetists, dentists, nurses, GPs, surgeons, care workers and hospital staff.

No Win No Fee Accident Claims Solicitors Covering Stourbridge
We know that you might be worried about the cost of hiring a personal injury solicitor to help with accident claims in Stourbridge. That's where no win no fee solicitors can help.
When using a no win no fee legal team you'll sign an agreement which explains there's nothing to pay them if the case is lost. Success fees are payable only if the solicitor wins compensation for you. The fee is deducted directly from your compensation and is limited to 25%. Your agreement will state right from the start what percentage your solicitor has agreed to work for.
No win no fee means your claim will be a lot less stressful and any financial risk is reduced.

Talk To Us Today
Now that you've completed this guide about accident claims solicitors covering Stourbridge, we'd be happy to help you begin your own claim. You could start a claim right away by calling 0800 073 8801. Or, if you'd like to chat online, use our live chat facility 7 days a week.

FAQs About Personal Injury Claims
If you're now thinking of loads of questions you want answered, don't worry! We get asked a lot of the same questions regularly. So that you can concentrate on the questions that really matter, we've answered some of more obvious ones here.
How Do I Claim Compensation?
To begin your claim, you should contact one of our friendly advisors who'll provide free accident claims advice for you. Then they'll assess your claim with you and work out whether you could be eligible for compensation.
If they think you have a valid case, you could be referred to one of our accident claims solicitors who work on a no win no fee basis. They've up to 30 years' experience of seeking accident compensation for many clients and for many different types of injuries. They'll ensure they keep you updated throughout your claim and always try to get the highest level of compensation possible for your case.
How Does A Solicitors Location Affect My Claim?
Nowadays, the solicitor's location doesn't really matter. This is because many solicitors don't require face to face meetings as its much easier to communicate with clients via emails and telephone calls.
Therefore, you can choose to use accident claims solicitors covering Stourbridge, rather than those who are based there.
Do I Need An Assessment With A Doctor?
In short, the answer to this question is, Yes. Our panel of accident claims solicitors need to ensure they explain, to the defendant, how serious your injuries were and what impact they could have on you in the future.
This is done by obtaining a report from a doctor who'll assess you before your claim is submitted. In conjunction with your own statement, GP records or hospital records, this report will explain why you're seeking compensation and the injuries you're claiming for.
Where Could I Have This Assessment?
To make things easier for you, we always try to ensure you medical assessment is carried out locally. Here's a few of the specialists in the Stourbridge region that could be used:
Richard Whitehouse
Health Lane Consulting Rooms,
Old Swinford,
Stourbridge, DY8 1RF.
Zahir Ali
Dudley Physiotherapy Centre,
1a Parsons Street,
Dudley, DY1 1JJ.

Would accident claims solicitors covering Stourbridge be able to help with a whiplash claim that is low value?
If you're asking this question, you may already be aware that there have been sweeping amendments to the way road traffic low value soft tissue injuries are dealt with after May 2021. After a consultation, the government have effectively banned settlement of such low value claims (between £1000 and £5000 in value) without relevant medical evidence. In addition to this, they have implemented their own tariff as to how injuries should be compensated for. The tariff is based on the length of time the claimant suffers from. All such claims need to be made through an online portal. It is also not possible to recover the legal costs from the defendant in such cases.
We know this may seem complex and we would be happy to talk you through what this may mean for your claim. Our personal injury solicitors covering Stourbridge could assist with this type of claim.
What about hit and run accidents? Could accident claims solicitors covering Stourbridge claims assist with my case?
When it comes to a hit and run accident, claimants often wonder how they'd be able to claim compensation. After all, if the hit and run driver isn't caught, there would be no way of claiming against their insurance. And what if they weren't insured in the first place? Whatever your injuries and whether you were injured as a motorist, cyclist, passenger or pedestrian, you could still make a claim for compensation if you're injured in an accident that wasn't your fault and involved a hit and run driver.
Claims of this type are made through the MIB (Motor Insurers' Bureau). This organisation tries to reduce uninsured driving in the UK. It also works to compensate victims of untraceable or uninsured driver accidents. If you have a valid claim, which our personal injury solicitors covering Stourbridge could assist with, they could pay you compensation, even if the driver is never caught or if they weren't insured.  Please don't hesitate to speak to us if you believe you could have a claim.
What should I consider when looking for solicitors?
While you don't have to use a local solicitor, you could check that the law firms and solicitors you're considering have been registered in England and Wales. It could also be wise to make sure that the solicitors are authorised and regulated by the Solicitors Regulation Authority.
Stourbridge Area Resources
Hopefully, you now have the knowledge to help you choose accident claims solicitors covering Stourbridge. For more guidance, please take a look at the guides and resources listed below which may prove useful:
Stourbridge Court – Information from the local court including opening times.
Health and Safety Executive (HSE) – The website of the government agency responsible for workplace safety and accident reporting.
NHS Head Injuries – Useful information on head injuries which could lead to a slip, trip or fall compensation claim.
Claiming Compensation for an Assault – Further information on claiming for injuries caused by a criminal act.
Personal Injury Claims Calculator – A tool which shows how much compensation accident claims solicitors can seek for different injuries.
Clinical Negligence Claims – This guide explains how to claim compensation for medical malpractice.
We hope you found our guide to finding accident claims solicitors for Stourbridge claims helpful. We've now explained why personal injury solicitors for Stourbridge claims don't have to be based in the area.