By Joanne Jeffries. Last Updated 13th September 2021. Welcome to this accident claims solicitors covering Worthing guide. Here we explore what to consider when using personal injury solicitors for Worthing claims.
There could well be a number of people in the UK that may have missed out on compensation they would have been entitled to. We don't want this to happen to you. So, let's take a look at the various reasons why people might not have made a personal injury claim when they could have…
They may not have realised they had the basis for a compensation claim – It is not always clear when a person is injured that the injury may have been avoidable. There are so many different incidents that could lead to personal injury cases. If you have suffered an injury or illness due to third party negligence then you may have a case for compensation.
They may have left it too long to make a claim – Many individuals may not realise that there is actually an accident claims time limit. This time limit is typically three years and it begins from the date of your accident. There are exceptions, for example, when injuries have occurred over time, such as repetitive strain injury. If this applies to you, you could have three years from the date of your diagnosis instead.
They may worry that their employer will fire them – When it comes to a workplace accident claim in Worthing, a lot of people might worry that they will lose their job if they make an accident claim against their employer. However, this is something you do not need to worry about. Your employer will have insurance in place. Plus, if they were to sack you, they would only land themselves in much deeper trouble.
They may not want all of the hassle or to go to court – Last but not least, many people may envisage much more hassle and a trial. They may not want to put themselves through this, which is understandable, however it is unlikely that you would have to. Most cases could actually be settled out of court.
So, don't let your fears hold you back. Continue reading to discover everything you need to know about making accident claims in Worthing with the help of a personal injury lawyer. If you have any queries, please do not hesitate to get in touch with us for more information. Our specialist solicitors could help you get the compensation you deserve on a no win no fee basis.
Choose A Section
What Is An Accident Claims Solicitor Covering Worthing?
It could be quite important to have a good idea of what you should expect when using the services of accident claims solicitors covering Worthing. First and foremost, you would of course have to explain everything to your personal injury lawyer about the accident, and then they should be able to give you a realistic assessment of your case. Here at Accident Claims UK, all of our panel of lawyers work on a no win no fee basis, which means they would have nothing to gain by simply taking on your claim if it is not strong. After they have listened to the details about your incident, if they think your case is strong, your solicitor may then provide you with an estimate of how much compensation you are likely to receive
A no win no fee solicitor and the claimant with both sign a Conditional Fee Agreement CFA outlining what is expected of the solicitor ion exchange for a percentage of the claimants compensation. Here is what you could expect to see in the CFA:
Information about the firm which has taken on your case.
Contact details for the firm.
How payment is going to work.
The percentage which will be retained if the case is successful.
When the fee is taken.
Any additional information that is relevant to the case and the service provided by your accident solicitor.
There are many different factors you might need to consider when you are narrowing your search down for the most appropriate accident claims solicitors covering Worthing. It may be worth noting also that you have the whole of the country to choose from when you search as your solicitor does not have to be local. The first thing you need to look at is the experience of the no win no fee solicitor. You may want to be safe in the knowledge that the professional in question has handled many personal injury cases time and time before and are authorised and regulated by the Solicitors Regulation Authority. You would be advised to not only look for overall experience, but you should make sure they have a good history in the sort of compensation claims you're going to be making specifically.
Aside from this, you might choose to look at the success rate of the personal injury solicitor. You might not want to use the services of someone that has failed to win most of their cases. It is also a good plan to take a look at some reviews that previous clients have left for the solicitor in question, as this could work to give you an indication about the levels of quality you could receive should you choose the accident claim solicitor in question. You would pick up on any red flags, if there are any, and if there are, you would know to look for another option.
Last but not least, it could also be a good idea to use the services of an accident solicitor that works on a no win no fee basis. By doing this, you would only pay legal fees to your solicitor if your case is a success. There are many benefits associated with this option. Firstly, you would minimise financial risk by a huge degree. If that wasn't enough, you could be confident you would experience a better service because your no win no fee solicitor would have more of an incentive to win your case. This also ensures that the solicitor will only take on your case if they genuinely think there is a chance of securing compensation. They won't waste your time.
Accidents At Work In Worthing
Have you been injured in the workplace? Perhaps you have recently been diagnosed with repetitive strain injury and feel your employer is to blame? Maybe you were involved in an accident that stemmed from poor health and safety in the workplace? Irrespective of what has occurred, you might be wondering about making a compensation claim. If so, here are the steps you need to take.
Report the incident – You would be advised to report the incident to your employer and/or your safety representative. This could be crucial because all employers are required to have an accident book by law and, therefore, they will need to record the incident in this.
Keep proof of expenses – You might also want to keep proof of any expenses you have incurred because of your injuries, as you could be able to claim for these as special damages. Examples could include loss of income, treatment expenses, counselling costs and travel expenses.
Work Injury Statistics For Worthing
Below, you can see the statistics for workplace injuries in Worthing.
| Location | Total - non fatal injuries | Total - non fatal injuries per 100,000 workers | Fatal injuries |
| --- | --- | --- | --- |
| Worthing | 72 | 175 | 0 |
You can find this information here
.
We include some data from the HSE for 2020/21 fatal workplace accidents below.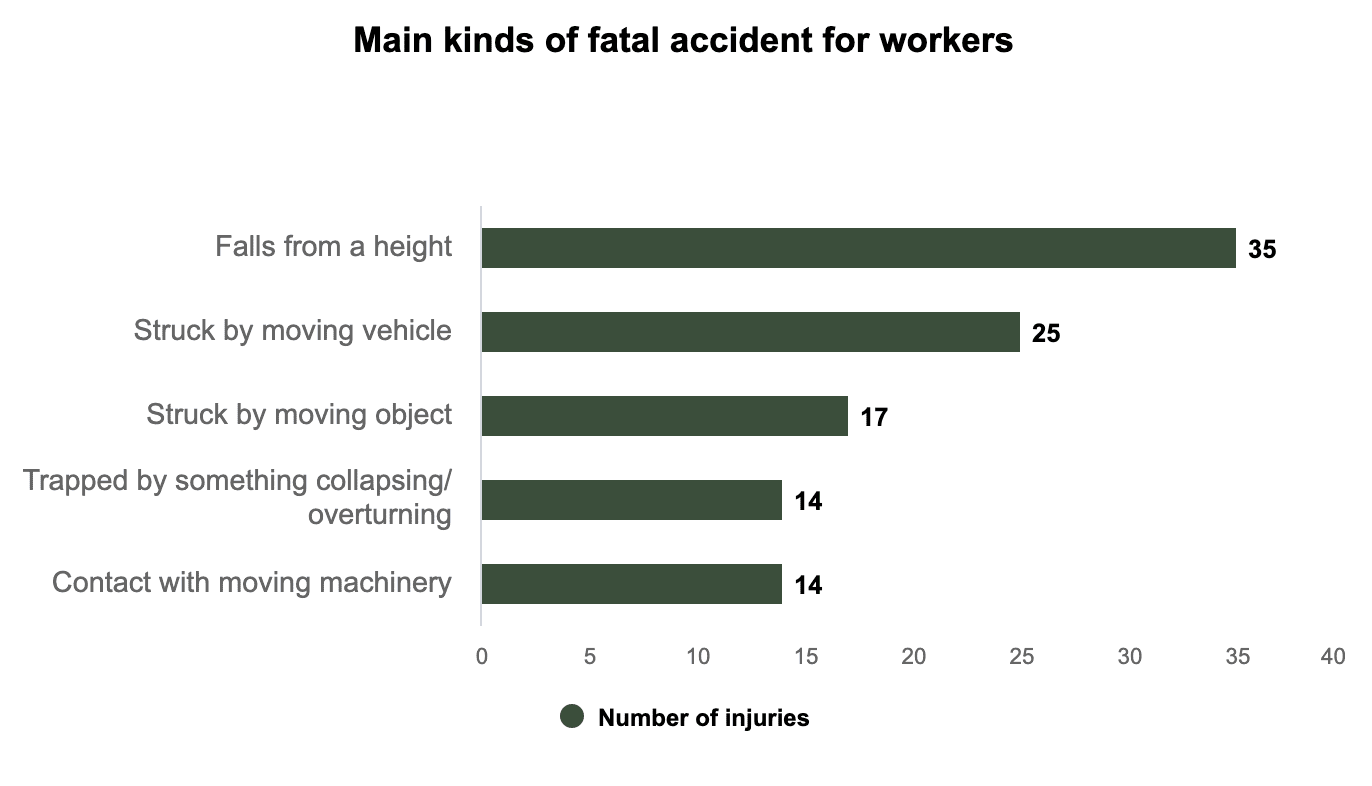 Fall And Trip Accidents
Out of all of the personal injury claims that could be made, there is no denying that slips, trips, and falls could be the most common when it comes to non fatal workplace injuries. This is because they could happen anywhere and in many different ways. From falling over a broken pavement to slipping on a wet floor; the scenarios vary greatly. If someone was at fault for your injury, please do not hesitate to get in touch with us for more details on how to go ahead with a slip claim.
Car, Cycling And Other Road Accidents In Worthing
You may also be able to make an accident claim if you have experienced a road accident in Worthing. This could be a car accident in Worthing or it could also be a Worthing bike accident, for instance. If you have been involved in such an incident, it could well be important to get the details of the other party. This includes their contact information, vehicle registration plate, and details about their insurer. If the person has fled the scene, you may still be able to make a personal injury claim, although the car accident claims process may be different as you may be . claiming through the MIB.
Criminal Injury Victim Compensation Claims
We have also helped people when it comes to making claims for criminal injuries. If you have been injured because of an act of crime, whether you were the target or not, we could help you to make a claim to the CICA. The CICA was established to compensate the victims of crime, whether the perpetrator has yet been found or not. Please note time limits are typically shorter with these criminal injury compensation claims so you may need to move quickly.
Public Liability Injuries And Accidents
If you are looking for public liability claim advice, all you need to do is give our panel of accident claims solicitors a call for more information. These claims are often made against the local council or private business owners because they are responsible for the public areas, such as the parks, walkways, restaurants, shopping centre etc. From broken pavements leading to trip injuries to poorly maintained playground equipment that has caused injury, to a slip in the supermarket due to an unattended spillage. Simply give us a call for more details.
Medical Malpractice
The final example we are going to take a look at is medical malpractice. This occurs when a medical professional has acted in such a way that has resulted in you sustaining avoidable  injuries or your existing condition getting worse. There are different ways clinical negligence or medical negligence could happen, for example, your dentist may have damaged a healthy tooth during treatment or your doctor may not have diagnosed cancer correctly leading to it getting worse.
No Win No Fee Accident Claims Solicitors Covering Worthing
Whilst some accident lawyers may charge by the hour, you could consider a no win no fee personal injury solicitor. By doing this you would protect yourself financially, as you would not pay any legal fees to your solicitor if your case is not a success. Our accident claims solicitors work to this payment structure.
Contact Our Accident Claims Experts
Here At Accident Claims UK, on 0800 073 8801 we aim to make the accident claim process as easy and stress-free as possible. We know that this could undoubtedly be an upsetting time in your life and thus we don't want to cause any more worry to you. Our phone line is available 24/7 so if you ever have any questions please don't be afraid to get in touch.
Frequently Asked Questions By Claimants
How Do I Claim For An Accident In Worthing?
This part could be quite easy when you have an experienced personal injury solicitor on your side. All you may need to do is give us a call and we will provide accidents claims advice and navigate you through the entire process giving you the benefit of years of experience.
Will I Need A Solicitor Near Me?
A lot of people could assume that their only option is to work with accident claims solicitors based in Worthing. It is understandable why you may assume this. However, you could work with a solicitor based anywhere in the country because claims could be handled via telephone and email
When Would I Need To See A Doctor?
Medical assessments and examinations could be valuable forms of evidence when it comes to personal injury claims. Therefore, you might require an appointment with a medical expert.
Where Could I See A Doctor?
There are a number of medical experts in the local area we could help arrange an appointment with. This includes:
Muhammad Ather
177 Goring Road, Goring-By-Sea
Worthing
BN12 4PA
Would accident claims solicitors covering Worthing help me to claim on behalf of a lost loved one?
Sadly, some accidents at work, road traffic accidents, and incidents of medical negligence could lead to somebody losing their life. If you have lost a loved one in a wrongful death or fatal accident, and somebody else could be held responsible for it, this could mean that you'd be able to make a claim for fatal accident compensation. If your loved one passed away due to the negligence of an employer, or dangerous behaviour by somebody driving on the road, for example you could claim compensation that would help you towards funeral expenses. You could also receive compensation for your bereavement, as well as potentially claiming for loss of financial support that your loved one gave you. We know making such claims could be difficult for you, especially if you are you are only just coming to terms with the loss of your loved one. we could handle your claim sensitively, and could help you to get the maximum compensation possible for the loss of your loved one.  please call our team for advice and support at any time.
Could accident claim solicitors covering Worthing assist me with a child accident claim?
Personal injury solicitors covering Worthing could assist with child accident claims. Whether your child has been injured in the school playground, within school, on a school trip or in a road traffic accident, we could help get compensate the conversation they deserve. It is important to understand where you could stand as a parent if your child has had an accident that wasn't their fault. You could make a claim as their litigation friend in this regard. This would mean you making decisions on your child's case. However, some parents do not want to do this, preferring to wait until their child reaches the age of 18. That way, the child could make their own claim, and they could have up until their 21st birthday to do so. Sometimes, however, it could be more difficult for the evidence to be gathered if you wait a long time to make a claim. If you would like advice and support when making a decision on whether to claim for your child, or whether to wait and let them claim for themselves, please call our team. We will not make the decision for you, but could give you advice and support in helping you to come to the right decision for your child.
Further Local Details
Now you know more about accident claims solicitors covering Worthing, you should hopefully be able to find personal injury solicitors for Worthing claims or law firms for any type of accident claims or negligence claims.