By Joanne Jeffries. Last updated 18th July 2022. Welcome to our guide to claiming compensation for a missed fracture. Below, we explain what you could do if a hospital missed a fracture and you were harmed as a result. We also discuss how much compensation for a misdiagnosis of a fracture you could receive, answering questions such as 'can I sue a hospital for missing a fracture?'. We talk about how a missed fracture compensation amount could be arrived at, and what happens if a fracture is left untreated. Plus, we look at commonly missed fractures to see what could be missed.
Can I Sue A Hospital If They Missed A Fracture?
If you fracture a bone in your body and do not get the right treatment, then you might struggle to recover from the injury completely. But what happens if you have sought treatment for an injury and the medical staff you saw missed your fractures. Missed fractures could cause all sorts of issues later down the line and may involve you having to have more invasive treatment than you would have needed had the fracture been seen and treated at the time.
Worse still, a hospital missed fracture may, in some cases, lead to long-term pain and incomplete recovery, meaning you may never regain the movement in that part of the body completely.
A Hospital Missed My Fracture, Could I Claim Compensation?
Making a missed fracture claim is something you may have no prior experience with, but if you'd like to know more about whether you could be eligible for compensation, this guide could help. Whether you have suffered missed fractures in the emergency department or missed fractures in radiology, the information contained within the sections below might help you reach a decision on whether or not you could make a personal injury claim. We would urge you to read the below to see if your situation is covered. If you're still unsure as to whether you'd be able to claim compensation, or if you'd like to start the process of claiming for a missed fracture, then call us on 0800 073 8801.
Select A Section
A Guide To Claims For A Missed Bone Fracture
Missed bone fractures could be considered to be medical negligence if they have been missed by medical staff that should have spotted them. In some cases, a hospital missed fracture could cause long-term issues to patients and could hinder recovery from some injuries to the extent that they may never completely resolve. If prompt treatment is not sought for some fractures, they may begin to heal incorrectly, but if you've sought medical attention in time, the correct treatment, whether surgery, immobilisation, etc could be offered, meaning you have a good chance of recovery.
What Happens If A Fracture Is Left Untreated? Can I Sue A Hospital For Missing A Fracture?
But what if you have sought medical attention and your fracture was missed? Whether you have suffered long-term damage from a missed scaphoid fracture or had to have more invasive treatment for a missed heel fracture than you would if the correct treatment had been prescribed at the time, you could claim compensation with the assistance of a personal injury solicitor. Here at Accident Claims, we could help you by offering advice, support and guidance, and we could even help connect you with a personal injury lawyer that could help you claim compensation against the NHS or a private practice that was negligent.
What Are Missed Fractures?
Some people may believe that they would instantly know whether they had suffered a broken bone or fracture. However, this is not always the case. If you suffer an injury and are in pain, it would be wise for you to seek medical attention if there was pain/swelling in a part of the body, or you struggled to move in a natural manner. It would be the responsibility or duty of the medical professional you see to act in your best interests when it comes to examining you, and prescribing treatment, or referring you to the relevant medical department for further tests.
It would then be the responsibility of those performing such tests to do them appropriately, and for the person interpreting those tests to do so competently. If one or more of these actions were not performed appropriately, you may end up with a hospital missed fracture, and if missed fractures are not treated and lead to further problems, then you may be able to make a personal injury claim for the harm you've suffered due to this type of medical negligence.
What Are Your Rights As An NHS Patient To Compensation For A Misdiagnosis Of A Fracture?
An an NHS patient, you have a right to be seen by a GP with the competency and capability to deal with you. Should your GP feel that they need to refer you to another party for a 2nd opinion, then you cannot insist on seeing a specific person, although you are allowed to express your wishes not to be given a referral to someone you would not want to see.
If your NHS GP is not entirely sure they can make an accurate diagnosis, and they do not refer you, leading to your condition worsening, then they may be considered negligent, which means, in terms of missed fractures, that you may be eligible to make a claim for compensation for the worsening of your condition.
What should happen when you go to A&E
When you visit an accident and emergency department (A&E) because it could be thought that you may have a fracture, there are also some patient's rights you might want to be aware of.
You should be assessed immediately
You should obtain an examination, and be admitted, discharged or treated within 4 hours of your arrival
The government's standards of care should be met
You also have the right to complain
If you receive substandard care where you suffer a missed calcaneal fracture, or any other fracture, then this could constitute negligence. If negligence leads to you suffering harm; whether in a worsening of your condition, via the need for more intensive treatment, or via an incomplete recovery, for example, then you could claim compensation for this harm that you have suffered as well as any loss of earnings and other financial losses/costs pertaining to the missed fracture.
Different Types Of Bone Fractures And Breaks That Could Lead To Compensation For A Misdiagnosis Of A Fracture
There are 200+ bones within the human body and depending on where these bones are there could be many different ways in which they could be broken. You may suffer trauma in an assault, an accident or in a car crash, or you may break a bone when you slip and fall. You might even break a bone during sporting activities. Essentially, wherever there is pressure put on a bone, there could be the potential for it to break.
Types Of Fracture
Some common types of fracture that could be missed could include:
A missed open fracture – Where there is an open wound
A missed closed fracture – where the bone is fractured but the skin covers it
A missed displaced fracture – where the bone fragments are out of position
A missed non-displaced fracture – where the bone fragments are still in place
Commonly missed fractures
The type of fracture that could be missed could also be:
A missed greenstick fracture – where there is a crack on one side of the bone
A missed oblique fracture – where the fracture is on an angle across the bone
A missed transverse fracture – where the fracture is straight across the bone
A missed spiral fracture – where the fracture twists around the affected bone
A missed comminuted fracture – where the bone shatters into 3 or more pieces
A missed impacted fracture – the parts of the bone that is broken are driven together
A missed avulsion fracture – where a fragment of the bone has been torn away from the main bone
A missed hairline fracture – a small crack in the bone that is thin
A missed buckle fracture – commonly seen in children, where one side of a bone buckles but doesn't break
What Are The Names Of Common Fractures?
There are so many different types of fracture that could be missed if proper care and attention were not given to them. Here, we will list them by area:
In The Arm And Hand
Missed fractures in the arm and hand could include:
A missed growth plate fracture
A simple missed hand fracture
A missed finger fracture
A missed radial head fracture in the elbow
A missed radius fracture
A missed ulna fracture
A missed wrist fracture
A missed distal radius fracture
A missed radius fracture
A missed hamate fracture
A missed metacarpal fracture
And more…
In The Leg And Foot
Missed fractures in the leg and the foot could include:
A missed toe fracture
A missed talus fracture
A missed cuboid fracture
A missed tibial plateau fracture
A missed patella fracture
A missed lateral malleolus fracture
A missed medial malleolus fracture
A missed metatarsal fracture
A missed knee fracture
A missed avulsion fracture in the ankle
A missed fracture in the neck of femur
A missed fibula fracture
A missed proximal fibula fracture
A missed navicular fracture
A missed Lisfranc fracture
A missed jones fracture
A missed calcaneus fracture
A missed fracture elsewhere in the foot
A missed fracture elsewhere in the ankle
And more…
Elsewhere In The Body
Missed fractures elsewhere in the body could include
A missed acetabular fracture
A missed pelvic fracture
A missed rib fracture
A missed clavicle fracture
A missed neck fracture
A missed diagnosis for a hip fracture
And more….
Why May A Doctor Miss A Fracture Or Break?
There could be a variety of reasons that a doctor has missed a fracture. Whether they have failed to consider a fracture when looking at your injury, diagnosing your injury as a sprain or strain without ordering the correct tests, or they have misinterpreted an X-ray or not examined it properly, a fracture may be missed.
In addition, if a radiographer did not take the X-ray at the correct angle, this is another way that a fracture could be missed or misdiagnosed.
However you have suffered missed fractures, if you could prove that negligence led to a worsening of your condition or prognosis for recovery, you may be able to make a hospital missed fracture compensation claim.
What Are The Symptoms Of A Missed Fracture Or Break?
Whether a radiologist missed your fracture, or it was a doctor that was at fault, there are certain symptoms that you might expect to see if your bone was fractured or broken and the injury was missed or misdiagnosed as a sprain or strain. These could include:
Having heard a noise such as grinding or crack when you obtained the injury
Pain
Swelling
Immobility
Deformity
Inability to bear weight
Inability to perform a full range of movement
Bruising and tenderness around the area
See If You Could Claim Compensation For A Misdiagnosis Of A Fracture
If you have experienced any of these and feel that you might have a hospital missed fracture, it could be wise to seek further medical attention, especially if symptoms worsen or do not improve.
Rates Of Misdiagnosis In Fractures And Breaks
According to a report in the British Medical Journal, where a busy Accident and Emergency Department was monitored over the course of 4 years, there were 953 diagnostic errors noticed. A staggering 79.7% of these were missed fractures. According to the report, the most common reasons for this were:
Misreading of radiographs – 77.8%
Failure to perform radiography – 13.4%
Treatment Options For Missed Fracture Injuries
Should you suffer a broken bone/fracture, there are various forms of treatment that you might expect to receive. These could include:
Reduction
Where your bones are displaced, they may need to be put back in place before they can heal properly. Sometimes you might need a general anaesthetic for this, while in other cases you might be given a sedative and the reduction might be done while you are awake.
Immobilisation
Whether a removable splint or cast is given, it is meant to keep the bones in place while they heal. You might receive a brace for some injuries, while others may necessitate a sling.
Surgery
If your break is a complex one and cannot be put right without surgery, you may need to undergo an operation where pins and plates are inserted, or metal screws and rods are used to fix the bone back together.
Physiotherapy
You might require physiotherapy in order to help you move around while your injury heals or help it to get back to a full range of movement after it has healed.
It might be worth mentioning here that if you have to undergo more invasive treatment because of missed fractures, this could lead to a compensation claim.
Potential Complications If A Hospital Missed A Fracture
Should a fracture be missed, and you do not get the treatment you need for it, complications could occur in some cases. These could include:
Arthritis, joint stiffness (long-term) and disability
These conditions could result from improper treatment of a fracture.
Osteomyelitis
If the bone is infected with bacteria at the site of the fracture, this could lead to serious conditions such as gangrene, which may eventually require amputation.
DVT – Deep Vein Thrombosis
If a blood clot were to form in one of the veins deep within the body, which could happen if a bone was broken, it could lead to a clot. These clots could potentially break free and if they travel to a lung, the condition could threaten the life of the patient.
Embolism (Fat)
If a bone's fat particles are released into the bloodstream when a bone breaks, it could cause blockages to vital organs, which could lead to organ failure.
Avascular Necrosis
If there is not sufficient blood supply to a bone, it could potentially lead to the death of the bone. Adjoining joints could also be destroyed.
Acute Compartment Syndrome
This involves swelling/bleeding within a group of muscles that are enclosed. Urgent attention and treatment are required to stop permanent damage to muscles. Extreme cases could lead to amputation if an infection sets in.
Misdiagnosis And Missed Fracture Compensation Calculator – How Is A Missed Fracture Compensation Amount Calculated?
If you are wondering how much hospital missed fracture compensation would be appropriate for your case, you may be looking for a personal injury claims calculator to help you. We have provided something different in this guide, however that we feel may help give you a snapshot of the kind of settlements that could be appropriate for missed fractures.
Within the table, you'll see specific injuries and the guideline settlement amounts for those injuries that are taken from the Judicial College. If your injury doesn't appear here, then please do get in touch and we'll happily let you know the guideline amount for your injury.

| Type of Injury | Level of Compensation | Additional Notes |
| --- | --- | --- |
| Moderate injuries to the ankle | £13,740 to £26,590 | This could include fractures. Assessment of how much could be awarded could depend on whether there was an incomplete recovery, and whether there was any loss of movement, etc. |
| Foot Injuries – Severe | £41,970 to £70,030 | Whether both heels were fractured and there was pain that was long-lasting or restrictions of mobilty. |
| Foot injuries – Moderate | £13,740 to £24,990 | Where there were some metatarsal fractures that left the claimant with continuing symptoms |
| Toe injuries – Serious | £9,600 to £13,740 | Injuries to the big toe with several fractures of more than 2 other toes might be included here. |
| Le Fort Fractures | £23,810 to £36,740 | Of frontal facial bones, leaving permanent deformity. |
| Cheekbone fractures | £10,200 to £15,780 | If surgery is required but lasting effects such as paraesthesia remain. |
| Clavicle fractures | £5,150 to £12,240 | The extent of the fracture and its displacement would be assessed along with the long term effects of such an injury. |
| An acetabulum fracture | £39,170 to £52,500 | Leading to changes that are degenerative, such as instability. Future surgery including hip replacement might be required in the future. |
| Forearm fracture | £6,610 to £19,200 | A simple fracture |
It would be prudent for us to mention that these are, of course, only approximations of how much could be awarded for certain injuries. The specifics of your case would denote how much compensation you'd receive in the event of a successful missed fracture claim.
Additional Damages Included In Hospital Missed Fracture Claims
Besides the amounts above, you may also have incurred costs and losses due to the negligence you've suffered. These may include the likes of:
Lost wages – if you've been off work for longer than anticipated because you suffered a missed fracture you could potentially claim for these losses. If a doctor has missed a toddler fracture, and you've had to take time off work to care for your child for longer than you would if the negligence hadn't occurred, you may be able to claim for this too.
Care claim – if you've required care at home because of a private practice or NHS hospital missed fracture, then you could include this within a compensation claim
Medical costs – If a missed fracture on an X-ray led to you having to pay out medical costs that you wouldn't have had to pay if it had been diagnosed, then you may be able to claim for these
Travel costs – Should you have had to pay for travel expenses associated with your hospital missed fracture treatment or your hospital missed fracture claim, these could also be included.
In order to be able to claim for additional special damages for hospital missed fracture claims, you would need to be able to evidence the costs and losses you have experienced. If you would like to speak to us about the type of evidence you would need to make such claims, we would be happy to talk you through what documents could be useful.
No Win No Fee Claims For Missed Fractures And Breaks
Are you considering making a claim for missed fracture compensation? If so, you may be glad to know that it would not have to cost you any money upfront. If you choose to go ahead with a No Win No Fee claim, you'd be presented with an agreement that you would be expected to sign before the claim proceeds. This agreement, often referred to as a Conditional Fee Agreement or No Win No Fee Agreement, dictates how much of your compensation (a percentage) would be used to pay your personal injury lawyer in the event of a successful claim.
This amount can't equate to more than 25% of the settlement. If you had a valid missed fracture claim, but no compensation was secured, you wouldn't need to pay your lawyer this fee. If you'd like to know more about this type of payment structure, we'll be happy to answer your questions.
How Accident Claims UK Could Help You Claim Compensation For A Misdiagnosis Of A Fracture
Whether it's advice on whether a missed fracture on an X-ray could lead to a claim, or a query on the personal injury claims time limit that would apply to your claim we're here to help. However, advice is not the only thing we could provide to you. We could also provide an experienced personal injury solicitor to help with your claim. When you get in touch, we'll assess your situation from a legal standpoint and let you know if we think your claim could result in compensation.
If we feel it would be appropriate, we would then offer to put you in touch with a solicitor that we feel could help you. All our advice is free, and we wouldn't pressure you into making a decision at all, so there's really no reason not to get in touch if you feel you may have a claim.
Talk To Us And Start Your Missed Fracture Claim
Beginning a missed fracture claim could be as simple as giving us a call on 0800 073 8801. Alternatively, you might prefer to use the Live Chat feature on the site or use the contact form. If you prefer email, the address is office@accidentclaims.co.uk. We are looking forward to hearing from you so that we could help you with your missed fracture claim in any way we can.
Hospital missed fracture claim FAQs
Can you sue for a missed fracture?
If a fracture is wrongly diagnosed, you could suffer unnecessary pain. Furthermore, the use of the affected limb could mean your injury becomes worse or even result in permanent disability. If that's the case, you could sue the hospital or doctor for any pain and suffering that results from the misdiagnosis.
Can doctors miss a fracture?
It is unusual but doctors can misread an x-ray which means they don't spot your fracture. Also, x-rays taken at the wrong angle may make it difficult to spot the fracture. This might mean that your injury is treated as a sprain or strain instead.
What happens if a fracture is left untreated?
If a fracture is not treated properly, it can result in a delayed or non-union of the parts of the bone. In non-union, the bone will not heal at all which means the fracture will continue to cause pain and suffering. Generally, untreated fractures will become more and more painful over time.
If you'd like support making a hospital missed fracture claim, why not speak with our specialists today?
How much compensation for misdiagnosis of fracture has the NHS paid out?
Are you wondering how common clinical negligence claims could be and how much they cost? If so, we can have a look at the NHS Resolution website, which produces statistics relating to the amount of money paid out in clinical negligence. For 2020- 2021, you can see the figures  below. This represents a staggering amount of money, and includes legal costs and expenses. However, we do not have figures pertaining to how many of these claims related to missed fractures.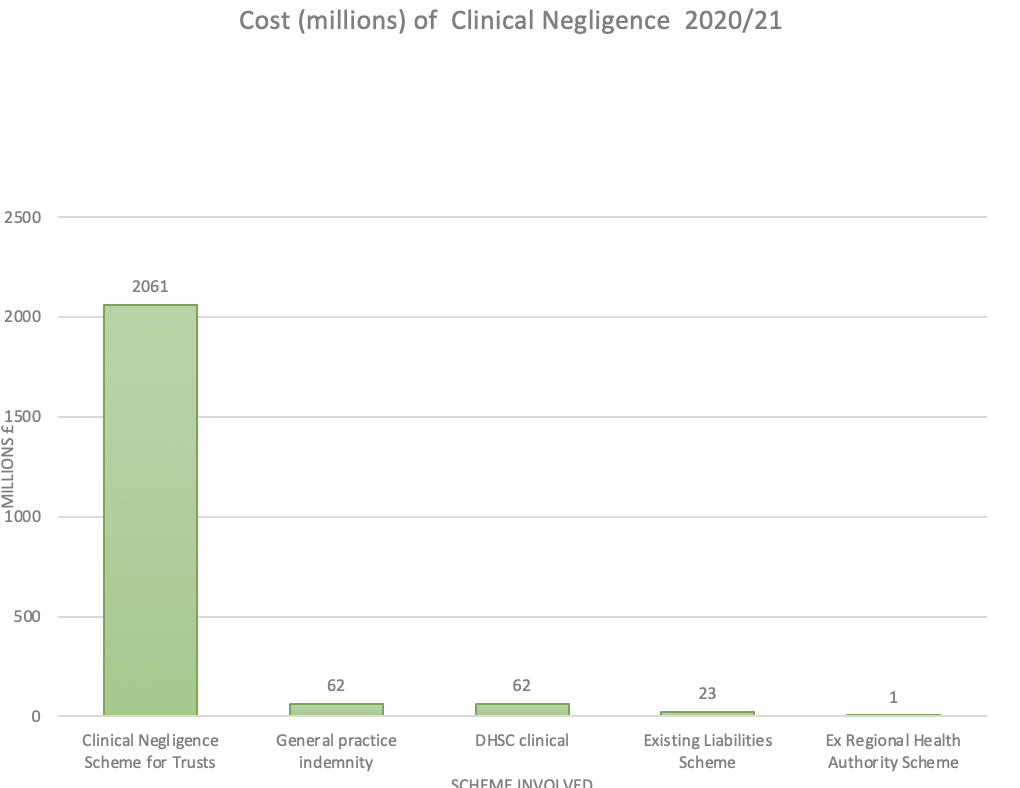 Can I claim compensation for a missed fracture on behalf of a child?
If you have a child who has suffered harm due to a misdiagnosis or a missed diagnosis of a fracture, you could help them claim compensation. You would be acting as their litigation friend, making decisions about their claim. When compensation comes through for child negligence claims, the settlement would go into a trust for the child. If you would like to speak to us about becoming a litigation friend for your child. Or, if you're ready to begin making compensation claims on their behalf, please get in touch.
How could a missed fracture compensation amount be calculated?
A missed fracture compensation amount could be calculated by looking at all the facts and circumstances of the accident and injury. Factors that could be assessed could include:
The severity of the injury
Whether it could have been easily diagnosed
When the hospital missed the fracture, what additional harm was experienced?
Does it affect the claimant's ability to enjoy sport, social events, etc.?
Has it caused additional costs and losses to the claimant?
Did the hospital that missed the fracture do so because of substandard care? If you would like us to assess your case to see if you could claim, we would be happy to do so. Please call our team, and tell us what has happened to you. We will use the information you provide to complete an eligibility check. We could also answer any questions you have about claiming.
Can I sue a hospital for missing a fracture?
You can sue a hospital for missing a fracture if you could prove that their care was negligent and their negligence harmed you. Hospitals have a duty of care toward patients to provide safe, effective care. If they do not do so and breach this duty, harming you, you could be eligible to claim.
What happens if a fracture is left untreated?
If a fracture is left untreated, what happens could vary between injuries. In some cases, the bones may heal on their own. In other cases, they could heal improperly, or you could suffer further problems, such as blood clots.
How is a missed fracture compensation amount determined?
A missed fracture compensation amount should compensate you for the pain and suffering that you have experienced as a result of negligence. It would not compensate you for the initial injury. Instead, it would compensate you for the additional pain and suffering caused by the negligence. It should also compensate you for additional costs from the undue harm you've suffered. To give you an idea of how this could work, we offer an example below.
If someone was to suffer commonly missed fractures due to negligence, with a usual recovery period of 6 weeks, this could lead to a longer recovery time. If, for example, they broke their arm and would have normally had the recovery period off work, they could have been forced to stay off for an additional few weeks. The income they lost in those additional weeks could be compensated for if they can prove they would not have suffered this if the negligence hadn't occurred. This is because this additional period of lost earnings is a direct result of negligence. 
How long do I have to claim in cases where commonly missed fractures lead to injury?
The period of limitation that applies to your claim generally begins either on the date of the incident or the date you became aware your injuries were due to negligence. The latter of the two dates would be considered. You would normally have 3 years from the date of the incident or date of knowledge to claim. However, there are exceptions in the case of children and those who lack mental capacity. Call us for more information.
Essential References Relating To Compensation For A Misdiagnosis Of A Fracture
Further Reading On Medical Negligence – Our guide to medical negligence may provide some interesting reading material for claimants.
Misdiagnosis – Our reference guide on misdiagnosis claims may also prove useful.
Was It Your GP That Misdiagnosed You – If your GP did not refer you for X-ray or for further examination, they may have been negligent. This guide may be of interest.
Essential Medical References Relating To Compensation For A Misdiagnosis Of A Fracture
Broken Arms And Wrists – The NHS to this kind of injury could be useful if this is where you missed fracture occurred.
Could I Have A Broken Bone? – If you're unsure as to whether a bone is broken, this page may help.
Guide To Broken Bones – This Bupa guide to broken bones may be of interest
Now you should have further insight into what to do if your hospital missed a fracture. If you would like to claim compensation for a missed fracture, why not get in touch. Our solicitors could fight for the maximum compensation for a misdiagnosis possible on a No Win No Fee basis.