By Joanne Jeffries. Last Updated 11th November 2021. Welcome to this case study surrounding personal injury claims payouts for hand arm vibration syndrome.
This is a case study which we have researched in order to show how the right personal injury solicitor may be able to help you get the highest possible level of compensation for an injury such as hand arm vibration syndrome if your injury was caused through the negligence of a third party.
The victim in this case was a worker specialising in demolition. The claimant had developed the symptoms of hand arm vibration syndrome after working with vibrating equipment over a period of time. We are using this case as an example because the claimant was awarded a total of £118,000, which is thought to be one of the largest personal injury claim payouts for hand arm vibration syndrome.
If you have suffered this, or any other type of injury in the workplace, we could help you to claim compensation on a no win no fee basis from an employer if they were negligent in the duty to keep you safe from harm at work. Please contact our team today to speak to us, you can find how to contact us at the bottom of this page.
Details Of The Claimants Hand Arm Vibration Syndrome Symptoms And Injury
The claimant was a man who worked with a well-known demolition company. He had been in the role for eleven years, during which time he used a variety of machinery and equipment all of which vibrated on a daily basis. This included trimming hammers, Stihl saws, and jackhammers.
Over the time working with this employer, the claimant developed hand arm vibration syndrome. These symptoms included losing sensitivity and feeling, a tingling feeling in the fingers, and a whitening in both sets of fingers, radiating through the hands. The year prior to leaving the role, the claimant was diagnosed as having the condition.
Hand arm vibration syndrome is a preventable condition if the right steps are taken. You can find hand arm vibration regulations produced by the government here. The condition is caused by persistent and over usage of tools, equipment which vibrate. The best way to mitigate or manage the development of this condition is to limit how much time is spent using this type of equipment.
How Common Is Hand Arm Vibration Syndrome?
Below we have included a table which shows the rate of frequency for new cases of hand arm vibration syndrome in the UK. As can clearly be seen, the number of cases has fallen greatly since peaking in 2010. Statistics for this condition are collated with carpal tunnel syndrome at the same time. We can see that in 2016 there were just 455 new cases across the whole of the UK, with just 240 new cases of carpal tunnel syndrome.
We can also see that of the total number of claims, almost all of them affected men rather than women. This is due to the nature of the working environments and materials which cause the condition. For further information on HAVS, and hand arm vibration regulations, please see this guide from the HSE.
What Is Hand Arm Vibration Syndrome Or HAVS?
Hand arm vibration syndrome is a preventable condition affecting the hands and fingers as well as wider local area. Its main effect is to change sensory perception in the fingers and hands, leading to a permanent degree of overall weakness in the affected hand and numbness through the fingers as well. Is is sometimes called vibration white finger as it causes the fingers to become white.
In most instances, it is very uncommon for people to develop the condition unless they have been working with vibrating equipment for a decade or more. If you do begin to develop the initial symptoms of the condition it is possible to prevent the further development of the condition by stopping working with this type of machinery.
Currently it is still unclear how the condition is specifically caused. One theory is that the vibration causes cumulative damage to the blood vessels and small nerves in your hands and fingers. Currently the condition cannot be reversed.
How Was The Case Conducted?
The symptoms the claimant displayed were some of the most serious which the personal injury solicitor in this case had seen. The injury prevented the claimant from being able to carry on working in this job or industry. The claimant approached a solicitor who was experienced in vibration white finger compensation claims.
The claimant's personal injury solicitor could see that beyond the general pain and suffering, the claimant also experienced depression and general anxiety. This was caused by him having to leave his job role and employment.
Whilst there was a large body of evidence to support the claim, the defendant contested the allegation made. They maintained that they were not liable for the development of the condition. Personal injury solicitors acting for the claimant obtained expert and detailed medical evidence as well as witness statements from former colleagues to support their claim.
Together this clearly showed that the HAVS was developed in the workplace. Following the presentation of this evidence, the claimant was awarded a record settlement in compensation.
What Settlement Did The Claimant Receive?
The claimant received what is thought to be one of the largest (if not a record) amount of compensation for their hand arm vibration syndrome injury. Whilst the defendant had initially contested their liability for the injuries, eventually they did agree to make an out of court settlement.
In almost all cases of personal injury claims, a defendant will agree to settle the claim out of court, even if they do not always admit full liability. Defendants and employers often agree to settle a claim in this way as going to court often proves quite expensive. This can be even more true if it looks like a court would ascribe liability to the defendant, and award a higher settlement than would be accepted out of court.
In this case, the claimant did have to leave his job. However, he was able to use money from his compensation settlement to retrain with the goal being to work in health and safety. He wanted to help protect others from developing the same injury, making sure that they are better protected in the workplace.
No Win No Fee Hand Arm Vibration Syndrome Settlements
In the simplest way, No Win No Fee means that if you don't get a compensation payout for your injuries, you will not need to pay and fees or charges to your solicitor. The term is used to describe a contract or agreement made between a claimant and the solicitor or lawyer who is working on their claim. This contract will state clearly that no charges will be due if the claimant doesn't get compensation for their injuries.
This type of contract has been used by thousands of claimants across the UK, enabling them to seek damages and get the compensation they are owed where otherwise they would not be able to. In addition to claims for accidents at work, No Win No Fee claims can also be used in any other type of personal injury claim, such as road traffic accidents, claims for medical negligence, and other types of accident causing injury.
Call Our Team To Start Your Claim And Receive 
Personal Injury Claims Payouts For Hand Arm Vibration Syndrome
Before making any personal injury claim you may have lots of questions which need answering and will have a variety of choices of solicitor to make your claim with. We believe that you should work with Accident Claims UK. This is because the solicitors who would work on your case have many years' experience in making this type of claim for an accident at work. We are also able to offer many claimants No Win No Fee terms, enabling them to make successful compensation claims.
You can contact our team by calling us, sending an email, or using our contact form. Details of how to do so are below.
Tel: 0800 073 8801
Email: office@accidentclaims.co.uk
Message: www.accidentclaims.co.uk/contact-us
Could I receive personal injury claims payouts for hand arm vibration syndrome if I have left the company I was employed at?
You do not have to currently be working for an employer to make a personal injury claim against them. Whether you have been fired from your job, or you have left of your own accord, or your contract has come to an end, if you are within the personal injury claims time limit, you could still make a claim for compensation against them. In some cases, you may still be able to make a claim even if your employer has gone out of business. If an insurance policy was valid at the time you had your accident, the insurance could still pay out on your injury claim. If you would like to find out more about claiming from an employer, please do not hesitate to call our team. We could provide you with a free assessment of your case, and could offer you free legal advice from a friendly solicitor with up to 30 years experience.
How can I maximise personal injury claims payouts for hand arm vibration syndrome?
When it comes to maximising your compensation claim, you would need to provide strong evidence. Independent medical evidence from a specialist could go a long way towards securing you the maximum compensation possible for your claim. You would need to attend an appointment with such a specialist during your claim. After examining you, they would write a report detailing your injuries and prognosis. Another factor in making sure you get the maximum settlement amount possible for your claim would be your choice of solicitor. Opting for a solicitor that has the experience and knowledge you need to fight for the maximum compensation amount possible could have an impact on your settlement. If you need any help with finding a solicitor to help you, we would be delighted to speak to you.
Could I receive personal injury claims payouts for hand arm vibration syndrome that has been misdiagnosed?
Some clinical negligence claims could be made due the misdiagnosis of an illness or injury. If you have suffered undue harm due to the misdiagnosis of hand arm vibration syndrome, you could be able to claim compensation for clinical or medical negligence. You would need to be able to prove that but for the misdiagnosis, your condition would not be as bad as it is. If you're wondering how common clinical negligence claims are, you could look to the NHS Resolution website, which shows you the amount paid out in 2020- 2021 for such claims. You can see a breakdown of these sums below.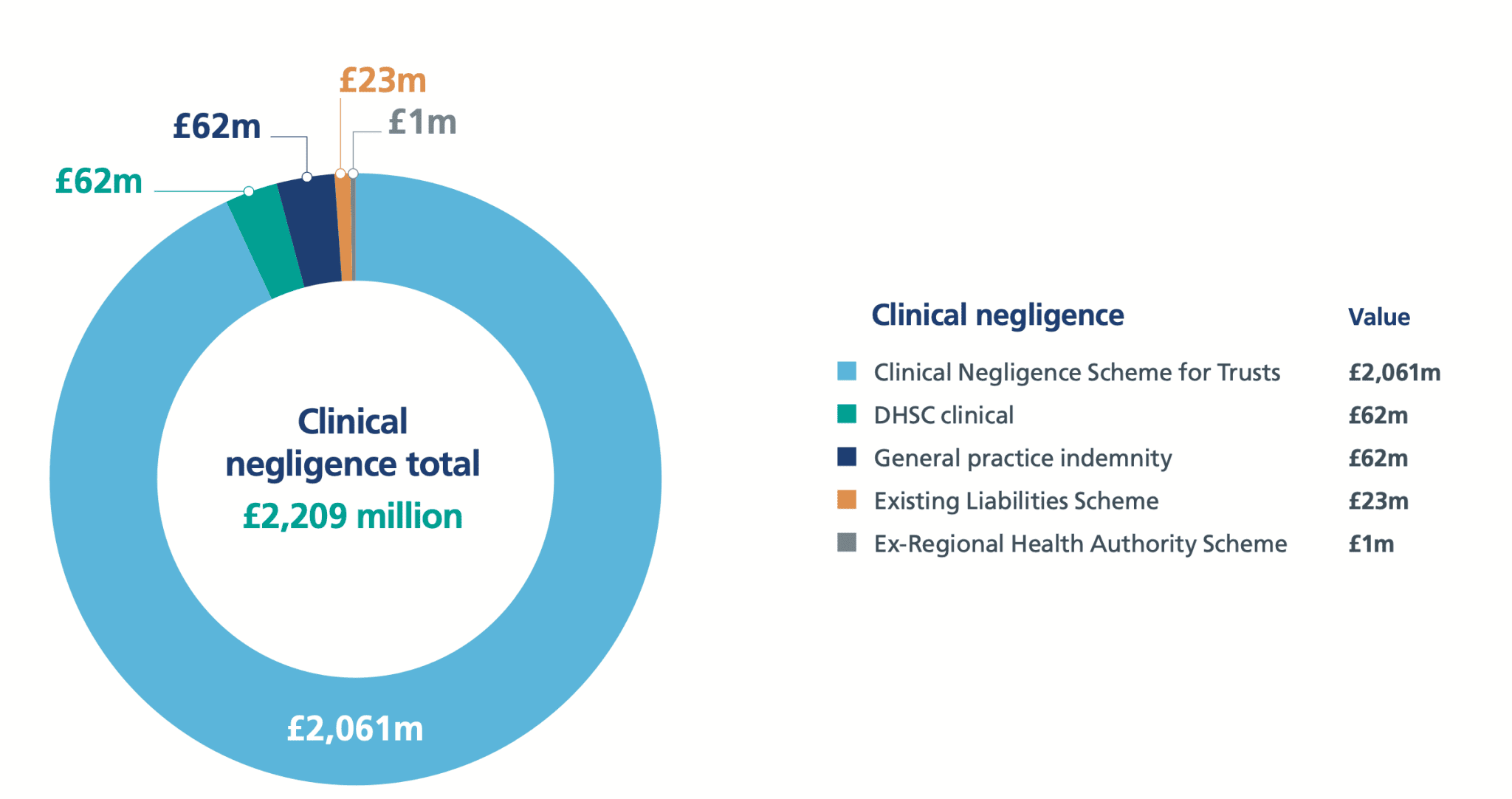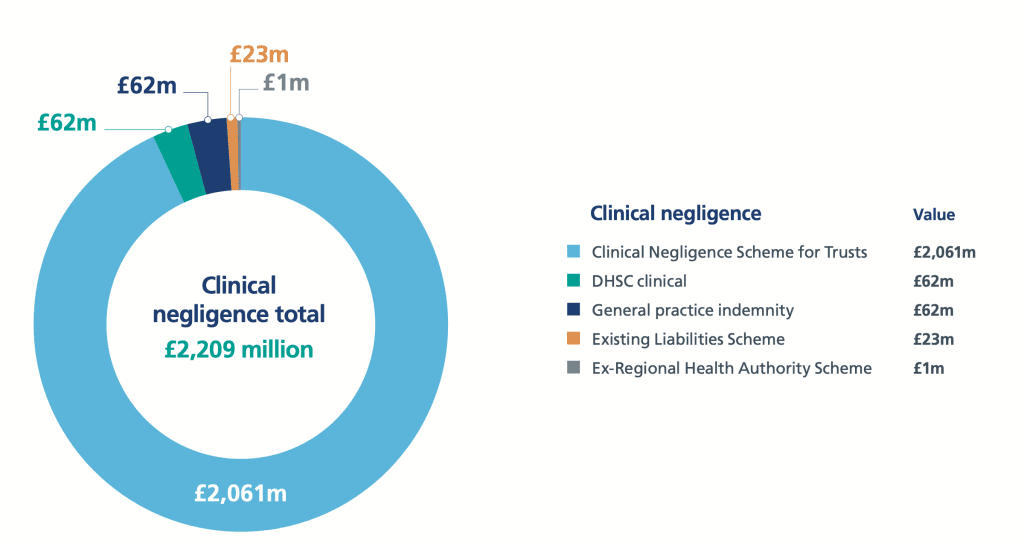 If you would like us to help you with a misdiagnosis claim or a claim for any other type of clinical negligence, please call our team today. We will be happy to speak to you about your case and give you advice and support. We could provide you with an experienced solicitor who is authorised and regulated by the Solicitors Regulation Authority who could help fight your claim for compensation.
Useful Links Relating To Personal Injury Claims Payouts For Hand Arm Vibration Syndrome
The following links provide you with additional information on this type of injury, as well as how to make a successful personal injury claim.
Hand Arm Vibration Syndrome – HSE Guide
Guidance on this type of injury and how it can affect you in this article from the Health and Safety Executive.
Hand Injury Compensation Claim Calculator
Find out how to make a successful claim for injuries to damage to your hand or hands.
Thank you for reading this case study relating to personal injury claims payouts for hand arm vibration syndrome. If your employer has failed to adhere to vibration at work regulations to control vibration levels, and you have developed hard arm vibration syndrome as a result, we could help you make a claim for hand arm vibration. A HAVS claim or industrial disease claims could help you receive compensation for loss of ability to work, financial costs and pain and suffering. We could help with these and other accident at work claims.