By Joanne Jeffries. Last Updated 15th November 2021. Welcome to this case study surrounding personal injury claims payouts for a botched eyebrow tint.
There are new beauty treatments being added to the marketplace all of the time. HD brows have recently become incredibly popular. While they are usually carried out safely, there is no denying that accidents and mistakes can happen from time to time. However, if you have been the victim of beauty treatment negligence, this is not something you should simply accept. You need to get the compensation for botched eyebrow tint you deserve for what has happened to you. This is certainly what occurred when one woman experienced an allergic reaction after she had received an eyebrow treatment from a beauty salon.
The woman was offered £2,500 after it was proven that the beauty salon acted negligently because they did not explain the procedure that was entailed nor did they carry out a patch test. In this guide, we will reveal everything you need to know about this case so you can get a good understanding regarding the types of beauty negligence claims that can be launched.
Furthermore, we will provide details about our service should you want to make a claim for a botched eyebrow tint or something similar, as well as our contact details.
What Is Eyebrow Tinting?
Eyebrow tinting is a procedure that involves changing the colour of your eyebrows. Let's say you have your hair dyed a different colour entirely, from blonde to dark brown. Your eyebrows will no longer match, and this is where eyebrow tinting comes in. Of course, there are lots of other reasons why people may require this service, such as thinning eyebrows.
Eyebrow tinting should be performed correctly in order to make sure that the customer is not injured or that they do not have an allergic reaction. There are rules and regulations that are in place in the beauty industry in terms of health and safety. This includes carrying out a patch test to make sure that the person is not allergic to any of the products that are being used. Moreover, every client should have the procedure explained to them in full.
What Happened To The Claimant?
In this case, a woman went to a beauty salon for an eyebrow tinting procedure. When she went home, she experienced a number of different symptoms because of the treatment she received and the dye that had been used. These symptoms were due to an eyebrow tint reaction and they included blisters, irritation, redness, and swelling. During the course of the next few weeks, the woman experienced minor scarring, loss of hair from her eyebrows, and scabs. This all resulted from her face becoming incredibly irritated and swollen. Because of this, for two weeks, she could not meet clients or go to work because she was so conscious about how she looked.
How Was The Botched Eyebrow Tint Case Conducted?
In this case, it was proven by the solicitors that the beauty salon were negligent and were to blame for the reaction that the woman suffered. This is because they did not explain the procedure to the woman beforehand. Furthermore, they did not carry out a patch test. The solicitors were able to successfully argue that if a patch test had been carried out and the procedure had been explained properly, this incident could have been prevented.
What Payout For A Botched Eyebrow Tint Did The Claimant Get?
As mentioned in the introduction, the client received £2,500 worth of compensation in the payout for botched eyebrow tint for this incident. However, this was not the initial offer presented. In fact, the salon did not admit liability. They stated that the woman was aware of the procedure and that a patch test had been carried out. The victim denied that this was the case, and so when she was offered £1,500 in eyebrow dye compensation she rejected it. Her solicitors advised her to do this because they believed that the amount was too low considering the circumstances. Because of this, the woman then went forward and provided lots of evidence to show that the patch test never took place. This helped to strengthen her position that the salon acted negligently and was to blame. The beauty salon then offered a higher payout of £2,500, and this was accepted.
No Win, No Fee Eyebrow Tint Compensation Claim
Did you know that there is a substantial number of people all over the UK that have been entitled to personal injury compensation yet never made a claim? One of the main reasons why this is the case is because they think an accident claim is going to be too expensive. They envisage huge legal costs and so they believe it is not worth the risk. However, the truth is anyone can afford to make a no win no fee personal injury claim. Read on to discover all you need to know below…
It all comes down to the type of solicitor you go for. If you go for a solicitor that charges by the hour you will face huge costs. A lot of people cannot afford this service. The consultation is expensive enough without taking into account all of the other costs! Moreover, there is a huge amount of risk associated with using this type of solicitor. You could spend extortionate sums of money only for your case to be unsuccessful. The financial implications of this could be huge!
Instead, if you go for a No Win, No Fee solicitor you will reap a lot of financial benefits. You do not actually need any money to begin your accident claim when you go for this option. Therefore, you can see how you are able to make a claim! It is also worth taking into account the fact that the amount you pay is determined on the outcome of the case. Therefore, financial risk is minimised by a considerable extent.
This all comes together to ensure you benefit from a better level of service as well. After all, a No Win, No Fee solicitor is going to be more impacted by the outcome of your case and so you can be sure they will do all in their power to guarantee it is a success. All of our preferred panel of solicitors work on a No Win, No Fee basis at Accident Claims UK, so give us a call today to discover more about what we can do for you.
Speak To Our Team About Personal Injury Claims Payouts For A Botched Eyebrow Tint
One of the key things you need to give yourself the best chance of getting the full amount of compensation you deserve is a high quality personal injury solicitor. Here at Accident Claims UK, we have a team of the best solicitors that we can provide to you. Read on to discover why you should use the services of one of our professionals when making an accident claim.
Experienced – All of our panel solicitors are exceptionally experienced. We have been successfully helping thousands and thousands of personal injury victims to get the amount they deserve for many years now. All of our staff mirror this level of expertise and experience. They know exactly what it takes to win an eyebrow dye compensation claim.
Credible – If you take a look on our website, you will be able to reed some reviews that have been left by our previous customers that have used the services we offer. You will see that we have an impeccable reputation in the industry. This should also reassure you that our team is one of the best.
No Win, No Fee – When you use our service, you can be sure that you will benefit from a No Win, No Fee arrangement, irrespective of what personal injury lawyer we match you to. This means that you do not actually need a penny to begin your eyebrow tint compensation claim. In addition to this, and perhaps more importantly, financial risk is lowered substantially, which is especially important when you consider the fact that you are probably already feeling worried and stressed enough after suffering the incident in question.
Easily contactable – Our solicitors are easy to reach. We have a legal helpline that is available every hour of the day and every day of the week. You will always be kept in the know regarding what is happening with your case. You can reach us today on 0800 073 8801. We also have a live chat feature on our website too. Whatever your query we will strive to make sure we provide answers, whether it is a query on how much compensation you could possibly receive or a query over how to start your claim.
What type of damages could personal injury claims payouts for a botched eyebrow tint include?
When you receive a compensation payout for a botched eyebrow tint, you might notice that you have received both general damages and special damages. If you are wondering what these mean, we have explained them both to you below:
General damages – these are the damages that you would receive for your suffering and pain as well as your loss of amenity. The way in which they are calculated is usually based on the medical evidence that is submitted as part of your claim. While you are going through the claims process, you would need to go and see a medical expert that is independent from your case. They would need to then examine you and take a look at your injuries as well as speaking to you about what has happened and how your injuries have affected you. Based on their examination, they would complete a medical report which could significantly impact the personal injury compensation settlement amount. This is because the medical evidence could be used alongside the Judicial College Guidelines by courts and lawyers to arrive at an appropriate value for your claim.
Special damages – when it comes to special damages, these are meant to compensate you for pecuniary costs relating to your injuries. These would include costs such as loss of earnings if you'd needed time away from work, as well as care costs and medical expenses. It could also include travel expenses.
What evidence would I need to submit to maximise personal injury claims payouts for a botched eyebrow tint?
When it comes to the evidence that you would need to prove your claim, this could include witness statements, if anybody witnessed what happened to you, as well as photographs of your injury, for example. We have already mentioned that you may need independent medical evidence to prove your injuries. In addition to this, you may need to submit documentary evidence of special damages, such as care costs and medical expenses bills. You could submit pay slips and bank statements as well to prove loss of income, for example.
Could I claim clinical negligence for negligence advice surrounding a botched eyebrow tint?
If you have suffered an injury from a botched eyebrow tint, and have sought medical advice and treatment, you would expect that the treatment and advice you are given would be in accordance with a good standard of care. However, if you are given negligent advice and treatment that causes your injury to become worse or harder to treat, for example, this could constitute medical negligence. While you would not be claiming clinical negligence compensation for the initial botched eyebrow, you could claim for negligent care that has led to the worsening of the injury, particularly if this causes permanent scarring, for example. While we can't give you figures relating to the number of claims made for such incidents, we could give you some insight into how much clinical negligence compensation was paid out by the NHS in 2020- 2021. You can find this figure below.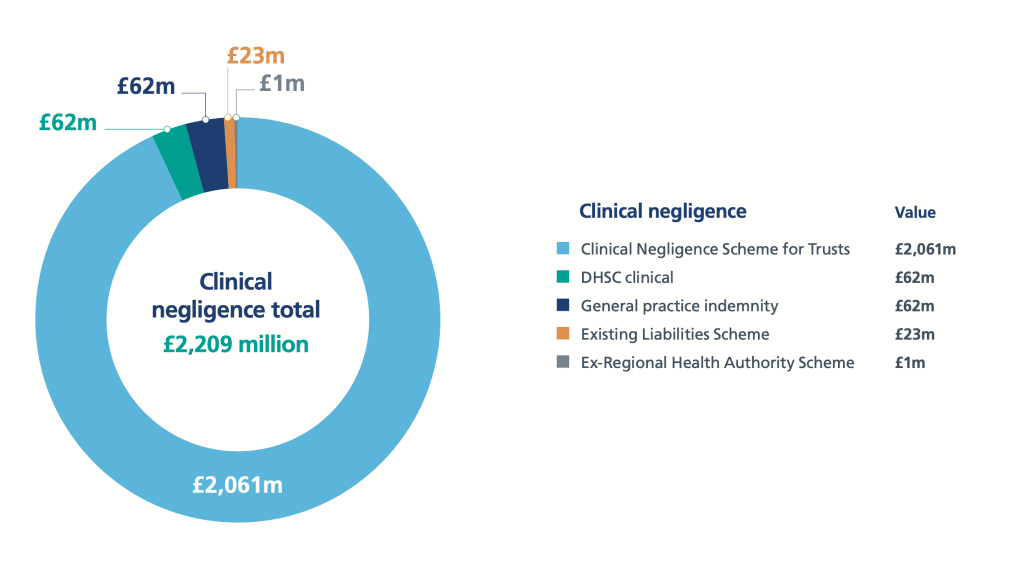 Useful Links Relating To Personal Injury Claims Payouts For A Botched Eyebrow Tint
We hope that you have found this guide useful while looking for more information on claiming eyebrow tinting compensation for a botched eyebrow tint. However, if you need some more details, the links below may be of assistance.
Negligence in the beauty industry – How to go about claiming compensation – This link takes you to our guide on beauty treatment negligence and how to claim compensation.
Reactions to hair dye products, a guide from the NHS – This link takes you to the NHS guide on hair dye reactions.
Thank you for reading this case study surrounding personal injury claims payouts for a botched eyebrow tint. If you'd like legal advice on whether you could claim for a breach of a beauty therapist's duty of care regarding eyebrow waxing and tinting, whether it's due to not having a patch test hours prior to your appointment or another incident, please call our team.