By Joanne Jeffries. Last Updated 16th August 2022. Welcome our nerve injury compensation claims guide where we are going to take a look at nerve damage compensation in length. In it, we answer FAQs such as 'can you claim compensation for nerve damage after a car accident, or accident at work?' We also explain how you could claim nerve damage car accident compensation, as well as making a dental nerve damage claim. Further to this, we give you some insight into the average payout for nerve damage in the UK. We explain what could affect a compensation payout for nerve damage, and how you could evidence a nerve damage claim.
Plus, we explain how our compensation table could act as an alternative to a nerve damage compensation calculator for 2022 claims. We even explain what could be included in a settlement for nerve damage in a hand, foot or elsewhere in the body.
Can you claim compensation for nerve damage after a car accident or other accident that wasn't your fault?
When it comes to a nerve damage injury within our body, few people understand the impact it can have. Our nervous system has a vital role within our body. It has control over our muscles, regulates our temperature, and even keeps us breathing regularly. It stands to reason, therefore, that if something is damaged within the nervous system, then it can range from a mild effect to something life-threatening, or even fatal. Hence why filing nerve damage claims could be the best course of action after an accident.
Damage to the nerves or nervous system is common, and it has been revealed by the NHS that approximately ten percent of the over 55s have peripheral neuropathy, a form of nerve damage that can be quite serious.
Getting Guidance On The Average Payout For Nerve Damage In The UK
If you have suffered nerve damage, you will know only too well the effects that it can have, and if you have suffered it due to the fault of someone else, then it stands to reason that you would be rather angry. Whether by medical negligence or an accident at work, damage to the nerves that is someone else's fault should mean that you can claim compensation, and our guide below should give you all the information you need to know about claiming. Should you want to talk over what's happened to you on the phone to get advice specific to your situation, Accident Claims 0800 073 8801 helpline is here to offer assistance, but if you would prefer some general guidance first, then read on below.
Select A Section
A Guide to Nerve Damage Injury Compensation Claims
Personal injury claims for nerve damage and a nerve injury are more common than many of us realise. It can also be very serious indeed. While some cases restrict our movement and the ability to hold, grip or grab things, other types of nerve damage can cause anything from dry eyes to chest pain and paralysis. If you have suffered nerve damage in any form, then you will know how frustrating this is to deal with, no matter how serious or mild the damage may be. Because it is sometimes invisible, many people will not understand that it can lead to frustration, pain and suffering on a daily basis, and it may have a psychological effect on the person too – leading them to suffer depression or other mental health problems, as well as issues with self-worth and self-esteem.
What is the average payout for nerve damage in the UK?
If you have had nerve damage due to an accident you've been involved in at work, on the road, or anywhere else or have suffered
medical negligence
nerve damage, the chances are you will be feeling rather angry. One way to help you live life a little easier after nerve damage, would be if you have the funds to obtain a good standard of medical treatment, or some funds to cover the earnings you've lost as part of having time out of work to recover.
Should you need care in the home, this will likely cost you financially also, and getting nerve damage compensation could help with all these costs and more. While we are aware that financial stability will not necessarily repair the damage that has been done, it could go some way towards making things a little easier.
What's Included In This Nerve Damage Compensation Guide
In the guide below, we explain some of the most relevant information you're likely to need to know before you consider making a case for compensation. We will look at nerve damage payouts such as sciatic nerve damage compensation, median nerve damage compensation and more. In addition, we will cover how you can claim workers compensation for nerve damage, medical negligence nerve damage, and nerve damage caused by car accidents. We also include somewhat of a nerve damage compensation calculator that acts as an illustrative guide on how much typical nerve damage verdicts have paid out previously.
How do I maximise my chances of getting more than the average payout for nerve damage in UK claims?
There are certain steps you could take to help you get the compensation you deserve. For instance, you could seek legal advice by hiring a solicitor. A solicitor could help you gather relevant evidence to support your case and help you through the process of claiming.
What Should You Do If You Suffer A Nerve Damage Injury?
Whether it is an accident that has caused symptoms of nerve damage, whether a car accident or an accident that has happened in the workplace, there are things you should consider doing to gather evidence and ensure you have all that you need should you wish to pursue claims for nerve damage with a personal injury lawyer even if you're not sure whether you should make one.
Actions to take
Evidence Gathering – Photographic – While you are still at the scene, it would be wise to capture a few snaps of what has happened. Photos of injuries as well might be helpful.
Evidence Gathering – Witnesses – Anyone on the scene at the time who saw the events unfolding could be useful to be able to contact should you need a witness. Take down relevant contact details in case you need them.
Evidence Gathering – Medical – Obviously, if you have had accidents causing nerve damage you will likely have seen your local doctor or perhaps a doctor at the hospital nearest the accident. Keeping a record of this is important to substantiate your claim. In addition, you might want to keep receipts for costs pertaining to any treatments.
Evidence Gathering – Other Costs (special damages) – In respect of financial losses such as travel tickets, parking fees etc, if they are incurred because of a direct result of your accident causing nerve damage, then you may be able to claim them back as part of nerve damage compensation claims.
Contacting the professionals – You will need a personal injury solicitor on your side to maximise the compensation for your claim for nerve injury. By ringing Accident Claims, you'll be able to get advice and information about claiming and we can provide a personal injury lawyer to you with experience in the sector. This will take a lot of the stress out of finding a solicitor that has the experience and ability to handle your case.
What is included in the average payout for nerve damage in UK claims?
As we mentioned, there is no definitive average payout for nerve damage in the UK as each case is assessed separately. Generally, though, nerve damage claims could include damages for the pain and suffering you experienced. They could also include damages for costs you've incurred due to the nerve damage.
How to Start A Claim for Nerve Damage Compensation
As previously mentioned, you will find as much assistance as you need when you call Accident Claims, so to start a claim for a nerve injury, simply go ahead and call us. We will ask you lots of questions about the hows, whats and whys surrounding your nerve damage. This is to ascertain whether we feel you have a case to put forward. If you do, then we will happily connect you with a solicitor that can negotiate a nerve damage from car accident settlement UK, or compensation for nerve damage after surgery, or whatever situation has led to your nerve damage.
Your solicitor will more than likely require you to visit an independent medical practitioner in order to get an independent medical report that will be able to be used as evidence. However, it is important that you get medical assistance after the accident as soon as possible via your own means, as this will form part of the evidence too. Once the medical report is filed, then your solicitor will begin preparing your case for nerve injury compensation.
Why use a personal injury solicitor to claim for a nerve injury?
Nerve injury compensation claims can be complex. You may have to supply technical medical evidence to help prove medical negligence or you might to prove to an insurer that their client was a) responsible for your accident and b) that accident caused the injuries you're claiming for. Importantly, claims aren't like courtroom dramas that you see on telly where making a clever comment will win the case. Instead, they are much more technical and require vast amounts of evidence to be presented clearly so that denial of liability is less likely.
Getting help with your nerve damage claim
If you would like expert legal representation to help with your case, a personal injury solicitor from Accident Claims UK could help. With up to 30-years experience in settling injury claims for clients, if your claim is taken on, they will:
Arrange for you to be seen by an independent medical specialist so that your nerve injuries can be reviewed.
Collect evidence to show how your injuries were sustained.
Discuss your case in detail with you to fully understand how a nerve injury has affected you.
Once your claim for a nerve injury has been filed, the solicitor will:
Deal with the defendant on your behalf so that you don't need to be involved.
Try to counter objections or queries by providing evidence to back up your allegations.
Attempt to ensure that the maximum possible compensation is paid to cover your suffering.
If you would like to begin a nerve injury claim with us today, why not call to start the claims process?
What Are the Leading Causes of Nerve Injuries?
Causes of nerve damage vary. Because they can be so sensitive, even a small accident can cause nerve damage. There are several causes of nerve damage but we cover the main ones below:
Cuts/Lacerations – A severed nerve or damaged nerve can be caused by a cut. It depends on whereabouts the nerve is as to the level of damage that can occur because of this.
Stretching or traction injuries – Overstretching or forced stretching such as traction can pull nerves to such an extent that they are damaged.
Contusion (Focal) – A blow to any area of the body can cause cell and nerve damage if it is powerful enough.
Pressure/Compression – Should the nerves be compressed forcibly for a period of time, then they may suffer damage.
Electrocution – When electrical currently go through the body, it can damage the nerves as it does so.
Injection injury – A badly placed injection needle can damage nerves too.
These are, of course just some of the types you can encounter, but if you have had any kind of nerve damage because of the fault of someone else, then it is likely you'll be able to make a claim.
Nerve Damage from A Car Accident
Serious car accidents can cause lacerations, crush injuries, contusions and more, and this is why car accidents can – and often do – cause nerve damage. Often, the visible injuries after a car crash can fade, but if you are left with nerve damage, this could potentially last forever. If you're seeking compensation for nerve damage after a car accident, then you will need to prove that you were not at fault for the accident that befell you. Whether you are a driver, passenger, or hit as a pedestrian or cyclist, we can help you get a nerve damage settlement from a car accident with as little disruption to your day to day life as possible as the case progresses.
Could I claim nerve damage in car accident compensation claims?
Yes, if the car accident that caused your nerve damage resulted from another road user breaching the duty of care they owed you. If you call the team, we could assess your case. We could then give you some insight into the nerve damage compensation you could receive.
Car Accident Statistics
As we previously mentioned, road traffic accidents can often cause a nerve injury. Therefore, we have to take the time to include some critical statistics. Reported Road Casualties in Great Britain: 2019 annual report outlined that there were:
25,945 serious injuries due to road traffic accidents.
153,158 casualties of all severities.
1,752 deaths due to road traffic accidents in 2019.
Workers Compensation for Nerve Damage
Accidents at work are no joke, which is why most companies work hard to protect their workers from anything happening to them that could be prevented. However, as the 2nd most common cause of nerve damage, a workplace accident claim for nerve damage is not uncommon, and should the employer be found to be at fault for your accident, then you would be able to lodge a nerve damage workers compensation settlement claim for the damage that you have had to bear.
When it comes to employment, it is vital to understand that any employer has a duty to ensure you are safe at work, and things like lack of training, slip hazards, lack of PPE and lack of proper risk assessments mean that they have failed in this duty. Highlighting what has happened as part of a workers compensation for nerve damage claim will ensure that steps are taken to prevent the same issue from befalling someone else.
Medical Negligence Nerve Damage Compensation
You may well think that the safest place to be is in a hospital or doctors surgery, but if you have suffered medical negligence, nerve damage might be something you leave hospital with that you were not expecting. Whether you seek nerve damage in foot compensation from a surgery gone wrong or suffer symptoms of nerve damage after a failed spinal block, finding out you were injured by the people who were supposed to have your health in their hands can be devastating.
One of the most common reasons for nerve damage in medical negligence claims is when an anaesthetic needle is mis-sited and hits a nerve. Depending on where this happens in the body, the effects can be devastating, and you would be right to look at lodging a nerve damage claim.
Medical Negligence Statistics
Within this section of our guide, we wanted to outline how medical negligence can often cause nerve damage. So, it is for that reason why we have taken the time to include so critical statistics ahead of you filing any nerve damage claims.
When looking at medical negligence, it was reported by the NHS within their Annual report and Accounts 2018/19 that:
The provisions for injury claims had increased by £6.4 billion to £83.4 billion.
10,678 new clinical negligence claims were made, which was a 0.8% increase.
The number of mediations for clinical negligence had increased by 119% in a single year.
You can see how much clinical negligence cost the NHS in 2020-21 in the graph below.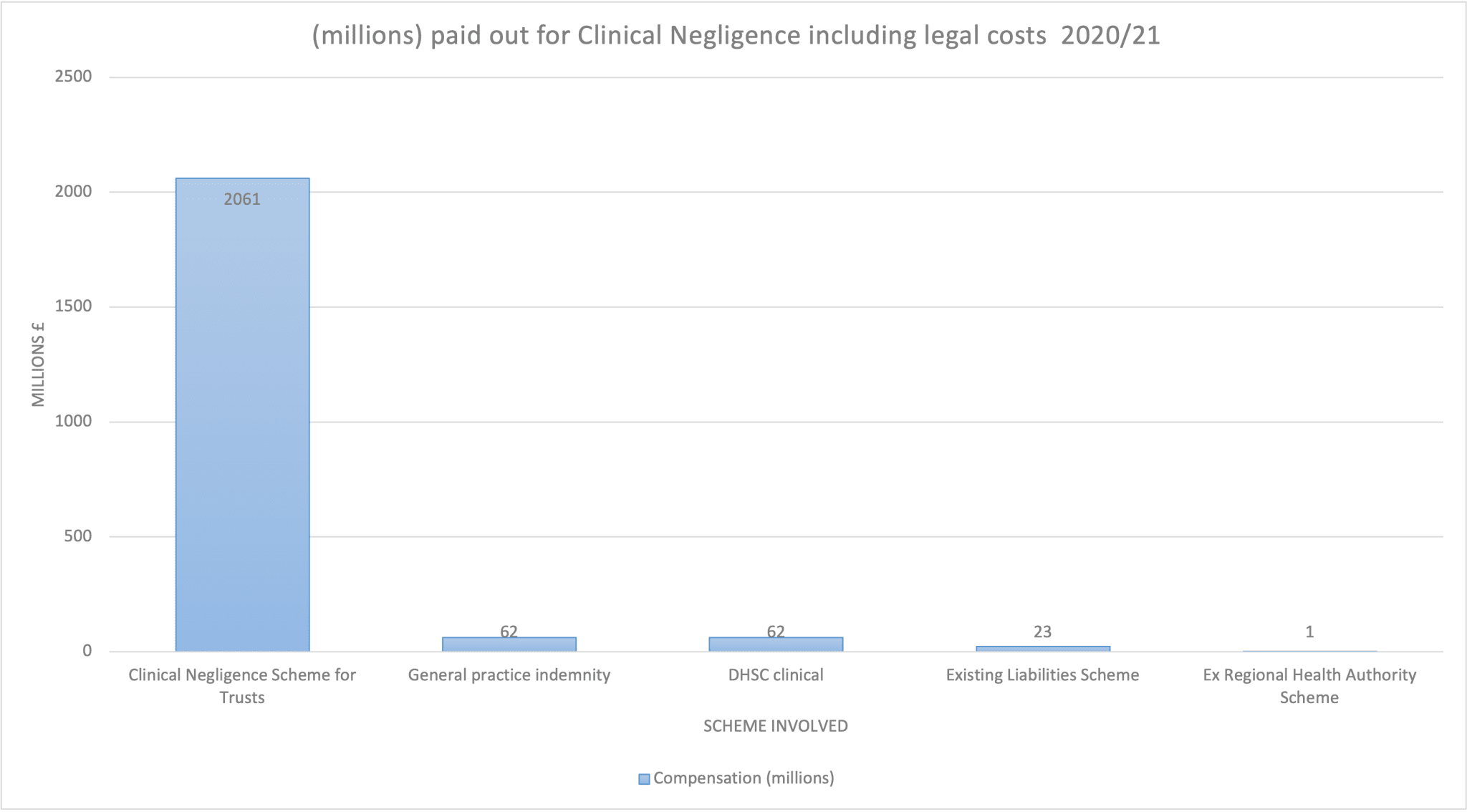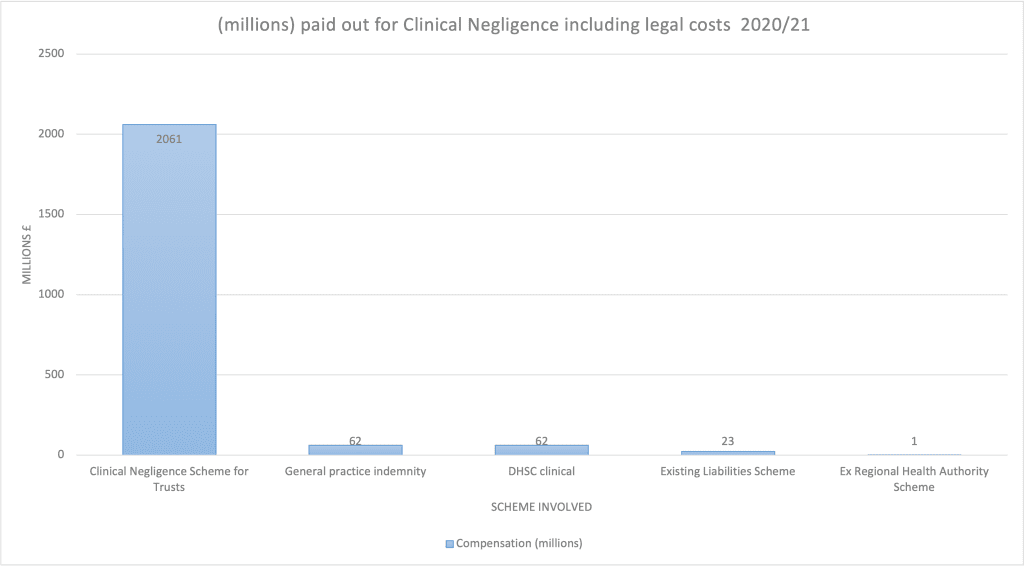 What is the average payout for nerve damage in the UK caused by dental negligence?
If you're making a dental nerve damage claim, you could talk to us about how much compensation you could receive. As each claim varies depending on factors unique to your case, there is no average payout for nerve damage in the UK. Instead, the award you're given will depend on factors such as the severity of your injuries.
Could I make a dental nerve damage claim against a private dentist?
If you want to claim for dental negligence, you could do so. A claim could be made if a private practice caused you additional harm as a result of providing care that fell below the expected standard. We could assist with these kinds of claims.
Common Forms of Nerve Injuries and Damage
There are several different types of nerve damage injury, but the most common by far are:
Neurotmesis – There are fibres in the nerve called the axon and the sheath, and when these are severed together, then neurotmesis occurs. Perhaps one of the most acute forms of damage to the nerve, it can, however, be fixed if it is a clean-cut and nerves can be re-attached.
Neuropraxia – Perhaps the most minor type of damage, where both the axon and sheath are intact, the transmission of signals are blocked. This is often the case when nerves are stretched in dislocations and fractures. Symptoms tend to resolve over time and transmissions may resume in as little as a couple of hours.
Axonotmesis – Axons in the nerve are divided, but the nerve's sheath stays intact. Traction and crush injuries feature heavily here. This can lead to loss of autonomic function, as well as muscle function loss. It can take from a few months to many years to recover.
What Are the Long-Term Effects of Nerve Injuries?
One of the most important assessments that are made when you suffer nerve damage is how long the symptoms last. For some, minor nerve damage will resolve itself over time, and while it may be frustrating for some time, at least there is the thought that the nerves will repair themselves.
However, some nerve damage injuries are irreparable and this can lead to not only long term disability but also profound effects on a person's mental health as they have to come to terms with the fact that they may never recover. This is why the medical assessment is so important when it comes to nerve injury compensation claim – your mental and physical health will be taken into account when calculating the nerve damage compensation amount.
How Severe Are Nerve Damage Injuries?
As mentioned, it is difficult to judge how severe a nerve injury is without proper assessment by a medical professional. The solicitors we can provide to you have experience in arranging a proper and rigorous assessment from a medical professional with experience who can ensure that all the details of your injury are recorded, as well as giving a prognosis for recovery. These medical appointments can often be made at a convenient location near to you.
What Can You Include in Your Personal Injury Claim? What's Included In The The Average Payout For Nerve Damage In UK Claims
Included in your settlement is likely to be a variety of different types of compensation. The first, and usually most important is that award for the specific injuries and the effects that they've had on your life. These are called general damages. They are meant to ensure you are compensated for any pain/suffering you have borne.
As well as this, you will likely see some form of loss of earnings award. This may be for actual wages lost, but may also take into account the future earnings you might miss out on because you are either unable to return to work or that you will have to have more time off in the future.
In addition to this, the costs for medical assistance, whether prescriptions, mobility aids or treatments, as well as travel relating to your injuries should also be covered. Should you have required care at home due to injury, then care claims can be lodged by those offering your care.
Nerve Damage Compensation Calculator
You may be wondering 'what's the average payout for nerve damage?'. However, the average payout for nerve damage wouldn't reflect how much you could receive for your case. This is because all nerve damage settlement cases are different. Courts and lawyers assess each case individually. If successful, your nerve damage settlement would reflect the unique facts and circumstances surrounding your claim.
Assessing Nerve Damage Settlement Cases
When assessing your claim, courts and lawyers would look at how severe your injury was. They'd look at the short and long-term impact. Plus, they would assess the impact on your mental health and your finances.
Not knowing how much you could receive could be frustrating. While you wouldn't be able to get accurate guidance from a nerve damage compensation calculator, the table below might provide some useful information. It contains figures from the Judicial College Guidelines (JCG). This is a publication relevant to claims in England and Wales. It provides guidelines on payout amounts for various injuries. 
| Injury | Severity | Amount Awarded |
| --- | --- | --- |
| Post-Traumatic Stress Disorder | Severe | £59,860 to £100,670 |
| Post-Traumatic Stress Disorder | Moderately Severe | £23,150 to £59,860 |
| Post-Traumatic Stress Disorder | Moderate | £8,180 to £23,150 |
| Neck Injuries | Severe | In the region of £148,330 |
| Neck Injuries | Moderate | £24,990 to £38,490 |
| Back Injury | Severe | £91,090 to £160,980 |
| Back Injury | Moderate | £27,760 to £38,780 |
| Back Injury | Minor | Up to £2,450 |
This is, however, only rough guidance. Also, it only relates to general damages which compensates for the pain and suffering of your injuries.
If you would prefer to get more case-specific advice, why not call our team? We could provide you with further guidance and support over the phone. We could even assess your eligibility to claim. Then, if we determine you could have a valid claim, we could offer to provide you with a No Win No Fee solicitor.
No Win No Fee Nerve Injury Claims
Making compensation claims is expensive, isn't it? Well, actually, no. With Accident Claims no win no fee nerve damage compensation promise, you'll not put a penny forward to make your nerve injury compensation claim. Instead, your compensation will be used – only a percentage of it – to fund your legal fees. What if, for some reason, you don't win compensation? Then you won't have a bill to pay for legal success fees. To have this explained to you in more detail, all you have to do is call. We're happy to explain how it works and why it benefits you. But don't delay, there is a personal injury claims time limit for most cases.
Why Choose Accident Claims UK To Manage Your Nerve Damage Claim
If you were to ask one of our customers that we have helped why they chose Accident Claims to help them with their case, then you would likely receive an answer that included how much we care about the people we help. Otherwise, they may point out the fact that we have a lot of experience and were able to provide solid advice they could rely upon; in essence, they trusted that what we had to say was accurate, and this was found to be true.
Other reasons they might have chosen to work with us is because they wanted their nerve damage injury claim handled on a no win and no fee basis, and this is something we could help with. Whatever their reason for choosing us, it is more than likely that they would recommend us, because we helped them secure compensation for whatever accident or injury they'd suffered, and we did so with a minimum amount of disruption to them. We hope that you would say the same if you chose us to handle your nerve injury compensation claim with our medical negligence solicitors. In fact, we'd be almost certain you would.
Contact Accident Claims UK Today About Your Nerve Damage Injury
Claiming nerve damage compensation need not be stressful when you have Accident Claims in your corner. We will take the pain away from making your nerve injury compensation claim and help ensure you receive the maximum compensation possible for your nerve injury compensation claim. Dial 0800 073 8801 to be directly connected to someone that can help, or visit our contact us page for more information about ways you can get in touch – there's even a live chat facility if you prefer!
Whichever option you choose, selecting Accident Claims for your nerve damage compensation claim could be the best decision you make.
Useful Resources Relating To Nerve Damage Injury
This leads to the NHS's page on Peripheral Neuropathy. You may find this page of interest if you have been diagnosed with this.
This breaks down how the nervous system works and provide information that may be of interest.
Internal Guides Relating To The Average Payout For Nerve Damage In UK Claims
More information – Car Accident Claims
Accident claims can take many forms. To find out more about car accidents, and claiming if you aren't to blame, then read our guide.
Take a look at our guide to learn more about shoulder injury compensation claims.
Please take a look at our guide to learn more about hernia accident compensation claims.
If your loved one has been injured due to the fault of someone else, then please take a look at our guide to learn more.
Nerve Injury Compensation
FAQs
What are the symptoms of nerve damage?
The symptoms of nerve damage often include the following:
Sharp pain in the spinal cord
A buzzing sensation
Muscle weakness
Numbness or tingling
Does a damaged nerve ever heal?
A damaged nerve that is injured, but not cut is more likely to heal over time. However, nerves that have been completed severed will have a challenging time when it comes to treatment and recovery. In order to gauge the severity of nerve damage, it is always best to visit a doctor and seek medical attention.
Can an MRI show nerve damage?
An MRI can help detect any changes in the structure of bones, cartilage, herniated disc, pinched nerves, spinal tumours and much more. So, if you happen to have been injured or have suffered a nerve injury, visit a medical professional as soon as possible. After receiving medical guidance, you could then consider potentially filing nerve damage claims for a compensation award.
How do you prove nerve damage?
This happens through the likes of electromyography or nerve conduction velocity tests.
How long before nerve damage is permanent?
If the nerve damage doesn't heal within 12 weeks, then it could prove to be permanent.
Can you speed up nerve damage recovery?
This could be done with medical research as a guide to reduce the recovery process from months to weeks or even days.
Does exercise help nerve regeneration?
Exercise does have a positive impact when it comes to rebuilding the damaged nerves.
How do you fix nerve damage naturally?
Natural treatment options include vitamins, exercise, cayenne pepper, meditation and acupuncture.
Could my work cause a nerve damage injury?
We have already mentioned that it could be possible for an accident to cause a nerve damage injury at work because of an accident. However, your work itself could cause a nerve damage injury. Repetitive stress, for example, could damage the nerves. If you work in a job where there is a foreseeable risk of such an injury, your employer should take steps to lower that risk as much as could be considered reasonable. Should they fail to do so and you suffer such an injury, we could help you make a claim for work-related nerve damage compensation.
Our specialist solicitors, who are authorised and regulated by the Solicitors Regulation Authority, could take on all the legal legwork pertaining to your claim so that you could concentrate on your recovery after such an injury. We could do so on a No Win No Fee basis too, so you would not be asked to pay legal fees upfront to begin your damaged nerve injury claim.
Road traffic accident nerve damage injury – serious and slight injury statistics
During the period covered by the Department of Transport's road traffic accident casualty statistics for the year ending June 2021, the UK were, in part still working from home because of the coronavirus pandemic, and this meant that traffic was affected on the roads. However, a significant number of casualties were reported during this time. We have taken some of the statistics from the DfT report to illustrate the number of serious and slight injuries, which could include nerve damage, during this period.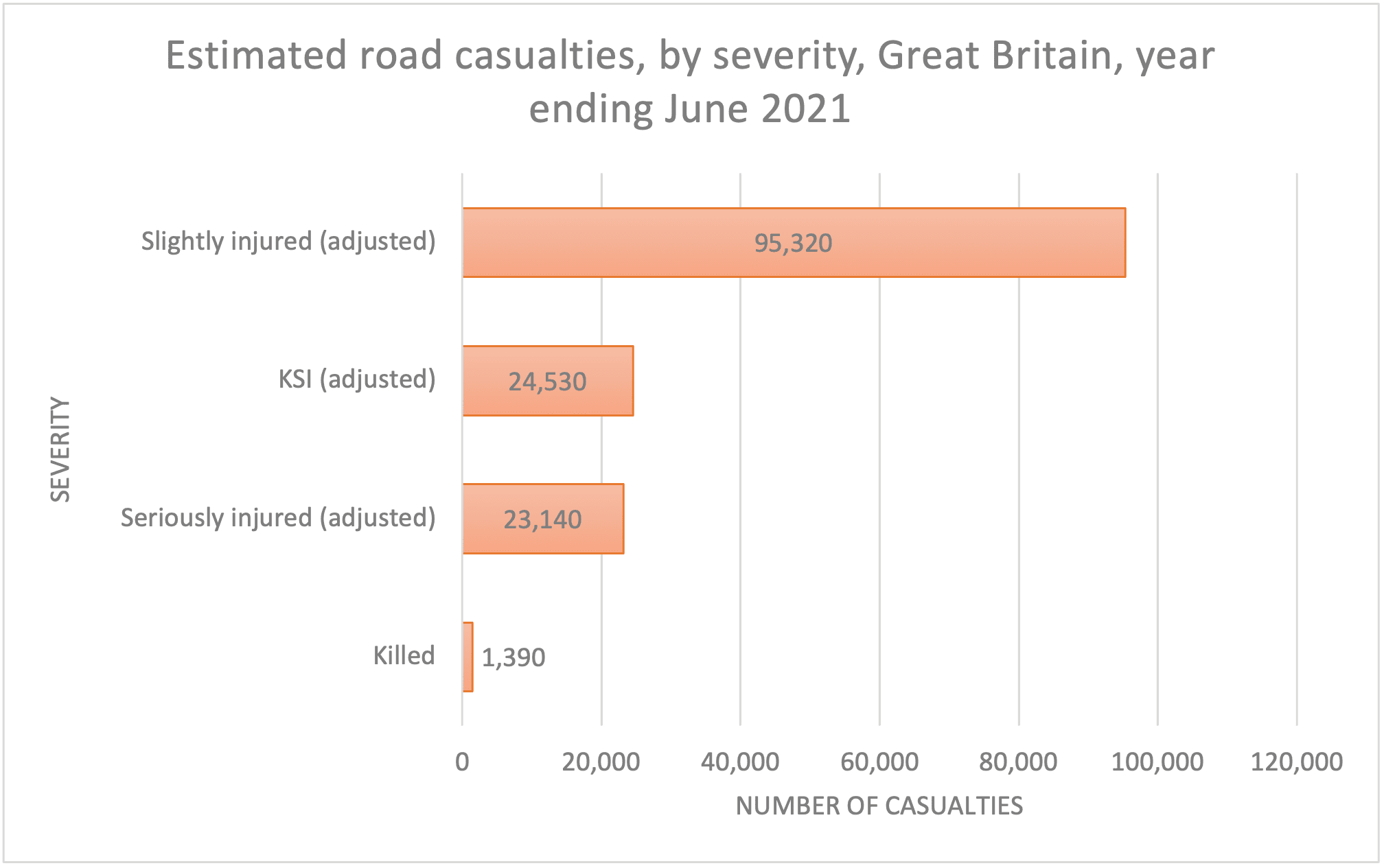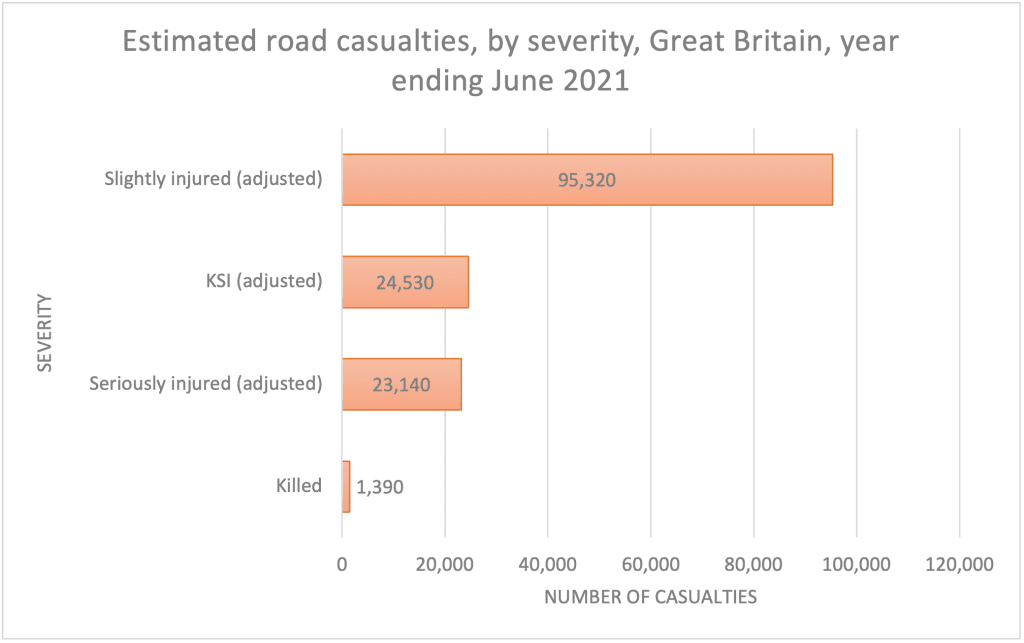 Can you claim compensation for nerve damage after a car accident?
You could claim compensation for nerve damage after a car accident if you could prove the following:
Someone else caused the accident by breaching their duty of care towards you as another road user

Your injuries were a direct result of the accident 
You would need to submit medical evidence pertaining to your nerve damage. As part of your claim, you'd need to undergo an independent medical assessment, not with your usual doctor. They would produce a report that could be used as evidence to strengthen your nerve damage claim by providing details on the current state of your condition.
What affects a compensation payout for nerve damage? What's the average payout for nerve damage in the UK
There are several factors that could affect a compensation payout for nerve damage. These could include:
The pain and suffering the damage to your nerves causes you

How much it affects your quality of life (loss of amenity)

The financial impact of the nerve damage (does it affect your ability to work? Have you lost income because of it, for example)
We could speak to you about helping you claim a compensation payout for nerve damage that includes everything you are eligible for. Please call our team. Then, we'll assess your case to see what nerve damage compensation you could be eligible for.
Can I get a free eligibility check on my nerve damage compensation claim to give me more insight into the average payout for nerve damage in the UK?
Yes, we can provide a free eligibility check on your nerve damage compensation claim. We would need to ask you some questions about your case, so it would be useful if you could have all the information you have on what's happened to hand when you call us.
Where can I find a nerve damage compensation calculator for 2022 claims?
We have given some guidance in our compensation table that could act as a good alternative to a nerve damage compensation calculator for 2022 claims. The figures we have used in the table come from the latest edition of the Judicial College Guidelines. This was released in April 2022. It gives guideline brackets of compensation for different injuries. They only relate to the general damages head of claim which covers the pain and suffering you have experienced as a result of your injuries.
If you cannot see your injury in the table please do not hesitate to call our team today. We could offer further guidance over the phone. 
Could loss of earnings be included in a settlement for nerve damage in the hand?
If you have lost out on income due to your injury, you may wonder if you could claim for loss of earnings. If you have been unable to work due to a nerve damage injury, loss of earnings could be included in a settlement for nerve damage in the hand. 
What is the average payout for nerve damage after a car accident?
As we have mentioned, knowing the average payout for nerve damage after a car accident would not necessarily give you any insight into your own settlement. Each case is assessed on it's own individual circumstances so the amount you could receive may differ depending on factors unique to your case. If you'd like to get an idea of how much compensation you could receive for your claim, why not get in touch? We'd be happy to talk to you about your claim. (264)
Thank you for reading our nerve injury compensation claims guide. Now you'll have insight into claiming for a nerve damage injury and you'll know why knowing the average payout for nerve damage in UK would not necessarily give you an idea of how much you could receive.