By Jo Jeffries. Last Updated 20th July 2022. Welcome to this case study covering personal injury claims payouts for a little toe fracture. In this case study, we take a look at a broken toe settlement claim for a broken little toe, while overseas. The middle-aged claimant was on holiday in Tunisia when the accident took place. He was in his room, and opened the wardrobe door to access his clothing. The door came off the hinges, and landed on his foot. This resulted in a little toe fracture. He claimed for the fractured little toe (sometimes called a fractured pinky toe) and received a compensation settlement for his broken small toe.
Claiming for the long term effects of a fractured little toe
The injury once treated, gave the claimant serious problems for several months, and pain for some 18 months. On returning home to the UK after his holiday, the victim decided to make a toe injury compensation claim. He contacted a solicitor to process the claim on his behalf. The claim was made against the hotel owner in Tunisia, stating that they had failed to provide a safe environment for their guests.
The defendant refused to admit liability. However, they did offer an out of court settlement of £4,500, which the claimant accepted.
In this case study, we will look at how the injury happened and the effect it had on the victim. We also cover how the claim was made, and also the compensation settlement itself, why it was paid and what it covered.
Statistics For Accidents And Injuries Whilst On Holiday
A surprisingly large number of UK residents are injured while overseas each year. The table above, shows which countries people are most likely to get into trouble in.
Between 2013 and 2014, over 3,000 UK residents were hospitalised while they were on holiday. On top of this, almost 4,000 UK residents were killed overseas in the same period. And of course, there were also a large number of injuries that did not require hospitalisation.
What Foot Injuries Did The Claimant Suffer On Holiday
A broken toe can be a serious and painful injury. Even a little toe injury. The average compensation for a broken toe is therefore quite high. A broken toe settlement has to take into account not just the pain and suffering of the injury, but also in some cases, loss of mobility. For example, when a person breaks one of their big toes, they will have a real problem walking until the pain dies down. This is because the big toe is used to help a person balance when they stand or walk.
Symptoms of a broken or fractured toe can include severe pain, swelling, bruising and difficulty in walking. In very bad cases, the toe may be pointing out at a strange angle due to being broken and pushed out of place.
Treatment for a broken toe is generally quite basic. Once the toe has been reset and the victim has been given pain medication, the damaged toe is strapped to the good toe next to it. In the case of multiple toes being broken, a cast might be used.
In this case, the victim was treated initially at the hotel where the accident happened. His foot was bandaged after iodine was applied. However, after this basic treatment the foot was heavily bruised and very painful.
The Holiday Accident Toe Fracture Case
On returning to the UK, the victim visited the hospital, and the injury was diagnosed as a crush related break to the little toe. For seven months after the event, the claimant had difficulty walking, bending down and kneeling. They had to miss a week off work, and they were in pain for a total of a year and a half. Additionally, they were found to have been suffering post-traumatic stress disorder, which lasted for 24 days after the accident. The victim decided to make a broken toe claim, and engaged a solicitor to pursue a broken toe insurance settlement on their behalf.
The solicitor pursued a claim for the pain and suffering of the injury, as well as the fact that the claimant had not been able to enjoy his holiday following the accident. The defendant refused to accept liability for the accident, but did offer an out of court settlement of £4,500. The claimant accepted this.
Settlement And Conclusion Of The Claim
The personal injury solicitor who was processing the claim, managed to negotiate for an out of court personal injury compensation settlement of £4,500. This compensation was paid for a number of reasons, and this included:
The pain and suffering of the accident and the injury it caused
The fact that the claimant had not been able to enjoy their holiday after the injury
For the 18 months the claimant spent in paid, during the recovery period from his injury.
It is unclear whether the claimant lost out on pay by missing a week from work when they came home from Tunisia, due to the injury or not. If they had, then it is likely that the compensation settlement also contained a provision for this loss of earnings.
This is a good example of how a claim should proceed. Even though the defendant denied liability, it was obvious that it was a faulty wardrobe in their hotel which had caused the injury. Therefore, had the claim gone to court, it is highly likely that the defendant would have lost the claim anyway. Instead, they offered a fair out of court settlement of £4,500 which the claimant found acceptable.
Compensation Amounts for a Little Toe Fracture
You may be wanting more information about the amount of compensation you could receive from a little toe fracture. Firstly, you should know that to receive any compensation from a personal injury claim, you would need to prove that third-party negligence led to your injury.
The primary head of claim is general damages. This relates to the suffering and pain of the injury itself as well as any loss of amenity caused. The amount you receive will depend on factors including the nature of the injury and the length of time it will take for the injury to heal.
You can also claim for multiple injuries if they were the result of the same accident. For example, you could suffer a broken small toe as well as a foot fracture. The Judicial College guidelines (JCG) can provide you with a clearer idea of your potential compensation amount.
Please see their figures below – these are from the latest guidelines, published in April 2022. These figures are not guaranteed should your claim be successful, as every claim is unique.
| Injury Type | Category of Injury | Compensation Bracket | Description |
| --- | --- | --- | --- |
| Toe Injuries | (a) | £36,520 to £56,080 | Amputation of all toes – aspects that can affect the compensation include whether the amputation was traumatic or surgical. |
| Toe Injuries | (b) | In the region of £31,310 | A great toe amputation. |
| Toe Injuries | (c) - Severe | £13,740 to £21,070 | Crush injuries of a severe nature leading to amputation of one or two toes (other than the great toe). |
| Toe Injuries | (d) – Serious | £9,600 to £13,740 | Serious great toe injuries or multiple fractures to two or more toes. |
| Toe Injuries | (e) – Moderate | Up to £9,600 | This bracket could include a pre-existing condition being exacerbated or relatively straightforward toe fractures. |
| Foot Injuries | (e) – Serious | £24,990 to £39,200 | Injuries in this bracket can lead to continuing pain from arthritis that is traumatic in nature. |
| Foot Injuries | (f) – Moderate | £13,740 to £24,990 | Displaced metatarsal fractures that can lead to continuing symptoms and a deformity of a permanent nature. |
| General Psychiatric Damage | (c) - Moderate | £5,860 to £19,070 | Prognosis will be good and a marked improvement will have been made by trial. |
| General Psychiatric Damage | (d) – Less Severe | £1,540 to £5,860 | The period of time that the disability affects the claimant will help determine the compensation amount as well as other factors. |
| PTSD | (c) – Moderate | £8,180 to £23,150 | Any continuing effects will not be particularly disabling with a mostly full recovery having taken place. |
I've Suffered A Little Toe Fracture. What Can I Claim?
You can also claim for special damages, which account for the financial losses caused by the injury. You would need evidence of the financial losses you've suffered. Evidence that can potentially help you includes invoices, bank statements and receipts as well as payslips.
Potential financial losses you may be able to claim for after a broken small toe injury include:
Loss of earnings
Travel costs
Home adjustments
Medical expenses
If you want to know more about your claim eligibility or would like a compensation estimate specifically relating to your injury, please contact us for free legal advice using the above details.
No Win No Fee Little Toe Fractures
If you need to make a compensation claim for an injury you sustained on holiday, Accident Claims UK can help you. We offer our national No Win No Fee claims service as a simple way to process a claim, to people all across the UK. We would act as your No Win No Fee solicitors while processing a personal injury claim. This means you would have nothing to pay, unless we win compensation for you.
Understanding how this kind of Conditional Fee Agreement (CFA) works is very simple. Firstly, when you come to us and ask us to handle your claim for you, we don't expect you to pay anything at all. Then, as we are processing your claim, we still won't ask you to pay any of our fees, even if this stage of the claim takes months. If, for some reason, we are unable to claim any compensation for you, then we wipe the slate clean, and you walk away paying nothing. When we do win you a compensation payment though, this is when we will take our fee. It will be deducted automatically from the compensation payment we received on your behalf, and we will then pass what is left to you.
There really is no financial risk at all when you let Accident Claims UK process your claim, and there really is nothing to pay until such time as you have actually received a compensation payment. Call us on the number below, and we will explain how our claims service works, and answer any questions you may have.
Speak To The Accident Claims UK Team About Personal Injury Claims Payouts For A Little Toe Fracture
Accident Claims UK is experienced in winning foot injury compensation payouts on behalf of our clients. If you believe that you have suffered an injury that could be the basis of a toe injury compensation claim, then we can help. If you would like to know how to proceed with a claim, then call us on 0800 073 8801 right now. Our team is waiting to take your call, and will explain how our claims service works, and answer any questions you might have. We will explain everything you need to know using plain and simple English, without confusing you with legalese. Once we have explained everything to you, we will talk you through our new claims process, so we can get started on your claim as soon as possible.
Could I receive personal injury claims payouts for a little toe fracture in a car accident?
Unfortunately, despite cars being made with very many safety features, and drivers being reminded to take care on the roads, accidents can and do still happen. According to Department for Transport statistics, in 2020, there were over 115,000 people who suffered an injury of some sort on UK roads. It isn't just motorists that suffer injuries, however. Motorcyclists, pedal cyclists, passengers and pedestrians could also suffer such injuries. You can see from the statistics below the types of road users most commonly injured in 2020. Please note that during this time, there were four months in which the UK had travel restrictions due to national lockdowns. This may have had a significant impact on the figures from this period.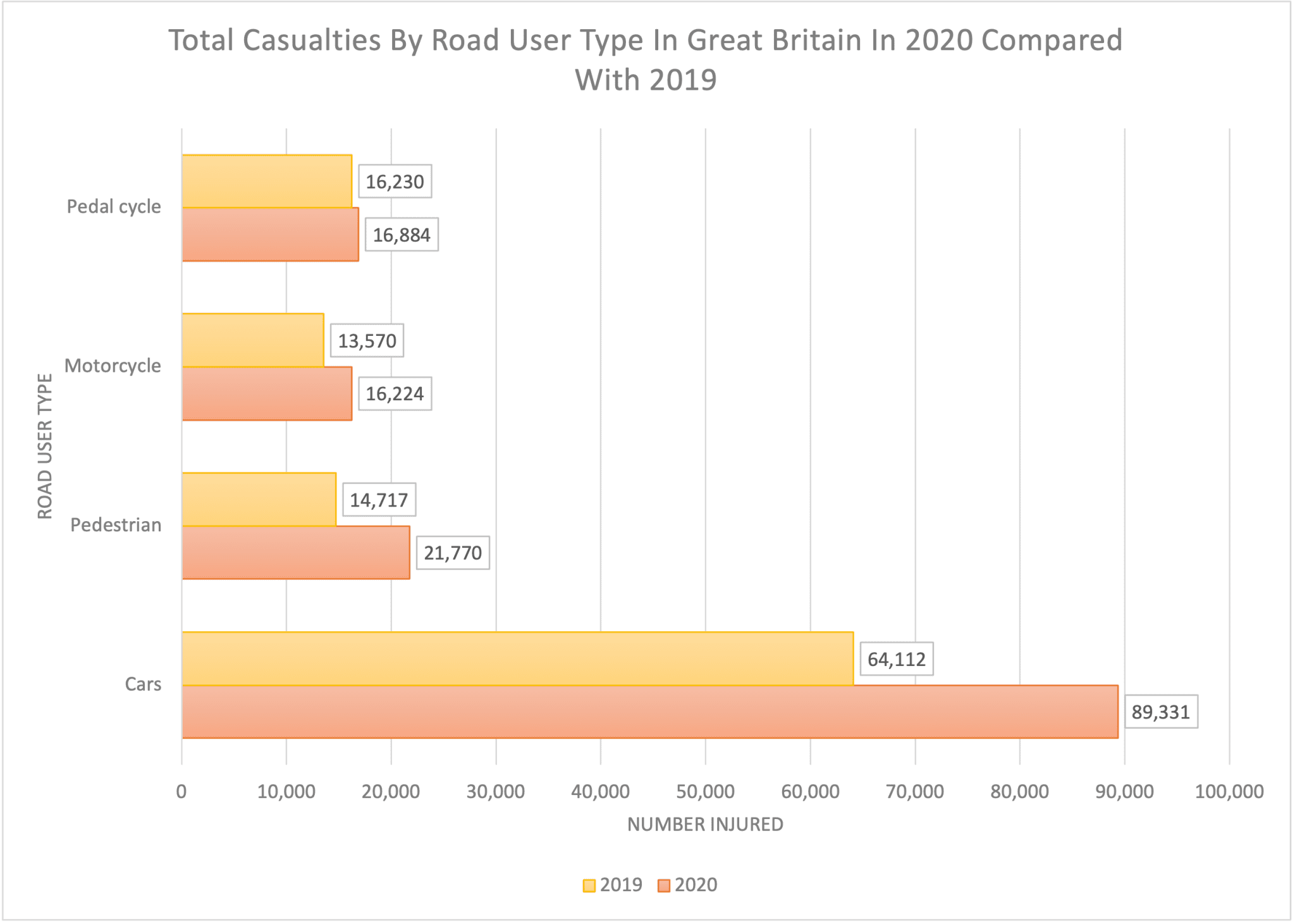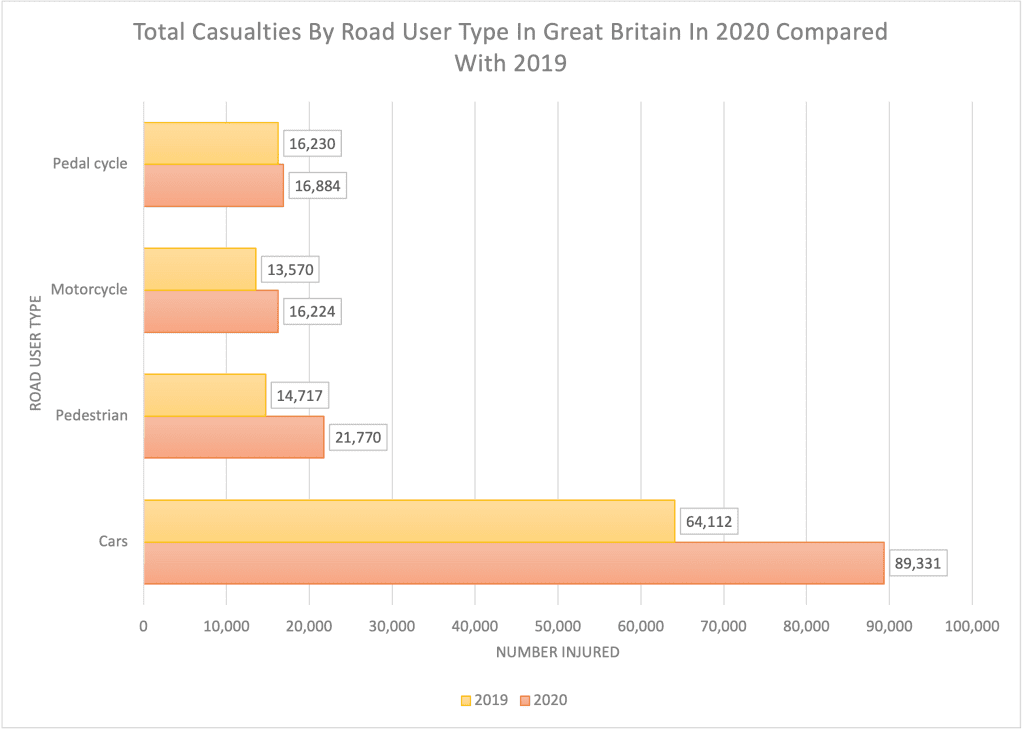 How do I claim personal injury claims payouts for a little toe fracture in a car accident?
If you are looking to claim broken little toe compensation for a road traffic accident, we could help you. You would need to be able to evidence that the accident that you were injured in was not your fault. You would need to demonstrate that the accident had caused your injury as well. This would require medical evidence. However, the medical evidence you would need to submit as part of your claim would not usually be your GP's records or records from a minor injury unit you visited to get treatment for your injury, for example.
You would need to have an independent medical assessment, which could be arranged for you as part of your personal injury claim. The independent expert you see would examine you and ask you some questions about the nature and severity of your injury. They could then complete a medical report which could be used in evidence. Lawyers and courts could examine this evidence and use it to arrive at a compensation settlement for your case.
How can I maximise personal injury claims payouts for a little toe fracture?
Choosing to work with a solicitor that is authorised and regulated by the Solicitors Regulation Authority could significantly impact your compensation settlement amounts. This is because a lawyer could have the knowledge and experience to compile a strong case for compensation against a liable party. They could attempt to negotiate for the maximum settlement possible for your claim. In addition to this, if your claim was refused or disputed, this could lead to your case needing to be heard in the courts. Your lawyer could help support you throughout the court process to claim the compensation settlement you deserve for your injury.
Do I need to work with a local solicitor on my claim?
Due to technological advances, many claims could be handled digitally and by post. Therefore, there may be no need for you to ever meet your lawyer face to face. This could mean you have the choice of any law firm or solicitor in the UK when it comes to who handles your claim for you.
How is a broken toe settlement calculated?
Every case is different, and therefore every broken toe settlement would depend on the specific facts and circumstances of the case. One fractured little toe could heal quickly and cause little impact on the person's day to day life. In another case, a fractured pinky toe could fail to heal properly, developing infection and leading to the loss of the toe. Furthermore, a broken small toe could have a different impact on somebody who works in an office than someone who plays professional sports, for example.
The financial implications of such an injury could also differ widely between cases. For example, if you worked in an office, you still may be able to go to work with a broken pinky toe. However, if you performed strenuous activities using your feet while at work, you might have to take time off to recover. This could lead to a loss of income.
All these factors would be considered when determining how much a  broken toe settlement should be for your unique case.  If you'd like to talk to us about what damages you could claim, please call the team today. 
How long would it take to receive compensation for a fractured pinky toe?
The time it takes to receive compensation could, again, depend on the case. If the liable party immediately accepts that they are liable and offers compensation, your claim could be resolved quickly. However, if they argue against their liability or dispute how serious your fractured little toe injury is, this could mean your claim takes longer.
Useful Links Relating To Personal Injury Claims Payouts For A Little Toe Fracture
The National Health Services has published some detailed information about broken toe injuries, the symptoms and treatment, at this link:
NHS information on fractured to injuries
The UK Government has some good information about getting assistance while you are overseas, published on the website at this link:
UK Government information on getting assistance overseas
At the link below, you will find a detailed guide to the legal process of claiming compensation for a foot injury:
A guide to claiming for a foot injury
At the link below, you will find a detailed guide to the legal process of claiming compensation for an amputated toe:
A guide to claiming for an amputated toe
Thank you for reading this case study on personal injury claims payouts for a little toe fracture.