By Joanne Jeffries. Last Updated 26th October 2021. Welcome to our guide on tinnitus injury accident claims. A lot of people experience tinnitus at some point in their lives. Listening to loud music at a concert or in a club on a night out, for example, can often result in a high pitched or buzzing noise in the ears afterwards. This is known as tinnitus but is usually only temporary only lasting for a short period of time, and hearing returns to normal 24-36 hours after exposure to loud noise.
However, when someone is exposed to loud noises frequently over time, such as at work in a persistently noisy environment, this can lead to permanent hearing damage resulting in persistent tinnitus symptoms.
If you are suffering from tinnitus and the reason for it occurring is not your fault, you may be eligible to make a No Win No Fee tinnitus claim against a negligent third party. Compensation for tinnitus may be sought from those responsible for causing your hearing problem, such as your employer if liability can be proved for tinnitus accident at work claims. Alternatively, you could claim tinnitus after a car accident compensation or even tinnitus after a head injury from a fall on a wet floor that wasn't your fault.
Accident Claims UK is a team of personal injury claims solicitors with a wealth of experience and can help you make successful tinnitus injury accident claims. Just call us on 0800 073 8801 for an informal, no-obligation chat.
Select a Section
A Guide To Tinnitus Claims
Welcome to our tinnitus injury accident claims guide.
The British tinnitus Association states that around 10% of adults will be affected by tinnitus at some point in their lives. tinnitus is a noise similar to a buzzing, hissing, ringing or whistling sound in the ear that can sometimes be ongoing or intermittent. tinnitus is noticed more when background noise is low as there are fewer sounds to drown out the tinnitus or distract from the tinnitus sound. Occasionally, what's known as pulsatile (or heart tinnitus) could occur. This is when the sound of the tinnitus is in tune with your heartbeat.
Although tinnitus can be caused by ear infections or blockages in the ear, it is primarily caused by sudden loud noise or, more commonly continuous exposure to loud noises such as machinery at work or loud music at a concert or other venue.
If you have developed tinnitus and it is due to the fault of someone else, you may be entitled to make a tinnitus claim. Accident Claims UK have put together this guide to give you some help and advice regarding tinnitus accident compensation claims.
Please read through the guide for further information and if you wish to make tinnitus injury accident claims, then contact us, and we will connect you to an experienced personal injury solicitor who can not only advise you on your individual circumstances and the claiming process but can also launch your claim on your behalf and see it through to the end to give you the best possible chance of your tinnitus settlement amounts being the maximum possible.
What Symptoms Should I Look For?
Tinnitus is a condition that can vary in its symptoms but the most common are ringing or buzzing in the ear that may be either continuous or intermittent. In most cases, it is only the sufferer who can hear the noise, but in some rare cases, the examining doctor may also hear it through their stethoscope when put to the ear. This is what is known as objective tinnitus.
If you are experiencing any of the symptoms mentioned below, it is a good idea to get checked by your GP for any other underlying reasons why you can hear the noise.
Tinnitus that may be accompanied by dizziness
If there is any leakage from the ear or the tinnitus is painful in any way
Other health problems such as high blood pressure, or thyroid conditions, can also cause similar symptoms to tinnitus, so it is always a good idea to see your GP for an examination to rule these problems out. This can also help you evidence any future tinnitus injury accident claims you wish to make by logging your symptoms on your medical records.
Am I Eligible To Make A Compensation Claim?
In this section, we'll look at People who suffer from tinnitus may find that they suffer from sleep loss due to the constant noises because of tinnitus. They may also find that sometimes they can become oversensitive to other noises, eventually leading to a complete loss of hearing. Either being exposed to loud noises regularly without the appropriate ear protection or being subjected to acoustic shock may mean that the sufferer is eligible to claim compensation for tinnitus from a negligent third party. As we continue, we'll consider industrial deafness, tinnitus after a car accident compensation claims and other similar cases.
In many industries such as agriculture, construction, building, farming, manufacturing, engineering, and also some areas in the service industry, the level of noise is often high and continuous. These industries are also prone to sudden loud noises or acoustic shock.
As part of the Health and Safety at Work etc. Act 1974, appropriate ear protection should be provided to protect against any hearing damage. If you are suffering from tinnitus due to the level of noise in your workplace or because of a lack of personal ear protection being supplied, you may be able to make tinnitus injury accident claims. Call Accident Claims UK today and speak to one of our solicitors to discuss making your personal injury claim.
How Much Compensation Could I Get For Industrial Deafness?
One of the most common causes of tinnitus is being exposed to excessive noise whilst at work. Constant exposure to noise within the workplace is unsurprisingly also one of the leading causes of industrial deafness. Very often, people will get a few symptoms of hearing loss alongside their tinnitus. Most people will experience a change in their hearing when they have been somewhere noisy such as a music venue, or if their workplace is very noisy occasionally. However, when they come away from the noise, they find that they have a ringing in their ears, but this is only temporary and goes away after a short while.
Industrial deafness, on the other hand, is when employees have been exposed to loud noises constantly and a permanent change to their hearing occurs. Gradually they may find that they cannot hear every word spoken when having a conversation, particularly if there is a lot of background noise, and the ringing noise very often becomes more prominent and particularly noticeable when it's quiet. This then can be the beginning of tinnitus developing and could mean you have grounds to make tinnitus injury accident claims.
According to the Health and Safety Executive statistics, around 18,000 people are diagnosed with industrial deafness or noise-induced hearing loss every year in the UK. People working in manufacturing, construction and energy production industries tend to be more at risk and should be supplied with the appropriate personal protective equipment (PPE) by their employer so that they can protect their hearing whilst at work.
Failure to provide the correct protective equipment will mean that the employer is in breach of their duty of care and can be sued for compensation.
If you have industrial deafness due to the negligence of your employer, then call us at Accident Claims UK and speak to one of our highly experienced personal injury claim solicitors. They will work with you to build a strong case to get the compensation you deserve.
Tinnitus Car Accident Settlements
Tinnitus injury accident claims can also be made if you have developed tinnitus due to an accident whilst in a car. Although tinnitus is more commonly caused by being exposed to loud noises regularly, it can also be caused by sudden loud noises. In a car accident, when an airbag deploys, it creates a very loud sudden noise that can cause injury to the ears, such as ruptured eardrums and long-term or permanent tinnitus. Whiplash tinnitus can also be caused by the impact of the head making contact with the airbag violently on collision.
Please call Accident Claims UK to discuss tinnitus after a car accident compensation claims today. We can then help you successfully get the maximum amount of compensation for tinnitus after a car accident.
How To Establish Liability For Your Tinnitus Accident
Before any tinnitus injury accident claims can be successful, liability needs to be proven. If your tinnitus claim is because of being exposed to constant loud noises at work and your employer has failed to provide you with the appropriate personal protective equipment to protect your hearing, then they could be liable because of their negligence.
An employer's duty of care to their employees, according to the Health and Safety at Work etc. Act 1974, and the Safety at Work Regulations 1999, is quite clear and requires them to provide a safe working environment and to provide any necessary protective equipment to reduce any likelihood of injury.
In the Control of Noise at Work Regulations Act 2005, the legislation is very specific in the protection against tinnitus and hearing loss. The Health and Safety Executive requires that employers do the following:
Full risk assessments regarding noise levels are to be carried out regularly, and any employees at greater risk of hearing damage should be identified
Once noise levels are found, specific safety measures should be put in place to ensure the noise is not exceeding 85 decibels. Quieter machinery could be used, processes performed differently to reduce noise levels and noise absorbing barriers could be used. Certainly, all employees should be provided with the appropriate personal protective equipment specifically to protect hearing
With safety measures in place and equipment provided, staff should receive up-to-date training regarding the risks and effects of tinnitus and hearing loss and also be trained on the use of the equipment and ways to reduce their chances of developing tinnitus
Regular healthcare checks should also occur to monitor employees at risk of hearing damage and tinnitus
If you have developed tinnitus or hearing loss, and it is due to the negligence of your employer, then you may be entitled to make a tinnitus claim.
What Steps Should You Take After A Tinnitus Accident?
There are several steps you should take before launching your tinnitus injury accident claims, such as:
Firstly, have a look at your employment history. If you work or have previously worked in a noisy workplace, then you may be eligible to make a tinnitus accident compensation claim against the employer
It is also a good idea to keep a diary of your tinnitus symptoms, such as when did it start, how long and how often do you experience it etc. This will not only help your Doctor to make a formal diagnosis but can also help your personal injury lawyer build your claims case.
Obviously, you will need to make an appointment with your GP. After discussing your tinnitus symptoms and any hearing loss, they should be able to refer you to an audiologist who can measure the extent of the problem. The audiologist may then refer you to an Ear, Nose and Thorat (ENT) Doctor who will be able to make an official diagnosis of tinnitus and/or hearing loss if this is the case.
Now is the time to contact a personal injury solicitor who specialises in tinnitus and hearing loss compensation claims. Although you can claim by yourself, having a professional with plenty of experience by your side can dramatically increase your chances of a successful claim and get you a better result than the average payout for tinnitus.
It is best to start making your claim as soon as possible as there is a personal injury claims time limit of three years from the first occurrence of your suspected tinnitus. Although you may have possibly left the workplace that you believe is the source of your hearing problem a few years ago, it is understood that symptoms may not appear straight away and take a few years to be noticeable. Still, as long as you launch your claim within three years of the first symptoms, then it is acceptable.
How To Start Your Claim For Tinnitus Compensation
Are you wondering how to begin making tinnitus injury accident claims for yourself?
Contacting a reputable personal injury claims firm such as Accident Claims UK is the best way to begin a successful tinnitus accident claim. We offer a free consultation to discuss the details of your claim, such as your symptoms of tinnitus, their severity, and any supporting evidence. You can also use this time to ask lots of questions if you wish regarding making your claim.
We may also offer you a free local independent medical professional who would assess your hearing problem if needs be. Once we have all the details, with your permission, we can then take the lead on your claims process.
Tinnitus Compensation – Updated October 2021
When making a tinnitus accident claim, there are different types of damages that you should include in your claim.
Compensation usually consists of general damages and special damages:
General Damages – these are for the physical and psychological aspects of your injury, such as the severity of the injury, the pain and suffering you have endured and also any mental anguish and anxiety that the injury may have caused
Special Damages – these cover the financial aspects of your injury. For example, any extra costs and expenses such as medical, prescription, counselling costs and travel expenses etc., that are a direct result of the injury are included here. These cover any expenses incurred due to having to make home or vehicle adaptions to suit your needs after sustaining your injury. Any wages or benefits lost will be included in this section of your claim. As long as any extra expenses or any financial losses are directly due to your injury, you can include them in your claim.
Ultimately, settlement amounts for tinnitus injury accident claims will vary from person to person as everyone is affected differently. Still, generally, those whose injury is more severe will receive a higher amount of compensation for tinnitus.
The table below shows the average payout for tinnitus and gives you an idea of what you could be awarded should your claim be successful.
| Reason for Compensation | Average Award Amount | Comments |
| --- | --- | --- |
| Mild Tinnitus with some noise induced hearing loss (NIHL) | £11,820 to £13,970 | Slight hearing loss in one or both ears accompanied by Tinnitus. |
| Moderate Tinnitus and NIHL, or moderate to severe tinnitus or NIHL on its own | £13,970 to £27,890 | One or both ears affected. |
| Severe Tinnitus and NIHL | £27,890 to £42,730 | Both ears permanently affected. |
| Total loss of hearing in one ear | £29,380 to £42,730 | Permanent damage and total loss of hearing in one ear. Tinnitus, headaches and dizziness may occur. |
| Total deafness | £85,170 to £102,890 | The lower amount will be given for deafness alone with no Tinnitus or speech problems, the higher amount will be for a severe combination of these problems. |
| Slight and occasional Tinnitus and a little NIHL | £6,910 to £11,820 | Intermittent Tinnitus and slight NIHL. |
| Slight Tinnitus or NIHL | Up to £6,580 | Either Tinnitus or NIHL but not both, in one or both ears. |
As already mentioned, the award amount may be different for each case. It will depend greatly on the severity of the injury, any long-term effects and the impact it has had on the claimant's life and well being. If you have any questions, please contact us at Accident Claims UK, and we will do our best to help.
No Win No Fee Tinnitus Accident Settlements
To get the best possible outcome from tinnitus injury accident claims, seeking legal help and advice and representation is best. However, hiring a pay by the hour solicitor would require you to make upfront and ongoing legal fees throughout the entire length of your case. Bearing in mind that most compensation claims take a few months to complete, often longer, this can work out extremely costly, and with no guarantee of success at the end, you could find yourself in a worst financial position than when you first started your claim.
Purely due to this fact, many people shy away from claiming the compensation that they are entitled to and therefore do not get any justice for their injury, pain and suffering.
At Accident Claims UK, we offer a No Win No Fee service, otherwise known as a Conditional Fee Agreement. This agreement sets out exactly what we intend to do for you on your behalf and how we will be paid. There are no upfront or ongoing costs at all. If, in the unlikely event your claim is unsuccessful, you will not be liable to pay any of our legal costs at all. If your claim is successful, we then claim our legal fees as part of your compensation award.
In short, our No Win No Fee service gives you the chance to make your tinnitus injury accident claims regardless of your current financial situation, and there is absolutely no financial gamble.
Why Use Us To Make Your Claim?
Our solicitors at Accident Claims UK have all been specialising in the personal injury claims industry for several years. They have the necessary legal experience in dealing with tinnitus accident claims. We have a fantastic track record for making successful claims, often securing much higher than the moderate tinnitus compensation amounts.
We work tirelessly to build a strong case for our clients and ensure that everything that should be included in the claim is without fail. We will work hard behind the scenes to gather evidence to support your claim and keep you informed every step of the way.
At Accident Claims UK, we really care about our clients and strive to get them the best compensation payout award that we can to concentrate on their recovery.
Using a personal injury solicitor to claim tinnitus after a car accident compensation
Like other injuries caused by car accidents such as whiplash, tinnitus has no physical symptoms. As a result, proving the extent of your injuries can be difficult. The problem with that is that any compensation paid requires evidence that proves the extent of your suffering. If you don't have such evidence, you could lose your compensation claim or not be paid the correct amount. For that reason, we'd suggest taking on a specialist personal injury solicitor to help with your case.
Our solicitors us a No Win No Fee agreement to fund any case they take on. That means you won't need to worry about losing money if your claim doesn't work out. When claiming tinnitus after a car accident compensation they will:
Collect evidence to try and prove liability for your injuries.
Arrange for a specialist to assess you locally.
Send your claim to the defendant.
Manage all communication with the defendant's insurers to stop you from having to speak to them.
Deal with any queries or objections raised.
Let you know about any progress in your case.
Try to make sure that any compensation awarded is at the highest possible level.
We would be happy to talk with you about claiming tinnitus after a car accident compensation today. Why not call to find out more about how we could help you?
Talk To Our Team Today About Tinnitus Injury Accident Claims
If you'd like some help and guidance about making tinnitus injury accident claims, call Accident Claims UK on 0800 073 8801. Our professional team of personal injury claims specialists will be on hand to answer any questions you may have. If you'd like us to, we can get to work on your claim today to get you the compensation you deserve as soon as possible.
Helpful Links Relating To Tinnitus Injury Accident Claims
Claiming accident at work compensation
Accident Claims UK guide to claiming compensation should you have suffered your tinnitus injury at work.
What to do after a car accident
Our internal page focuses on what you should do if you're involved in a car accident.
We also discuss how the claims process goes if you're a passenger that was the victim of a car accident.
Tinnitus information from the NHS
This NHS site gives lots of information about the symptoms, causes and treatments of tinnitus.
The Health and Safety Executive site details research into tinnitus, noise-induced hearing loss and their connection to noise exposure whilst at work.
This is the government's guide of the legislation set out in The Management of Health and Safety at Work Regulations 1999 that will detail the employers and employees own responsibilities within the workplace.
Tinnitus Injury Accident Claims FAQs
Could you claim any benefits for tinnitus?
Tinnitus requires more precise evidence to prove that the condition is present and impacts your day-to-day life. For that reason, it can be problematic to receive disability payments for tinnitus. It isn't impossible for this to happen, but it's also uncommon.
Might Tinnitus be caused by a car accident?
Tinnitus could stem from a car accident. And if it is, then it must receive medical treatment ASAP. That's partly because the wreckage from a car crash could cause significant injuries. A personal injury lawyer could handle your claim in this scenario.
Can whiplash cause Tinnitus?
Tinnitus could indeed be the result of whiplash. Whiplash itself is a neck injury that causes nerve damage, stemming from a sudden jerking of the head. And the impact of this could pave the way for you to suffer tinnitus.
Could Tinnitus be caused by trauma?
There is a version of tinnitus which is referred to as post-traumatic tinnitus. As the name suggests, this particular type of condition comes in the aftermath of major trauma. This could include a head injury, a neck injury, a concussion or even brain damage.
How can I determine negligence?
Typically, you can follow these 3-step criteria to see whether you could have grounds to make a claim for negligence:
A third party had a legal duty of care that they owed you
That third party failed to uphold their duty of care
You suffered as a result of this failure
How much compensation could I be entitled to claim?
In order to estimate how much your claim could be worth, we would need to look into the circumstances of your case. This is because every case is valued according to the extent that each claimant has suffered, which differs case-to-case. Please get in touch today for your free consultation.
What damages could I be compensated for?
General damages can be claimed to cover any physical injuries or psychological damages suffered as a result of the accident in question. In addition, special damages can be claimed to cover any subsequent financial losses experienced, which could include anything from loss of earnings to potential future loss.
How can I contact Accident Claims?
To discuss tinnitus compensation claims, you can either call the number at the top of this page to speak with one of our specialist advisors or use the chat box appearing on your screen to get a live response from a member of our team. For alternative options on how to get in touch, please scroll up to our contact section.
Could I make tinnitus injury accident claims if I've suffered medical negligence?
Unfortunately, it could be possible for you to suffer tinnitus if a medical procedure goes wrong. Or, if a medical condition goes on diagnosed it could lead to tinnitus developing. If you have been wronged by a medical professional and it has led you to suffer undue harm, you could have a claim for compensation. You would need to be able to prove that but for the negligence of the medical professional, you would not have suffered as you did. If you could do this, then he could have a claim for compensation. Unfortunately, sometimes in medicine things do go wrong, and people are left with injuries they should not have received. If this is the case with you, you might find taking on the NHS or a private practice rather daunting. Our specialist solicitors, authorised and regulated by the Solicitors Regulation Authority would have no problem taking on such cases on your behalf. They could fight for the compensation that you deserve.
How common is clinical negligence leading to tinnitus injury accident claims?
We do not have figures relating to how many people could have suffered tinnitus because of clinical negligence. However, we do have some figures relating to the amount that the NHS has paid out in clinical negligence payments in the year 2020- 2021. The graphic below shows figures taken from NHS Resolution regarding this. If you would like to make a clinical negligence claim with us, please do not hesitate to get in touch with our team for help, support and legal advice.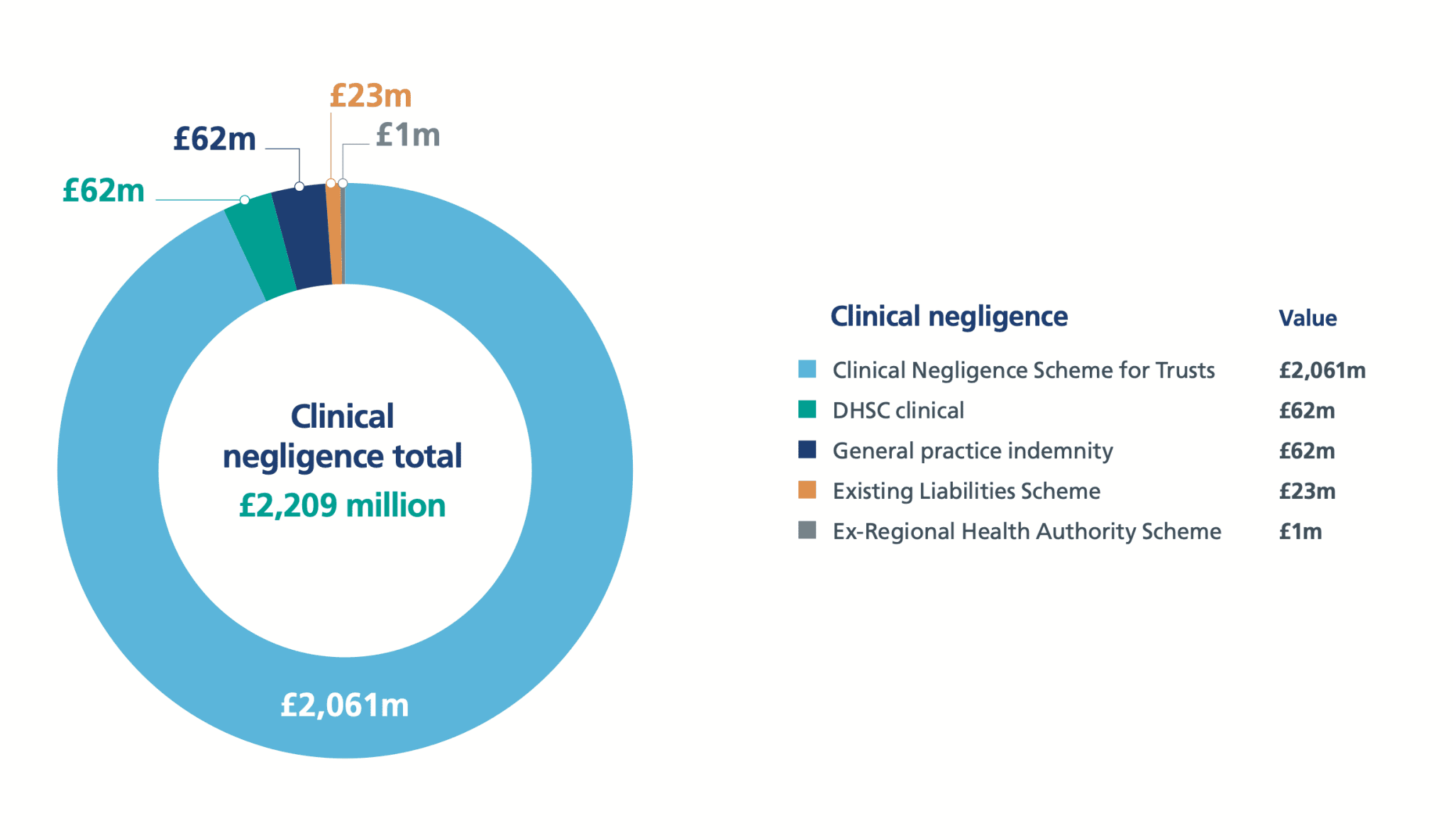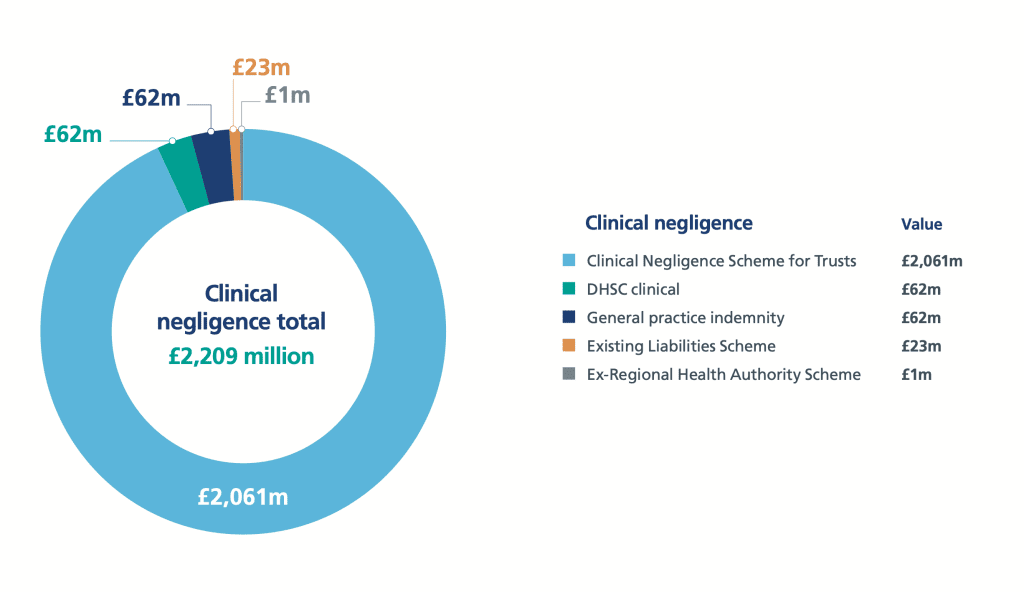 Thank you for reading our guide on tinnitus injury accident claims including tinnitus after a car accident compensation claims.