By Joanne Jeffries. Last Updated 1st November 2021. Have you been dismissed whilst off with stress at work? Did you have a valid sick note, and your employer dismissed you while your sick note was valid? If so, you may be able to claim compensation for unfair dismissal while on sick leave, whether you were being paid statutory sick pay (SSP), or another amount specified in your contract.
This employment law guide covers all you may need to know about making such claims, including information on what steps your employer should take to help relieve workplace stress, their duty of care towards you as an employee and your rights to make an unfair dismissal claim in the UK if you have been dismissed while on sick leave. We also offer some information as to how we could help provide you with an employment tribunal lawyer who could help you fight your claim on a No Win No Fee basis, which means you would not have to pay legal fees until your case was successfully settled and compensation had been paid out.
To find the information you're looking for, click on the relevant section below. Alternatively, if you would like a free case assessment right away or would like to begin a claim immediately, please call our expert advisors on 0800 073 8801, and we'll help you get started.
Select A Section
A Guide To Claiming If Dismissed Whilst Off With Stress At Work
If you're wondering can you be dismissed whilst off with stress at work, this is a complex matter. An employer could dismiss an employee while off work with stress on a long term basis in some cases, as they aren't legally obligated to keep a job for the employee for an open-ended period. 
However, if you have been dismissed whilst off with stress at work, you may have been the victim of unfair dismissal. Dismissal while on sick leave is a tricky subject, but in general, if you are off work with a long term health condition, i.e. if your work-related stress has led to long term mental health problems that have kept you from the workplace, your employer is legally obliged to find a way around this, making reasonable adjustments to your work so that you would be able to return and giving you enough time to recover.
If you are off sick persistently with stress, or you are on long-term sick leave, your employer should consider any other alternatives before they dismiss you. If they sack you due to a disability (which could include long-term illness, including mental health conditions), they may be discriminating against you because of a disability, which could be against the Equality Act 2010.
This guide is aimed at those who have been dismissed whilst off with stress at work. In the following sections, we will discuss employment rights for those who have been signed off work with stress and anxiety. We will also discuss potential compensation payouts for employment law claims of this type and tell you about how we could help you begin a case for compensation with an employment tribunal solicitor from our panel.
What Are Unfair Dismissal Claims?
These are claims for you being sacked for reasons that you deem unfair. So, in this context, it could be that you were signed off work due to stress. And you have reason to believe then that the employer terminated your contract for this very reason.
What Is Work-Related Stress?
According to the Health and Safety Executive's figures, in 2019/20, 828,000 workers were suffering from a new or long-standing case of work-related anxiety, stress or depression. 347,000 workers suffered a new case of stress, depression or anxiety in that period alone. It was also reported that 17.9 million working days had been lost to these mental health conditions in that one year. These are quite staggering figures, especially since it is an employer's legal duty to look after their worker's health and safety while they are at work.
You can see which industries are most affected here: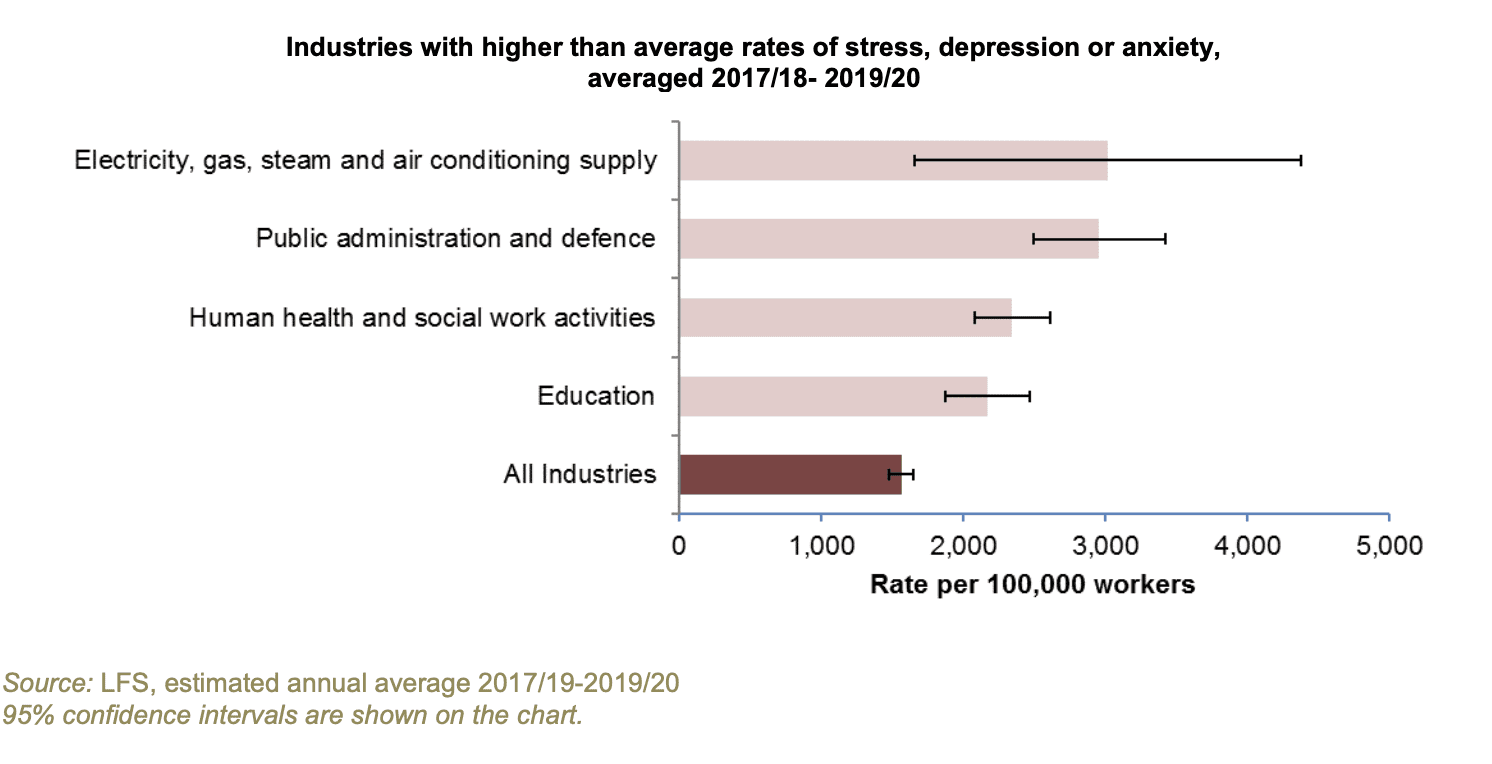 The causes of work-related stress could vary. According to the HSE, they could include:
Not being able to cope with work demands
Not being in control of how they work
Not being given relevant information or supported in their role
Having issues with colleagues (this could include bullying)
Do not completely understand their role or their responsibilities
Are not kept engaged when things change at work
Whatever the reason for your work-related stress, your employer should seek to protect your mental and physical health at work. If you fall ill with work-related stress, this could mean you may have to take time off work to recover. If your employer dismisses you for taking time off work for stress in the UK, you may be able to make an employment law claim against them, as this could constitute unfair dismissal. If they have failed to protect your mental health and you have suffered undue harm because of their negligence, you may even be able to make a personal injury claim against them.
To find out which type of claim you could make after being dismissed whilst off with stress at work, our employment law and personal injury advisors could help assess your case for free and provide free, no-obligation advice as to the next steps you could take.
How Employers Could Reduce Stress In The Workplace And Help Employees
The HSE has created a resource for employers in handling workplace stress. This resource shows how an organisation could meet its legal obligations to tackle workplace stress. The 'talking toolkit' they have supplied list some important conversations employers should have with their employees to tackle workplace stress. These conversations include:
Demands – Employees should feel that they have the capability to deal with the demands of their role. They should feel that demands are reasonable and achievable about the number of hours they work. They should also have the abilities and skills to do their job, and any work environment concerns should be addressed.
Control – Employees should have some control over the work organisation and undertaking. They should be able to discuss and have input into their role and should be consulted over matters that could affect their role, for example.
Support – Employees should feel they are getting information and support from colleagues and management, and they should know how to access support should they need it.
Relationships – There should be a method where employees can raise concerns about colleagues' and managers' behaviour and feel protected from harassment and bullying.
Role – They should fully understand their role in the organisation and raise concerns if they have any about any conflicts or concerns they have over the role.
Change – If an organisational change occurs, employees should feel that they are engaged in changes and kept informed about issues that may affect them.
But it is not just these standards that an employer could follow when tackling workplace stress. According to Mind, the mental health charity, employers could begin to foster a workplace structure that protects staff from undue stress right from induction into the company and beyond, ensuring employees feel a positive and open workplace culture in place throughout the employees' time with the organisation.
How To Cope With Stress In The Workplace
Coping with stress in the workplace is something that people do in different ways. Various things could help to prevent a situation of you being dismissed whilst off with stress at work. Initially, it might be wise to have a conversation with your line manager about the stress you're feeling and the reasons you think you may be suffering from stress. Your line manager might be able to help to reduce your workload or solve any pressing issues, which could give you some immediate relief from the stress you're under.
Other ways of helping cope with work-related stress yourself could include:
Prioritise your work and time effectively
Develop good working relationships with colleagues (this could help you build a good support network)
Say no to extra work if you don't have the time to do it (but explain the reasons for it)
Try to take your breaks away from your place of work (such as going for a walk at lunchtime, for example)
Take the breaks and the holidays you are entitled to
Try to develop a positive mindset by discussing problems or trying to look at things from another angle
Different approaches could work for different people, so finding an approach that works for you could take some time. If you feel that you could benefit from it, you could speak to your doctor to see if you could be referred or make a self-referral for Cognitive Behavioural Therapy, which could help you learn coping strategies to cope with stress better.
Are Stress And Anxiety Covered By The Equality Act?
Stress is not an illness as such, but it can lead to illness, and some of these mental illnesses could be very serious and may lead to your mental health condition being long-term.
Long-term health conditions do not have to be physical to be classed as a disability under the Equality Act 2010. However, classifying your workplace stress as a disability could be difficult.
Stress at work does not automatically classify as a disability. However, stress or stress-related illnesses could be in some cases. The criteria that need to be met for stress or stress-related illnesses to be classed as a disability are:
The physical or mental impairment must be present.
It must have adverse effects of a substantial level
The effects must be long term (lasting or expecting to last for 1 year +)
The effects must affect day-to-day activities.
According to the Equality Act 2010, an employer cannot discriminate against/dismiss you because of such a disability. If they have, and you have been dismissed whilst off with stress at work that could be classified as a disability, we could help you begin a claim against your employer for unfair dismissal.
When And Why Employees Could Be Dismissed With Stress
In some cases, you could be dismissed whilst off with stress at work. Reasons could include:
If an employer has taken necessary steps and taken medical advice, which shows there is no reason for you to be off work with stress
If all reasonable adjustments have been suggested and you are still unable to return to work.
In these cases, it could be possible to enter into a negotiated exit from work. This would usually involve compensation being negotiated with your employer to provide you with a lump sum and a reference on the agreement that you would not make any tribunal claim against your employer. We would advise you to take legal advice before taking this step to ensure you can put through a strong argument for a negotiated exit. If a settlement agreement was forthcoming, you should obtain legal advice before signing such a document. Your lawyer would also have to sign the agreement.
Could You Be Dismissed Whilst On Sick Leave?
If you are suffering from work-related stress causing you significant health problems, your doctor may sign you off work.
How Long Can You Be Signed Off Work With Stress?
If you are off work with stress for less than 7 days, you would not need a note from your doctor. If, however, you are not able to return to work after this 7 days period, you would need a sick note (now called a fit note) to say you are not fit for work. It would be likely that you would need to be regularly reviewed by your doctor to assess whether you could return to work.
Your employer, in these cases, is not legally obliged to keep your job open for you, but they must follow a reasonable process in dismissing you. This would involve giving you a fair amount of time to recover, investigating the reasons for your stress, and getting medical advice either from your doctor or through occupational health services. If the reason for your stress-related illness were due to work, your employer would be legally obliged to address such matters to ensure your workplace stress is reduced.
Whether your stress is work-related or not, your employer should take steps to consider reasonable adjustments to bring you back to the workplace. If this isn't possible, then there may be a fair reason for your dismissal.
If you've been dismissed whilst off with stress at work and are not sure whether this would class as being unfair, Accident Claims UK could help to assess your case to see if you could have a claim.
Unfair Dismissal And Your Rights
Your employer, according to the government, must have a valid reason for dismissing you. A fair dismissal would be one where your employer has followed their own disciplinary or dismissal procedures and could include reasons such as:
Your capability
Your conduct
Redundancy
Something that has prevented you from being able to do the job you are paid to do (this could include cases where a driver has lost their driving licence, for example)
Acting reasonably
An employer should still go through a reasonable process to ensure the reason was deemed fair, that they had investigated if necessary the incident/s that led to the dismissal, that they followed the procedures set out for dismissal or disciplinary, that they informed the employee of the reasons for dismissal and that they gave a chance for the employee to appeal.
Unfair Dismissals
Dismissals that relate to the below may also be considered to be unfair:
Forced resignation
Taking legal industrial action that lasts 12 weeks or less
Requesting leave for adoption, paternity or maternity, or jury duty
Whistleblowing
Discrimination
A refusal to give up contractual or legal rights
Flexible working requests
Trade union membership
I Was Dismissed Whilst Off Work With Stress, Could I Claim Compensation?
If you have been dismissed whilst off with stress at work, there are certain eligibility criteria you need to meet to bring a case against your employer:
It would be best if you were classed as an employee of the organisation. Find out whether this status applies to you here.
In terms of how long you would have had to work for your employer before you could claim, two different situations could apply. If you began your job on 6th April 2012 or later, your qualifying period would usually be 2 years. In contrast, if you began your job before 6th April 2012, the qualifying period would usually be 1 year.
In terms of the employment law claims time limit, if you are claiming for unfair dismissal, you would usually have 3 months less one day from the date your employment was terminated if you're bringing a case through a tribunal.
There are also some general legal tests that your claim should pass. These include:
Whether you were actually dismissed – employer's might claim that you have been laid off instead of dismissed, which would mean there was a temporary break in employment due to lack of work, but technically, you would not have lost your job.
Whether your employer followed the ACAS Code – While it is not a legal requirement for employers to follow the ACAS code when dismissing someone, if they did not follow the code, this might count against them if the case is heard in an employment tribunal. However, we should mention that if the only reason for your unfair dismissal for sickness absence was that your employer didn't follow the ACAS code, the amount of compensation you would receive could be reduced to reflect this. This is something that is referred to as the Polkey Reduction.
Calculating Compensation For Unfair Dismissal Whilst Off With Stress – Updated November 2021
There are two types of claims that you may wish to make against your employer if you have suffered unfair dismissal for workplace stress. The first is an employment law claim for unfair dismissal. We have included an alternative employment law claims calculator below that gives you some insight into how much you could claim.
| Employment law claim type | Maximum compensation achievable | Average Approximate Compensation |
| --- | --- | --- |
| Discrimination claims relating to disability/ability | £242,130 | £31,000 |
| Unfair Dismissal | Up To £88,519 | |
| General cases of psychological damage Severe | £51,460 to £108,620 | N/A |
| General cases of psychological damage - Moderately severe in severity | £17,900 to £51,460 | N/A |
| General cases of psychological damage - Moderate in nature | £5,500 to £17,900 | N/A |
| General cases of psychological damage - less severe in nature | £1,440 to £5,500 | N/A |
| Loss of income | Based on actual income lost | N/A |
| Travel expenses | Based on actual travel expenses | N/A |
| Medical costs | Based on actual expenses | N/A |
The other type of claim you could make could be a personal injury claim if your employer has failed to protect you from workplace stress and the related mental health illness developed because of this. This type of claim could be taken through the civil courts. We've taken some figures from the Judicial College Guidelines to give some insight into the compensation that could be appropriate for your claim. You could also claim for loss of earnings and other financial expenses arising from your illness in these cases.
| Illness | Compensation bracket | Notes |
| --- | --- | --- |
| General psychiatric damage - severe | £51,460 to £108,620 | Very poor prognosis and marked problems relating to their ability to cope with work, and life in general, the effect on relationships, and the extent to which treatment could be successful |
| General psychiatric damage – moderately severe | £17,900 to £51,460 | More optimistic prognosis and significant problems relating to their ability to cope with work, and life in general, the effect on relationships, and the extent to which treatment could be successful |
| General psychiatric damage – moderately | £5,500 to £17,900 | Marked improvement in all factors above and with a good prognosis. |
Contingency Fee Agreement Employment Tribunal Claims
If you're claiming to be dismissed whilst off with stress at work, you might not want to pay legal fees in advance of your compensation being paid out. No Win No Fee claims are certainly something we could help you with, and you would not be required to pay legal fees under these terms if your case was not successful.
To begin employment law claims under these payment terms, a claimant must sign a document called a Contingency Fee Agreement before their claim begins. This promises to pay the employment law solicitors a legally capped fee based on the compensation they are awarded, either through an employment tribunal or via negotiations directly with the employer. If no compensation were awarded, as mentioned, you would not have to pay your solicitor any legal fees.
If you would like to claim these terms, Accident Claims UK could provide you with an experienced solicitor who could work on your case on this basis. If you have any further questions on how these types of claims work, please don't hesitate to get in touch, as we'd be glad to speak to you in more detail about claiming in this manner.
How An Employment Law Solicitor Could Help You
While it could be possible to claim unfair dismissal through sickness related to stress alone, having an experienced employment law solicitor to help you could make your case much less stressful for you. Not only could such a solicitor help negotiate compensation for you outside of a tribunal in some cases, if it becomes necessary for your case to go to a tribunal, but they would also be there by your side to help fight for compensation on your behalf.
If you're not sure whether you have suffered unfair dismissal for being sick, we could help assess your claim for free, providing useful advice on whether you could make a claim. In some cases, we might encourage you to begin a personal injury claim against an employer for failing to protect you from workplace stress. In contrast, in others, we might feel you would be better off claiming being dismissed whilst off with stress at work via an employment tribunal. Either way, if we feel you could have a case, we could provide a No Win No Fee solicitor to help you make a claim.
Our advisors are highly experienced in advising claimants in your situation, so if you feel you could have a case for unfair dismissal due to sick leave from stress, please don't hesitate to call us with your questions, and we'll get you the information you're looking for.
Begin An Employment Law Tribunal Case For Being Dismissed Whilst Off With Stress At Work
Accident Claims UK would be glad to help you if you have been dismissed whilst off with stress at work. You can reach our friendly, professional team by:
However you get in touch, we're ready to help.
Employment Law And Tribunal Claims Resources Related To Being Dismissed Whilst Off With Stress At Work
Learn More About Employment Tribunals – The government has issued some information on tribunals that might be of interest to you.
Finding A Tribunal – You can look for a tribunal near you here.
Stress – NHS – The NHS has issued some information about understanding stress. You can read this here.
Accident At Work Claims – Here, you can read about accident at work claims against employers.
Workplace Illness – Find out more about claiming for illnesses in the workplace here.
Can I Sue My Employer? – Here is some guidance on suing an employer for personal injury, which could include claims for workplace illnesses, such as stress.
Dismissed Whilst Off With Stress At Work FAQs
Can you be fired for being stressed?
No, but the employer could eventually determine that you're no longer capable of performing your job under any circumstances.
Can I sue my employer for stress and anxiety?
Yes, you can, so long as there is medical evidence to back up what you're claiming.
Can work contact me when off sick with stress?
If they do, it should be an occasional check-up call to see how you're doing rather than applying any pressure to return to work.
Can you get fired for having a mental breakdown?
Legally, this should not happen, especially if the mental breakdown occurs due to a situation at work. And if a claim was to happen, this could certainly suggest a lack of support from your employer.
How do you prove work-related stress?
This is about proving that the working conditions are very stressful, that there's evidence of the employee reacting as if it were stressful and with the conditions unique to that work environment.
Can I claim benefits if I resign due to stress?
Yes, you could immediately claim benefits if you're not presently at work after a stress-related absence.
Can I be sacked for being off sick with a doctors note?
Technically they could, but the employer should look at all feasible alternatives relating to the situation if it becomes long-term before simply sacking the worker. So, it must be a constructive dismissal and not an unfair dismissal.
Can work contact me when off sick with depression?
Again, if an employer gets in touch during this period, it should be with sensitivity and logic. And sacking the employee during this time could only make their mental health issues even worse.
Can I sue my employer for data breach stress?
You could also suffer stress because of a data breach by your employer. If they breach your data and you suffer stress or distress because of it, you could also take legal action against them. The Data Protection Act 2018 and GDPR protect the privacy and security of your personal data. If your data is subjected to unauthorised or unlawful disclosure, transmission, alteration, access, loss, theft or deletion, you could suffer both financial and emotional harm. GDPR allows you to claim compensation for non-material damages and material damages because of a data breach.
How would I prove my data breach stress?
As with any other psychological injury claim, you'd need to have an assessment with an independent medical professional. They would examine you and ask questions about what's happened. When they have all the information they need, they would produce a medical report which you could use to prove your claim.
Do I need to report the breach to the ICO?
You don't need to have made a report to the ICO about the data breach to claim compensation. If the company that breached your data hasn't made any meaningful contact with you about your case and three months have passed, you could obtain assistance from a data breach lawyer.
Can you help with data breach distress claims?
We deal with lots of different types of claims here at Accident Claims. We could certainly assess your case to see if you could have a valid data breach claim. If we believe you have a strong case, we could help you fight for the compensation you deserve.
Do I legally have to have a lawyer to claim for being dismissed whilst off with stress at work?
It may surprise you that you don't legally need a solicitor to make such claims for compensation. When it comes to representing yourself, however, you might find it rather stressful. Many claimants prefer to use a professional solicitor when making a claim for compensation for being dismissed whilst off work with stress. This is because a solicitor could have the experience and knowledge to build a strong case on your behalf, and they could take on all the legal paperwork for you. They could also handle the negotiations for the maximum compensation possible for your claim.
Would I need a local solicitor to claim for being dismissed whilst off with stress at work?
If you're considering making a claim for compensation and would like a solicitor to help you, you might start your search within the local area. However, it isn't at all necessary for you to use a solicitor that is based near to where you live. You could have any law firm or lawyer in the UK represent you. This is why making a choice of what lawyer to use could be tricky. We would advise you to use a solicitor that is authorised and regulated by the Solicitors Regulation Authority, and is registered in England and Wales. Other considerations might be whether they could take on your claim on a no win no fee basis as well as how many years of experience they have.
Thank you for reading our guide on making a claim due to being dismissed whilst off with stress at work.