By Brett Williams. Last updated 17th August 2021. If you're looking for information on night shift accident claims, this could be because you or someone you know has sustained a night shift injury. If an accident at work that isn't your fault occurs and you sustain an injury, you could be eligible to make a claim for compensation against your employer, as they have a legal duty to protect your safety and health at work. This is their duty no matter what shift pattern you work.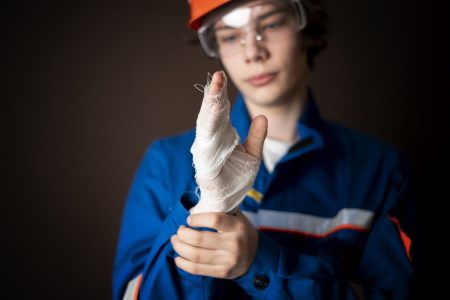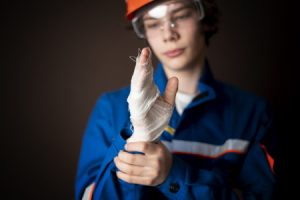 We have created this guide to explain all you may need to know when it comes to making accident claims. How to make a No Win No Fee claim is covered, and we also provide you with guidance on how much you could claim.
We answer common questions about night working hours, including 'How many hours should you have off after a night shift?' and 'What is the longest shift you can legally work?' We also look at the health risks caused by working nights.
In addition to all this, we explain how we could help you make a claim for compensation. If you're ready to get started with a claim or have further questions, we're ready to help you. Simply call our team on 0800 073 8801.
Select A Section
A Guide To Night Shift Accident Claims
Did you sustain an injury at work while working at night? Was the accident you sustained the injury in not your fault, or did it occur because of extreme tiredness due to lack of breaks, or you working more hours than The Working Time Regulations 1998 allow? If so, you may be able to claim compensation from your employer for your pain and suffering and any financial costs associated with your injury.
Employers have a legal duty under the Health and Safety at Work etc. Act 1974 to take reasonable steps to protect your safety and health at work. Their duty can involve training you to do your job safely, providing a safe place for you to work in, and risk assessing for potential hazards.
They should actively attempt to reduce risks to your health that could be caused by your work or workplace. If they do not, and you are injured because of the breach of their legal duty, you could be eligible to make night shift accident claims against them. This guide explains all you may need to know before starting such a claim.
Night Shift Injuries And Illnesses
Night shift accident rates could be higher than those on day shifts because of tiredness, lack of judgement and decreased concentration. Your employer should take these risks into account when asking you to work nights, and take reasonable steps to prevent you from enduring harm. If they don't, they could be held liable for injuries you sustain as a result of their negligence.
What Are Night Shift Accident Claims?
Night shift accident claims are compensation claims for accidents and injuries workers sustain while on night working hours. Working at night is something you may do in a number of industries.
With supermarkets, delivery drivers, manufacturing and call centres operating longer hours than in the past, there are many workers that might work different shift patterns than the traditional 9 to 5.
No matter what hours you work, your employer still has a legal duty to protect your health and safety at work. They could take steps to do so by:
Providing health and safety training
Giving you training specific to your job role (e.g. manual handling training)
Providing you with sufficient PPE (if appropriate) to protect you from hazards
Keeping the workplace well-maintained to a safe standard
Ensuring machinery is fitted with safety guards if appropriate and that it is maintained to a safe standard
Risk assessing your job role and the workplace and taking steps to reduce the risks they identify in such assessments
What Type Of Workplace Accident Could I Claim For?
To make a claim, you'd need to prove:
Your employer had a duty of care towards you
They breached that duty
Their breach caused you to sustain an injury
You'll also have to claim within the appropriate personal injury claims time limit, which is generally 3 years.
Some examples of accidents that could result in injury if your employer is negligent include:
Injuries you sustain from machinery that is in disrepair
Slips, trips and falls due to workplace hazards not being removed
Accidents due to insufficient lighting in the workplace
Injuries from lack of training
These are just a few examples. If you would like us to provide you with a free eligibility claim, simply call us with details of your workplace accident and we'll assess your case for free.
Night Shift Employment Statistics
According to 2018 figures from the TUC, the number of people working night shifts rose by 5% between 2013 and 2018, rising to over 3 million people. Women accounted for 66.8% of this increase, though more men than women work nights.
When it comes to location, the highest increase in night workers was thought to be the West Midlands, where night workers rose by 49,000 in the period assessed. However, the highest prevalence of night workers was said to be in the South East and London.
The most likely men to work at night, according to the TUC report were those in the protective services (prison, police and fire services), followed by service workers, road transport workers and security guards.
Source: https://www.tuc.org.uk/news/number-people-working-night-shifts-more-150000-5-years
Time Limits On Working Hours
If you're wondering 'What times are night shifts?', according to the Government, those who work regularly 3 hours of the 'night period' (usually 11 pm to 6 am) are considered to be night workers. There are limits to working hours that night workers can legally work.
What Are The UK Working Time Regulations?
The working time regulations in the UK are that night workers must not work for more than 8 hours (average) in any 24 hour period. This is a limit that workers cannot opt out of.
How Many Hours Should You Have Off After A Night shift?
If you're wondering 'What is the 11-hour rule for the UK?', it is a rule that means workers have a right to 11 hours rest between their working days, no matter what shift pattern they are on. They also have the right to either:
24 hours uninterrupted time off work every week
48 hours uninterrupted time off work every fortnight
All workers also have a right to one 20-minute uninterrupted rest break during each 6-hour shift.
What are the limits of working time for 16 and 17-year-olds?
16 and 17-year-olds are not allowed to work at any time between midnight and 4 am in most jobs. In addition to this, usually, they cannot work between the hours of 10 pm and 6 am or 11 pm and 7 am unless exceptions apply and they work in:
Advertising
Cultural or artistic work
Sporting jobs
A hospital
If you'd like our assistance with claiming for a night shift accident, we'd be glad to assess your case to see if you could claim.
Are There Exceptions To The Working Time Limits?
There are some exceptions to the working time limits. The limits on night working hours don't usually apply if your work involves the following:
Armed forces work or emergency services work
Domestic staff working in private houses
Freelance work, or company executives (or when you can choose your own hours)
Roles that require round-the-clock staffing, such as hospital or care work
Industries where there could be peak periods where it is extremely busy such as retail, tourism, surveillance, security, and agriculture
If there's accidents or emergencies
If there is a collective agreement to change the restrictions on night work
Where a worker has to travel long distances to work or does their work in different places
Why Do Night Shift Accidents Happen?
There are lots of reasons why a night shift accident could occur. A person's body adapts to go to sleep as the night draws in. This could lead their internal body clock to slow down, causing them to:
Become tired or lose concentration, which could mean they do not notice hazards or risks before an accident occurs.
Experience a lack of judgement, which could lead them to misjudge how dangerous a situation is, or how heavy a load is, for example.
Have slower reaction times, which could make them less likely to move out of the way if something is coming towards them, for example.
Experience reduced hand-eye coordination, leading them to drop items, for example.
These are just a few examples. If you believe your night shift injury could lead to a claim, we could assess your case to see if you could claim.
What Are The Effects Of Night Shift Work On Health?
Various studies have looked at the effects of night shifts on people's health. There is some evidence that night shift work could cause effects such as:
Mental health issues including mood and sleep disorders
Increased risk of metabolic diseases including obesity
Breast and prostate cancers
Inflammatory diseases such as asthma
Does night shift work increase your chances of developing cancer?
Some studies have indicated that there may be an increased risk of developing cancer due to working nights. However, this evidence hasn't yet been recognised by the UK Government.
If you have developed cancer and believe it is linked to the shift you work, this could make for a very complex case. Because there is not yet a clear understanding of whether or not night shifts contribute to a person developing cancer, this could mean the chance of a successful claim could be relatively low.
To find out more about how we can help with accident claims, contact our advisors for free legal advice.
Workers At Risk Of Night Shift Accidents
There are various factors that could increase your risk of an accident in the workplace when working nights. These could include:
Lower cognitive performance
Slower reaction times
Tiredness
Lack of judgement
Decreased concentration
Reduced hand-eye co-ordination
If your job involves working with machinery or you work in a job that requires extreme concentration, you could also be more at risk of sustaining an injury at work if you work nights.
Safety Hazards Associated With Night Shift Work
The risk of sustaining a night shift injury could increase if:
A shift is longer than 8 hours
A person is working consecutive night shifts
There are extended periods between working breaks
If you believe your employer did not take care to protect your health and safety at work during a night shift and you were injured in a work-related accident as a result, please call our team. We would be happy to assess your claim for free to see if you could be eligible for compensation.
Managing The Risks Of Night Shift Work
According to the HSE, irregular working hours and shift patterns that include early morning and night shifts could disrupt a worker's internal body clock. This could leave them at risk of fatigue and sleeping difficulties.
Workers that are fatigued could be less alert and might react slower than those that are not fatigued. They may also find it more difficult to concentrate. All of these factors could lead to injuries and accidents.
In order to mitigate the risk of shift work, employers should conduct risk assessments and take steps to reduce such risks as much as possible. Employers should consider the below when conducting such a risk assessment:
Workload
Work activities
Timing and duration of shifts
Length and number of working breaks within a shift
The rest periods between each shift
The direction of the shift rotation. According to the HSE, shifts would be better rotating forward, for example, morning/afternoon/night.
If an employer has not taken reasonable steps to reduce your risk of harm when working at night, and you sustain injuries that could have prevented if they had, you could be eligible to claim compensation.
Night Shift Accident Claims Compensation Calculator – Updated August 2021
When calculating compensation amounts for personal injury claims, solicitors and courts would not use a personal injury claims calculator. Instead, they would carefully assess all the evidence, facts and circumstances of the case.
One piece of important evidence they would review would be the medical report. As part of your claim, you should see an independent medical expert. They would review any relevant past medical notes, examine you and write a report describing your injuries and prognosis. This could influence any compensation payouts you could receive for your pain, suffering and loss of amenity.
To illustrate how much compensation you could claim, we have taken figures from the Judicial College Guidelines, a legal publication, and put them in the table below. If we have not included your injury here, we could give you more information over the phone.

| Site of the injury | How severe is it | Compensation Guidelines Bracket |
| --- | --- | --- |
| Neck | Minor | Up to £7,410 |
| Back | Minor | Up to £11,730 |
| Neck | Moderate | £7,410 to £36,120 |
| Back | Moderate | £11,730 to £36,390 |
| Shoulder | Moderate | £7,410 to £11,980 |
| Pelvis/Hips | Moderate | £11,820 to £36,770 |
| Leg | Moderate | £26,050 to £36,790 |
| Neck | Severe | £42,680 to £139,210 |
| Back | Severe | £36,390 to £151, 070 |
| Shoulder | Severe | £18,020 to £45,070 |
| Pelvis/Hips | Severe | £36,770 to £122,860 |
| Arm | Severe | £90,250 to £122,860 |
| Leg | Severe | £36,790 to £127,530 |
Special Damages Awarded For Accidents In The Workplace
These are the quantifiable financial (pecuniary) costs arising as a direct result of your injuries. They could include any of the expenses below, but there could be others you could claim. If you'd like further guidance on this, please call our team.
Care Costs: If your injuries mean you need care at home, for example with dressing/washing, care costs could be included within your claim.
Loss Of Income: Have you lost out on income because you've had to take time off work to recover? If so, you could claim for loss of income. Loss of income payouts could include regular overtime, bonuses, and in some cases future loss of income.
Medical Expenses: While NHS care is usually free at the point of access, you could incur other medical costs such as prescription fees, counselling bills or physiotherapy charges. If so, you could claim medical expenses within your claim.
Travel Costs: If you incur costs while travelling to meet with your solicitor or to get to medical appointments, you could claim travel expenses.
Evidence
Evidencing special damages is vital if you are to claim for all the costs associated with your injuries. It is important, therefore, to retain all the documents relating to costs and losses you've experienced. That way, you could provide proof to your lawyer so they can include such costs and losses within your claim.
No Win No Fee Night Shift Accident Claims
Are you thinking of getting a solicitor to help you with a night shift accident claim but are unsure as to whether you want to pay legal fees upfront? The good news is; if you work with a No Win No Fee lawyer, you don't have to pay them until your claim ends.
Better yet, you only have to pay legal fees to your personal injury lawyer if they get you compensation. No Win No Fee claims are a popular option when it comes to getting a solicitor to help you with your claim. The way in which they operate is as follows:
You would receive a No Win No Fee Agreement from your No Win No Fee lawyer. They would ask you to read, sign and return it. Within the text of the agreement are details of a success fee. This is the fee you would pay your lawyer once your compensation comes through. It is a legally capped percentage.
When you have signed and returned the agreement, the lawyer will begin working on your case.
They would attempt to negotiate a settlement for you and fight through the courts, if necessary, for the compensation you deserve.
Once compensation comes through, they'd deduct the success fee, with the rest being for your benefit.
You might be wondering what happens in cases where a lawyer doesn't achieve a payout for their client. With No Win No Fee claims, you don't pay your lawyer the success fee if they don't achieve a payout for you.
If you'd like to read about making this type of claim in more detail, you can find our useful guide here. Alternatively, we would be happy to speak to you and answer your questions over the phone.
Begin Your Claim
Would you like to find out more about starting a claim, or are you ready to begin one? Either way, our experienced advisors could help you. They could assess your workplace accident to see if you could be eligible to claim. If so, a personal injury solicitor from our panel could help you claim on a No Win No Fee basis. To reach us, simply:
Night Shift Accident Personal Injury Claims – FAQs
Can you claim for injuries sustained on a night shift?
If your employer's negligence causes you to be injured in an accident at work, you could be compensated whether working the day or night shift. The types of negligence that might lead to you claiming include a lack of security, inadequate training or faulty equipment.
How is personal injury compensation calculated?
Any compensation paid in personal injury claims is based on the severity of any injuries you've sustained. To prove this, medical reports and a medical assessment will be required. On top of your injuries, you could be eligible to claim back any expenses incurred because of your accident.
Can I be sacked for claiming against my employer?
Employees are protected by law from being treated differently because they've claimed for an accident at work. That means you can't be sacked or demoted for starting an honest claim.
When do I have to claim for an accident at work by?
The time limit for claiming for a personal injury at work is 3-years. In most cases, this will start from the date the accident took place.
Essential References
Tips For Shift Workers: In this guide, the HSE give tips and hints to shift workers to help manage the effects of their shift work.
Managing Shift Work: This guide, for employers, gives guidance on managing the risks associated with shift work.
The Working Time Directive For Workers: You can find out more information on the working time directive and more here.
Accident At Work Claims: You can access our general guide on accident at work claims here.
Your Legal Rights: You can find out more about your legal rights to make night shift accident claims here.
Claiming For Stress: You can find out how to claim for work-related stress in this guide.
Thank you for reading our guide to night shift accident claims.
Guide by JJ
Edited by RV