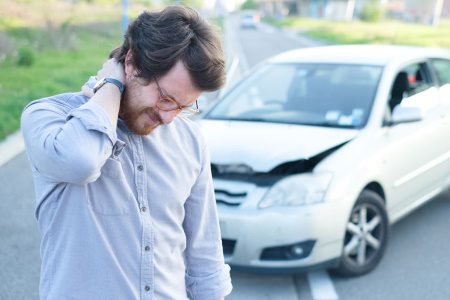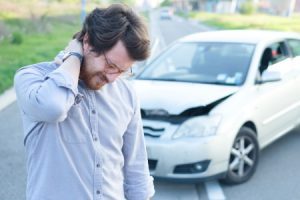 Whiplash claims are fairly common following road traffic accidents. In some cases, you could be entitled to compensation for your injuries if they were caused because of another driver's negligence. In this guide we're going to explain when you could make an AA car insurance whiplash claim if that's who the other driver is insured with. Furthermore, we'll explain what else you could include in your claim, how much compensation you could be entitled to and importantly, when you could make a No Win No Fee claim.
Accident Claims UK offer a no obligation assessment of any personal injury claim and also free legal advice too. If our solicitors agree to take on your claim, then it will be on a No Win No Fee basis. To have your claim assessed right away, please call0800 073 8801 today.
If you'd like more information about when you could make an AA insurance personal injury claim, please continue reading.
Choose A Section
A Guide To Claiming Compensation For A whiplash injury Against AA Insurance
It's not just a car accident that can lead to a whiplash injury, a personal injury claim might be possible of whiplash caused by falling, an accident in your workplace, a collision in a contact sport or even following an assault. Therefore, even though we'll talk a lot about injuries caused in road accidents, please remember you could claim for any other accident that results in whiplash as well.
When you decide to claim compensation, you might think it'd be quicker to just claim against your own insurance policy rather than making an AA car insurance whiplash claim. However, during the course of this guide, we'll explain that, if the accident wasn't your fault, then that's probably not the best idea.
For a solicitor to consider your claim, you'll need to be able to prove that:
You suffered a whiplash injury
In an accident that
Was caused by somebody else's negligence
Proving your injuries will usually be done by referring to medical records, therefore we recommend that you visit your GP or a hospital to have your injuries treated.
Also, any insurance claim for whiplash has to be made within the personal injury claims time limit. In normal circumstances, you'll have 3-years from the date of your accident or the diagnosis of your injury to make your claim. However, if you are unsure about the time limit associated with your whiplash compensation claim, please get in touch with our team of advisers today.
What Causes Whiplash And How Could It Affect You?
Whiplash, according to this guide from the NHS, occurs when a collision causes the head to move suddenly and violently. The collision doesn't need to be at high speed though, it's possible to suffer whiplash from collisions at low speed.
Something to consider following an accident, is that whiplash injuries aren't always obvious immediately. Therefore, even if you don't suffer straight away, it's worth visiting a doctor to explain what's happened. In some cases, symptoms might not display for up to a day following the accident.
Here are some of the most common symptoms of whiplash according to the NHS article:
Neck pain
Headaches
Difficulty in moving the head due to stiffness in the neck and head
Pain or muscle spasms of the shoulders and / or upper arms
Some of the more serious symptoms which would require immediate medical attention include:
Severe pain
Pins and needles or tingling on either side of your body
A weak feeling in either your arms or legs
Feelings of electric shock in the neck or back
Problems sitting up or walking
The NHS suggest that pain can be managed by taking over the counter medicines like paracetamol and ibuprofen. Also, they recommend that you don't wear a neck brace when you've got a whiplash injury as it won't help. Finally, it's recommended that you try and continue with everyday activities rather than resting. That's because, even though it might be painful, it could help with recovery times.
If you're going to make an insurance claim for whiplash, we'd recommend that you have your injuries assessed by your GP or at the local accident and emergency. You would receive any treatment necessary and also, the medical records would be used as supporting evidence in your claim.

What Do You Need To Know Before Making An Insurance Claim For Whiplash?
There has been research conducted by the Financial Conduct Authority (FCA) which suggests that if you reject the first offer you receive, and you use a personal injury lawyer to help you claim, you could receive a higher compensation amount.
That makes sense because if you are offered a settlement from an insurer, they're obviously going to want to settle for as little as possible. They have knowledge of what an average insurance claim for whiplash costs them, so if they can settle for less, it's good for them.
However, when you hire a personal injury solicitor, they'll arrange for a medical assessment of your injuries using an independent doctor and use medical records to try and make sure any compensation amount is fair and what your injuries warrant.
It's important that any compensation you accept is fair because, once settled, you can't ask for more at a later date. That might be a problem if your injuries last longer than expected meaning you need to take more time off work resulting in lost income that you won't be compensated for.
Before accepting any compensation offer following a car accident with an AA policy holder, please call our team to check whether the offer is fair.

I Have A Whiplash Injury, Do I Claim On My Insurance?
You might think that rather than making an AA car insurance whiplash claim, you could resolve things quicker by claiming against your own policy. While that's possible, claiming in that way could cause an adverse financial impact for you. Therefore, we recommend that if somebody else was to blame for the accident, you should claim against their insurance policy.
Claiming against your own policy means that your no claims bonus could be lost causing your insurance premiums to rise for a number of years to follow. Also, you're likely to have to pay a policy excess if there is one.
As explained in the last section, we'd suggest that when claiming compensation for a whiplash injury, the best way to try and receive a fair settlement is to use a personal injury solicitor and to claim against the negligent persons insurance policy.
Our solicitors have been handling personal injury claims, including whiplash claims, for up to 30 years. They always try to ensure you'll receive the compensation your injuries deserve, and they'll do so on a no win no fee basis for any claim they take on.

Do I Have To Accept The First Offer From AA Car Insurance?
If you make an AA car insurance whiplash claim, you might be tempted to accept the first offer they make (if they make one). However, as mentioned earlier, that's not always the best idea. If you receive a settlement offer from any insurer, here are some things to consider:
You are under no pressure to accept any offer the insurer makes because you have up to 3-years to make your claim
Any first offer made by an insurer is likely to be less than you'd receive when using a personal injury solicitor or if a court were to settle the case
You're not obliged to stick with a solicitor provided by an insurer, you're free to choose your own at any time
If you're asked to sign any paperwork, ensure you fully understand what you're agreeing to
Have a medical assessment before agreeing to a settlement because, without one, you won't know the extent of your injuries. This means you could suffer for longer and the compensation might not cover all of your costs (medical costs, time off work etc)
Any offer that's made will be a 'final offer'. This means you can't ask for more compensation later on even if the injuries cause more suffering than expected
You are under no obligation to accept an offer
Don't Accept An Offer Till You Have Seen A Doctor
When an insurer is contacted by their client to report an accident, the insurer might contact you to make a pre-medical settlement offer. This means that they're offering to compensate you before you've seen a doctor for an assessment. Our advice is not to accept any such offer.
An insurer will always act in their own interests, not yours. By offering an early settlement, they'll be saving on their own legal fees and probably saving on the amount of compensation they'd pay otherwise.
Therefore, any pre-medical settlement offer will probably not be a fair settlement. They are usually offered in the hope that you're short of cash and will agree because the settlement will be completed faster than if you follow the normal personal injury claims process.
The problem with accepting an offer of this type is that, without a medical assessment, you don't know how severe your injuries are. Also, you don't know how long you're likely to suffer or how long treatment will take. Therefore, if you accept a low settlement offer, you might end up out of pocket in the long run.
Our advice would always be to turn down a pre-medical settlement offer, no matter how tempting it is, and to use our solicitors to help you claim. They'll always arrange a medical assessment, with an independent doctor, to ensure the extent of your injuries is fully understood. Then they'll try to arrange a settlement for you that's based on medical evidence.

Could I Still Claim If I Was Partially At Fault?
If you're involved in a car crash with an AA policy holder and you believe you were partially to blame, you could still be entitled to compensation. There are a couple of ways that these types of accident are settled:
Split-liability claims
When you agree that you were partially to blame, you could still make an AA car insurance whiplash claim, but you'll receive a partial settlement. For instance, if you agree that you were 25% to blame for the accident, the claims process will be followed as normal but when the compensation is paid, you'll receive 75% of the normal compensation
Knock-for-knock claims
Another way of settling is when both parties agree they were equally to blame. If this happens, the insurers might agree to handle the claim on a knock-for-knock basis. This means that each insurer will compensate their own policy holder. While this is good for the insurer because they save on legal fees, it won't be as good for you because you'll be claiming against your own policy. As discussed earlier, this means your no claims bonus and future premiums could be affected
Call an adviser today if you'd like advice on which is the best way to settle your claim. We'd advise that you don't agree to split liability or knock-for-knock until you've sought legal advice.

Calculating Whiplash Injury Claims Against The AA
We're often asked, "What compensation will I receive for whiplash?", but because every claim is different, it's difficult to say until your claim and your injuries have been properly assessed. However, we can provide the personal injury claims calculator table below which shows how much compensation is paid for some whiplash type injuries:
| Injury Type | Severity | Amount | Comments |
| --- | --- | --- | --- |
| Neck | Severe | From £39,870 to £49,090 | Incuded in this category are injuries including severe soft tissue damage and disabilities caused by dislocations. |
| Neck | Moderate | From £21,910 to £33,750 | Incuded in this category are injuries including dislocations and fractures which may cause spinal fusion. |
| Neck | Minor | From £2,150 to £3,810 | This category covers soft tissue injuries which fully recover within 1 year. |
| Neck | Minor | Up to £2,150 | This category covers soft tissue injuries which fully recover within 3 months. |
| Shoulder | Serious | From £11,200 to £16,830 | Incuded in this category are injuries including pain in the shoulder, neck and elbow, leading to loss of movement caused by brachial plexus damage or dislocation of the shoulder. |
| Shoulder | Severe | From £16,830 to £42,110 | Incuded in this category are injuries including brachial plexus damage which cause significant disability. |
| Shoulder | Minor | From £2,150 to £3,810 | Incuded in this category are injuries including painful soft tissue damage of the shoulder. Typicall injuries in this category will fully recover within a year. |
| Shoulder | Moderate | From £6,920 to £11,200 | TIncuded in this category are injuries including soft tisssue damage injuries or frozen shoulder which lasts over 2-years. |
Each injury has an associated severity attached to it and this determines how much compensation is awarded. Therefore, it's essential that your solicitor presents enough medical evidence to prove the injuries you've sustained and the pain they've caused.
These figures make up just one part of your claim as you'll discover in the next section of this guide. If you'd like a better, more personalised, compensation estimate, please speak with an adviser and let them assess your claim which is a service offered free of charge.

What Do Special Damages Cover?
There are two main parts of a compensation claim, general damages and special damages. Your solicitor can use a number of different special damages depending on how you were affected by your accident. Here are some examples of the different types of compensation your solicitor could ask for:
General Damages
General Damages cover the pain, suffering and loss of amenity caused by your injuries. The figures in the previous table were examples of General Damages.
Special Damages
When you suffer financially because of an accident caused by somebody else, special damages can be awarded. They are paid to try and ensure you're not left out of pocket because of the accident. Special damages are not fines and you shouldn't gain from them. Here are some of the main special damages you could claim for:
Medical Expenses
While you'll usually receive free treatment from the NHS, you could incur costs linked to prescriptions or over the counter medicines. Therefore, you could claim these costs back. In some cases, where private treatment is required, the cost could also be claimed back
Care Costs
If your injuries mean that you need professional care to aid your recovery, you could claim these costs back. Where a friend or relative cares for you, a claim could still be possible
Travel Costs
When your injuries mean you're unable to drive, you could claim back the costs of any alternative travel arrangements. Also, you could claim for fuel costs and parking costs associated with medical appointments
Lost Income
If you lose income because you don't receive full sick pay, you could include these losses in your claim. Where the injuries are for the longer-term, you could claim for future lost income too
Personal Property Claims
When an item of personal property is damaged in the accident, you could claim the cost of replacing or repairing it. For instance, if your clothes are ripped in the accident, you could ask for the cost of replacing them
Claims Advice
We'd recommend that you speak with your solicitor before committing to any expenditure. They can advise whether you're likely to be able to claim the cost back. Also, try to keep a note of any expenses as well as receipts. This will make it easier for your solicitor to claim back any financial losses incurred because of your accident.

No Win No Fee Claims Against AA Car Insurance
Making a No Win No Fee claim can reduce the amount of stress and financial risk involved in claiming. However, because a solicitor risks not being paid, they have to choose which cases they take on based on the criteria listed at the beginning of this guide.
If the solicitor agrees your case is strong enough and to take on your case, they'll provide you with a conditional fee agreement (or CFA). This is the legal name for No Win No Fee agreements.
When you're happy to proceed, you'll both sign the CFA. It's your contract and it's important because it clearly states that you won't have to pay the solicitor's fees unless you receive compensation.
Even when you are compensated, you won't need to have the money to pay the solicitor yourself because a 'success fee' will be deducted from your compensation payment. Should your case not be successful, there would be no 'success fee' to pay the personal injury solicitor who took on your case.
To find out whether you can make an AA car insurance whiplash claim on a No Win No Fee basis, please contact us today.

How To Contact Our Team
We hope that you're now ready to make your own claim using Accident Claims UK. If so, there are a number of ways in which you can contact us. These include:
Remember, we offer a no obligations assessment of all claims and free legal advice. We don't put any pressure on you, so there's nothing to lose by contacting us today. Should you have any further queries, please feel free to ask.

Whiplash Victim Resources
Now that you've read this guide about making an AA car insurance whiplash claims, we thought it'd be a good idea to provide you with some more useful links, guides and external resources.
Whiplash Reform Programme – A scheme, implemented by the government, to help avoid whiplash claims adversely affecting the cost of car insurance.
Symptoms Of Whiplash – Information from NHS Wales about the symptoms, causes and treatment options for whiplash injuries.
The Health And Safety Executive – Some workplace accidents have to be reported to the HSE under RIDDOR regulations including those involving vehicles.
Criminal Injury Claims – If you suffer whiplash as the result of an assault or other crime, this guide will explain how you could be compensated by the Criminal Injuries Compensation Authority (CICA).
Falling From A Ladder Claims – It's possible to sustain whiplash when falling from height. This guide explains how compensation might be possible after falling from a ladder.
Accident At Work Claims – A useful guide which explains when you might be able to claim compensation for whiplash and other injuries sustained in workplace accidents.
Article by BH (Brett)
Editor Honey