By Marlon Wilkinson. Last Updated 11th August 2022. Welcome to our online compensation for a fall from a ladder guide, where we will be discussing a ladder accident claim. Within this guide, we will take the time to explore the claims process for falling off a ladder. We'll outline how a personal injury lawyer could assist you if you fell off a ladder, and provide free legal advice on a fall from a ladder accident case. Further to this, we discuss compensation payouts for fall from ladder injuries, giving insight into common injuries from falling off a ladder, and how much could be deemed appropriate for such injuries. 
Whether you use a ladder daily for work or need to use one occasionally, anything that involves working at a height carries risks. You will more than likely be aware of the risks of going up ladders and take pains to be as careful as possible while performing the job you need to do. However, if someone else is negligent or acts dangerously while you are on that ladder and caused an injury, it could very well be serious.
How much could I claim for falling off a ladder?
A ladder accident can cause a range of injuries, from the minor to the serious, and if you've been hurt in a ladder accident that was caused by someone else, be it, someone who was supposed to be holding the ladder, or the manufacturer of the ladder themselves, then it may be possible to begin a ladder accident claim for your suffering and any financial losses it causes.
Accident Claims, as a company with your best interests at heart, have provided this guide so you can see if you can claim compensation for a ladder fall injury you've had, which includes the answers to many of the pressing questions you might have if you have had a fall from a ladder at work, or have another reason to seek a
personal injury lawyer
for a ladder injury.
This easy to navigate guide to ladder accident claims gives you actionable advice on what to do in the event you've suffered a ladder accident, but if you'd prefer to discuss your options with us before reading, then reaching us on 0800 073 8801 is something you might like to do.
Select A Section
A Guide to Ladder Accident Compensation Claim
Whether you work at a height or perform the odd task that requires a ladder, using it safely is the highest priority. Millions of people use ladders every day without incident, but if you have had a ladder accident, you'll know that falling from one can be, at best, painful and a little embarrassing. In some circumstances, it can cause long term damage, and in extreme cases, it can be fatal.
When could I claim for falling off a ladder?
If you fell off a ladder at work by your own doing because you weren't being safe and using it the way you were trained to do, then it can be heartbreaking to have to deal with the consequences of such an accident. However, if it was someone else's fault that you had a fall from a ladder at work, either because of dangerous or negligent behaviour, then there is a good chance you can take action against your employer or the responsible party to help you move on from the incident. And you could then receive compensation for a fall from a ladder if the case is successful.
In this ladder accident claim guide, we aim to cover all the information you are seeking, including how to pursue No Win No Fee ladder fall compensation claims, how to find a personal injury solicitor who is experienced enough to deal with your case, as well as how much compensation you could see for a fall from a ladder accident.
What Are Ladder Injuries and Accidents?
Many types of ladder accidents can happen to those who use ladders that could lead to ladder accident claims. Working at height can be dangerous, and many things can go wrong. ASome or all of the below can cause accidents involving ladders.
Faulty ladder mechanism
Broken step on the ladder
Incorrect placement of the ladder
Incorrect supervision or lack of supervision on the ladder when it is required
Lack of training on how to use ladders or poor training
Dangerous or negligent behaviour by those around you
Examples Of Injuries Sustained Falling Off Ladders
Falling from a ladder can result in a number of injuries. Some examples of injuries sustained falling off ladders include:
Broken bones
Bruises
Cuts and scrapes
Neck Injuries
Spinal cord damage
The most extreme fall from height claims are a result of a person losing their life, so you can imagine how serious falls from height have the potential to be. Our advisors can provide more information on ladder accident claims when you get in touch today.
Ladder Accident Statistics
There are a wealth of statistics out there relating to ladder accident and injury cases in the UK. The HSE has stated that ladder accidents are the biggest causes of home and workplace accidents in the United Kingdom. They also say that at the very least, 40% of falls from height UK wide are connected to ladder accidents.
Reasons for falling off a ladder
According to the statistics, the most common reason for this is overreaching or failing to secure the ladder properly. They also state that around forty-eight thousand people have to visit Accident and Emergency departments each year for ladder accident injuries. At least 14 deaths per year occur due to ladder incidents. When it comes to the workplace, ladder incidents cost the economy here in the UK around sixty million pounds per year.
It is also prudent to note one final statistic, especially for those asking, 'I fell off a ladder at work, can I claim?'. The major fall from a ladder accident statistic we are talking about is ladder grips. When these are properly fixed and used, they can up ladders' stability by at the very least 350%.
Ladder Accident Claims for Faulty Ladders
A manufacturer's error can cause many accidents, and a ladder accident is no different to any other in this regard. When making a ladder fall injury claim, it is important to remember that you can make claims if someone else is responsible for your accident. And this is how you could receive compensation for a fall from a ladder.
However, it is important to remember that you would not necessarily be claiming from the manufacturer for a ladder accident caused by faulty ladders. Just like any other product, wear and tear happens every time you use a ladder, and if it has not been checked, or replaced when it should have been, for example, after risk assessment, then your employer might be held liable for the accident you've had.
Ladder Accident Claims for Improper Use
Using a ladder safely requires knowledge and understanding of how the ladder works. Plus, you should ensure it poses as little risk as possible. If you use ladders at work, this is something that your employer should be able to train you on. Should you have not received this type of training, or the training was not of a good standard, then it is usually possible for you to pursue personal injury claims against an employer for this.
Ladder Accident Claims for Overreaching
Let's talk about a fall from a ladder accident due to overreaching. So, overreaching is something that commonly causes ladder accident injuries, according to the HSE. Whether the ladder is too short, and you are reaching for something higher, lose your balance and fall, or you're reaching too far over to the left or right of the ladder for something and fall, you may be able to claim if your training on ladders did not tell you this.
Another reason for overreaching is if your ladder is not fit for the job – i.e. too short – and you were forced to reach over too far, or if it is not placed correctly. If you're asking, 'I fell off a ladder at work, what are my rights?', then you should know that your employer should by law provide you with the appropriate equipment to do the job.  A ladder that is too short, and leads to overreaching is not appropriate.
Falling Off A Ladder – Prevention
Other than having proper training, there are other actions you can take that can help reduce the risk of you falling off a ladder. These are actions such as:
Assessments of the area: You or your employer should perform a full assessment of the area you are working in before placing the ladder. There should be an awareness of any activity that may be conducted around you and checks completed to ensure that the area in which you are placing the ladder against is safe to do so.
Assessing your working conditions: Conditions such as the weather or the temperature you are working in can affect your health or ability to work. Climbing ladders should be avoided in rainy or wet conditions, and you should monitor your health in sunny conditions to ensure the temperature is not affecting you.
Clothing: While PPE is generally not a requirement when using a ladder, you should still ensure that any clothing or footwear you use is appropriate for the task. Slippery shoes should be avoided, as should any bulky clothing that could affect your ability to safely climb or work on top of the ladder.
Workplace safety is a shared responsibility. Employees should take actions of care where they can to avoid injuring themselves or their colleagues but it is ultimately an employer's responsibility to ensure that their employees can carry out their work safely.
If you had suffered injuries from a fall off a ladder because your employer failed to fulfil their responsibility, please reach out to one of our advisers to discuss making a claim.
Workplace Ladder Accident Claims
Should your job require you to be working at height or on ladders, your employer has certain duties to ensure you are working as safely as possible. There is legislation in place that covers working at height, and this legislation shows that you would be able to claim ladder accident compensation if the following scenario/s exist:
Your employer did not assess any risks for the ladder work properly
Your employer gave you a faulty or damaged ladder for your work
Your ladder was not properly checked to ensure its safety/stability
Your employer had not trained you sufficiently/at all to use it safely
Your employer did not use a safer way in which to do the work, such as scaffolding, etc. if it were possible to do so
Your ladder that your employer gave you was not appropriate for the task you were performing
Your employer did not give you protective equipment, including helmets, harnesses, etc.
Should you have any queries about your ladder fall injury claim, and want to know more about whether your employer is liable, then we can discuss the specifics of your case over the phone if you wish. That way, you can get advice tailored to your specific circumstances.
Can I Claim for Accidents In A Public Place?
A fall from a ladder accident can also happen in public places, where a member of the public has been injured in a ladder accident involving something being dropped on them or someone falling on them from a ladder. If warning signs/cordons were not appropriately placed, or the person using the ladder was negligent in some way, then someone can claim compensation for ladder accident injuries sustained due to someone else's behaviour in a public place.
How Serious And Severe Can Injuries Be?
Falls from height always carry the potential for both short and long term injuries. Whilst minor injuries such as sprains, bruising and simple fractures can heal, and you can be back to your normal self in time, there are also more serious injuries that can occur. Head injuries are specifically dangerous when falling from height and can cause brain injuries, which may affect you permanently. The same is true of complex fractures, especially those involving the neck and back. It could be that you are left with a long-term or life-long disability after such an accident, or in the worst ladder fall injury claim, you could lose your life.
In the long-term, if you have suffered a bad injury in your ladder accident, then you may need someone to care for you. The costs for this could form part of a claim for compensation for a fall from a ladder if you are in a position to make one.
However, it is important to remember that it is not only the physical effects of such an accident that are concerning and that a ladder accident may well cause psychological damage, particularly if you were close to death because of this type of fall. PTSD is common in bad accidents, and a ladder accident is no different to this. A qualified medical professional's proper assessment is vital in receiving the right treatment and as accurate a prognosis as possible.
What Steps Should You Take If You Were Injured In A Ladder Accident?
After an accident in which you have been injured, your first thought is to get medical help, which is the right thing to do. However, there are also some other steps you should consider taking, whether you're ready to make compensation claims or not. The first would be to ensure you have collected details from those who have witnessed your accident. Their telephone number, name and address would be best. Also, you should try and get any photographs you can of your injury and take them off your site of the fall from a ladder accident.
Other than that, you may want to write your experience down while it is still clear, as memory is a funny thing and can fade over time. Lastly, it would help if you took advice on whether you could make a ladder fall injury claim. If you wish to call us about this, then we'll be glad to help. You can ask questions about the personal injury claims time limit, or 'am I entitled to full pay if injured at work', and we will do our best to give you clear answers that you can rely on.
How to Begin Your Ladder Accident Case
To start a ladder fall injury claim, you'll need a personal injury solicitor. After a brief initial, stress-free conversation with one of our legal experts, we'll be able to provide you with such a solicitor, and we'll find the most appropriate one for the job for you. Your solicitor will more than likely require you to see a medical expert who will assess you and provide a report for the solicitor to use as part of your case. The solicitor would then go ahead and begin the process of claiming on your behalf.
What will a solicitor do during a ladder fall injury claim?
We believe that the easiest way to earn the correct amount of compensation following a ladder accident is to use a personal injury solicitor.  That's because it can often be difficult to prove liability for the accident in which you were injured. Furthermore, even if you can prove who was to blame, they might not agree that they were to blame for all of your injuries.
Our team of specialist solicitors have decades of experience in handling workplace accident claims and personal injury claims. They know what evidence is required to support a claim. Also, they won't waste your time chasing information that isn't relevant to your case.  If your ladder injury claim is taken on, your solicitor will:
Carry out a complete review of your case. They'll do this so that it is clear how you've been affected by your injuries.
Collect evidence that can be used to corroborate your accusations.
Compile a professional claim to be sent to the defendant's insurer.
Tell you about any updates to your case as they happen.
Use their legal expertise to try and counter objections raised by the defendant or their insurer.
Aim to achieve the highest amount of compensation possible for your injuries.
While there is no guarantee that a case will be won, if you ask us to take on your ladder injury claim, we'll do all we can to try and ensure you're compensated for your suffering.
What Can I Include in My Ladder Injury Claim?
Included in your ladder fall injury claim will likely be compensation for the following if you have experienced it:
Earning Loss – Both present and future potential loss of earnings
Care Claim – We mentioned before that you might need a carer. This could be because  you have an injury that makes doing day-to-day activities impossible.
Suffering and Pain – An amount to cover the pain/suffering you have borne because of the accident
Costs incurred – This can be for medical bills, travel bills, hospice or rehabilitation, or even funeral costs should you be claiming on behalf of someone who has passed away because of the accident.
Should you have questions about any costs you have incurred so far, please ask us whether they can be included in ladder accident claims and let you know. We can then advise on how this could account for any compensation for a fall from a ladder.
Ladder Accident Compensation Calculator How Much Could I Get For Falling Off A Ladder
If you are interested in fall from height claims, or if you have been involved in a ladder accident, you may have searched online for a personal injury claims calculator or an accident at work compensation calculator. These tools can be helpful in getting a broad idea of how much you could receive in ladder accident compensation.
Additionally, you can use the figures in the table as a guide. The figures are from the Judicial College Guidelines (JCG) and are used by solicitors to help them when valuing claims.
You can find some examples of the compensation brackets from the JCG in the table below.
Ladder Injury
Award Bracket
Below-knee Amputation of Both Legs
£201,490 to £270,100
Severe Neck Injury
In the region of
£148,330

Moderate Neck Injury
£24,990 to
£38,490

Severe Back Injury
£91,090 to £160,980
Moderate Back Injury
£27,760 to £38,780
Severe Shoulder Injury
£19,200 to £48,030
Moderate Shoulder Injury
£7,890 to £12,770
Severe Arm Injury
£96,160 to £130,930
Less Severe Arm Injury
£19,200 to £39,170
When you make a ladder fall injury claim, there are two heads of claim you could possibly pursue: General damages, and special damages. The figures above illustrate general damages, which cover your injuries and the effect that they have had on your life.
Special damages cover the financial impacts of your injuries, and to claim under this head you must be able to provide proof of financial losses. For example, a payslip could be used as evidence when claiming back lost earnings, or bus tickets could be used to claim back travel costs to and from hospital appointments.
Contact our advisors today for a free estimation of how much compensation you could receive following a ladder accident compensation claim.
No Win No Fee Claims For Falling Off A Ladder
When you make fall from height claims, you're likely to have already suffered paying out money for prescriptions, travel costs visiting the hospital or doctor and more, and you may be down on your income because you've not been able to work. So, you'll want to know you can make a risk-free ladder fall injury claim without putting any costs upfront, then? Well, the good news is, this is entirely possible, and we'll help you do so. The most appropriate solicitor should handle your claim under a Conditional Fee Agreement, and the legal bills will be taken in percentages agreed beforehand out of the total award you're offered. The compensation you'll receive will then be yours to use as you see appropriate.
Why Use Accident Claims UK For Your Ladder Accident Claim?
Aside from the fact that we can help you begin your claim without putting any money or risk upfront, we are totally committed to ensuring you get the compensation you deserve. So many of our previous clients have been helped by our service. We love to hear their cases have been settled successfully. It gives us pride in what we do. Aside from the glowing reviews other clients have given us, we can also promise to offer free advice. This comes with no obligation to work with us on your ladder fall injury claim. Add that to the fact that we can provide you with some of the finest solicitors in the country to work on your case. We think you'll agree we're the whole package.
Talk To Us Today To Start Your Ladder Accident Claim
Stress-free and simple, all you have to do is pick up the phone at 0800 073 8801 to claim compensation for a fall from a ladder accident. We'll be ready to hear your story, and while we'll be sorry to hear what's happened, we will help to fight for a brighter future for you that the compensation you receive will go some way to help you achieve. If you prefer not to call, other ways to contact our law firm can be found here.
Helpful Resources Relating To A Ladder Accident Claim
Please take a look at our guide to learn more about the wrongful death claim.
Suffered from a faulty product? Please take a look at our guide to learn more.
Slips, Trips, And Falls Accident Claims
External guides relating to falling off a ladder
The HSE (Health and Safety Executive) has provided guidance on the safe use of ladders
The legislation we referred to earlier can be found here in full
Information about height work from the HSE
Ladder accident claim – FAQs About Falling Off A Ladder
What is the most common cause of ladder accidents?
Numerous factors could cause a ladder accident, such as human error, manufacturing issues, the wrong ladder being issues, worn or damaged ladders, inappropriate ladder usage.
What happens if you fall off a ladder?
Head injuries are one of the most common injuries endured after a ladder accident. If you fall from a ladder and suffer an injury, one of the most important things you can do is seek medical attention and take evidence.
Naturally, you may question what types of evidence you can provide to support your negligence claim. You could provide:
Photos.
Medical reports.
Witness statements.
Are you entitled to full pay if you have an accident at work?
If you happen to be injured at work after a ladder accident, then you may have to take time off to recover. During this time, your employer is not obligated to pay you sick pay – even when their negligence is at fault. However, if your employer is at fault, then a compensation claim could be a suitable course of action, and any loss of earnings you've endured could be factored into your case.
Can you sue a ladder company for falling off a ladder?
It is possible to sue the ladder manufacturer if you feel that the equipment is totally unsafe for widespread usage.
How common are ladder injuries?
There are tens of thousands of ladder injuries on an annual basis.
What is the 4-to-1 rule when using a ladder?
This is about having the ladder's base one foot from a building for every four feet above the ground.
At what age does it become unsafe to climb a ladder?
Those above the age of 65 could be deemed as unsafe to climb great heights on a ladder.
At what height do you need a harness when using a ladder?
It's suggested for construction workers to use a harness if they're climbing higher than six feet.
Could I make a ladder accident claim for a fatal injury or accident from falling off a ladder?
Unfortunately, falls from a height make up a good proportion of the deaths that happen in the workplace. We can see from the HSE's 2020-2021 statistics that 142 people were killed at work during this period. Unfortunately, a significant number of these were from falls from height as you can see from the graphic below.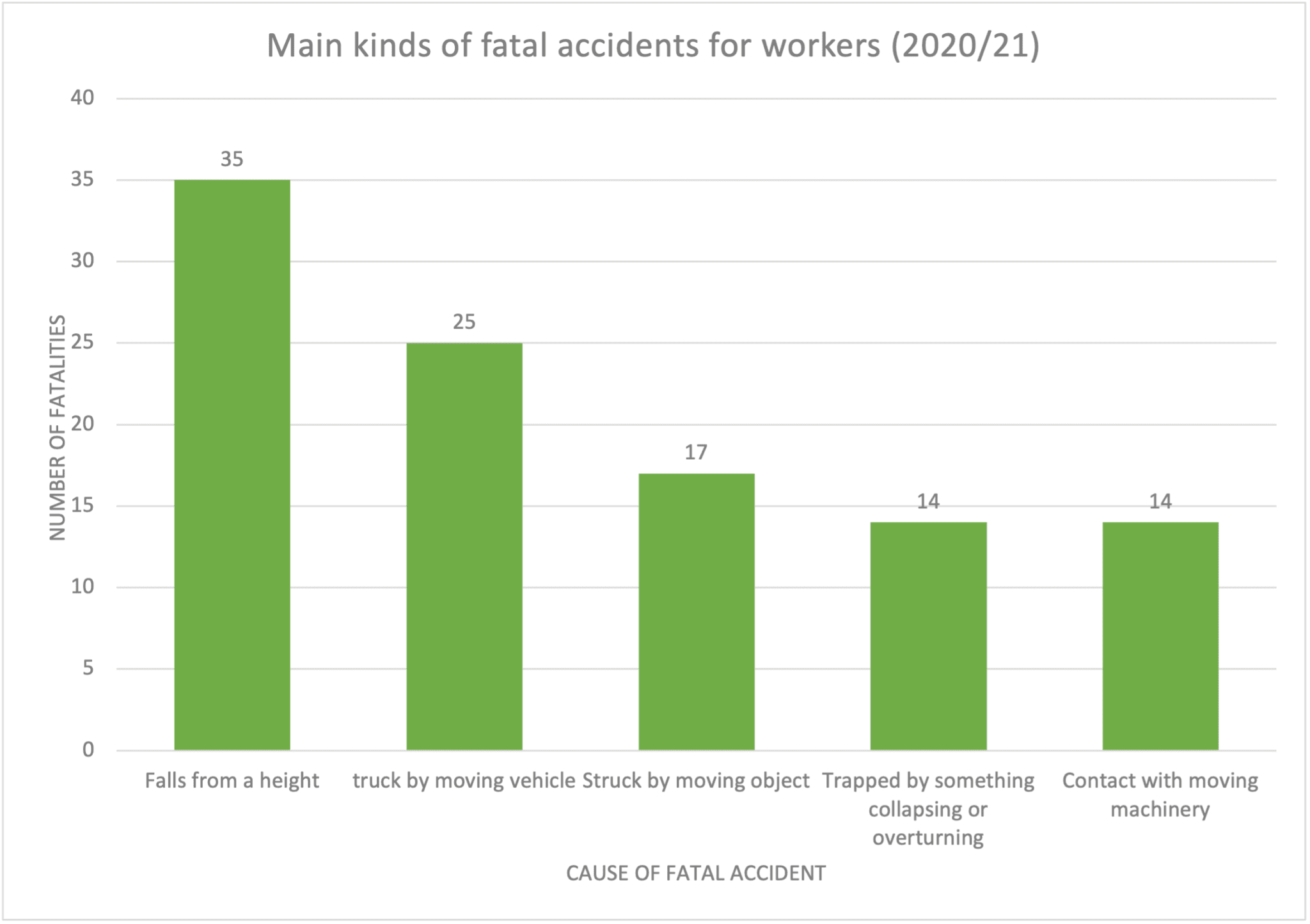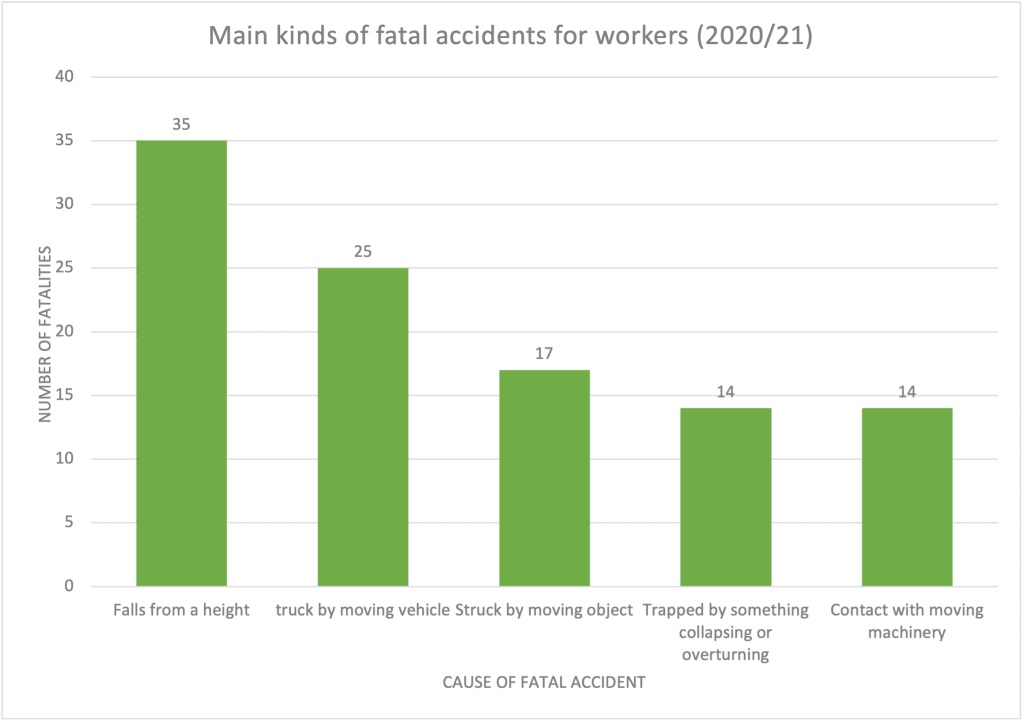 If you want to make a ladder accident claim for the fatal accident of a loved one, please speak to our team. We understand that making such claims for compensation could be somewhat traumatic for you. We know that you may not want to go over the details of your loved one's accident and injuries. However, claiming compensation could not only stop the same accident from befalling someone else, but it could also bring some financial support.
You could receive compensation for your bereavement and to cover funeral expenses. In some cases, you could receive compensation for the loss of financial support your loved one gave you. We know that no settlement would truly compensate for you losing your loved one. However, it could provide some much-needed financial support to help with the costs of your loved one's death.
Do I Need To Use A Local Solicitor To Make A Personal Injury Claim?
No, you do not need to use a solicitor that is locally based when you make a personal injury claim. Due to the fact that most claims can be handled over the phone, by email, video chats or letter, it is no longer necessary for you to have a solicitor in your local area.
What injuries could a person receive from falling off a ladder?
Some common injuries from falling off a ladder could include:
Head injuries – if you land on your head from a height, your injuries could be quite severe. This type of fall and impact could also lead to brain injuries.
Hand injuries – if you put your hand out to break your fall, this could cause hand or wrist injuries.
Soft tissue injuries – even if you are not very high up a ladder, falling could damage some of the soft tissues.
Knee injuries – if you fall on your knees, or twist your knee when you fall, this could damage the knee.
These are just a few injuries you could experience when falling off a ladder. If your injury isn't listed above, this doesn't mean you couldn't claim for it.
How common are fatal ladder fall incidents or other fatal falls from a height in construction?
50% of fatal accidents resulted from falls from a height in the construction industry in 2016/17-2020/21 according to the statistics collected by the HSE. You can see how these numbers compare to other causes in the graph below.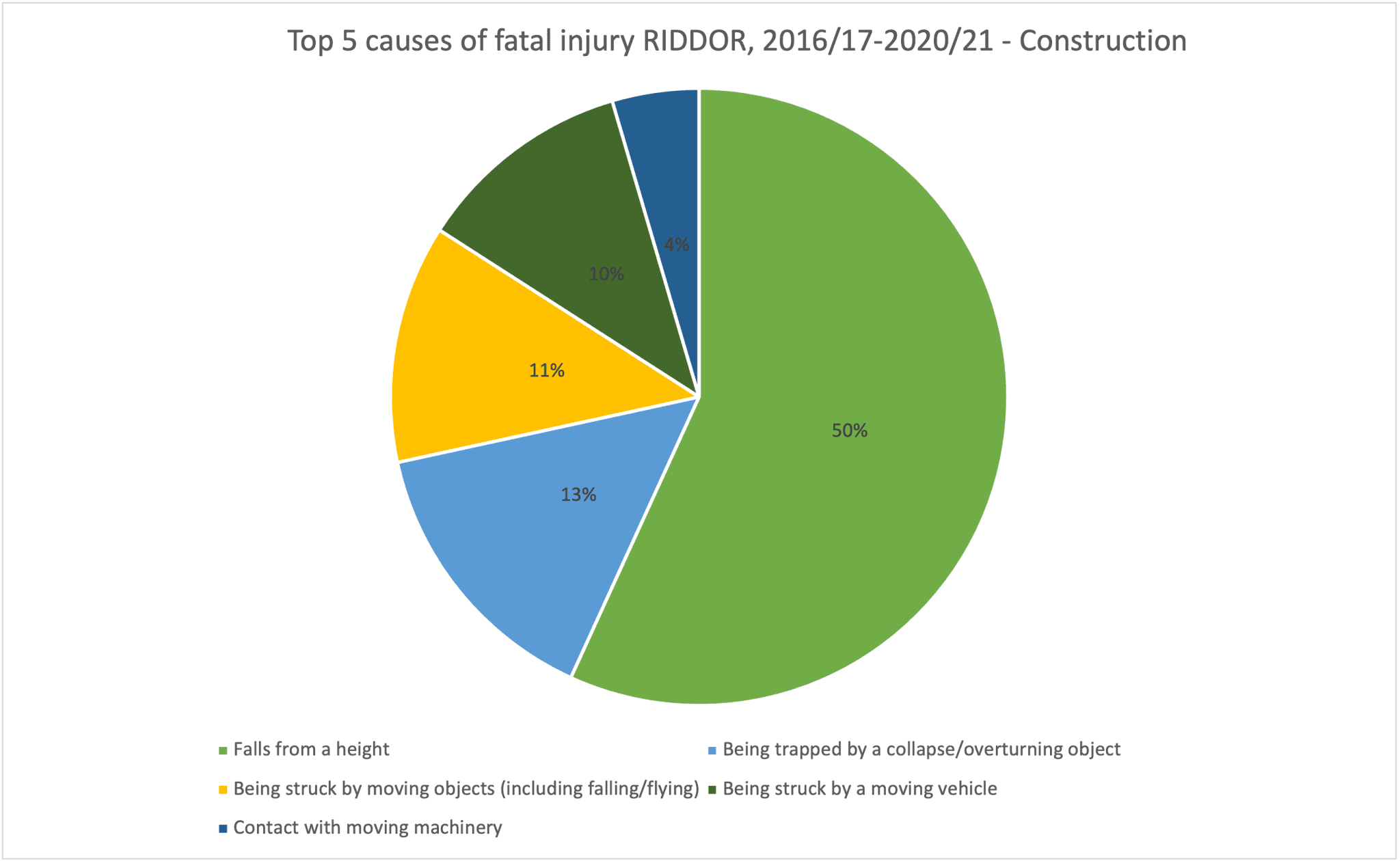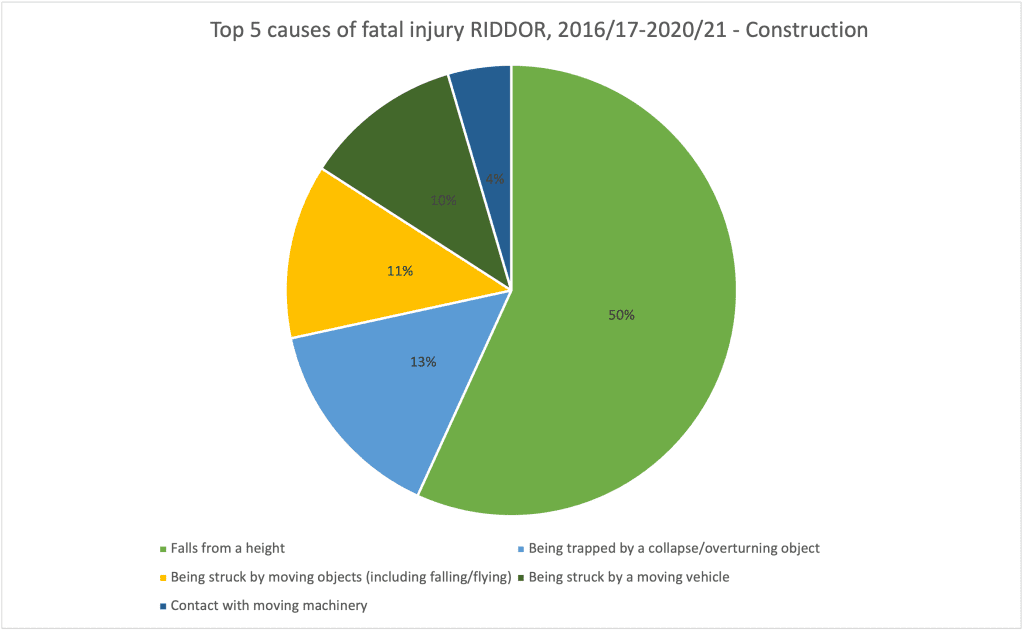 I had a fall from a ladder at work – where can I get help to claim compensation?
We could assist you if you believe falling from a ladder could have been avoided if your employer had taken care of your health and safety at work. Our team could assess your eligibility to claim and could provide you with a solicitor to assist you.
Where can I find guideline compensation payouts for ladder injuries after a fall?
We have included guideline compensation payouts for ladder injuries after a fall in the compensation table on this page. The figures come from the 2022 release of the Judicial College Guidelines. However, these figures only relate to general damages, which seek to cover the way your injuries have impacted your quality of life and are only a rough guide. 
You could also claim for the financial impact of injuries sustained when falling off a ladder. If someone else was to blame for your accident, and it was caused by the breach of their duty of care toward you, you could include special damages within your claim. These seek to reimburse any financial losses associated with your injuries and could include loss of income, medical, travel and care expenses. You would need evidence of these costs and losses such as payslips or receipts.
I don't have any of the common injuries from falling off a ladder, can I claim?
We have included compensation guideline amounts in the compensation table for common injuries from falling off a ladder. If you have sustained another injury when you fell off a ladder, this doesn't mean you wouldn't get compensation. To make a successful claim, you must be able to prove negligence resulted in you sustaining harm.
For insight into how much you could receive following a successful claim, please call our team. We could give you insight into guideline compensation payouts for other fall from ladder injuries over the phone. 
How long does it take for a claim to settle?
This could depend on several factors such as whether:
The defendant admits liability
The case is complex
More evidence is needed to support your claim
Your case needs to go to court
Call us for more information.
Thank you for taking the time to read our fall from a ladder accident guide on how to make a ladder accident claim for falling off a ladder. We hope you have learned a lot about how to claim compensation for a fall from a ladder.