By Joanne Jeffries. Last Updated 21st October 2021. Welcome to our guide on abdominal injury claims and organ injury claims. If you received abdominal injuries in an accident that was not your fault, you may be wondering whether or not you could go about making a personal injury claim. There are many ways in which you could suffer an internal organ injury which includes in a car accident, in an accident at work, being a victim of a stabbing, or even because of food poisoning.
This guide takes a closer look at abdominal injuries, how they could occur and how they could lead to personal injury claims. The guide also covers injuries that could be caused by abdominal trauma. It provides advice on how you may be able to claim compensation if someone else caused your abdominal or internal organ injury.
At Accident Claims UK, our team of solicitors can provide the support you may need to begin a no win no fee claim for abdominal injury compensation. For legal advice, you can call our team on 0800 073 8801 for more information about receiving a compensation award for organ injury claims.
Select A Section
A Guide To Abdominal Injury And Organ Damage Claims
Let's discuss organ injury claims by explaining the injury itself. So, abdominal injuries are often complicated because multiple organs may be negatively impacted, including the bladder, bowel, spleen, liver and kidneys, and the soft tissues around them. If you suffered an internal injury to the abdomen, it could easily lead to organ damage. This type of injury could be caused in a multitude of ways which includes the following:
Food poisoning
Blunt-force trauma if involved in a road traffic accident
A workplace accident
A slip, trip or fall
A penetrating wound caused by a stabbing
To find out more on how to begin an internal organ injury claim, a personal injury solicitor at Accident Claims UK would be happy to answer any questions you may have, which includes the following:
What are some abdominal injuries?
How can you tell if you have internal injuries?
Which organs are injured most frequently?
The guide also provides useful information on how much compensation you may be awarded in successful organ injury claims.
What Are Abdominal Injuries?
Your abdomen contains many vital organs, and if you suffer an internal injury, you may seriously damage one of them. Any trauma to the abdomen could lead to the following:
Bladder damage
Bowel injury
Kidney damage
Damage to the spleen
Hernia
If you suffered an injury to the abdomen due to someone else's dangerous or negligent behaviour, you might be able to make an abdominal injury claim providing you can prove third party liability. If you would like more advice, an Accident Claims solicitor can explain how liability can be proved if you suffered an abdominal or internal organ injury caused by another person.
To clarify, organ injury claims might be possible if somebody else caused an accident in which you were injured. The amount you could claim will depend on the extent of your injuries and how they've affected you. Within organ injury claims, you could seek damages for lost earnings, medical expenses and the cost of rehabilitation.
Abdominal Injuries At Work
Your employer has a legal duty of care towards employees and must ensure their health and safety is protected while they are at work. An employer must assess and reduce risks within a workplace and set in place reasonable measures so that employees and other people are less at risk of being harmed or injured.
Some actions that an employer should take to protect your health and safety at work would include:
Ensuring you have personal protective equipment if required to do your job safely
Making sure any machinery that you use is checked and maintained to ensure it is in good working order.
Fitting safety guards to machinery where appropriate
Removing or signposting trip hazards within the workplace
Training you on how to do your job safely
If your employer fails to look after your health and safety and you suffer abdominal injuries in an accident at work which could have been avoided, you may be able to make organ injury claims for compensation against your employer.
Abdominal Injuries In Road Traffic Accidents
Road traffic accidents carry a real risk of organ injury to road users. The reported road casualties in Great Britain report show an estimated 131,220 casualties in RTAs in the year ending June 2020. There are a variety of different ways in which you could sustain abdominal injuries in a road traffic accident which include the following:
A traumatic injury as a pedestrian hit by a vehicle
Bowel negatively impacted from being knocked off a motorcycle
A penetrating injury from a head-on collision with another driver
A bladder injury as a cyclist hit by another road user
No matter what type of road user you were or whatever injury you suffered, if another person was at fault, you could look into making organ injury claims for compensation. If you're unsure as to who could be at fault for the accident, then we could help to clarify this over the phone.
Abdominal Injuries Caused By Assaults
Sadly, some abdominal injuries could be caused as a result of an assault. In the year October 2019 to September 2020, there were over half a million cases of violence resulting in injury reported to the police, according to the Crime Survey for England and Wales. This amounts to a rate of 9 injuries through violent crime per 1,000 people in the UK. As such, the chances of suffering a penetrating injury to the abdomen due to a stabbing could be higher than they once were.
If you suffered a penetrating trauma to the abdomen from being stabbed, or you suffered a traumatic injury by being hit with a blunt instrument to the abdomen, whether a weapon, a fist or a foot, you may be entitled to make a compensation claim to the CICA for your injuries.
Criminal injury compensation claims work slightly differently than some other personal injury claims. The time limit is different, and you would only have 2 years to claim, which starts from the date of the criminal incident, whereas other personal injury claims, the limit is usually 3 years, but there could be exceptions to these time limits, so you might prefer to call us to get clarification on the time limit that could apply to your organ injury claims.
Please read on to find out more about the kinds of injury resulting in organ injury claims.
Types Of Abdominal Injury
There are several internal injuries you may sustain should you have suffered damage to your abdomen, and this includes the following:
Blunt force trauma – This could be caused by being struck with a blunt object, whether a piece of machinery, a fist, a foot, a bat, or another object. Blunt force trauma could also be caused if you are struck by a car or other vehicle.
Penetrating trauma – if you were struck by something that penetrated your abdomen or fallen on something that penetrated your abdomen, this could cause soft tissue and damage internal organs, depending on how deep the penetrating wound happened to be and the angle it entered your body.
Illness – some infections and illnesses could cause damage to the abdomen and internal organs. One of the most obvious being food poisoning which could cause bowel damage and more. Other causes include hospital-acquired infections.
Birth injuries – during childbirth, abdominal injuries could be caused by an improperly performed caesarean or during recovery if an infection has set in
Kidney Injuries
Because your kidneys filter toxins out of your blood, a kidney injury may cause harmful toxins to build up in your body which could cause, in extreme cases, a life-threatening illness. Kidney damage may be caused by diseases, trauma to the abdomen, severe levels of dehydration and exposure to certain pollutants. If you developed kidney damage and someone else was at fault, you may be able to claim compensation for the pain you suffered, as well as any financial costs incurred.
Penetrating Stab Wound Injuries
If you are thinking about making any internal organ injury claims because you suffered a penetrating stab wound, you could be entitled to seek compensation. Whether the penetrating stab wound you suffered led to internal bleeding, organ damage or a combination of the two, it could also lead to a serious infection and cause damage to internal organs. As previously mentioned, you may be able to receive compensation by filing organ injury claims through the CICA (Criminal Injuries Compensation Authority).
However, you may also be able to make an abdominal/internal organ injury claim for a penetrating stab wound caused by other accidents, which includes the following:
Road traffic accident
Workplace accident
Abdominal Injuries Affecting The Bowels Or Bladder
Abdominal injuries that result in bowel or bladder damage could be serious. Should you have suffered this type of injury, the settlement you may be awarded could fall in a high bracket, according to the Judicial College Guidelines. The reason being that the normal function of your bowels and bladder are essential, and if negatively impacted, you may not be able to lead a normal life.
There are several different treatments for bladder and bowel damage which could include:
Colostomy
Bowel resection
Catheterisation
Surgical repair
However, if a treatment is not effective, you may be left incontinent, which could have a devastating effect on your ability to live a normal life.
Hernia Injuries
A hernia happens due to a weakness in the muscles that surround internal organs. The result of the weakness or tear causes part of an internal organ to poke through. You may feel a lump or swelling in your stomach or groin area if this happens. A hernia could also result from a surgery that did not heal properly or because of an abdominal tear for another reason. You may not always need to undergo surgery for a hernia, but if one becomes trapped, it could cause the hernia to strangulate. Should this happen, you would require emergency surgery to resolve the problem. If you suffered a hernia due to a surgical error and medical negligence could be proven, you may be able to make an internal organ injury claim.
Complications Resulting From Abdominal Injuries
While some abdominal injuries could be fixed quite simply, others may cause severe symptoms and leave permanent damage to some internal organs, which could have far-reaching consequences. The correct and prompt diagnosis followed by effective treatment is essential to ensure that damage is minimised and that the risk of long-term effects is reduced as much as possible. But any complications could also allow you to make successful internal organ injury claims/organ injury claims.
Diagnosing abdominal injuries typically involves the following:
Blood tests
X-Rays
MRI scans
Urine tests
Ultrasounds
Laparoscopy
Treatments may include the following;
Laparotomy
Angioembolisation
Catheterisation
Colostomy
Other types of surgical repair
Antibiotic treatment
Many surgical interventions come with added risks associated with anaesthesia, and other complications could cause further issues other than the initial damage from an abdominal or internal organ injury.
Whether your injury led to complications or negligent medical treatment after an injury caused complications, you may be able to make an abdominal injury or internal organ injury claim for your suffering as well as any financial costs associated with the injury, providing someone else could be held liable for the suffering and pain you endured. Get in touch to enquire about how medical negligence could cause or worsen such an injury.
Evidence to support organ injury claims
As with all compensation claims, you'll need evidence to prove how you sustained an internal organ injury. Here are some steps you could take to help prove what happened, who was to blame and the injuries you sustained:
Take photographs of the accident scene. Try to include the cause of your injuries before it's removed.
See if CCTV covers the area the accident happened and try to obtain a copy.
Write down the names and contact details of anyone who witnessed the accident.  Your solicitor might need a statement from them later on.
Get copies of your medical records. These can show what internal organ injury you suffered and the treatment you needed.
Report the accident. If you are at work or in a public place, report your accident as soon as possible. In organ injury claims, the accident report could clarify the date, location and time of the accident.
While your organ injury might prevent you from taking some of these steps at the time of the accident, you should attempt to gather as much evidence as possible. If you would like to know more about the organ injury claims process, please speak to us today.
Abdominal Injury Compensation Claims Calculator – Updated October 2021
If you'd like to know how much organ injury claims could be worth, this section will be helpful to you. if you've suffered injuries to the abdomen as the result of an accident, this could be more useful than a compensation calculator, as it explains more about how compensation could be arrived at. Because the area around the abdomen contains several different organs, you may have sustained organ damage. Calculating how much compensation you could be awarded for this type of injury often proves challenging. The figures provided below are based on the Judicial College Guidelines. They offer an idea of how much compensation for specific injuries you could receive in a successful personal injury claim:
| Injuries | Guideline Payout Bracket | Further Notes |
| --- | --- | --- |
| Kidney damage | £158,970 to £197,480 | Permanent serious damage to both kidneys or loss of both. |
| Kidney damage | Up to £60,050 | Injuries where there is a risk that is deemed significant of the loss of function to the kidneys or urinary tract infections, which could lead to high medical expenses in the future. |
| Kidney damage | £28,880 to £42,110 | Where one kidney is lost but there is no damage to the other kidney. |
| Bowel injuries | Up to £172,860 | Those that leave the claimant with double incontinence, as well as medical complications. |
| Bowel injuries | Up to £140,870 | Those that leave the claimant with no natural function and where they depend on a colostomy. The award would depend on the age of the patient. |
| Bowel injuries | In the region of £75,000 | Where there is, despite surgery, faecal urgency as well as passive incontinence. Could be caused by birth injuries. |
| Bowel injuries | £41,850 to £65,440 | Impairment of function/possible need of colostomy. Some restriction on diet and on employment might remain. |
| Bowel injuries | £11,820 to £22,970 | Penetrating injury causing some level of permanent damage, but where function and control revert to natural, eventually. |
| Bladder injuries | Up to £132,040 | Where there is complete loss of control and function. |
| Bladder injuries | £60,050 to £75,010 | Serious control impairment as well as some long-term function interference. |
| Spleen | £19,510 to £24,680 | Where the spleen is lost and there is a risk of infection internally, as well as other disorders as a result of the damage to the claimant's immune system. |
| Spleen | £4,080 to £8,110 | Where the spleen is damaged but the above risks are not present. |
| Hernia | £13,970 to £22,680 | Continuing presence of pain or limitation of the physical activities that the claimant could undertake, or both. |
| Hernia | £6,580 to £8,550 | A direct inguinal hernia where there was no existing weakness. There may be a risk of the recurrence of the hernia, even after surgery. |
| Illness/damage from non-traumatic causes e.g. food poisoning | £36,060 to £49,270 | Where the claimant has suffered toxicosis which was deemed to be severe. They would have been admitted to hospital and there may be continuation of incontinence, as well as IBS and haemorrhoids. This may have an impact on a claimant's ability to work/enjoy their usual activities. |
| Illness/damage from non-traumatic causes e.g. food poisoning | £8,950 to £18,020 | Short-lived but serious cases of food poisoning where there is likely to be a loss of enjoyment of food, disturbance of bowel function that could take a few years to dissipate. |
Please note the amounts provided above are only guidelines, and you would not have a value attached to your claim until such time as you had undergone a medical assessment. The results were presented to the relevant parties. For a better idea of how much abdominal injury compensation you could receive, please get in touch with one of our personal injury lawyers.
To see what else can be included in organ injury claims, please read on to the next section.
Special Damages In Abdominal Injury Claims
As well as the figures above, which are classed as general damages and are meant to compensate you for the suffering and pain you've experienced due to your abdominal injuries, you could also include costs and losses you incurred as a direct result of your injuries in your abdominal/internal organ injury claim. These are known as special damages and could include the following:
Loss of earnings – if you were unable to work due to your injuries, you might have been paid less than usual. Both a loss of earnings and a predicted loss of earnings could be claimed as part of your abdominal injury claim. For example, you are likely to be off work well into the future, either because your injuries are severe and mean you won't be able to return to work, or because you could require surgery later down the line, which would lead to a longer recovery period.
Care costs – if you cannot perform normal daily tasks such as washing/dressing, and someone had to come and care for you, care costs could also be part of your claim.
Medical and travel costs – if you had to pay for travel that specifically related to your abdominal injuries, or you needed to pay for physiotherapy, counselling, mobility aids, prescriptions or other medical expenses, then you could also include these within your claim.
If you paid out for something that you feel directly related to your injuries and are wondering whether you could claim compensation for it, then do not hesitate to call us to check. We could help clarify this for you.
No Win No Fee Claims For Abdominal Injuries
You may have been under the impression that you would need to pay for legal services upfront when making abdominal or internal injury claims, but this would not be the case if you choose a No Win No Fee solicitor to act on your behalf. Instead of paying a retainer to begin work on your case, you would sign a Conditional Fee Agreement which promises to pay a success fee to your personal injury lawyer if they succeed in getting you a settlement. At the end of your claim, once the settlement is paid out, the lawyer's success fee would be deducted from the amount, with the rest of the award being paid to you.
But what happens if you have valid organ injury claims yet your lawyer doesn't manage to obtain compensation for you? Should this be the case, you wouldn't have to pay the success fee at all. If you'd like to ask us any questions about claiming a Conditional Fee Agreement, why not get in touch? All of the lawyers on our panel work on this basis, and we'd be happy to explain anything you're unsure of regarding the process.
Why Choose Our Accident Claims Team For Abdominal Injury Claims
At Accident Claims UK, we can help with all manner of personal injury claims, whether you're looking to make an abdominal or internal injury claim after an accident at work that was not your fault or because you've suffered a stab wound when someone attacked you. We know you may have questions, and we'll strive to answer them quickly and clearly – we won't resort to using complicated and confusing jargon.
All the advice we offer is free of charge, and we won't put you under any pressure to begin a claim with us. You're under no obligation to use our services. Still, if you choose to, we would be happy to assess your eligibility to claim and provide you with a personal injury solicitor from our panel if we think you could have a valid cause to make an abdominal injury claim.
Our previous clients will attest to our attentive service and attention to detail when dealing withpersona your case. We are knowledgeable, sympathetic, professional and friendly. We care about getting you the compensation you deserve for your injuries. After all, no one deserves to be injured because of someone else's actions/inaction, and the No Win No Fee lawyers on our panel ensure that anyone with a valid compensation claim could go ahead and make abdominal or internal organ injury claims.
Start Your Abdominal Injury Or Organ Damage Claim
If you're thinking of beginning a claim, or you'd like us to help you understand more about the organ injury claims process, then the team here at Accident Claims UK would be delighted to hear from you. We can be reached via phone – on 0800 073 8801 – or via emails at office@accidentclaims.co.uk.
You may already have seen the live chat feature on the site, which you can use to contact us too, and there's even a contact form you can fill in so we can get back to you at a time that suits you if you'd prefer.
Abdominal Injury Claims FAQs
What happens if a hernia is left untreated?
If you think you have a hernia, you should always go and have it checked by a doctor. They'll be able to ascertain whether you need surgery, or they may refer you for an ultrasound. Most of the time, although a hernia won't get better on its own without surgery, it's unlikely to get worse. Surgery isn't always the best course of action to take with a hernia; sometimes, the risk of surgery is greater than the risk of living with a hernia.
You should go to A&E if your hernia causes you to vomit or become constipated. This could mean that a section of organ or tissue has become trapped and strangulated, or part of your bowel has become blocked by the hernia. These should be treated as soon as possible.
What are the two types of injury claims damages?
When you claim personal injury compensation following an abdominal or internal organ injury, your compensation will be split into two heads of claim. The first is the general damages, which will be awarded to you based on the injuries you've sustained. The amount paid to you will depend on where your injuries are and their severity.
You'll also be paid special damages, which will cover any expenses you've incurred because of your accident. This could include travel expenses if your injury has prevented you from driving or reimbursement for any medical treatment you've had to pay for yourself.
What are the signs and symptoms for abdominal injuries?
Typical symptoms include the likes of vomiting, nausea, a fever and having blood in urine. There could also be pain, distension and tenderness within the abdominal area.
What happens if you get hit in the abdomen?
If the impact to the abdomen is strong enough, this could damage the intestines, as well as causing bowel perforation.
What are the types of abdominal injury?
These include hematoma rupture, intestinal obstruction, intra-abdominal abscess and abdominal compartment syndrome.
Which organ is most commonly injured in blunt abdominal trauma?
The spleen, the liver and the kidneys are amongst the organs most frequently injured in this scenario.
Can an internal injury heal on its own?
Internal bleeding tends to come from a serious injury requiring surgery. Therefore, while internal injuries can heal naturally, serious examples of these usually need surgery.
How long does an abdominal tear take to heal?
Depending on its severity, the tear could take anything from 3-6 weeks to heal.
Could I make abdominal injury claims for clinical negligence?
If you have suffered an abdominal injury due to surgical error, or another form of medical negligence, this could lead to a claim for compensation. Whether you are treated at a private practice, or on the NHS, you are entitled to a safe standard of care. If you care is considered to be negligent, and this causes you undue pain and suffering, you could have a claim for medical negligence compensation. While we do not have the figures for private practice clinical negligence payout amounts, we can give you some NHS figures.
According to NHS Resolution, in 2020- 2021, there was a significant amount of money paid out on clinical negligence claims. The graphic below shows the figures involved.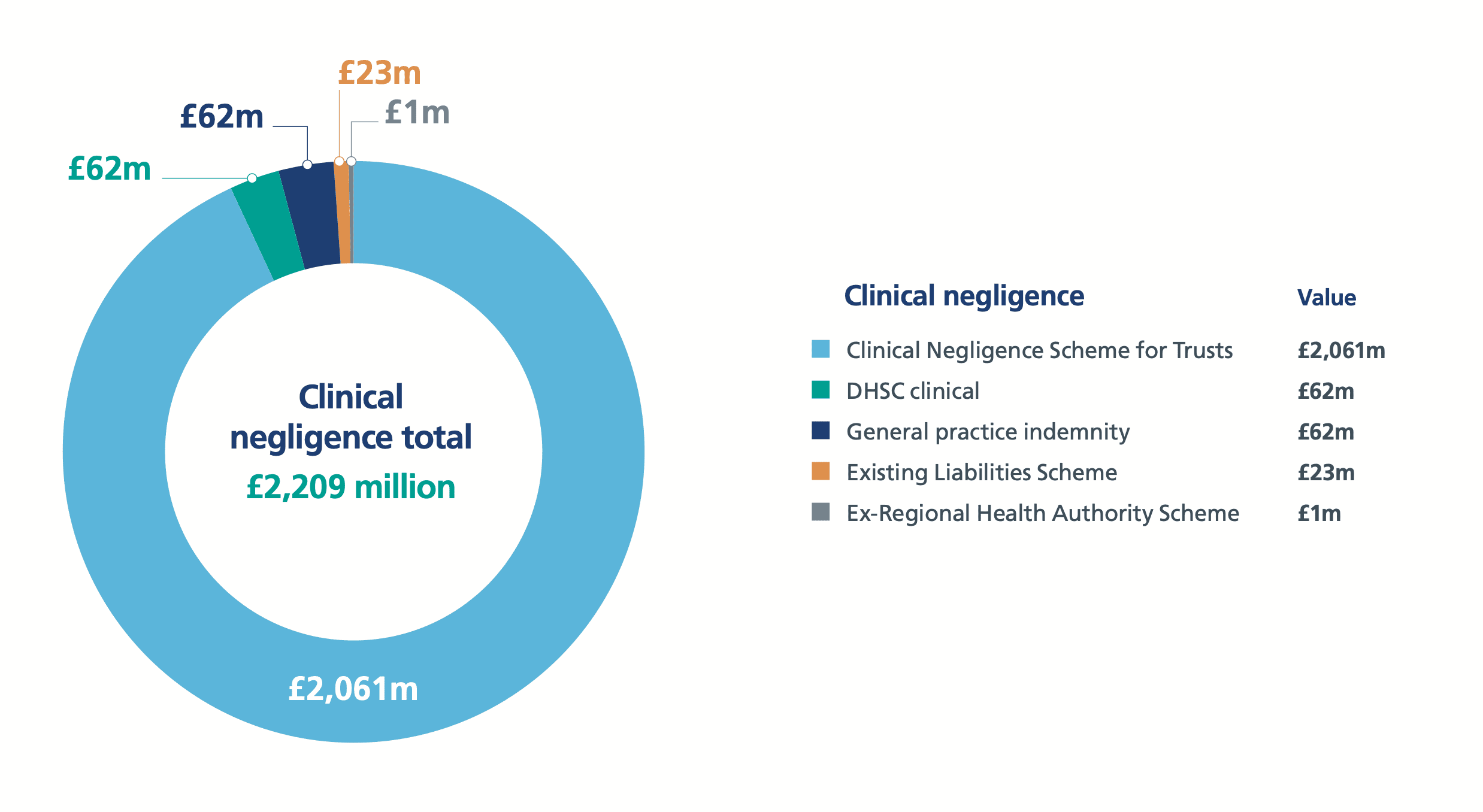 Do I need a specialist solicitor to claim for medical negligence?
While you could use a personal injury solicitor who is experienced in workplace accident claims road traffic accident claims for your clinical negligence claim, it may be best to check whether the solicitor you're considering using has specific experience in medical negligence. This is because in medical negligence claims you would have to prove that but for the negligence you'd suffered, you would not have suffered the pain or the injury you encountered. This can be tricky to prove. One of our specialist solicitors, authorised by the Solicitors Regulation Authority could assist you with this kind of claim on a no win no fee basis. Please contact us to find out more.
Related Claims And Medical Resources Related To Abdominal Injury Claims
Inguinal hernia guide – Here, you can read more about inguinal hernias and how they could affect you.
Injuries To The Kidney – Here, you can see more information on kidney injuries from the NHS.
First Aid For Major Bleeding – Here is some advice on how to help with serious bleeding.
Farm accident claims – Here, you can read our guidance on claiming an accident at a farm.
Claiming compensation for assault -Details on how to claim from the Criminal Injury Compensation Authority for assault can be found here.
Road Accident Claims – Details of how to claim a road traffic accident could be found in this guide.
Article by Jo
Editor Honey
Thank you for reading our guide on abdominal injury claims and organ injury claims.