By Joanne Jeffries. Last updated 4th April 2022. Welcome to this guide covering inadequate lighting claims. Here, we look at how poor lighting could cause accidents, and answer questions such as 'can inadequate lighting create a trip hazard?' and 'what are the effects of poor lighting on your health?'
How common are accidents due to poor lighting?
Accidents that happen due to poor lighting may be more common than you'd think. Whether it's a fall down the stairs, inability to see a trip hazard, or poor lighting causing machinery to be misused, there are numerous things that can go wrong when you can't see, and this can lead to a huge array of different injuries.
While it is common sense not to have to feel around in the dark, sometimes this is unavoidable, but if it could have been avoided and someone that should have done failed to light an area correctly, then it may be the case that you could seek compensation for accidents caused by poor and inadequate lighting.
In this guide, we at Accident Claims (0800 073 8801) will be taking you through the risk and hazards that often lead to accidents caused by poor and inadequate lighting, as well as the effect of poor lighting in the workplace, lighting in the workplace regulations, and all about poor lighting claims.
Select A Section
A Guide To Accidents And Injuries Caused By Poor Or Inadequate Lighting
Poor lighting causes risks. Not only to the eye health but also to general health and safety. There is no denying that being able to see when working or out and about is vital to keep us safe, but accidents caused by poor and inadequate lighting happen frequently, and when they do, they can cause a huge variety of injuries to a person. Whether you have slipped in a
car park
that was not adequately lit, been injured because of a trip hazard in a poorly lit stairwell, or even if your eye health has suffered because of poor working practices, you can claim for accidents caused by poor and inadequate lighting with the help of a personal injury lawyer that we can provide to you.
Do I have a claim for injuries caused by poor lighting?
There are a few conditions to be met to have a valid claim for poor lighting injuries though. You'll need to be within the personal injury claims time limit. This may be different depending on your age at the time of the accident, the date of diagnosis of any condition caused by the lighting and more. You can of course contact our team to find out exactly where you stand. Another condition is that someone (a defendant should have been responsible for ensuring adequate lighting) and another condition is that the defendant's failure to ensure the lighting was adequate caused your injury/ies.
What Is Poor Or Inadequate Lighting?
According to the HSE's effects of poor lighting in the workplace pdf, there are minimum lighting conditions that need to be met for people to be able to work safely. These are as follows:
Illuminance that is on the task – This means that the relevant amount of detail can be seen. The level will be dependant on the speed and accuracy of work required as well as the age of the worker in question. Another thing that needs to be assessed is the amount of glare, as this will have an effect on the ability of a person to perform a task too.
The table below illustrates the light level that needs to be maintained in terms of averages and minimums.

| Type of Activity | Type of work | Illuminance (Average) in (lux)1x | Iluminance (Minimum) |
| --- | --- | --- | --- |
| Vehicle, Machinery and People's movement | Routes, car parks, corridor | 20 | 5 |
| As above but in dangerous areas (rough work) | Loading bay, site clearance/excavation, soil work, canning or bottling plants | 50 | 20 |
| Limited detail perception required | Potteries, factories (large components assembly), kitchens | 100 | 50 |
| More detail | Bookbinding, office work, sheet metal jobs | 200 | 100 |
| Fine Detail | Electronic component/small assembly, textile productions, drawing offices | 500 | 200 |
Obviously, this is only taking into account the light level needed to do the work at hand. Hazard perception should also be assessed and the HSE's pdf shows many ways in which risk assessments should and can be undertaken to ensure that lighting conditions are met.
Out of the workplace, accidents caused by poor and inadequate lighting can be deemed the defendant's fault if you were unable to see hazards, as they failed to install or maintain an adequate level of lighting for you to be safe. Please feel free to call us if you'd like to know more about poor lighting claims.
My Accident Was Caused By Poor Lighting, Can I Claim Compensation?
Having an accident in poor lighting is one thing, finding out whether you can claim for it is another. In order to help you ascertain initially whether you might have a claim, you may want to ask yourself some relevant questions such as:
Why was the lighting not better?
Was a hazard there that should have been cleared up?
Is it my fault at all?
Should there have been a handrail to protect me?
Am I within the time limit?
Should the person responsible for the place I had the accident in have installed/maintained adequate light?
Did they fail to do so?
Were they aware of the risk?
Once you have the answers to these questions, you might have a clearer idea of whether you can claim compensation. However, it's not always clear, and if not, then it is important you know you can call our team who will help ascertain whether you can indeed claim compensation for accidents caused by poor and inadequate lighting.
Slips, Trips, And Falls Caused By Poor Lighting
The most common types of injury that happen in poorly or inadequately lit places are those that happen from a fall, whether as a result of a trip or a slip or stumble. There are some places that are more common for this type of accident to occur than others, such as staircases, passages, car parks and on the street. They can also happen in commercial premises.
A person that owns land/buildings is liable for that property or area so if you have an accident and they have failed to make the light adequate for negotiating that place, then this is their liability, if you were meant to be in the area where the accident occurred. Land and premises owners have a duty to ensure the area is safe and should do so by ensuring they check the area, maintain it correctly, and reduce risks as far as is possible.
Claims For Accidents Caused By Poor Or Inadequate Lighting
Not only can slips and falls cause accidents due to poor and inadequate lighting, but when there is insufficient lighting to correctly assess hazards, such as trip hazards and spills, it can lead to further accidents. Whether lighting design was to blame, or whether the lighting was sufficient previously and something had changed, such as a bulb breaking or malfunctioning, if someone hasn't made sure the lighting was sufficient, they have not acted correctly in terms of their duty to keep people safe, and therefore they can be help liable for the injuries you've incurred. Want to know how we could help with poor lighting claims? If so, why not call our team today?
Claims For Injuries Caused By The Effects Of Poor Lighting Solutions
Just like with any other type of accident, there are a huge number of different injuries that can be incurred due to the accident you've had with poor lighting. Falls from height – for example in a poorly lit stairwell, are quite dangerous, and can cause significant injuries such as broken bones etc, whereas you might have suffered a smaller injury should you have fallen on one level. It depends entirely on the way you fell, as well as the ground beneath you and how you landed.
Could poor lighting accidents lead to financial harm?
Injuries can lead you to have to bear unexpected financial hardships too. Especially if you are off work, and do not get sick pay, you might find that you are put in a precarious financial situation, which is why claiming compensation is a good thing to look into. After all, if the accident had not have happened, and the lighting had been sufficient or maintained sufficiently, then you would not be going through financial hardship to this level as you would potentially still be working and earning money. Feel free to get in touch to find out more about poor lighting claims and how we could help.
Claims For Accidents At Work Caused By Poor And Inadequate Lighting
It's important that you not only have a place to work with adequate lighting to get the job done, but also to keep you safe at work, and the employer that employs you has a duty to ensure that this is the case. Whether by a failure to design and fit lighting that is sufficient, or to maintain good lighting in your place of work, if you should have an accident caused by poor and inadequate lighting, no matter whether a trip on a computer cable or falling into machinery, your employer might be liable if they have failed you in this duty to make your workplace safe.
What are the effects of poor lighting on your health and what should employers do?
Sometimes, people are needed to work in darkened areas, but they still need to see. Sometimes, PPE is required, such as a hardhat with a torchlight attached to enable a worker to correctly perform their duties in areas where there is little light. If this PPE is not maintained, then the light might fail and you could become injured in the dark. If this is the case and your employer did not maintain or check your PPE, or train you to check it, then they may again be held liable for your injuries. Please call today to learn more about poor lighting claims.
Claims For Poor And Inadequate Lighting Accidents In The Street And Public Places
Broken pavements, manholes and icy spots are all present on UK pavements and pose risk of injury, but if we are unable to see them then we cannot take steps to avoid them. If a local authority is not providing sufficient lighting in public spaces, then they could be at risk of being liable for accidents caused by poor and inadequate lighting. Places this could be an issue for include, but are not limited to:
Pavements
Car parks
Public parks
Public footpaths
Underpasses
If you have become injured in a public place because of the lack of lighting, then why not get in touch – we'll be able to tell you if you have a valid claim for compensation.
How Lighting Accidents Can Be Prevented
Lighting accidents don't have to happen. If they have happened before in an area, then the person responsible for that area should know the risks and have done something to prevent the issue reoccurring. Things that can help to avoid lighting accidents can include, but again, are not limited to:
Fitting handrails to balconies and staircases
Designing lighting to be sufficient for the space
Maintaining that lighting correctly so that it does not fail
If you can prove that the accident was foreseeable and preventable, then you might have a valid claim, but we can clarify this over the phone for you. We're always happy to help.
What Can Personal Injury Claim Settlements Include?
As with all types of personal injury settlements, different factors are taken into account and these make up the damages that form your compensation payout. You could receive general damages and special damages as part of your claim. Initially, you might expect to have your costs covered, the ones that came about as a direct result of the injury, such as time off work that has lost you wages, as well as perhaps travel costs to medical appointments etc, but this is not the only part of your compensation.
You should also be looking to receive a payout for the injury itself and the loss of amenity, suffering and pain you have borne because of it. Later on in this guide, we'll explain typical payments for some common injuries. You might also be compensated for future loss of earnings if you're likely to have further medical treatment that would require you to take more time off work, or if you are expected to be off work for a while. Speak to our claims advisors to find out what sort of costs you can and cannot claim for in poor lighting claims – we are always happy to answer your questions.
Poor And Inadequate Lighting Compensation Claims Calculator
When it comes to injuries, there can be a huge range that can be suffered in an accident caused by poor and inadequate lighting. Depending on whether you have suffered a fall or whether it's another accident, you could suffer anything from a burn to a broken arm to a head injury. With that in mind, we've created somewhat of a compensation guide to how much you could receive for certain injuries sustained in such and accident caused by a breach of someone's duty of care towards you. It's worth noting that these are typical payout amounts and your actual award may vary depending on your prognosis etc.

| Type/Severity | Further information | Common award bracket |
| --- | --- | --- |
| Wrist injury – Serious | Injuries causing permanent disability but where some movement remains. | £22,990 to £36,770 |
| Arm fractures – Serious | Reduced function long term, often from multiple fractures | £36,770 to £56,180 |
| Foot injuries – Serious | Reduced function permanently, often from serious fractures | £23,460 to £36,790 |
| Leg injuries – Serious | Severe/Multiple fractures, leaving the leg immobile long-term | £36,790 to £51,460 |
| Back Injuries – Severe | Such as broken back, resulting in permanent effects to the life of the claimant | £42,680 to £52,540 |
| Finger Injuries – Less Serious | Including severe crush injuries causing significant function impairment. | £13,570 to £27,220 |
| Hand Injuries – Serious | Less than half the usual function remains | £27,220 to £58,100 |
| Toe Amputation | Big toe | In the region of £29,380 |
| Neck Injuries – Severe | Permanent damage | £42,680 to £139,210 |
Of course, your injury might not be listed above, so why not call our team to see if we can give you more of an idea about your specific injuries. You can also claim for emotional/mental damage because of the accident.
No Win No Fee Poor And Inadequate Lighting Accident Compensation Claims
Many people put off claiming as they don't initially have the funds to claim compensation through a traditional pay upfront lawyer. But this is not the case when it comes to No Win No Fee claims. Solicitors working on this method take funds from the compensation payment instead of upfront. The best part is that if you don't receive any compensation payment then you'll not have a bill for legal fees to pay at all. Your compensation payment percentage that solicitors take for legal success fees will be agreed before the case goes ahead so you'll know exactly how much of the payout will come to you – and it's important to remember that this is capped so you don't lose a large portion of your compensation to legal fees.
Many people feel that there are significant benefits to working this way. As well as being risk-free, you'll know that your inadequate lighting accident solicitor's income will be affected by the result of your case, so you know they'll be fighting their hardest for the maximum compensation you would receive.
Why Make Your Claim For Harm Caused By The Effects Of Poor Lighting With Us?
We know lots of personal injury companies will be saying that they are the best people to go with, but we do feel we offer a level of service to each and every client that is personal, tailored to their specific needs and that doesn't put any pressure on them. We know having an accident is traumatic, particularly if the injuries are severe, and the last thing you need is more added pressure and stress. We leave the decision to claim completely in your hands, and our no-obligation free advice comes with no pushy sales people trying to force you into taking action before you're ready. We're here to advise and to help work out what's best for you in poor lighting accident claims, which is why our customers have rated us so highly and continue to do so, time and time again.
How To Contact Us And Start Your Inadequate Lighting Claims
When you're ready to pick up the phone to us, 0800 073 8801 is the number you will need to call. Whether it's to ask us about a claim you might have, talk to us about what's happened to a loved one to see if you can claim on their behalf, or even to get a ballpark figure on what you could be looking to receive in compensation, there's no reason not to call. Alternatively, if you haven't time to call now but would like to speak to us, why not leave us a message via our contact form, and we can get right back to you when it is convenient for you. Alternatively, there's also the live chat feature on the site – plenty of ways to get hold of our friendly and professional advisors.
Poor lighting claims and inadequate lighting claims – FAQs
Can I claim for accidents caused by poor lighting?
To make a personal injury claim, you'll need to show that the accident was caused by somebody else's negligence. That means that if somebody failed to provide adequate lighting and you injured yourself as a result, you could begin legal action.
Can I sue my employer for accidents caused by poor lighting?
Employers need to conduct risk assessments to try and keep staff safe at work. If it is identified that a trip hazard isn't clear because of poor lighting, but changes aren't made, then your employer could be liable for any accidents caused as a result. Therefore, you could claim for any injuries caused.
Do shops need to provide adequate lighting?
Shops must ensure any area that customers or staff use are safe. That means shop floors, changing areas, warehouses and staff rooms must be adequately lit. If they're not, and an accident occurs, a compensation claim might be possible.
Please feel free to let us know if you'd like our help with legal services for  poor lighting claims. We offer a no-obligation review of any case and will give free legal advice about your right to seek damages.
Could I make inadequate lighting claims on behalf of a child?
If you're considering making a claim because your child has been injured due to inadequate lighting, you may wonder whether they should make the claim themselves or whether you should make a claim on their behalf. You have two options when it comes to child accident claims. The first is for you to apply to be your child's litigation friend, and make decisions on their case on their behalf. You would have up until they turn 18 to make your claim.
The alternative would be to wait until your child turns 18 years old and then they could make a claim for themselves. They would usually have three years to do so. The decision is up to you, however it might be worth considering how easy it would be to get the evidence to prove your Childs claim once many years have passed. If you'd like us to give you further information on making child accident claims please do not hesitate to get in touch
Could I make inadequate lighting claims for a fatal accident at work?
Unfortunately, some of the 142 fatal injuries in the workplace in 2020- 2021, as recorded by the HSE were caused by falls from a height. You can see the other causes in the graphic below.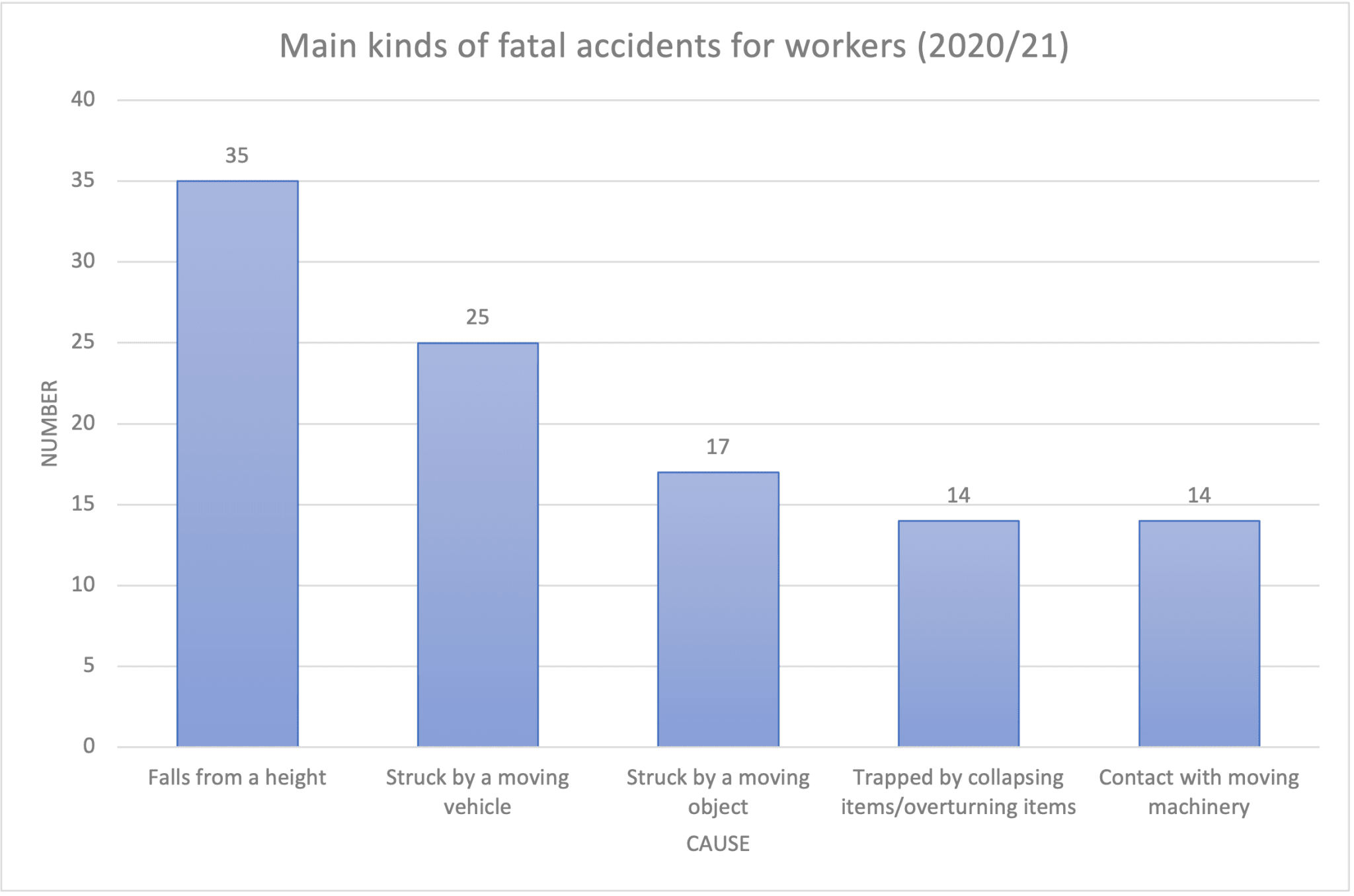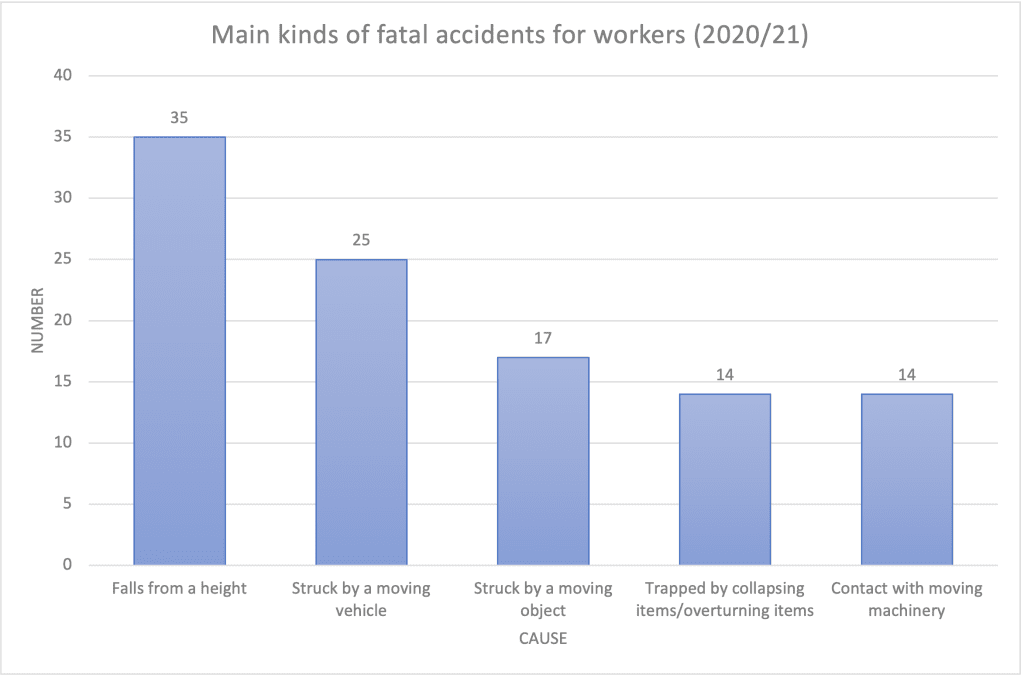 If you have lost a loved one due to a fatal accident at work caused by inadequate lighting, we may be able to help you make a claim for compensation. All specialist solicitors, who are authorised and regulated by the Solicitors Regulation Authority could fight for the maximum compensation possible for the loss of your loved one. We appreciate that no amount of money could ever truly make up for the loss you've suffered. However, claiming compensation could help with financial expenses such as funeral costs.
Can inadequate lighting create a trip hazard?
Inadequate lighting could create a trip hazard if it means you do not see hazards that you could have if the light were sufficient. To claim compensation for injuries caused by tripping over a hazard in poorly lit places, you would need to prove:
Someone owed you a duty of care
They breached this duty by failing to

 take reasonable steps to ensure any risks present were reduced or removed

You suffered injuries as a result of their negligent breach of duty of care to you
For example, the occupier of a restaurant may have carried out a risk assessment that highlighted poor lighting on a staircase but failed to remove or reduce the hazard it posed. As a result, you may have tripped down the stairs and broke your wrist.
We could assess your case free of charge. If we determine you could have a valid claim, we could provide you with a solicitor to help you. All our solicitors work on a No Win No Fee basis.
What are the effects of poor lighting on your health?
According to the HSE, the effects of poor lighting on your health could include eyestrain, migraine and headaches. This is because poor lighting makes your visual systems work more strenuously.
Poor lighting could also be linked to Sick Building Syndrome, of which symptoms include:
Fatigue
Headaches
Changes in mood
Lack of concentration
What could be included in a personal injury claim for poor lighting injuries?
If you have a valid personal injury claim for poor lighting injuries, you could claim for suffering and pain. You could also claim special damages, which are the out-of-pocket costs of your injuries and accident.
Helpful Guides And Further Information
We do realise that you may have cause to do a little more digging into poor and inadequate lighting before making a claim, as well as other injuries you might have received. We do hope the links help below.
Injuries to the head – Head injuries are complex, and when they happen, they can leave devastating circumstances. Our guide explains more.
Injuries (Head) NHS – As well as our guide, read the NHS guide to this kind of injury.
Claims for working accidents – We mentioned work accidents in the guide above, but for more information, you can always read the guide here.
HSE Workplace – The HSE page on workplace accidents can be found here.
Pavement Accidents – Accidents on the pavements can happen for a variety of reasons – find out more about these here.
Thanks for reading our guide about starting poor lighting claims and inadequate lighting claims.