By Max Murdoch. Last Updated 15th June 2022. Welcome to our guide to facial scar compensation. In it, we look how a facial scar compensation calculator for UK claims might not give you any more than a rough idea of how much a serious scar on the face could bring you. We also look at what needs to be assessed when making a claim, such as 'how much is a facial scar impacting on your life?' We also provide an alternative to a facial scar compensation calculator to give you an idea of how much compensation you could receive. If you're wondering 'How much is a scar worth in a UK claim?', this guide could answer your question and provide guidance on claiming. 
Scarring is the sort of injury that can happen in a number of different scenarios, from road traffic accidents to coming into contact with hazardous substances. They are also a common result of malicious attacks. Any of these could leave you with a permanent scar injury.
How much is a facial scar impacting you?
Not only do scars tend to arise due to a painful incident, but also the emotional impact can be life-long. You can claim for both the psychological and physical damages when launching a facial scar injury claim with Accident Claims UK. We can help you to get the payout you deserve. You can reach our customer services team on 0800 073 8801 for more information. But before you do that, read on to discover everything you need to know about facial scar compensation.
Select a section
Your definitive guide to facial scar injury claims
In this guide, you will find out all of the information you need to know regarding making a facial scar injury claim. This guide aims to cover all of the questions we are asked about such cases, including everything from launching a claim to the payout amount. Some of the key questions we will answer about facial scar compensation are as follows:
What are the different types of incidents and accident injuries that can cause scarring? We will provide details on making a personal injury case for some of the most common causes.
How much is a scar worth in the UK?
What is the process involved when making a facial scarring compensation claim?
Statistics regarding facial scarring
Compensation awards for the likes of a permanent scar injury and injuries that could completely heal in time.
What is facial scarring?
Facial scarring can be the result of an accident or surgery, especially surgery that has gone wrong. The facial scars themselves do not tend to physically prevent someone from going about their daily life or working. However, it is the psychological and emotional impact that tends to be the most damaging, especially if it's a permanent scar injury. This is very much taken into account when making a claim.
Facial scar statistics
In the table below, you can see research regarding the number of facial and body disfigurements and their causes.
What are the top causes of facial scarring?
There are a number of different causes of facial scars, and any could lead to a facial scar compensation claim. Such scar can occur due to a health condition, for example, eczema or cancer. However, in terms of an accident and the subsequent claim, some of the common causes are as follows:
Facial scarring due to medical negligence, for example, mistakes made during surgery
You've suffered facial scarring because of an assault, for example, stab wounds to the face or scarring due to an acid attack
Facial scarring that has happened due to being involved in a fire
You've suffered facial scarring because of being exposed to hazardous substances in the workplace
Facial scarring because of cosmetic treatments gone wrong
You've suffered facial scarring because of a road traffic accident
The consequences of facial scarring?
There are a number of different consequences that can occur due to facial scarring. This includes the following:
Chronic pain
Sleep problems
Dreams and flashbacks regarding the incident
Loss of job
Loss of family and loved ones in the traumatic event
Poor financial support
Depressed mood
Multiple surgeries
Loss of hope of recovery
Crying spells
Poor family and social support
Irritability
Anger
Low self-esteem
A permanent scar injury that is visible and unsightly is more likely to lead to greater disruption to everyday life. All of these factors are considered when determining the facial scar compensation you will receive.
What kind of facial scar compensation claims can we help with?
In the paragraphs below, we are going to take a look at claiming temporary and permanent facial scar compensation for some of the most common accidents, including medical negligence and beauty salon negligence claims. However, please do not panic if you cannot find a section relating to your accident. You can make a claim no matter the scenario so long as you can prove someone else is to blame.
I suffered facial scarring due to medical negligence – can I claim?
The NHS paid out a huge amount of compensation to victims of clinical negligence in 2020/21 as we can see from NHS Resolution figures.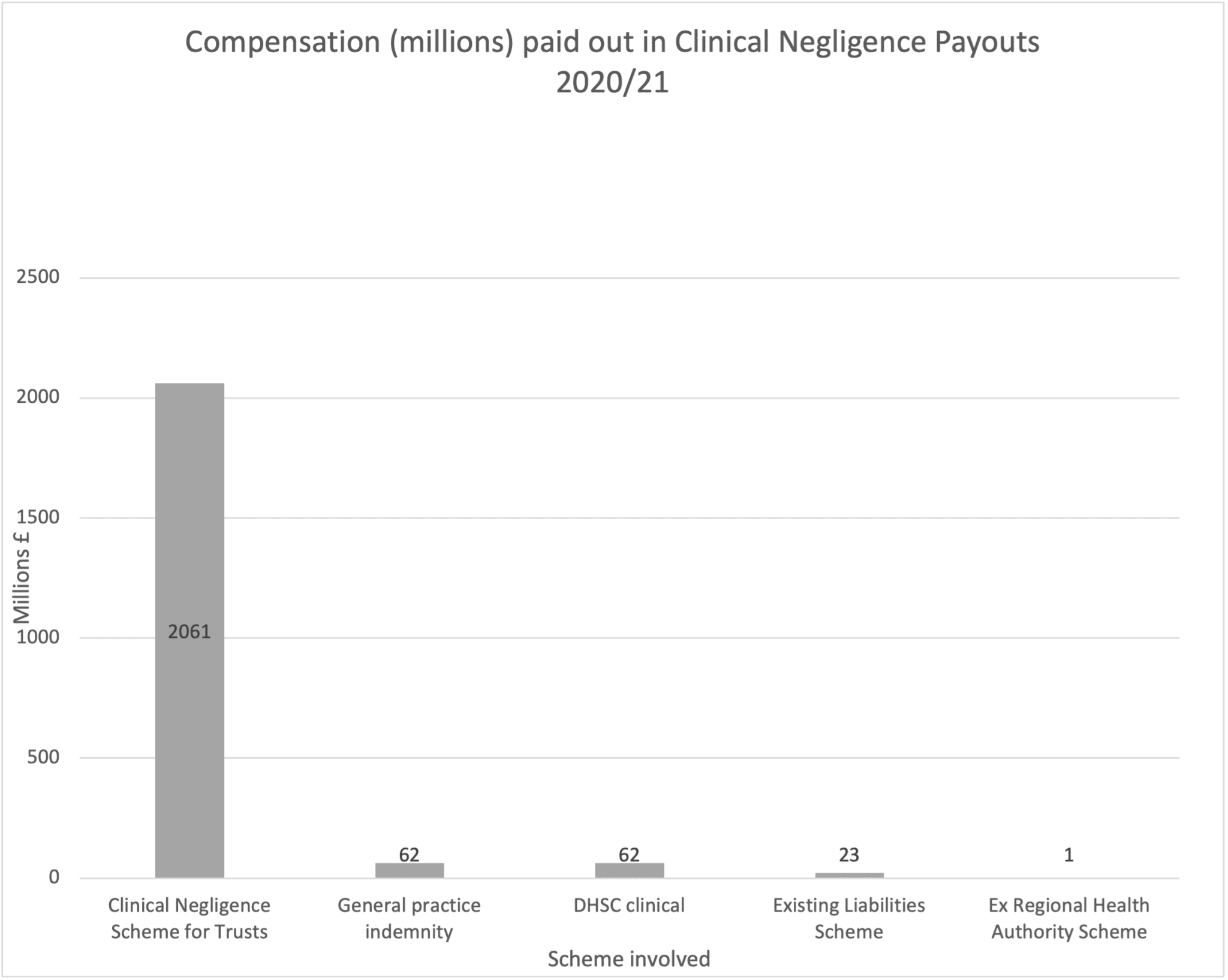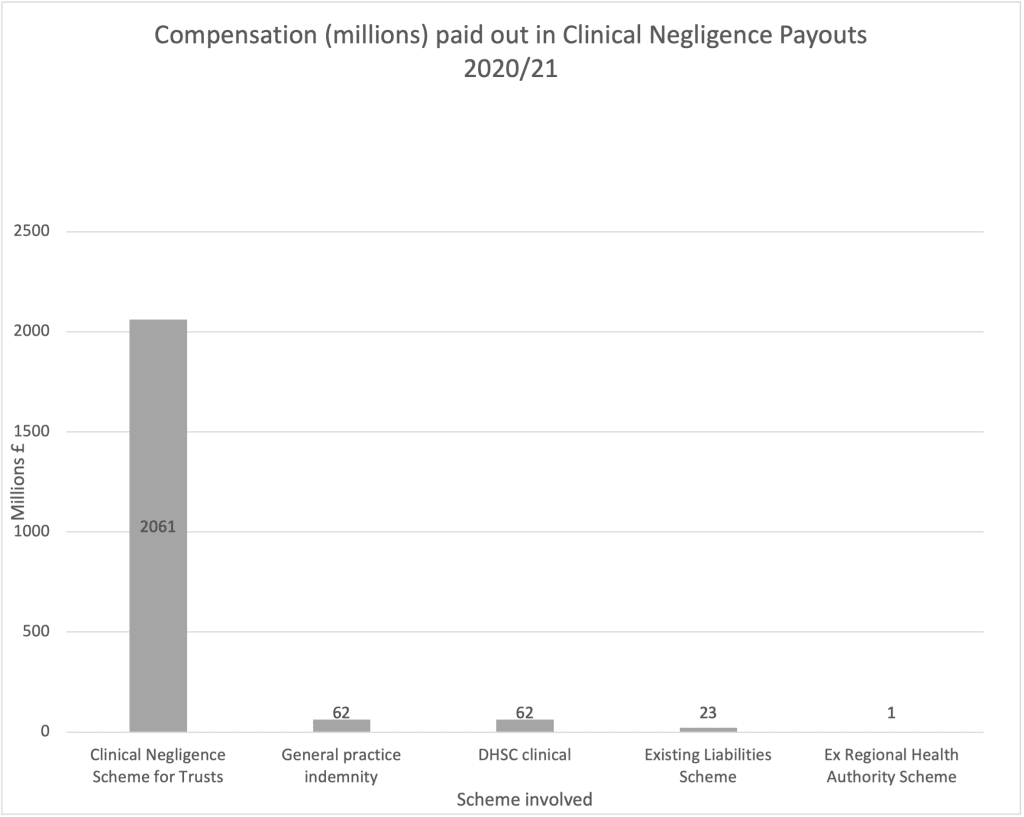 There are a number of different ways medical negligence can cause facial scarring. This includes the following:
Utilising the incorrect type of stitches
Using the wrong equipment for making incisions
An excessive amount of skin removed during surgery
Performing surgery incorrectly
Any of these incidents could, if proven, give you just cause to make a facial injury compensation claim.
If it's proven that a medical practitioner has caused your facial disfigurement, they could get their license revoked while you rightly get the payout you deserve for your emotional and physical pain and suffering.
I suffered facial scarring at the beauty salon, could I claim?
You can also make a claim if you have been injured due to an accident at a beauty salon. There are many different cases whereby facial scarring can arise due to beauty salon negligence. Examples include:
Skin treatments gone wrong
Harsh chemicals used during a treatment
Faulty or damaged equipment used
Defective products
Incompetent professionals
No patch test carried out
Facial scarring in car accidents – do I have a claim?
Facial scarring can also be a consequence of a road traffic accident. There are a number of different ways that a road traffic accident can happen. Some common examples include:
The other driver failing to judge your path correctly
Reckless driving
Poor road condition
Driving under the influence
Driving while using a mobile phone
It does not matter whether you were a pedestrian, driver, or passenger, if you can show that someone else caused the road traffic accident you were involved in, you can make a facial scar compensation claims against their insurance company. Call us today for more information regarding making a case for a permanent scar injury from a car accident.
Facial scar from fire – Can I claim?
As these accidents are so severe, they tend to demand a higher payout amount. After all, fire accidents rarely only scar the face. They tend to cause tissue and skin damage, as well. Most fire incidents happen because of one of the following two reasons:
Fire-related car injuries. This relates to accidents whereby a road traffic accident causes a car to become engulfed in flames. The person inside may suffer bad bodily and facial burn injuries.
Chemical exposure. Chemical exposure can have a horrific impact on the face and the body.
You will be able to launch a claim so long as you did not start the fire or were not responsible for the exposure of chemicals.
I obtained facial scarring when I was attacked – Could I claim?
When it comes to assaults, facial scarring is one of the common outcomes. Have you been the victim of a violent attack? If so, we can help you to launch a criminal injuries compensation facial scarring claim. Most attacks will fall into one of the following categories:
Animal attack. If a person commands their animal, usually a dog, to attack you, you can claim. You can also claim if the owner is aware their dog is vicious yet has taken no action to restrain it.
Physical attacks. This is any type of attack whereby an individual has purposely inflicted some form of harm on you.
Acid attacks. In the UK in the past six years, acid attacks have tripled. They cause severe facial disfigurement and scarring, as well as excessive psychological and emotional trauma.
The likes of acid attacks can leave a serious and permanent scar injury that may require specialist medical treatment to correct. The cost of such treatment can be factored into a claim. To learn more, call us today.
I obtained facial scarring in an accident at work – Do I claim?
We have also helped many claimants when it comes to claiming for stitches or scarring that has happened due to a workplace accident. As per the law, all employers need to make an effort to provide a safe and healthy working environment. This is in accordance with the Health and Safety at Work etc. Act 1974, as well as industry-specific legislation.
Your employer has a duty to:
Control the utilisation of materials that are highly flammable or explosive, as well as chemical substances.
Protect anyone in the workplace, including the general public, against health and safety risks.
Secure the welfare, health and safety of all employees.
Accident at work facial scar claims
If your employer has failed to do this, you can launch your claim for facial scar compensation. There are a variety of ways in which your employer can be at fault when it comes to workplace accidents. Here are some examples:
They have failed to do the necessary risk assessments to determine the health and safety risks in the workplace.
They've failed to inform you about any potential hazards and risks
They have failed to take action after the findings of the risk assessment
They have not given you sufficient Personal Protective Equipment (PPE), such as a face mask
You have not been provided with the right level of training for the job you are doing
They have allowed you to use defective equipment or machinery
A lot of people worry about making a claim against their employer because they fear that they will lose their job as a consequence. This is not something you should be moved to worry about, as all employers legally need to have insurance in place to cover such a scenario. If you were to lose your job, you would then be able to sue your employer for unfair dismissal.
How do you treat a scar on your face?
Being injured and sustaining a scar on your face can have a real effect on you psychologically. And as well as the impact it can have on you mentally, facial scarring can also be painful or itchy. In some cases, it might even restrict some movement in your face.
If your main concern regarding your scar is the effect that it has on your appearance, then using make-up to cover your scar could be a helpful course of action for you. The skin camouflage service offered by charity Changing Faces can be helpful if you live in England or Scotland. A specialist will be able to colour match your makeup for your skin and teach you how to apply it. Makeup that's specifically designed to hide scarring can also be found in pharmacies.
If you're interested in treating your facial scar rather than covering it, then you'll usually be referred to a skin specialist known as a dermatologist. One treatment that will be available for you from a dermatologist or GP is silicone gels or sheets. These are placed over your scar for 12 hours a day over a period of at least 3 months. They can help soften and flatten a scar and they can also help if your scar is itchy.
Steroid injections can also be used to reduce the appearance of scarring by reducing swelling and flattening the scarred area. They'll usually have to be repeated over several months if the results are promising.
Surgery is another option for reducing the impact a scar has on your quality of life. It can be used to reduce the appearance of a scar, such as a skin graft. Surgery can also be used to releasing tight scars that impede movement.
How will my facial scarring be assessed?
You'll see a medical professional. This professional will then evaluate you for the physical and psychological impact, both now and in the future, and they will put together a report that will go towards your compensation case. This report is used to determine how much compensation you will receive. There are many different factors that are taken into account, including the impact the scarring has had on you emotionally, your ability to work, the impact on your social life, and whether or it is a permanent scar injury or a temporary one. It is important to recognise that the emotional trauma of facial scarring is something that is taken very seriously when launching a personal injury claim.
Facial Scar Compensation And Financial Losses
You could be eligible to receive facial scar compensation if you're able to show that your injury was caused by third-party negligence. The two potential heads of losses in any personal injury claim include:
General damages – This compensation relates to the suffering and pain caused by the injury directly. As such, this compensation figure will be determined by factors like the severity of the injury and whether any permanent symptoms were caused. This could relate to multiple injuries, both psychological and physical, from the same incident.
Special damages – This compensation relates to the losses suffered financially because of the injury. Losses you may be able to claim for include care costs, travel costs, loss of earnings and home adjustments. You would need to prove the value of the losses to successfully claim. Evidence you could use includes invoices, bank statements and receipts.
You may want to use a scar compensation calculator to see how much compensation you could receive for this type of injury. While this could provide you with a general idea of what you could receive, it may not necessarily give you the most accurate estimate.
If you get in touch with us, one of our advisors is able to provide an estimate relating specifically to your injury. Alternatively, please read on to learn more about your potential compensation amount.
Facial Scar Compensation Calculator For 2022
You could be owed compensation if you have sustained facial scars from a car accident or in another scenario that was caused by negligence. If so, you may be wondering about the value of facial scar settlement amounts.
If you make a successful claim for facial scar compensation, you would receive general damages as part of your settlement. This is the amount that legal professionals calculate so that you are compensated for the physical or psychological suffering caused by your injuries.
Those in the legal field may use the Judicial College Guidelines (JCG) when arriving at an appropriate valuation. We have included some of the guide figures from this publication in the table below. The JCG was last updated in 2022. However, it is not a guarantee that you will receive the amounts within the brackets shown.
| Type of injury | Severity of Facial Injury | Facial Scarring Injury Common Payout Bracket | Notes |
| --- | --- | --- | --- |
| Facial scarring | Very severe | £29,780 to £97,330 | This is the most severe type of scarring. Even after plastic surgery there will still be disfigurement. |
| Facial scarring | Less severe | £17,960 to £48,420 | This payout bracket ranges from cases of moderate to severe facial disfigurement. |
| Facial scarring | Significant scarring | £9,110 to £30,090 | This payout is for cases whereby scarring can be seen from a conversational distance. |
| Facial scarring | Less significant scarring | £3,950 to £13,740 | This payout is for cases whereby the scarring is only noticeable upon inspection. |
| Facial scarring | Trivial scarring | £1,710 to £3,530 | This payout is for scarring that is not very noticeable at all. |
Not all potential injuries are displayed in this table. Only a small excerpt of the JCG has been shown. If you do not see your injury listed, this does not mean that you are ineligible to claim. Get in touch for a bespoke valuation today.
Making No Win No Fee facial scarring compensation claims
One of the key features of our service is that every facial scarring injury claim we make is done so under a No Win, No Fee agreement. This means that if your case is not a success, you do not have to pay any legal fees. Should it be a success, a percentage of your compensation payout will be given to your solicitor for the legal service. This is a percentage you will have agreed on beforehand. It will have been drawn up in a contract. Not only does this protect you financially because you will not end up out of pocket, but it means that anyone can make a claim because there is no upfront payment.
To find out more about how to make a facial injury compensation claim on a No Win No Fee basis, just give our personal injury claims team a call.
How we can assist with facial scarring claims
We know that there are many different legal firms in this country, but we promise that you will not find a better service than the one that we provide. Our team always strive to get you the maximum facial scar settlement amounts in the most efficient manner. We are aware that you are likely to be having an awful time of it at present, and we never want to make this worse with a stressful claiming process. Accident Claims UK also have a great track record and years of experience. We will match you to a specialist solicitor that has handled cases like this before.
What your solicitor will do to help with a facial injury compensation claim
You may be wondering what you should do to start the ball rolling. Well, our suggestion is to get as much evidence as together as possible and contact us about your facial injury compensation claim. We will assess the merits of your case for free and provide legal advice about your options. Should your case appear to have a reasonable chance of success, we could pass it to a specialist personal injury lawyer from our team. With up to 30-years of experience, our solicitors could really improve your chances of being compensated. Furthermore, they'll handle most things for you which will make the claims process a lot less stressful.
If your facial injury compensation case is taken on, your solicitor will:
Discuss your case in detail with you to help them understand exactly how your facial scars have affected you.
Spend time gathering evidence that can be used to support your claim.
Put your claim together and let you review its contents before filing it with the defendant.
Shield you from the defendant's lawyers or insurers by handling all enquiries on your behalf.
Provide regular updates about the progress of your case.
Try to counter any objections from the defendant by offering additional evidence.
One more thing our solicitors always try to do is to get the maximum amount of compensation possible for our clients. To learn more about making a facial injury compensation claim, please call today.
Ready to start claiming facial scar compensation
Should you feel you're ready to make a claim for facial scar compensation, we are ready and waiting to help you do so. As mentioned, we have years of experience, and our customer services team is professional and friendly. Whether you want to know how much is a scar worth, how to claim for a scar on another part of your body, for example, claiming compensation for a scar on your arm, or you are simply ready to start the claim process, we can assist. There are a number of different ways you can get in touch with us. This includes ringing our 24-hour helpline 0800 073 8801. The line is open seven days per week. You can alternatively ask for a telephone call back via our homepage, use the live chat facility, or send an email to office@accidentclaims.co.uk and we will get back to you as quickly as possible.
Useful links relating to facial scar compensation
We hope that you have found this guide useful in your quest for more information about making a personal injury claim for facial scars. You may also find the links below helpful.
This link takes you to the NHS page on scars. You will find information regarding how scars normally form and the different types of scars, as well as treatment, the emotional impact of scarring, and seeking help and support.
This is another link to the NHS, although this page takes you to their advice on handling reactions to facial disfigurement. You will discover information on dealing with staring and body language tips, as well as advice on practising your social skills.
Facial Scar Compensation Calculator UK – What other accidents could I claim for?
Making a claim for a car accident
A guide to making a claim for injuries sustained in a car accident.
If you've been injured while receiving a beauty treatment, then you might be entitled to make a claim. Read our helpful guide for more information.
How much compensation for an accident as a pedestrian? 
Find out how much you could be owed following a road traffic accident in which you were a pedestrian.
Facial Scar Compensation Calculator UK FAQs
What is permanent disfigurement?
This is when somebody has their appearance altered on a permanent basis due to scarring from an accident.
Is a scar a disfigurement?
Yes, a scar is one example of a lasting disfigurement.
Is facial disfigurement a disability?
Yes, a facial disfigurement is considered a disability, which also opens the door towards receiving disability payments.
Could I sue for a facial scar?
You can do this, as long as you have clear evidence of the accident causing your scarring.
What diseases could cause a facial disfigurement?
These could include cleft lip, facial paralysis, Apert's syndrome and neurofibromatosis.
What accidents could cause facial disfigurements?
These may include car crashes, sudden blasts and assaults.
Can you sue a plastic surgeon for a disfigurement?
You could sue either a plastic surgeon or a doctor if their negligence causes your disfigurement.
What is Noonan syndrome?
This is a condition preventing the natural development of skin growth, thus potentially causing facial disfigurements.
Facial scar compensation calculator UK – Can you claim facial scar compensation for scar tissue?
Scar tissue problems could be the result of an accident or medical negligence. It could cause a number of uncomfortable symptoms. These could include a tightening of the skin, pain, difficulty moving an area of the face, and even itching.
Do I need a lawyer to claim facial scar compensation?
Legally it is not necessary to have a solicitor to make a claim for compensation. Whether you're claiming for medical negligence, a road traffic accident or an accident at work, you could go it alone. However, if you have no experience of the law, you could find claiming somewhat stressful. After all, you'd need to gather all the evidence, prove your case and negotiate compensation alone. If you use the services of specialist lawyers, authorised and regulated by the Solicitors Regulation Authority, they could take on all the complex legal work, and you could concentrate on recovering from your injuries. You could have peace of mind that everything is being taken care of professionally.
Would I need to seek out a local lawyer?
Lawyers don't need to be in your local area to help with your claim. You could choose a lawyer that is based anywhere in the UK to help you make your claim. Most of the legal process can be taken care of via fax, email, video chats and phone call. Therefore, you may never even need to meet your lawyer face to face. However, you may prefer to arrange a face to face meeting, in which case you could travel to them or they could travel to you.
Would a facial scar compensation calculator for UK claims take into account mental suffering?
If you are looking for a scar compensation calculator for UK claims, you might find that different ones give you different figures. This is because they could be created by different people. While some contain special damages, and psychological injuries, others would only give you a figure for the scar itself. This is why, even though you might have used a calculator to find out how much is a facial scar worth, we would always advise you to speak to a solicitor or legal professionals so that they could give you advice and support. They could also give you a rough guide as to how much your claim could be worth.
Would I receive more for a serious scar on the face than I would on the body?
In some cases, facial injuries could be more serious than those on the body. In addition to the impact they could have on the muscles in the face, and whether you can smile properly, for example, they could also cause you severe psychological injuries. You may even be impacted in the way you do your job, especially if you are a customer facing employee, or you make money by modelling, for example. This is why we would urge you to use a professional solicitor when making a claim for compensation. That way they could make sure that you get the maximum possible for your facial scar claim, taking into account all of the different ways it has affected you.
How much is a scar worth in a UK claim?
If you're wondering how much a scar is worth following a successful claim, there are several factors that will be taken into consideration, including:
The extent of the injury

The level of severity

Any psychological impact

The extent and type of residual damage

The extent of any treatment required
Medical evidence and reports may be used to assess the severity of your injuries when valuing your claim. Additionally, the Judicial College Guidelines is a document that solicitors often refer to when calculating how much compensation is owed. 
To discuss how much a scar is worth for a UK claim, call our team on the number above.
Could I rely on a scar compensation calculator for UK claims guidance?
We would not advise you to rely on the average scar compensation for the UK to give you effective guidance on how much you could receive in a successful claim. This is because each claim is assessed on an individual basis.
If you would like to learn about how compensation could be calculated, and what you could claim for, please call our team. We would be happy to provide you with more specific guidance than a scar compensation calculator for UK claims could give.
How common are facial injuries at work?
According to the HSE's statistics, in 2020-21, there were 4263 injuries reported by employers to RIDDOR affecting the head area. You can see the specific sites of injury below.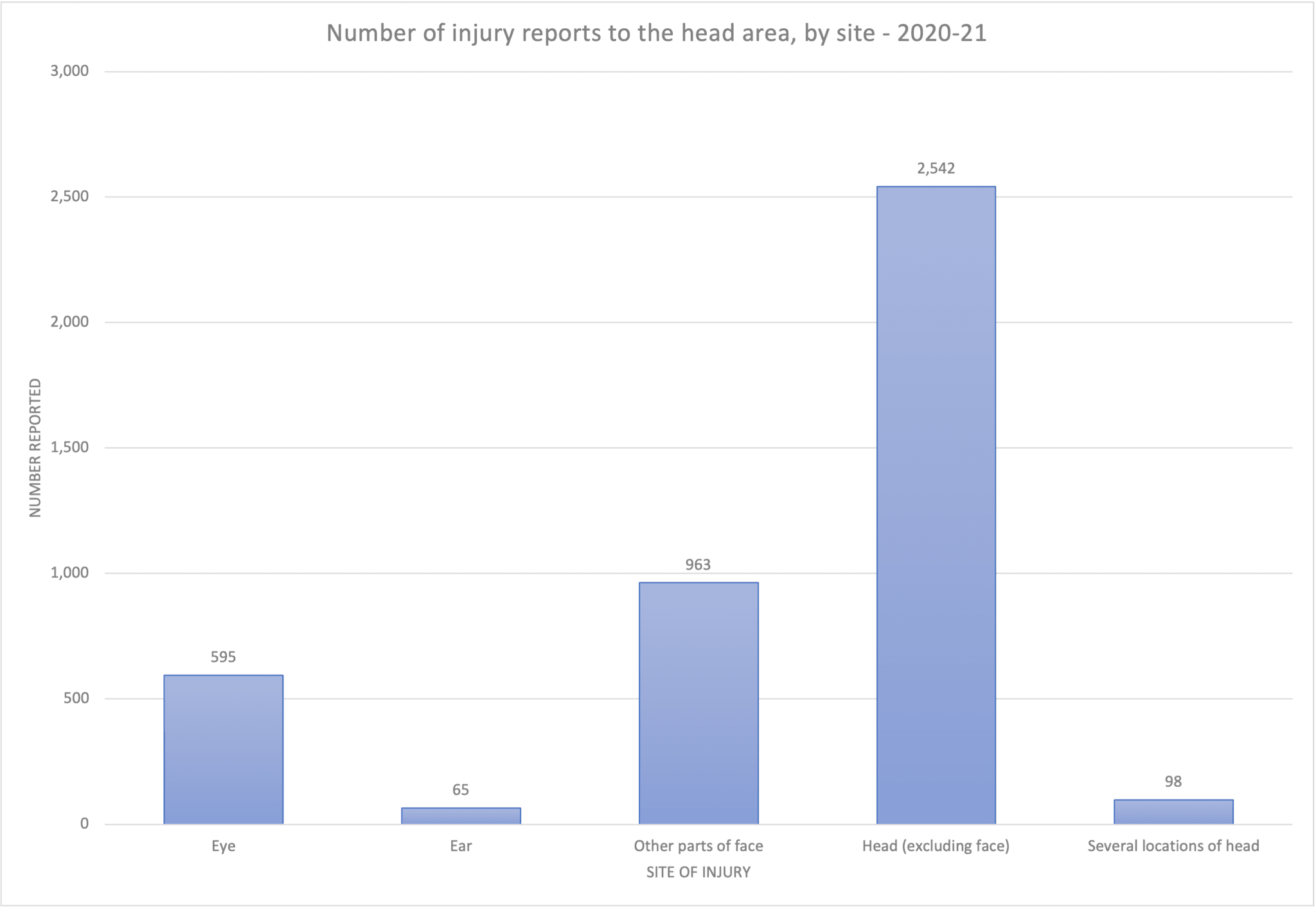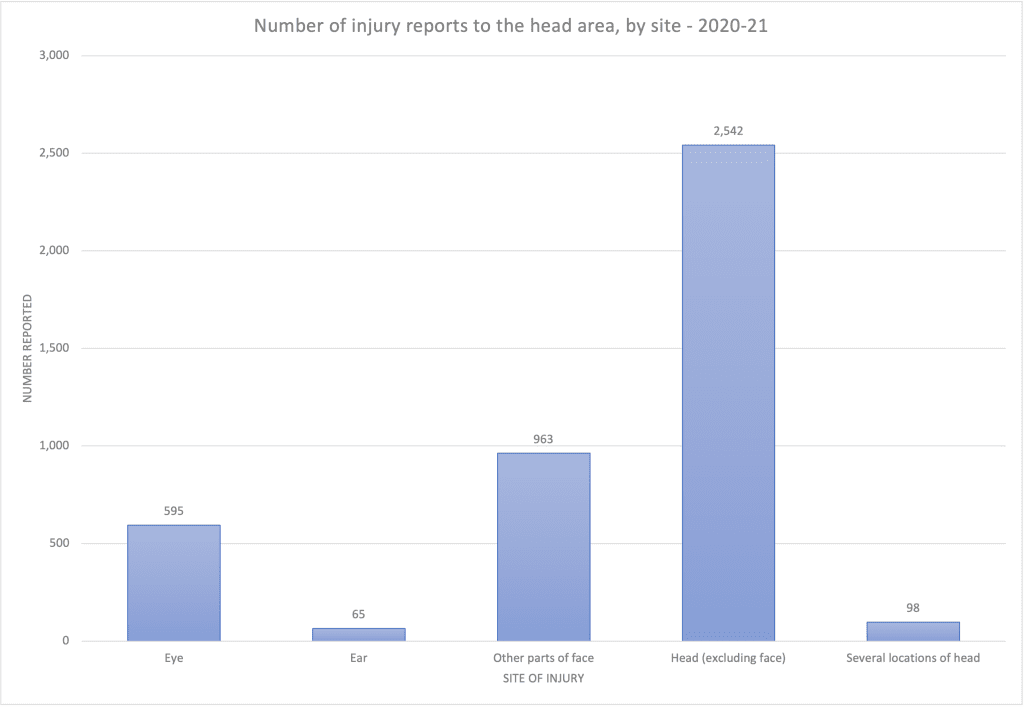 Thank you for reading our guide on claiming facial scar compensation. Remember, if you've suffered a permanent scar injury through no fault of your own, our team is on hand to offer you all the free legal advice and support you need.