By Jo Jeffries. Last Updated 12th August 2022. Welcome to our guide to pedestrian crossing claims and pedestrian accident compensation. In it, we answer the questions of 'how much compensation for being hit by a car UK could I claim?' and 'I hit a pedestrian with a car what happens?'. You'll find some top tips on proving pedestrian accident claims too. We discuss how we could help with a pedestrian hit by a car claim and help you understand what's involved in claiming compensation. Plus, we explain what affects how much compensation for a car accident as a pedestrian you could receive. Whether you hit someone with a car or you're a pedestrian hit by a car, this guide could prove useful.
Could you claim compensation for being hit by a car?
In the United Kingdom, many people die every year because of pedestrian accidents. This includes pedestrians being struck by a vehicle that is going too fast, being hit due to a car not stopping at a zebra crossing, and so on. These types of incidents can have a serious impact on the victim's life, and in some cases, they result in fatal consequences.
If you or someone you love has been injured due to a pedestrian accident, we can help you to get the compensation that you deserve. We have years of experience in the industry, and we have handled many cases like this before. If you have any queries or you would like to make a claim, you can reach our experienced and friendly team on 0800 073 8801. But first, make sure you read on to find out everything you need to know about pedestrian crossing claims.
Time Limits for making pedestrian crossing claims
If you have proof that third-party negligence led you to suffer, you may want to make pedestrian crossing claims for compensation. However, you must be aware that there are certain time limits for beginning personal injury claims. If you try to claim outside of the time limit for your claim, you risk no longer being entitled to compensation.
Generally, claimants will have 3 years from the date of their accident to begin a claim. However, there are some cases where exceptions can be made to this limitation period. For instance, if you weren't aware that third-party negligence was responsible for your suffering until 3 years had already elapsed, the time limit could begin on the date that you acquired this knowledge instead. To see if you could still claim within the time limit for your case, please get in touch.
Select a section
Everything You Need To Know About Making Pedestrian Accident Claims
As an experienced legal firm, we have encountered a huge number of pedestrian crossing claims over the years. We know that a lot of people reading this guide will be desperate for further information, for example, how much compensation they may receive or whether they are eligible for a payout to begin with. We are here to provide this information.
You can use this guide as a step-by-step course regarding everything you need to know about claiming and what is entailed. If you have any queries by the end of this guide, by all means, give us a call and we will happily assist you in any way we can.
Top Tips On Proving Pedestrian Accident Claims
But, first, by reading this guide, you will discover all of the following:
What is classed as a pedestrian accident and whether you have the right to claim?
The various types of pedestrian accidents that occur in the UK and how claims are made for them. This includes compensation for a pedestrian hit by a car, pedestrians injured in the workplace, and much more.
How to launch a claim for this type of accident – what steps are involved?
The sort of damages you can claim for and how much compensation for being hit by a car in the UK you could receive.
What your solicitor will do for you, what you can expect when working with AccidentClaims.co.uk, and what the No Win No Fee service really entails and means for you.
As you can see, we have all areas covered! So, let's get started…
What Is Classed As A Pedestrian Accident?
Pedestrians are the most vulnerable when it comes to road traffic accidents. When involved in a crash, a pedestrian will suffer the full force of it, whereas motorists have protection in the form of airbags and seatbelts.
There are lots of different types of pedestrian accidents that can happen, so it is vital to keep this in mind. This includes incidents whereby pedestrians are attempting to cross a road or highway. There can also be accidents due to parking area defects, walkway obstructions, poor road maintenance, and so on. Not all pedestrian accidents, therefore, are caused due to the driver. It could be that you need to launch a claim against the council if the roads in your area have not been maintained properly.
Who could be held liable for pedestrian accident claims?
So, in many cases, you could be claiming pedestrian accident compensation against one of the following:
A motorist or driver that has hit you
The local government for poor maintenance
Or the individual that is legally responsible for maintaining the roads, parking areas, or pavements where the accident has occurred – it does not always fall on the government's shoulders
This is, indeed, what makes pedestrian crossing claims unique and often hard to estimate in terms of the compensation payout – each case is different. But this is not something for you to worry about, as we will be there to guide you every step of the way.
Statistics About Pedestrian Accidents In The UK
Every year, people are killed due to road traffic accidents. In 2020, pedestrians made up 14,750 those who were injured due to accidents on GB roads. This graphic provided by the UK Government shows injuries from slight to fatalities by road user type in 2020.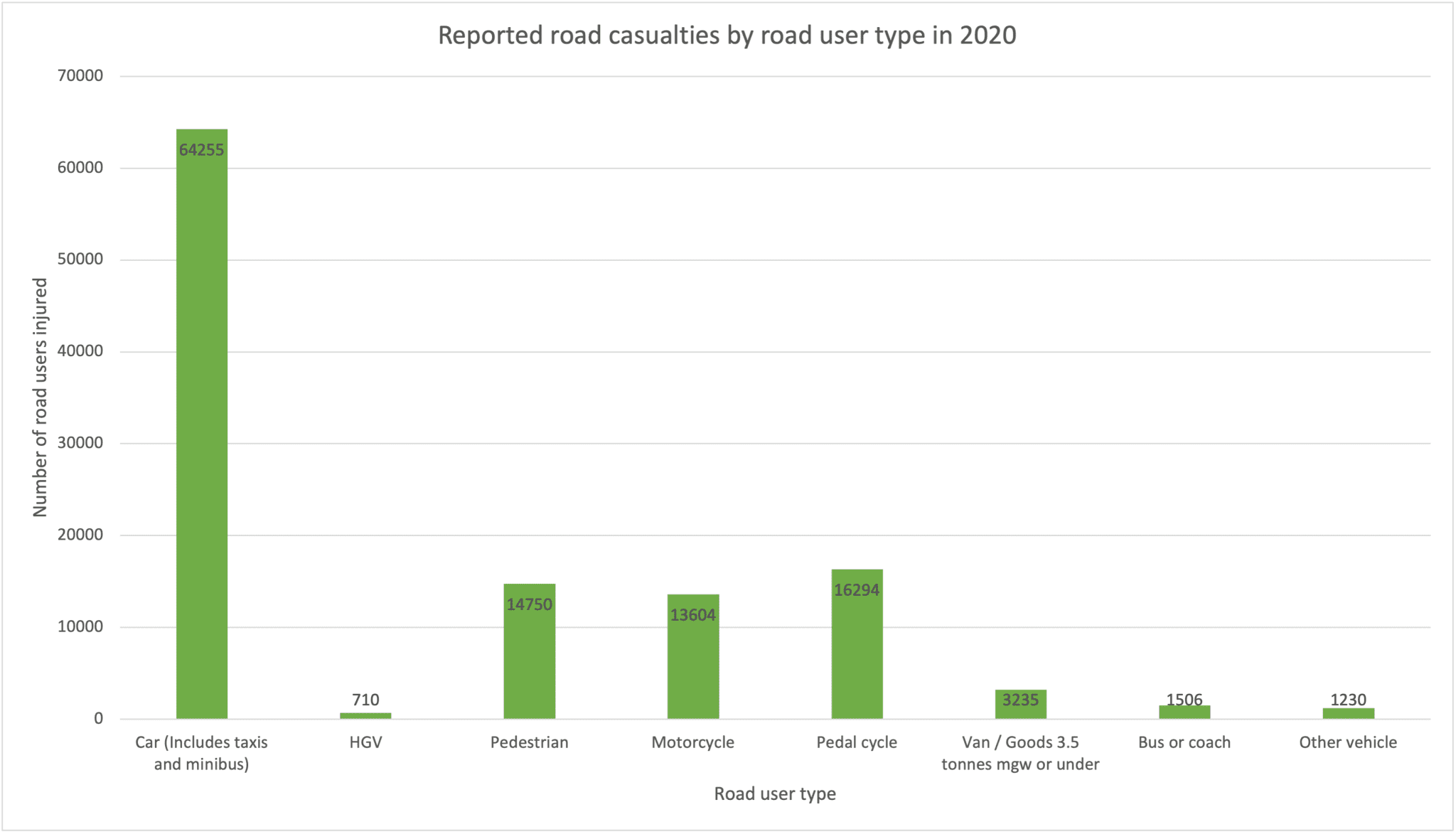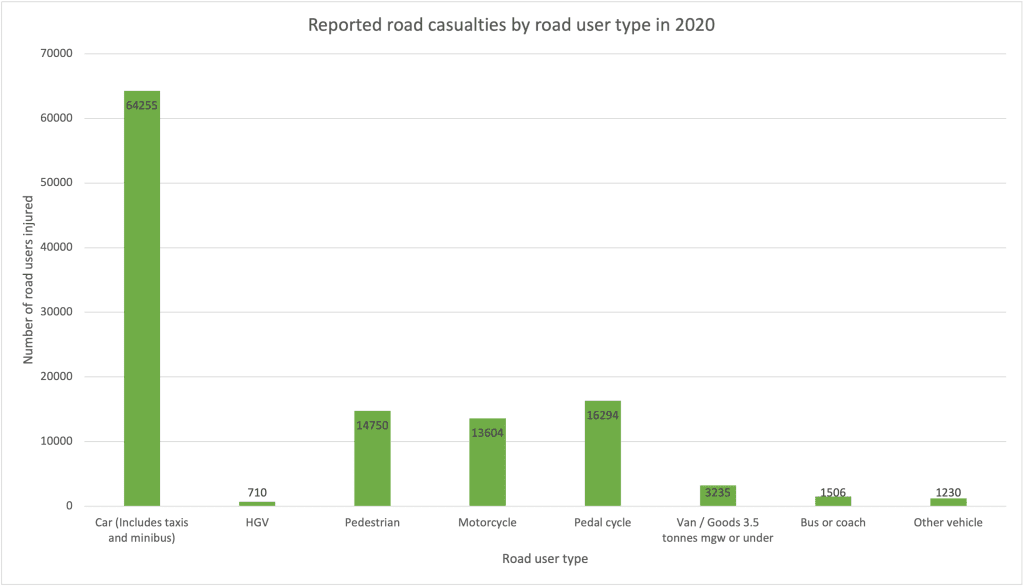 The graphic below, which has also been provided by the UK Government, also shows that pedestrians fall into one of the most vulnerable road user groups. You can see the number of road traffic accidents involving pedestrians, as it shows the casualties per billion passenger miles by road user type for the same period.
If you hit a pedestrian with your car, you should report the incident using this government form. You can also call us for legal advice if you hit a pedestrian with your car in the UK.
What You Must Do After A Pedestrian Accident
Pedestrian hit by car what to do UK-based advice
Gathering as much evidence as possible is critical. Here are some of the steps you should take when making pedestrian crossing claims:
Use your mobile phone to take photos of the scene and the surrounding area.
Get the contact information of the perpetrator (if at the scene, for example, a driver), as well as any witnesses.
Get medical attention if you are injured. This is not only vital for your health, but for your claim too because the medical report is always the most critical piece of evidence.
Keep hold of any documents, for example, receipts, which will prove the costs you have had to fund yourself because of your accident.
Call your solicitor to start the claim process. That is where we come in!
Pedestrians In Road Traffic Accidents
The vast majority of pedestrian accidents do happen due to incidents on the road. There are a number of steps you can take to enhance your safety and reduce the chances of you being involved in such an incident. This includes the following:
Choose a safe place to cross the road, for example, a designated crossing section, footbridge, or subway.
Pause before you step onto the road and check both directions to ensure there is no oncoming traffic.
Don't only look for traffic but listen for it too.
Cross the road safely and quickly when you are able to do so.
While these steps can reduce the chances of an accident occurring, if you have been injured because of a careless driver, you can make a claim for pedestrian accident compensation. Unfortunately, no matter how safely we operate ourselves, there is always the chance that there could be a reckless driver on the road who is speeding or driving under the influence and causes an injury. If so, call us today to start the process for securing pedestrian hit by car compensation.
Pedestrian Accident at Work Claims
All employers by law are required to provide a working environment that is healthy and safe. This is the case irrespective of where you work or the type of job you have. If your boss has failed in his or her legal duty, and you have been injured as a consequence, you are well within your rights to secure compensation. Your employer – again, by law – should also have insurance in place to cover such a scenario, so you do not need to worry about there being any consequences for your boss in this sense.
There are lots of different types of pedestrian accidents that can happen in the workplace. Some include:
Back injuries because of regular climbing, lifting, stretching, twisting or bending
Injuries because of defective work equipment
Accidents because of inadequate training
Tripping on obstructions, for instance, uneven flooring or loose cables
No matter whether you have sustained an injury that has been mentioned above or not, you simply need to prove that your employer is to blame if you are to be successful in the pedestrian crossing claims process.
Pedestrian Accident a Public Place Claims
Pedestrian accidents can happen in any type of public environment. The following is a mere handful of examples:
Hospitals and offices
Theatres and cinemas
Public swimming pools
Pavements and roads
Stadiums
Libraries
Public gardens and parks
Picnic areas and public play areas
Pedestrian zones
Retail stores
The owner of the building in question or the tenant will typically be responsible for what has happened. Irrespective of who this is, it is you right to claim, so make sure you give us a call to discuss this further.
How Severe Is The Pedestrian Accident You Were Involved In?
When determining how much pavement accident compensation you will receive, the severity of the accident you were involved in will play a huge role. There are a number of different factors that will be considered in this regard. This includes the following:
How severe your injuries are
The impact the accident has had and will have on the quality of your life
Your health status prior to the accident
Your age
Any other expenses or losses you have incurred
How much compensation for being hit by a car in the UK could I claim?
This highlights why pedestrian accident compensation amounts can differ dramatically, as there are so many factors that need to be considered and assessed. It is all about ensuring that you get a fair payout for the hardship you have been put through.
For example, two people may have sustained a leg injury. However, one may have long-term consequences, which may have significantly reduced quality of life and resulted in the individual being unable to work. The other may make a full recovery after a period of time and their work-life and social life will return to how it was prior to the accident. In this case, the person with the long-term prognosis will naturally receive a much larger payout.
This is why claims are assessed on an individual basis because injuries can have different consequences for different people. It is also why we can only ever give an estimate if you call us and ask how much compensation for being hit by a car or being injured at work.
Start Your Claim For Pedestrian Accident Compensation
The claim process could be very easy when you work with Accident Claims. The first thing you need to do is give us a call for your free consultancy session. We will then talk you through the claims process, and we need you to tell us about everything that happened. We will ask you a number of questions. This is nothing for you to worry about – it is simply so we can get to the bottom of the incident and provide you with the right advice.
Remember, you can start the pedestrian crossing claims process without any financial commitment because of our No Win No Fee approach. You will find out more about this payment structure in the following paragraphs.
Pedestrian Accident Damages You Can Claim For
When making a claim, you will be able to secure compensation for a number of different damages. This includes the following:
General damages– This is a broad term that is used to describe the pain and suffering you have experienced. You can claim for the physical injuries and the impact they are having on your life, as well as any psychological injuries you have suffered too.
Medical expenses– The cost of treatment and ongoing care.
Travel expenses– This includes any travel costs throughout the recovery phase, for example, getting to and from the hospital.
Care claim–If someone has had to care for you while you recover, even if this individual is a family or friend, they can launch a claim for the care they have provided.
Loss of earnings– If you have had to miss work while you recover and you have not been paid or received full pay, you can also claim for this.
Pain And Suffering Settlement Examples UK – Pedestrian Accidents
If you're considering claiming pedestrian hit by a car compensation in the UK, you might wonder how much you'd receive. We could give you pain and suffering settlement examples for UK claims, but it's essential to remember that each claim is unique. Therefore, compensation could vary between cases.
Your compensation could depend on the severity of your injury, and its impact on your life. The concept of personal injury compensation is to put the injured party in as close a position as possible to where they would have been had the accident not happened.
What influences a pain and suffering settlement – examples for UK claims
The injuries you receive and their severity and complexity, plus their impact on your life, would help determine your settlement. Therefore, the medical evidence you provide could be used to help value the general damages portion of your claim. This is the portion that compensates for the pain and suffering of your injuries.  
Additionally, solicitors may use the Judicial College Guidelines (JCG) to help them value claims alongside medical evidence. We've used this publication, which includes compensation brackets for different injuries, to put together the table below. The JCG only applies to claims made in England and Wales.
| Injury Type | Compensation | Notes |
| --- | --- | --- |
| Bowel Injuries (b) | Up to £150,110 | Use of colostomy due to loss of natural function. |
| Chest Injuries (c) | £31,310 to £54,830 | Lung and chest damage resulting in some disability. |
| Kidney Injuries (c) | £30,770 to £44,880 | Loss of one kidney. |
| Less Severe Brain Damage (d) | £15,320 to £43,060 | Level of recovery allowing for a return to normal life and work. |
| Moderate Psychiatric Damage (c) | £5,860 to £19,070 | Condition improved by trial with a better prognosis. |
| Moderate PTSD (c) | £8,180 to £23,150 | Few remaining effects and a large recovery. |
| Moderate Neck Injuries (b) (ii) | £13,740 to £24,990 | Soft tissue and wrenching injuries, or disc lesions leading to cervical spondylosis. |
| Minor Back Injuries (c) (i) | £7,890 to £12,510 | A full recovery between two and five years without surgery. |
| Fractured Clavicle (e) | £5,150 to £12,240 | Fracture of the clavicle. |
| Spleen Injuries (b) | £4,350 to £8,640 | Loss of spleen. |
To find out about pedestrian hit by a car compensation for the UK, call our team.
Pedestrian Accident Claims – 100% No Win No Fee
One thing you can be sure of when you choose our service is a No Win No Fee approach. This is something we promise with every claim that is made, no matter whether it is an accident at work claim or a pedestrian hit by a car insurance claim. If you are unfamiliar with this payment structure, it is very straightforward.
In the case that your claim is a success, a percentage of the compensation you receive will be given to your lawyer as their legal fee for the service they have provided you with.
If your case is not successful, you do not need to pay anything. This enables you to launch a claim without worrying about any potential monetary consequences.
A lot of people fear that they could claim and then end up out of pocket themselves if the claim is not a success. This is something that will never happen if you choose our service.
Why AccidentClaims.co.uk Is The Choice For You
While there are lots of legal firms to choose from today, we are confident that you will not find better than Accident Claims. Why are we so sure that we are the best? Well…
We have many years of experience in the industry. This involves working on a large number of claims for pedestrian accidents. You can be sure that we have handled cases similar to yours before.
We have an exceptional reputation. You only need to look at our track record and the feedback that we have received to verify this
We always put our customers first. This is something we pride ourselves on. Not only is it always our aim to secure the maximum amount of compensation that is available, but also we are always here should you need us or have any questions. Not only this, but we respect the fact that you are recovering from an accident and going through a very difficult time. We will never add to this stress with a difficult service or by constantly pestering you for information. We always aim to secure pavement accident compensation in the most efficient manner possible.
What your solicitor will do to help you during a pedestrian accident compensation claim
When making pedestrian crossing claims, having a personal injury solicitor on your side can make the claims process so much easier. Whether your claim relates to life-threatening injuries or fractures that will heal over time, having a legal specialist on your side could mean you'll receive the right level of compensation for your injuries.
When making a pedestrian accident compensation claim, your case will probably end up on the desk of an insurance company. For example, in road traffic accident claims, your legal action will be against a motor insurance policy. When discussing claims with insurers, you'll soon realise that they'll do all they can to limit how much they have to pay. That means you need absolute proof that their client was liable for your accident. Furthermore, you'll need to be able to clearly show that your injuries were caused by their client's negligence. All in all, this can be tough to achieve.
However, our team of personal injury solicitors has up to 30-years experience in representing clients. They know what's needed, and what isn't when it comes to presenting evidence. Using their legal acumen, they'll fight your corner to try and make sure that a) your case is won and b) you are compensated fairly. Throughout a pedestrian accident compensation claim, they'll handle everything for you which means you won't need to discuss the claim with the defendant or their insurer.
To discuss your pedestrian accident compensation case today, please get in touch with an advisor.
Pick Up The Phone And Call Us Today To Find Out How Much Compensation For Being Hit By A Car In The UK You Could Receive
Are you ready to get the pedestrian accident compensation that you deserve for the accident you have been involved in? Perhaps you have a few more questions that you need answering? No matter what applies, pick up the phone and give us a call today. Our personal injury claims helpline is available seven days per week, 24 hours per day. You can get in touch at any time that is convenient for you. The number you need is 0800 073 8801.
If you would prefer, you can also get in touch with us via email. Simply send your message to office@accidentclaims.co.uk, and we will aim to get back to you within three hours if you send your email during the week.
We also have a live chat facility on our website, which enables you to contact an advisor instantly. No matter whether you want to know more about what happens if you have hit a pedestrian with a car and there are no injuries, or how much of a pedestrian hit by a car settlement you may be able to receive, we can help.
Useful links Relating To A Pedestrian Hit By A Car Claim
We hope that you have found this guide helpful on your quest to find out more information regarding pedestrian crossing claims. If you are seeking further information, you may also find the following links useful:
Requesting pedestrian crossings
If you would like to request a pedestrian crossing in your area, you can use this link to do so. You simply need to enter your postcode and then follow the instructions on the screen.
The Highway Code, which features rules for pedestrians, including advice on situations that require extra care, as well as information on using crossings and crossing the road.
How Much Compensation Can I Claim for Whiplash?
Did you suffer whiplash as a result of a road traffic accident? Read our guide.
A Guide to Car Accident Claims
Would you like more in-depth information about claiming? Take a look at our car accident claims guide. 
Cycling Accident Claims and Advice
Cyclists are some of the more vulnerable road users. If you had an accident, read our guide to see if you could claim.
Pedestrian Crossing Claims and Pedestrian Accident Compensation FAQs
In this section of our pedestrian crossing claims guide, we'll look at some frequently asked questions.
How much compensation for being hit by a car in the UK as a pedestrian?
This is a question we're often asked. If you're a pedestrian, how much compensation for a car accident caused by negligence you receive can depend on a few different factors. For example, when a pedestrian is hit by a car, the speed at which the vehicle was travelling can affect the extent of the injuries, as well as the nature of the injury itself.
Because of the considerations that need to be accounted for, the amount of compensation you could receive will also be affected.
In addition to the level of pain and suffering you experience, certain calculations may need to be made if you are found to be partially responsible for how you were injured. This could lead to a reduced payout.
Also, you may be able to claim compensation for financial losses caused by your injuries. These are known as special damages. This payment can include losses such as income being affected and medical expenses you have had to cover.
Your own claim needs to be assessed individually before an accurate figure can be arrived at. Get in touch today for more information.
Can you sue for getting hit by a car?
If you were hit by a car and suffered as a consequence, you could make a personal injury claim. 
Who is liable when a car hits a pedestrian?
Liability falls with the party who breached The Highway Code. If the car driver was speeding or negligent, they could be liable. If the pedestrian deliberately took risks that resulted in the driver's injuries, they could be liable.
Can you claim against a pedestrian?
You could do this, though it's usually not worthwhile in most cases to do this after an accident.
Can you sue if someone hits you with a car?
You can make a claim for any injuries within 2 years of the incident taking place.
Can you call the police if someone almost hits you?
You could still call the police even if the other car doesn't quite hit your vehicle.
What happens if you don't exchange information after an accident?
You could end up receiving a notice to pay a fine for not reporting an accident, including a charge for fleeing an accident scene.
Is it illegal not to give insurance details after an accident?
This isn't legally necessary, but it will make it quicker for the case to reach a resolution.
How much compensation for being hit by a car in the UK could I receive?
As we have mentioned, if you are in a pedestrian accident and injured due to someone hitting you with a car, how much compensation for being hit by a car in the UK could depend on who hit you and whether they were negligent, whether you make a claim via the MIB or through the at fault driver's insurance company, and the nature and severity of the injuries you sustained.
Plus, how much compensation for being hit by a car UK could also be influenced by the costs incurred. Plus, any loss of earnings caused to you because of the accident and your injuries. If you are a pedestrian hit by a car, a claim could help you move on after such an awful event. We could help secure you the pedestrian accident compensation you deserve.
I hit a pedestrian with a car, what happens?
If you hit a pedestrian with your car, it is likely that they would suffer injury. You should immediately stop your vehicle and make sure they get the medical attention they need. The police would likely want to investigate the incident. You should report the incident to them and be prepared for this too. You should also inform your insurance company. If the pedestrian accident causes only minor injuries, you should still report it. Plus, you should give your details to the pedestrian. It is important to keep a clear head and not admit fault at the scene of an accident. After all, it might not actually be your fault.
What are some top tips for proving pedestrian accident claims?
We can offer some top tips for proving pedestrian accident claims over the phone for free. However, in general, some good tips could include:
Making sure you take photographs of the scene of the accident if possible, and your injuries

Getting medical attention after the accident, and attending an independent medical evaluation as part of your claim

Taking witness details, and the details of the motorist that hit you if possible

Obtaining a police report
Our solicitors could help you with gathering evidence to help with your claim. Why not call us today to see if one of our solicitors could help you claim. 
Do all cases involving a pedestrian hit by a car lead to compensation?
Before you look at how much compensation for being hit by a car in the UK you could receive, please note the following. Not every pedestrian hit by a car could claim compensation. If, for example, you ran out in front of a car deliberately or recklessly, and the motorist attempted to swerve away from hitting you but failed, this might not lead to compensation.
To make a claim for injuries that were caused by being hit by a car, you'd need to prove negligence. For example, you would need to show that the driver breached their duty of care causing you to sustain harm. 
For more information on pedestrian accident claims and whether you're eligible to seek compensation, call our team on the number above.
Can you help with pedestrian accident claims if I'm close to the time limit for claiming?
If you're looking to make a pedestrian accident claim as a pedestrian hit by a car, and you're close to the end of the time limit for claiming, please call our team. We could assess your case to see if there's still time to claim.
Final words on how much compensation for being hit by a car in the UK could be appropriate
Thank you for reading our guide to pedestrian crossing claims and pedestrian accident compensation. Now, hopefully, you'll have a rough idea of how much compensation for being hit by a car in the UK you could receive.