By Joanne Jeffries. Updated July 29th 2021. Welcome to our missing tile accident claims guide. There are many reasons why you might trip or fall and injure yourself. Damage to flooring is a particular hazard and could cause a person to fall. In this online guide we are particularly looking at how a missing tile could cause such an accident. This could happen just about anywhere in daily life. It could happen at work, in a shop, in a restaurant, at a swimming pool or even in your own home.
This guide will explain what you should do if you suffer an injury due to a missing tile, when you might be able to claim compensation and how we could help you claim on a No Win No Fee basis.
If you'd like to discuss making a claim with a solicitor today, please call us on 0800 073 8801. One of our advisors will talk you through the process right away.
Alternatively, to find out more about making personal injury claims for accidents caused by broken floor tiles or missing floor tiles, please carry on reading.
Select A Section
A Guide To Slip Trip And Fall Accidents Caused By A Missing Tile
Many different types of injuries can be caused by uneven flooring, damaged floor tiles or missing tiles. In this guide, we'll explain the types of accident that can happen, the different injuries that might be caused and when you could seek compensation for your injuries.
In brief, a personal injury solicitor might consider taking on your claim if you can show that:
The defendant in the case owed you a duty of care;
That they were negligent and breached the duty of care which caused an accident;
And that, because of their negligence, the accident caused you to suffer an injury.
There are many places where a slip trip or fall accident could happen, from a workplace accident to an accident at the shops, so it's important to be able to demonstrate how you were owed a duty of care in each scenario. Our accident claims solicitors are experts in personal injury laws and understand how different legislation places a duty of care on businesses, individuals, landlords or local authorities. In the case of a dispute over liability, having one of our solicitors representing you could improve your chances of succeeding and winning compensation.

What Are Missing Tile Accidents?
Missing, uneven or damaged floor tiles that cause somebody to trip over and injure themselves could mean the person or company responsible for the building has been negligent. In some cases, this means the victim of the fall could seek compensation for their injuries and other losses.
The claimant, or more likely their personal injury solicitor, would need to prove how the defendant in the case had been negligent. This might be if the tile had been damaged for some time, had been reported to them but not repaired or had been installed incorrectly in the first place.
If you believe your accident due to a missing floor tile was caused by some type of negligence, get in touch today and let one of our specialists assess whether you could claim compensation. We offer all potential claimants a free consultation with no obligation at all to proceed with a claim unless they are entirely sure.

How Could Accidents Be Caused By Missing Or Damaged Flooring Tiles?
If tiles are not secured correctly to the floor, maybe they are protruding, one is missing, others are cracked this can easily cause a hazard and a person may trip due to the faulty tiles. There are many reasons why floor tiles could become a hazard these include;
Poor installation meaning they weren't level from the day they were laid.
Grout which has dried out and cracked making the tile loose.
Adhesive has failed over time and has made the tile become loose.
Tiles that have been damaged because of heavy machinery passing over them frequently.
Tiles that have been loosened in any of the ways listed above and are missing or partially missing.
In any of these cases, the responsible party should ensure the tile is repaired as soon as possible. In the meantime, the tile should be highlighted by warning signs to alert anybody of the danger. If this doesn't happen and somebody trips on the missing or damaged tile and is injured, then compensation might be a possibility.

Who Could Be Liable For My Accident And Injuries?
For somebody to be deemed responsible for an accident due to a missing tile, you'd need to prove that they owed you a duty of care and that they had been aware of the damaged tile.
For example, if you were working in a warehouse and a forklift truck broke a tile because it was carrying a heavy load, which you tripped over just after it was broken, then the employer wouldn't have a) been aware of it and b) had the chance to do anything about it. In this scenario, it would be highly unlikely you could claim.
However, if you were in a shop where a damaged tile was awaiting repair and you tripped over it because there was no warning sign, you potentially could claim compensation as the retailer would've been aware of the damage but not provided adequate signage to warn you of the risk.
Any of the following could be liable for an accident caused by a missing tile:
Shop owners.
Your employer.
Restaurant owners.
Pub landlords.
Local authorities.
School governing bodies.
If you're unsure whether you could claim or not, please talk to us today. Our specialist advisors understand the legislation surrounding slips and falls and could help you begin a claim today.

Reporting Accidents And Injuries
A key thing to do, if you suffer an injury due to a missing tile, is report it. Who you report it to would depend on the situation. For example:
Accidents at work should be reported to your supervisor or recorded in an accident book.
An accident at a swimming pool should be reported to a lifeguard or receptionist.
Accidents in shop should be reported to any member of staff.
An accident in a pub or restaurant should be reported to bar staff or table waiting staff.
Please ensure that when reporting the accident it is done so formally and try and retain a copy if possible. It is vital to report an accident not only so any hazards can be mitigated but it also leaves a record of what has happened. This is a legal requirement and you should be allowed access to a copy of the entry made. If you're unable to obtain a copy of the report, contact us and we could attempt to get a copy on your behalf.

What Injuries Could A Missing Tile Accident Cause?
As one of the most popular forms of accidents, a slip, trip or fall can lead to a number of different types of injuries. Some are more serious than others and could lead to a very long period of recovery.
It's wouldn't be unfair to say that, even the smallest fall could lead to life-changing injuries. This is why claiming compensation might be considered to aid you with your recovery and for the pain caused.
Trips and falls caused by a missing tile could lead to:
Cuts and lacerations.
Ligament tears and tendon damage.
Dislocated joints.
Fractured or broken bones.
Sprains and strains.
Head injuries including concussion and even brain damage.
Bruises and soft tissue damage.
If you would like to seek missing tile compensation because of injuries similar to those listed above, please speak with one of our advisors today.

Accidents Caused By Missing Paving Tiles
Local authorities are responsible for many footpaths and local highways where pedestrians walk every day. Under the Highways Act 1980, it may be possible to seek compensation against the local authority if you trip over and are injured because of a missing or damaged paving stone.
Cases where your case might not be successful could include the fact that the council or local authority had inspected the path, within the required timeframe, and the defect wasn't present. If it can be shown however that the council was aware of the problem but hadn't managed to repair the missing tile, then a claim could be possible. There is a strict criteria to claiming against the local authority and your circumstances must fit in within what is considered their frame work. 
Accidents Caused By Damaged Or Missing Swimming Pool Tiles
There are a couple of scenarios where a missing or damaged swimming pool tile could lead to an injury:
Where the damage causes you to trip over and hurt yourself.
If you cut your foot on the jagged edges of a damaged tile.
The accident could happen within the pool itself, where the missing tile was difficult to see as it was underwater. It could also happen around the pool or in the changing room.
In either case, you should report the accident to pool staff in the first instance. It would also be a good idea to photograph the defect if possible (this may not be as easy for missing tiles under water) and ask witnesses for their contact details.

Accidents Caused By Missing Or Damaged Tiles In A Rented Home
Another place where an accident due to a missing tile could happen is in your home. Obviously, if you're a homeowner, the accident wouldn't lead to a compensation claim.
If, however, you're a tenant and you made your landlord aware of the problem prior to your accident, then you might be able to claim against them. This could be true with either a private landlord or against the local council or housing association.
As with other accidents, the landlord would need to have been aware of the damaged or missing tile to be deemed negligent. This could be the case if you reported the damage to them or if they spotted it while inspecting the property.
When it can be shown that they had knowledge of the problem but had failed to act to fix it within a reasonable amount of time, you may be able to claim compensation for any injuries caused by the accident.
If you're unsure whether you could claim or not, please call to discuss your options. If you have any supporting evidence, like emails or text messages sent to the landlord, then your case may be stronger.

Accidents Caused By Damaged Or Missing Tiles In A Workplace
Your employer, under the Health and Safety at Work Act 1974, has a duty of care to protect the safety of employees while at work. This means they should take steps to highlight risks and then remove them where possible.
This means if they spot a missing tile while inspecting the workplace or it's reported to them by a member of staff, they're duty bound to fix it as quickly as possible. If they fail to do so and you trip over it while it's waiting to be repaired, you could be eligible for compensation for any injuries in an accident at work of this nature.
Your employer can not discipline you for making a claim, by law, so don't worry about the implications of claiming compensation that you might be entitled to.

Personal Injury Calculator For Missing Tile Accident Claims – Updated July 2021
As you'll find out in the next section of this guide, general damages can be requested as part of your compensation claim. The table below shows the general damages payments that could be offered for different injuries. These are taken from official guidelines used in law and personal injury claims. They are not specific to missing tile accidents but a generic set of figures used in calculating all personal injury claims.
| Injury Type | Amounts | Notes On Injury |
| --- | --- | --- |
| Le fort fractures of facial bones | £23,810 to £36,740 | N/A |
| Minor Neck Injury | £2,450 to £7,890 | Important factors of the brackets is recovery time, injuries relate soft tissue damages. |
| Minor Back Injury | Up to £2,450 to £12,510 | Brackets are concerned with length of injury. Includes less serious strains, sprains, disc prolapses and soft tissue injuries. |
| Simple Arm Fractures | £6,610 to £19,200 | Simple fractures to the forearm. |
| Severe Fractures to Fingers | Up to £36,740 | Reduce grip, may result in partial amputation of fingers, deformity, reduced function. |
| Lesser Injuries to Hip/Pelvis | £3,950 to £12,590 | Significant injury. Recovery within 2 years. |
| Simple Fractures to Tibia or Fibula | Up to £11,840 | Simple fractures to the tibia or fibula or soft tissue injuries. The top of the amount will be awarded taking into consideration length in plaster and time to recover. |
| Serious Foot Injury | £24,990 to £39,200 | Severe injury to the foot prolonged treatment and the risk of fusion surgery. |
| Simple femur fractures | £9,110 to £14,080 | No articular surface damage. |
Your personal injury solicitor will need to demonstrate, by using medical records how severe your injuries were to ensure you receive the correct level of compensation.
General damages are just one part of a claim, so the table isn't a true reflection of the over all amount of compensation you could be awarded.

I Was Injured In A Missing Tile Accident, What Could I Claim For?
As mentioned in the previous section, there are many different elements of a compensation claim that a solicitor can use when calculating how much compensation in terms of damages you maybe awarded. These are known, legally, as heads of loss. Some of the different losses which can be claimed, depending on how an accident affected you, include:
General Damages
Paid to cover the pain, suffering and loss of amenity that your injuries caused. The table in the previous section details some of the amounts paid out for general damages.
Travel Costs
You might be able to seek compensation for any travelling expenses incurred as a result of your accident. This might be for trips to and from the doctor or because you had to make different travel arrangements during your recovery.
Care Costs
Some claimants require professional care while they're recovering. If that's the case, it's sometimes possible to include the costs in a claim.
Medication Costs
The costs of prescriptions and over the counter medicines can build up over the duration of your recovery. Therefore, you could include the cost as part of your overall claim.
Damaged Property
Another thing you might be able to claim for is the cost of replacing or repairing an item of personal property that was damaged in your accident due to a missing tile. For instance, if your jeans are ripped during a fall, you could seek the cost of replacing them.
Lost Earnings
In the short term, if you need time off from work due to medical appointments or to recover, you could seek compensation if you lose any income. Longer term, you could claim for future loss of earnings if your injuries are so serious that you need a prolonged amount of time away from work, have to change jobs or have to stop working altogether.
Special Damages
The financial elements of the claim listed above are known as special damages. The reason they are paid is to make sure you're not financially worse off following an accident that was not your fault but due to third party negligence.
It's important that you keep evidence of such expenses, either by means of a receipt or bank statement, and you can explain to your solicitor how they were linked to your injuries.

Claim For A Missing Tile Accident With A No Win No Fee Solicitor
We understand that many people worry about the cost of using a personal injury lawyer. That's why we offer a no win no fee claim service for any case we take on.
When you use a no win no fee service (actually called a conditional fee agreement), you benefit because:
You get our expert service without having to pay anything up front.
We won't charge you if we're unsuccessful, regardless of how much work we undertook.
Our fee is deducted from your compensation if we win the case which means you won't need to find the funds yourself. This is known as a success fee and is limited to 25% of your compensation.
We believe that by offering a no win no fee service, we're enabling more people to claim. That's because it reduces the financial risk and reduces a lot of the stress involved with claiming.

Contact Us
If you've suffered an injury due to a missing tile and would like to make a claim today, then you can contact us in any of these ways:
Call us free on 0800 073 8801 and speak directly to a member of our team.
Send a message via email to info@accidentclaims.co.uk
Use our live chat feature which is available 7 days a week.
Or fill in this form to arrange for us to call you back.
When you make contact, we'll begin by assessing your claim for free. You can ask as many questions as you need. If you're not quite ready to claim, we'll happily provide free legal advice about your personal injury claim.

Missing Tile Accident Claim FAQs
When you contact us, we'll assess your claim for free. If we believe you have a chance of winning compensation, we could provide you with a no win no fee service using a personal injury lawyer with up to 30 years' experience.
To save time answering some common questions when you call, we've answered some of them here:
Q: What is the average payout for a personal injury claim?
A: Because every claim is unique, there's no way of answering this question without speaking with you first. Using the personal injury claims calculator table earlier in this guide will give you a starting point. However, once we've assessed your claim fully, we may be able to advise what amount of compensation we hope to achieve.
Q: How long will a claim take?
A: Again, no two cases are the same, so it's difficult to say. It will depend on the complexity of your case and whether the defendant admits liability for your injuries from the start.
Q: How long do I have to make my claim?
A: The personal injury claims time limit is 3 years. This begins from the date of the accident or the date you find out about your injuries. For cases involving children, claims can be made by a parent up until their 18th. The now adult then has 3 years from turning 18 to make their own claim.
How common are slip, trip fall injuries in a missing tile accident at work?
While the HSE figures for accidents at work don't specify whether a missing tile accident causes them, the highest incidence of workplace injuries is related to slips, trips and falls. In fact, slip trip and fall injuries on the same level make up 29% of the workplace injuries reported by the HSE for 2019/20 as you can see from the below.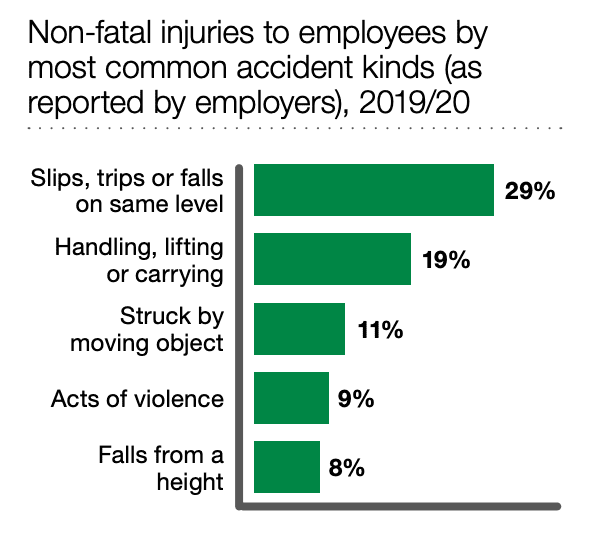 How do I prove the severity of my missing tile accident injuries?
If you're intending on making a missing tile accident claim, you would need to evidence your injuries by obtaining a medical report from a medical professional that is independent from your case. You would need to have an appointment with them where they could ask you some questions about the injuries you sustained and they could examine you too. They may need to access some of your past medical notes if you provide permission for them to do so. All this information would enable them to write a report giving their professional opinion on the severity and nature of your injuries. This could evidence your injuries so that your lawyer could hone in on a value for your claim.
I'm worried about claiming against my employer for a missing tile accident – should I be?
Many people worry about whether they should take action against an employer but it is vital to understand that your compensation would usually come from your employer's insurance policy. In addition to this, there are legal protections in place for employees who take action against employers for their negligence as to the health and safety of employees.
Further Resources For Missing Tile Accident Claimants
You've come to the end of this guide about claiming for an accident due to a missing tile. For your information, we've provided some links below to additional resources and guides which we hope you'll find useful.
Slips Caused By Flooring – Information from the HSE about steps to take to avoid slips caused by missing tiles.
Head Injuries – A guide by the NHS covering head injuries and concussion.
The Health And Safety At Work Act 1974 – The legislation provided by the UK government to protect employees while at work.
Slipping On A Wet Floor – This guide will help if you've ever asked, "Can I claim for slipping on a wet floor?"
Council Accidents – A guide which explains what to do if suffer an accident due to a missing tile in a public place owned or operated by a council/local authority.
Accident At Work Claims – This guide provides more information about claiming for injuries caused by accident at work.
Thank you for reading our missing tile accident claims guide.