By Joanne Jeffries. Last Updated 21st July 2021. Within this online guide, you can expect detailed information outlining to claim against a dissolved company.
The intention behind this guide is to provide critical advice to those who intend on claiming a dissolved company, whether that be a limited company or otherwise.
Unfortunately, an accident at work could happen daily. But, if you were to be injured and it was not at all your fault, you don't have to sit back and simply accept it. This is something a lot of people do when they have been injured at a business that is now closed, dissolved or in liquidation. They feel they won't be able to get compensation. But this is not the case! There are many reasons why you should make a personal injury claim.
Money to fund the recovery process – The main reason why you should make a compensation claim is to get the money to help you through the recovery process. Why should you have to suffer financially when you are already suffering from the accident as it is? When you make a claim, you will receive a sum of money that is based on your injuries, the extent of your suffering and the impact it is going to have on your everyday life.
Cover any out of pocket expenses – The cost of recovery is not the only thing you will have to deal with if you have been involved in an accident. There are many other potential expenses, including prescription costs, counselling expenses, vehicle repair costs, loss of income, travel expenses and the cost of childcare. If you make a claim you will be able to receive a payout to cover this, so long as you have proof of the expenses.
Peace of mind – You will also be able to get some closure if you make a claim. Sometimes it can be easy to question yourself when you have been involved in such an accident. However, a successful compensation case will allow you to draw a line under the incident so you can move on with your life.
As you can see, there are several reasons why you should use the services of a personal injury lawyer to make an accident at work claim. Here at Accident Claims UK, we have helped many personal injury claimants to gain the injury compensation they truly deserve when making a claim against a company in liquidation. You can reach us on 0800 073 8801. However, don't call just yet – make sure you read the information we've collated for you to find out everything you will need to be aware of regarding these sorts of claims.
Choose A Section
Your guide to compensation claims against a company which has been liquidated, dissolved, or closed
Welcome to our guide on how to claim against a dissolved company.
If you've been injured in a workplace accident and your employer has since gone bust, you may be wondering if you could claim against a dissolved company. You might be interested to know that there are many cases where you could do so, particularly if their insurance was valid when you had the accident.
Have you been the victim of an injury that was not at all your fault? If so, you will want to know whether you should make a claim and how you go about doing so. This can undoubtedly be not very clear for those who have never even thought about claiming before. It can be even more so confusing if the company you want to claim against is no longer in operation.
The first thing you need to do is determine whether you have a case to begin with. The last thing anyone needs is to waste all their time making a claim only to discover they never had a chance of getting any compensation to begin with. So, do you have a good chance of getting compensation? Generally, you need to prove the following three statements to be true…
The incident was caused because of someone else's error or negligence. It was not at all your fault.
You received professional medical attention as a result of your injury/ies.
The accident happened within the last three years.
If you can prove those three statements to be true, then you should definitely explore making a claim further. In this guide, we will reveal everything you are likely to need to know about making a personal injury claim against a company in liquidation, a company that has shut down or a dissolved company. If you have any queries, you will find all of the information you need regarding our contact details at the end of the guide.
What happens when a business is liquidated?
Before we look at how to claim against a dissolved company, let's familiarize ourselves with what liquidation actually is and when a business owner can close a company.
When a business is liquidated, it means that the business is no longer financially viable. Therefore, the owner has decided to try and wind up affairs gracefully, meaning an effort is being made to pay back creditors.
What happens when a business is dissolved?
When a company has dissolved, this means it has filed for dissolution with the registrar of companies, Companies House, and ceased operation. In some cases, it may be possible to restore the company by court order or by request. If there has been an order to restore by court order, we could tell you what that could mean to your claim. We could also advise what could happen if a claimant commences a proceeding to restore and what this means to the shareholders of the dissolved company, whether they would be liable for a share of the claim.
What should you do if you need to claim against a company that has closed down?
If you want to claim against a dissolved company, you will need several different things. This includes the following:
The complete details of what happened, i.e. where, when and how your injury occurred.
Details of any witnesses so your lawyer could get a witness statement for you
The contact information of the business you are going to be claiming against. Should you also know the insurer of the business, you can note this as well.
A complete medical report that states all of your injuries.
A list of all of the financial losses you have experienced because of the accident.
Details of the official liquidator if indeed the business has gone into liquidation.
How to start a personal injury claim against a liquidated company
Starting a claim against a dissolved company is difficult, but it can be easier than you may think once you have the assistance of an experienced firm like Accident Claims UK. You can even claim if you have power of attorney for the person who was injured. We will get all of the information we require from you in order to move forward. Therefore, we may ask you several questions, such as have you spoken to anybody previously from the business about your accident? We'll also be able to check out whether the company has been struck off the register, whether mergers and acquisitions would affect your claim, or if the registrar of companies has received an application to restore the company. Please contact us if you'd like our help.
How to start a personal injury claim against a company which has gone into administration
Again, if you want to start a claim against a dissolved company, we will provide a free consultancy session with one of our experienced advisors. In this session, our personal injury solicitor will need the answers to two imperative facts to determine whether you have the basis for a successful claim. This includes the following:
The amount of excess the employee liability insurance policy specifies
Whether or not the company had active employee liability insurance in place at the time
I was injured at work but the company has ceased trading, am I still able to make a claim?
The process involved in this instance is very different when compared with a company that has gone into liquidation voluntary. This is because a company that has merely ceased trading is no longer liable for any claims made against it or any money owed. However, it might be that you are able to file a claim against the director of the business, so it is definitely worth contacting us for more details.
For more information about how to make a claim against a dissolved company, please read on.
I was injured in a shop that has ceased trading, can I claim compensation?
It is possible, but these sorts of claims are complicated, so an expert solicitor's assistance is needed. While these companies are no longer accountable for any claims made against them, there are sometimes frameworks in place that mean there is still a way to claim.
What common injuries do people make compensation claims for?
There are so many different types of accidents and injuries that can happen in the workplace. Here are some of the most common:
Road traffic accidents that have happened while you have been using a company vehicle.
Cuts and needlestick injuries.
Musculoskeletal injuries.
Slip, trip or fall accidents.
What types of damages can be claimed for after suffering an accident or injury?
When it comes to using accident lawyers' services for making a claim against a dissolved company, you probably recognise that their duty is to ensure you receive the compensation you deserve to help you recover from the damage you have suffered. But, did you know that they will also work to secure a payout for any out of pocket expenses you have encountered because of your injuries? These are known as special damages.
To claim special damages, you simply need to be able to prove that you have only incurred expenses in question because of the injuries you sustained. You will also need to have proof of the cost, such as a receipt or any relevant document.
Examples of special damages that could be part of a claim against a dissolved company:
Medical costs – There is only one place to begin, and this is with medical costs. If you have been injured, there is a very high chance that you will need to spend money on a prescription or any treatments. You will be able to claim for this when using the services of accident lawyers.
Loss of income – Have you suffered a loss of income due to your inability to work while you recover? If so, this also counts as special damages. Unfortunately, not everyone is covered by sick pay, and so an injury can cause a lot of financial worry to the injured party. But, this is what a compensation claim is all about; ensuring you get the money you deserve to help you through it.
Counselling expenses – It is not uncommon for personal injury victims to require counselling to help them get over the situation. After all, some incidents can be very traumatic, and thus it's necessary to seek professional assistance. If you find yourself in this position, make sure you claim for the counselling costs when making your claim. You could also claim for psychological injuries.
Childcare costs – Last but not least, if you have had to pay for childcare while you recover, you can also make a claim for this.
How much compensation could I claim for a company which is no longer trading? – Updated October 2021
You may want to know how much compensation you may receive if you start a claim against a dissolved company. The truth is that payout amounts are incredibly hard to predict because there are so many variables involved, from the severity of the injury to the impact it has had on your life. While we can always provide you with a projected estimate, we cannot promise you 'x' amount because it simply does not work this way.
You may have seen the personal injury claims calculator tools online but please avoid these as they only ever give a rough estimate, leaving many claimants disheartened by their actual settlements or even feeling the need to appeal it with a court order.
In the table below, we've provided some average payout figures taken from the Judicial College Guidelines. This is a reliable source as it's used in the training of Britain's judges.
| Injury | Severity | Amount |
| --- | --- | --- |
| Neck Injury | Severe | In the region of £139,210 |
| Neck Injury | Moderate | £23,460 to £36,120 |
| Back Injury | Severe | £85,470 to £151,070 |
| Back Injury | Moderate | £26,050 to £36,390 |
| Hand Injury | Total or Effective Loss of Both Hands | £132,040 to £189,110 |
| Hand Injury | Total or Effective Loss of One Hand | £90,250 to £102,890 |
| Knee Injury | Severe | £65,440 to £90,290 |
| Knee Injury | Moderate | £13,920 to £24,580 |
| Toe Injury | Amputation of All Toes | £34,270 to £52,620 |
If you cannot find the injury you have sustained in the table above, there is no need to panic – you can still make a claim. Simply give us a call for more information on the payout you may receive.
No win no fee claims against companies no longer trading
When it comes to making a claim against a dissolved company, you have several options at your disposal. You have probably already looked on the Internet to see that there are many different solicitors, all of which operate in a slightly different manner. There are solicitors that charge by the hour or by each task they complete on your behalf, which can rack up significant legal fees. These can be particularly problematic if they are unsuccessful in winning you your compensation, as you'll then have to pay these fees out of pocket.
There are then solicitors who work on a No Win No Fee basis. This section will reveal the reasons why it is definitely better to go for this option. So, keep on reading to find out everything you need to know.
No money needed to begin your claim
There is only one place to begin and this is with the fact that you do not actually need any money to start making your claim. This eliminates the major monetary hurdles that are associated with solicitors who charge by the hour or per consultation. This often prices people out of making an accident claim. But it is something you do not need to worry about if you go down the No Win, No Fee route.
Financial risk is minimised significantly
If you were to go for a different type of personal injury solicitor you would be putting yourself in a risky position in terms of finances. You could end up spending a large sum of money only for your case to be unsuccessful. Is this a risk you can really afford to take? With a No Win, No Fee agreement you pay relative to the outcome of your case.
Higher chance of a successful case
Last but not least, there is greater chance of your accident claim being a success. As the solicitor is going to be impacted by the outcome of your case, you can be sure they will only take it on if they genuinely think you have a strong chance of compensation. Moreover, you can be sure your claim will get the level of attention it deserves.
Why you should make your claim against a company no longer in business with us
Accident Claims UK is the personal injury claims company you need when you have been involved in a personal injury of any sort. We know that this is certainly a difficult period in your life. You already have your injuries to cope with and the last thing you want is the hassle of a personal injury case. But, this is something you really do not need to worry about, as we will handle everything for you, ensuring a quick and convenient process.
If you are looking for accident lawyers to assist with any personal injury claim against a dissolved company, there is no one better than Accident Claims UK, as we cover the whole of the United Kingdom. We have an abundance of experience. We have helped thousands and thousands of personal injury victims to get the full amount of compensation they deserve. From travel accidents to workplace incidents, we have handled cases involving all types of personal injuries, and so you can be sure that we will have handled cases similar to yours time and time before.
One of the main reasons why so many people turn to Accident Claims UK when they need accident lawyers is because all of our lawyers work on a No Win, No Fee basis. This is extremely beneficial for a whole host of reasons. Firstly, it ensures that financial risk is minimised by a significant degree, as you will only pay legal fees if your case is a success. Not only this, but no huge payment is required to begin the claim process. You can also be sure of a much better service, as our solicitors are going to be impacted by the outcome of your case.
Should you have any questions about making a claim or would like to begin to process, all you need to do is give Accident Claims UK a call. You will speak to one of our experienced advisors who will answer all of your questions and match you to the best solicitor from our team, taking into account your case's specifics.
Speak to our team today about a claim against a dissolved company
If you've been involved in any type of accident and it was not your fault, you should call Accident Claims UK today on 0800 073 8801 to discuss making a claim against a dissolved company.
This is our helpline number and it is available seven days per week, 24 hours per day, so you can call at any time that suits you. There are also a number of other ways you can get in touch with us. This includes sending an email or using the live chat feature at the bottom of our website.
Other helpful resources relating to a claim against a dissolved company
This UK Government website page has some insight into the process of claiming compensation against a dissolved company.
This Is a companies house search tool
This a good search tool provided by Companies House you can search companies and find out if a company has ceased trading also find out who the liquidator is.
This explains what bona vacantia means for vacant properties and items that pass to the Crown after a company is dissolved.
Claiming against a place of work? Read this guide for more reference material.
Find out what rights you have after workplace accidents
Claim Against a Dissolved Company FAQs
Can you bring a claim against a dissolved company?
It is possible to claim damages from a dissolved company. In order to make a claim of this nature, there is a 6-year timeframe form the date of the dissolution.
Can I make a claim for stress at work?
Your employer has a lawful duty to ensure your health, both physical and psychological, is looked after. To ensure this is achieved, there are measures that can be introduced. However, should your employer fail to carry out the required measures, then you could have grounds to make a claim.
In order to make a stress claim, you will need to have a medically acknowledged illness or injury that is proven to be the cause of your job. By visiting a medical professional, they can help identify and treat your injury/illness. You can request your medical files at a later date to support your claim.
What could I claim for?
General damages and special damages are the two heads of compensation that you could claim for. General damages cover any physical injuries or mental harm whereas special damages cover financial losses, such as loss of earnings.
Should I see a doctor?
It's always wise to seek medical attention if you suspect you've suffered as a result of your accident. This is not only because it's important to treat your injuries but also to have them logged on your medical records, as they could be used in future as evidence.
Should I get a solicitor?
Although there is no legal requirement to have a solicitor handle your claim, their expertise could help ensure that the claims process runs smoothly so you can focus on your recovery. What's more, they can help you secure the maximum compensation you deserve for your suffering.
How much could I claim?
There's no way of saying how much your claim could yield without assessing the unique details of your case. Therefore, please get in touch today for a free consultation and see how much you may be entitled to.
How are personal injury claims valued?
Generally speaking, the more you suffered as a result of your accident, the more compensation you'll likely be entitled to claim.
How can I contact Accident Claims?
For your free consultation with legal advice, please call the number at the top of this page. For alternative contact options, scroll up to our get in touch section.
How Is Compensation Assessed For A Personal Injury Claim?
If you're wondering how much you could claim against a dissolved company, this would depend on how severe your injuries were and how much financial impact they'd caused. During the course of your claim you would need to go and see an independent doctor. They would perform an examination, and could review any past relevant medical notes to help them get a better picture of your injury. Based on their assessment and their professional knowledge, they'd produce an independent medical report, which could be used in support of your claim. It could also be used to work out how much compensation could be appropriate for your claim.
In addition to this evidence, you would also need to submit evidence that supports your claim for special damages. For example, to evidence any loss of income, you may need to provide payslips. If you've incurred costs relating to medical expenses or care costs, you'd need to provide documentation to prove this. You could use receipts, bills, or credit card statements to do so.
What kind of accident claims at work are there?
There are lots of different accidents at work that could lead to a claim. These could include:
Falls from height
Forklift truck accidents
Workplace assaults
These are just a few examples. If you'd like us to assess your case to see if you could claim compensation for a workplace accident or injury, please don't hesitate to get in touch.
Could someone claim against a dissolved company for a wrongful death?
Sadly, in 2020/21, as you can see from the below statistics, 142 people died as a result of accidents at work.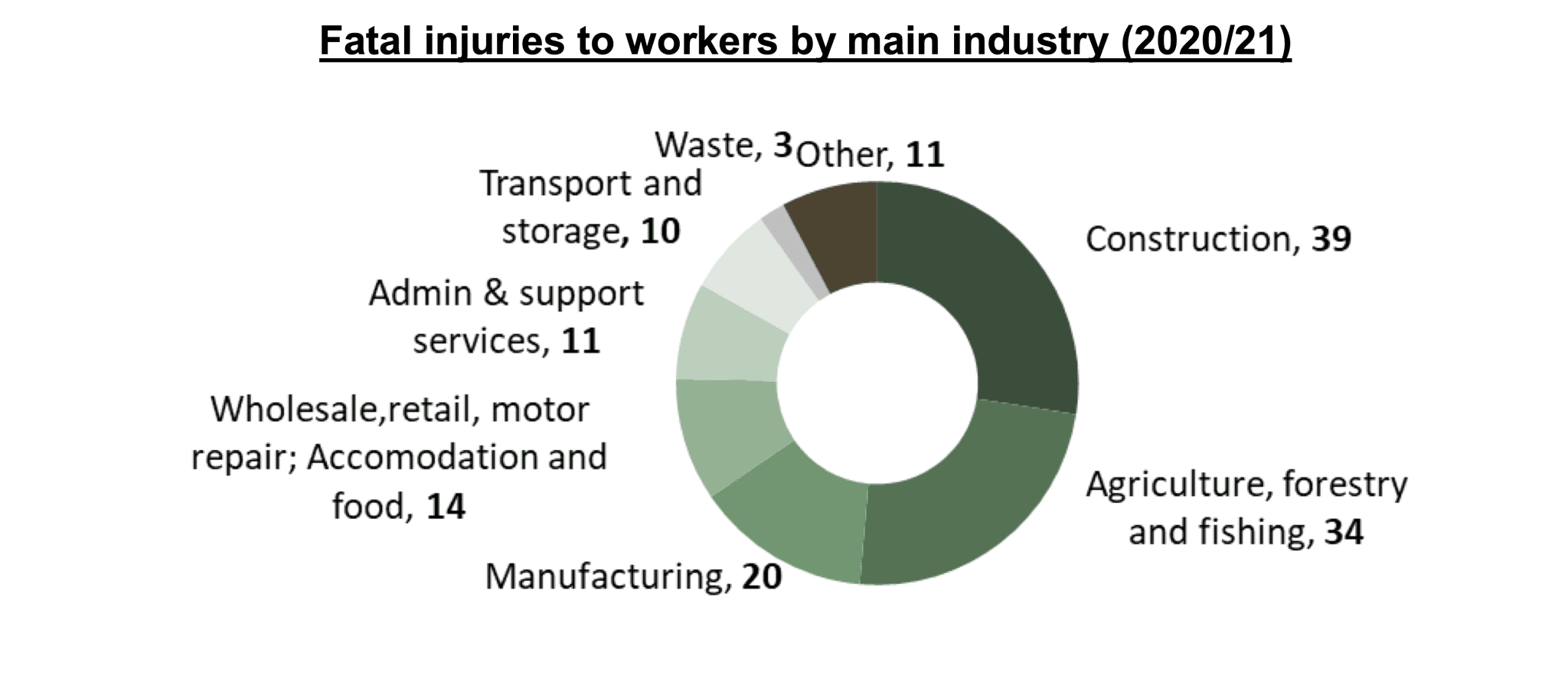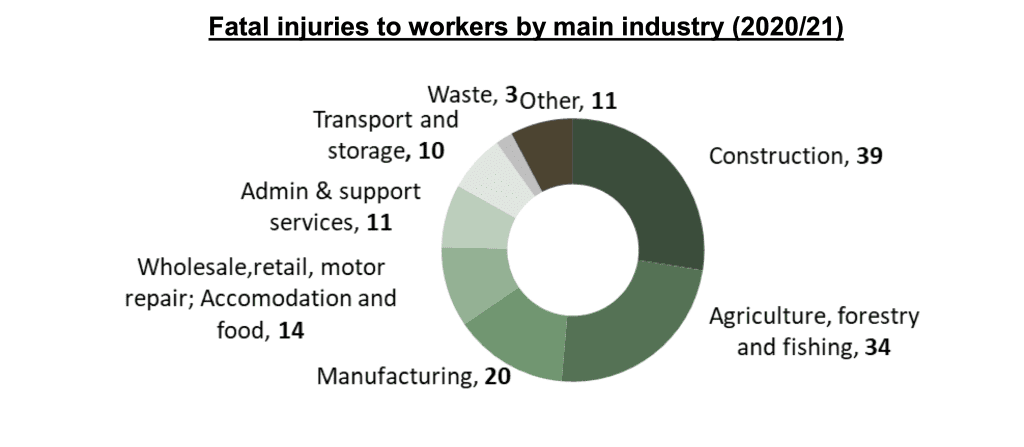 If you discover that a loved one's fatal accident at work was due to their employer's negligence, you may be feeling angry. You may wish to claim compensation for their loss of life and the financial impact it has had on your family. However, what happens if you find the company they work for has since been dissolved? Personal injury claims for fatal accidents could still be made in the same way as other personal injury claims as we have described in the above sections. If you are the relative or dependent of someone who has suffered a wrongful death, we could help you claim compensation for your bereavement and for financial expenses such as funeral costs. Please do not hesitate to get in touch for legal advice and support.
Could someone claim against a dissolved company without a lawyer?
It isn't a legal requirement for you to have a solicitor on your side when you claim compensation. However, in cases where a company is dissolved or where there could be legal complexities, we would advise you to consider using a lawyer to help you. An experienced lawyer, authorised and regulated by the Solicitors Regulation Authority, could take on all the legal legwork of making a claim and could give you the strongest chance of getting the compensation you deserve for a workplace accident. They could also support you if your case needs to be taken through the courts. In addition to this, they could handle the negotiations for your compensation settlement, giving you a good chance of getting the maximum compensation possible for your case.
Thanks for taking the time to read our guide on how to claim against a dissolved company.