Welcome to our guide about claiming cut finger at work compensation. If you suffer an accident at work due to another person's negligence, you could look at taking legal action. However, you may wonder what goes into making a compensation claim for such an injury. Additionally, you might be curious about how much compensation you could receive for your cut finger injury.
In our guide, we look at this as well as the personal injury claims process. We also discuss the benefits of working with a No Win No Fee solicitor on your claim.
Laceration And Incised Wounds In The Workplace
If you have any questions about personal injury claims, our advisors are on-hand 24/7. They also give free legal advice. They can advise you about the cut finger at work compensation that you could claim. In addition, if you have a favourable claim, they can connect you with our solicitors who work on a No Win No Fee basis.
Contact us at any time by calling 0800 073 8801, using our contact form or by using our Live Chat.
Select A Section
A Guide On How Much Cut Finger At Work Compensation Claims Are Worth
This guide explains everything you should know about making a cut finger at work compensation claim. Before delving into this, it's important to know the foundation of any successful personal injury claim. To receive compensation, you need to meet 3 points of criteria.
The first of these points is that a third party owed you a duty of care. In this case, that would be an employer since your cut finger would happen in a work environment.
The second point is that this duty of care was breached in some way, causing an accident.
Finally, as a direct result of this breach of duty, you were injured. In this case, that would be you suffering a cut finger.
You can meet the first point with relevant legislation (this is where a solicitor could help you). The other two points could be met with evidence. Again, a solicitor could support you with this.
Read on for more information about what goes into making a valid personal injury claim. This includes estimating the amount of compensation for an incised wound/deep cut that you could receive.
What Are Cut Finger Injuries At Work?
A cut finger injury at work is where your finger suffers a laceration through an accident at work. We will discuss how such an injury could happen in the workplace as the guide progresses.
After suffering such an accident, you should treat your cut finger injury as soon as possible. Even if it's only a small cut, there's the potential for the open wound to suffer an infection. This could then bring about further complications beyond the initial injury.
Note that a cut finger injury may only be minor. It's possible that basic treatment such as cleaning the wound and covering it with a tight plaster or bandage will be sufficient. What's more, your injury may not be significant enough to warrant a personal injury claim.
However, it's possible that the injury is more serious and even requires hospital care. In any scenario, though, your employer should make a record of your injury. Most workplaces have an accident logbook that you should ensure your accident is recorded in.
Bear in mind, though, that even if you follow the correct procedures, you have still suffered a workplace accident. If it's caused by your employer's negligence, you may have a strong case to claim cut finger at work compensation.
Please leave us a message on our 24/7 Live Chat feature if you need to know more.
What Are The Symptoms Of Lacerations And Cuts?
A serious laceration or cut has different symptoms to look out for if you're wondering whether you'll need stitches. These include:
Persistent bleeding

A long/deep wound

Something is in the cut (such as glass)
The cut is on the genitals, hand, face or mouth
Bear in mind that for a minor cut, the bleeding can stop when appropriate pressure is applied to the wound for a reasonable amount of time.
However, for a more serious finger cut, the injury can be more difficult to treat. Perhaps the wound is particularly deep, leading to a greater level and duration of blood loss. The length of the cut may also be larger; for instance, it may stretch right down the finger itself.
Other potential symptoms of a serious finger cut include the bone being visible and possible tendon damage.
If you'd like more information on claiming cut finger at work compensation, why not reach out? Call us today by using the telephone number at the top of this page if you want additional advice.
How Could You Cut Your Finger At Work?
There are numerous ways that you could cut your finger at work. For example:
Machinery that isn't maintained properly could trap your finger.
A knife that isn't properly stored could fall onto the finger.
Slipping on an unattended spillage with a sharp object in your hand.
Falling off a faulty stepladder whereby the impact of the fall on your hand cuts your finger.
Many roles require the use of sharp objects such as blades, knives or glass. For example, if you work in a kitchen, there is a chance you could accidentally cut yourself using sharp cutlery.
If any of the above accidents result from somebody else's negligence, you could claim cut finger at work compensation. Make sure to contact us if you want to receive further insight.
When To Seek Emergency Or Other Medical Care
Not every cut to your finger would need a trip to A&E. Usually, an employer will have a first aid kit on hand, thus allowing you to receive basic treatment on-site. This would then stop the flow of blood for a minor cut. However, a more serious finger cut could require you to take an immediate trip to the hospital.
An example of this would be if the cut is very deep and long. Such a cut could lead to persistent bleeding due to an artery or a vein potentially being ruptured.
Another possibility will be if the bone in the finger is visible. This could be any of the phalanges, metacarpal bones or carpal bones that are in your fingers and hand as a whole. If the bone can be seen due to the cut, you should seek medical help as soon as possible.
Other scenarios could include:
Cuts due to glass
Infections to wounds
Broken bones
Tendon tears
Nerve damage.
All of these may necessitate emergency treatment and possibly surgery in the aftermath. However, cut finger at work compensation would be a real possibility if the injury happens due to negligence at work. Call us for further details.
How Long Could It Take To Recover From A Finger Injury?
Recovery can depend on how serious the cut is. For a minor cut, the bleeding could stop within minutes. Consequently, it may heal without any noticeable physical scars within a matter of days. However, the situation differs when it comes to a deeper cut to your finger.
Indeed, for a deep wound that requires medical professional treatment, it could take a week or two to heal. This is due to the need for stitches to potentially be applied.
The recovery time should be expected to be even longer for a deeper cut that involves bone, tendon or nerve damage.
What's more, the skin could be scarred and the tendon or nerve damage could cause a permanent disability.
If your work injuries weren't your fault, you may be able to claim cut finger at work compensation. Make sure to message us via our live chat if you have any questions.
When Is My Employer Liable?
Employers have a duty of care under the Health and Safety at Work etc. Act 1974. As per this Act, employers must do their utmost to protect their employees' health and safety while at work. This means that if an accident happens because the employer neglected their duty of care, they could be seen as at fault for it.
In order to make an accident at work claim, you would need to prove that your employer's negligence caused your injuries. For example, if your employer knowingly provided you with substandard tools to use that ended up lacerating your finger, you could claim.
Other examples include:
Your employer provided subpar training, which meant you injured yourself because you weren't aware of the hazards of the machinery you were asked to use.
Your employer removed protective guards on the machinery you were using because they believed it would speed up production but, instead, it caused you injury.
The employer failed to provide you with personal protective equipment even though it's necessary for your role, which meant you weren't saved from injury.
If you're unsure as to whether you could be able to make a cut finger at work compensation claim, why not reach out? Our Live Chat is always open if you want to discuss an employer's liability in greater depth with us.
How Common Are Lacerations Injuries At Work?
This is a common type of finger injury. Indeed, laceration injuries do occur on a relatively regular basis in the workplace. The Health and Safety Executive (HSE) publishes annual statistics on workplace injuries. In 2019/20, there were 6,375 instances of non-fatal lacerations and open wounds to employees in Great Britain.
Furthermore, during 2019/20, there were 7,112 non-fatal injuries reported that were specifically related to one or more fingers or thumbs. The graph below compares the frequency of finger injuries at work with the frequency of other non-fatal injuries to limbs.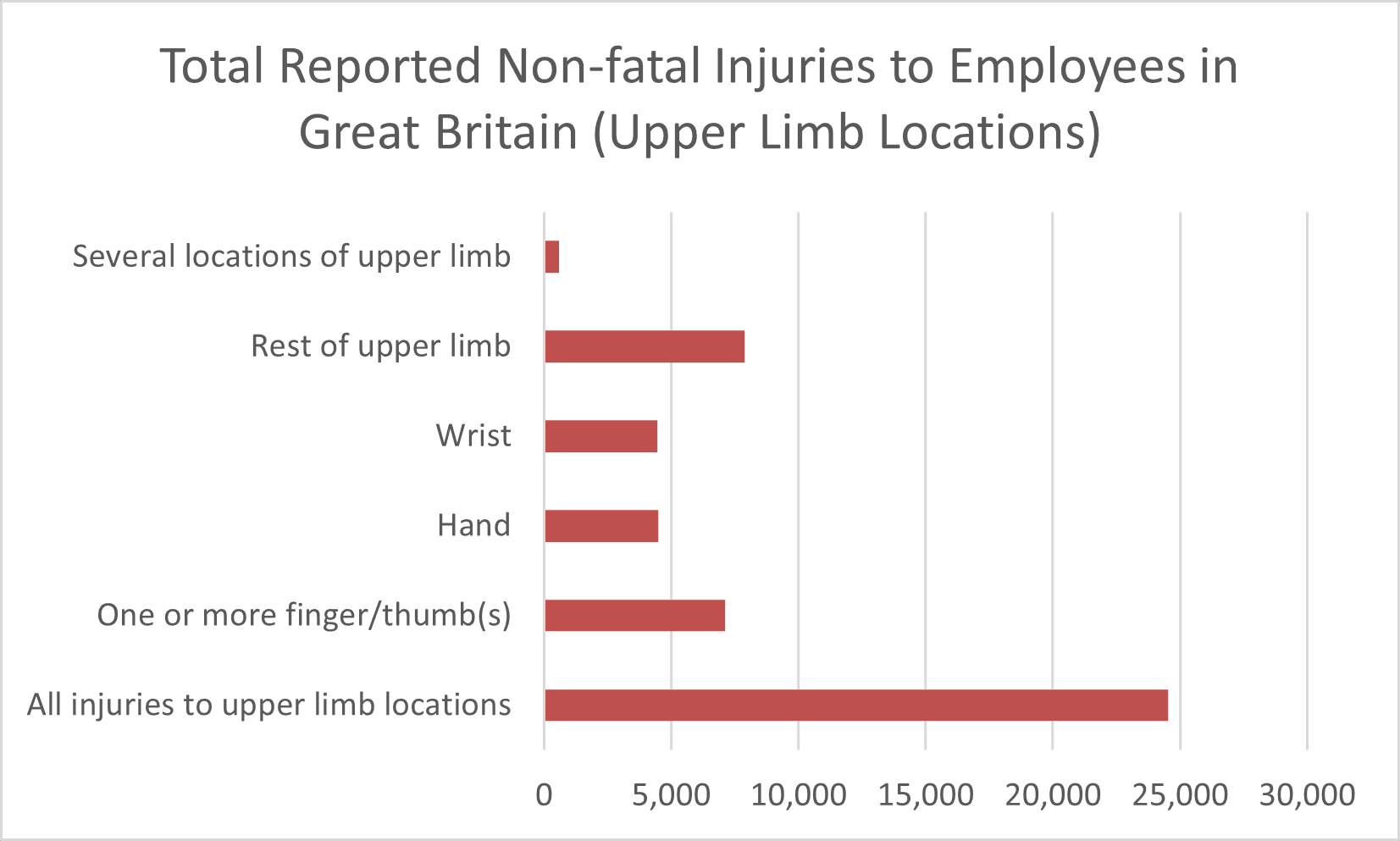 If you suffer an injury at work due to someone else's negligence, you might have a valid claim. To discuss how you to potentially claim cut finger at work compensation, please speak with our advisors today.
Calculating Cut Finger At Work Compensation Payouts
It's wise to be aware of how much cut finger at work compensation you could potentially receive. After all, you don't want to set your payout expectations unreasonably high. At the same time, though, you should aim to receive fair and appropriate compensation. A solicitor can advise you on this.
There are two heads of claim. One compensates you for the physical or mental injury (general damages). The other compensates you for financial losses caused by the injury (special damages).
The severity of your injury can impact how much compensation you could claim. An example would be permanent nerve damage. The actual cut might heal up, but the nerve damage could remain and seriously impact your day-to-day life.
The table below provides some potential compensation figures for a variety of injuries relating to a cut finger. These figures come from the estimates of the Judicial College, though they're still hypothetical and shouldn't be taken as guarantees.
The Judicial College creates guidelines that contain these estimates. Legal professionals use them to value injuries.
| Injury | Severity | Compensation | Notes |
| --- | --- | --- | --- |
| Hand Injuries | Amputation of Index and Middle and/or Ring Fingers | £58,100 to £85,170 | The hand will no longer function properly and have weak grip. |
| Hand Injuries | Serious Injury to the Thumb | £11,820 to £15,740 | Significant thumb damage due to a deep laceration that causes permanent nerve damage. |
| Hand Injuries | Serious Injury to Ring or Middle Fingers | £13,970 to £15,330 | Serious tendon injury causing stiffness, deformity, and loss of dexterity or grip. |
| Hand Injury | Moderate | £5,260 to £12,460 | Deep lacerations causing some scarring & minor lasting damage. |
| Laceration scars | A number of noticeable laceration scars or one disfiguring scar | £7,350 to £21,330 | A number of noticeable laceration scars or one disfiguring scar to the hand. |
The compensation table above offers guidance as to what you could claim. However, be sure to contact our advisors for a tailored, free, accurate estimate of how your claim might be valued.
Damages For Your Costs Or Losses
When it comes to a compensation claim, the payout itself can consist of two parts. The first of these would be general damages, which compensate you for physical injuries. General damages also compensate you for any psychological harm that you may suffer due to the injury.
Furthermore, general damages would cover the injury's impact on your life and any loss of amenity suffered. An example of this would be any lasting nerve damage that limits what the fingers could physically do, meaning that you can't cook or play an instrument as you previously did.
The other potential part of the payout would be special damages. These relate to the expenses and losses that come up due to your cut finger injury. An example of this would be a lack of income during your time off work while recovering.
You could also look to claim the costs of transportation to and from hospital or doctor appointments as part of your recuperation.
Perhaps you needed to pay for care while you recovered, or your family provided gracious care. You could recover the costs of a caregiver or claim the time a family member spent caring for you as compensation.
You can discuss damages that make up your potential cut finger at work compensation with us anytime.
Cut Finger At Work Compensation: No Win No Fee Claims
A No Win No Fee agreement (otherwise known as a Conditional Fee Agreement) is an arrangement between a solicitor and a claimant.
How It Works
Let's say that you do win your case, and you receive your cut finger at work compensation. In that scenario, you would pay a success fee to your solicitor. (Note that this success fee is capped by law, and it would be a small percentage of the compensation.)
However, let's assume that, for some reason, you don't win your case. Under a No Win No Fee agreement, this would mean that you don't pay a single penny in solicitor fees. You wouldn't cover their fee unless they win your case. This encourages your legal representative to work harder because they receive a payment if you receive compensation.
Furthermore, you wouldn't pay any hidden solicitor fees before the case or while the case is ongoing.
Our solicitors offer their services on a No Win No Fee basis. Speak to us if you have any questions when it comes to No Win No Fee.
Why Choose Us To Handle A Claim Against Your Employer?
If you're making a cut finger at work compensation claim, you don't have to necessarily use a solicitor's services. However, we believe there are many benefits to having a legal professional's support.
First of all, we're proud of our solicitors' success rate. Additionally, they assess claims beforehand for their validity and strength.
Our solicitors are experienced and have all the appropriate qualifications.

They can work for you from anywhere in the country. This allows you access to some of the most suitable personal injury lawyers to handle your specific case.

They cut through the legal jargon and can even represent you if the case goes to court (though this isn't commonly necessary).
Therefore, if you plan to take legal action, why not consider the services of our solicitors?
Get In Touch
With all of this being said, all that remains is for you to begin discussing your compensation claim with us. Note that you're under no obligation to pursue legal action purely because you contact our advisors. What's more, they give free legal advice and could connect you with our solicitors if you have a strong claim.
Once they assess your case, if it's valid and accurate, they could then handle your claim. This would then represent the first step towards you potentially receiving your cut finger at work compensation.
To get in touch with us today, you can:
Read More
We understand that you may want to read some additional sources of information about claiming cut finger at work compensation. Therefore, you may find the below mix of internal and external pages useful.
Our article on accident at work claims gives varying different accident scenarios and compensation figures.
We also have a post about your legal rights if you suffer an accident in the workplace.
In addition, we have a guide focusing on finger injury compensation claims as a whole.
The NHS has a page that spotlights how to provide first aid for an injury.
It also gives advice on how to treat cuts and grazes.
Finally, the NHS explains how to identify if a cut requires stitches.
FAQs On Claiming Cut Finger At Work Compensation
In this section, we answer some commonly asked questions about personal injury claims.
How long do I have to claim for a laceration?
Generally, the time limit for making personal injury claims is 3 years from the date of the accident or 3 years from the date you gained knowledge that negligence at least contributed to the injury.  However, there are exceptions to these dates if you're under 18 or lack the mental capacity to claim.
Will my claim against my employer go to court?
It could go to court, but it's more likely that an out-of-court settlement would be reached before then.
Will I need to see my solicitor in person?
No. Our solicitors can work for you from anywhere in the country. You can contact them online, over the phone or via email if you prefer.
Could I get an early payout?
This can depend on how soon the defendant (in this case, your employer) admits liability and how quickly a settlement is reached. The sooner they do so, the sooner that you may receive a payout.
How long will it take to recover from a cut finger?
That comes down to the severity of the cut. It could range from a few days to a few weeks to possible permanent nerve or tendon damage.
Are some fingers more valuable when it comes to compensation payouts?
For a serious injury, some fingers could bring in more compensation than others. For example, the loss of the little finger could be considered of less value than the loss of an index finger.
Thank you for reading our guide about claiming cut finger at work compensation.
Guide by MA
Edited by RV