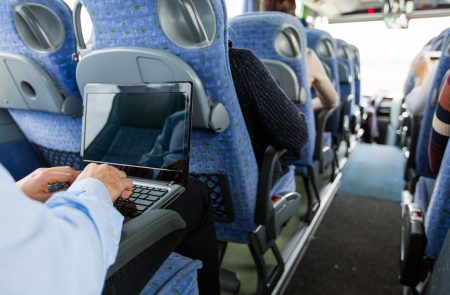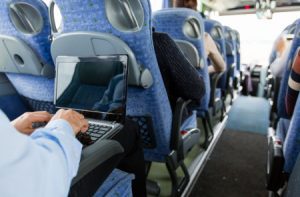 Were you injured in a FirstGroup bus passenger accident that was someone else's fault? Did the driver brake too hard and cause you to suffer whiplash or other injuries? Were you aware that you could claim compensation for your injuries if you could prove liability on the part of a third party, and did you know you could obtain the services of a solicitor without having to pay legal fees upfront?
All this and more is covered in this FirstGroup bus accident guide. At Accident Claims, we believe that everyone is entitled to make a claim and should be able to access the information they need easily and in one place. This guide provides a wealth of information on what could lead to a FirstGroup bus injury, how to prove liability in a FirstGroup bus accident claim, and how you could benefit from using a solicitor to help you with a claim for compensation.
We also supply information on average settlements for injuries sustained in a FirstGroup bus crash. We hope you find all that you need within this guide, but if you need clarification on any point we've made, or you'd like us to put you in touch with a solicitor to help you, then all you need to do is call 0800 073 8801 and we'll be happy to help.
Select A Section
A Guide To Accident Claims Against FirstGroup Buses
If you were injured in a FirstGroup bus accident, you may not know if you could make a claim for compensation or not. Whether a bus braked too sharply, causing you to suffer whiplash, or you were in a head-on coach crash, if someone else was at fault and it could be proved that they were liable for your injuries, you could be eligible to make a compensation claim for not just the injuries you've suffered but any costs you incurred that directly relate to your injuries, such as loss of income or medical expenses, as examples.
Within the sections of this guide, we aim to offer a wealth of information pertaining to FirstGroup bus injury claims, and how to go about filing them. We'll take you through some scenarios that might lead to you making an injury claim against FirstGroup, talk over what responsibilities FirstGroup has to passengers, along with giving useful information on any restrictions that may apply when making a claim.
What Is A FirstGroup Bus Accident?
A FirstGroup bus accident could cover more than just being injured as a passenger on one of their buses. Any accident that involved a FirstGroup bus could potentially lead to an accident claim, whether you were knocked over by a bus as a pedestrian, were hit by a bus in a head on collision, you were injured by malfunctioning doors on a FirstGroup bus, or you were injured due to driver negligence and more…
If the following can be proved, you may be entitled to file a personal injury claim:
FirstGroup owed you a duty of care, as a passenger, driver, other road user or pedestrian
They, or one of their staff failed in their duty of care by their actions or inaction
The failure caused an accident that resulted in you being injured
If this can be established, you may be eligible to make a personal injury claim against them. Compensation could be paid out by the defendant themselves, or by their insurance company.
Passenger Rights When Travelling By Coach Or Bus
When travelling by coach or by bus, passengers have certain rights if they are injured during transit. These could be summarised as follows:
Should a passenger be injured on a coach or bus in an accident during long-distance journeys (which are deemed to be 250km+) that passenger should be entitled to compensation for their injuries. National rules dictate the level of compensation, but the maximum should not be 'less than €220,000' for each passenger (subject to change)
It is a passenger's right to expect the bus or coach company to provide adequate first aid, and they should also provide immediate resources such as clothes, food and accommodation where necessary
Should a passenger be victim of a coach accident or bus accident that was fatal, a dependant should have a right to compensation, which should include expenses relating to the victim's funeral. Again, the national rules would dictate the amount of compensation, but it would again be €220,000 for each passenger (subject to change)
In the UK, you could also be covered under UK law, including the Consumer Rights Act of 2015, which offers you basic rights based on your purchase of a service/product within the UK. You may also be covered under Heath and Safety Executive legislation which applies to the transport sector. This give you the right to expect that you would be able to travel in safety.
What Duty Of Care Does FirstGroup Owe Passengers?
According to the Public Passenger Vehicles Act, bus company operators must have been granted a Public Services Vehicle Operators Licence, or PSV Licence. A PSV licence is a requirement for all vehicles that have been designed to carry 9+ fee-paying passengers. Steps that a holder of such a licence would be required to take would include:
Checking speed limiters
Keeping tachograph records, and checking and calibrating tachographs regularly
Keeping copies of timetables and rosters
Checking that all drivers operating such vehicles have obtained the correct licence, have passed a certificate of competence, receive adequate training and monitor their hours of work, rest breaks, and duty rotas
Ensure MOT dates and details are checked
Ensure they have adequate insurance in place
Ensure weight limits are complied with
Ensure records are kept for all repairs, services and maintenance that is performed on such vehicles
Ensure vehicles meet the needs of passengers' safety, including the Disability Discrimination Act
If an operator does not comply with these conditions, their operating licence may be at risk of being revoked. If you as a passenger, suffer injuries in a FirstGroup Bus accident because these obligations are not met, then you may be eligible to claim compensation for your injuries.
Is FirstGroup Liable For My Accident?
In some cases, if you are injured in a FirstGroup bus accident due to bus driver error, or a malfunction of the vehicle, then FirstGroup may be held liable. However, in other cases, someone else may have been at fault for your injury. If a FirstGroup bus crash was the fault of another motorist driving a different vehicle, your claim might be against them, and not FirstGroup. In some cases, if the driver of the other vehicle was not insured, yet caused an accident, you may be able to make claims through the Motor Insurers' Bureau (MIB).
If you have any questions on who could be liable for a First Group bus accident, then we could help to clear the matter up for you. All you would need to do is give us a call.
Whiplash Claims Against FirstGroup
Whiplash may be considered a common bus or coach injury, and if you have sustained a whiplash injury due to the fault of someone else, you could look into making a bus accident compensation claim with one of our solicitors. While whiplash victims do not always feel any adverse symptoms right away from a bus or coach crash, this does not mean the injury is not serious. In some cases, whiplash can last for months, or in extreme cases this can be for years. The pain and suffering that a whiplash victim suffers could be compensated for if they obtained the injury in a FirstGroup bus accident that was not their fault.
Bus Passenger Injuries Due To Slips And Falls
You may have suffered a FirstGroup bus passenger injury if you slipped or fell on a bus, but you may not know whether FirstGroup could be held liable for your injuries. Some examples of slip and falls on a bus that could lead to a claim could include the following:
Tripping on an obstruction in a bus aisle that should not have been there
Tripping on carpet on the bus that was not fitted securely
Slipping on a spillage that was not cleared up in a reasonable amount of time
Essentially, if a FirstGroup bus injury could have been avoided if the company and/or its staff had acted responsibly towards you safety as a passenger, you may be entitled to claim compensation from them.
Bus Crashes Caused By Driver Negligence
A bus driver is ultimately the person responsible for your safety while you are travelling on the bus, and any negligence or dangerous behaviour on their part could lead to disastrous consequences. For example, if your driver ignored, or did not notice a red light, and drove through a junction, then you may be injured in a FirstGroup bus crash, or if they were not paying attention to traffic in front, and had to slam on the brakes to avoid crashing into a stationary vehicle, then the company they work for could be held liable for any injuries you suffer as a result of an accident caused by the lack of a driver's attention.
Bus Crashes Caused By A Third Party
If someone else crashed into the bus, or caused your driver to brake suddenly in order to avoid running into them, then your accident claim may be against that driver of the other vehicle, and not FirstGroup if you are injured. This would be handled similarly to situations where you were in a car crash and another driver was at fault.
If you're not sure who you should be taking action against, Accident Claims could help work this out for you. If the driver absconded, we could still help. You could make a claim through the Motorist's Insurance Bureau should this be the case. and we could help provide a solicitor to act on your behalf.
Bus Accidents Caused By Potholes And Bad Roads
Sometimes, a FirstGroup bus accident could be out of a driver's control. For examples, potholes and other unsafe road surfaces, could also lead to bus accidents. If an incident is caused by an unsafe road surface, the local council or local authority may be liable for injuries that are caused as a result. They are responsible for the proper care and maintenance of roads, and if they have failed to make the road safe and you are injured as a result, then you may be able to make a claim against them.
Emergency Stop And Braking Accident Claims
Injuries may be caused by emergency braking. Whether you were thrown onto the seats in front of you and injured, or suffered whiplash, if someone could be seen at fault for an emergency braking accident in which you are injured, you could look into making a claim for compensation. But would it be a claim against FirstGroup, or would you be claiming against someone else?
This depends entirely on the circumstances surrounding the accident in which you were injured. If the driver was not paying attention and has to brake sharply to avoid a hazard they should have spotted previously, you could file a FirstGroup bus accident claim. However, if your accident was caused by another motorist which caused the bus driver to apply the brakes sharply, you may be claiming against the other motorist.
If you've been injured when a bus  had to brake sharply, and you're not sure who was at fault, we could help clarify your position, and we could also provide a solicitor to help you make a claim for compensation.
Bus Accident Calculator For Claims Against FirstGroup
You might have come across a personal injury claims calculator online and you may have tapped in your details to get an approximate compensation figure for your potential claim. However, this guide provides a table with information taken from the Judicial College Guidelines for compensation settlements. These give an approximate amount for specific injuries that could stem from a FirstGroup bus accident.
| Your Injury | Explanation | Payout |
| --- | --- | --- |
| Moderate Neck injury/ies | Injuries in this bracket could involve wrenching type movements which could also cause severe disc lesions. Surgery may be required in these cases, and in some claimants, there might be a higher vulnerability for future trauma. | £12,900 to £23,460 |
| Moderate Neck injury/ies | Fractures to the neck or dislocations could be included here. Immediate symptoms would be present and spinal fusion may be required. Function could be impaired in the long-term. | £23,460 to £36,120 |
| Simple type of forearm fracture | Simple | £6,190 to £18,020 |
| Less severe arm injuries | Within this bracket lie injuries that may have caused severe disability at first, but with much improvement over the course of time. | £18,020 to £36,770 |
| Fracture of the clavicle | The compensation amount would be worked out by taking into account the level of disability, the level of pain at the time, the level of displacement and how much residual disability remains. | £4,830 to £11,490 |
| Tibial fracture | Some minor symptoms may remain | Up to £11,110 |
| Scarring to the body | Just one disfiguring mark, or multiple noticeable one. These could be on the chest, the hands, the back, the legs or the arms. | £7,350 to £21,330 |
| Less Serious Leg Injury/ies | Incomplete recovery of fractures, or severe damage to the soft tissues. | £16,860 to £26,050 |
If you are making a claim against FirstGroup buses for injuries that don't appear in the table above, simply call us, and we'll be able to look into the guideline payout bracket for your injuries. We'd be happy to do so without charge, and you wouldn't be under any obligation to use our service if you asked for our advice.
What Are The Types Of Damages In Personal Injury Cases?
The damages mentioned above are known as general damages, and they are meant to compensate you for the actual injury you have sustained, including the pain and suffering.
However, there are other types of damages that you could claim for, called special damages. These are meant to compensate you for costs and losses sustained because of your injury. They may include:
Loss of earnings, in both the actual sense and the predicted future losses
Medical expenses – this could include prescription charges, medical treatments and other related expenses
Travel costs – car parking at the hospital, or travel to a medical appointment could be claimed for
Care costs – childcare costs or the costs of caring for you day to day could come under special damages
If you've incurred a cost as a result of a FirstGroup bus accident and you'd like to know if it could be included within your personal injury claim as special damages, please don't hesitate to call us. We'd be happy to clarify whether it could be claimed for.
No Win No Fee Bus Accident Claims Against FirstGroup
When retaining the services of a personal injury lawyer, you may assume that you'd have to pay them a fee upfront. This is not the case with No Win No Fee lawyers. At Accident Claims UK, all  personal injury solicitors we work with offer clients Conditional Fee Agreements, which means you would sign a document that effectively promises them a success fee when they win your case and you are awarded compensation for your FirstGroup bus accident. The success fee you pay would be agreed before the personal injury solicitor takes on your case. If the solicitor does not manage to get you any compensation even though you had a valid bus crash claim, you wouldn't be required to pay the success fee. In short, you can file a personal injury claim with no financial risk. The fact that no monies are required upfront to begin a claim means that anyone with valid claim would be able to seek compensation.
How The Accident Claims UK Team Could Help You
At Accident Claims UK, our trained advisers can offer advice and support if you've been injured in a FirstGroup bus accident. Upon calling us, you'll speak to a professional, yet friendly adviser who will talk over what has happened to you, ask any relevant questions, and then assess your chances of claiming compensation.
If we think you could be eligible to make a public transport accident claim, we could offer to provide you with a solicitor who could help you claim for your bus or coach injury and any costs that are directly associated with it. If we don't think your claim would get you compensation, then we would be honest and tell you so.
Start A Bus Accident Claim Against FirstGroup
Are you in a position to begin a claim for a FirstGroup bus accident, or are you not sure whether you could claim for a bus accident because you're not sure who was at fault? Whatever you need to know regarding a FirstGroup bus injury claim, we could help. Simply get in touch with us in one of the following ways:
By Telephone on 0800 073 8801
Via email on office@accidentclaims.co.uk
By Live Chat or via our contact form.
We're ready to listen and offer free advice to anyone who has been injured in a coach accident.
Essential Links
General Guidance On Bus Accidents – Our general guide on bus accidents could be of interest.
Have You Suffered A Head Injury – We've put together a guide on head injuries. It may be of some use if this is the type of injury you've suffered.
Have You Sustained A Whiplash Injury? – If you have, our handy guide to whiplash may help.
NHS Guidance on Whiplash – The NHS offers advice on handling whiplash injuries.
Road Accident Statistics – This 2018 release by the government highlights injuries on UK roads.
Road Transport Operator Regulations – You can read the full version of these regulations here.
Victim Support
BRAKE – The road safety charity has a wealth of information and guidance if you've been injured in a road accident.
Struggling With Mental Health After An Accident – If you're suffering from trauma after an accident, the counselling might help. Here is the NHS page on counselling.
Article by Jo
Editor Honey