By Joanne Jeffries. Last Updated 12th July 2022. Are you considering hairdresser injury claims? Welcome to our guide on hairdresser injury compensation claims and hairdresser accident claims. If you're considering making claims like these, this guide could answer questions such as 'can you sue a hairdresser for a bad haircut?' and 'how is hairdresser compensation calculated?' We offer guidance on compensation payouts for hairdressing claims in 2022, and what could affect your hairdressing compensation claims payout when suing a hair salon for negligence. 
For the majority of people, a visit to the hairdressers is a regular occurrence, and whether you visit a salon or a barber it is completed without anything untoward happening. In fact, according to figures presented by the Office for National Statistics, there are currently over 40,000 businesses involved in the hairdressing industry all over the UK.
Who could claim hairdresser compensation?
Unfortunately, hairdressing accidents and injuries can occur. During your appointment did you receive some kind of injury? If so, you may feel that you have a case for making a claim for hairdressing compensation. It is often the case that making a claim for the damage that has been made to your hair or the injuries you have received can help you to move on. Our comprehensive guide has been put together to provide you with helpful information. We cover insight on the various different types of compensation claims your could make. These relate to injuries sustained in a hairdressing salon.
Would you like to learn more about No Win No Fee hairdressing compensation claims? Or, to proceed to make a claim for hairdresser accident compensation? Please get in touch with our team. They operate 24 hours a day, 7 days per week, and you can reach them by:
Calling 0800 073 8801
Or by chatting with us now using the chatbox, bottom right.
Choose a section:
A Guide to Compensation Claims for Hairdresser Injuries
Unfortunately, incidents that involve hairdressers are not uncommon occurrences. Whilst they might be minor, such as a small cut caused by scissors which will get better within a few days, others are more severe.
Salons have the potential to cause harm to their clients in a number of ways; the use of chemicals during some types of treatments, the use of electrical items and very hot objects all of which could lead to injuries that are more serious. In these instances, hairdresser accident claims might be considered by those affected.
Our detailed guide will look at the common factors that are involved in the majority of hairdresser injury compensation claims. We will take a look at the different types of injuries involved, suggest how you might like to proceed with hairdresser compensation action, where liability for injury might lie and even look at possible settlement amounts.
Hairdresser Compensation – Your Questions Answered
If you are thinking about how to sue a hairdresser, then the information on hairdressing compensation claims in this guide could prove invaluable. Also, we will look at the process, and the benefits, that can be achieved from finding a professional firm to work on your claim, whether it is hair damage from hair dye or suing a hairstylist for other hair damage in hairdressers.
To find out more about the hairdresser injury claims process and for information on preparing your claim, please read on. Alternatively, if you'd like free legal advice around making a claim, get in touch with us today.
What You Should Do If You Are Injured During A Trip To The Hairdressers
If you have been injured during a hairdressing consultation, then there are a number of things that you should do whether you are pursuing hairdresser injury compensation claims or not. The first of these is that you should seek medical attention in respect of your injuries. You may then want to consider the options that are available to you.
If you want to make a compensation claim there are a number of things you should consider:
Save all paperwork
Collect evidence for your claim, this could take the form of any records that might relate to your accident: appointment cards, phone records, emails or anything else you think might be relevant. This information might be used to confirm your story.
Taking Notes
The most important piece of information that we will need when preparing a case of hairdresser compensation is details of the individual, or the salon you wish to make the claim against. Having this information to hand can help to speed up the process.
See a doctor
Seeking medical attention in the first instance is your number one priority. However, you will probably need more than just one appointment and this ongoing care could be important to your claim. Your doctor should be able to advise you of any long-term implications of your accident and any doctors notes and any prescriptions for medicines can be an invaluable source of evidence in hairdresser accident claims.
Contact a Professional
Getting a professional opinion when you have all this information in hand can be an important step. Making this type of claim might be complicated but it is a good idea to have hair lawyers who specialise in hair claims. Our team have many years of experience in dealing with compensation claims and are able to help you fully. If you have decided that pursuing legal action is the next step for you then why not contact us for a free no-obligation consultation.
The actions that you take following the accident can have an impact on any potential hairdresser compensation claim you decide to make. If you want to pursue a claim, then the section below will help you with the next steps you need to take.
How Do I Begin A Compensation Claim Against A Hairdresser?
This type of claim is rarely simple, not only can there be a lot of paperwork and administration, but simply knowing where to start can be difficult. Even a hairdresser compensation claim pursued through a small claims court can be difficult. It is for this reason that we suggest people use a claims service. We can make sure that you are aware of all the necessary information and evidence that is needed when presenting such a case. We offer a free no-obligation consultation if you want to know more.
It is likely that following your hair-related incident you will have a number of questions, and whilst you can find a lot of information online, by making one phone call you can find out everything you need to know form a source that is up to date and accurate. If you do decide to go ahead and arrange to speak to one of our team, then we will be able to give you plenty of information that has been garnered from experience.
Can you sue a hairdresser? Get Your Case Checked
We can have a look at all the information you have already gathered. When it comes to hairdressing compensation claims we have a wealth of experience. We will take a look at the details of your case and give you an honest opinion on whether we believe that you have a case or not. If we feel that you might have a case for making a compensation claim,  we will then advise you of what happens next.
We work on a No Win No Fee basis which can help to reduce those costs that you might need to pay before your case is settled. Our section on No Win No Fee claims explains this in further detail. If you are wondering how hairdresser injury compensation claims begin, all you need to do is make a call to our team and we will take it from there.
Alternatively, read on for more information on the kinds of accidents and incidents which might lead to hairdresser injury compensation claims.
The Various Types Of Hairdressing Injuries Leading To Hairdressing Compensation Claims
Whilst the possibility of an accident occurring during a hairdressing appointment might not occur to some people there are a surprising number of ways in which you can suffer an injury, leading to hair damage compensation claim or other hairdresser accident claims.
These can include:
Reactions / Allergies
There are a number of chemicals that might be used during some hair treatments, there is a possibility that a client could have an allergic reaction to any of these.
Insufficient Training / poor training
It is important that a hairdresser has received training in all the various hair techniques, Complex equipment, chemical and sharp objects are all involved, and a properly trained hairdresser should know how to use these properly to avoid injuries – otherwise you may be able to pursue hairdressing claims.
Slippery Floors
All surfaces, including floors, should be kept clean. Slippery floors, whether from spills or cleaning can lead to slip, trip and fall accidents. If these areas are not properly highlighted then you may have a case a negligence claim.
Unclean equipment
All items used during the appointment should be kept clean, contaminated equipment can result in infection being passed on. This might result in a client being able to pursue a compensation claim.
Burns and Cuts
Burns can occur because of the chemicals in products used by the hairdresser either to hair or to skin. Cuts from sharp objects such as scissors are also very common. This type of injury can range in severity.
Damage to or loss of hair
If you're wondering can you sue a hairdresser for ruining your hair, the answer is, in many cases yes. Using the wrong products or using the right products incorrectly can lead to a client's hair becoming damaged. Hairdressing compensation claims may be made for any hair damage or hair loss that you suffer that has been caused by the negligence of the stylist.
There are a number of ways in which you can be injured at the hairdressers. If you have suffered any of the listed injuries or even some other, then you might be able to claim hairdresser injury compensation.
Hairdresser injury claims at work
It's not just those who use hairdressing services that are at risk of injury while using these services. Hairdressers themselves are also at risk of injury and illness in the workplace and, in accordance with the Health and Safety at Work Act 1957, it's their employer's responsibility to minimise the risk of injury.
Hairdressers are at risk of dermatitis amongst other work-related illnesses, and it's up to their employers to provide appropriate personal protective equipment (in this case gloves) to reduce the risk of this occurring.
The Health and Safety Executive ran a survey on the use of gloves in hairdressing found that, although 38% of hairdressing staff did wear gloves while shampooing and rinsing client's hair before the trial, the percentage of staff who wore gloves for these activities after the trial was finished rose to 68% and 59% respectively, as shown by the graph below. This indicates that these staff members saw a benefit to wearing gloves during this trial.
Read on for more information on the kinds of injuries that can be sustained which may lead to hairdresser injury compensation claims.
Burns To The Skin Or Scalp
If during a styling procedure the use of faulty equipment results in your hair or scalp becoming burned, or if the equipment is used incorrectly, then you might be able to make a claim for burns to the skin or scalp. In such cases, the manufacturer of the equipment, the individual, or even the business may be liable for compensation.
If you've been cut on your head or scalp and would like more information on hairdresser accident claims for this kind of injury, then please read on. Or, if you would prefer to speak with one of our advisers about the process of making a claim, then you can give us a call for free legal advice. 
Scalp injuries and cuts to the head
It is not only chemicals that can damage the head and scalp. Improperly wielded scissors can cause cuts to the scalp and head that are painful and sometimes leave lasting scars. Should you have been cut as a result of your hairdresser's improper care with scissors, then you may want to pursue a claim for scalp injuries and cuts to the head.
If you'd like to know more about liability relating to hairdresser injury compensation claims, then our next section will be of use to you. Should you'd like to know more about hairdressing compensation claims from a member of our team then give us a call today; we'll be happy to offer you free legal advice.
Where Does The Liability Lie For An Injury That Occurs Within Hair Salons?
In most cases there is no correct answer when it comes to determining where the liability lies, it can depend entirely on the details of your case. It is likely that the individual circumstances attached to your incident will determine whether it is the hairdresser who is at fault for your injuries or someone else.
Below are some examples that might shed some light on the degree of liability in respect of your hairdresser. These can include:
Trips and Slips
if your injuries were sustained as a result of a trip or a slip whilst in the salon – especially if the floor space was cluttered, wet, or even contaminated – then the salon could be considered liable. They have a duty of care to keep the floors free of any clutter as well as clean or to make clearly obvious that these areas are hazardous. If they do not exercise this duty of care, then they may be liable.
An Accidental Injury
Whether as a result of carelessness on the part of the stylist or as a result of a lack of training you were burnt or cut, compensation from the salon or hairdresser will depend entirely on the type of employment contract that is in place. It is likely that your case may be aimed at different entities depending on the status of the hairdresser and the insurance policies involved.
Cases involving chemicals may frequently be classed in the same way to those relating to injuries that are accidental. It is likely that the individual's employment status may have some bearing on the situation, as well as their training which may well be questioned. If they are employed by the salon then they could therefore be seen as liable for any injuries that occur.
Faulty Equipment
In cases where faulty equipment is involved, the question of who is liable can be different. A lot will depend on whether the equipment had been properly inspected and/or maintained, and if the accident was as a result of a manufacturing defect. In such cases the liability might rest with the owner of the salon or even with the manufacturer of the equipment, leading to hairdressing compensation claims being made.
One of the more complex parts of hairdresser injury compensation claims is determining who the liability rests with. If you were uncertain about any issues regarding your case it could help to clear up any confusion by going over the details with someone who understands liability and can guide you.
To learn more about hairdresser injury compensation claims, please read on.
Can I Make A Claim If My Hair Has Been Damaged?
If as a result of a visit to the hairdresser you have been injured, then you might be able to make a claim for compensation and this includes damage to your hair. Hairdresser accident claims for damaged hair may be made to stylists in the event of damage occurring to the hair, whether it was caused by an equipment fire, negligence by the stylist, incorrect use of chemicals, and for a number of other reasons.
Examples of damage you could claim for
Hair damage compensation claims might cover, but are certainly not solely limited to, some of the following:
Balding
It is possible that the using incorrect or dangerous chemicals on your hair could result in hair falling out or bald patches appearing due to cell damage on your scalp. If this balding occurs as a result of an accident, then it is possible to pursue a
Scalp Dermatitis
This skin complaint that can result in stubborn dandruff, it can also cause red, scaly areas of skin to be visible on your scalp. This condition can be the result of overexposure to harmful chemicals or simply using these chemicals on the scalp.
Hair that becomes brittle
Using chemicals or equipment in an incorrect manner can result in hair becoming brittle and thin, and this has the potential to result in the loss of some hair. If you have ever seen the headline 'My stylist fried my hair' you may be thinking it is something that is sensationalised, but if it is proven that your hair became brittle as a result of something that occurred during your appointment, then you might have a valid case for claiming compensation.
Patchiness
Patchiness, whether patches that appear bald or as a result of an uneven cut, can be visually unpleasant. In certain circumstances, this could mean that you might have a case.
Psychological Damage
Hair loss can be traumatic, it may be possible to make a compensation claim for any emotional and psychological damages caused by your loss of hair. Loss of hair or damage to hair can result in a significant amount of social anxiety and embarrassment. In many cases this can be particularly stressful and even have an impact on a person's mental health.
It may be that the conditions of your claim are not on this list, this does not indicate insufficient grounds to make a claim for hairdresser injury compensation. Please contact us to discuss the details of your case.
Legislation Regarding Health & Safety For Those Who Operate Hair Salons
In the UK all salon owners and hairdressers are required to follow health and safety rules in order to provide any clients and other visitors in their premises with the peace of mind that they are protected from injuries. Hairdressing premises have several policies that they are advised or required to follow to reduce the risk of injury and subsequent hairdresser accident claims.
These policies include:
Patch Testing – Colour Product tests must be conducted by all employees
By law, a hair strand test is required to be completed. This must be done before any hair dyes is put on to the hair of a client. This requirement is to ensure that the chemicals that are within the dye are not going to cause any allergic reaction or in any way cause damage to the hair or scalp This is a mandatory requirement, even in the case of organic colours.
Proper training and instruction must be given to all hairstylists
All salons have a duty to care for clients by ensuring that the workers in their employ have the appropriate level of knowledge and skill to handle client's hair.  Failure to ensure this is often classed as hair salon negligence and may result in hairdressing compensation claims being made. This knowledge should include knowing the appropriate length of time to leave products on the hair before removing them to avoid causing harm to the scalp or the hair. They should also be aware of the appropriate precautions they need to take to protect clients.
Correct Disposal of The Products
The Control of Substances Hazardous to Health Regulations 2002 is in place to regulate the manner in which all hairdressing salons use, dispose of and store all chemical solutions including, but not limited to, peroxide powders, perming solutions and others. If disposed of incorrectly these chemicals can be dangerous to our environment.
Frequent Checking for Electrical Appliances
Under The Provision and Use of Work Equipment Regulations 1998, all salons are required to carry out regular testing of all their electrical equipment, they also need to conduct regular maintenance.
If they have not carried out or obeyed any of these guidelines, you might have a case for making a compensation claim. Small claims court hairdresser injury compensation claims may be the best course for tiny injuries, but you will need advice on what to do next, which is why we're here to help.
What Can I Claim For As Part Of A Hairdresser Injury Compensation Claims?
The hairdresser accident claims process can be somewhat complex, part of this is a complexity that can be put down to several factors that are taken into consideration when making the claim. These may include:
General damage claim
This refers to the amount of compensation you may be able to claim as a result of any injuries or pain you have suffered. This can also include any impact that this has on your day to day life.
There are those damages that are easier to measure, it can include loss of wages and monies you might have paid out for any help you might have required at home
Medical costs
This will cover any costs you have incurred for treatments you have received, it could include medications and any consultations with specialists
Travel costs
Perhaps you have had to do a lot of travelling to appointments with a doctor or a specialist, this will be covered together with any additional travel related to your injuries
All of these costs will be taken into account when your final settlement amount is put together. If you'd like to know more about the awards that hairdressing compensation claims can attract, then please read on to our next section. 
How Much In Compensation Might I Receive For An Injury That Has Been Caused By A Hairstylist?
The amount of compensation that you might be awarded will vary from one case to another and we are unable to give you an exact figure. Each case will have a variety of different factors that will need to be taken into consideration such as the extent of any injuries you have sustained, and medical costs you have incurred and the extent of any negligence.
We are unable to give you an accurate prediction of the compensation amount. However, we are able to give you an idea of the amount of compensation awarded for similar cases. The table below gives an indication of the difference in compensation amounts.
| Type of injury | Amount awarded | Notes |
| --- | --- | --- |
| Dermatitis of the scalp | £7,340 to £11,020 | In these cases, dermatitis, eczema, or tingling/burning of the scalp causes the hair to become dry and brittle and break off or fall out. Awards at the top end of this bracket will be awarded where the thinning continues and the prospect of regrowth is slow. |
| Dermatitis of the scalp | £3,950 to £7,340 | As well as covering more minor symptoms of scalp dermatitis, this bracket will cover cases where the hair has been pulled out, leaving bald patches. |
| Dermatitis of the hands | £13,740 to £19,200 | This bracket will cover dermatitis of both hands, with cracking and soreness, affecting employment and domestic capability lasting for some years or indefinitely. |
| Dermatitis of the hands | £8,640 to £11,410 | Dermatitis of one or both hands, continuing for a significant period, but settling with treatment and the use of gloves for specific tasks e.g. shampooing clients hair |
| Dermatitis of the hands | £1,710 to £3,950 | This bracket will be appropriate where there has been itching, irritation and/or rashes on one or both hands that have resolved within a few months with treatment. |
| Facial scarring- very severe | £29,780 to £97,330 | This bracket will usually be awarded where a young claimant has sustained very disfiguring scars causing a severe psychological reaction. |
| Facial scarring- less severe | £17,960 to £48,420 | Where there has been substantial disfigurement and the psychological reaction is significant |
| Facial scarring- significant | £9,110 to £30,090 | In this bracket, the worst effects of the scarring will or have been reduced by plastic surgery, but there is still some cosmetic disability. However, the psychological reaction will either be not great or, having been initially considerable, has diminished and can be considered relatively minor. |
| Facial scarring- less significant | £3,950 to £13,740 | Cases in this bracket will include ones where there is one small scar or a number of many small scars. The scarring will mar but not markedly affect the appearance of the injured person. |
| Facial scarring- trivial | £1,710 to £3,530 | Trivial scarring with a minor cosmetic and psychological effect. |
| Psychiatric damage | £54,830 to £115,730 | Psychological injuries of this nature will leave the injured person with marked problems with respect to work, life, education and relationships, and the prognosis will be very poor. |
| Psychiatric damage | £19,070 to £54,830 | Psychological injuries of this nature will leave the injured person with significant problems with respect to work, life, education and relationships, however the prognosis will be much more optimistic than in severe cases. |
Further guidance
If you are unsure where your injury would place you on this table or have any questions about hairdresser injury compensation, please get in touch with our friendly team who will be happy to help you.
It's also possible to claim special damages for any financial losses stemming from your injuries. This can include the cost of any medical treatment, any repair costs to your hair or body, as well as any lost earnings. To learn more about what can be factored into hairdresser injury compensation claims, get in touch with our team today.
Hairdresser Injury Compensation Claims On A No Win No Fee Basis
Our No Win No Fee policy is available to all our clients, it is an arrangement that has several benefits. If you were to be thinking about taking legal action, one of perhaps the most important decisions you will need to consider is which service you will choose to assist you with your claim. If you choose a legal representative who works on an hourly rate they may often require some payment upfront, and you will have the uncertainty of not knowing just how much you will end up paying out.
Our claims service offers a different approach, with a No Win No Fee hairdresser injury compensation claim case, you pay nothing until after the case is successful. If the case was not won you will not pay even a penny. This offers peace of mind and financial reassurance at a time when you may already be dealing with the stress of your injuries.
For more information on how Accident Claims can help victims of negligence make hairdressing compensation claims, please read on; you'll find our next section interesting and useful. 
Why Are We The Right Service For Your Hairdresser Injuries Compensation Claim?
Our personal injury compensation claims team has many years of experience dealing with compensation claims, and we understand just how tricky making a claim can feel. We are aware that during this stressful time it could be difficult for you to know which way to turn which is why we are here for you every step of the way when you begin a claim for compensation with us. There are a number of benefits to using us for hairdresser injury compensation claims:
We offer a free no-obligation consultation, arranged at a mutually convenient time
We offer "No Win No Fee" Services
We have many years of knowledge and expertise in dealing with hairdressing compensation claims. We're also authorised and regulated by the Solicitors Regulation Authority.
Why not get in touch
We want to help make submitting a claim as simple and as stress-free a process as possible so if you have an issue with your hairdressers or have been injured as a result of a hair-related injury we are here to help. If you are wanting to begin your claim, then get in touch.
Contact Us For Free Expert Advice And Begin Your Claim
We've nearly finished our guide to hairdresser injury compensation claims.
Should you want to begin your claim for hairdresser injury compensation, or if you need any more information regarding how the claims process works then please call us, we are the best at what we do. We can be contacted on 0800 073 8801 where our team of friendly, professional advisors are ready to discuss hairdresser accident claims and talk you through your claim.
Alternatively, why not fill in the easy to use contact form on our website and let us do the rest. If you are looking for the best in claim care, then contact us and see how we handle your call.
How our solicitors could help you with hairdressing compensation claims
If you've suffered because of hairdresser negligence, claiming hairdresser injury compensation can be a tricky process.  If you don't provide ample evidence to back up your claim, you may lose the case or receive a lower amount of compensation than you should be paid. That's where our specialist personal injury solicitors could help.
We strongly believe that claimants with legal representation have a better chance of winning hairdresser injury claims. With one of our solicitors working for you, the process of claiming will be more straightforward. That's because they'll use their expertise to handle most of the claim for you.
Our service includes:
Listening to what's happened so that they completely understand the level of your suffering.
Booking a medical assessment locally so that the impact of the hairdresser's negligence can be reviewed.
Using the correct procedures to file your claim with the defendant.
Countering any arguments that are raised by the hairdresser's legal team.
Ensuring that you are updated throughout the case.
Trying to ensure any compensation you receive is paid out at the correct level.
Our team of specialist solicitors can help reduce the stress that comes with hairdresser injury compensation claims. Therefore, why not call us today. Your personal injury claim will be reviewed, and we'll explain your options for free. If your case is accepted, your solicitor will provide a No Win No Fee service to reduce your financial risk.
Helpful Links Relating To Hairdressing Compensation Claims
Thanks for reading this guide on hairdresser injury compensation. Here are some more articles that might help.
What happens with hair dye reactions
This link contains important information about hair dye and the unexpected reactions you might experience. It also gives you important information on what you should do if you believe you are having a bad reaction to hair dye.
This page on the NHS website deals with burns and scalds and advises on the most appropriate course of action for anyone who is injured as a result of a burn or scald
Further guidance
Best Practice for Hair salon – HSE
This publication from the Health and Safety Executive contain important information. It has been put together to assist employers and employees within the hairdressing industry. The aim is to make sure that they are following best practice. This is in respect of any chemicals and products they might use on clients. It is specifically written to provide protection for the stylist. However, a number of the issues highlighted also refer to how these chemicals can have an effect on their clients as well.
You can read more about how to claim for damaged hair in the above guide.
How to Claim Compensation for an Accident in a Public Place
Businesses are often under the same law as public spaces. They have a duty of care to keep visitors safe. Read our guide for a better understanding.
Beauty Treatment Injury/Negligence Claims
Did you suffer after negligence at a beauty salon? Read our guide to see if we could help. 
Hairdresser Injury Compensation and Hairdressing Compensation Claims FAQs
Can I sue a salon for damaging my hair?
To make hairdressing compensation claims, you would need to prove that the hairdresser breached the duty of care they owed you and caused you harm. For example, you may have sustained a burnt scalp due to your hairdresser failing to check you weren't allergic to the dye. This may have also caused damage to your hair.
Call us for more information.
Do I use the small claims court for hairdresser injury claims?
Whether or not a claim goes to court will depend on your case. However, if you want to make a personal injury claim against a salon for damaging your hair, we would advise you to get in touch with a lawyer. If you call our team, we could provide you with free legal advice over the phone. We could also provide you with a No Win No Fee solicitor who could take on your claim if you are eligible for compensation.
For case specific advice and support, including free eligibility checks, please call our team.
Can you take a hairdresser to court?
If a hairdresser has injured you and the injuries are significant enough, you could make a personal injury compensation claim. This might lead to court, but could be settled beforehand. 
What can you do if a hairdresser ruins your hair?
If you don't like the way a hairdresser cut your hair, you might not have a claim. But, if a hairdresser ruins your hair by causing damage to the hair (e.g. burns or thinning) and psychological harm, you could be able to claim.
What is fair compensation for pain and suffering?
Fair compensation for pain and suffering is unique to each individual. One claimant may have suffered the same physical pain as the other. However, but their psychological reaction may have been more severe. Plus, financial loss may have been more too. This may mean that they could recover more compensation. Discuss your circumstances with our experts. We'll help you find out what would be fair compensation for you.
What can be included in the special damages head of my claim?
Special damages can compensate you for any financial losses you've experienced as a result of your injuries. For instance, if you've had to take any time off work this could be compensated for. Or, if you pay for medical treatments or spend money on travel that you otherwise wouldn't have if you hadn't been injured. These can all be included in your claim. This is providing you have sufficient evidence.
Can I make a hairdressing injury claim myself?
There's no legal requirement to have a solicitor assist you in making a personal injury claim. However, personal injury law is a complex field and you will find that having the experience and expertise of a solicitor on hand will make the claims process much less hassle.
Will it cost me to make a claim for a hairdresser injury?
Some personal injury solicitors might charge by the hour. They could do this for representation in hairdresser injury compensation claims. This means that the cost quickly accumulates. But Accident Claims' No Win No Fee agreement means you won't pay any solicitors fees until your compensation is paid to you.
How long does a claim for compensation take?
This depends on a number of factors. There's no one-size-fits-all answer to this question. Cases where liability is clear, for instance, will generally settle more quickly.  Ones in which there is a dispute over who is to blame could take longer.
I'm a hairdresser- what are my employer's responsibilities to keep me safe at work?
According to the Health and Safety at Work Act 1974, your employer has a responsibility to ensure, as far as is reasonably practicable, your health and safety in work. This includes carrying out regular risk assessments, providing proper training and PPE and maintaining good housekeeping around the work environment.
Could make hairdressing compensation claims for fatal accidents at work?
Sadly, sometimes accidents at work happen. Some can be fatal. In fact, 142 people lost their lives in a work related accident in 2020- 2021. This is according to HSE statistics. When it comes to the causes of such accidents falls from height are the most common. You can see the other causes in the graph below.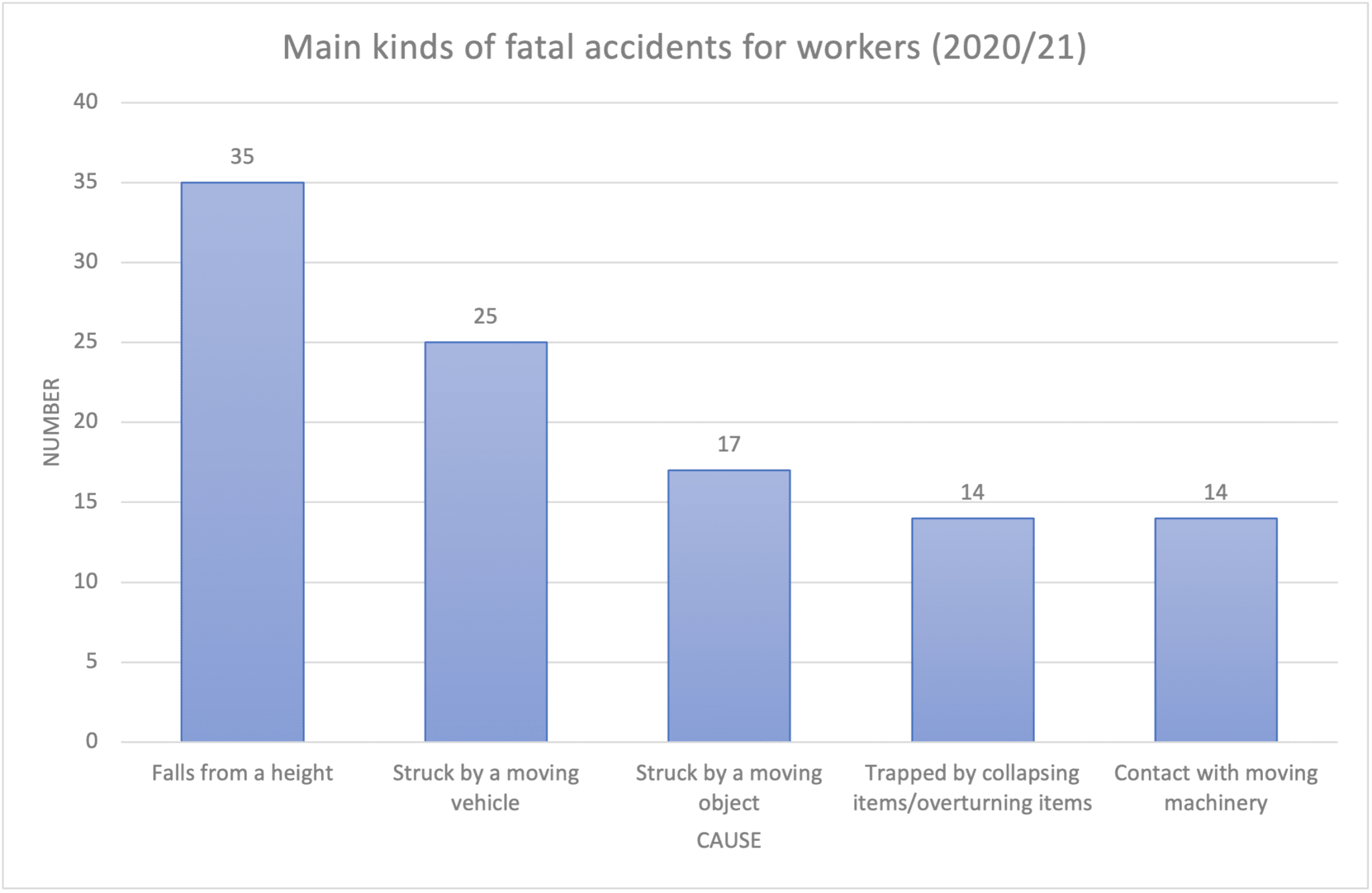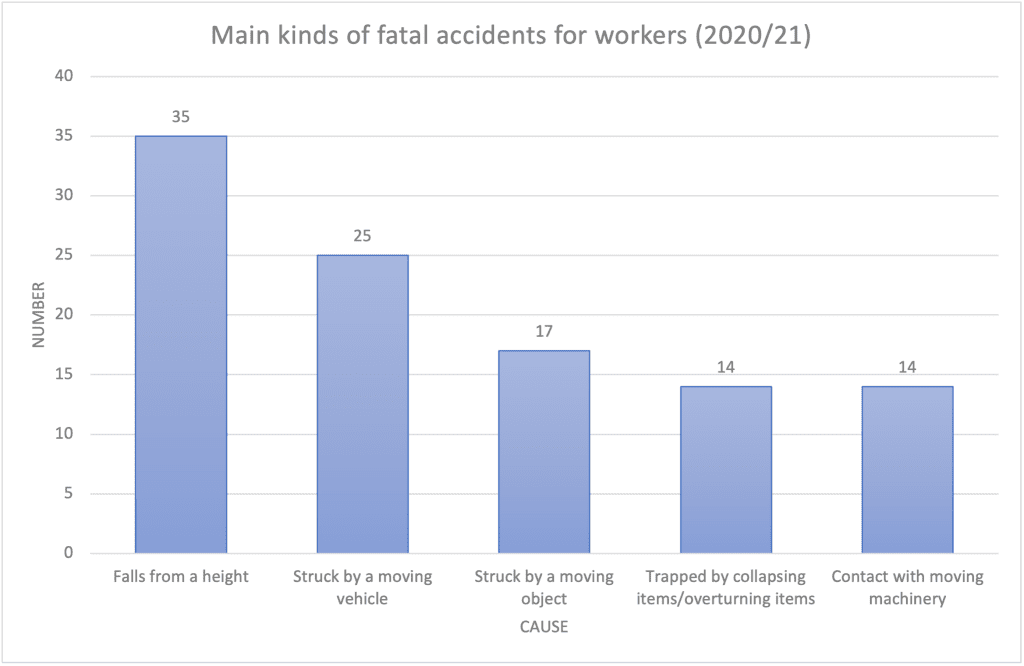 What do I need to consider when looking for a solicitor to help me with hairdressing compensation claims?
There are some things you might not know about choosing a solicitor. You might not be aware that you don't have to choose a solicitor that is local. Any law firm or solicitor in the UK could take on your claim. Therefore, there are a few things that you may want to consider when choosing. Initially, it might be a wise idea to investigate whether they are authorised and regulated by the Solicitors Regulation Authority. And, whether they're registered in England and Wales.
Other considerations might include investigating how many years of experience they have. Plus, what their success rate is, and whether they have good reviews on independent websites. You could call them and ask them if they've taken claims on like yours before. Plus, whether they'd be willing to work on a no win no fee basis. If you're looking for a solicitor to help you with such a claim, we could help you. We could connect you to solicitor that could help you with a claim. it doesn't not matter where in the UK you are based.
Who can make hairdressing compensation claims?
Who can make such claims depends on the case. Obviously, you would need to be able to prove a hairdresser's breach of duty of care had led to an injury. If the injury happens to a child aged under 18, an adult could help. They could apply to act as a litigation friend on the child's behalf.
A litigation friend could make decisions on the case with the child's best interests in mind. The compensation for the child accident or injury claim would be put into a trust for the child. They would be able to access it once they reach adulthood.
If you would like to learn more about making a claim for a child, please call our team.
How is hairdresser compensation calculated?
Hairdresser compensation would be calculated by taking into account the claimant's suffering, pain and loss of amenity. It would also include any losses and costs the claimant had incurred due to the injury they have suffered.
Can you sue a hairdresser if you don't like their work?
If you're wondering whether you can sue a hairdresser if you don't like their work, the answer would depend on if they'd been negligent and harmed you. If the hairdresser had not been negligent, but you were unhappy with the results of your haircut, you could ask them to rectify it. However, unless the hairdresser had been negligent and harmed you, you would not be able to sue.
What's the latest guidance on compensation payouts for hairdressing compensation claims?
You may be wondering how compensation payouts for hairdressing compensation claims are calculated. Often, legal professionals use the Judicial College Guidelines, which is currently in its 16th edition. This edition was released in April 2022. It gives guidance on payout brackets for a range of injuries . The table includes some injuries that could be claimable in hairdressing compensation claims. The figures we used in the compensation table come from this publication.
Please note, however, that these are only guidelines and they only relate to the general damages head of claim. When suing a hair salon for negligence, you could also claim for financial costs caused by your injuries. 
I'm considering suing a hair salon for negligence, how long does it take?
If you're suing a hair salon for negligence, the time it could take for your claim to settle could vary. Should your hairdresser immediately admit liability and offers a fair settlement, your claim could be over quite quickly. However, in some hairdressing compensation claims, a hairdresser might deny liability making the claim a little more complex.
I'm suing a hair salon for negligence, should I take the first offer of compensation?
This could be a tricky question to answer. Have you been offered a compensation settlement? Perhaps you aren't sure if it would be wise to accept or ask for more? If so, it could be worth getting legal advice. Our expert No Win No Fee solicitors aim to ensure you receive appropriate compensation payout for your claim.
Thank you for reading our guide to hairdresser injury compensation claims, hairdressing injury compensation claims and hairdresser accident claims.