By Joanne Jeffries. Updated 12th July 2022. Welcome to our hot drink accident claim guide. In it, we explain how you could claim for injuries such as a scalded hand from a hot tea burn. Or, for a hot coffee burn, if negligence was involved. We answer questions about calculating compensation for having boiling water poured on your hand. Plus, we explain suffering scalded fingers with boiling water accidents.  We explain 'can you get a burn from hot tea and sue?' This guide also look at the types of injury that could occur if someone spills very hot coffee. It explains how this could affect compensation payouts for a hot coffee burn. Plus, we look at what hot coffee burn treatment you could expect to receive for a successful claim. Finally, answer the question of "What evidence can I gather to help support a hot coffee burn claim?"
Claiming for a hot tea or hot coffee burn
Burns and scalds from hot drinks affect the quality of your life, and in many cases, they can cause you some severe physical damage. You can be burned by hot drinks in a number of different situations – you could be scalded by a hot drink in hospital or you could have a hot drink burn or a scalded hand on an aeroplane. You may have different types of burn, from a partial thickness burn to one with a skin graft. That's why at Accident Claims UK, we have put together this comprehensive guide to being burned from a hot drink and how you should claim for general and special damages if it happens to you.
Select a section:
What you need to know about hot drink scald and burn injuries
Regardless of the severity of the burn, where it happened and how it happened the depth of the burn, whether it is a full thickness burn or you've received several minor burns or a scalded hand, this guide will cover everything related to burn injuries or scalds from a hot drink. We'll also point you in the direction of several medical advice pages that you should be aware of which will help you both stay safe and recover as quickly as possible.
If someone else is to blame for your burn or scald injury you suffered from as a result of an accident with a hot drink, the information on this page will help you make sure that you are fully compensated for the effects that this type of injury can have on your life.
What should you do if a hot drink has caused you a burn or a scalded hand injury?
The first thing that you should do after you have been burned or scalded in an accident involving a hot drink is to tend to your injury, whether it's a scalded hand or burnt torso. The NHS recommends that you cool your burn for 20 minutes with lukewarm water. You should use running water, and make sure it is not cold water you use. Make sure that the people around you know that there is extremely hot liquid nearby as well, so they don't get injured either.
Treating your injury with hot coffee burn first aid as soon as possible is very important so you can start your recovery. If you have received a severe burn, you should seek immediate medical attention. Even if you've only received minor burns, you should seek medical attention to make sure you get the right advice and treatment, particularly if young children are burned.
Can you get a burn from hot tea and sue?
The next step is to start getting together all of the information you can about the accident, whether it was an accident at work or in a public place. The more information you're able to gather, the stronger your claim for compensation for a scalded hand or other injuries will be. Take a photo of the surrounding area and your wound so that your solicitor can show how the accident happened and the injury it caused you.
Should I take a picture of my scalded hand or other injury?
Hot coffee burn or hot tea burn pictures you take when the moment the accident happens right through to photographs showing the scars the injury behind are important pieces of evidence when you start a claim for compensation for your injuries
We also recommend that you take down some witness details if other people saw the accident. Additionally, you should note down any details of vehicles if they were also involved in the accident. All of evidence adds up so that means we make your claim even stronger legally.
Evidence matters
We understand that gathering all of this information and taking pictures just after an accident isn't always possible. Not least because of the shock and pain you'll be suffering from. But try your hardest to take as much evidence from the incident as possible. This will help your scalded by hot coffee or hot tea burn claim. It is the best way to receive the fullest compensation you're entitled to for your hot drink burn injury.
How do you claim for compensation if an accident involving a hot drink has caused you a burn injury or a scalded hand injury?
First of all, you should get in touch with us. We will arrange a FREE consultation with you. In this consultation, you can tell us everything about the injury and the accident. You can show us all the evidence from the situation at the time.
This will give us a good idea about how we can take your case forward. Think of the free consultation as you giving us everything we need to start building your compensation claim for you. Our No Win No Fee guarantee means that you won't lose anything for trying to claim compensation for your hot drink burn or scald.
Let us assess your scalded hand injury claim
We will also use the information and evidence you give us so that we can give you a better idea about the level of compensation you could be entitled to. (But we'll give you a guide to that a bit later on in this article so that you have an idea beforehand).
Finally, we can also arrange a local medical check-up for you. This is just to check that the there is no further risk from your burn injury or scald.
Hot drink burn or scald accident in the workplace – can you claim?
The vast majority of people come into contact with hot liquids in their work life. You may have been burned transporting the liquid which ended up injuring you around because it was part of your job responsibilities or you may have been scalded by a hot drink in school while working as a teacher. However it happened, we believe that your employer has a duty of care to make sure that incidents like this don't happen to you.
In many cases, being burned or scalded at work is an indication that insufficient attention has been paid to adhering to accepted standards of health and safety standards. If your workplace doesn't meet the standards they're legally obliged to with the handling of hot liquids and you get burned as a result, making a claim may be the only way to get proper compensation for your burn injury.
Scalded hand at work? Let us help you
The HSE statistics for non-fatal workplace accidents reveal that 441,000 self-reported injuries to the Labour Force Survey in 2020-21. The causes of such accidents are below, but it could be possible for some of these to include scald or burn injuries.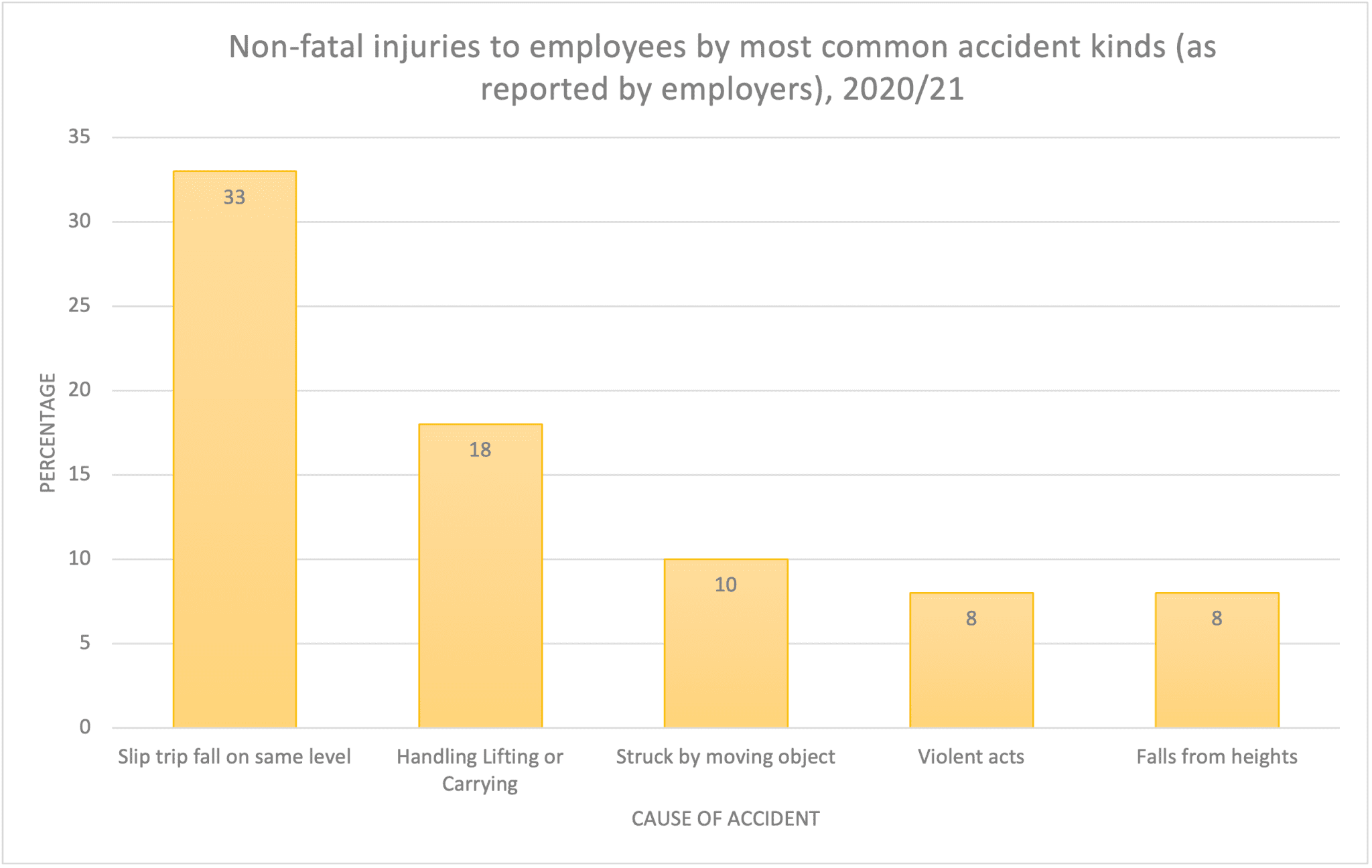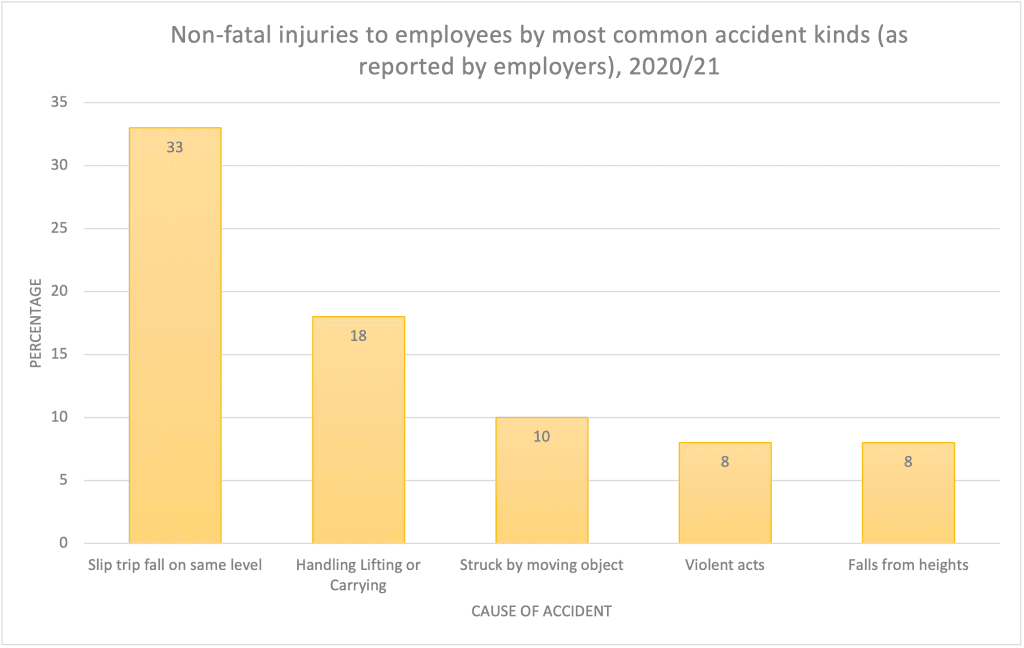 Have you been burned by a hot drink at work? Our specialist team will be more than happy to discuss this with you as a part of our free consultation service. This is the first step that you should take if you want to get compensation for burns at work.
Suffered a burn injury or a scalded hand injury in a café?
This is one of the most common claims we help our clients with. Once again, this kind of scalded hand claim is based on negligence with the café's health and safety procedures. It's up to them to make sure that you aren't injured while you are on their premises.
Making a scalded by a hot drink in a café claim is a simple process with our team.
Can I claim for compensation against a fast food restaurant for a hot drink burn or scald injury that was not my fault?
Sometimes a glass of cool water won't do, and you may wish to order a hot drink from an establishment. You can claim if you were injured by a hot drink at any quick service eating establishment. Whether you were at McDonalds, KFC, or Greggs, you can claim – even if you scalded your tongue on a hot drink in these establishments.
Every single fast food outlet should have the correct safety measures to prevent hot drink scalding from happening to customers. If this has happened to you, then be sure to contact our team and start your claim
Can I make a successful claim for compensation against a restaurant if I have been burned or scalded by a hot drink?
It isn't uncommon for employees at restaurants to spill drinks on their patrons. But unlike a wine spill, which is just an inconvenience, spilling hot tea on your hand can result in severe injuries and suffering.
We can help you claim if you have been burned by a hot liquid at a restaurant. We'll even assist you in showing you how the accident wasn't your fault and how you should have been better protected.
High street established where you can purchase coffee, tea, other drinks, and food
Costa
Starbucks
McDonald's
KFC
Burger King
Pret a Manger
Caffe Nero
Greggs
Sayers
Did you receive a burn or scald that wasn't your fault in any of these places? we can help you make your claim. Our team can use the correct legal channels to make sure you to receive the money that you are owed by these businesses because they were negligent with their health and safety.
Burn or scald hot drink injury – claims as a result of a fall, a slip, or a trip
Falling, slipping, and tripping can all be dangerous enough on their own. But adding a boiling drink into the mix can make it even more severe. If you have suffered injury from a hot drink as a result of somebody else slipping, tripping, or falling, contact our team so that we can help you claim.
We can also help you if it was you who fell down and burned yourself. We'll work with you to identify whether the accident was your fault or the venue's fault. An example of this can be as simple as a restaurant not putting up a wet floor sign. Even little things like this can make all the difference when you are making a claim.
Hot drink burn or scald injury – claiming if the accident was in public
On many occasions, slips, trips, and falls are the result of another person not paying enough attention. Whether you have bumped into somebody and burned yourself as a result or they have spilled hot coffee on you because they weren't paying due attention, you can claim.
Just because the accident didn't happen in somebody's private property should not stop you from getting the compensation that you deserve after suffering the pain of what can often be a very upsetting experience.
Our team can help you make a hot drink burns claim if you have received a burn in place used by the public in general.
Popular eating and beverage establishments
If you have suffered a burn or a scald injury in any of the places listed below, please don't hesitate to contact us.
Starbucks
Costa Coffee
Caffe Nero
Five Guys
Nando's
McDonald's
KFC
Burger King
Subway
You may have already seen the several McDonald's hot coffee burn pictures that are all over the internet. Should you have had a similar experience, let us help you get the compensation you deserve.
If I claim for compensation, what can I actually claim for?
If you have received a burn or scald as a result of somebody else's negligence, there are a lot of costs that come with slowly getting better. Here are some of the costs that we can help you claim:
General damages
"General damages" are the compensation that you can claim for the suffering that you had to endure because of the accident. This takes into account important factors like psychological injuries and overall pain.
If you had to pay somebody to help look after you because of the hot drink accident, we can help you reclaim these costs as a part of your case. The person who has looked after you while you've recovered is the person who should file this claim with us.
This is when you are forced to take time off from work to recover from your burn or scald wounds because of your accident.
It is stressful enough receiving a bad burn injury or a scald. But when that's compounded with money worries, it can cause you severe distress.
These are costs that you'll incur if you need to pay for travel to and from the doctors', the hospital, or another place that is treating you because of the accident.
These costs can sneak up on you so make sure that you keep all of your receipts, detailing how much everything is costing you. This will help us make your claim further down the line.
There are all sorts of medical costs that are involved in getting professional care for your injuries after a burning or scalding accident. No matter how many different costs you have to pay, let us know how much you are spending, and we will help you get that money back.
Getting injured by a hot drink should not leave you out of pocket because of costly medical expenses. Contact us to start your scalded by hot water claim.
Can cafes or restaurants be made to compensate me if my child is scalded or burned in a hot drink accident?
If you are a parent, the only thing worse than you getting burned is your child getting injured. You may have seen shocking headlines such as "baby scalded by hot coffee" in the papers recently. This type of injury and distress should never go without its victims being compensated.
We offer the same No Win No Fee service to families of children who have received these hot drink burns too. We understand just how serious a child burned by a hot drink is.
Burn injury types people suffer as a result of a hot drink accident
Not every burn injury will affect a victim in the same way. It will all depend on the area that is affected, how long your skin was in contact with the hot drink, and how quickly the burn or scald was treated.
Most burns that come as a result of a coffee or hot tea injury would be classed by a doctor as a first-degree burn. A first-degree burn means that the burn has only affected the top layer of your skin. Although this is still incredibly painful, there shouldn't be any long-term disfigurement. There may still be some scarring that results from the burn though.
More severe injuries
More severe scalds can cause second-degree burns. These are burns that have reached the inner layers of your skin (such as the epidermis and the dermis). Burns like these can, unfortunately, mean that your skin might not go back to how it was before you were injured. Examples of these burns can be found in hot coffee burn or hot tea burn documentaries you might have seen recently on TV.
In many second-degree burn cases, there can be some nerve damage. This means that you won't be able to feel anything where the burn is. Second-degree burns settlements tend to be much higher because of how severe this kind of injury is and the intensity of the suffering.
Here is a list of the common symptoms that can arise after you have been scalded:
Blistered white skin,
Dry, charred skin,
Swelling,
Soreness and redness in the surrounding area,
Top layers of skin peeling away.
How such a hot coffee burn could affect you
All of these things are painful and can seriously impact the quality of your life. When you are making your claim, make sure that you take pictures of these injuries and describe the pain you're feeling as vividly and clearly as you can – especially if the injury will have an impact on your work life.
We can then use these pictures and statements to strengthen your case for compensation, giving you a better chance of making a successful hot tea scalding claim.
How severe is the burn injury or scalded you suffered in the accident involving a hot drink?
Every burn is different – how it came about, the temperature of the liquid, the parts of your body it affected, and so on. Assessing how severe the burn is can be difficult without proper medical help. For that reason, we offer a service that will put you in touch with a sympathetic local doctor who will examine your wound.
Not only will this medical professional give you advice on how best to treat your injury for a full and quick recovery (if possible), they will also produce a detailed report which allows us to give you a good idea on how much compensation you can claim for.
At the bottom of the article, we have attached the NHS guide on how to treat hot drink burns. This examination will be free, and we can usually arrange it at your nearest medical centre.
How much compensation could I claim for a burn?
The first thing that we must mention is that everything below is only an estimate.
There are so many different circumstances that go into making a hot drink injury claim so there is no average compensation for burns. By contacting our team and arranging a free consultation, we will be able to evaluate your exact circumstances in order to able to provide you with a much more accurate and reliable claim estimate.
Guideline compensation payouts for a hot coffee burn
There are some general guidelines for what amount of compensation for burns you are entitled to. These burn injury settlements amounts are based around what other people have received in the past however please be aware that each case had their own unique circumstances that will have played a significant factor in the burns claim amounts awarded.
| Reason for compensation | Amount you could receive | Additional notes |
| --- | --- | --- |
| Mental damage | £4,670 | This is awarded if there was a fear or expectation of death caused by the accident. |
| Scarring (bodily) | £7,830 to £22,730 | Large number of laceration scars that are noticeable or one single scar that is disfiguring |
| Scarring (bodily) | £2,370 to £7,830 | Single noticeable or several superficial marks |
| Scarring (bodily) | Likely to exceed £104,830 | Serious burns |
| Scarring (facial) | £29,780 to £97,330 | Very severe |
| Scarring (facial) | £17,960 to £48,420 | Less severe |
| Scarring (facial) | £9,110 to £30,090 | Significant |
| Scarring (facial) | £3,950 to £13,740 | Less significant |
| Scarring (facial) | £1,710 to £3,530 | Trivial |
There are a variety of different ways that you can be compensated for the suffering that you have been put through. But we cannot stress this enough – each claim is different.
To get a more reliable estimate for compensation on your own personal hot drink injury claim than using a burn compensation calculator you might see online, get in touch with our team so that we can arrange a free consultation with you.
 What evidence can I gather to help support a hot coffee burn claim?
There are lots of forms of evidence you could gather to help support a hot coffee burn claim. Initially, as soon as you are injured, it would be a good idea to take photos of the scene and your injuries, and seek medical advice and treatment if needed.
We would also advise you to try and obtain contact details for any witnesses to the burn from coffee you've sustained. These could be staff, other customers, or family members, for example.
If you have had hot coffee burn treatment from a medical professional, your medical notes could also form useful evidence. We'd also advise claimants to keep documentation relating to costs and losses sustained as a result of the hot coffee burn. Treatment costs, travel expenses and loss of earnings are just a few examples.
Medical evidence
As well as this, during your claim, you may need to see an independent medical professional. Your own medical notes from the GP or healthcare provider you sought treatment from would not suffice. An independent medical expert could put together a report after examining you. This would include details of your injuries and their professional opinion on your prognosis. 
If you're worried about finding an independent medical expert to assist with your claim, why not call our team. We can talk you through the claims process, and provide you with a No Win No Fee solicitor to assist with your claim. An independent medical examination could be arranged for you as part of your claim.  
No win no fee hot drink burn injury claims
We would strongly urge claimants to consider using a legal professional to help them claim. Some people could be put off making a claim for compensation with the assistance of a lawyer because they fear the legal fees would be due in advance. With our No Win No Fee claims service, this is not the case. You would not pay until your compensation came through and it would only be a small, legally capped percentage of the total payout.
When you make a No Win No Fee claim with us, you'd have to sign a Conditional Fee Agreement, containing details of the success fee payable out of your compensation. The success fee would be detailed within this document. When your solicitor has fought your case for your and won you compensation, they would deduct their success fee from your settlement, with the rest going to benefit you.
What happens if my hot coffee burn claim fails
You may be wondering what happens if a case is unsuccessful. If this happens, your solicitor would not demand the success fee. Nor would they ask you to cover any costs they incurred while working on fighting your claim.
If you would like to find out more about No Win No Fee claims, why not speak to our team. We'd be happy to assist you in answering any questions you might have.
If you are scalded or are burned by an accident involving a hot drink, why should you choose our firm to represent you?
We not only offer our free consultation service where you can talk with us about your experience. We can start to build up your case for compensation with you. Plus, we also offer you a free medical check up. This can also be used to prove the damage, such as a scalded hand, caused by your hot drink injury. We'll then present this to back up your case. These two important factors are including in our no win no fee service.
Additionally, we also have years of experience in dealing with hot drinks claims. So, let our professional team guide you through the process. We'll make sure that you get the burns compensation pay-out that you deserve.
Phone us for advice – totally free with no obligation – and get guidance on whether you should start your compensation claim.
There is no reason that you should suffer because of an accident that was not your fault which resulted in your suffering from a burn or scald injury. Please reach out to a burn injury lawyer. No matter how difficult the accident and recovery from it has been, we make sure that you will receive everything you're legally entitled to. If you have been involved in a hot drinks burns accident, call our team.
To get in touch with our experts to set up a free consultation, call us on 0800 073 8801.
Helpful links Relating To Claiming For A Scalded Hand From A Hot Tea Burn
This site will help you treat your wounds before you receive help from a medical professional. Making your recovery as quick and effective as possible won't harm your claim in any way. We just want you to make sure that you are safe and on the road to recovery.
FAQ on Hot Coffee Burn And Hot Tea Burn Claims
How is hot coffee burn and hot tea burn compensation calculated for a scalded hand or other injuries?
When it comes to calculating compensation for a hot coffee burn or hot tea burn, courts and lawyers would need to assess all the evidence. They need to consider the unique circumstances and facts of the case. This helps them to come to an appropriate compensation value. They would need to see evidence that the accident occurred. Plus, that it caused the injuries you have. You would need to go and attend an appointment with a medical professional, independent from your hot coffee burn case. This cannot be your own GP. You'd do this to have your injuries assessed.
What happens at the assessment
The professional would examine you and ask you some questions. They may review any relevant medical notes too. Once they have done so, they would compile the information into a report with their professional opinion on your prognosis and your condition. Courts and lawyers could use this to assess an appropriate value for your claim.
What if the liable party disputes my hot tea burn claim for a scalded hand or other injuries?
If the person you're intending to claim against doesn't admit fault for the hot coffee burn you've received, you may worry that this would mean you wouldn't get any compensation. However, a lawyer could help you by making the strongest case possible on your behalf. If the liable party still disputes your claim, your laywer could file paperwork with the court. They could support you through the courts to get the compensation your case deserves.
Do many scalded hand from a hot tea burn cases go to court?
It might surprise you to learn that not many hot coffee burn personal injury claims end up in court. The vast majority are settled by negotiation with the liable party or their insurers.
Can you get a burn from hot tea?
You could get a burn from hot tea. If you could prove that your hot tea or hot coffee burn was due to somebody's breach of their duty of care towards you, you could claim compensation. The amount of compensation you could receive could depend on the injuries you suffered.
You could also receive compensation for any reasonable out of pocket expenses you suffered due to your injuries. We would be happy to assess your claim to see if you could be eligible to claim compensation.
I've had boiling water poured on my hand, could I claim?
You could claim for having boiling water poured on your hand if it was due to somebody's negligent breach of their duty of care towards you. You would need to be able to evidence that they had a duty of care to you, that they breached that duty, and the breach caused your injuries.
For example, if someone was pouring you tea from a teapot and they hadn't secured the lid causing hot water to pour over your hand.
How much could I receive for a hot coffee burn?
This depends on the severity of the burn, and how it has affected you both physically and financially. We will be happy to assess your case to give you a rough idea of how much we believe your claim could be worth. Please do not hesitate to contact our team with any questions you may have.
Where can I get up to date guidance on compensation payouts for a hot coffee burn?
If you're wondering which are the latest guidelines on compensation payouts for a hot coffee burn, we can look at the most recent edition of the Judicial College Guidelines. We have used figures from this publication, released in April 2022, in our compensation table above.
However, it doesn't give guidance on all the damages available if someone spills very hot coffee on you. For example, if you needed time off work recovering from your injuries, and lost pay, you could seek damages for loss of earnings. You can claim costs such as these as special damages which are not included in the table. 
If someone spills very hot coffee on you, could you get severe burns?
If someone spills very hot coffee on you, this could lead to you sustaining burns of varying severities as well as permanent scarring. Should you have experienced something similar, you should ensure you seek medical attention from a trained healthcare professional.
How can I tell how bad my hot coffee burn is?
If you sustain a hot coffee burn, the damage to the skin could range from minor to very severe. According to the NHS, first degree burns are when only the outer layer of the skin is burnt. Second-degree burns involve damage to the outer and underlying layer of the skin. Unfortunately, however, it could be possible to suffer full-thickness or third-degree burns. You could experience blackened or white, numb skin in such cases. 
If you could prove your burn was from someone breaching the duty of care they owed you, you could claim compensation. Compensation payouts for a hot coffee burn could include damages for pain and suffering, as well as the financial impact of your injury. 
Final words
Thanks for reading this hot drink accident guide. Hopefully, you now know what to do if you suffer a scalded hand. Or, any other injury from a hot tea burn or hot coffee burn accident.