What Is The Average Compensation Settlement For A Personal Injury?
By Aaron Lee. Last Updated 22nd February 2021. Throughout this guide, we will take a look at how much compensation can I claim when making a personal injury claim. By the time you have read our guide, you will come to understand the claims process and comprehend how we could be of assistance. 
This webpage contains a guide to how much compensation you might receive if your personal injury claim is successful. One thing that you really need to understand, is that the circumstances of every claim are generally unique. Therefore, giving an estimate of how much compensation might be received, without knowing the specifics of the claim, is very hard indeed. This guide is intended as general information only, and you must speak to a solicitor to get a personalised, accurate estimate in your own case.
Accident Claims UK can help with this. If you contact us on 0800 073 8801 today, one of our team of experts will be able to go over your claim with you, and give you a much more accurate idea of how much you might be able to claim in compensation.
Select A Section:
A Guide To How Much You Can Claim For A Personal Injury?
In the sections below, you are going to learn about how compensation payments are calculated, and how the specifics of a claim will affect the overall settlement if your personal injury lawyer is successful in processing your claim. The guide begins with some sections that give some background information. This includes a definition of what a personal injury claim is, and how they can come about. You will also find information that attempts to explain how compensation is calculated. You will also find a comprehensive list of the potential types of damages that your settlement could be made up of.
The middle part of this guide covers the financials. You will find a number of examples of the types of claims that are most common. We will also cover the question, is there an average amount of compensation claimed? The final section of this part for the guide consists of a detailed table, giving typical compensation ranges paid for a wide selection of injury and illness types.
The last part of the guide covers information specific to the claims process itself. You will learn how best to move forward with your claim and the time limits in place, within which you must make your claim. At this stage, we will introduce the clams service that Accident Claims UK offers to people all across the UK. A simplified yet effective, and financially risk-free way for you to have your claim processed by an expert legal firm. If you have any questions about this guide's contents or need information that is not contained within it, you can reach out to one of the Accident Claims team using the contact number at the bottom of the guide.

What Is A Personal Injury Claim?
To answer the question, what are personal injury claims? we need to give a simple definition of what a claim is. Whenever a third party's actions cause you physical harm, a reason to claim could exist. The physical harm could be:
Actual bodily injuries, such as those sustained in an accident.
Health problems such as illnesses and infections, such as food poisoning or an allergic reaction.
Psychological damage, such as post-traumatic stress disorder caused by a traumatic event, or depression caused by dealing with a severe bodily injury.
For a valid claim to exist, a third party will need to be at least partially to blame for causing the harm. By third party, we mean any distinct legal entity, for example:
Your landlord.
Your employer.
Your GP.
A friend or family member.
The local bus company.
A fast-food restaurant.
And the list is endless. If any legal entity was partially the cause of harm, you could potentially claim damages. This means that even if you contributed to the incident that caused the harm in some way, the other parties are still liable. The process here, is that the defendant's legal team will negotiate a percentage of liability. The compensation paid if the claim is successful, will be based on this percentage of liability.
If you are unsure of either whether you have a valid claim or not, or who you might be able to claim compensation from, all you need to do is speak to one of the Accident Claims UK experts; you can reach them on the telephone number at the bottom of this page.

How Are Personal Injury Claims Calculated?
The reason why the kind of online personal injury insurance settlement calculator you find on some websites is so inaccurate, is that it takes the experience and knowledge of a personal injury solicitor to make an educated estimate of how much you might be able to claim. In general, the amount of compensation paid, is driven by the severity of the harm the claimant has suffered. The more severe the harm, the higher the compensation settlement. Several parameters feed this algorithm, for example:
The physical harm itself – how much physical pain and suffering the claimant went through.
The psychological implications – if the incident or the injuries sustained were particularly traumatic-have caused psychological damage such as anxiety, new phobias, depression, or PTSD.
The effect on the claimant's life quality – for example, if a young person were to be paralysed in an accident, then they would be adversely affected for their entire life, which could be 70 or more years.
As you can see, many variables apply to the calculation for working out how much compensation a claim could be worth. We urge you to speak to one of the Accident Claims UK claims team on the telephone number in the last part of this guide, and they will be able to give you a fairly accurate estimate of how much you could claim in your own case.

Different Types Of Damages Your Personal Injury Compensation Claim Could Include
If you were to look at accidents at work compensation examples or any compensation claim examples for that matter, you would find that certain types of damages are paid out most frequently. Each of these types of damages fit under one of the two main headings of general damages and special damages, for example:
General damages (these are paid to compensate the claimant for all of the physical aspects of the claim):

Pain and suffering – here we are talking about the initial pain and suffering. For example, if you were involved in a car accident, then the pain of the accident itself and also any pain caused by receiving emergency treatment.
Again, mental trauma is related to the initial incident, the shock of being involved in an a serious accident for example.
Psychological damage – if you develop further mental issues as a result of the harm you received. A good example of this is post-traumatic stress disorder caused by a horrific road traffic accident.
Long and painful recovery – if your injuries are severe, and will take a long time to heal, requiring painful or uncomfortable treatment.
Loss of life quality – if you will be left with a permanent disability that will affect you for the rest of your life. This can be a substantial amount of compensation for younger people with dire injuries such as brain damage.

Special damages (these are paid to compensate the claimant for all of the financial and ad-hoc losses that make up part of the claim):

Travel costs – if you have to make any journeys at all to have your injuries treated, or to deal with any aspect of the claim itself, you could potentially claim these costs back.
Medical fees – if you have to pay for any treatment for your injuries. However, this must be treatment that you a) needed, and b) wasn't available on the NHS. You can't for example, use a private hospital to have a cast put on a fractured bone and then claim the cost back, as you could have had this treatment provided for free on the NHS.
Cost of care – if you have had to hire a nurse to help to care for you at home or have had to employ domestic help to deal with your home's cleaning and maintenance.
Loss of earnings – if you have had to take an extended period away from your job, and have lost out on your wages or salary even fully or partially.
Lowered future income – if your injuries will force you to either work in a different kind of job, at a lower pay rate, or stop working altogether.
Ad-hoc losses – for example, if the accident that caused your injuries happened on holiday, and your holiday was ruined because of it.
Of course, the exact types of damages you can claim, and how much, will entirely depend on the specifics of your own case. Our best advice is that you call one of the Accident Claims UK team on the contact number that you can find below, and explain your situation to them. They will be able to give you an idea of who and how much you could be able to claim.

Examples Of Different Accidents Or Injuries You Can Claim Compensation For
There are many reasons for you to make a claim, but some reasons are far more common than others, such as:
Car Crash Compensation Payouts
The single most common type of accident that results in a compensation claim each year, are road traffic accidents. This covers all types of road accidents, including car, motorcycle, bicycle, and accidents while riding on public transports such as a taxi, bus or coach.
Slips, Trips and Falls
The second most common type of accident in the UK each year are slips, trips and falls. These simple yet often serious accidents can happen at any time, and in any place.
Accidents on Holiday
If you are injured while on a package holiday, or a trip that you booked yourself, then you will be able to make a claim if a third party was liable for the harm that you have suffered.
Workplace Accidents
Despite the best efforts of the Health & Safety Executive in the UK, workplace accidents are still widespread in the UK. When they can be proven to have been the employer's responsibility, then a reason to make a claim will exist.
Food Poisoning and Allergic Reactions
If you become ill due to eating bad food, or eating food that was not marked as containing an ingredient that you are allergic to, you could have a viable reason to make a compensation claim

Is There An Average Amount Of Compensation People Can Claim?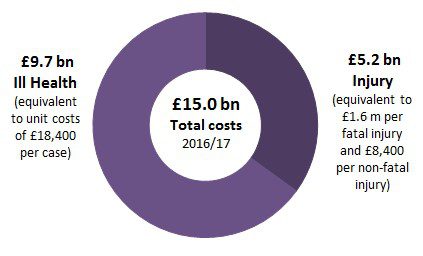 Take a look at the graph above; this shows how much only work-related accidents cost the UK each year. The total figure is far larger. Answering questions such as, what is the average settlement for a personal injury? or what is the average compensation for a car accident? is impossible, as there are no averages, each claim is different. The figures above show that settlements can be significant, but of course, not in all cases. If you use the contact telephone number below to speak to one of our team, they will be able to advise you on how much you may be able to claim in your own case.

How Much Compensation Can You Claim For Different Injuries?
Instead of an online personal injury claims calculator, we have added this table below; it contains example settlements based on the actual UK legal framework used to calculate the worth of a claim:
| Injury | Severity | Amount |
| --- | --- | --- |
| Neck Injuries | Severe | In the region of £139,210 |
| Neck Injuries | Moderates | £23,460 to £36,120 |
| Back Injury | Severe | £85,470 to £151,070 |
| Back Injury | Moderate | £26,050 to £36,390 |
| PTSD | Severe | £56,180 to £94,470 |
| PTSD | Moderate | £7,680 to £21,730 |
| Foot Injury | Amputation of Both Feet | £158,970 to £189,110 |
For a more accurate estimate of how much you could claim, please speak to one of the Accident Claims UK team members on the telephone number below. They can advise you on personal injury compensation amounts.

How Do I Begin My Compensation Claim?
Starting a claim with Accident Claims UK is very straightforward. Use the telephone number below to reach out to our team. They will then go over the specifics of your claim with you, and ask you some questions. These questions will tell us all we need to know and give you some informed advice on what you should do next. If you have a valid claim, they will go over our national claims service with you, and explain how it works, before getting your claim started right away.

How Long Do I Have To Make A Personal Injury Claim?
There is a personal injury claims time limit that you must begin your claim within. In general, this time limit is 3 years from the time the incident that caused your injuries took place, or 3 years from the date that a medical condition has been diagnosed. These time limits are set out in the Limitation Act 1980. In some rare cases, this time limit is different, and our team will advise you on this when you speak to them on the number below.

No Win No Fee Compensation Claims
Accident Claims UK offers a No Win No Fee claims service. You pay nothing to start your claim and nothing as we process your claim. If you don't receive any compensation you still pay nothing. When you do win compensation, we take our fee from the money received, and give the rest to you.

Why You Should Claim Compensation With Our Experts
Here at Accident Claims UK, we always do everything in our power to ensure that there is a successful outcome to your claim. We will always aim to get you the maximum amount of compensation that we can. You can contact us at any time for status updates, or to get answers to any questions that you have

Contact Legal Expert To Claim Compensation
Do you believe that you have a valid reason to make a claim? Are you ready to move ahead with it? If so, speak to Accident Claims UK today on 0800 073 8801. One of our claims experts will be ready to talk you through our new claims process.

Additional Resources
You may find these following links to be of use, as they contain relevant information:
An overview of the Limitation Act 1980
CAB information on personal injury claims
The UK Law Society guide to personal injury claims
How much compensation can i claim FAQ?
What is the average payout for a personal injury claim UK?
The amount of compensation you could be awarded will be heavily influenced by the type of accident you endured, the severity of the implications, and whether there are any long-term factors to take into consideration.
What qualifies as a personal injury case?
A personal injury claim could be a suitable course of action for those that are affected by negligence. For instance, if you are injured at work due to your player's fault, or if you are involved in a car accident caused by someone else, you could have grounds to make a compensation claim.
Thank you for taking the time to read our guide on how much compensation can i claim after an accident.