By Jo Anderson. Last Updated 1st November 2023. Suffering a burn injury can be life-changing. Not only do you have to deal with the trauma and pain, but you may also have to live with the consequences. In some cases, you can make a burn injury claim under personal injury law to get compensation.
In this guide, we explore the process of claiming compensation for a burn injury in more detail. We look at the criteria to make a claim and look at how much your burn injury claim could be worth.
We also discuss how you can take advantage of our No Win No Fee service to take action today.
Please don't hesitate to get in touch. Our Accident Claims Helpline is open 24 hours a day, with all calls free. There's also no obligation to make a claim. You can simply get the advice you need.
Call us today on 0800 073 8801.
Or you can chat with us now via our live chat box in the bottom corner of your screen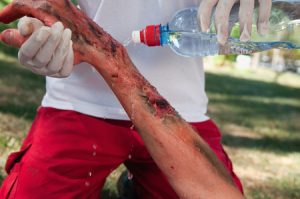 Select A Section:
How Much Is My Burn Injury Claim Worth?
Whether you're seeking chemical burn compensation from an accident at work, or you've been scalded in an accident at work, you might want to know how much compensation you could receive after making a successful claim. 
There are several factors that could influence your payout, including:
What percentage of the body was affected by the burn

The thickness of the burn

What cosmetic effect is sustained, and how the person reacts to that cosmetic effect

Physical disabilities 

Psychological impacts

Whether surgery is required, and to what extent
Below are some figures that could give some indication of average compensation payouts in burn injury claims.
We have used the Judicial College Guidelines to complete the table you can see. This is a legal publication that helps legal professionals value the general damages portion of claims made in England and Wales. We hope you find this guidance on burn victim settlements useful. 
| Burn Injury Type | Typical Amount | Description/Notes |
| --- | --- | --- |
| Severe Psychiatric damage | £54,830 to £115,730 | The injured person will have marked problems relating to life, work, education and relationships and the prognosis will be very poor |
| Moderately Severe Psychiatric damage | £19,070 to £54,830 | The injured person will have significant problems relating to life, work, education and relationships, but the prognosis will be more optimistic than in more severe cases. |
| Scarring to Other Parts of the Body | Likely to exceed £104,830 | Scarring from burns which result in a greater degree of pain and continuing psychical or psychological injury. |
| Scarring to Other Parts of the Body | £7,830 to £22,730 | This bracket will be appropriate for a number of noticeable laceration scars, or a single disfiguring scar, of leg(s) or arm(s) or hand(s) or back or chest. |
| Scarring to Other Parts of the Body | £2,370 to £7,830 | A single noticeable scar, or several superficial scars, of leg(s) or arm(s) or hand(s), with some minor cosmetic deficit. |
| Very severe facial scarring | £29,780 to £97,330 | This level of award will be appropriate where the claimant is young and the cosmetic effect is very disfiguring. |
| Less severe facial scarring | £17,960 to £48,420 | Leaving scarring that is quite prominent and which causes a significant psychological reaction. |
| Significant facial scarring | £9,110 to £30,090 | The worst effects may be reduced by plastic surgery. |
| Less significant facial scarring | £3,950 to £13,740 | May be one large or several smaller scars which can be camouflaged and which mar but don't markedly affect the appearance of the injured person. |
If you want to learn more about what you can include in a claim for a burn injury, just get in touch with our team. We'll be happy to discuss burn injury compensation claims with you.
What Else Can You Be Compensated For In A Personal Injury Claim?
How much compensation for a burn injury could be appropriate? What can you for can vary. Therefore, burn claim amounts can differ from case to case. No two cases are ever the same. When it comes to making a claim for compensation for a burns injury, a number of factors will significantly impact the amount of compensation that you receive. Burns are unpredictable and will vary depending on the type of burn and the way in which a person recovers.
Special damages
These are several of the things that you might be able to claim for as part of your burns injury compensation claim:
Future earnings – Depending on how long your recovery takes, and therefore the length of time you are unable to work for you might be able to claim for the loss of future earnings as well. If you have obtained severe injuries that affect your ability to do the job you did before your accident, then you could include this as well.
Special damages – These are damages that cover a victim's personal circumstances, helping them get back on their feet financially following their injury.
General damages – These damages are related to the amount of compensation that you might be able to claim in respect of any pain and injury you have gone through due to your burns injury
Travel expenses – If your burn injury has affected your ability to drive, you may need to use other forms of transport to attend appointments. You should be entitled to claim these expenses.
Loss of earnings – If as a consequence of your injuries, you are unable to return to your place of employment for a significant length of time then you may be able to claim for any loss of earnings.
Medical Expenses – If you've incurred medical expenses for treatment you have received for your burns injuries, such as medication or hospital bills, you may be able to claim these as part of your burn injury compensation case.
Could I Make A Burn Injury Claim?
To be eligible to make a burn injury claim, you would need to prove that:
Someone owed you a duty of care.
This duty was breached.
You suffered an injury as a result of the breach.
There are various parties that owe you a duty of care. These include:
Employers – Under the Health and Safety at Work etc. Act 1974, your employer owes you a duty of care. They must take reasonably practicable steps to prevent you suffering illness or injury due to your work or the workplace.
Occupiers – Those in control of public places are known as 'occupiers'. Under the Occupiers' Liability Act 1957, they would owe you a duty of care. They must ensure your reasonable safety while you are using that space for its intended purpose.
Road Users – Road users owe each other a duty of care to use the roads in a way that avoids causing harm to others and themselves. They must also follow the rules and regulations set out for them in the Road Traffic Act 1988 and the Highway Code.
If someone were to breach the duty of care they owed you, and this caused you to suffer a burn injury, you may be eligible to make a personal injury claim for compensation for your burns.
To check the eligibility of your case, you can contact an advisor. They could also answer questions about your claim, such as, "How much is my burn claim worth?"
Personal Injury Claim Time Limits
If you are looking to make a claim for a burn injury caused by someone else's negligence, you might wonder if there's a personal injury claim time limit. The Limitation Act 1980 dictates the personal injury claim time frame. In most cases, the time limit for a personal injury claim is 3 years. This means you would have three years from the date of the accident or the date you became aware that your injuries were caused by negligence to start your claim.
There are some exceptions to this time limit. Contact our team to learn more.
How Can You Suffer A Burn Injury?
There are many different ways in which a person could suffer a burn injury. Some examples are listed below:
Burn injuries from car accidents – the heat that can be produced in a vehicle crash can be generated by the vehicle itself, a fire that is caused by the crash, or even friction burns. 

Burn injuries from accidents at work – an accident at work could result in electrical burns or chemical burns. Or, if there is a fire at work, this could also lead you to be burned. If you work with machinery, this could overheat and cause burns, too.

Burn injuries from public place accidents – just like in the workplace, public place accidents could also cause various types of burns. This could include burns from hot foods in restaurants or burn injuries from a hotel fire, for example. 

Burn injuries from beauty treatments – you could sustain a burn from hair dye or laser hair removal treatment, for example.
Not all burn injuries would automatically lead to a claim, however. You would need evidence that a relevant third party had breached a duty of care towards you, causing your burns. 
To check your eligibility to claim compensation for a burn injury or find answers to questions such as 'How much is my burn claim worth?' read on or contact an advisor for personalised guidance.
Burn Injury Claims With A No Win No Fee Solicitor
If you're eligible to claim compensation for burns you suffered in an accident, you might wish to get help with your claim. One of our solicitors may be able to assist you. They could help you with gathering relevant evidence to help support your claim and negotiating a compensation payout for you.
Furthermore, one of our solicitors may offer to represent you in your claim on a No Win No Fee basis under a Conditional Fee Agreement (CFA). Under this arrangement, you will not have to pay the solicitor working on your case any upfront or ongoing service fees. You also won't be required to pay them for their work if your claim fails.
Instead, if your case successfully concludes with a payout, they would deduct a legally capped success fee from this.
To check your eligibility to work with one of our solicitors, please contact our advisors. They can also help answer any of your questions and offer you free advice.
Make A Claim
If you have suffered a burns injury due to a road accident or any other form of accident and you would like to make a claim for compensation, please get in contact with us. We will be able to commence the claims process for you.
Our team of dedicated professional advisors can be contacted on 0800 073 8801.
We hope this guide to making a claim for a burn injury has been helpful. Below you can find further helpful resources.
Find Out More About Burn Injury Compensation Claims
If you'd like to learn more about burn injury claims, check out the links and resources below:
Thank you for reading our guide on how to make a claim for a burn injury. We hope that any questions you have about burn injury claims have been answered, but if not, please get in touch.