By Jo Jeffries. Last updated 24th March 2022. Welcome to our guide to compensation claims for traumatic and spontaneous punctured lung injuries. This guide about punctured lung injury claims explains how you could clam for a punctured lung from a broken rib, and answers questions such as 'What isa punctured lung called?'
Punctured Lung Compensation Claims Explained
Have you been injured in an accident that was not your fault and sustained a pneumothorax, or punctured lung as it could also be called? Or has your lung collapsed spontaneously, and you've suffered undue harm because of clinical negligence in not diagnosing or treating a condition that has led to it? Perhaps you've suffered a traumatic pneumothorax because of a stabbing, or assault, or due to dry needling or acupuncture? If so, and someone else could be held liable for your injury, you may be able to make a claim for punctured lung compensation.
Claiming for a punctured lung from a broken rib or other injury
A punctured lung from a broken rib or other injury could cause a whole host of dangerous health problems and may lead to long-term consequences. Not all of the consequences could be physical, however. You may suffer damage to your mental health as a result of a traumatic accident, and you could even suffer financially if you've had to take time away from work to recover from your injury.
A compensation claim against a liable party could help to compensate you for any financial expenses incurred as a result of a spontaneous or traumatic pneumothorax, as well as the suffering and pain caused by the punctured lung itself. We could provide you with an experienced personal injury lawyer that could help you fight for the maximum compensation possible for your injury. Simply call us on 0800 073 8801 to get a free case check and benefit from expert advice and support with making a claim.
Select A Section
A Guide On Claims For A Punctured Lung Or Pneumothorax
If you have suffered a pneumothorax because of a clinical or medical mistake, or you have sustained an injury such as rib fractures that have penetrated the lining of the lungs, due to an accident that wasn't your fault, you may be looking into whether you could claim compensation. This guide offers a wealth of information on claiming compensation for the suffering of immediate symptoms as well as punctured lung after-effects, and how you could get legal assistance with making a claim.
In the sections that follow, you can find information on the types of negligent treatment that could lead to such claims, from an accident at work and industrial diseases to acupuncture or dry needling errors. We also provide insight into the amount of compensation you could potentially receive as well as how to begin a claim with a No Win No Fee solicitor.
What Are Punctured Lung Injuries?
A punctured lung injury occurs when there is a tear in the lung. This could be caused by trauma, such as rib fractures that penetrate the lung, or it could happen due to illness or due to weakened lung tissue. If you have a punctured lung,  this means air has collected between the two different layers of tissue that line your lungs. The air causes pressure to be put on the lung and it may not expand properly, or in some cases not at all.
What is a punctured lung called?
There are different types of punctured lung, also known as pneumothorax, which are explained in the next section, and these could range in seriousness. Some may not need medical treatment, while others may require surgery and a stay in the hospital until the pneumothorax is resolved. For free advice on punctured lung injury claims, please call today.
What Are The Symptoms Of A Punctured Lung Injury?
There are certain known collapsed lung and partially collapsed lung symptoms you may experience, depending on the type of injury you've suffered such as whether it's a punctured lung from a broken rib, or from an illness that causes a collapsed lung. These could include, according to the British Lung Foundation:
Sharp stabbing pains that come on suddenly – these may be on one side of your chest and they may feel more painful when you try to breathe in

Breathlessness
Other symptoms may include:
Pale/blue skin (this could be due to lack of oxygen)

Abnormal breathing

A fast heart rate

Chest tightness

Fatigue
If you have sustained a punctured lung, breathing problems could worsen quickly so it would be wise to seek medical attention as quickly as possible if you suspect your lung has been punctured. We are happy to consider all punctured lung injury claims and provide free legal advice on your options.
Types Of Punctured Lung Injury
There are three main types of punctured lung injury:
Traumatic pneumothorax – This could happen via a car accident, through surgery, acupuncture, dry needling or assault, for example. Traumatic pneumothorax usually occurs when there has been a penetrative injury to the lung.

Primary Spontaneous Pneumothorax – Sometimes, your lung may have collapsed for no apparent reason. This could be as a result of a small tear occurring on the outer part of your lung. It has been suggested that this could be the result of an area of weakness from lung development. In these cases, air escapes from your lung but then gets caught between the chest wall and the lung.

Secondary spontaneous pneumothorax – These could occur in patients with existing lung diseases or conditions that have weakened the edge of the lung, leaving it vulnerable to tearing. Conditions could include:

COPD

Lung cancer

TB (tuberculosis)

Cystic fibrosis

Sarcoidosis

IPF (Idiopathic pulmonary fibrosis)
We offer free reviews of punctured lung injury claims. So, why not call today to see if you could be entitled to compensation?
How Are Punctured Lung Injuries Treated?
The treatment of a punctured lung would vary depending on the size of it, whether it expands and what has caused you to suffer the pneumothorax. The main aim of treatment is to lessen the pressure on your lung, allowing it to re-expand.
For small pneumothoraces, where the portion of the lung that is torn is only small, leaks may heal themselves in a matter of days, and the air that was trapped would be re-absorbed by your body. You may be given painkillers or be told to take over the counter painkillers if you are suffering from pain. In some cases, you may be advised to get an X-ray after a week or so has passed to ensure that the punctured lung has healed.
If you suffer breathlessness because of a pneumothorax, oxygen therapy might be required to help you breathe easier.
Sometimes, you may need to have the air removed from your chest. This could be done by:
Putting a needle into the space filled with air, and slowly sucking the air out (aspirating) via a syringe.

Placement of a chest-drain. This is a tube that is inserted via the wall of the chest once the area of insertion has been numbed. The plastic tube used will allow the air to drain out but the air will not be able to get back in, allowing your lung room to re-inflate.
How Long Does It Take For A Punctured Lung To Heal?
If you have a chest drain, a pneumothorax may take around 2-5 days to resolve, and you would be required to remain in hospital with the tube in until the lung has been re-inflated and the leak has been resolved.
Workplace Accidents Causing Punctured Lungs
Your employer has a legal duty, as per the Health and Safety At Work etc. Act 1974, to protect your health and your safety at work. They could do this in a number of different ways, such as by ensuring the workplace is safe to work in, that all machinery is maintained to a safe standard, providing safety training and PPE, to name but a few considerations. If your employer has been negligent in their health and safety provision and you suffer a workplace injury, such as a traumatic pneumothorax, they could be held liable if their negligence led to your injury occurring.
Occupational Lung Disease leading to a punctured lung
According to the HSE's 2020/21 statistics, there are 12,000 lung disease deaths per year that could be related to past exposures in the workplace. While pneumothorax is not always related to asbestosis and other work-related lung conditions, some patients suffering mesothelioma could suffer a spontaneous pneumothorax as a result of their illness. You can see the causes of lung issues here for the 2020-2021 period.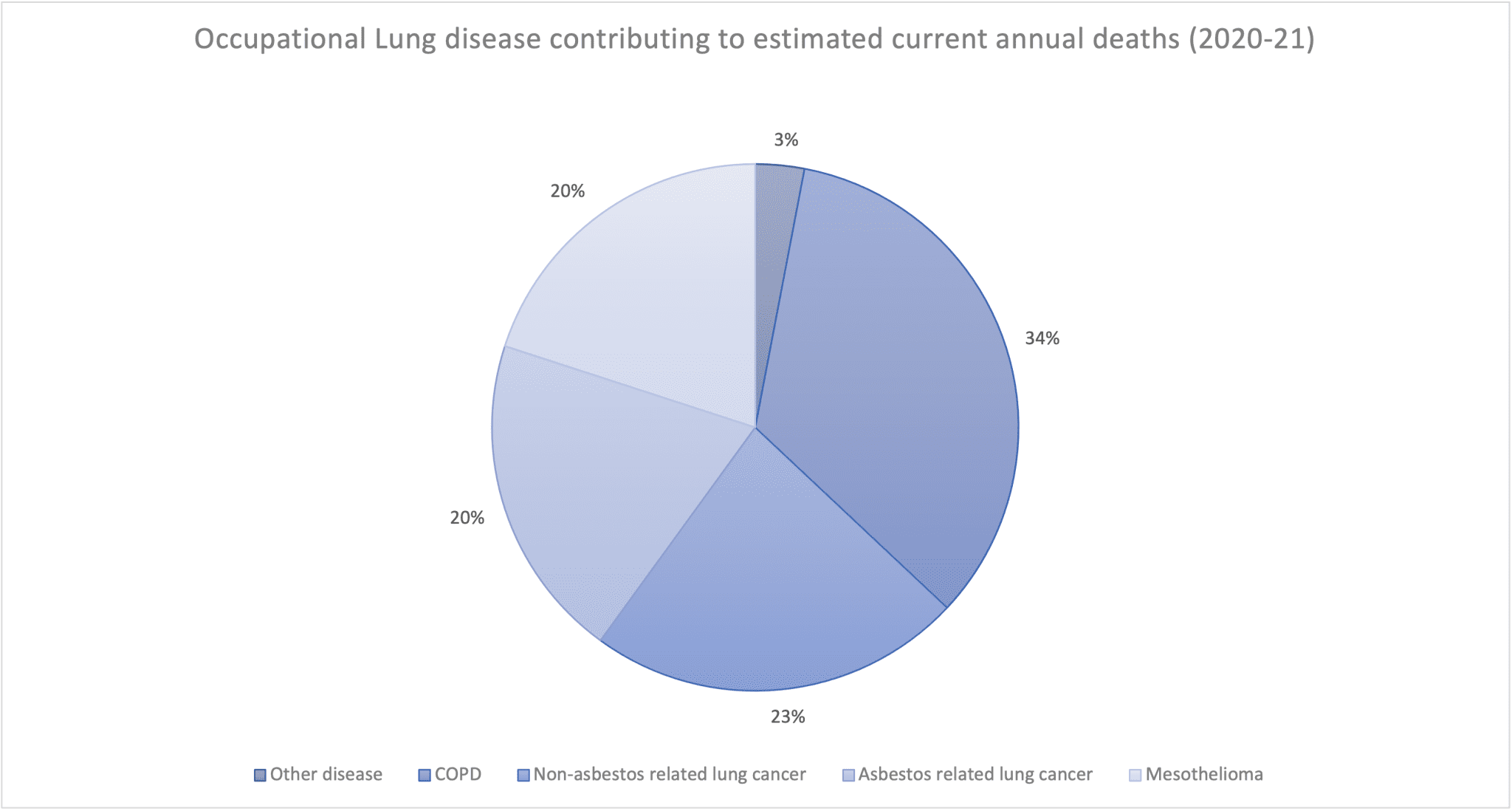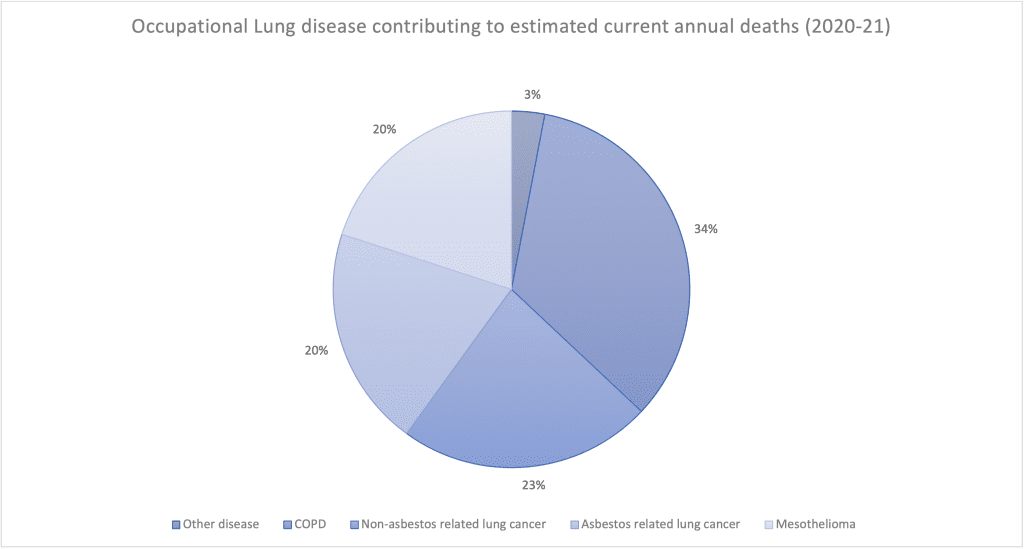 If you have suffered work-related lung disease, this could also make you eligible to bring a claim against your employer if they have been negligent in protecting you from this type of illness.
Road And Car Accidents Causing Punctured Lungs
If you've been injured in a car accident, you may assume broken bones would be the most pressing concern, but actually, there are a number of internal injuries that could be caused by a road accident, and one of these is a traumatic pneumothorax. These types of injury could occur in a number of different ways, in a number of different road accidents. For example:
Pedestrians being struck by vehicles

Drivers striking other vehicles

Drivers striking other objects, such as lampposts, for example

Passengers being injured in car accidents
Whether the punctured lung injury has been caused by rib fractures, or you have suffered another type of injury that has caused your lung to have collapsed, if someone else could be held liable for the accident, you may be able to make a claim for compensation against them. If the person that caused the accident could not be traced or did not have motor vehicle insurance for you to claim against, we could still help you, as your claim could be made to the Motor Insurer's Bureau. Get in touch to find out more about uninsured driver claims.
Clinical And Medical Negligence Causing A Punctured Lung
Medical professionals have a duty of care to ensure they provide safe and effective care to their patients. If they fail in doing so, and you are harmed because of their negligence, you could make a claim for the harm you've suffered due to their negligence. These are known as clinical or medical negligence claims. You could make a claim for missed pneumothorax symptoms against the NHS or against a private practice or hospital if you have suffered clinical negligence of this type.
How should a possible pneumothorax be assessed and treated?
If you present at a GP's surgery, clinic or hospital with symptoms of a traumatic pneumothorax, or a primary spontaneous or secondary spontaneous pneumothorax, it is crucial that the medical professionals looking after you:
Recognise your symptoms and order the correct tests (diagnostics)

Correctly analyse the results of your diagnostic tests and diagnose you

Treat you where necessary, or advise you of the correct self-care measures, including giving advice for you to return to the GP or the hospital if you experience symptoms again

Arrange follow up appointments where required
If the medical professionals looking after you have not correctly diagnosed you due to negligence, and you have suffered undue harm because of their negligence, you may be able to make a clinical negligence claim against them. However, we should point out in some cases, if they did all that was possible to correctly diagnose your condition, but the clinical presentation meant that the injury or condition was not seen, this may not leave them liable to pay you compensation. In addition to this, we could also help with surgical negligence that has led to a punctured lung in an NHS hospital, or a private hospital.
If you would like to benefit from a free case assessment to see if your punctured lung was the result of clinical negligence, we could provide case-specific advice over the phone for free.
Negligent Dry Needling Treatment Causing Punctured Lungs
Dry needling treatments are different from acupuncture treatments in that they are not provided to change the flow of energy (chi) throughout the body, but as a science-based treatment for painful musculoskeletal problems. In these treatments, thin needles are placed into myofascial points (muscle knots) to stimulate the body's own healing responses. It could be used on conditions such as tennis elbow, neck pain, shoulder impingement, headaches and carpal tunnel syndrome, for example.
While serious side effects of such treatments are quite rare, one of the more significant side effects that have been known to occur is a pneumothorax. Sometimes the symptoms of a punctured lung caused by dry needling are not noticed immediately after the session but develop over the following hours. However, if you start to feel unwell after a treatment, you should seek medical attention, particularly if you have symptoms such as chest pain, increased breath rate, or excessive sweating, for example.
Have you sustained an injured lung from dry needling treatment? If so, and you could prove that the practitioner performing the treatment was negligent, leading to you suffering a punctured lung, this could result in a claim for compensation against the practitioner.
Stabbings, Shooting And Assaults Causing Punctured Lungs
Unfortunately, a punctured lung could occur if you are injured in a stabbing, shooting or assault. Violent crime is sadly a problem here in the UK, with recent ONS statistics revealing a 6% increase in offences that involve sharp instruments and knives. While you might assume you would not be able to claim compensation if you were the victim of such an attack, this may not be the case. In some instances, a civil claim could be made against the perpetrator of the attack, but in others, where this is not a viable option, you may be able to claim through the Criminal Injuries Compensation Authority (CICA).
We could help you make a claim through the CICA if you have suffered a traumatic pneumothorax due to a criminal assault. You would need to have reported the incident to the police, and the time limit for claiming could be shorter than for a civil claim. While the personal injury claims time limit for many types of claim is 3 years from the accident or discovery date, you would usually have just 2 years to claim through the CICA. If you'd like to know more about making these claims or would like us to provide you with a lawyer to help you get the compensation you deserve, we'd be happy to help you. Please do get in touch for a free, no-obligation eligibility check.
Negligent Acupuncture Treatment Causing Punctured Lungs
One known risk of acupuncture treatment is the piercing of a lung through one of the acupuncture pressure points, located in the shoulder.
This pressure point, which is called the Jian Jing pressure point, is also known as Gallbladder 21. It is located near the top of the shoulder. However, it is also extremely close to the parts of the lung called the apices, which are at the top of the lungs, near to the neck.
According to the World Health Organisation, at the position of Gallbladder 21, there are only 10 to 20 millimetres of skin and tissue between the top of the skin and the surface of the lung.
While cases like this are rare, if your acupuncturist has injured you in this way, and you have suffered a punctured lung due to a misplaced needle, you may be able to claim compensation from them. We could provide you with an experienced solicitor that could help you bring a claim against a negligent acupuncturist.
Compensation Calculator For Punctured Lung Injuries
We have chosen not to provide a personal injury claims calculator on this page. The reason for this is that we feel the table below could be just as useful, if not more so. A claims calculator would only be able to offer you a very rough estimate of your compensation, as for any claim, you would have to undergo a medical assessment for your injuries to be verified and reported on by an independent medical expert. This would serve as medical evidence and could be used by your solicitor and the court to determine how much compensation could be appropriate for your claim.
The table below gives you some figures from the Judicial College Guidelines (JCG), which is a legal publication used by courts and solicitors to arrive at a value for your claim.
| Injury | Remarks | JCG compensation bracket |
| --- | --- | --- |
| Chest injuries | Leading to the removal of a lung + serious damage to the heart, leading to permanent scarring, suffering and pain that is prolonged and serious | £94,470 to £140,870 |
| Chest injuries | Traumatic injuries to the heart, lung or chest leading to permanent harm including function impairment, disability and shorter life expectancy | £61,710 to £94,470 |
| Chest injuries | Lung and chest damage causing a continual disability of some type | £29,380 to £51,460 |
| Chest injuries | Penetrating wound/single which causes permanent harm to tissue but no long-term significant effects on function | £11,820 to £16,860 |
| Inhalation of toxins | Leading to some damage, residually but no effect on lung function | £5,000 to £11,820 |
| Injuries leading to collapsed lungs | Full recovery with no complications | £2,060 to £5,000 |
Additional Damages Punctured Lung Victims Could Claim
In addition to the general damages you could receive for your spontaneous or traumatic pneumothorax, you may also be able to claim for financial expenses associated with your injury. Depending on the type of claim you're making, these may be restricted. For example, for a CICA claim, you would only be able to claim for costs and expenses that could not be covered elsewhere, and there are strict eligibility criteria that cover loss of wages claims, for example.
For personal injury claims and clinical negligence claims, however, these financial expenses could include:
Travel costs

Medical expenses

Care costs
In order to claim for these expenses as special damages, you would be required to provide proof they exist. Copies of your payslips, bank statements, bills and receipts could be vital in ensuring you can claim for those expenses you're eligible to claim for.
No Win No Fee Claims For A Punctured Lung Injury
Whatever type of accident, assault or incident that has led to your punctured lung, we believe that a claimant with a valid case for compensation should be able to make a personal injury claim without having to find the funds upfront to begin their case. We could provide you with a personal injury solicitor with the capability to fight for compensation on your behalf without you needing to pay anything upfront in legal fees, or throughout the duration of your case.
With No Win No Fee claims, you would simply have to sign an agreement known as a Conditional Fee Agreement. This would agree to pay your chosen lawyer a small, success fee (which is legally capped), once your claim had ended successfully and compensation had been paid out. If your case didn't end successfully, and no compensation was awarded, you would not have to cover the solicitor's costs in pursuing your claim.
We believe this is a great option for claimants. If you would like to know more about the terms and conditions about making claims under these terms, please do not hesitate to ask us. We will be glad to answer any questions you may have about No Win No Fee claims.
Talk To Us About Your Punctured Lung From Broken Rib Claim
If you would like us to assess your case to see if you could claim compensation for your punctured lung, we would be happy to do this without charge. We could then provide you with case-specific advice and could even provide you with a professional personal injury lawyer who could help you fight for the compensation you deserve.
To get in touch and benefit from our expert advice, simply:
We're ready and waiting to help you.
How a solicitor can help in punctured lung from broken rib injury claims
When claiming against somebody else for an injury they've caused, you'll usually end up dealing with an insurance company. Their aim is to pay out as little as possible to keep their business profitable. Unless you're able to clearly demonstrate how their client caused your accident and the injuries you've sustained you may not receive the compensation you are entitled to. In our opinion, having a specialist solicitor on your side will help greatly. They should make the claims process simpler and could improve your chances of winning.
If your case is accepted, your solicitor will try to do everything for you. This will include:
Compiling your claim after listening to how you've suffered.
Collecting evidence to back up your allegations.
Booking a medical assessment (locally) so that your injuries can be assessed independetly.
Sending the claim to the defendant and liaising with their insurer.
Trying to counter any objections raised.
Keeping you in the loop with regular updates.
Being on hand to answer any questions that you might have.
All in all, your solicitor will do all they can to try and ensure you are compensated fairly for your injuries. If you'd like free advice on punctured lung injury claims, why not call our specialists today?
Can you get a punctured lung from a broken rib?
You could suffer a punctured lung from a broken rib. There are various ways in which your ribs could be injured, leading to a punctured lung. Examples of the types of accidents that could result in someone suffering a broken rib might include:
An accident at work
Accidents in public places
Assault
Sporting accidents
Road traffic accidents
Falls from height
These are just a few examples. However, to make a claim for a punctured lung from a broken rib, you would have to be able to evidence:
Someone had a duty of care towards you
They breached that duty of care
Your injury was caused by that breach
I'm not sure if I could claim for a punctured lung from a broken rib, could you help?
Of course. We would be happy to offer you a free, no-obligation case check. If we determine your case to have a favourable chance of success, we could help you launch your claim. Our No Win No Fee solicitors could support you throughout your claim.
What is a punctured lung called?
A punctured lung is called a pneumothorax in medical terms. It relates to an incident where air collects within the layers of lung lining tissues. The collection of air prevents the lungs from expanding properly.
How do I know how much compensation I'd get for a punctured lung from a broken rib?
This depends on the extent of the injuries, and how they occurred. It also depends on your long-term prognosis, and the costs and losses incurred because of the injury you've suffered. We could provide a free valuation of your claim so call us for more information about the compensation you could be owed.
References To Support This Guide
Car Accident Claims – Car accident injury claims are covered in this informative guide.
Acupuncture Claims – If you've been injured by acupuncture treatment, this guide could help you assess whether you could have a claim.
CICA Claims – Making a claim for criminal injury after assault could be complicated. Our guide covers what you may need to know.
Spontaneous Pneumothorax Information – Here, you can find NHS information on spontaneous pneumothorax.
Pneumothorax Surgery – This patient information publication explains more about surgery for a collapsed lung.
Government's Review Into Criminal Injury Compensation – Here you can find details of a government consultation into criminal injury compensation.
Other Useful Compensation Guides
Thanks for reading our guide on punctured lung injury claims. For free advice on starting your claim, please call today.
Guide by JJ
Edited by REB