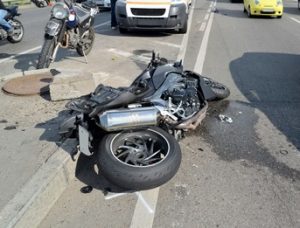 Have you sustained injuries in a motorcycle accident that wasn't your fault? Was the at-fault party insured by MCE motorcycle insurance? If so, you may be able to make a motorcycle insurance claim for the suffering and pain you have sustained from your injuries and the financial harm your injuries may have caused you. Here at Accident Claims, we have produced this guide to give you all the information you may need to move forward with a claim for motorbike injury compensation. Below, you'll find insight into why motorcyclists are classed as vulnerable road users, the different types of damages you could claim for in a motorbike accident claim and how we could start a claim for you. If you would like guidance tailored to your specific circumstances, or are ready to begin a claim, you can reach our team on 0800 073 8801.
Select A Section
A Guide To Motorcycle Accident Insurance Claims
This guide is aimed at those who may be looking to make an MCE motorcycle insurance claim for the injuries they've suffered in an accident that was not their fault. Whether you were knocked off your bike by another motorcyclist, were knocked over as a pedestrian by a rider who was insured by MCE motorcycle insurance or were injured as another type of road user due to the actions of an MCE insured motorcyclist, this guide offers a wealth of information on making claims.
You will find in the sections below details of how to begin a claim for compensation and what may be involved throughout the claims process. In addition to this, we have provided insight into compensation amounts for specific injuries that could relate to a motorcycle accident, and we've also provided information on how to find a lawyer to help you with your claim.
What Is A Motorbike Injury Claim?
According to the government, motorcyclists are one of the most vulnerable road users on UK roads. This is due to the fact that they aren't protected by an enclosed metal body, as most car, van and lorry drivers are. They could also be more difficult to see than other road users. This makes them more susceptible to injury than less vulnerable groups.
Motorcycle accident facts produced by the government show that rider below the age of 25 make up 33% of those killed or seriously injured on motorbikes, with the majority of such accidents happening to males.
Whether you are male or female, young or old, and are injured in a motorbike accident or an accident on a moped or scooter, insurance for the at-fault party could pay compensation for your injuries if you were not to blame for the accident. Whether you have suffered mild injuries or more serious injuries, all of these could have an impact on your life and on your finances, and you could be eligible to claim compensation for both the suffering and pain of your injuries and the financial harm they have caused you.
What Do Insurance Underwriters Do?
An insurance underwriter is someone who accepts the financial responsibility for potential losses of its policyholders. The underwriter essentially assesses your application for scooter, moped or motorbike insurance, taking into account various different factors, and then rejects them if they feel the risk is too great, or accepts them and determines the cost, terms and conditions of the policy. It would be the underwriter that would pay out when it came to successful claims against them.
Check Your Eligibility To Claim For A Moped, Scooter Or Motorbike Accident
Making an MCE motorcycle insurance claim would rely on you being able to prove that:
An accident was caused by someone insured by MCE insurance, whether they had motorbike, scooter or moped insurance.
You suffered injuries due to the accident or your vehicle or property was damaged by the accident.
What If My Motorbike Accident Was Partly My Fault?
In cases where you may have been totally to blame for the accident, you would not be able to claim for personal injury. However, you would be able to claim for damage to your vehicle. If you were partly at fault and there was another party partially to blame, your case could be handled on a 'split liability' basis. This means that you would still be able to claim for your injuries, but your compensation could be reduced to reflect your involvement. For example, if you were found to be 25% to blame, your compensation would be reduced by 25% of the full value you would have received if you hadn't been at all to blame.
Motorcycle Accidents And Injuries You Could Claim For
There are a variety of different circumstances that could lead to a motorcycle injury insurance claim. People who could claim compensation could include:
Road users who have been injured in an accident that wasn't their fault, such as passengers, drivers or pedestrians, for example.
Common Types Of Motorcycle Injuries
According to ROSPA, 19,297 motorbike users were injured in road accidents in 2016. 5,553 motorcyclists were seriously injured, with 319 fatalities. Whether your injury was minor or severe, you could claim compensation if the accident that caused your injuries was not your fault. Common injuries that are caused by motorcycle accidents could include:
A head injury – Whether or not a motorcyclist was wearing a helmet, the head could still be vulnerable to trauma in a road traffic accident. This could range from a minor concussion to life-altering brain injuries.
A broken bone – Such is the vulnerability to motorbike users, with their only protection being the clothing they wear, if they hit a stationary or moving object at speed, this could cause blunt force trauma to the body, which could result in broken bones.
Road rash – If a motorcyclist skids across the road, having been knocked from their bike, the resulting road rash could be extremely painful, and could require hospital treatment.
Neck injury – If a person is subjected to forces that make the head jerk backwards and forwards, a common action in road traffic accidents, this could cause neck injuries ranging from mild whiplash to severe injuries that could cause paralysis.
Information And Evidence Which Will Help Your Solicitor
Providing the right evidence to your solicitor could significantly help your case. As part of your motorcycle insurance claim, you could strengthen your case by providing the following information and evidence:
A diagram of the scene of the accident, or photographs
Your own account of the accident and your injuries, and how they have affected you
Witness details, if anyone saw the accident happen
Your medical notes, if you have them. If not, your solicitor might request them on your behalf
Evidence of financial expenses caused by your injuries
Should I Get In Contact With My Insurance Provider?
You should always get in touch with your insurance provider after a motorbike accident, even if you are not considering claiming compensation. It could invalidate your insurance if you fail to declare an incident, even if that incident wasn't your fault. However, while an investigation is being made into the accident, you might find this affects your no-claims bonus, and it may also mean you have to pay the excess on your policy, even if you are able to have this refunded once the investigation concludes that the accident was not your fault.
In some cases, an insurance provider of an at fault party may get in touch with you to offer to settle your claim on a pre-med basis. We would advise you not to accept such an offer. Although it could mean that your motorcycle injury claim is settled quickly, this may not take into account the full extent of your injuries.
For example, let us consider someone who has suffered a whiplash injury in a motorbike accident. While the initial injury may not be very severe, if you accept a pre-med offer and then develop chronic pain because of the injury, you would not likely be able to make further claims for compensation, for the ongoing condition.
Are Accident Or Injury Claims Disputed By Insurance Companies?
Sometimes, an insurance company might dispute a motorbike insurance claim. They may do so for a variety of reasons. Some of the things that might influence their decision on whether they pay out on a claim and how much they pay could include:
The police report – if there is any way in which you could be even partially to blame for the accident, your MCE motorcycle insurance claim could be disputed.
Your medical evidence – if you claim you have suffered a motorbike brain injury, for examples, they may dispute the seriousness of your injury. Medical evidence would be required as part of your claim.
The date your claim is launched – there is usually a personal injury claims time limit that would apply to most motorbike accident claims of three years from the date of the accident. There are, however, some exceptions to this.
Where the accident took place – If your motorbike accident took place on private land, the insurer may not pay out on your motorbike injury claim if the policy only covered accidents on public roads.
If your motorcycle insurance claim was disputed or rejected by the insurer, your solicitor could help assess their refusal to see if they have done so unfairly and could fight for the compensation you deserve for your injuries.
Could A Solicitor Help Me Secure A Better Injury Settlement?
It is possible for you to make a claim for personal injury compensation alone, but we would highly recommend using the services of a professional injury lawyer to assist with your claim.
Not only could such a lawyer handle all the paperwork regarding your claim, they would also have the capability to build a strong case on your behalf that could make it difficult for the motorcycle insurance company to dispute your claim. Should you receive an offer of compensation, a lawyer would be able to assess the offer to see if it could be considered reasonable for your injury claim, and if they feel it isn't, they could then go on to fight for the maximum compensation possible for your claim.
Motorcycle, Moped And Scooter Accident Compensation Calculator
If you are thinking of claiming compensation and are wondering how much compensation might be appropriate for the injuries you've suffered, you might have consulted a personal injury claims calculator, to get some idea of the level of compensation you could be eligible for. Unfortunately, these tools would not be able to produce an accurate sum for your injuries for the simple reason that they would not have access to all the unique facts and circumstances of your case. Every motorcycle insurance claim is assessed separately, and no two cases would be exactly the same. As part of any personal injury claim, the injured party would have to undergo an assessment with a medical professional who was independent of the case. A medical report would be produced by the medic, which would include a review of your medical notes, an assessment of your condition and details of your prognosis. This report could be used to value your motorcycle insurance claim more accurately.
We realise that this could be frustrating for claimants who would like to know how much compensation they could receive for their claim before they went ahead with it. This is why we have provided some insight into compensation amounts for injuries.

| Injury type | Guideline Compensation Amount | Further Notes |
| --- | --- | --- |
| Severe injuries to the ankle | £29,380 to £46,980 | Treatment would be lengthy and injured parties may have had to spend quite a considerable amount of time in plaster. They may have needed pins and plates to fix the injury, but there would still be some level of disability that would severely affect their walking ability. |
| Moderate injuries to the ankle | £12,900 to £24,950 | Tears to ligaments and fractures that could lead to long-term issues with climbing stairs or crossing uneven ground, for example.. |
| Severe injuries to the hip/pelvis | £36,770 to £49,270 | A large number of severe hip injuries would result in claims being put into this bracket. One example could be acetabulum fracture leading to degenerative changes. The injured party may need a hip replacement in the future. |
| Moderate injuries to the hip/pelvis | £24,950 to £36,770 | Significant injuries to hips or pelvis. These would not, however lead to any great permanent disability. |
| Moderate injuries to the brain | £85,150 to £140,870 | There could be an intellectual deficit which could be assessed as being modest to moderate. The ability of the injured party to be able to work would be greatly reduced or removed. Epilepsy could be a risk. |
| Moderate injuries to the brain | £40,410 to £85,150 | The memory or concentration of the injured party could be affected in some way, but there would not be a significant need for them to depend on others. Some small risk of epilepsy may exist. |
| Moderate injuries to the neck | £12,900 to £23,460 | Stiffness, discomfort and pain could feature. Injuries could include soft tissue or wrenching injuries that lead to spondylosis. |
The amounts you see in the table above have been sourced from the Judicial College Guidelines. This is a legal publication, which could be used by lawyers and the courts to value personal injury claims. If your injury isn't listed in this table, please do not think you would not be able to claim for it. Our team could provide further insight into other motorcycle accident injuries over the phone.
Check What Expenses Or Losses You Could Be Compensated For
The section above relates to general damages; that is, the compensation you would receive for the pain and suffering that was caused by your motorbike accident injuries. However, there are other damages you could also claim, called special damages.
These are designed to compensate you for the financial expenses that arose because of your injuries and could include, but are not necessarily limited to:
Loss of income: If your injuries have resulted in you needing time off work to recover, you may have lost income. This could be included as special damages within your claim, and if you aren't able to return to your job, you may be entitled to claim future loss of earnings too.
Care costs: if your injuries were so serious that you needed care in your own home with washing, dressing or meal preparation, for example, the fees for such care could be recovered as part of your claim.
Medical costs: If you incurred medical expenses because of your injuries, such as prescription costs, mobility aids and such, the costs for these could also be recovered as part of your motorcycle insurance claim.
Travel costs: Have you paid for transport to see your lawyer or get to a hospital appointment? Costs associated with your injury or your claim could be recovered as special damages.
If you have an expense but aren't certain whether it would be included within your motorcycle, scooter or moped claim, we could clarify this for you. It is crucial, however, that you keep proof of all expenses relating to your claim. Without evidence, you wouldn't be able to claim for them. Receipts, bills, bank statements and payslips could be used as evidence of such costs.
How Accident Claims UK Helps Accident Victims
Here at Accident Claims UK, we believe every victim who has suffered injuries in an accident that wasn't their fault should be able to find out if they could claim compensation. We provide free advice and guidance to claimants in a variety of different situations and offer free eligibility checks with no-obligation for claimants looking to find out whether they could be entitled to claim for their injuries.
If we believe that your motorcycle insurance claim could result in compensation, we could provide you with a specialist injury lawyer to claim for compensation on your behalf. We have successfully helped many claimants claim the compensation they deserve; why not let us help you too?
No Win No Fee Motorcycle, Moped And Scooter Accident Claims
Claiming compensation without help could be complicated and stressful, so many people feel it beneficial to use the services of a personal injury lawyer to help them with their claim. If, like some claimants, you are concerned about how to pay for such services, you may be pleased to hear that if you claim with a No Win No Fee solicitor, you would not be required pay them anything upfront to begin your claim, nor would you have to pay them throughout your claim. Instead, you would be required to sign a document referred to as a Conditional Fee Agreement. This promises to give your solicitor a success fee at the end of your claim, if it ends with a compensation payout. This small success fee is capped by law, and would only be payable in the event that the personal injury solicitor secured you a compensation settlement. If they didn't, not only would you not have to settle the success fee, but you wouldn't have to cover the lawyer's costs incurred while they pursued your claim.
If you would like to learn more about No Win No Fee claims or would like us to provide you with a solicitor who could work on your claim in this way, please don't hesitate to contact us; we'd be happy to help you.
Contact Our Team
Whether you're looking for legal representation for a motorcycle insurance claim, or you have questions about the claims process or your eligibility, we're here to help. You can get in touch by:
Calling 0800 073 8801
Emailing: office@accidentclaims.co.uk
Using our contact form
Or, chatting through our Live Chat Service.
We're ready to help you with your claim, so why not get in touch today?
Helpful Resources
Pedestrian Claims – If you have been injured by a motorbike as a pedestrian, this guide may be of interest to you.
Cycling Accidents – If you have sustained injuries in a cycling accident that was not your fault, you may find this guide of interest.
Motor Insurer's Bureau Claims – If you are unable to make a claim for your injuries because the at-fault party wasn't insured, this guide may provide some useful information.
Head Injuries – If you've sustained a head injury this NHS guide might be useful to you.
THINK! – The government's page on motorbike safety can be found here.
Government Advice On Riding Safely – Here, you can find information on safety for motorcyclists.
Article by JJ
Edited by MM.