By Joanne Jeffries. Last Updated 2nd September 2021. Our guide to accident claims solicitors covering Ashton-Under-Lyne can be found below. We explain why it's not necessary to use personal injury solicitors for Ashton-Under-Lyne claims that are based locally.
If you were involved in an accident caused by third party negligence and you have suffered physical or psychological harm as a result, you could be entitled to compensation. Our expert team of no win no fee accident claims solicitors covering Ashton-under-Lyne recognise there are a number of ways people can suffer from harm. Many of these could lead to a successful personal injury claim for compensation.
An accident may commonly result through someone else's negligent actions or a breach in the duty of care owed to you. For example, if another road user causes a car crash from reckless driving, the victim(s) could be eligible to make a personal injury claim for any harm in which they suffer.
This guide has been created to provide you with useful information about accident claims and how a personal injury lawyer could help you make a claim for your damages.
If you have any questions about the accident claims process or you are unsure about how to make accident claims in Ashton-under-Lyne, call our specialist team on 0800 0738 801.
Choose A Section
What Is An Accident Claims Solicitor Covering Ashton-under-Lyne?
An accident claim can encompass a range of different types, from tram accidents to slipping and tripping accidents. When making an accident claim, it is important to identify which party should be held accountable for your suffering. This could be for the negligence of a healthcare provider, another driver, an employer, a local authority or the owner of private premises.
With such a diverse range of incidents, it may seem daunting to bring a case forward with little knowledge about how personal injury claims work. However, our specialist accident claims solicitors covering Ashton-under-Lyne are highly experienced and dedicated to making the process as simple and easy as possible for our clients.
To ensure you have the best possible chance of successfully securing compensation, you may want to consider the expertise of an accident claim solicitor. Some of the many services which a solicitor could provide include:
A centralised estimation of your potential compensation pay-out through a personal injury claims calculator.
Assistance and expertise in collecting evidence to support your claim.
An accurate assessment of whether you hold a valid claim against the applicable accident claims time limit.
While many online services may provide you with a generalised estimate of your potential settlement and whether your claim is valid, our expert advisors could give you a more centralised estimation unique to your case. Call us today on the number above to discuss your case.
Vehicle And Traffic Accidents In Ashton-under-Lyne
While road traffic accidents were less common in 2020 than in 2019, this could be because of the pandemic. Below you can see comparison figures from both years.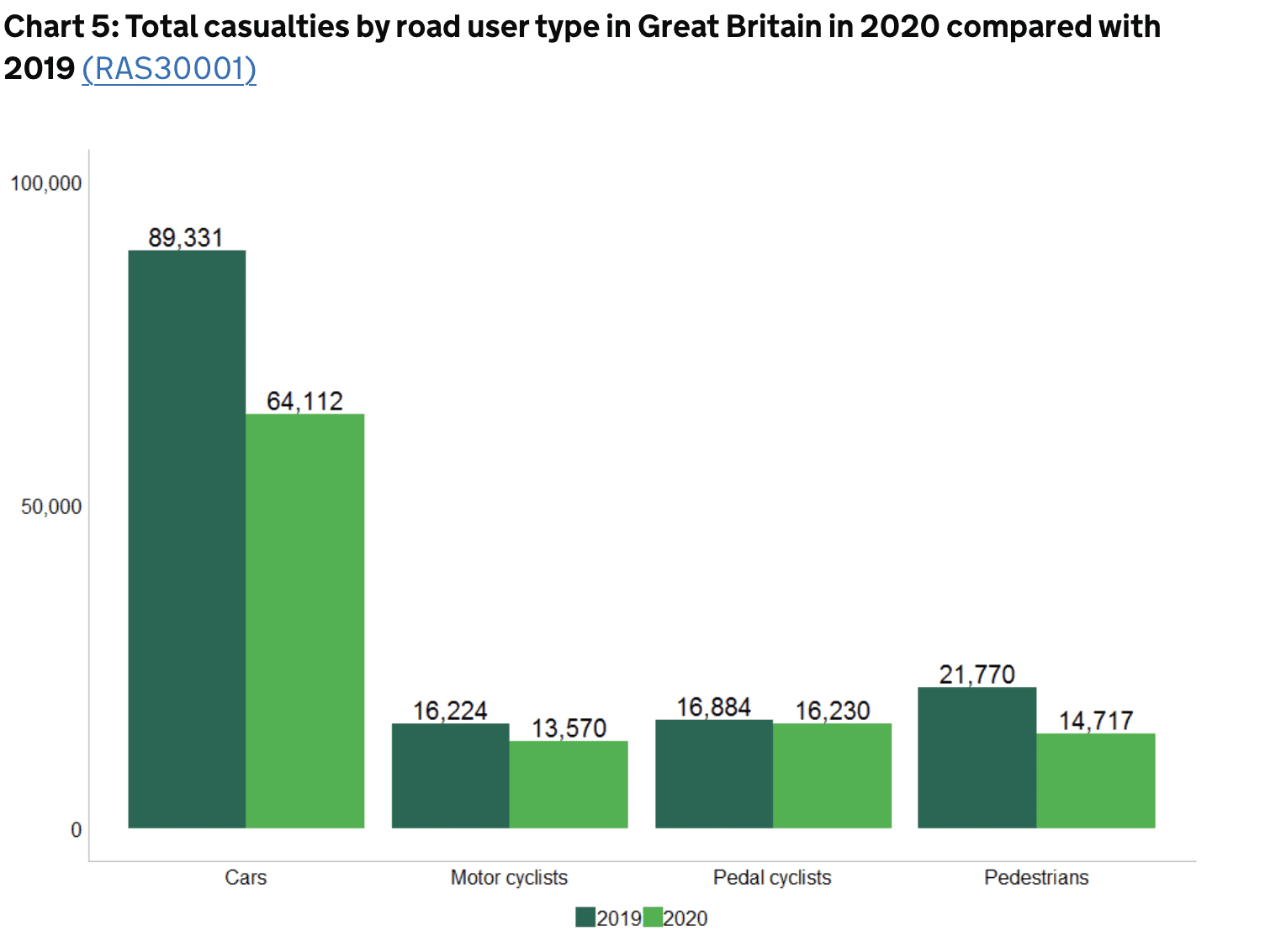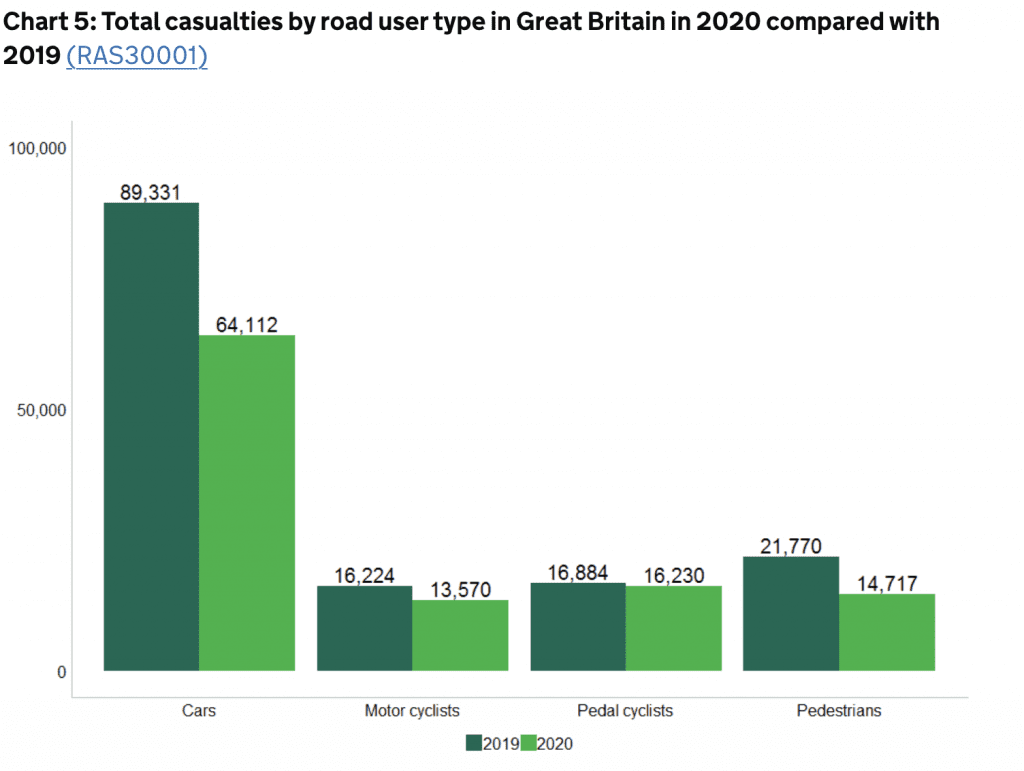 If you have been involved in a road traffic accident in Ashton-under-Lyne, your chief priority should be to ensure that you, any passengers and other drivers are safe. If another road user is driving recklessly, it could lead to car accidents, bike accidents or even motorway pile-ups. The result of such incidents could be severe injuries and complications for all those involved.
To ensure you are fully informed about road traffic accident claims, our specialist accident claims solicitors covering Ashton-under-Lyne could offer you a free, no-obligation consultation of your accident and how much compensation you could receive.
Slipping And Tripping Accident Compensation
Slip, trip and fall accidents are recognised by various organisations to be one of the most common ways in which people are injured across the UK. Under RIDDOR, 29% of non-fatal injuries reported at work were related to slip, trip or fall accidents in 2019/20.
A slip, trip or fall injury could be caused by numerous types of negligence, even potholes on the road that cause pedestrians to trip and fall while crossing could be considered as negligence. Before you begin your accident claim, you may need to distinguish whether your claim is of valid grounds. Below are some examples of what may be eligible for compensation in a personal injury claim:
Slips:
Wet/oily surfaces
Ill-maintained weather hazards
Occasional spills
Loose-fitting mats
Trips:
Loose cables/wires
Poor lighting
Potholes
Obstructed walkways
However, an accident claim is not limited to the list above and in certain cases it may be necessary for the trip or slip in question to fit the criteria of local authority guidelines. For example, the depth of a pothole may need to fit specific Council guidelines before it is eligible for compensation. To discuss these specifications in further detail, call one of our specialist advisors today.
Workplace Injury Statistics For Tameside
A workplace injury is not uncommon across the UK. In a report produced by the Health and Safety Executive, an estimated 693,000 non-fatal injuries to workers were self-reported in 2019/20.
The table below illustrates the number of fatal and non-fatal injuries suffered in the workplace in Tameside. This also includes the rate of injuries per 100,000 workers.
| Location | Total – Non Fatal Injures | Total – Non Fatal Injuries Per 100,000 Workers | Fatal Injuries |
| --- | --- | --- | --- |
| Tameside | 154 | 268 | 0 |
For additional information about these statistics, click here to download the PDF guide produced by the Health and Safety Executive.
Work Injury And Accident Claims
While work may not be the most enjoyable place for some people, an accident at work could cause major setbacks and unnecessary complications for the person harmed. Aside from physical injuries, a personal injury could cause stress at work too.
A workplace accident in Ashton-under-Lyne could present itself in a number of ways. This could be in the form of defective equipment or falling while working at height.
Your employer owes you a duty of care under various articles of legislation. If they ignore their responsibility and this negligence results in harm to an employee, an accident claim could be made.
Some of the steps an employer could take to avoid accidents at work include:
Generally upholding a safe working environment and providing safe equipment for employees to use.
Supplying necessary safety equipment to employees, such as personal protective equipment.
Training employees so that their job role can be conducted in a safe way.
As an employee can be harmed in a variety of different ways to individual degrees of severity, it's important to understand where you stand with your rights while making a personal injury claim. In any case, our team of accident claims solicitors covering Ashton-under-Lyne could help with your understanding of the accident claims process.
Clinical Negligence And Medical Malpractice
The term 'medical negligence' is used to describe a situation where harm has been brought to a patient as a result of a medical practitioner's failure to uphold reasonable standards of care. This could encompass most types of healthcare professionals, such as dentists, nurses, surgeons, residential care home staff or even Ashton-under-Lyne accident and emergency staff.
Any healthcare professional delivering treatment to a patient owes them a duty of care. This is the case with both public and private healthcare sectors, including private cosmetic practices.
If you have suffered from medical negligence within the last three years, you could be entitled to compensation. It may feel as though you are left in the dark with where you stand legally and the process of making an accident claim could seem quite daunting. However, we believe that nobody should be put off by the claims process. Our panel of accident claims solicitors are specially trained to support you every step of the way and take the weight off your shoulders.
To find out whether your case is valid under the accident claims time limit, contact our advisors today.
Criminal Injury And Violent Crime Claims
A victim of  violent crime could be entitled to receive accident compensation for physical and psychological harm. Our accident claims solicitors could help you claim compensation for deliberate harm that has come to you, particularly in criminal acts.
This could be through the Criminal Injuries Compensation Authority (CICA) that provides compensation for blameless victims of violent crime throughout the UK. You can find out if you, a friend or a family member is entitled to compensation under the Scheme by clicking here.
If you have suffered from a criminal injury then you may need to seek various rehabilitation services to aid your road to recovery. Although a settlement sum cannot undo the wrong done to you, it could help you reach out to private healthcare sectors for treatment. This could be for a physical injury, such as a broken bone, or psychological harm which is delayed in appearance, such as PTSD. In such cases, the accident claims time limit will begin from the moment you were diagnosed with the PTSD.
Public Injury Compensation
There are numerous different spaces encompassed under the term 'public spaces'. It could include, for example, a local park, a shopping centre, a leisure centre, the street or even a car park. If an injury was suffered in one of these spaces, it could be grounds for public injury compensation if the injury was the result of negligence. For the purpose of making a claim it must be considered any space where you can go as a member of the public.
Who the claim will be brought against is a question of whether it is operated by a public body or a private owner. The claim may be against a local authority responsible for the maintenance of a local park or a private company that manages a shopping centre.
If you have been harmed in a public place because of the local authority's failure to manage it correctly, contact our accident claim solicitors today.
No Win No Fee Accident Claims Solicitors Covering Ashton-under-Lyne
One of your chief concerns in the accident claims process after you've suffered an injury may be how you will finance your case. Although this part of the process may seem intimidating, one of the most affordable ways in which you could settle your legal fees is to do so through a no win no fee agreement.
A no win no fee solicitor operates under the conditions that their legal fees will only be paid by the claimant if the case is successful. If, for whatever reason, their claim is unsuccessful, the client will not be held responsible for their solicitor's fees.
We offer no win no fee agreements to the majority of our clients. Call us today to find out if you are eligible.
Speak To Accident Claims UK
We hope this guide has helped you decide whether you are entitled to compensation under an accident claim and whether you would like to use legal services to make a claim. You may be wondering what to do now that you are ready to make a claim.
Your next step should be to contact one of our specialist personal injury solicitors to find out how you can make accident claims in Ashton-under-Lyne. Our team of advisors are expertly trained in helping claimants successfully receive a settlement for a range of accidents. Whether you are looking to make a tram accident claim or compensation for a car crash, our accident claims solicitors could help.
To begin your claim, call us on the number at the top of this guide or click here for further options.
Questions And Answers Section
Below are answers to the most common questions our team have been asked in their experience. If you find that your question is not listed below, you can speak to an advisor by calling the number at the top of this guide.
Do I Have A Compensation Claim?
You could be entitled to claim accident compensation if your injuries were caused by third party negligence. In such cases, the services of a personal injury solicitor could be the difference between a successful claim and a missed opportunity for a settlement.
With up to three decades of experience under our belts, our accident claims solicitors covering Ashton-under-Lyne could help you make a rewarding claim. Our lines are open 24/7 with advisors always at the ready to take your call.
Will My Accident Claim Solicitor Be In My Area?
There's no need to limit your online search to 'Solicitors near me'. An accident claim solicitor can contact you by a number of methods to ensure you are kept updated with the progress of your claim. Some of the most common include telephone, post or secure emailing. You may benefit from the expert services of another legal firm based elsewhere rather than choosing one for location alone.
Will I See A Doctor For A Medical Examination?
A medical examination could provide crucial evidence to your claim, which is why it's important to see a doctor for a medical assessment. The purpose of this report is to detail the extent of your injuries, how they have affected your life and what treatment you may require.
A doctor from our panel of healthcare professionals will write this impartial report and it will be used as substantial evidence to support your claim.
Will My Doctor Be In My Area?
We work with a panel of healthcare professionals who are perfectly capable of conducting your medical examination. In Ashton-under-Lyne, this panel includes:
Muhammed Javed
West Pennine Consulting Rooms,
Pennine House,
Ashton-under-Lyne
OL6 9SE
Sam Al-Jafari
2nd Floor Boots The Chemist,
32 Market Street,
Manchester,
M1 1PL
Stephen Grant Charlesworth-Jones
2nd Floor Boots The Chemist,
32 Market Street,
Manchester,
M1 1PL
Could accident claims solicitors covering Ashton-Under-Lyne all offer the same services?
As we have previously mentioned, having the choice of personal injury solicitors covering Ashton-Under-Lyne from all across England and Wales could open up your choice of law firms and solicitors significantly. However, not all solicitors offer the same service. So how do you make a choice with all these options open to you. Your solicitor could have a significant impact on how successful your claim is. They could be the difference between your claim failing and you claiming the maximum compensation possible for your case. Aside from checking that they are authorised and regulated by the Solicitors Regulation Authority, SRA, you might want to ask questions such as those below when narrowing down your search:
Do you have many years experience? What kind of claims have you handled in the past?
How successful have your solicitors been with past cases?
What have your other clients said about your service? Do you have any independent reviews you could show me?
Do your solicitors work on a No Win No Fee basis, and could you check my eligibility to claim free of charge?
Would you keep me updated on the progress of my claim throughout?
Could you give me free legal advice with no obligation to use your services?
Why not call our team to ask us these questions. We're sure our answers will give you peace of mind that we could represent a good choice for your claim.
Could accident claims solicitors covering Ashton-Under-Lyne assist with data breach claims?
Has an organisation breached your data privacy? Whether it was your employer, a healthcare provider, an educational establishment such as a school or university, or a financial institute or local council, this could cause you harm. If you could prove you have been harmed by a data breach, and a data controller had done something wrong in breaching your data, you could claim compensation. Under GDPR and the Data Protection Act 2019, you could be eligible for compensation for both financial (material) and emotional (non-material) damages.
Whether the cause of the breach was your employer sending your payroll information to an unauthorised third party in error, or they failed to secure data held online in the cloud, we could assess your case to see if you could be entitled to claim compensation. We could help you claim for psychological injuries, the cost of fraud or identity theft, and even reputational damage in such cases.
Ashton-under-Lyne And Tameside Area Resources
Reporting Accidents, Incidents And Diseases
How to manage health and safety incidents effectively
Tameside Metropolitan Borough
Latest news and information about your local borough council
Greater Manchester Police
Report a road traffic accident
Manchester County And Family Court
How to find a court and tribunal in your local area
Manchester Whiplash Claims
How to make accident claims for whiplash injuries in Manchester
Death In Medical Negligence
What procedure to take for wrongful deaths in medical negligence.
Our guide to accident claims solicitors covering Ashton-Under-Lyne is now complete. We've now explained why it's not necessary to use personal injury solicitors for Ashton-Under-Lyne claims that are based locally.