By Joanne Jeffries. Last Updated 14th September 2021. Welcome to our guide covering accident claims solicitors for Blackburn cases. Hopefully, this guide will help you understand what claims personal injury solicitors covering Blackburn could help with.
Suffering an injury could be extremely distressing, no matter how major or minor. Whilst we cannot turn back time, we could help to get you the compensation you deserve for your avoidable injuries. In this guide, we aim to provide you with all the information you might need to know in regards to making accident claims in Blackburn.
The first thing you might need to do is determine whether you have the basis for a successful accident claim. How do you do this? Well, you could ask yourself the following three questions:
Was I caused an accident by a breach in the care of duty owed to me?
Did the preventable accident cause me to suffer unnecessarily?
Did the accident happen within the last three years?
Regardless of the accident or even the injury generally in order to have the basis for a personal injury claim you must have suffered due to the negligent actions of a person, business or other entity that owed you a duty of care. There must be a breach of this duty which lead to the incident causing you an injury or illness that could have ultimately been prevented.
There is also a personal injury time limit that must be adhered to. In most cases you have 3 years from when the incident took place to file a claim. Sometimes those injuries that are caused are not always obvious so in cases such as this you will have 3 years from the date of discovery. There are other exceptions so please call for further advise on time limitations. A trained solicitor could advise you regarding the likelihood of a successful claim.
You might wish to get in touch with Accident Claims UK. We have a free legal helpline available. You could find the details at the end of this post. We could provide you with further clarity regarding the strength of your case. If we believe you could proceed, we may then put you in touch with one of our panel of no win no fee personal injury solicitors. All of the solicitors on our panel work on a no win no fee basis. This may ensure you do not need any money to begin your personal injury claim.
Choose A Section
What Is An Accident Claims Solicitor Covering Blackburn?
Have you suffered a personal injury through no fault of your own? Did you trip on a broken pavement? Have you suffered an injury because of an assault in Blackburn, Lancashire? Have you been diagnosed with vibration white finger because of the continuous use of hand-held machinery at work? Did someone crash into you whilst you were riding your bicycle and cause you to fall? No matter what has happened to you, if you have suffered because of someone else's error or dangerous behaviour, you could be entitled to make a compensation claim. Although a personal injury solicitor is not a legal requirement when pursuing accident claims we always advise claimants to use one to maximise their chances of securing compensation. So, what qualities might you be looking out for?
Experience – You might not want to be someone's practice project. You may want to be safe in the knowledge that the personal injury lawyer has provided their services successfully many, many times before.
No win no fee – A no win no fee service comes highly recommended. You won't have to pay a penny to begin your case, nor will you have to pay your solicitor if your claim is unsuccessful. This may also guarantee you benefit from a high-quality service.
Good reputation – One of the good ways to determine the worth of a law firm or individual may be to read reviews that have been left by previous clients. If there are any red flags, this might be something you could easily be able to pick up on. It could be a good choice to look on independent websites though to check the reviews were genuine
If you were involved in a hit and run accident, an accident at work, or would like to make North West clinical negligence claims for negligent medical care, our professional service could help you get the compensation you deserve. Read on to find out more.
Rates Of Occupational Injuries In Blackburn with Darwen
Below, you could look at how many people have been injured in the workplace in Blackburn with Darwen.

| Location | Total - non fatal injuries | Total - non fatal injuries per 100,000 workers | Fatal injuries |
| --- | --- | --- | --- |
| Blackburn | 173 | 267 | 1 |
Source for the information in this table
.
You could also claim for work-related illnesses. You can see the HSE's 2019/20 statistics for these types of illness below.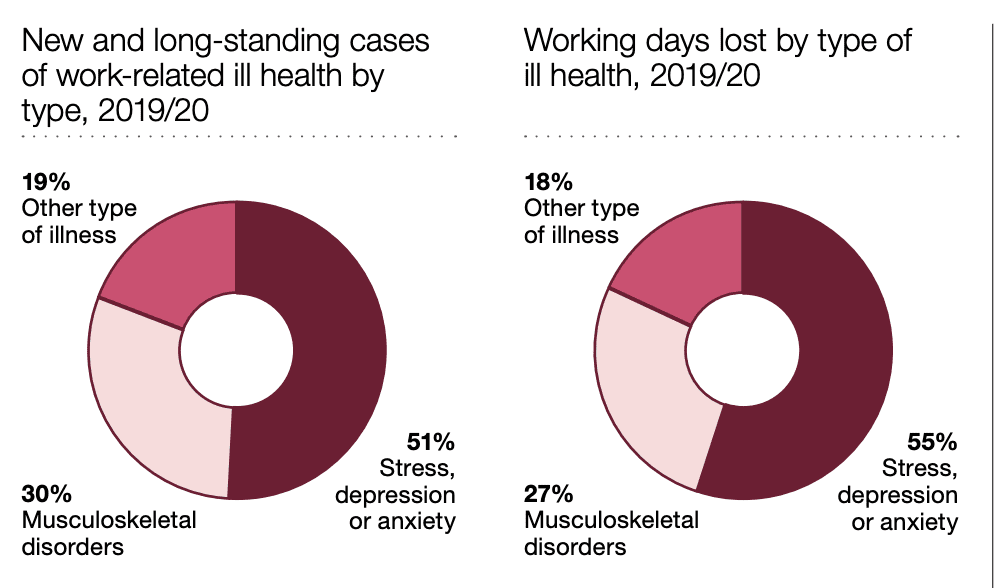 Work Accidents And Occupational Injuries
Injuries in the workplace could happen frequently. Indeed, there may be working environments that are more dangerous than others. However, accidents could occur in all work areas if there is a lapse in health and safety procedures. A common workplace injury could be repetitive strain injury and this is typically caused by doing the same activity over and over again. There are ways to prevent such injuries from occurring, so it is vital that employers are aware of who is mots at risk so that their work can be assessed and preventative measure put in place.
One of the main reasons why people may fail to use the services of a personal injury solicitor is because they don't even realise they have a case, to begin with. This might be because they don't know that 'personal injury' may encompass a vast scope of incidents. The following is a mere handful of those that could fall under work accidents and occupational diseases:
Poor health and safety
Vibration white finger
Industrial deafness
Construction accidents
Industrial injuries and diseases
For a claim to be made it must be proven that an employer has acted in a negligent way and could have through policies, procedures, healthy and safety prevented the harm that has been suffered. As you might be able to see, workplace incidents leading to injury could take place in a whole host of different ways and they could occur in an array of environments.
Car And Other Road Traffic Accidents
From car crashes to motorbike accidents, any type of road traffic accident could be traumatic and stressful. Unfortunately, these kinds of accidents may occur regularly. However, if you do experience a road traffic accident and it was not your fault, you could be entitled to compensation for any injuries you have suffered. Nevertheless, to ensure you receive the full amount you are entitled to, you could make your case as strong as possible by providing your accident claims solicitor with everything they need.
There are some actions you may need to take then and there, i.e. immediately after the incident, if you want to have the best chance of successfully filing your claim you may need to firstly, get the details of the person responsible for the incident. Secondly it may be a good idea to photograph any visible injuries and the accident scene before the vehicles are moved. Get details of witnesses thirdly as impartial statements can really help to strengthen your case. This can only be done if you have not suffered injuries that do not need emergency medical treatment.
In most instances, drivers may be covered by their insurance. However, there may, of course, be incidents whereby the driver 'does a runner'. What happens then? You may be able to make an 'untraced driver' claim. Nonetheless, if you can obtain details, it could support in reporting the incident and making a claim.
This is usually the most difficult part, as it could be hard to think on your feet when something so shocking has happened. After this, it could be important to document all of the expenses you have experienced directly because of your accident. Many costs could arise because of a personal injury. For instance, you may be unable to work due to your injury, and thus you could make a special damages claim for loss of income. Aside from this, there could be medical expenses, potential travel costs, accommodation expenses, childcare bills and so forth. You may wish to keep any documents that are relevant to this.
Medical Negligence Injuries
You may also be able to claim if you have been the victim of medical negligence. This means that a medical professional may have acted in a negligent way that has caused you to experience an avoidable illness or preventable injury. Medical negligence could potentially occur if a medical professional allows their standard of service to fall below the minimum requirements that are expected, if this happens a patient maybe neglected and be caused to suffer harm that could have otherwise been avoided.
Accidents Involving Falling, Slipping And Tripping Over
You may also want to claim if you have experienced a slip, trip or fall accident which was not your fault but caused you an injury. Such accidents, due to the vast amount of causes could happen almost anywhere. Those who are injured through a slip, trip, or fall would not all necessarily qualify for compensation. To be eligible to make a claim for damages it would need to be proven that a third party who owed you a duty of care to ensure your health and safety where possible was responsible for the incident taking place. Examples of causes of slip, trip and falls could potentially include; wet and oily floor surfaces, raised and damaged paving flags, pot hole, obstacles in walk ways etc.
Criminal Injury Victim Compensation
If you are interested in securing criminal injury victim compensation, the process could be slightly different. This is because you are going to be making the claim to the CICA (Criminal Injuries Compensation Authority), and so the accident claims time limit may typically only be two years. However, it is important to note that time limits may vary as victims of particular crimes might experience psychological trauma which could necessitate exceptions of the typical time limit.
Indeed, there is a range of factors which could determine the processes and outcomes of a criminal injury claim. You may worry that you cannot claim because the criminal has not been caught. However, this might not impact your claim.
Public Liability Claims
You may also want to make a public liability claim. A public liability claim maybe possible if you have suffered an injury or been made ill due to a breach in the duty of care that is owed to you the public when using public areas. A public space can encompass as a place where the public can go without needing permission even if they have to pay an entrance fee. A public place could consist of; a public park, pavement area, car park, gym, leisure centre all of which may be run by the local council. However a public space could also include a restaurant, supermarket, private child play centre, cinema and much more. If you are injured on such premises through a lack in health and safety measures please contact our team as you may have the basis for a personal injury claim.
No Win No Fee Accident Claims Solicitors Covering Blackburn
Once we have assessed your case, we may match you to a specialist no win, no fee solicitor from our panel. They could handle the case for you; ensuring stress is minimised as much as possible for you. The benefits of using a no win no fee personal injury lawyer could be vast. You may not need any money to begin your accident claim. Moreover, you could reduce the financial risk that may be associated with going down the traditional route. Also, your solicitor may directly be impacted by the result of your claim so you could be sure they are working hard to secure compensation.
How Do I Start A Claim?
All you need to do to get started is to get in touch with the team at Accident Claims UK. You could call our accident claim helpline on 0800 073 8801 to speak to a no win no fee solicitor. We are happy to answer accident claim calls from those who are simply looking for advice and are not sure whether to make a claim or not, so please do not hesitate to get in touch.
Questions And Answers
How Could A Solicitor Assist You?
It may not be wise to take the risk of trying to make a personal injury claim without the assistance of a solicitor. While it is possible to do this, you could put yourself at a serious disadvantage and you could end up missing out on accident compensation. After all, the accident claim solicitor on the other team might exploit this. You might need a personal injury lawyer with experience who could help you to navigate the personal injury claims process, providing the accident claims management you might need.
Do I Need To See A Local Solicitor?
A lot of people might assume that their only option is to select a personal injury solicitor from the selection of accident claims solicitors in Blackburn that is available. This is why they might look for the likes of 'car accident solicitors near me' online. However, you might not need solicitors that are based in Blackburn. You could simply need accident claims solicitors covering Blackburn. This is exactly what our panel of accident claims solicitors covering Blackburn do, as we provide a nationwide service.
Do I Need To See A Doctor?
You will need to see an independent doctor as part of a full personal injury claim as this could be an important part of gathering evidence to support a claim. Ideally there will be a record of you receiving medical attention also shorty after the incident which will strengthen a claim. We always advise that after any accident resulting in injury you seek medical advice.
Where Could I Be Examined By A Doctor?
We work with a panel of doctors covering Blackburn. This includes:
Warwick Brindley
The Consulting Rooms
Blackburn Enterprise Centre
Further Gate
Blackburn
BB1 3HQ
Farkhanda Akhtar
Blackburn Enterprise Centre
Furthergate
Blackburn
BB1 3HQ
Mohammed Ahmad
Brookhouse Medical Centre – Blackburn
Whalley Range
Blackburn
BB1 6EA
Could accident claims solicitors covering Blackburn help with a wrongful death or fatal accident claim?
Sadly, this is a question that our personal injury solicitors covering Blackburn are all too familiar with. In cases where someone has lost their life as the result of someone else's dangerous behaviour or negligence, we could assist with claims made from a dependent or family member, or the estate of the deceased, for example. Whether the person in question passed away in a road accident that was not their fault, in a workplace accident, an accident in a public place or due to assault or medical negligence, we could assist. We know making claims like this could be somewhat traumatic. However, although the compensation you receive could not ever replace your loved one, it could help you face the future with fewer financial worries. A compensation award could include funeral expenses for the person who has passed away. It could also include a bereavement award, compensation for their pain and suffering prior to their death, and even financial compensation for the loss of household income. To speak to our team about making a claim for someone who has passed away due to the negligence of a liable party, please call us. We promise to handle your claim with all the sensitivity it deserves. Our specialist solicitors could fight for the maximum compensation possible for your claim. They are all authorised and regulated by the Solicitors Regulation Authority.
Claiming on behalf of a child, could accident claims solicitors covering Blackburn help with this?
Was your child injured as a passenger in a car accident that was someone else's fault? Or, were they injured at school or in a public place? If so, did you know it could be possible for you to make a compensation claim for them. You would have until they turned 18 to do so. You would be acting as their litigation friend, making case decisions for them. Alternatively, you could hold off claiming and allow your child to make their own claim once they turn 18. However, there could be some issues with collecting evidence once time had passed, so this is a decision you might want to think carefully about. We would be glad to offer you some free legal advice on such claims, and this could help you decide on whether to use our solicitors on a no win no fee basis, or whether to wait and let your child claim.
Additional Resources
This accident claims solicitors covering Blackburn guide has now revealed why you don't need local personal injury solicitors for Blackburn claims. We hope you've found it useful.