By Jo Anderson. Last Updated 14th August 2023. In this road traffic accident claims guide, we'll explain the different requirements and steps involved when seeking compensation for road accidents. We'll also look closely at specific scenarios relating to road traffic accident compensation claims and explain when you could be eligible.
It's important to remember that behind the facts and figures relating to road traffic accidents are people. In this guide, we'll explain how our personal injury solicitors can provide you with free legal advice and support if you've been injured in a road traffic accident.
This guide takes an in-depth look at what you can do if you are involved in a road traffic accident that was not your fault. If you have been involved in a road traffic collision on a UK road as a driver, passenger, pedestrian, cyclist, horse rider or in any other way, this guide from Accident Claims is for you.
And like we said, if you're looking for free legal advice on road traffic accident claims, our personal injury advisers are on hand to provide it. You can speak with them day or night in any of the following ways:
By calling us on 0800 073 8801
Writing to us about your case
Or chat with us now about what happened in your road traffic accident using our live chat
Select a Section
Claiming Personal Injury Compensation After a No-Fault Road Traffic Accident
A road traffic accident, regardless of how it happened, is a stressful, traumatic and inconvenient incident to experience.
It could mean minor damage to your car or it may mean it is written off. It could mean your bicycle is damaged beyond repair or a broken headlight fixed on your motorbike. And it could mean you're injured. From a whiplash injury to a broken leg, to experiencing Post-Traumatic Stress Disorder (PTSD) and anxiety, the fallout could be significant.
Things can be repaired, cars and bikes replaced. But what you? What about the damage – the injury or injuries – to you?
Road Traffic Accident Compensation Claims – Looking After The Victims
When accidents happen, it may feel like no one is to blame and it is just one of those things. But if you have to bear the consequences, physically and/or emotionally, as a result of a catastrophe that was not of your doing, it doesn't seem fair.
Claiming personal injury compensation has been enshrined in UK law for some time. In recent years, with the help of no win no fee road traffic accident claims specialists such as Accident Claims, more people are claiming the compensation they are entitled to.
If you have been hurt in a road traffic accident that was not your fault, whether as a motorcyclist that flips onto a car or a motorist in an HGV accident, this guide is for you. It talks through the process of how to make a claim, what you need to know about the process and how a reputable company such as Accident Claims are the right people to turn to.
Remember, if you have any questions or would like to proceed with your case, our personal injury claims team is on hand to help you. Call them any time, day or night, to get the free legal advice you need.
Road Traffic Accident Claims – What Do I Need?
If you've been injured in a road traffic accident, you may wish to make a personal injury compensation claim. To do so, you'll need to gather evidence, like the responsible driver's name and insurer, and the date and details of the accident. Then get in touch with a solicitor about road traffic accident compensation.
How Long Does A Road Traffic Accident Claim Take?
The table below shows the average length of time it can take to settle a road traffic accident claim:
| Type of road traffic accident claim | Average claim duration |
| --- | --- |
| Defendant has admitted liability | 4 to 9 months |
| Defendant has admitted liability but injuries are still healing | Will depend on the recovery period as advised by medical professionals. |
| Defendant has disputed liability | 12 to 24 months+ |
| Defendant has denied liability | 12 to 36 months |
Please note, the times given above are estimates only. How long a road traffic accident claim takes to settle will depend upon the complexity of the case, the availability of evidence and the severity of injuries. It will also depend on whether the claim is processed through the Ministry of Justice Claims Portal.
For more free legal advice on the length of time road traffic accident claims can take to settle, please get in touch with our personal injury advisers.
What Is A Claim For Compensation After An Accident That Was Not Your Fault?
At Accident Claims, we help people to make compensation after they have been injured in an accident that was not their fault. In this guide, we will look in detail at victims hurt in road traffic collisions.
Road traffic collisions are not unheard of on UK roads. With increased safety specifications, many of the road traffic collisions involving vehicles thankfully result in non-fatal injuries. Also, many of these injuries are minimal too, meaning the biggest category of injuries as a result of collisions on our roads are minor. This doesn't diminish the physical or emotional trauma of being hurt in a car accident, which can be significant even when injuries are defined as 'minor'.
Safety on our roads is affected by several factors;
Increases in the distances we travel – for example, when the economy is in recession, people may have to travel further to find work and the statisticians have found that this can increase the number of accidents on our roads.
A mix of travel modes – we don't just travel by car. For example, the cost of insurance, fuel and tax on cars has meant more people looking to mopeds or motorbikes as a means of transport. The fatalities and serious injuries for motorcyclists and cyclists are the only groups to have shown a small increase in injuries, possibly because there are more of us choosing to use this mode of transport.
Behaviour – busy roads, congestion, stop/start traffic affects out patience and with lack of empathy from drivers to cyclists and vice versa, there is some suggestion that diver behaviour of all vehicles can also contribute to accidents.
A mix of drivers – from learner drivers to older drivers, the mix of drivers on the road in terms of age, experience and so on is more diverse than in previous years.
External effects – from testing new road materials to the weather, there are many external factors that can affect how our vehicles cope on the road and can be an underlying cause of many accidents.
Road Traffic Accident Claims Statistics
Let's take a look at some detailed statistics on road traffic accidents, recently published by the Department for Transport.
In the year ending June 2021 there was a total of 119,850 casualties of all severities resulting from road traffic accidents according to provisional figures. Although this is a little lower than 2020, the figure is still staggeringly high.
Of the above figure, 23,140 people were seriously injured, and tragically, 1,390 people died on the road.
95,320 people suffered slight injuries, which could include the likes of whiplash, cuts and bruises.
Below, we've put together a number of useful tables and graphs which illustrate the number of injuries sustained according to different types of severity of injury.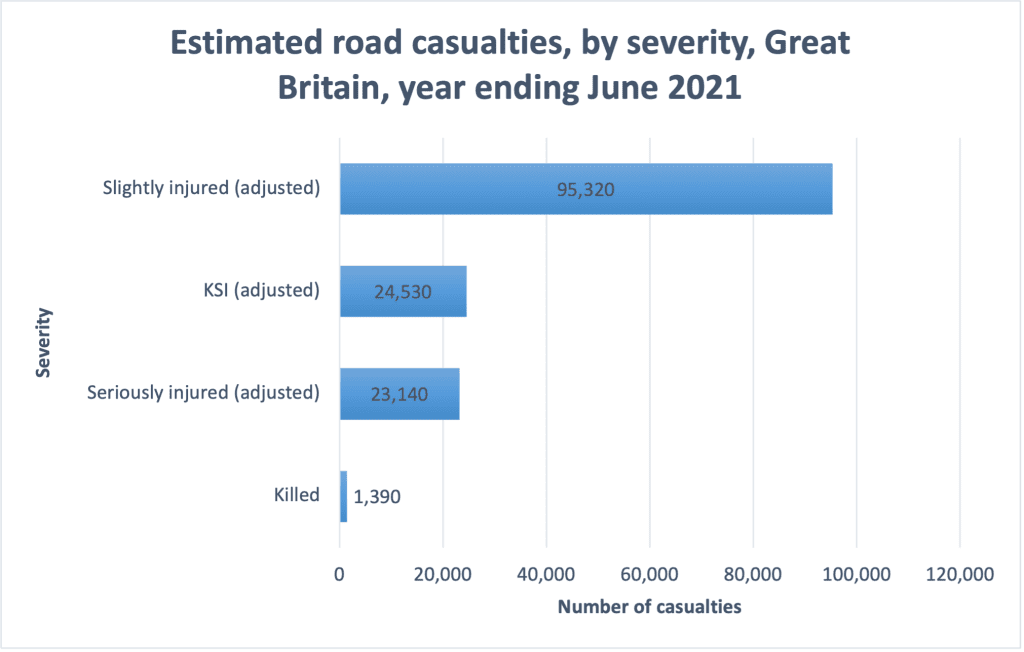 Collecting Evidence In A Road Traffic Accident Claim
The police don't attend every road traffic accident, especially those that are considered minor prangs, but they do report the accidents they attend. The information reported is limited and so it is hard to pinpoint with any accuracy one specific reason why accidents happen.
This is why each one is judged on individual circumstances – what happened? Who did what? Why they did that? – and the police create their report from this. And this could shape the road traffic accident compensation that you may claim for.
Of course, if you have been hurt in a road traffic collision, you will have a firm idea of what happened and who was at fault. It may be that the police are prosecuting other parties for their part in the accident thus, fault – also known as a liability – has been apportioned.
Or, you may have been involved in an accident in which liability is contested – in other words, the other driver is denying responsibility. In either circumstance, our team may be able to help and support you in claiming the compensation you deserve.
To learn more about road traffic accident claims and collecting evidence, please speak to our personal injury advisers today.
What Should You Do If You Are Involved in a Road Traffic Accident?
The police collect information they need to report someone for prosecution and so you may need to collect additional information and evidence from the scene of the accident if you are able to do so.
You may give a statement to the police and it is also important to write down the key facts of what happened for use as part of your personal injury compensation claim. Make notes on the weather conditions, where you were when the accident happened, what happened before and after the crash, who came to help and so on.
It can help to draw a map or diagram of the accident too. Do this as soon as you can after the accident so that you record as much information as possible.
If you can, collect the names and contact details of any witnesses. Their statements of what happened will be invaluable in your claim for personal injury compensation.
Few of us are without a mobile phone with a camera and so, make it work for you by taking photographs of the scene and the surrounding area. Some people also take photographs of their injuries too, so that the physical effects of them can be seen.
Pass on all this evidence and information to your team here at Accident Claims too, including the police report number, a key piece of information in tracing the case in the legal system.
To find out more about what you can do to help support road traffic accident claims, just get in touch for free legal advice.
What Makes Up a Road Traffic Accident Compensation Claim?
At Accident Claims, we are proud of the client-centred service that we offer. We start each case in the same way with a free consultation appointment. We carry this out over the phone and is a fact-finding exercise. This is why it is important to gather as much information together as you can before you talk to us. With this information to hand, we are able to assess your claim, giving you options as to the next steps open to you.
How Are Road Traffic Accident Compensation Claims Calculated?
If you have a claim for personal injury compensation after a road traffic accident that was not your fault, you will be interested to know how compensation settlements are arrived at.
Before we discuss potential payout amounts when making a claim for a road accident, we'll break down different types of damages and expenses which could potentially be covered when making a personal injury compensation claim. Road traffic accident claims may provide compensation for:
General damages – this part of the settlement covers injury, pain, mental anguish and other 'general' damages.
Special damages – This could include the following:
Care costs – you may have been badly hurt which necessitated a family member taking time off work to look after you or you may have needed professional care at home. These costs are reimbursed too.
Medical expenses – there are some treatments and therapies you may have had to pay for. In England, this could be the cost of prescriptions too.
Travel expenses – any appointments you had to pay to get to which are related to your accident and injuries can also be reimbursed. Keep receipts of everything that you think you may be able to claim.
Loss of earnings – if you can't work after your accident in the short or long term, you can claim this too.
Future loss of earnings – it may be that as a result of your injuries, you return to work part-time or not at all. If this presents a serious hardship for you, you can claim future loss of earnings too.
It may only be possible to claim for special damages through a personal injury claim if you're eligible to claim for general damages and you have the appropriate evidence to show your losses relate to your injury.
As part of our initial fact-finding session with you, we ensure that we get all the information needed to cover these six categories of your personal injury compensation claim. To discover what else you can include within road traffic accident claims, get in touch.
Road Traffic Accident Compensation Payouts
The value of road accident claims can depend on a few different factors. For instance, it can be affected by the nature of the injury itself. Additionally, how severe the injury is may also affect the value. These would both be considered when calculating general damages, for your pain and suffering.
Due to the number of factors that can impact how much compensation for road traffic accident claims you could receive, legal professionals make use of a few different resources to assist them in their calculations. When your general damages are being calculated, professionals in the legal field make use of the Judicial College Guidelines (JCG) as part of this process. This publication was last updated in 2022. We've included some examples taken from the JCG in the table below. This should give you a rough idea of the value of the general damages portion of road traffic accident claims.
| Injury | Description | Compensation Award |
| --- | --- | --- |
| Arm Injuries (Severe) (a) | Severe injuries to the arms | £96,160 to £130,930 |
| Arm injuries (b) | Injuries to the arms resulting in substantial or permanent disablement | £39,170 to £59,860 |
| Arm Injuries (Less Severe) (c) | Less severe injuries to the arms | £19,200 to £39,170 |
| Back Injuries (a) | Severe injuries to the back | £38,780 to £160,980 |
| Back Injuries (b) | Moderate injuries to the back | £12,510 to £38,780 |
| Back Injuries (c) | Minor injuries to the back | Up to £12,510 |
| Shoulder Injuries (a) | Severe injuries to the shoulder | £19,200 to £48,030 |
| Shoulder Injuries (b) | Moderate injuries to the shoulder | £7,890 to £12,770 |
| Shoulder Injuries (c) | Minor injuries to the Shoulder | Up to £7,890 |
You may also be able to claim special damages. These are amounts that can reimburse you for certain costs and expenses associated with your injuries such as a loss of earnings or medical expenses.
Alternatively, head to our online compensation calculator for an estimate of your claim. Better yet, speak to us directly. Get in touch at any time for an eligibility check and personalised evaluation.
No Win No Fee Road Traffic Accident Claims
If you are eligible to claim compensation for a road traffic accident, you may wish to get professional help with your claim. Using a solicitor means you can get assistance with gathering evidence to support your claim. Your solicitor could also negotiate with the liable party for an appropriate compensation settlement.
One of our solicitors could offer to work on your case under a No Win No Fee arrangement, such as a Conditional Fee Agreement (CFA). Under a CFA, you would not have to pay the solicitor upfront or throughout the progression of your claim for the services they provide.
Instead, they would deduct a legally capped percentage as their success fee from your compensation. If the claim failed, and there was no compensation payout, you would not have to pay this fee.
If you have questions about working with a solicitor via a No Win No Fee agreement, or you would like to discuss road traffic accident claims in more detail, you can contact an advisor. To do so:
Helpful Links Relating To Car Accidents And Motorcycle Personal Accident Cover
Thank you for reading our guide to road traffic accident claims and motorcycle personal accident cover. We hope you've found it useful.
In this final section, we've included links to some other guides you may find useful, as well as answers to some commonly asked questions.
A guide to soft tissue injury known as whiplash, a common injury after an impact or collision.
Compiled annually by the UK Government.
Compiled by the Department of Transport, it compiles data of accidents across the UK transport network included accidents involving buses and trains.
What to do in the event of a cycling accident
Our complete guide to bus accidents.
Head here for our complete guide to whiplash injury claims.
Do you still have any questions about road traffic accident claims? Or perhaps you have queries about related topics such as how much compensation for a road traffic accident may be offered for your claim? You can speak to one of our advisors either online or on the phone for help if you get in touch using the contact details found in this guide.