By Joanne Jeffries. Last Updated August 27th 2021. Welcome to our accident claims solicitors covering Cannock guide. We hope to explain why personal injury solicitors for Cannock claims don't have to be based in the area.
Accidents which are caused by someone else's negligence are, at best, frustrating. At worst, they can lead to serious injuries which can affect your daily life and work commitments. In these cases, you might want to seek compensation for your injuries and the inconvenience they've caused. That's when you could turn to accident claims solicitors covering Cannock to help you with your claim.
Accident Claims UK aren't based locally but could help with accident claims in Cannock. If you'd like to discuss how we could help you make a claim, please call 0800 073 8801 today.
If you want to know more before contacting us, please continue reading.
Choose A Section
What Is An Accident Claims Solicitor Covering Cannock?
There are many different types of accidents and injuries which could lead to a compensation claim being made. They could include an accident in a public place, slip and fall accidents at work or compensation claims following criminal injuries. For any type of claim to be made, you'll need to be able to demonstrate:
That the person or company who caused the accident owed you a duty of care.
They breached the duty of care which led to an accident.
You were made ill or suffered an injury in the accident.
For criminal injuries this criteria does not necessarily apply. Furthermore, your claim will need to have happened within the accident claims time limit of 3 years. Alternatively, the 3 years can start from the date you were made aware of your injuries. There are exceptions for more information please contact our team.
Accident claim solicitors may handle cases differently, but you should try to ensure you get all of these services:
An initial assessment of your claim – for free.
Help with collating any supporting evidence of your accident and injuries.
Making contact and dealing with the defendant so that you don't have to do it.
Advice on what to do if you receive a compensation offer.
It is very rare for a compensation claim to lead to a court case but, in the rare cases that it does, your solicitor should represent you there too.
Our panel of accident claims solicitors offer all of the above on a no win no fee basis. Please call to discuss how we could help you make a claim.

Work Injury And Accident Claims In Cannock
Any employer in the UK has to abide by the Health and Safety at Work Act 1974. This places a duty of care on the employer to protect staff while at work. To meet this duty of care, they need to assess the workplace and make the necessary changes to reduce the risk wherever possible.
As an employee you should:
Know about the workplace health and safety policy.
Be trained fully in your duties.
Have personal protective equipment available to you when needed.
Only work with machinery or equipment that's fit for purpose, well maintained and fault-free.
If you're injured at work because any of the above hasn't happened, you might be able to claim compensation against your employer. Don't worry though, under the law, they can't treat you differently for making a claim. This also means they can't discipline you for making a genuine claim against them.
If you'd like to begin a claim for compensation following a work accident, please call one of our specialist advisors.

Rates Of Injury In The Workplace In Cannock
To demonstrate the number of accidents at work that happened in Cannock over the years, we've provided the table below. The table references Cannock Chase which is the reporting area that includes Cannock town.
| Location | Total - Non Fatal Injuries | Total - Non Fatal Injuries per 100,000 workers | Fatal Injuries |
| --- | --- | --- | --- |
| Cannock Chase | 115 | 287 | 0 |
To compare the data with other areas within the UK, you can see the full report here.

Unfortunately, some accidents result in fatal injuries. Below, we reveal 2020/21 statistics from the HSE on the industries most badly affected.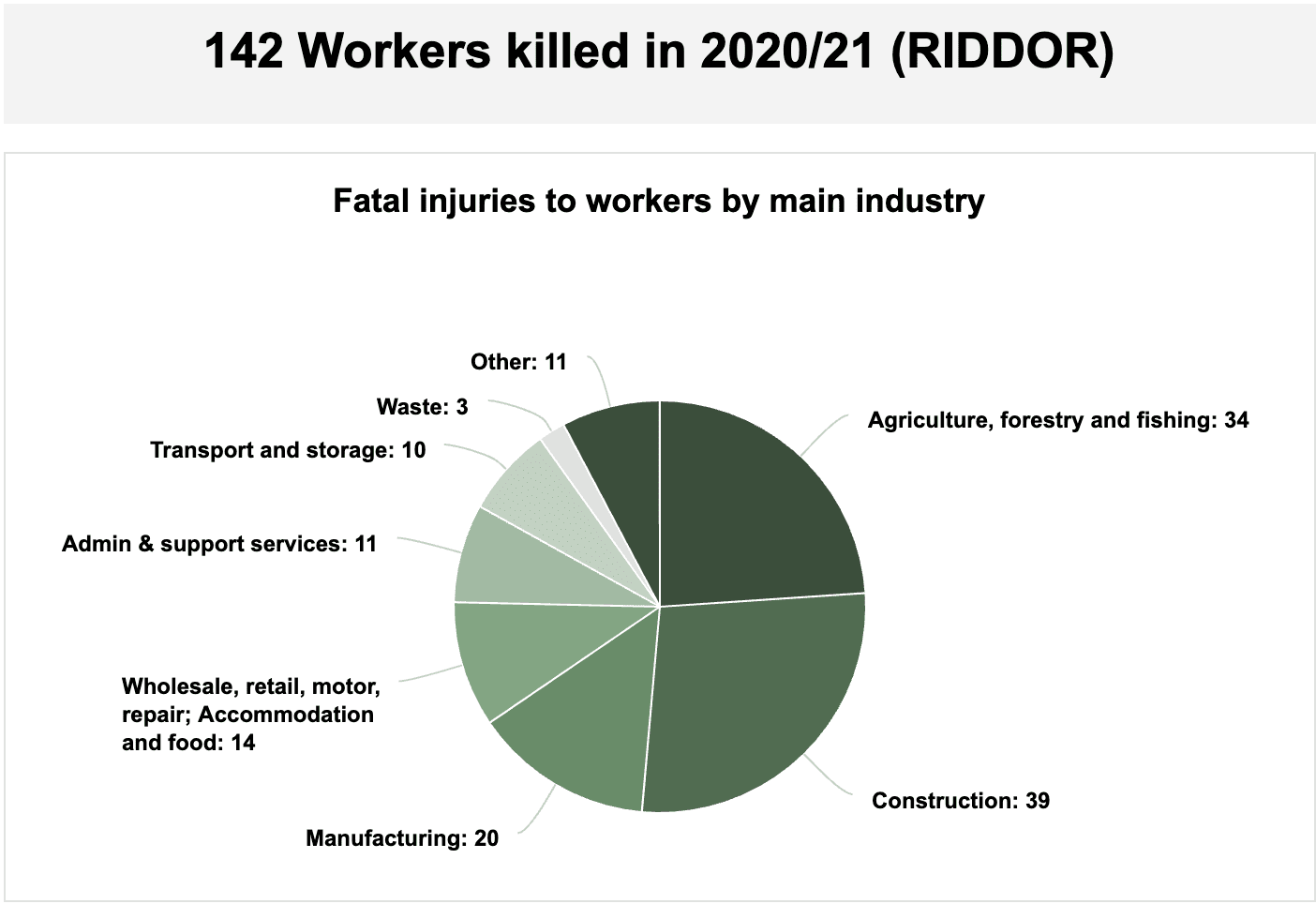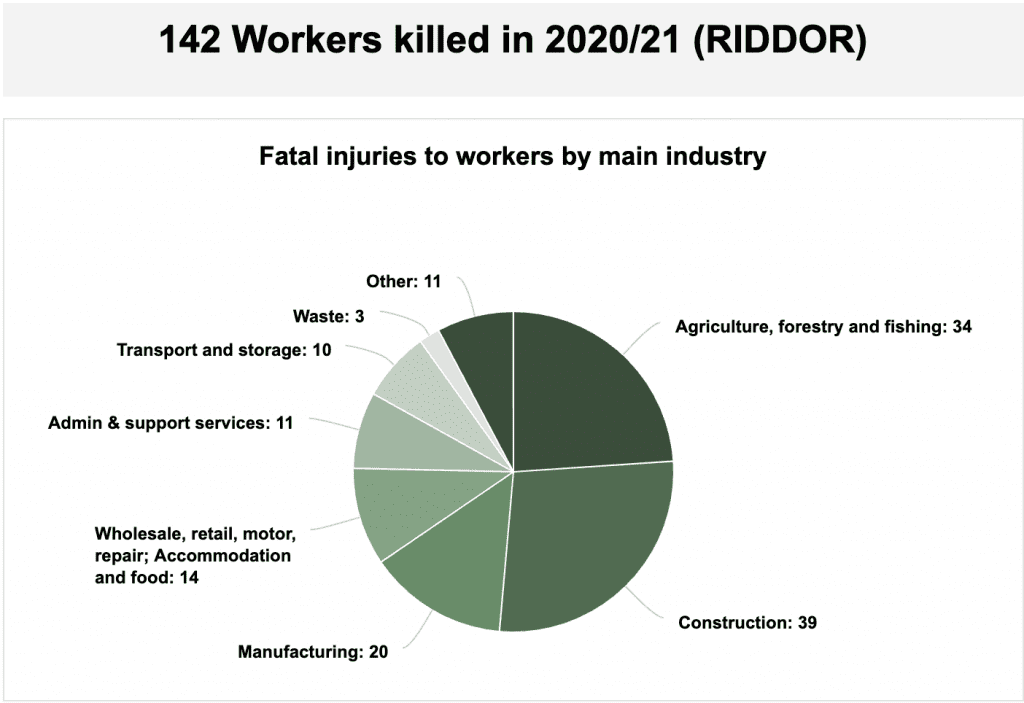 Clinical And Medical Negligence Compensation
Medical professionals as well as healthcare providers have a duty of care towards you to provide you with a minimum level of service required and not to caused any avoidable harm. If such standards fall below what they should be and a patient is injured or harmed as a consequence then they may be eligible to make a claim for medical negligence.
It maybe expected of health care providers to:
Provide advice about the treatment and any risks before proceeding.
Stick to the recommended procedure wherever possible.
Maintain hygiene standards throughout.
Use the appropriate medical equipment.
If you're injured, become ill or your existing condition is made worse because of a negligent act, you could possibly seek compensation for your suffering.
Claims can be against the private care providers or the NHS. They can be amongst the most difficult claims to make because they often require complex medical evidence to support them.
Our panel of medical negligence solicitors have the skills and experience to handle these difficult cases. Please get in touch today to discuss how we could help you begin a claim.

Road Crash And Traffic Accident Compensation
It's really important that evidence of a road traffic accident is collected as soon as possible. That's because, once vehicles have been removed, it can be tricky to demonstrate what happened, especially if there weren't any witnesses.
If you're involved in an RTA, if it is safe to do so try to:
Gather photographic evidence which shows where any vehicles ended up following the accident.
Speak to witnesses and get their contact details.
Seek medical treatment regardless of how minor the injury is.
Speak to the police and report the accident. Some accidents can be reported online if there are no injuries.
Ask any other drivers for their details including insurance documents.
When you're able to, contact Accident Claims UK with your evidence and let us assess your chances of seeking compensation for any injuries.

Slip And Fall Accident Compensation
An accident which can happen almost anywhere is a slip or trip causing you to fall. It might look like nothing to an onlooker, but they can cause significant injuries. Accident claims solicitors covering Cannock could help you claim compensation if the accident was caused by somebody else.
Examples of reasons why somebody could be responsible for your slip, trip or fall include:
When trip hazards are made difficult to see due to poor or broken lighting.
If you trip over a cable which has been trailed across a walkway without being taped down or highlighted by warning signs.
Trips which occur because of damaged paving slabs, kerb stones or potholes.
Slips caused by wet floors without warning signs. This could be caused by spillages, leaks or cleaning.
Claims could be made against a local authority, a business or your employer if they were responsible for the negligence which led to your injuries.

Compensation For Criminal Injuries
If you're injured during a criminal act, you might not realise that you can seek compensation. It's not done by the usual personal injury claim as the criminal might not have the means to pay compensation or they might not be identified.
Instead, the claim is through the Criminal Injury Compensation Authority (CICA) which is a government scheme.
Compensation is awarded in a different way to normal accident claims. Also, there is a different criteria which may affect eligibility. For instance, the crime must be reported to police and the time limit for claiming is different to other claims.
To ensure your claim is filed correctly, why not let us help you. Our accident claims solicitors could help with CICA claims on a no win no fee basis.

Compensation For Accidents In A Public Place
When you suffer an injury in a public place, it can be confusing as to who's liable for the accident. Therefore, the first task is identifying who's responsible for the land or property. It could be a business, an individual or the local authority. There may be signs which help identify the owner or you might need to ask for the help of a personal injury lawyer in identifying the liable party.
Public places are the types of places you might use regularly but don't need any authority to do so. They can include car parks, footpaths, shopping centres, play parks and village greens.
Our team of advisors can assist you with identifying who's liable and also help determine if you need to make a claim against the owner or occupier of a public place.

No Win No Fee Accident Claims Solicitors Covering Cannock
Using a no win no fee solicitor is a great way of reducing the stress and financial risk involved with claims. Our accident claims solicitors all work on a no win no fee basis.
A no win no fee agreement means that your solicitor is only paid if you receive compensation. They are awarded a success fee which is a percentage of your compensation (25% maximum by law). The fee is deducted automatically from your payment, so you won't need to find the funds to pay them yourself.

Contact Us
We hope, now that you've read this guide about accident claims solicitors covering Cannock, that you'd like to discuss your claim with us today. If so, you can get in touch by calling free on 0800 073 8801. Alternatively, use our live chat facility which is available 7 days a week.

Claimants Frequently Asked Questions
If you're considering hiring a personal injury lawyer, you'll probably have many questions about accident claims in Cannock. Therefore, to save you time, we've answered some frequently asked questions below.
How Could A Personal Injury Solicitor Assist Me?
Having a personal injury solicitor on your side means you'll have a specialist on your side who can ensure the correct evidence is submitted with your claim and who can understand and handle any objections that the defendant's legal team might raise.
When you contact us, we'll provide a free initial assessment of your claim.  We'll also offer free accident claims advice. If we think your case is strong, we could refer you to an accident claim solicitor.
Our panel of accident claims solicitors have up to 30 years' experience with handling claims for accident compensation and always work on a no win no fee basis.
Should I Claim With Solicitors Near Me?
When making your accident claim, you can choose from accident solicitors covering the Cannock area or those based there. It's entirely up to you but you're under no obligation to stay locally as many solicitors are happy to work on claims over the telephone and email rather than requiring face to face meetings.
Will I Need A Medical Examination?
When a personal injury claim is submitted, your solicitor needs to provide medical evidence to substantiate your claim. This can be done using medical records from your GP or from a hospital visit. Also, an independent assessment needs to be carried out. This will show how severe your injuries were following the accident and also if they'll impact you going forward.
We use a panel of doctors and medical specialists across the UK to undertake the medical assessment so they'll always be one local to you.
Where May This Medical Exam Be Carried Out?
To try and ensure you don't need to travel very far for your medical assessment, we could send you to one of these local specialists:
Zahir Ali
Watling Court,
Cannock, WS11 0EL.
Warwick Brindley
Achilles Heal Physiotherapy and Sports Clinic,
32a Millbank,
Stafford, ST16 2QT.

Would accident claims solicitors covering Cannock assist with hit and run claims?
If you are concerned that you would not be able to make claims for injuries sustained in a hit-and-run accident, our personal injury solicitors covering Cannock could help you make such claims through the Motor Insurers' Bureau. This is an organisation that aims to prevent uninsured driver accidents. However, it also works by compensating victims of personal injury due to untraceable or uninsured drivers for their injuries. Making a claim through the MIB does not have to be complicated when you work with one of our solicitors. We could help to gather all the evidence required for your claim, and we could submit it to the MIB to ensure that you don't miss out on the compensation you are eligible for. We should mention that not only do the MIB compensate victims of hit-and-run accidents, but they also assist if you're injured by a driver that does not have a valid insurance at the time of the accident.
Could accident claim solicitors covering Cannock help with allergy claims?
If you have suffered an allergic reaction, you will know only too well that the symptoms may be very unpleasant indeed. If you have suffered with anaphylaxis, you will know that this could have been life-threatening. People with allergies should be able to eat in restaurants and receive healthcare without it causing them undue problems. Suffering an allergic reaction due to somebody else's negligence is something that we take very seriously. Here at Accident Claims UK, we could help you get the compensation you deserve if you've suffered an allergic reaction, no matter how minor or severe, because of somebody else's negligence.
Restaurant based allergic reactions could happen for a number of reasons.Perhaps the allergy menu has not been updated? Or maybe you have asked a server to leave an allergen out of your mail, and they have ignored your request? They may have sold you pre-packaged food that did not have the allergens listed on it. Whatever type of allergic reaction you've suffered, please call us to see if we could help you make a claim for compensation.
You could also suffer an allergic reaction due to being given drugs that you are allergic to. If a pharmacist dispensed or doctor prescribed you with medication that you are known to be allergic to, and this leads to a reaction, you could also have a claim for compensation.
We would be happy to help you get the compensation you deserve.
Cannock Area Resources
Hopefully, this guide has given you all of the information you require about using accident claims solicitors covering Cannock. For further guidance, we've linked to some additional resources below.
The Health and Safety Executive – The government body responsible for enforcing workplace safety legislation.
Stafford Court – Information from the local court which includes their contact details and opening times.
NHS Head Injuries – Guidance from the NHS about symptoms and the treatment of head injuries.
Whiplash Claims – A guide which covers when whiplash can be claimed for following a road crash and how much compensation might be awarded.
Clinical Negligence – This guide explains when medical compensation may be claimed for injuries caused by negligence.
Road Traffic Accidents – A guide which could help with claims for a car crash, a bus crash, a mountain bike accident or a Cannock motorbike accident.
Thanks for looking at our accident claims solicitors covering Cannock guide. We hope we've explained why personal injury solicitors for Cannock claims don't have to be based in the area.