By Joanne Jeffries. Last Updated August 27th 2021. Welcome to this guide on choosing accident claims solicitors for Canterbury claims. Here, we explore why you don't need to use local personal injury solicitors for Canterbury claims.
Our panel of accident claims solicitors are able to cover the Canterbury area and have years or even decades of experience in conducting personal injury claims. They are able to help those who have been injured in car accidents, accidents in the workplace and those injured in many other circumstances.
Our accident claims solicitors covering Canterbury focus on helping victims of accidents which have caused avoidable injuries to claim compensation that they are entitled to from the responsible party who breached their duty of care. You may have found that your injury prevents you from being able to get on with your day-to-day activities. You could have had to take time off work, be unable to participate in activities you used to, or even not be able to carry out tasks around the home as a result of your accident.
We could help you to claim accident compensation whether you suffered a repetitive strain injury in the workplace, suffered whiplash in a road traffic accident caused by another driver or sustained serious internal injuries due to a criminal act.
The main criteria in our being able to help you through the process is that your accident did not happen longer than the time limit allows, it was caused due to third party negligence and your injuries could have been avoided. Find out if you could claim accident compensation in the guide below.
Choose A Section
What Is An Accident Claims Solicitor Covering Canterbury?
A personal injury claim or accident claims solicitor is one who helps people to claim compensation in the event that they have been injured as a result of someone else's negligent action or their failure to comply with safety laws. Personal injuries could be either psychological or physical injuries. They could be include injuries, illnesses or they could even include diseases. Accident claims solicitors covering Canterbury are simply those who conduct this type of claim and who are able to do so in this area.
In general if you are claiming compensation the accident that you were injured in could have been avoided. Making a personal injury claim is the process of claiming compensation (also called damages) for injuries which you have incurred because someone who owed you a duty of care has breached this causing a preventable incident which lead to avoidable injuries or illness.
Accident At Work Injury Compensation Claims
Accident at work solicitors could help you to claim compensation in many different circumstances. If you have been injured in the workplace we appreciate that this may be a stressful time. As well as being concerned about your health and recovery, you may also worry about any loss of income, and how making a compensation claim will affect your relationship with your employer. This is where our accident at work solicitors could help.
There are lots of different types of workplaces and so lots of ways in which people may be injured. Examples of ways in which people could be injured may be;
Falls either on the same level or those from heights.
Sustaining injuries to the head or the back due to falling objects.
Burn injuries due to hot liquids or surfaces with no PPE.
Sprains and strains due to slips and falls caused by foreseen hazards.
Vehicle accidents in or out of work caused by a third party.
RSI injuries which could have been prevented had the right procedures been in place.
If your accident in the workplace happened in the last three years or your diagnosis happened in the last three years and was caused by your employer not acting in your best interest or following obligated legislation, you could potentially claim accident at work injury compensation for any harm suffered. Our comprehensive guidance to  accident at work claims contains more information on how to do so.
Canterbury Reported Workplace Injury Statistics
Above we have seen some circumstances in which you may be able to claim accident at work injury compensation. We shall now look at some related statistics. According to the RIDDOR, in 2020/21 there were a total of 142 workers killed at work in the UK. Almost all of these were in the 16 – 59 age bracket, accounting for 97 of the deaths (source).
The three most dangerous injuries by reported numbers of deaths are:
Construction – 39 deaths
Agriculture, fishing and forestry – 34 deaths
Manufacturing – 20 deaths
You can see the other industries that people have suffered a fatal injury in below.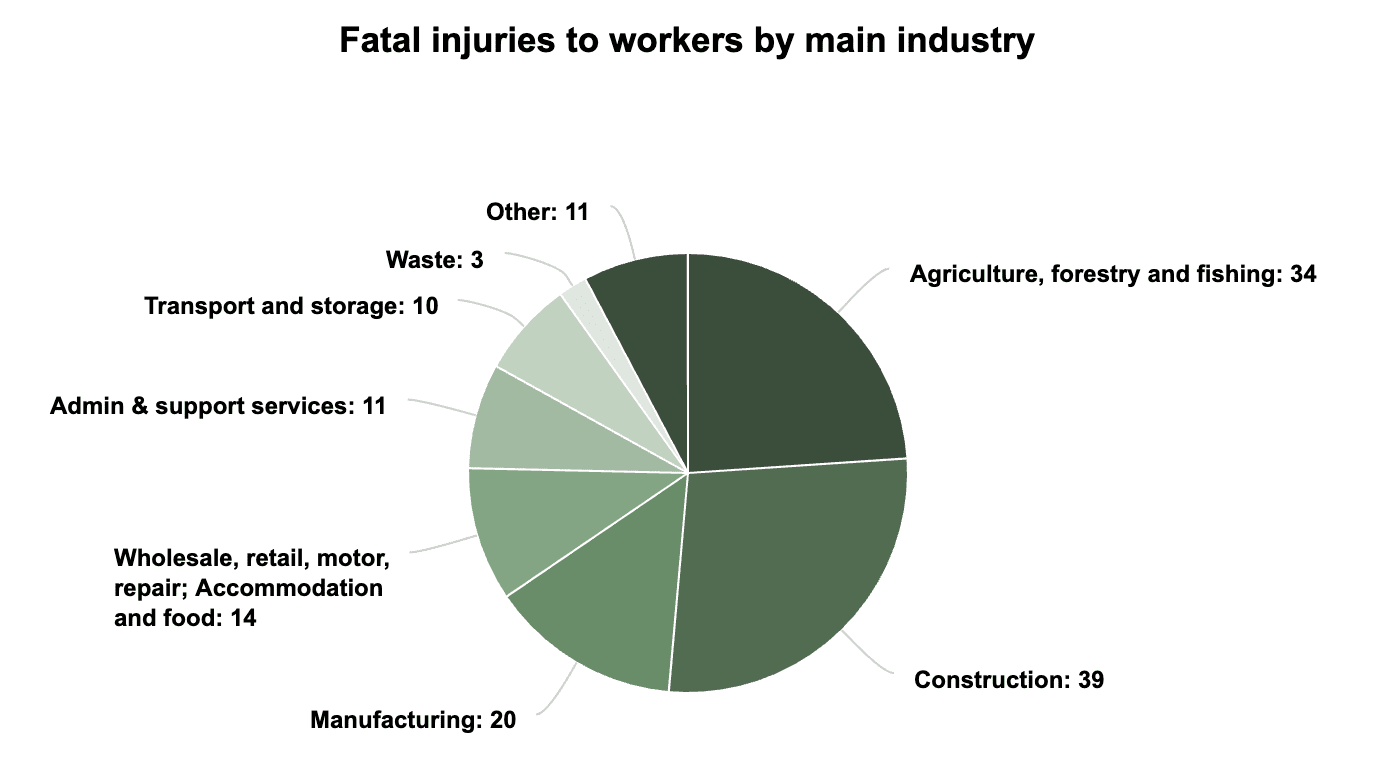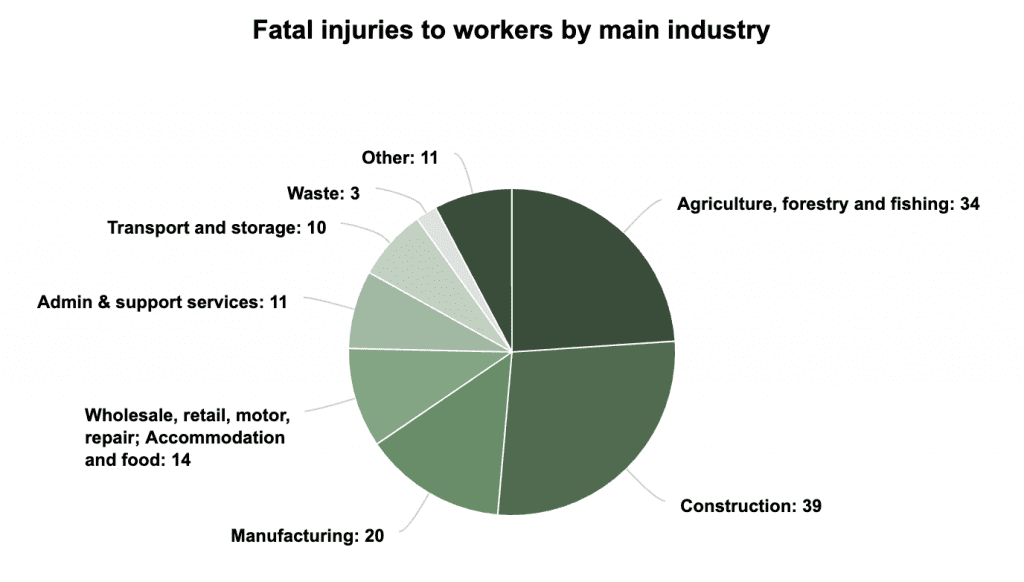 In addition to these statistics we have also created the table which you can see below. In this we use information (again as reported to the Health and Safety Executive) to create this table. We show how many people were injured at work in this area as well as any fatalities in the workplace.
| Location | Total - non fatal injuries | Total - non fatal injuries per 100,000 workers | Fatal injuries |
| --- | --- | --- | --- |
| Canterbury | 111 | 178 | 0 |
For accident claims advice about work injury claims, please get in touch with our team.
Traffic, Road And Car Accident Compensation
Have you been injured in a car accident, motorcycle accident or other form of accident on the road? You could have sustained any number of different forms of injury as a result of this accident. These may range from those which are quite minor – such as a sprain or a strain, through to very serious head or spinal injuries. As each accident on Caterbury's roads is different there are many categories of injury which you may have sustained.
Depending on the circumstances of your accident you could have suffered from,
Back or head injuries.
Fractures and breaks.
Whiplash.
Lacerations, cuts or similar injuries.
Internal organ damage and injuries.
Our panel of accident claims solicitors could help you to claim compensation after a road traffic accident. You could find out more about making this type of claim here.
Medical Malpractice Compensation
When you or a loved one has to have any form of medical treatment, it is reasonable to expect that this treatment will meet expected standards, such as those which would be provided by a similar doctor, dentist, or nurse. Patients need to be able to place this very high degree of trust in those caring for them. In the event that a mistake or error which could have been avoided is made and the patient harmed, it may mean a patient is eligible for compensation.
Negligent mistakes by a doctor or malpractice could lead to minor levels of injury, or they could have serious repercussions. As a patient you may suffer an additional new illness, worsening of a current condition or be injured. You may also find that if a condition such as cancer has not been appropriately treated you become much sicker and your illness is far harder to treat.
You could claim compensation for negligent medical care which has harmed you or a loved one, such as a spouse or parent who are unable to claim for themselves. Our panel of accident claims solicitors are experienced in conducting medical malpractice claims and could help you.
Trips And Falls Compensation
If you were injured in a trip or slip accident which took place within the last three years (the common accident claims time limit) which was the fault of another person or company who had a responsibility to keep you safe, you could make a claim with a personal injury solicitor. No matter where the accident happened, as long as it could be shown that another party was responsible and breached their duty of care, there may be a chance to make a claim for compensation for any harm suffering.
This type of accident could happen to you at work (where your employer is responsible for your safety) or have been caused by a protruding paving tile in the street which could be down to the local council. If your employers disregard for your safety or a councils lack of maintenance was the cause of your claim, you could possibly make an appropriate claim in Canterbury. Our accident claims solicitors could help you to do so.
Compensation For An Accident In A Public Place
If you were injured whilst walking down the street, crossing the road, or whilst walking through the park, you could be able to make a claim against the local council with a personal injury lawyer if they are responsible for what has happened. It is reasonable to expect that when you are in any of these places that they will be well maintained and safe. It is also reasonable to expect that spaces such as public shopping centres are safe for you to enter and move about and that the operator or owner has taken the appropriate safety measures to ensure your safety.
If they have not done so, the poor conditions these spaces are allowed to fall into could lead to people suffering an accident and being injured.
Examples in which such accidents could arise and from which a personal injury could be caused may include;
Potholes on the road or similar damage to the pavement.
Loose floor tiles or pavement slabs.
Missing paving stones.
Hazards left by works to the pavement or works to the road(s).
Ice hazards on the road or a pavement due to a lack of gritting by the council.
Poor lighting on a street, roadway or in shopping centres. May also occur at work.
Damage to the pavement caused by the removal or a fixed item such as a tree or a lampost.
Criminal Injury Victim Compensation
Have you or someone close to you been victim to an assault or other type of violent crime? If so, the effects of this could be devastating. You could have suffered physical injuries or been left with psychological injuries such as PTSD. Whichever is the case, you could be able to claim compensation.
Whilst we know that any amount of damages could not make up for what happened to you, a payment for damages could help to compensate you for any financial losses caused by it.
No Win No Fee Accident Claims Solicitors Covering Canterbury
If you are able to make a claim with our team, you could be able to do so with one of our panel of no win no fee solicitors. Making a claim in this way means that if your claim is not successful, then you will not owe the accident claim solicitor any fees.
If you do win your claim and are awarded damages, your no win no fee solicitor is allowed to deduct what is called a 'success fee' from your settlement. There are laws in place to limit how much they could take as this fee. The percentage that they could deduct in the event of a win will also be clearly set out in your agreement. Before you sign the agreement they will make sure that you fully understand what you could have to pay towards the solicitor.
There are no upfront costs associated with making this type of personal injury claim. To find out if you could make a no win no fee claim with accident claims solicitors covering Canterbury, please get in touch with our team.
Begin Your Accident Claim
Beginning your accident claim with us is a simple process. When you get in touch with our team, we may ask you some brief details about the accident that you were injured in, what injury you suffered and how your recovery is going. This will be so that they can fully understand what has happened to you.
Contact us by phone by dialing 0800 073 8801, or sending us details of your claim to Office@AccidentClaims.co.uk.
Frequently Asked Questions About Making Accident Claims
Even when you know that you are in the right, making an accident claim or personal injury claim may seem daunting. There may be a lot of legal terminology used and processes you are not aware of. To help introduce you to the process we have created this Q&A section based on questions personal injury solicitors are often asked.
Q: Do My Injuries Qualify For Compensation?
A: if you have been injured because of the third party negligence you could have grounds to claim compensation. You do not have to have suffered a very serious injury in order to claim compensation. In fact, even minor injuries could be claimed for.
Q: Do I Claim With A Local Solicitor?
A: No. There is no specific requirement for accident claims in Canterbury to be conducted by accident claim solicitors in this area. In very serious or complex cases there may sometimes be a need for you and your solicitor to meet in person. However, this is only likely to be the case in a small number of instances.
Q: Why Am I Being Asked To Have A Medical Checkup?
A: As part of your accident claim in Canterbury, our accident claims solicitors will invite you to have a medical check up or assessment. There is nothing to worry about. The assessment could be used to support your claim by allowing the personal injury solicitor to better understand your injuries.
Q: Where Could I Have My Accident Claim Medical?
A: Our panel of accident claims solicitors work with a panel of independant doctors who are based across the UK. We will strive to make sure that you see a doctor as close as possible to you.
Kashif Aziz
Hope Spinal Wellness,
98 St Stephen's Road,
Canterbury,
CT2 7JL
Abhinav Gulihar
Greenfields Clinic,
The Kings Mile,
37 Northgate,
Canterbury,
CT1 1BL
Note: your medical checkup may not be carried out at the above locations, or by these doctors.
Would accident claims solicitors covering Canterbury be able to help me claim for whiplash with a pre-existing condition?
In some cases, claimants could have a pre-existing neck injury which whiplash could exacerbate. If this happens to you, you may worry that you wouldn't be able to claim because you already had an injury. However, this may not be the case. If you could prove that the car accident you were injured in caused you to suffer harm that you would not have suffered if it hadn't taken place, you could still be eligible for compensation. Our personal injury solicitors covering Canterbury would be happy to help.
Can accident claims solicitors covering Canterbury help even if my claim comes under the Whiplash Claims Reform Programme?
If you're asking about the Whiplash Claims Reforms, you might already be aware that the government has made significant changes to how low-value whiplash and soft tissue injuries are handled if they occur due to a road traffic accident.
Now, instead of making a claim in the usual way, from the end of May 2021, claimants who have suffered an injury with a value of £1,000 to £5,000 would need to put their claim through a government-created portal. There is also now a fixed tariff for claims of this type. Your compensation would be paid according to how long your symptoms have lasted. Medical evidence is now essential for such claims too, as the government has now banned settlement of such claims without it. Further to this, claimants can't recover legal costs from the defendants in such cases. However, our solicitors could still help with such claims. If you'd like to discuss your case with us, we'd be happy to assist you.
What should I consider when choosing accident claims solicitors for Canterbury claims?
When selecting a solicitor, you don't obviously need to consider location, as we have already explained. However, you might want to check that they are definitely registered in England and Wales before you decide on which law firms and solicitors to go for. You should also consider whether they are authorised and regulated by the Solicitors Regulation Authority (SRA). Other considerations would be whether they offer a No Win No Fee service as well as giving you free legal advice. Finally, it could be wise to check whether they have a proven track record and good reviews on independent websites as well as having experienced solicitors to assist with your claim.
Resources For Victims Of Accidents In Canterbury
Remember, if you have any questions about starting a new claim you can get in contact with our team. Here you will also find resources and services which are relevant to this guide, or to accident victims in this area.
RIDDOR
The Reporting of Injuries, Diseases and Dangerous Occurrences Regulations set out the circumstances in which specified accidents or injuries should be reported to the Health and Safety Executive.
Kent Police
If you have been the victim of a criminal attack, or involved in an accident on a Canterbury road, you can contact Kent police to report what has happened to you.
Canterbury Council
If you were injured in the street or on public property you may need to make a claim against Canterbury Council.
Canterbury Combined Court Centre
A small percentage of accident claims may need to be heard in court. Your claim may be heard at the Canterbury County Court here.
We hope this guide on choosing accident claims solicitors for Canterbury claims has been useful. Now you'll be aware of why you don't need to use local personal injury solicitors for Canterbury claims.