By Joanne Jeffries. Last updated 13th September 2021. Accident claims solicitors in Shrewsbury can help with all kinds of cases. Here, you can find advice on working with our personal injury solicitors covering Shrewsbury.
Whether you have obtained an injury from a workplace accident, or you've suffered medical negligence which has caused an avoidable injury or you have fractured a bone in a slip trip and fall accident that could have been avoided, you could be considering whether you could have cause to launch accident claims in Shrewsbury. While you would not necessarily need accident claims solicitors covering Shrewsbury, you may find the process less stressful by going ahead and getting some assistance from an experienced personal injury lawyer. Here at Accident Claims UK, we could provide just the accident claims advice you need to make a decision on whether to go ahead with a personal injury claim. Further along in this guide, we will explore the different types of claims you may be able to file, as well as providing details on our panel of accident claims solicitors, along with information on how a no win no fee solicitor might be beneficial, and what the accident claims time limit could be for your claim.
Once you've taken in all the information about accident claims in Shrewsbury on this page, if you'd like to speak to an expert advisor to begin an accident claim, or if you have further questions, dial 0800 073 8801 to be put through to someone who could help you.
Choose A Section
What Is An Accident Claims Solicitor Covering Shrewsbury?
Wherever in the country you are based, you could have the need for a personal injury lawyer if you've suffered an injury in an accident that was not your fault. Accident claims in Shrewsbury could happen in a number of different ways, from a workplace accident that was caused by poorly maintained machinery, to a bike accident where you were knocked off your bike by a driver that failed to stop at a crossing. Accident claims solicitors covering Shrewsbury could assist with helping to gather evidence for your case and put together an argument for accident compensation.
Choosing the most appropriate accident claim solicitor for your case could make a real difference to your success, and indeed to the amount of compensation you would be awarded. Our accident claims solicitors could have a wealth of experience and knowledge to bring to your case, and the sections below describe some of the situations where this advice and assistance could be invaluable.
Slip And Fall Claims
A slip and fall claim could encompass any number of different incidents. You may have tripped over a broken pavement, or you may have fallen from a balcony. You could have had the slip or fall accident when in the park, at work, in a restaurant or somewhere completely different. If someone was at fault for your slip and fall, however, then it might be worth seeking the assistance of accident claim solicitors. The accident claims time limit in most cases for slips and falls is 3 years. The 3 years is from the date you had the accident. There are some cases that would be considered an exception to this rule, so this might be worth checking out. We'd be happy to give you advice on this.
Traffic Collisions And Road Accident Compensation
Wherever you are on the road, whether you are driving a lorry for work, or you are a passenger in a bus, car or taxi, or are using the road as a car driver, cyclist or motorcyclist, you are bound to abide by the rules of the road. If you have been involved in a car accident in Shrewsbury, due to someone not abiding by the rules of the road, then you could look into making accident claims in Shrewsbury for your injuries. Whether your injuries were caused by an accident on Shrewsbury bypass, or a Shrewsbury bridge accident, whether you were in a bus accident or a motorcycle accident, the rules remain the same. If someone else was to blame, then you could look into filing a compensation claim.
One of the most common injuries that could be obtained in a road traffic accident could be whiplash. This could be caused by a sudden jerk of the neck one way and another, causing strain to the tendons and muscles in the neck. While many cases of whiplash resolve fairly quickly, they are painful and could cause you to require time off work. This could leave you financially worse off, so it may well be worth looking into making an accident claim with accident claims solicitors covering Shrewsbury in order to seek reimbursement of this financial cost.
Work Accident Injury Compensation
Any type of employer that employs workers, no matter what the industry, is responsible for the safety and health of those who work for them. Whether by abiding by Work at Height Regulations, DSE Regulations, or simply the Health and Safety at Work Act, they must take steps to protect your safety and your health while in their employ.
Workplace injuries could be broken down into two types. One includes industrial illnesses and conditions that develop over time. This could include asbestosis, RSI, industrial deafness and the like.
The other type of injury would be one that arose because of a single accident, such as a slip trip or fall at work, or a scald or burn at work for example.
In either type of injury, there should be evidence that the employer did not take steps to protect the employee from either developing the condition or having the accident at work.
Some examples could include:
Manual handling training was not given, and an employee hurt their back carrying a load.
Regular breaks from a keyboard were not given, and an employee developed RSI
Whether your workplace injury came from a single incident or developed over time, if you feel your employer could be to blame, then accident claims solicitors covering Shrewsbury could help with a work accident injury compensation claim.
Numbers Of People Injured At Work In Shropshire
To see the numbers surrounding workplace injuries in Shrewsbury simply view the table below. If you'd like to make a comparison with other localities, you can find all the tables on the HSE site.

| Location | Total - non fatal injuries | Total - non fatal injuries per 100,000 workers | Fatal injuries |
| --- | --- | --- | --- |
| Shropshire | 331 | 258 | 2 |
Sadly, some work injuries could be fatal. According to the HSE's statistics for 2020/21, the following industries had workers suffer from such injuries.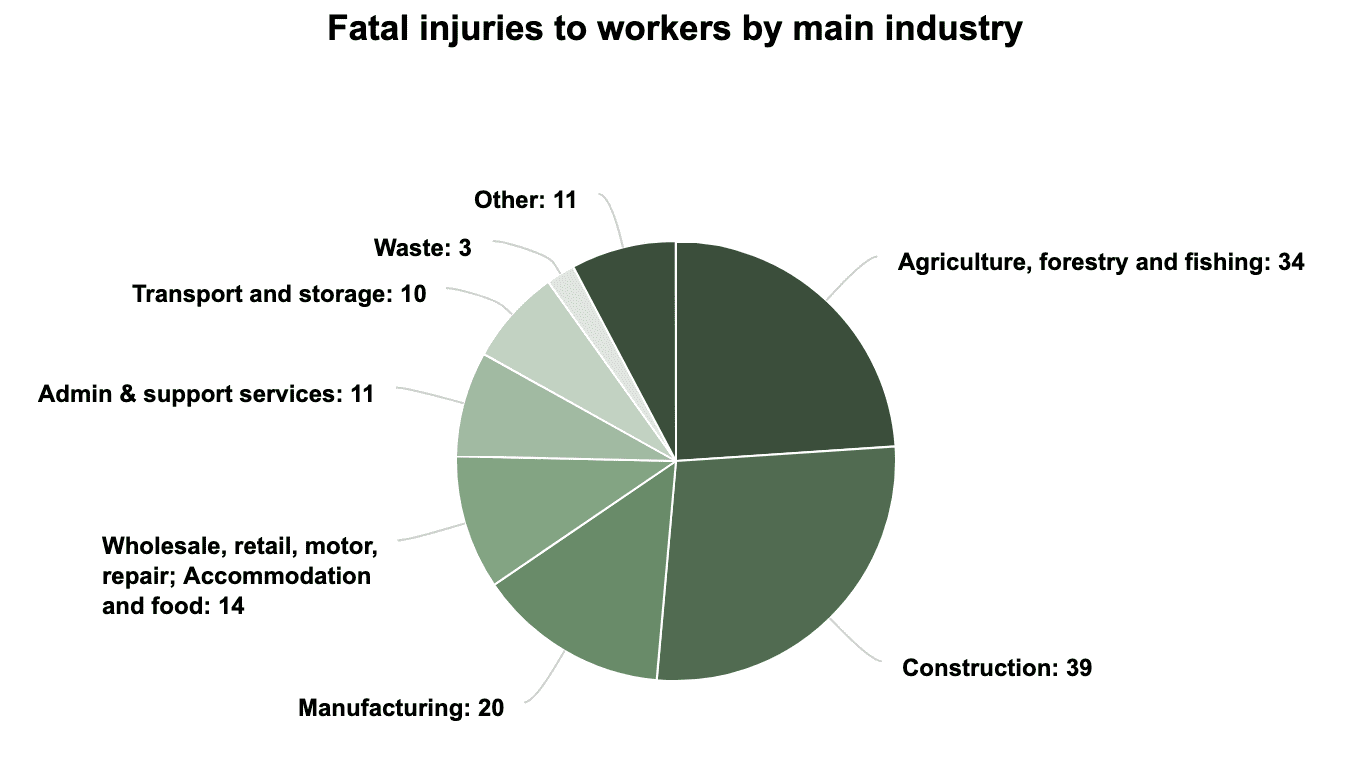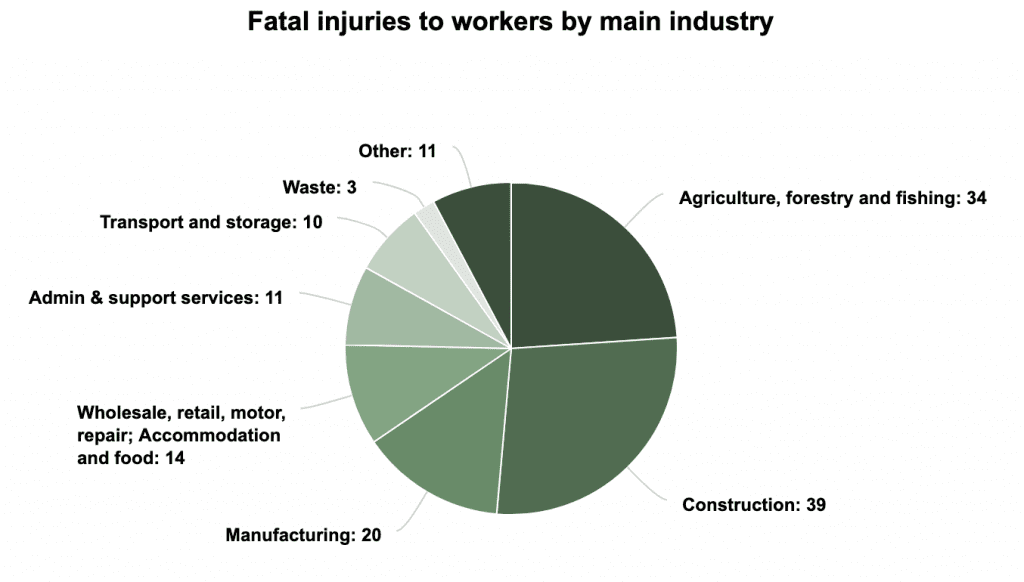 Crime Victim Compensation
When it comes to crime victim compensation cases, these could be made via CICA. This could make them slightly different to some other types of personal injury claims. One major difference could be that the time limit would in many cases be 2 years from the date of the incident. However, it could be possible to make historical claims in some cases, especially if these cases relate to abuse that the victim could not talk about at the time. A personal injury lawyer would be able to advise you if this could be possible in your case.
Criminal injury compensation could be sought whether you were a direct victim of a violent act, or if you were injured in some way because of the criminal behaviour. Some witnesses to violent crime could seek compensation for mental trauma too – so if you are unsure as to whether you could have a claim, simply call us for clarification.
Public Liability Accident Compensation
Public liability cases could cover a huge swathe of different incidents. A public space could be anywhere you could visit as a member of the public, including libraries, gyms, parks, playgrounds and shopping centres to name just a few examples. The owners or operators of these public places have a responsibility to ensure the public's safety while using these areas, by keeping them well maintained and fixing, or highlighting dangerous areas. Should they fail to do so, and you are injured then it could be that you could have a personal injury claim against the responsible party. This could, in some cases, be the local council, while in others it could be the owner/operator of a business.
Medical Negligence Compensation
If you're seeking medical negligence solicitors covering Shrewsbury, then this could be because you feel you have been negligently treated by a healthcare professional. Whether the negligence occurred at Shrewsbury accident and emergency, or at the dentist, local GP or other medical treatment centre, if you experienced negligent treatment that has a detrimental effect on your health, then you could possibly make a medical negligence claim. Examples could include a misdiagnosis, incorrect prescription, infection caused by poor hygiene standards, incorrect monitoring during birth and more.
No Win No Fee Accident Claims Solicitors Covering Shrewsbury
Here at Accident Claims UK, we offer a no win no fee agreement to clients which protects them from having to make an upfront payment for legal representation. When you make Shrewsbury accident claims with a personal injury solicitor from our panel, you will sign an agreement to pay a percentage of your eventual payout to the lawyer on settlement. This could reduce your financial risk from making a claim. We feel it offers other benefits too. As well as the reduced financial risk, your no win no fee accident claims solicitor covering Shrewsbury would directly be affected by the outcome of your case. If they were to take a percentage of your compensation payout, you would be sure that they would work as hard as possible to secure you as much of a payout as possible for your case, as not only would this lead to a larger payment to you, but also to them as well.
Talking To Accident Claim Solicitors Covering Shrewsbury
Beginning Shrewsbury accident claims could not be easier. Just call 0800 073 8801 and you could be connected quickly to one of our expert team, who will talk to you about your potential case and advise you on whether we feel you could have a claim. We also offer free, no-obligation advice on any aspect of making accident claims in Shrewsbury. If you want to go ahead with a claim, we could provide you with accident claims solicitors covering Shrewsbury to handle your claim. Our previous clients' testimonials should give you confidence that our specialist personal injury team could be a great choice to help with your personal injury claim.
Frequently Asked Questions
Below, we go through a few common questions surrounding accident claims.
Do Claims Need To Be Made With A Solicitor?
Let us be clear, you do not have to make claims with personal injury solicitors. You could go at it alone. However, we feel it may not be the wisest decision to do so. This is because solicitors have a wealth of experience to draw upon in order to maximise the potential for a successful claim, and to help maximise the amount of compensation you would receive. Our service not only provides free advice, but also provides quality personal injury lawyers who are England and Wales registered that could cover accident claims and clinical negligence claims.
Do Claims Need To Be Made With Local Solicitors?
Whether you search for 'solicitors near me' or solicitors near Shrewsbury or for the registered office of a law firm locally, you could be limiting your search far more than you need to. As a nationwide service, we could provide accident claims solicitors covering Shrewsbury with the relevant experience you need in the type of personal injury claim you're looking to make. This means you could opt for a solicitor based on their knowledge and experience rather than limiting your search to local solicitors.
Do I Need To Be Examined By A Doctor?
If you tap in your details to a personal injury claims calculator, it may put out a figure based on your perceived injuries, but in fact, the final settlement amount could be different from this, either higher or lower, and this could be based on an assessment by an independent medical expert. This is because the medical expert's opinion could be held in high regard in terms of evidence of your case, so it could be vital you attend an appointment, even though you may already have sought medical attention for your injury.
Do You Have Doctors Who Could Carry Out My Exam In My Area?
We have a panel of independent experts that could see you, and some doctors local to you could include:
Mohammed Safdar
Lancaster Road, Harlescott
Shrewsbury
SY1 3LE
Richard John Whitehouse
Cedar House Clinic
Shrewsbury Business Park
Shrewsbury
SY2 6LG
What should I consider when choosing accident claims solicitors covering Shrewsbury?
When making a personal injury claim it could be quite important to take the time to find appropriate personal injury solicitors covering  Shrewsbury to work on your case. After all, this individual could have your chances of success in their hands, and so the last thing you may want is someone inexperienced or with a poor track record working on your case.
Therefore, it is pivotal to understand the qualities that make a good personal injury claims solicitor so that you can look for someone that could help you claim the maximum compensation possible for your case.
Firstly, you might want to make sure that the individual or law firm is authorised and regulated by the Solicitors Regulation Authority and registered in England and Wales. You could also find someone who communicates well, is enthusiastic about what they do, knows how to negotiate effectively, and has worked on many personal injury cases before. Furthermore, we recommend choosing someone who works on a no win no fee basis.
Can you make a claim on the behalf of someone else with accident claims solicitors covering Shrewsbury?
There are a number of different situations whereby you may be able to claim on the behalf of another person. For example, if you are a parent or guardian of a child under the age of 18 years old, you may want to make a claim for the child. You would be there to act in the best interest of the child, and the compensation would typically go in a trust that the child can access once they turn 18 years old.
Another example here could relate to making a claim for a loved one who has passed away. If the person in question has been fatally injured and it was someone else's fault, you may be able to claim. Not only could you receive compensation for the fact that someone you love has lost their life but you may be able to secure some funds to help you with the funeral costs. Furthermore, if the individual who passed away was the breadwinner in your home, you could also receive some compensation for the loss of household income.
If you are wondering about your ability to claim on the behalf of another person why not contact our friendly personal injury team today? We will be more than happy to provide you with free legal advice regarding the different options that are available to you when claiming with personal injury specialists for incidents in Shrewsbury Shropshire.
Other Resources
HSE Information On Reporting – This page, taken from the HSE website covers reporting of accidents, illness and injury.
Locate A Court – If your case goes to court you could find the court here.
Details Of West Mercia Police – If you need to get in touch with the police, their details are here.
Whiplash – Compensation for whiplash details can be seen here in our guide.
Back Injuries At Work – You could find specific details relating to this injury here.
Accidents In A Restaurant – You can see further details on this type of accident here.
Thank you for reading this guide to the services of our accident claims solicitors covering Shrewsbury.
Hopefully, you now have the advice you need on finding personal injury solicitors in Shrewsbury.